Olive Wood Bowl and Wooden Spoon
Wooden Bowl with Spoon Set – These beautiful wooden bowls with spoons are for more than just home decor they can also be used for enjoying a delicious bowl of cereal, sharing snacks with guests, having a salad with dinner, and adding style to your kitchen.
Matching Wooden Spoons – Each small wood bowl also comes with a reusable wood spoon that matches them perfectly to give you a versatile dishware set that really compliments your rustic, farmhouse style perfect. Great for daily use!
Handcrafted Smoothie & Acai Bowls – These deep olive wood bowls are each made from genuine, high-quality olivewood which means that each piece features its own unique color and woodgrain pattern for a totally unique pairing.
Beautiful Gift Set for Friends and Family – Every order comes with wooden bowl with spoon which makes it a great gift idea for newlywed couples, small families, housewarming gifts for new neighbors, and more.
Premium Handmade Craftsmanship – As a family-owned and operated business, we focus on premier handmade craftsmanship, which is why each wood bowl is beautifully unique in terms of color, pattern, texture, and even size for true exclusivity.

FREE 3-DAY SHIPPING ON ALL U.S. ORDERS OVER $49. SHIPS WORLDWIDE WITHIN 24 HOURS.
SKU:

FD-WCB-BWS
Categories: Olive Wood Bowls, Bowls
Tags: wood acai bowl, wooden bowl, olivewood bowl, olive wood bowl, Wooden Bowl with Spoon, wood bowl, smoothie bowl, wood serving bowl, wooden bowl and spoon set, wooden cereal bowl, wood cereal bowl, Smoothie Bowls, acai bowl, wooden acai bowl
Description

Enjoy a Bowl of Cereal or a Quick Snack with Premium Wooden Bowls from Forest Decor
When it comes to your kitchen and dining room few things are more important to making guests and family members feel comfortable than high-quality dishes. That's why we hand-crafted these Forest Decor Wooden Bowls and matching Wooden Spoons sets that provide just the right size for enjoying a tasty bowl of cereal or sharing some snacks in front of the TV when you're relaxing and watching the big game. Rustic, charming, and a wonderful touch for those who are looking to create a more farmhouse feel while still adding some much-needed functionality to your daily life these bowls and spoons can do it all with style.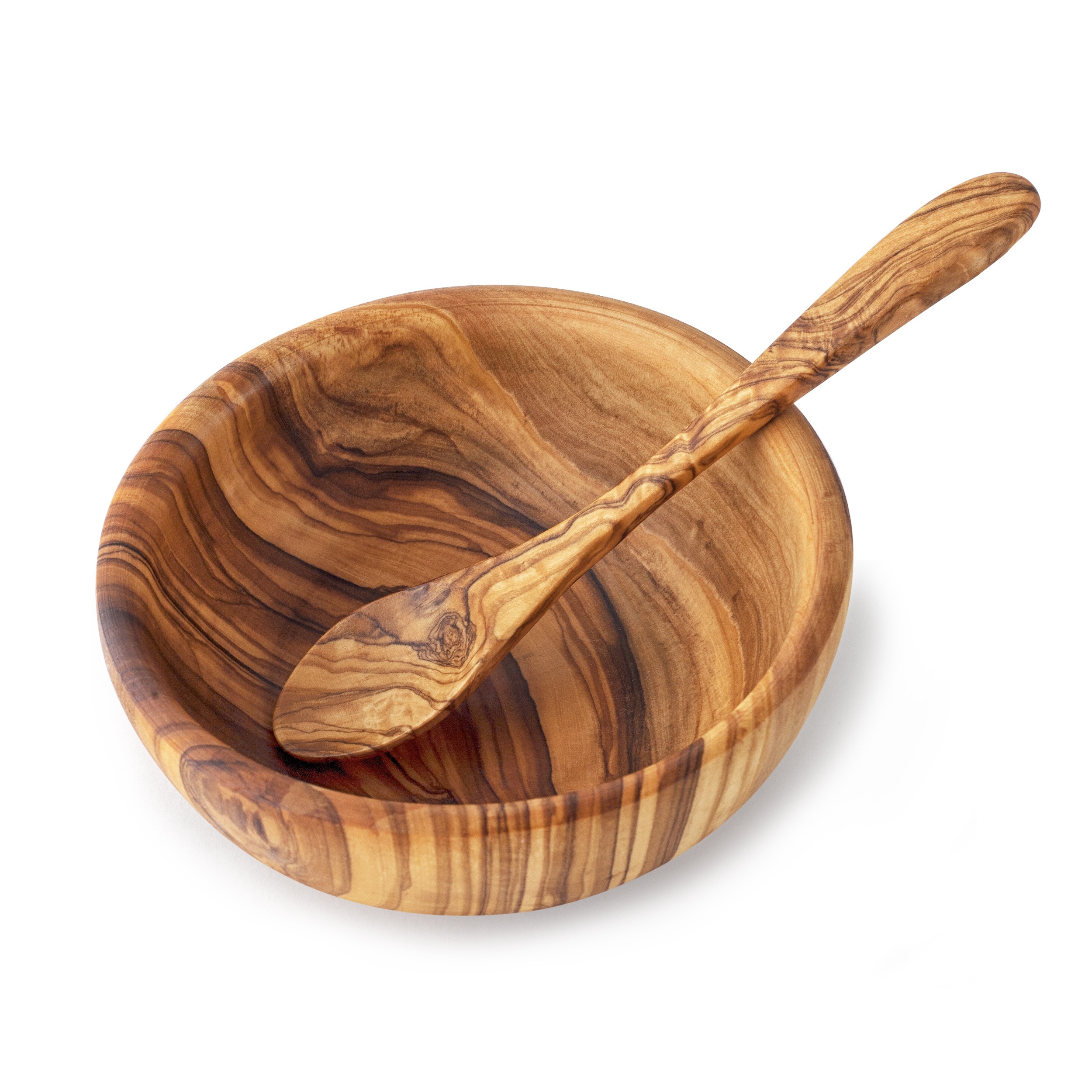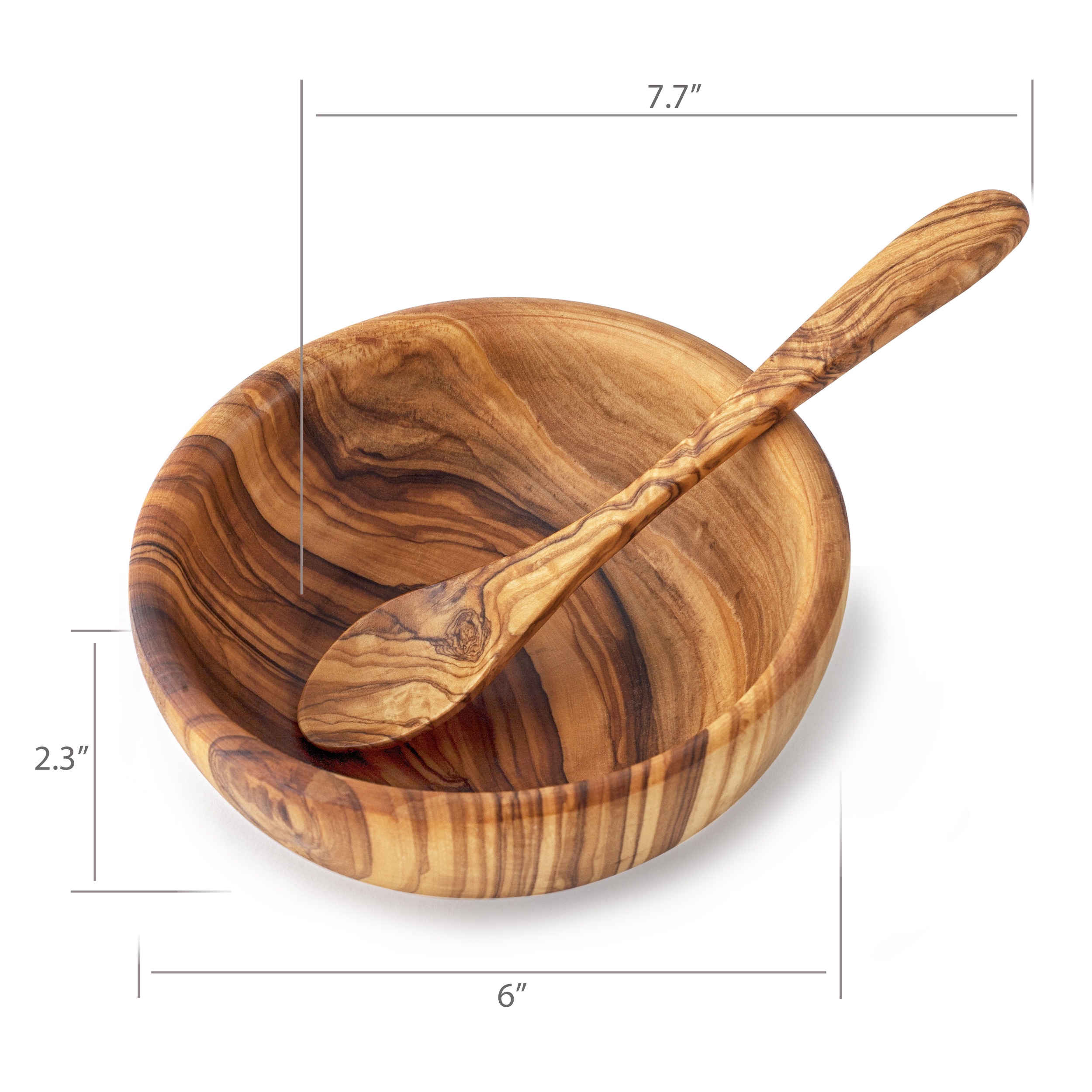 Product Details:
Wooden Bowl and Spoon
Genuine Olivewood
Handmade Craftsmanship
Food-Grade Safe Wood
Bowl Diameter: 6" (2.3" Deep)
Spoon Length: 7.7"
Hand Wash Recommended
Proper Care for Natural Olivewood
We want you to cherish your new hand-carved olive wood kitchenware made by skilled artisans in Tunisia for years to come. That's why to maintain their beautifully intricate designs and unique swirled grain patterns, you should follow these simple guidelines.
· Clean olive wood with only warm using a soft sponge or cloth. If extremely dirty, you can add a little dish soap. After washing, wipe wood dry with a soft cloth.
· Retain the beauty of our olive wood grain and color and prevent it from drying out or cracking by conditioning it with olive oil as needed.
· Never expose olivewood to a dishwasher or hot or cold temperatures for long periods (such as a fridge) to ensure they don't split or get damaged.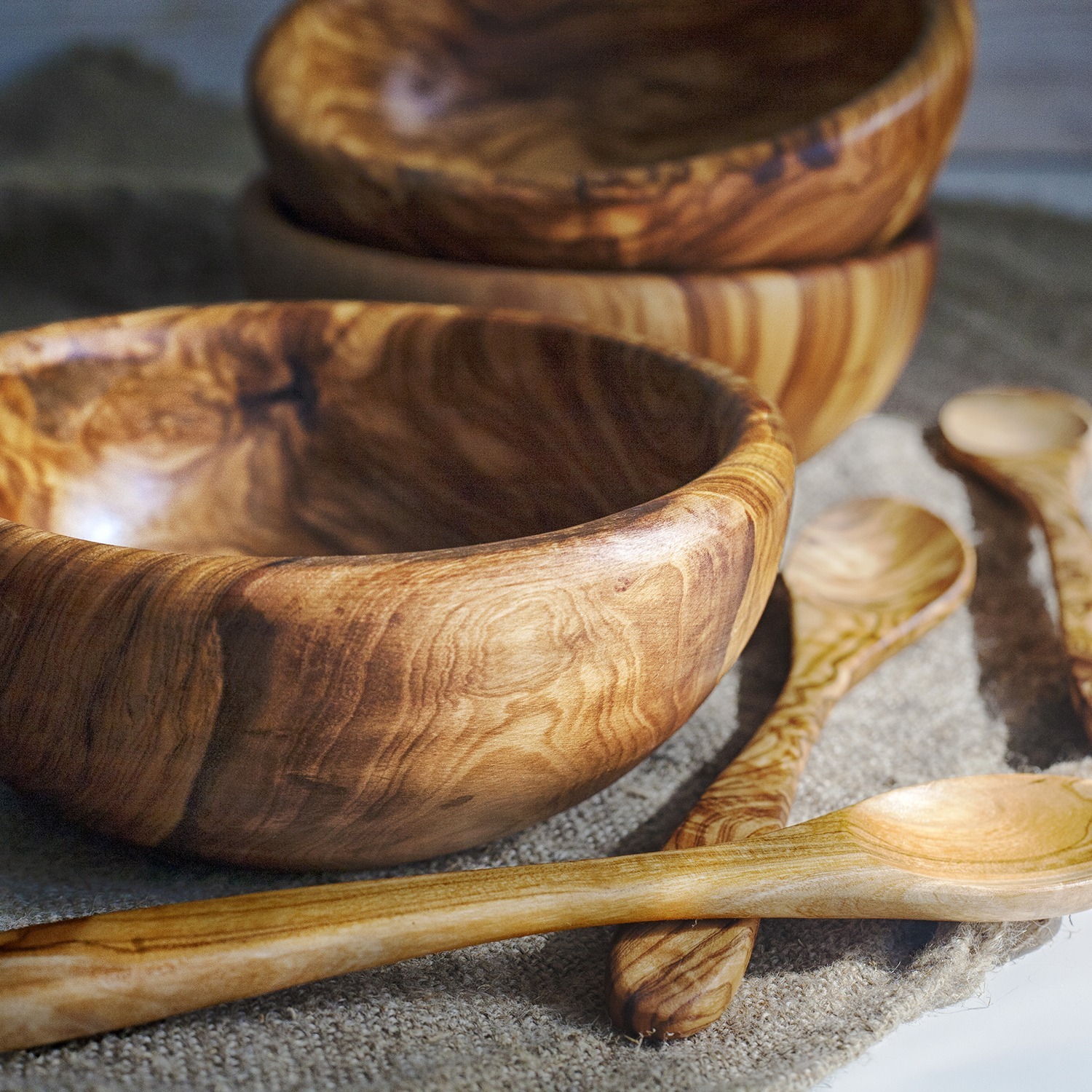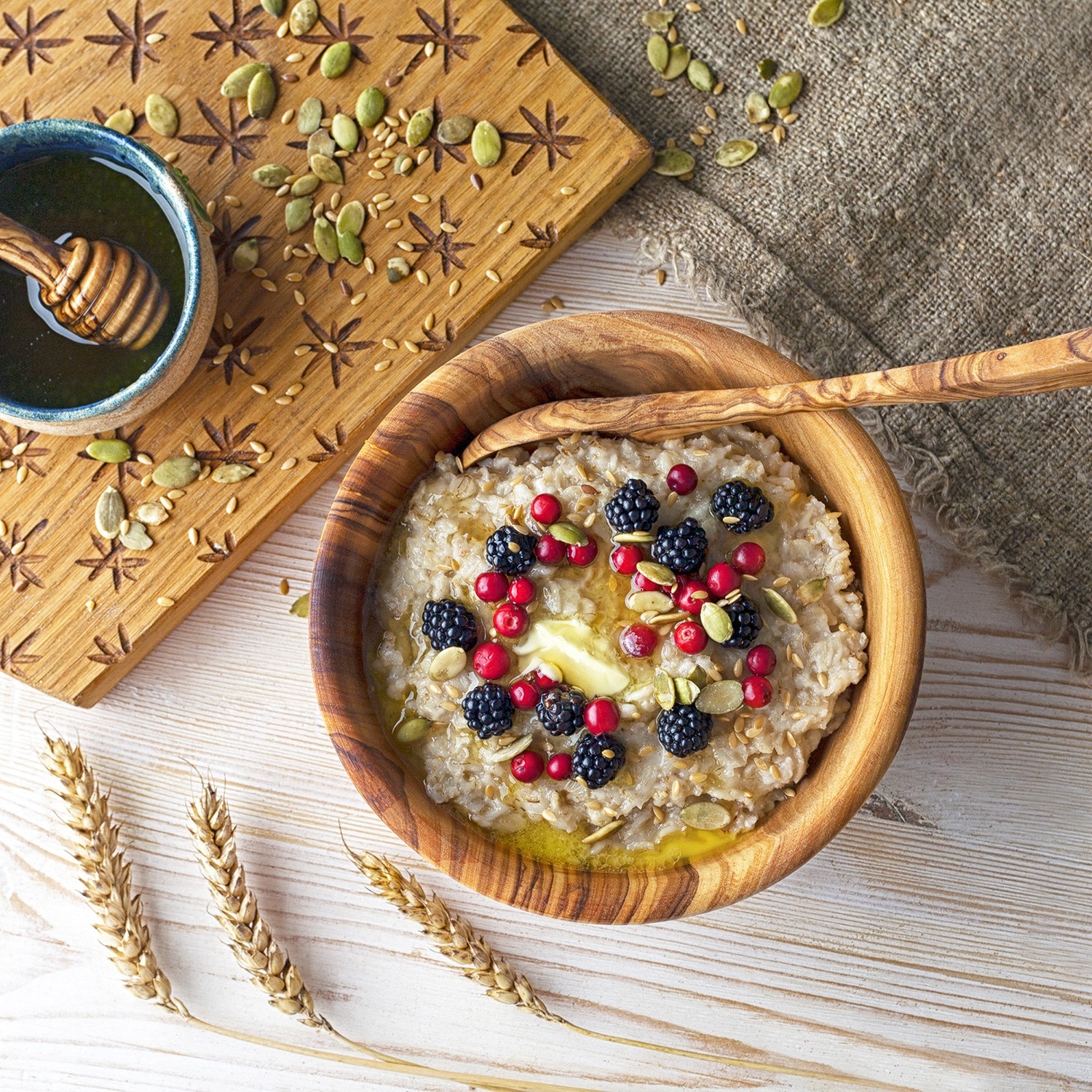 Crafted as a Single, Solid Piece
These bowls are made with a single piece of premium-grade olivewood to give them enhanced strength and resilience. The flat bottom ensures they don't tip over easily, while the deeper bowl design helps keep in liquids or foods for fewer spills.
Elegant Woodgrain Finish
Forest Decor wood salad bowls each feature a vibrant striation of light and dark wood colors that weave seamlessly through the round bowl design.
Colorful Woodgrain Finish
At Forest Decor everything we sell is made by hand. That means a woodworking artisan helps bring out the unique color quality in each piece, so you're getting something truly one of a kind.
Well-Balanced Spoons
Our deep spoons are an ideal length of 7.7" which gives kids and adults more control when scooping up cereal flakes, oatmeal, or other breakfast favorites.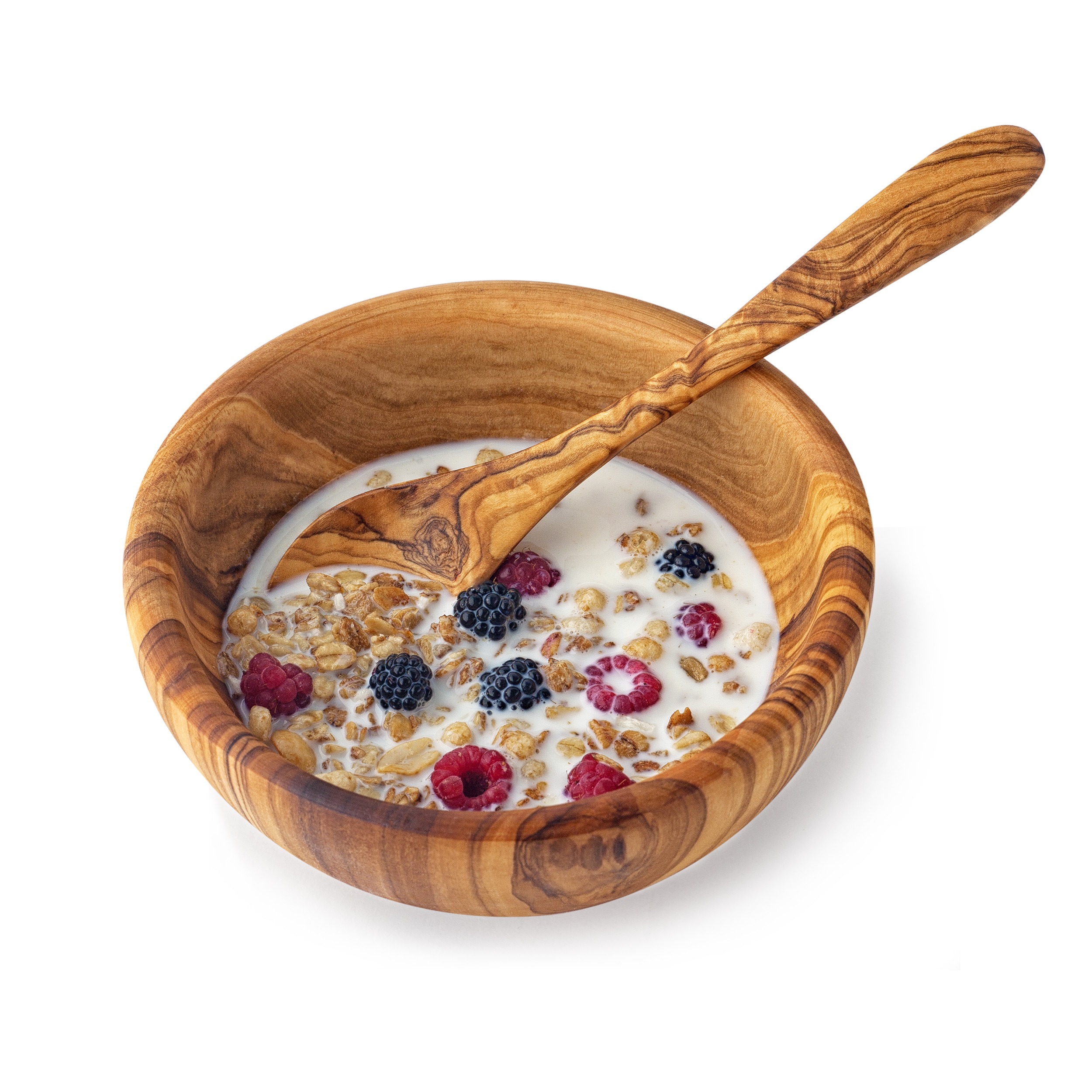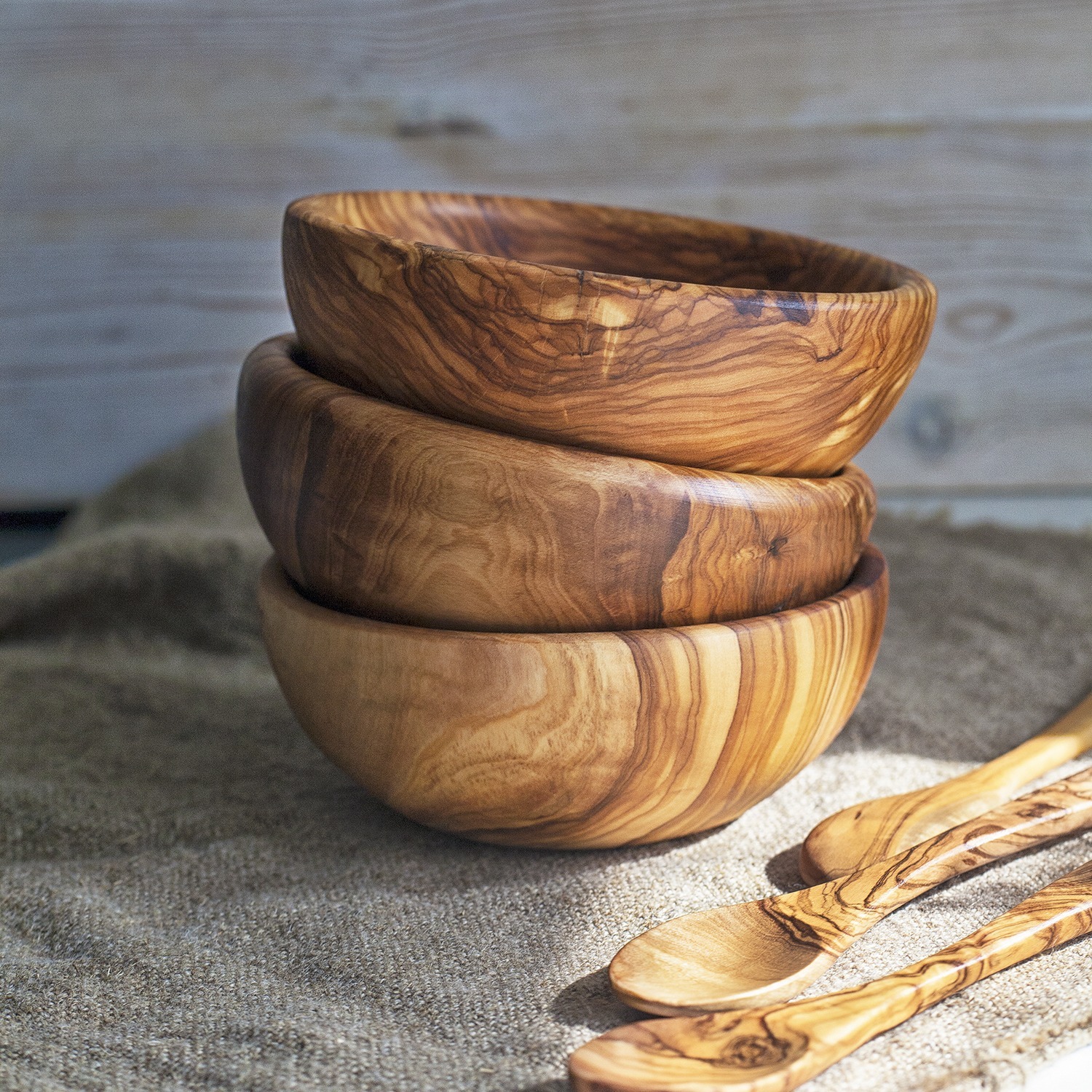 Smooth Edges
Each wooden snack bowl and matching spoons has been carefully sanded down by professional woodworkers to ensure they're splinter free and boast a clean, natural look.
Great for Daily Use
Our bowls can be used for all your breakfasts, lunches, dinners, soups, and other meal ideas. Simply wash by hand, rub dry, and put it back in the kitchen cabinet.
Related products
Products that You Might Also Like