Olive Wood Stainless Steel Cheese Knives Set for Charcuterie
Select Your Perfect Utensil Set: Choose from our versatile range of stainless steel cheese utensil sets – available in 3-piece (comes with chisel knife, serving fork, heart knife), 4-piece (chisel knife, serving fork, heart knife, heart knife), or 6-piece (chisel knife, serving fork, thin knife, heart knife, spreader knife, and pronged knife) configurations. Each cheese knives set for charcuterie includes an elegant olive wood holder for a sophisticated presentation, providing options to suit your entertaining needs and style preferences.
Enhance Your Serving Experience: Elevate your charcuterie and cheese presentations with these meticulously crafted stainless steel utensils. These cheese knife sets, suitable for charcuterie boards, serving boards, and more, beautifully complement our range of olive wood charcuterie boards, making them ideal for hosting and entertaining.
Customizable Purchase Options: Enjoy flexibility in your purchase decisions – opt for the complete set with the matching olive wood holder or choose the stainless steel utensils separately to perfectly match your existing serveware. This adaptable choice ensures that you can curate your serving collection exactly as desired.
Thoughtful Gift Pairing: Combine our stainless steel cheese knife set for charcuterie board with our stunning olive wood cutting boards for a personalized touch in gifting. Perfect for weddings, wood anniversaries, housewarming celebrations, or as a gesture of appreciation, these sets make memorable and cherished presents.
Tailored Sets for Varied Needs: From intimate gatherings to grand soirées, select the ideal charcuterie utensil set size to suit your serving requirements. Opt for the comprehensive 6-piece set for larger serving boards accommodating many guests, ensuring every detail of your presentation is elegantly catered for.

FREE 3-DAY SHIPPING ON ALL U.S. ORDERS OVER $49. SHIPS WORLDWIDE WITHIN 24 HOURS.
Description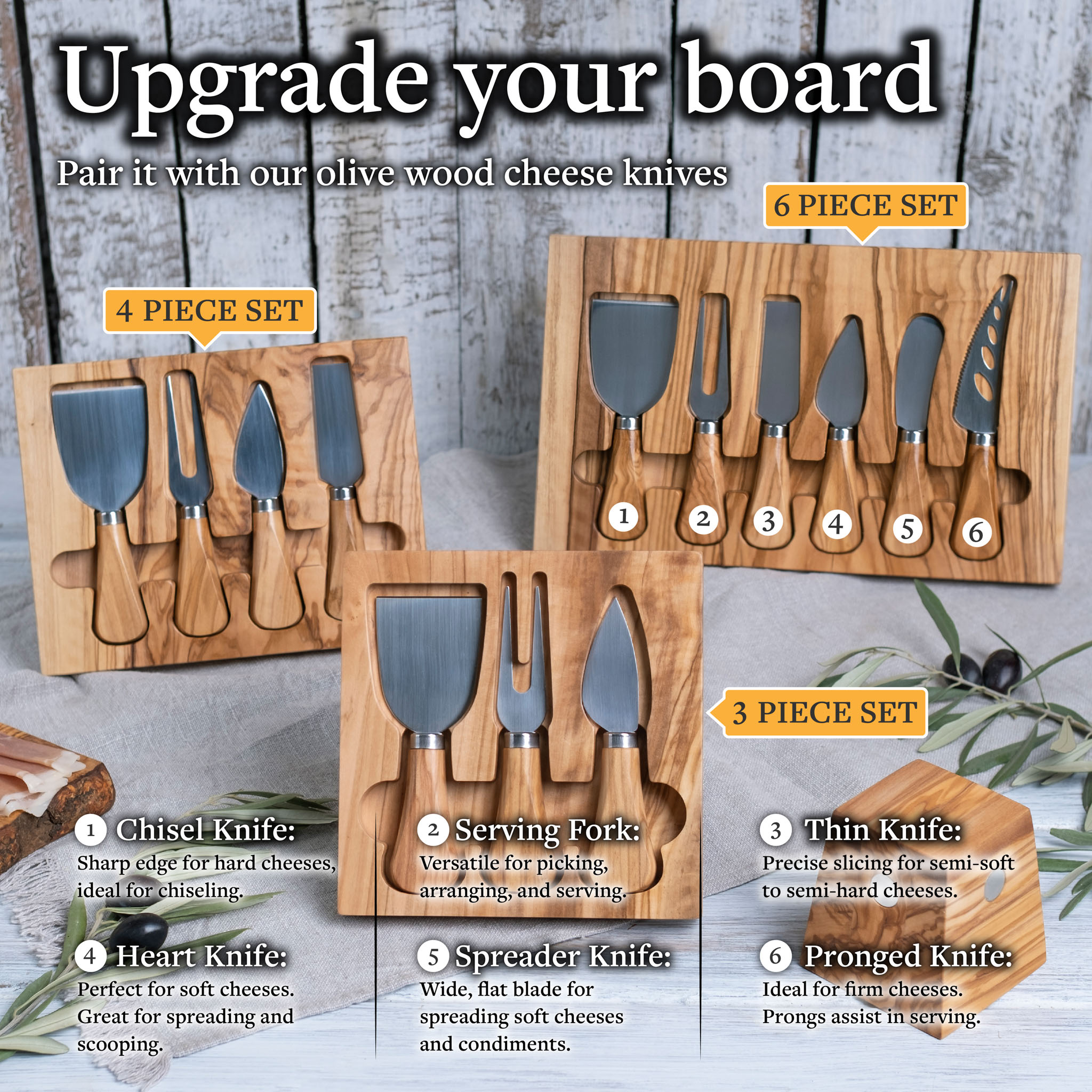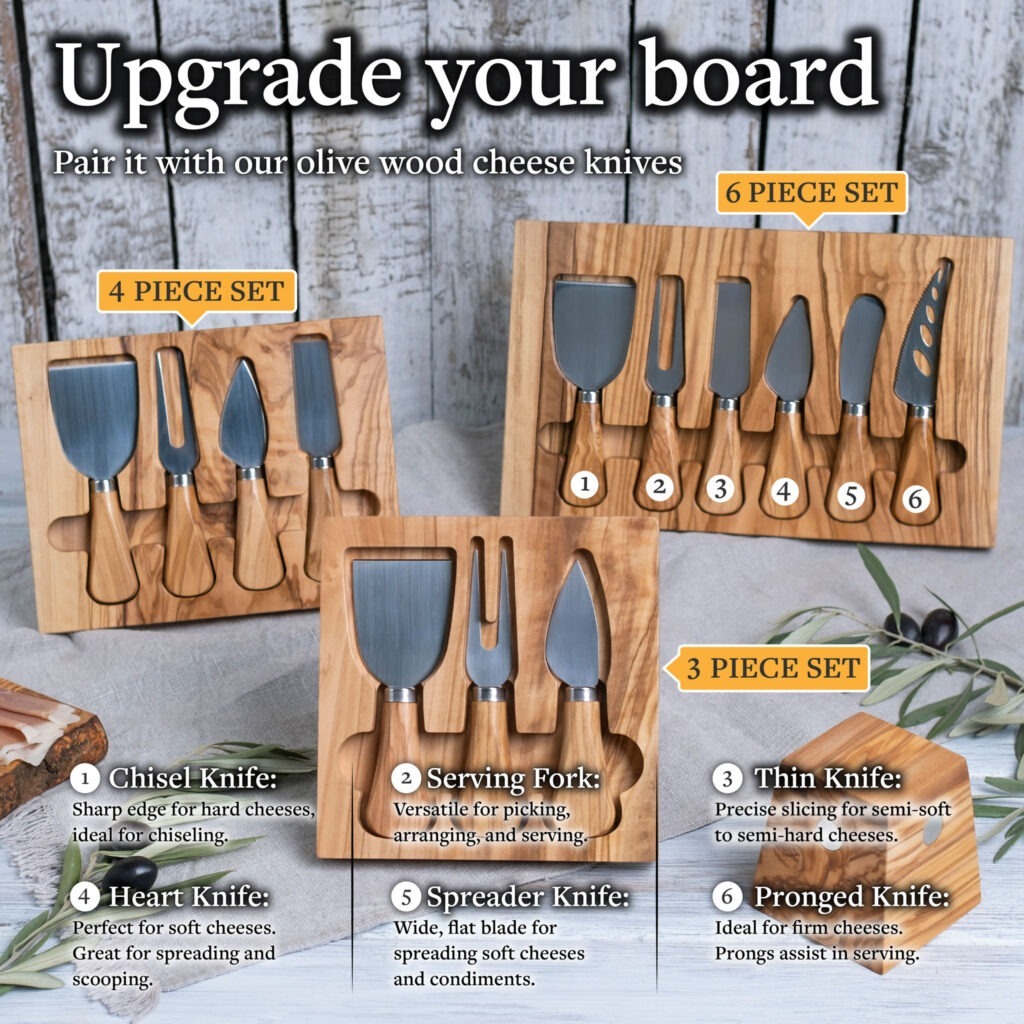 Elevate your hosting game with our meticulously crafted stainless steel cheese knives set, available in three versatile configurations: the 3-piece, 4-piece, or comprehensive 6-piece collection. Each set features carefully selected utensils, including the chisel knife, serving fork, heart knife, thin knife, spreader knife, and pronged knife, skillfully designed to enhance your cheese and charcuterie presentation.
Set Options and What is Included:
3-Piece Set: Includes essential tools for cheese enthusiasts – the pronged knife for firm cheeses, heart knife for soft cheeses, and serving fork for versatile serving options. Ideal for intimate gatherings or smaller boards.
4-Piece Set: Adds the chisel knife, designed for hard cheeses, to the 3-piece collection. Perfect for those seeking a wider cheese variety or preferring an additional slicing option.
6-Piece Set: Provides the comprehensive collection for cheese connoisseurs, encompassing the pronged knife, heart knife, serving fork, chisel knife, thin knife for precise slicing, and spreader knife for effortless spreading. Suited for larger gatherings and diverse cheese selections.
Crafted with high-quality stainless steel and adorned with beautifully grained olive wood handles, these utensils exude elegance and functionality. The matching olive wood holder adds a touch of sophistication to your serving arrangement.
Our cheese utensils are not only a stylish addition to your serveware collection but also offer practicality in their use. The chisel knife effortlessly handles hard cheeses, while the serving fork assists in presenting delicate items like olives and meats. The heart knife and thin knife excel in handling soft to semi-hard cheeses, ensuring precise cuts and smooth spreading. The spreader knife beautifully complements your spreads, and the pronged knife is perfect for serving firmer cheeses with ease.
Engraving Services:
Additionally, personalize your utensils with our engraving options. Choose to add a monogram or a custom phrase on the utensil handles, adding a unique touch to your set. Moreover, we offer engraving on the blades if desired, providing further customization options to suit your preferences.
Tailor your purchase to your specific needs – opt for the set with the holder for a complete presentation or choose the utensils separately to match your existing serveware. Whether it's a grand gathering or an intimate soirée, these utensils are versatile enough to suit any occasion.
Chisel Knife: Designed with precision for hard and aged cheeses like parmesan or asiago, the chisel knife's sharp edge allows you to craft bite-sized pieces or delicate shavings with ease.
Serving Fork: The serving fork is your versatile companion for picking up and presenting a variety of items – from olives and pickles to charcuterie meats. Its utility extends to arranging and enhancing the visual appeal of your charcuterie board.
Thin Knife: Achieve clean and precise cuts with the thin knife, perfect for slicing through semi-soft or semi-hard cheeses. From Swiss to provolone or havarti, this knife ensures an exquisite presentation.
Heart Knife: For soft and crumbly cheeses such as brie or goat cheese, the heart knife's unique shape facilitates effortless spreading and scooping. Pair it with crackers or bread for a delightful culinary experience.
Spreader Knife: Featuring a wide, flat blade, the spreader knife is tailored for effortless spreading of soft cheeses, pâté, or delectable spreads onto bread or crackers. It's also an essential tool for adding condiments or jams to your charcuterie selection.
Pronged Knife: Crafted specifically for firm cheeses like cheddar or gouda, the pronged knife offers precision in serving. Its prongs expertly secure slices of cheese, ensuring an elegant transfer from the board to the plate.
Pair these exquisite utensils with our olive wood cutting boards for a gift that speaks volumes. Ideal for weddings, wood anniversaries, or personalized housewarming presents, this combination adds a touch of sophistication and functionality to any home.
Reviews (0)
Only logged in customers who have purchased this product may leave a review.
Related products
Products that You Might Also Like