Wooden Tealight Candle Holder with Wildlife Scene
Cute Wooden Stump Candle Holder – A natural, farmhouse style tea light holder is made with hardwood and unfinished bark for a charming look.
Natural Wildlife Scene – The front of this handmade candle holder depicts a calming environment with a deer and her baby, cute squirrel, and owls sitting atop a tall tree.
Cute Tabletop Display – Tealights sit inside the middle to create beautiful, glowing illumination that looks enhances your living room, bedroom or relaxing den area.
Beautiful Housewarming Gift – Our vintage wooden candle holders look great on a mantle or side table and make a wonderful choice for birthday or holiday gift giving.
Premium Handmade Craftsmanship – Forest Decor wooden home decorations are made by hand by professional artists, making each one totally original and unique.

FREE 3-DAY SHIPPING ON ALL U.S. ORDERS OVER $49. SHIPS WORLDWIDE WITHIN 24 HOURS.
SKU:

FD-WCH-OD-1D
Category: Candle Holders
Tags: wooden candle holders, wood candle holders, rustic tealight candle holders, tealight candle holders, log candle holder, rustic cabin decor, rustic lodge decor, Wood Candle Holder, wooden candle holder, wood tealight candle holder, rustic candle holder
Description

Create a Warm, Welcoming Home with a Stunning Forest Decor Wood Tealight Candle Holder
When it comes to decorating your home, bedroom, or personal living space, few things help round out the room quite like lighting; especially when it's the soft, glowing flicker of a tealight. We handcrafted these Forest Decor Wood Tealight Candle Holder with a perfect balance of natural style and decorative design that makes them easy to display anywhere you want extra lighting, need to create warmth, or just want to enhance your personal area.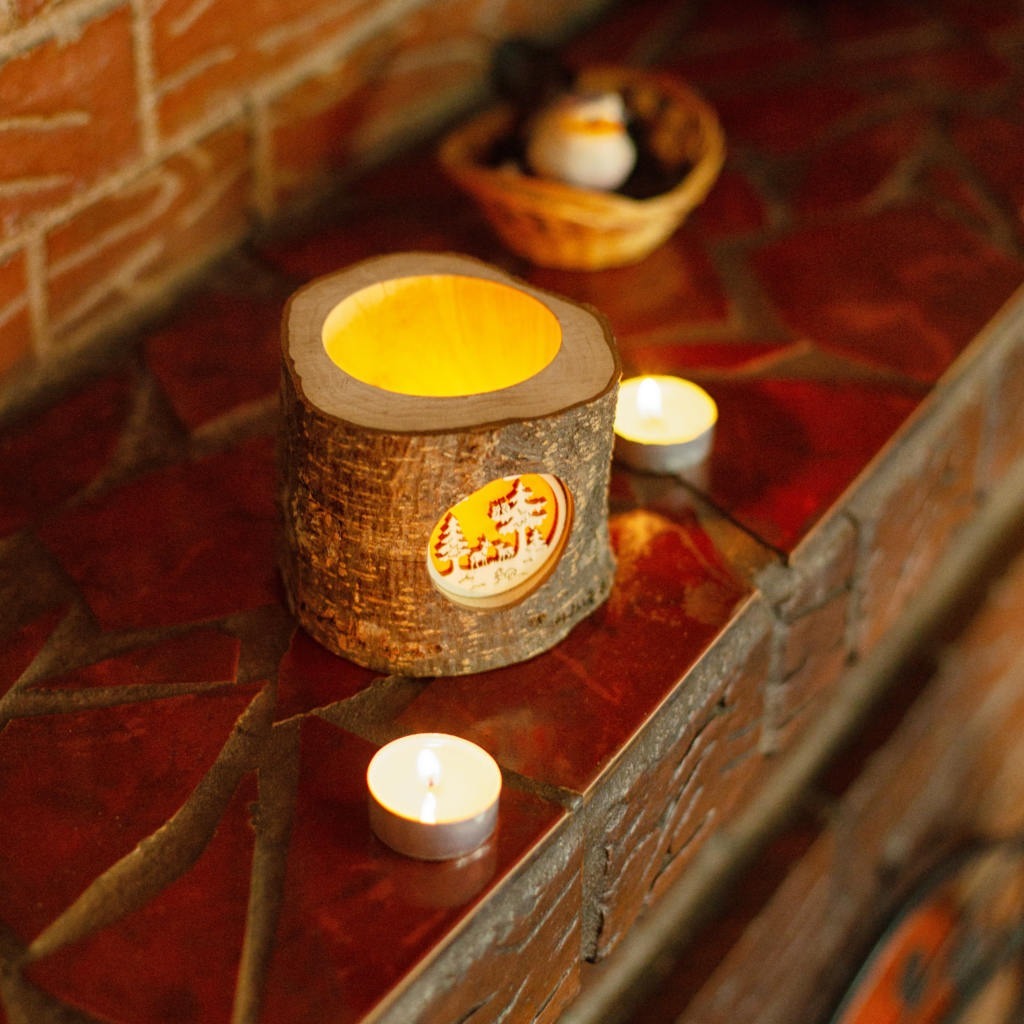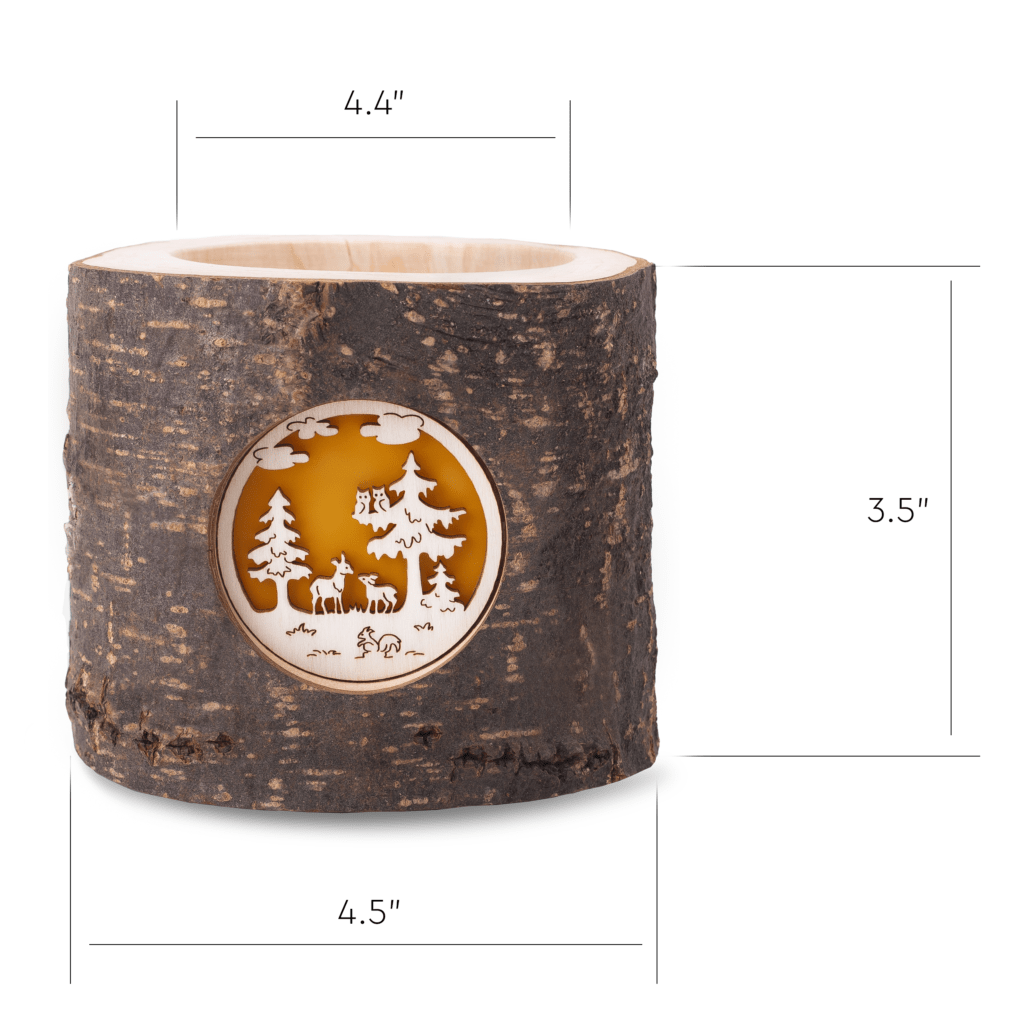 Product Details:
Wooden Candle Holder for Tealights
Holds 1 Tea Light Candle
Unfinished Exterior, Finished Interior
Even, Well-Balanced Base
Rustic, Natural Wildlife Scene
Dimensions: 3.5" x 4.5" x 4.4"
Handmade
Includes 1 White Tealight Candle
Textured, Unfinished Bark
Like many of our other natural home decor pieces this candle holder is made from high-quality wood that boasts real bark on the outside. This gives each one a unique look, feel, and color along with a slightly uneven top to add more character and an exclusive touch you won't find in a store.
Beautiful Christmas Candle Holder
You won't find anything quite like this in a store as each piece is handmade by a professional craftsman, which makes them a great way to highlight your other Christmas decorations or ornaments during the holiday season.
Original Craftsmanship and Artistry
Make sure to check out our line of other candle holders and tabletop decor pieces for your home or to find special birthday, holiday, or anniversary gifts for friends and family.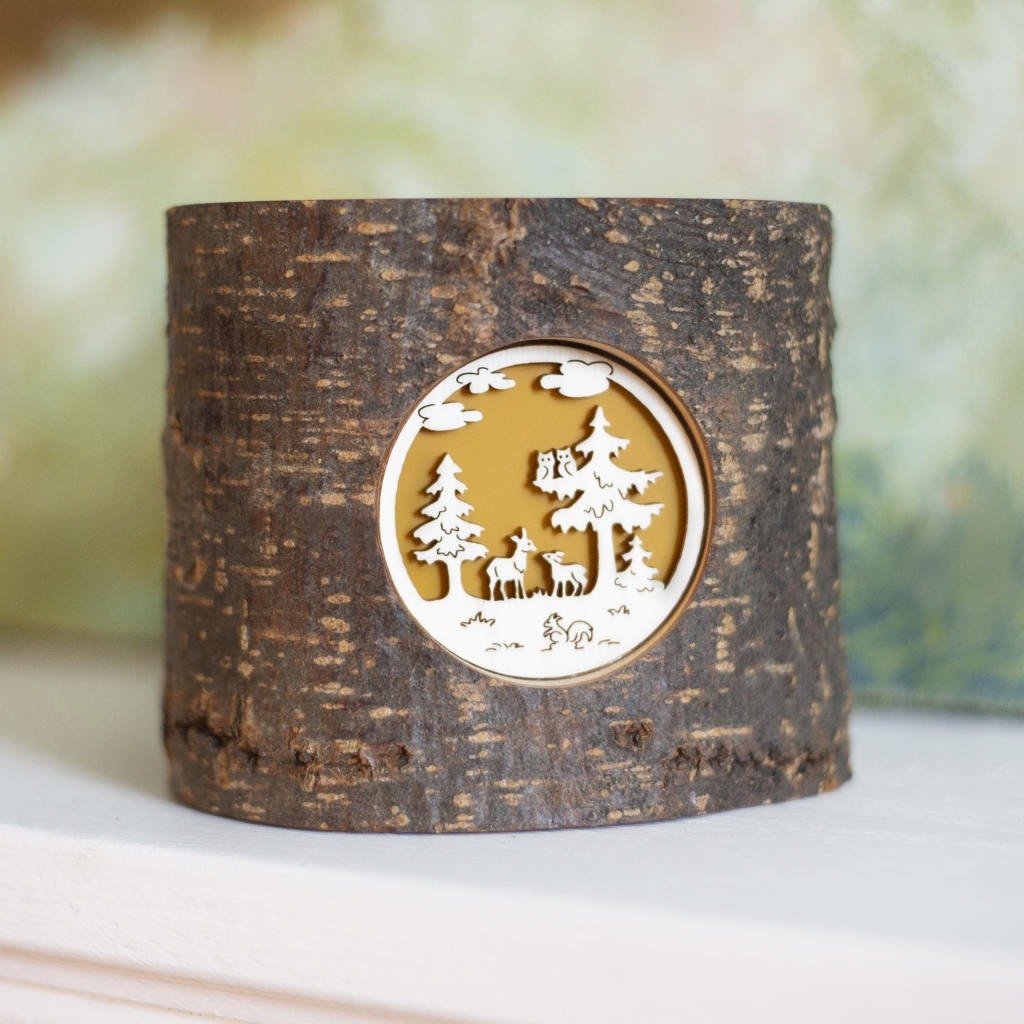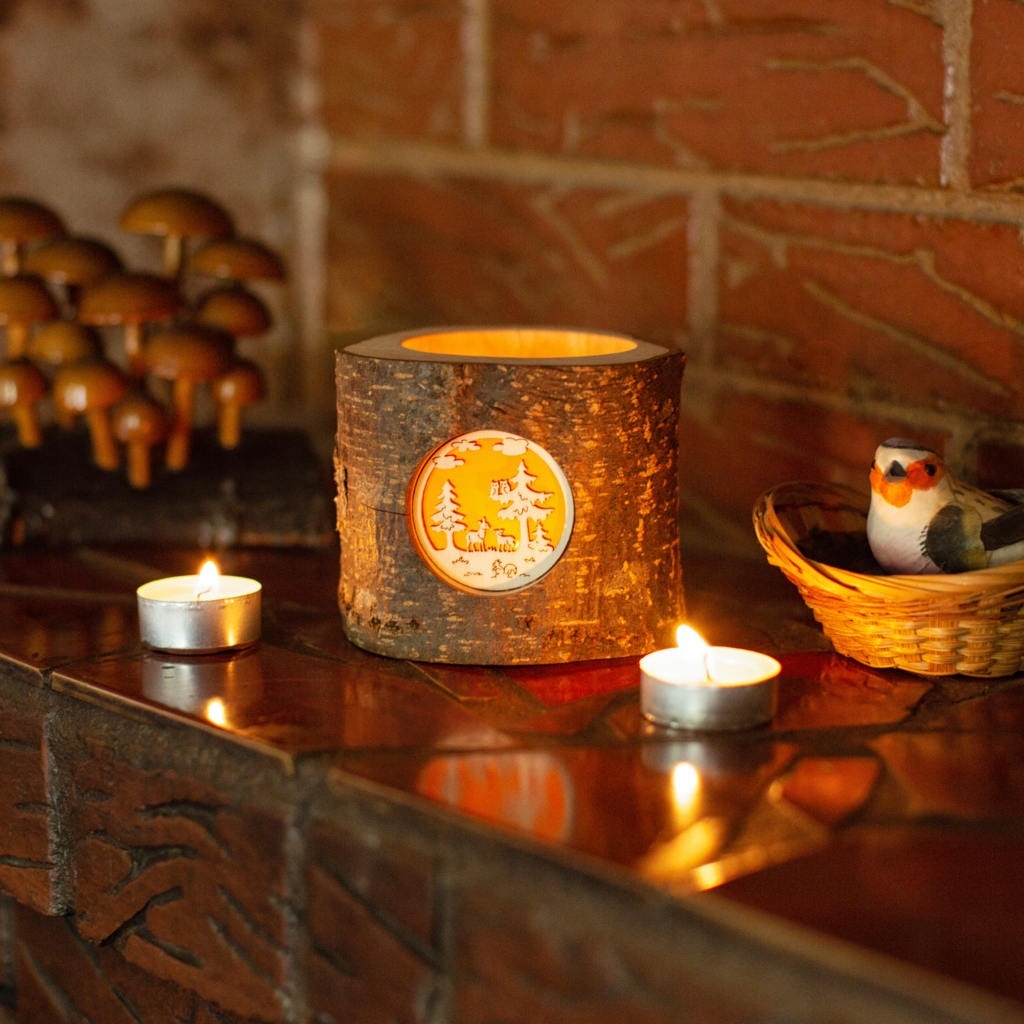 Rustic Candle Holders
A beautiful, decorative piece that can fit in almost anywhere, they're the ideal size to adorn a side table, bookshelf, mantle, or other small space while enhancing other pieces.
Stable, Well-Balanced Base
Crafted from genuine, all-natural forest wood these wooden "stumps" provide just the right interior depth to hold a tealight candle comfortably with proper spacing.
Tealight Candle Included
These wood candle holders all come with a single white tealight candle that can be added or removed from the interior easily. Simple rotate new ones in regularly for daily use.
Lovely Housewarming Gift
The wildlife scene on the side has been neatly and gently inlaid into the wood to ensure a seamlessly look and feel you and your guests will love; especially if you're all about nature.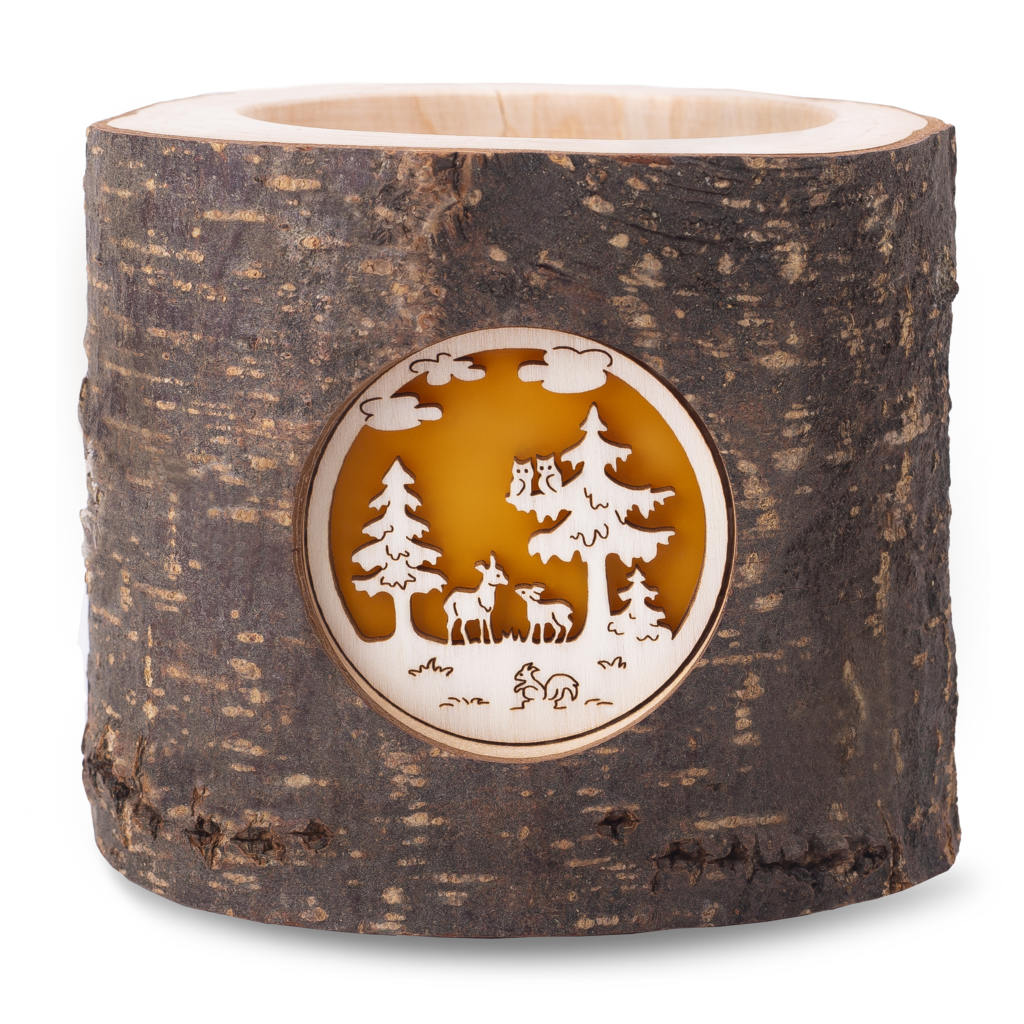 Reviews (3)
Only logged in customers who have purchased this product may leave a review.
Related products
Rated 5.00 out of 5
(7)
$

64.95
Products that You Might Also Like