Wooden Butter Dish & Butter Knife
Olive Wood Butter Dish Set – Complete with a shallow, oval-shaped bowl and matching wood butter knife this charming kitchen set makes the perfect addition to breakfast, lunch, dinner, or a special evening hosting friends.
Handmade Wooden Knife – We included a rustic butter knife to our cool butter dish to make it easier to slice off a small piece of butter for bread, toast, or even a potato. The knife itself has no sharp edges and is flatter and wider for easier spreading.
Flat-Rimmed Basin – This butter dish farmhouse style accessory has enough space to hold a half or full stick of butter, while the flat edge around the dish makes it simple to scrape off excess butter before spreading it around.
Kitchen and Dining Room Server – This olive wood butter dish is designed to be placed on the kitchen counter or a dining table and allows guests or family member to use butter while enjoying a meal. It should be cleaned and put away after use.
Hand Wash Recommended – Like other Forest Decor products made with genuine olive wood you should never put them in the dishwasher. We also recommend washing them by hand with warm water and drying immediately for proper care.

FREE 3-DAY SHIPPING ON ALL U.S. ORDERS OVER $49. SHIPS WORLDWIDE WITHIN 24 HOURS.
SKU:

FD-WBD-BKN
Categories: Olive Wood Bowls, Bowls
Tags: butter dish, butter keeper, butter container, butter holder, wood butter keeper, wood butter container, wood butter holder, olive wood butter dish with knife, wooden butter holder, wood butter dish
Description

Enhance a Dinner or Favorite Meal with a Rustic Butter Dish with Matching Wooden Knife from Forest Decor
There are very few meals that come and go where you don't need at least a little dab of butter to help bring out the best flavors of the food. But because a tub of butter isn't always something you want to just throw down on the table, especially if you're hosting friends or family for the holidays, you want a stylish butter dish that really brings the entire experience together. That's why we created the Forest Decor Butter Dish with Matching Butter Knife to make it simple to add a charming touch to your kitchen while keeping some fresh butter within easy reach.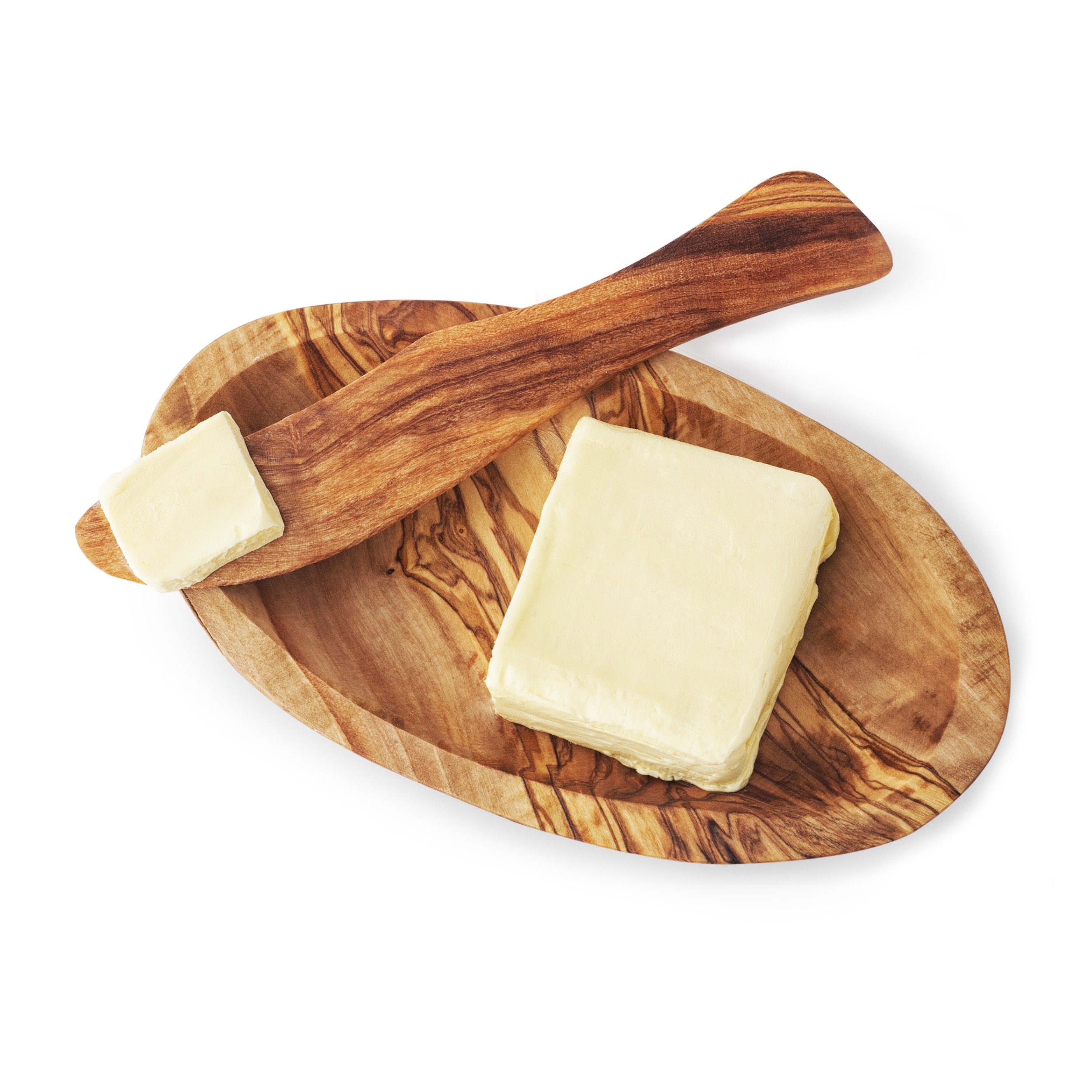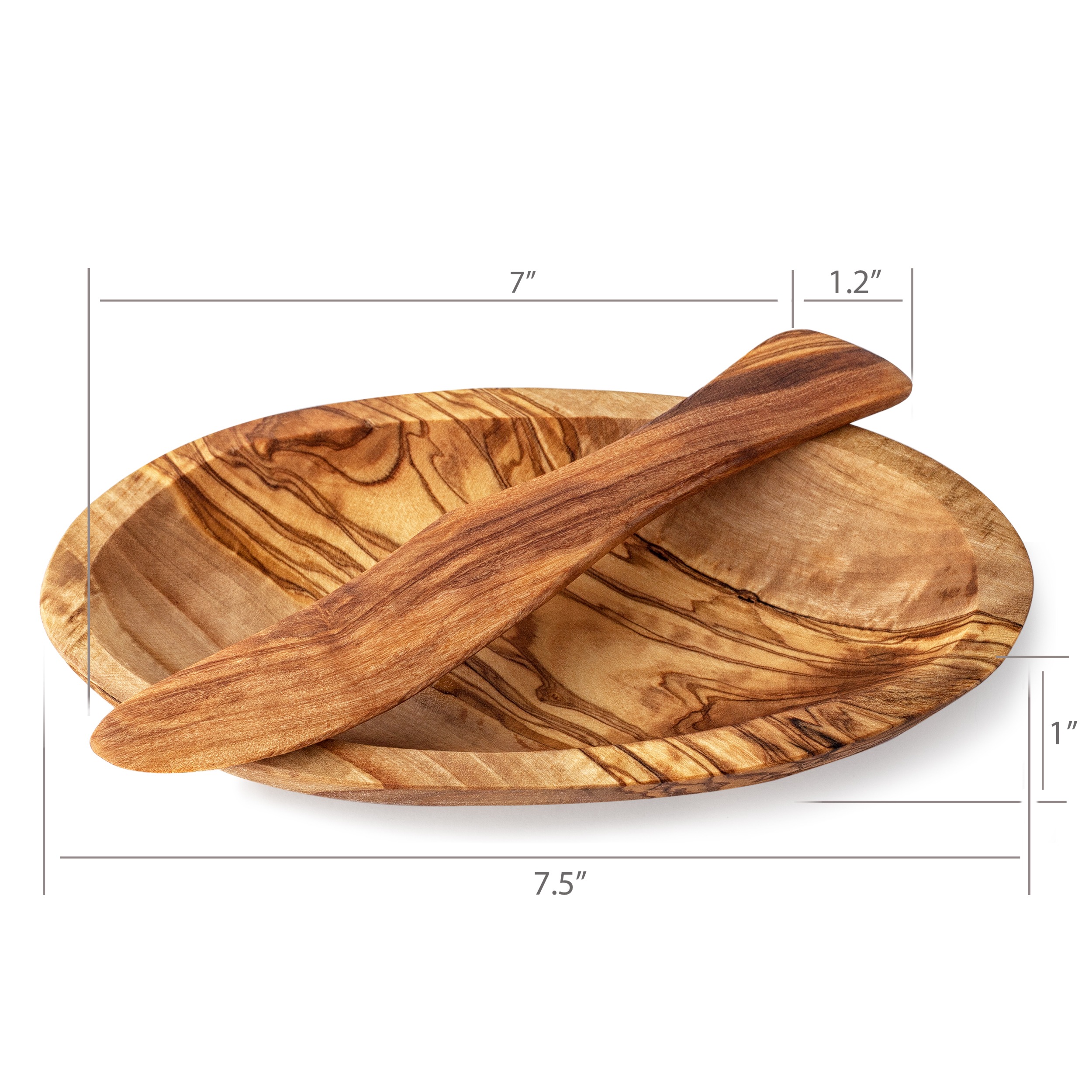 Product Details:
Wood Butter Dish with Butter Knife (2 Pc. Set)
Genuine Olivewood
Handmade Craftsmanship
Food-Grade Safe Wood
Dish Dimensions: 7.5" Wide x 1" Deep
Knife Dimensions: 7" Long x 1.2" Wide
Hand Wash Recommended
Proper Care for Natural Olivewood
We want you to cherish your new hand-carved olive wood kitchenware made by skilled artisans in Tunisia for years to come. That's why to maintain their beautifully intricate designs and unique swirled grain patterns, you should follow these simple guidelines.
· Clean olive wood with only warm using a soft sponge or cloth. If extremely dirty, you can add a little dish soap. After washing, wipe wood dry with a soft cloth.
· Retain the beauty of our olive wood grain and color and prevent it from drying out or cracking by conditioning it with olive oil as needed.
· Never expose olivewood to a dishwasher or hot or cold temperatures for long periods (such as a fridge) to ensure they don't split or get damaged.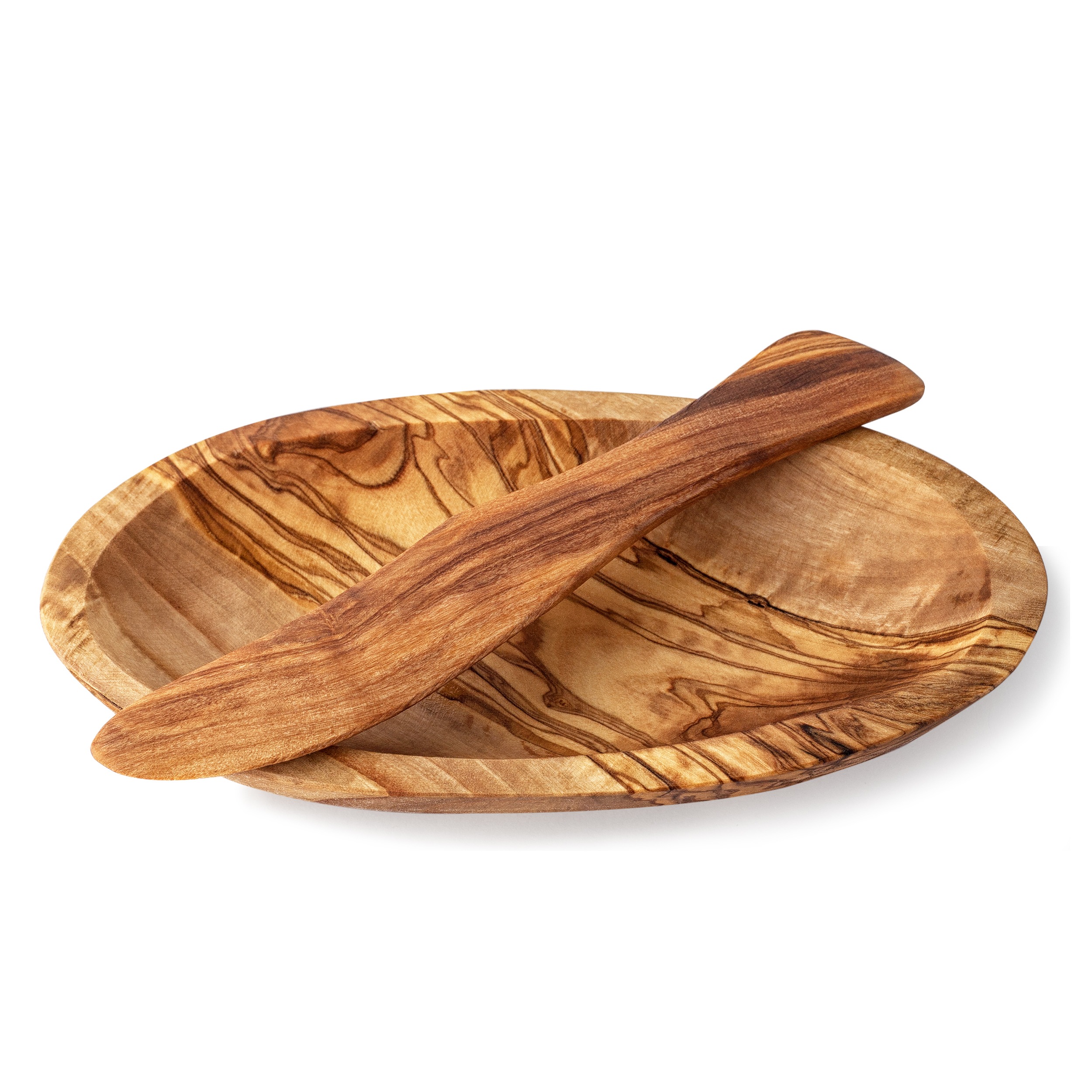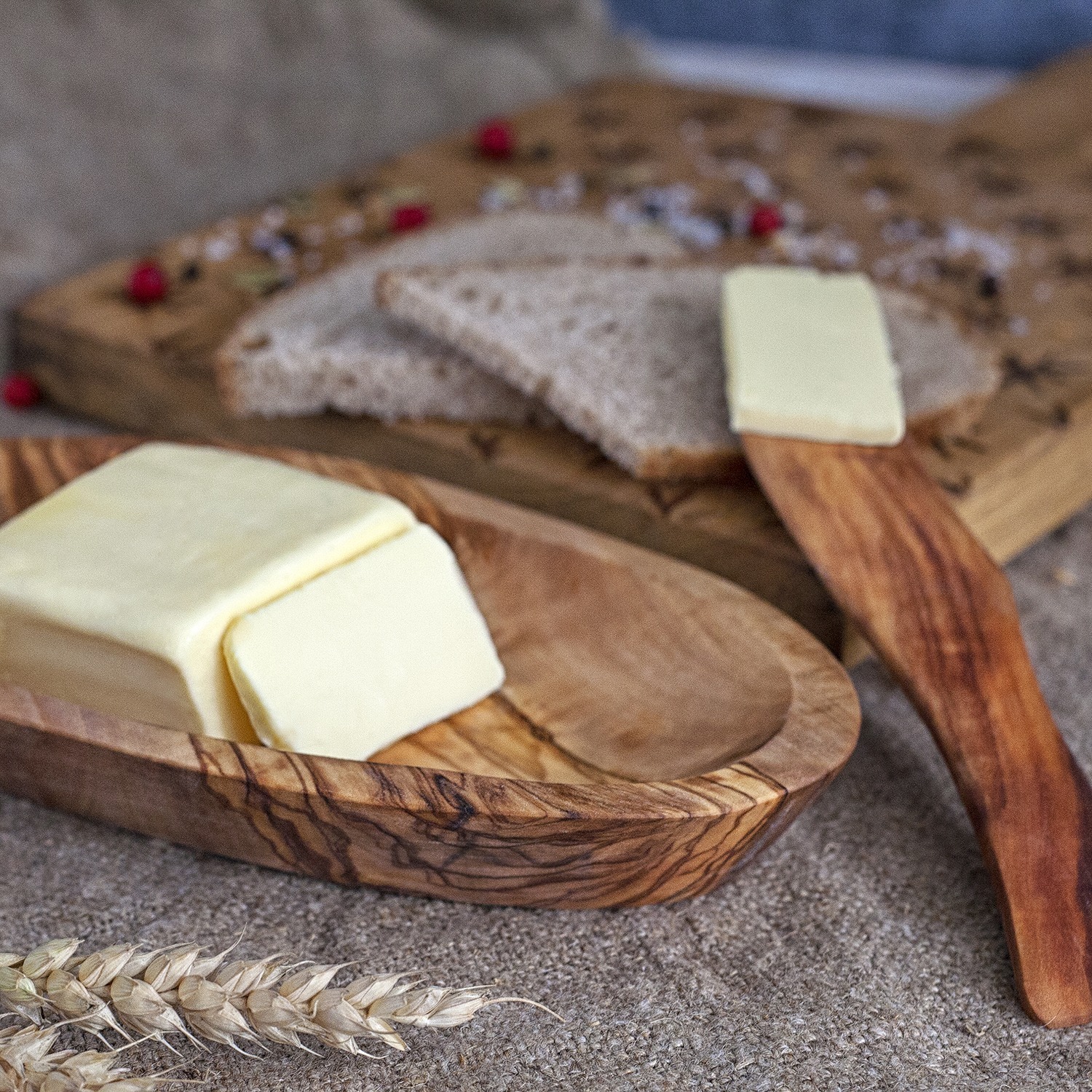 Charming Kitchen Gift Set
A butter dish is one of the most needed kitchen items for modern homes. You not only use it for almost every meal throughout the day it can add much-needed convenience to your eating experience. That's why this butter dish with knife combo makes a smart gift idea for anniversaries, birthdays, or holiday surprises.
Decorative Display
You can keep this butter dish and knife set on your kitchen counter or on a dining room buffet table until you need to use them. They make a charming addition to farmhouse decor.
Smooth Wooden Knife
Our hand-crafted knife is also made with natural olive wood and it doesn't feature a sharp edge, which makes it better for cutting through butter and safer for family use.
Convenient Serving Size
The wider 7.5" length of our wooden butter dish makes it ideal if you're serving multiple family members and
friends, or if you have a larger amount of butter to share at once.
Mess-Free Dish Depth
We made our butter dishes a full 1" deep which allows the butter stick to sit in there without you worry about someone pushing it out or any messes to drip onto the table.
Stain and Odor Resistant
Our food-grade safe butter dishes are naturally stain resistant and don't hold odors with proper care that includes wiping them down and drying them off after each use.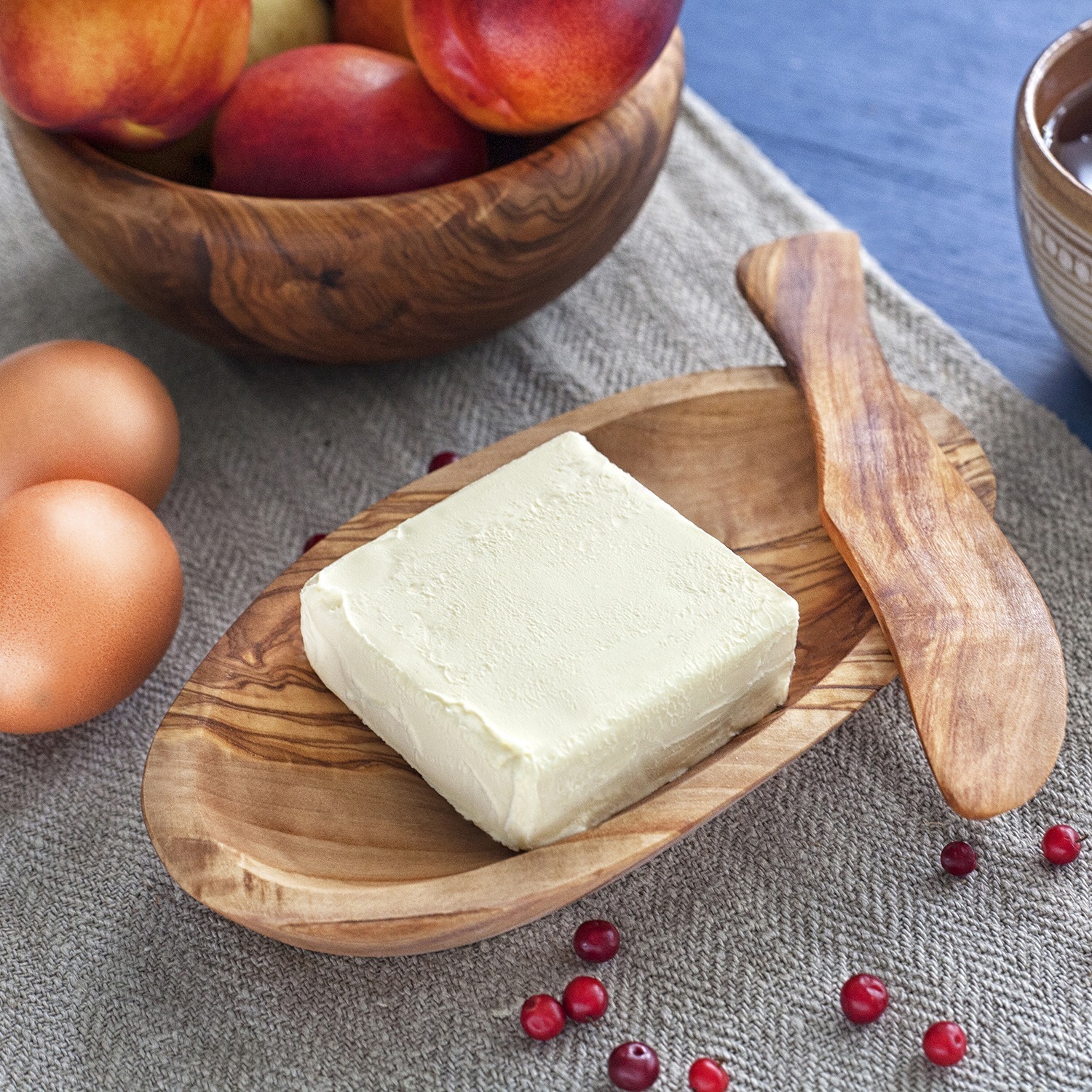 Reviews (4)
Only logged in customers who have purchased this product may leave a review.
Related products
Products that You Might Also Like
Rated 5.00 out of 5
(2)
$

36.95 –

$

48.95