Personalized Wooden Kitchen Utensils – Set of 4
SET OF 4 ENGRAVED OLIVE WOOD UTENSILS GIFT OR KEEP: It's the perfect personalized utensil set. Each wooden utensil set comes with a flat spatula, slotted spatula, cooking spoon and a corner spoon. Perfect cooking utensils set for every kitchen. – all with your saying or name. Want to gift it? Order two sets! If you just order one to gift, you'll get a little envious when you see these beauties. A "little" envious? Who wouldn't love some sophisticated Provencal style?
PREMIUM OLIVE WOOD – THE GRAIN IS STUNNING: Hand-crafted with fine attention to detail, each personalized cooking utensil is designed to show off its unique grain. When you add an engraved personalized name or saying, and there's not another like it in the world. Love the feel of quality? If you're giving it as a gift, just wait for the accolades – if you're gifting yourself, you'll get serious satisfaction out of using these tools.
THIS PERSONALIZED WOODEN UTENSIL SET WILL INSPIRE YOU: Do you ever get tired of using the same old tools? Stirring and mixing rise to new heights when you're using beautiful olivewood tools, especially if they're engraved and personalized just for you. Luscious, that's what it is. Personalization is easy. Just choose the design and you'll be taken to a screen where you can enter the information you'd like engraved on the utensils.
PREMIUM ARTISTAN CRAFTSMANSHIP: Comparing our products to bamboo? Bamboo is a grass, not wood, so it doesn't come close to exotic Tunisian olivewood for beauty, durability, or quality. As a US-based family owned and operated business, we focus on premier handmade craftsmanship. That's why each olive wood utensil set is beautifully unique in terms of color, pattern, and texture.
SUSTAINABLE, TOP QUALITY WOODEN PERSONALIZED GIFTS: All our utensils – in fact, all our products – are sustainably created out of a single piece of olive wood. That means we never use glue, and the grain is consistent in every piece. As we like to say, our reviews tell the story. Please check them out! We take great pride in creating top quality wood engraved gifts you can give to your friends or gift to yourself.

FREE 3-DAY SHIPPING ON ALL U.S. ORDERS OVER $49. SHIPS WORLDWIDE WITHIN 24 HOURS.
Categories: Personalized Utensils, Personalized Kitchen Gifts, Personalized Wood Gifts, Utensils
Tags: olive wood utensils, wooden cooking utensil set, utensil set, wooden cooking utensils set, utensils for cooking, kitchen utensil set, wooden utensils for cooking, wooden utensils set, wooden cooking utensils, wood utensil set, wood cooking utensils, wood utensils, wooden kitchen utensil set, wooden utensils, wood utensils set for cooking, cooking utensils, kitchen utensils set wood, olive wood kitchen utensils, wooden kitchen utensils
Description

Prepare Food and Spruce Up Your Kitchen Style with This Personalized Wooden Spoon and Utensil Set
Every kitchen needs utensils, and if you enjoy using personalized quality, you'll love this olive wood utensil set from Forest Décor. Not only do these tools help you prepare food more efficiently, but as engraved pieces they're a joy to use. Use all the personalized spoons and spatulas engraved with your saying for everyday cooking … each piece has magnetic charm all its own.
Looking for laser engraved wooden spoons for gift ideas? The set makes one of the best wooden personalized gifts! You know that personalized wood gifts are among the most appreciated gifts, and the beauty of these pieces puts them right at the top. Personalized to give as gifts, the exclusive pattern, finish, and original style of these beautiful wooden utensils is both captivating and functional.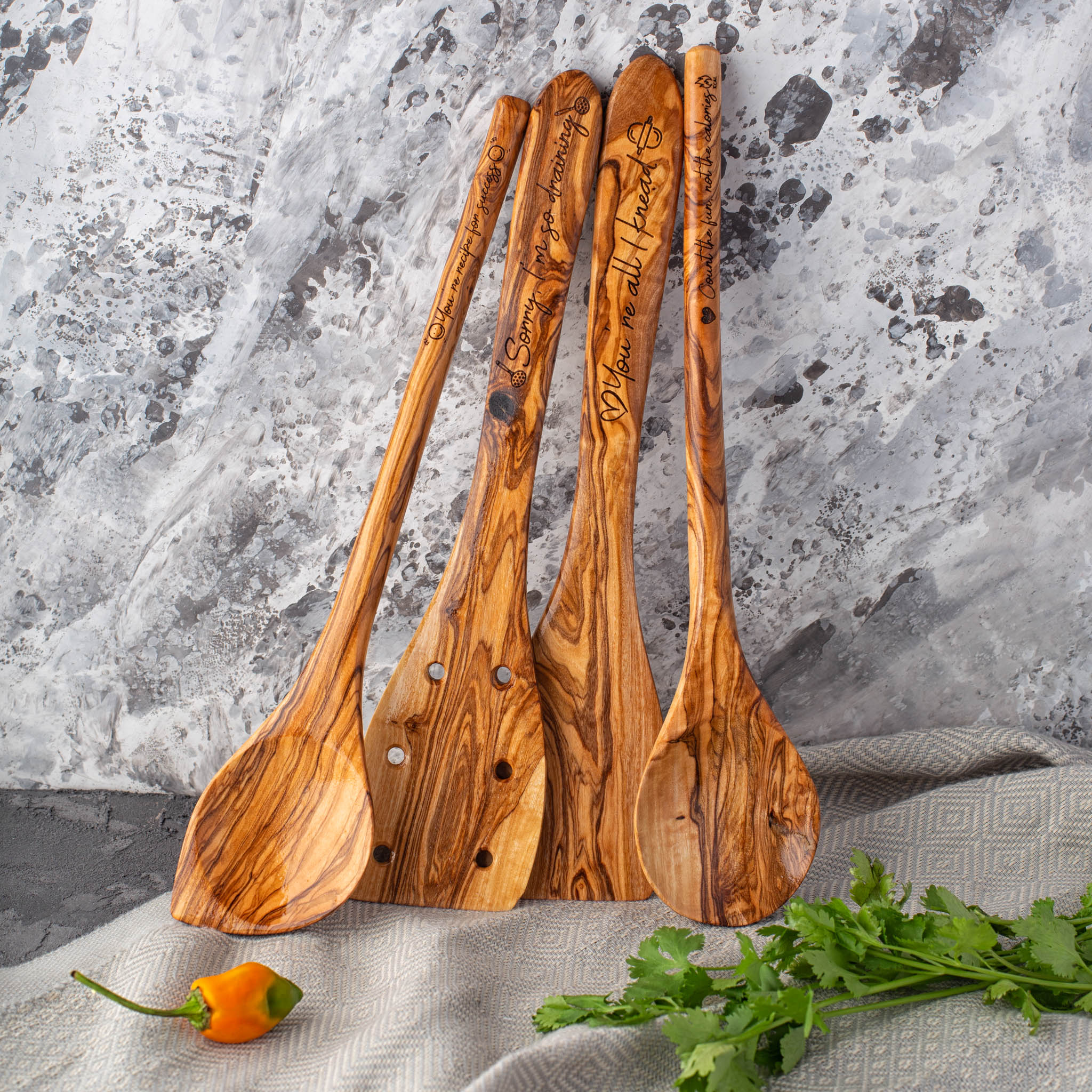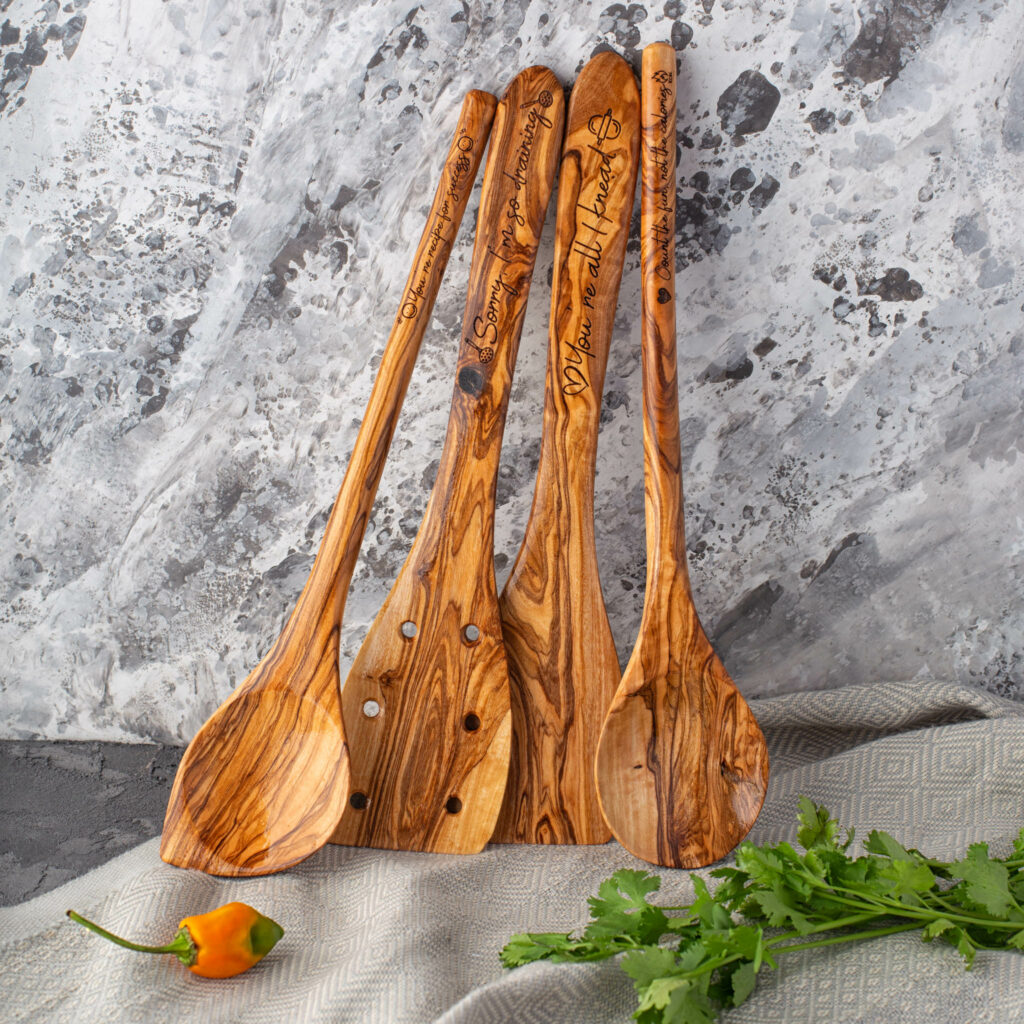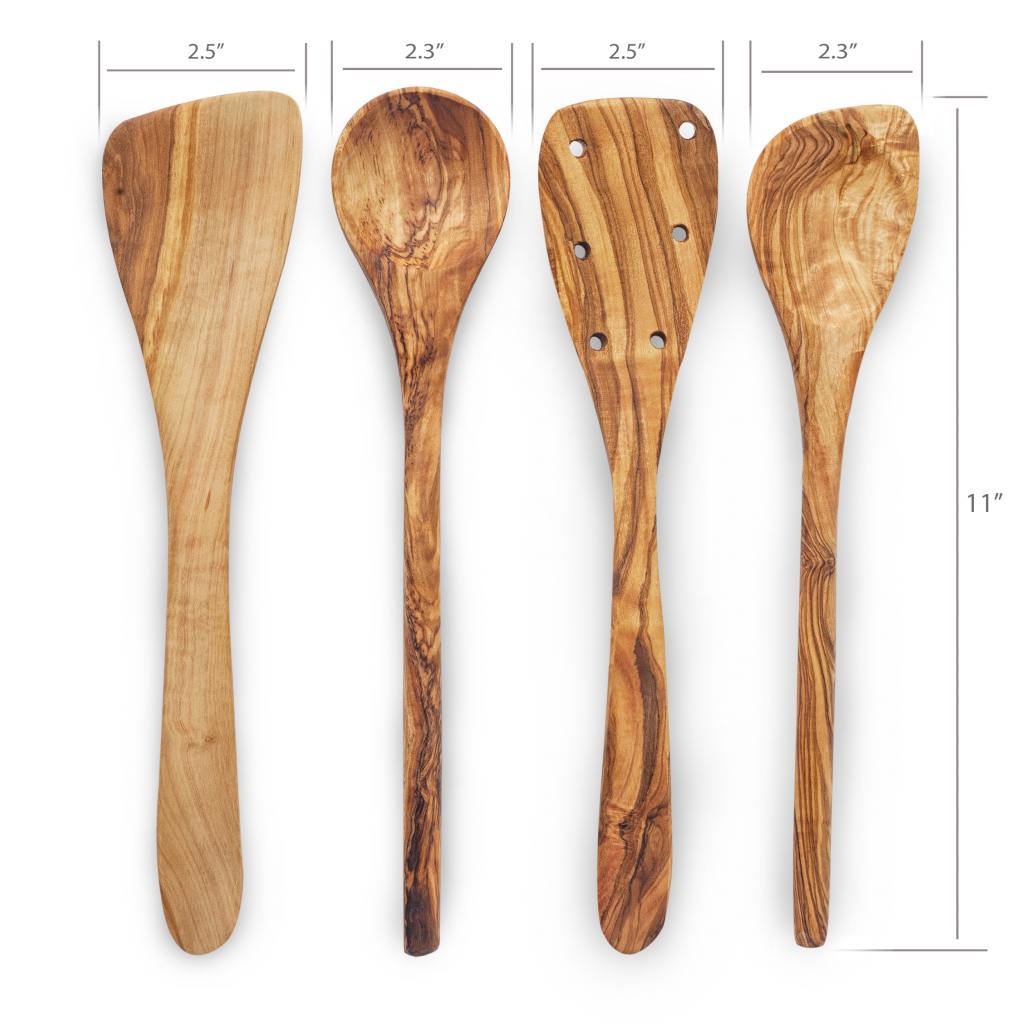 Product Details:
Engraved Wooden Kitchen Utensils – Set of 4
Premium Natural Tunisian Olive Wood
Elegant, Durable, and Easy to Clean
Genuine Handmade Craftsmanship
Dimensions – 11 x 2.3-2.5 inch per each utensil
Note: Each utensil is 100% unique which means they each have their own wood grain pattern and texture.
Premier Kitchen Accessories
We believe that living a natural lifestyle begins in the kitchen – especially when it comes to your everyday cooking items. That's why each personalized wooden kitchen utensil is made by hand, carefully treated with natural minerals, and completely free of harsh chemicals or additives. Whether you keep or gift it, this engraved utensil set will give pleasure for years to come.
Gifts People Remember
Olive wood utensil sets make great personalized kitchen gifts. Birthday gifts, anniversaries, graduations, Mother's Day gifts — an engraved wood utensil set is one of the most thoughtful gifts you can give. You can also give this personalized wood utensil set to friends who are moving. Personalized housewarming gifts are always appreciated for helping the family feel settled into their new home.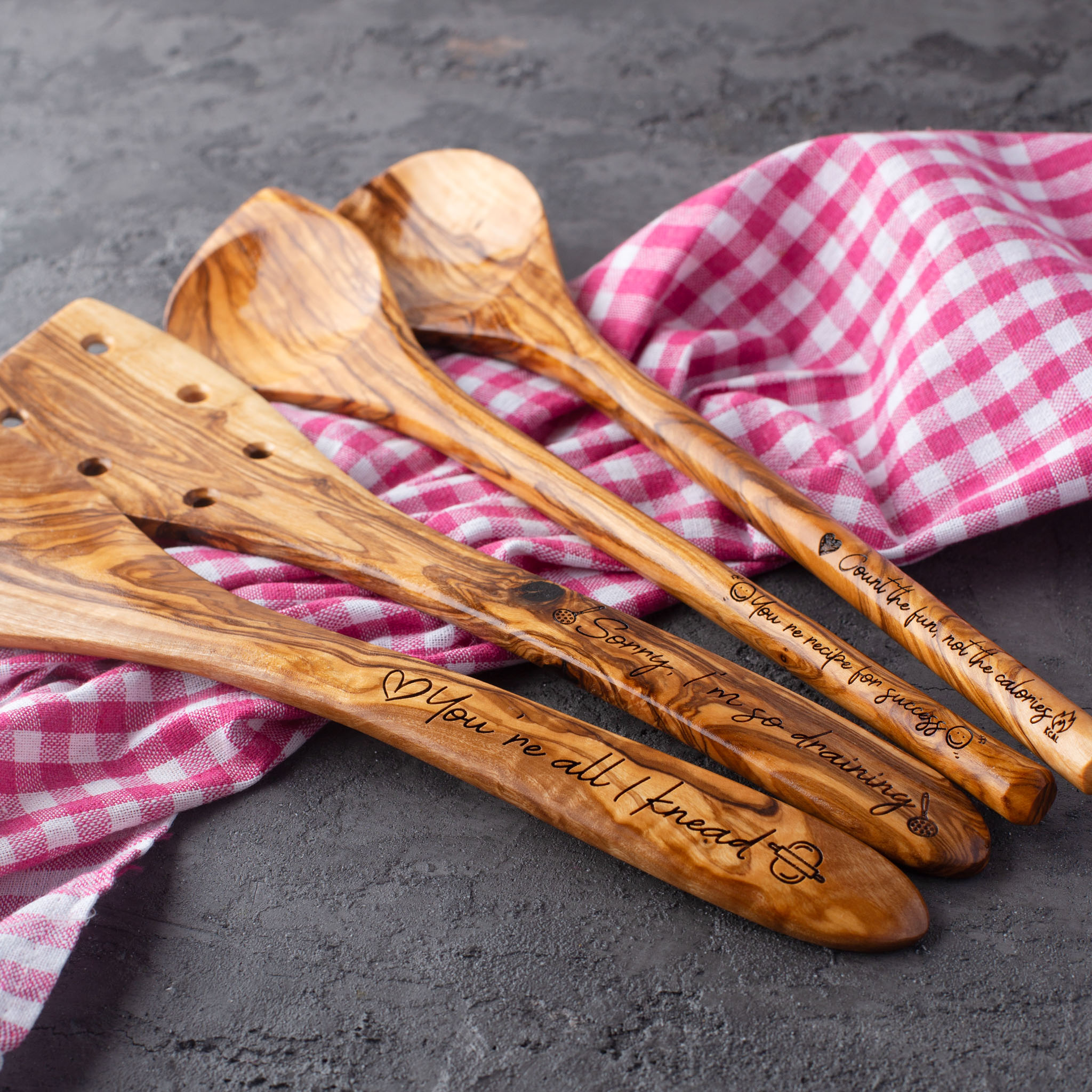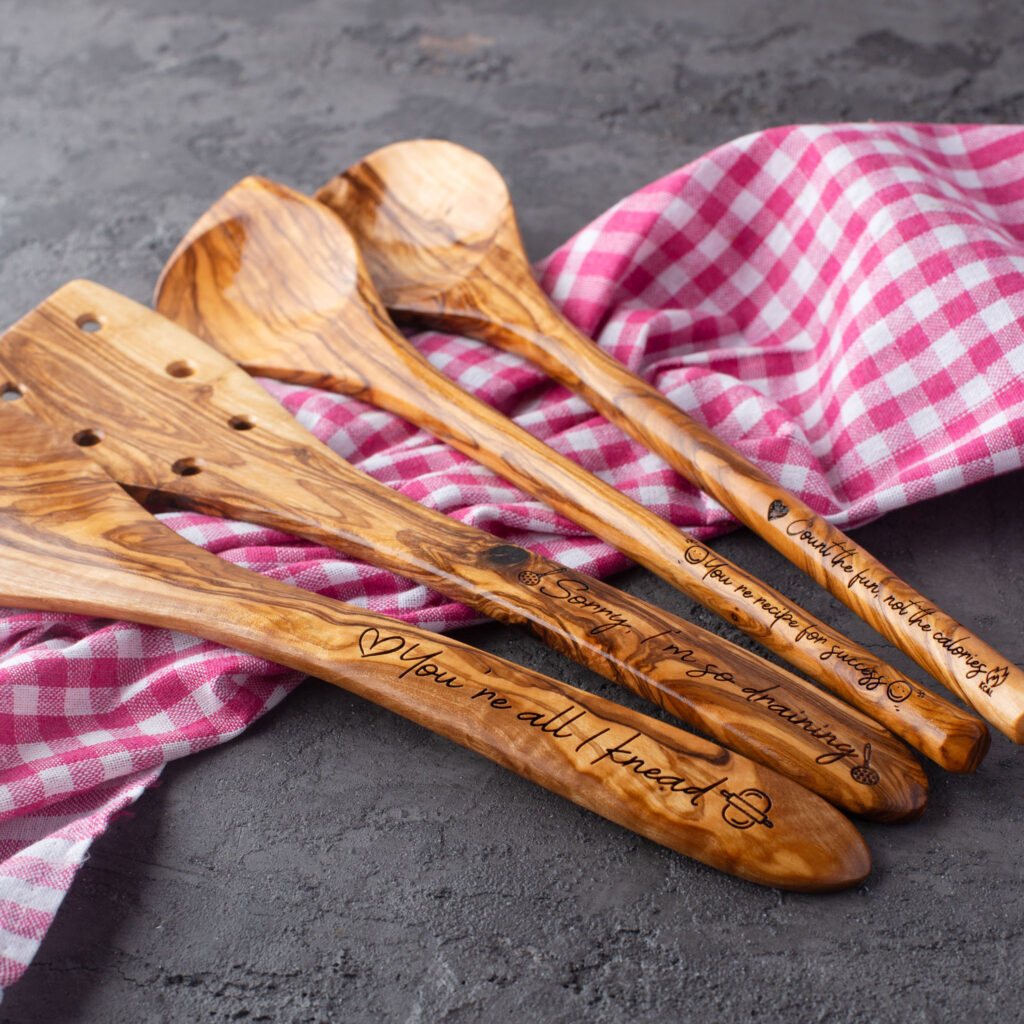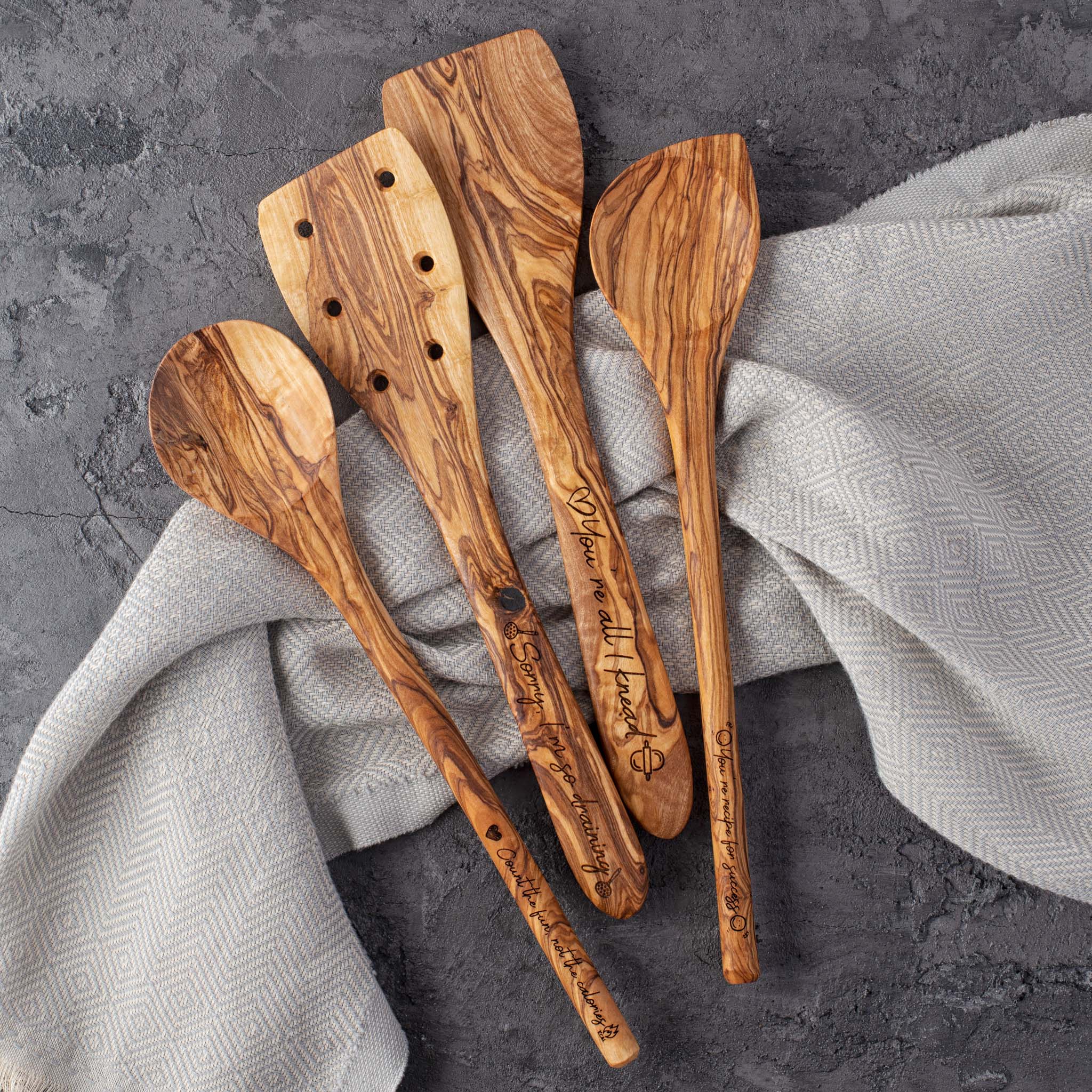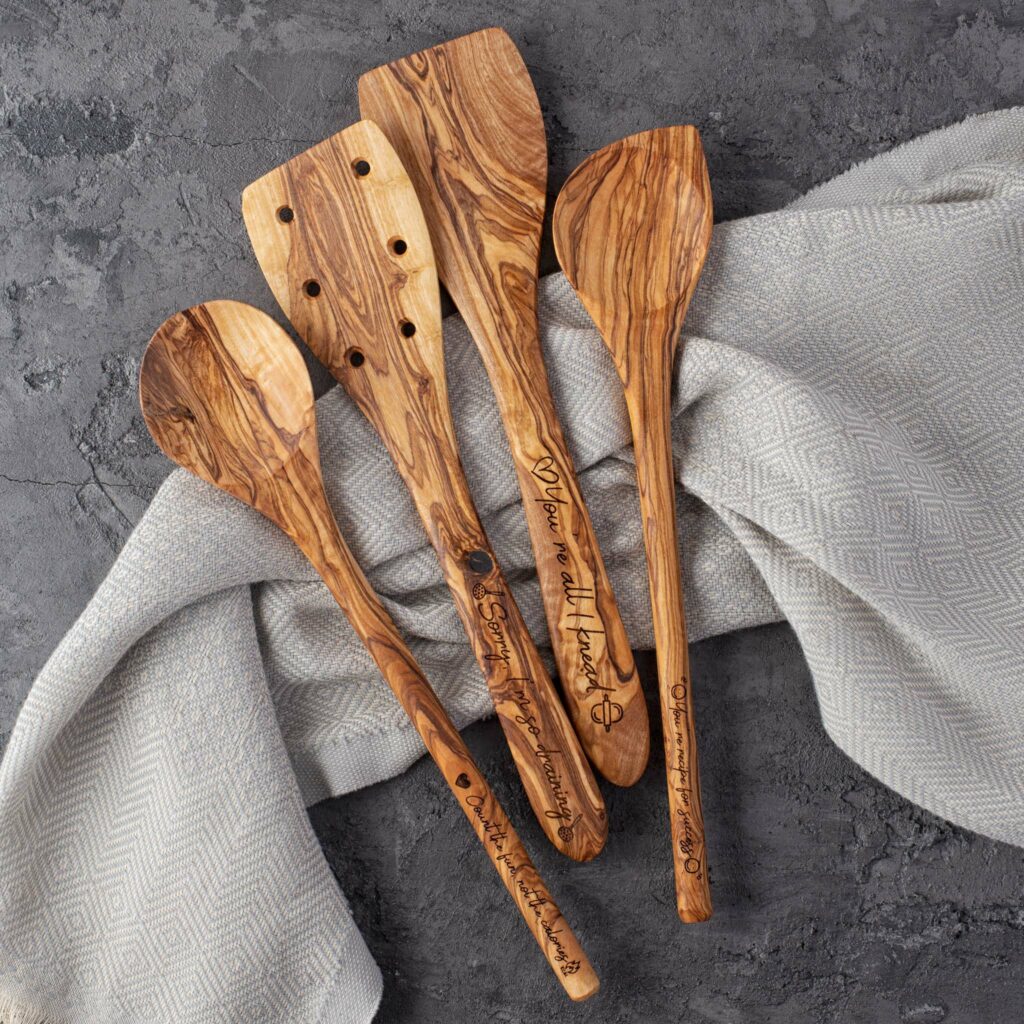 Functional and Decorative
Place this personalized wooden utensil set on your counter to display the grain — these utensils are stunning additions to your kitchen. All our wood utensils are 100% unique in terms of coloration and grain. When you receive your set, you'll know there can't be another like it. Your utensil set will be a truly special engraved wooden gift for yourself, your friends, or your family.
Scratch-Resistant and Surface Safe
The soft, yet durable olive wood construction is also safer for non-stick pots and pans, which means you can get the same support as silicone or plastic utensils but with a more sophisticated, farmhouse look and Provencal style.
Naturally Heat-Resistant Wood
Our olive wood spatulas and spoons are thick, durable, and provide a nice-weighted feel in your hand. More importantly, they are heat resistant, so you can be better protected when you're cooking or preparing food.
Easy to Clean
Like all our other olive wood products, we recommend hand washing these utensils in warm soapy water. Give them a coat of mineral oil each month and you'll protect their strength and resilience for years to come.
Bulk Orders – Wedding Favors, Corporate Branding
These personalized olivewood utensil sets make awesome bridesmaids' gifts, or how about the mother-of-the-bride and groom gifts? We can also accommodate corporate branding orders – contact us for details.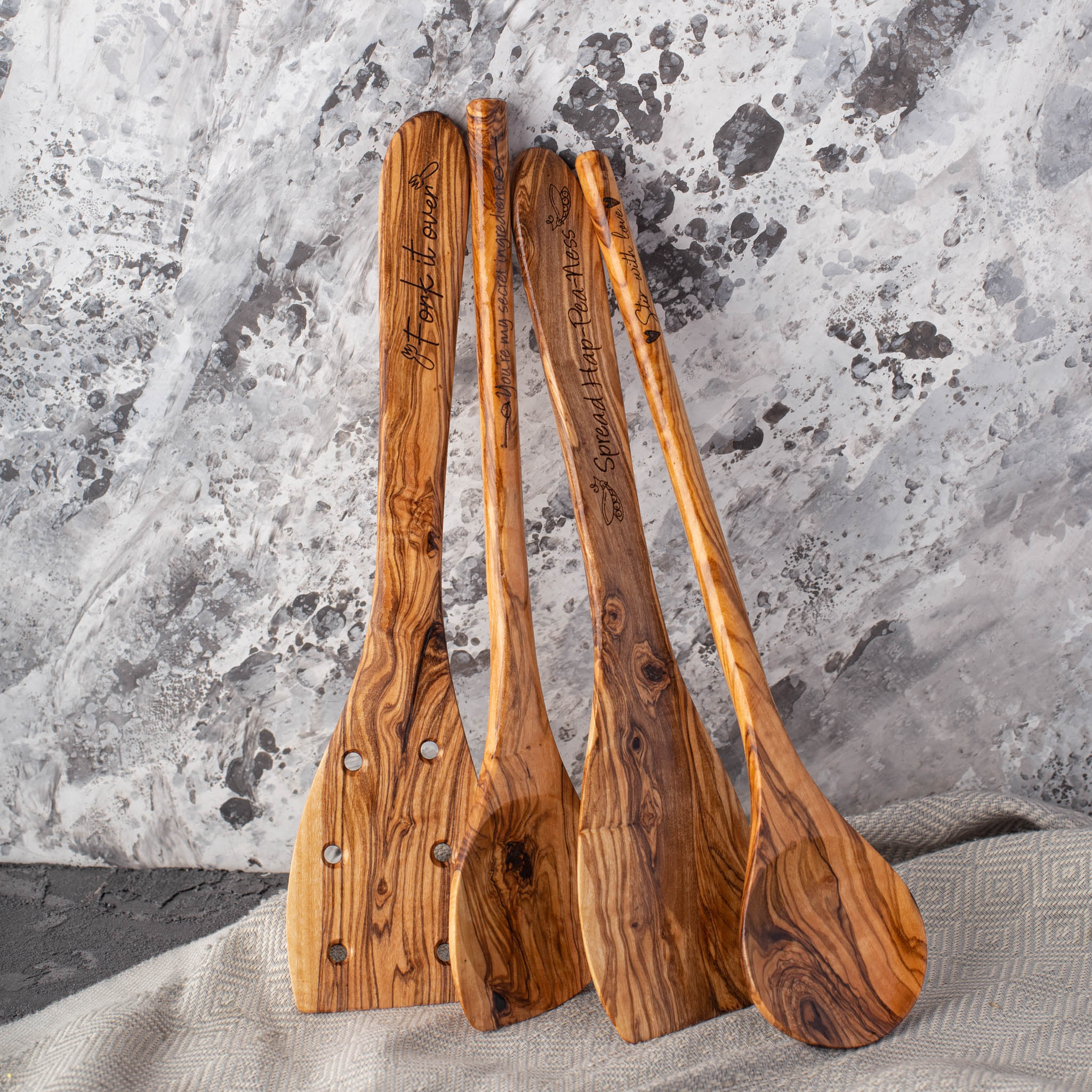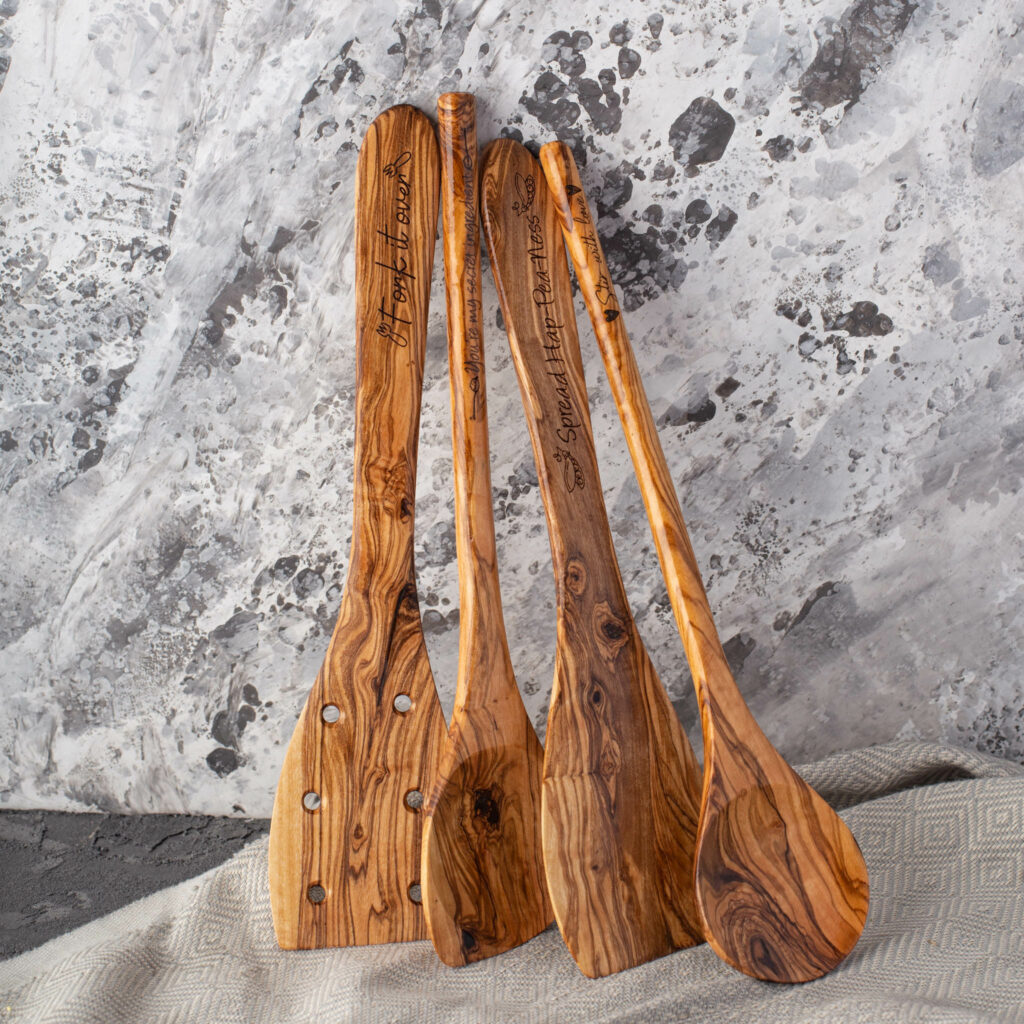 Reviews (6)
Only logged in customers who have purchased this product may leave a review.
Related products
Products that You Might Also Like