Wooden Love Letters Cutout Sign
Warm, Welcoming Love Sign – These love cutout letters make a beautiful, decorative touch to your personal living areas and create a rustic, farmhouse feel even in the most modern styles.
Finished and Unfinished Sides – Our charming wood decoration for home or kitchen feature both an unfinished bark side and a smooth finish side for versatile placement options you'll love.
Genuine, Handcrafted Designs – Made by master craftsman in Germany our love wood sign is made from authentic forest wood which gives each piece its own unique color, feel, and look.
Attractive Housewarming Gift – Get these

wooden love letters

for your own house or give them to friends, family, or new neighbors as a holiday, birthday, anniversary, or special gift.
Unbeatable Brand Quality – Here at Forest Decor we believe in making high-quality, all-natural wooden decorations that are stylish, durable, and last for years to come. Contact us with any quality control issues for fast support.

FREE 3-DAY SHIPPING ON ALL U.S. ORDERS OVER $49. SHIPS WORLDWIDE WITHIN 24 HOURS.
Description

Welcome Friends and Family to Your Home with a Classic Wooden Letter Sign from Forest Decor
Your home is where you go to rest after a long, hard day at work, where you share all those meaningful holidays with your kids or family, and where you escape to when you need to relax and refocus. That's why we created this beautiful, handmade Forest Decor Love Letter Sign that lets you express how special a place it is with originality and love. Handcrafted in Germany, these individual letters feature two different sides and can be placed anywhere you want to create a welcoming atmosphere.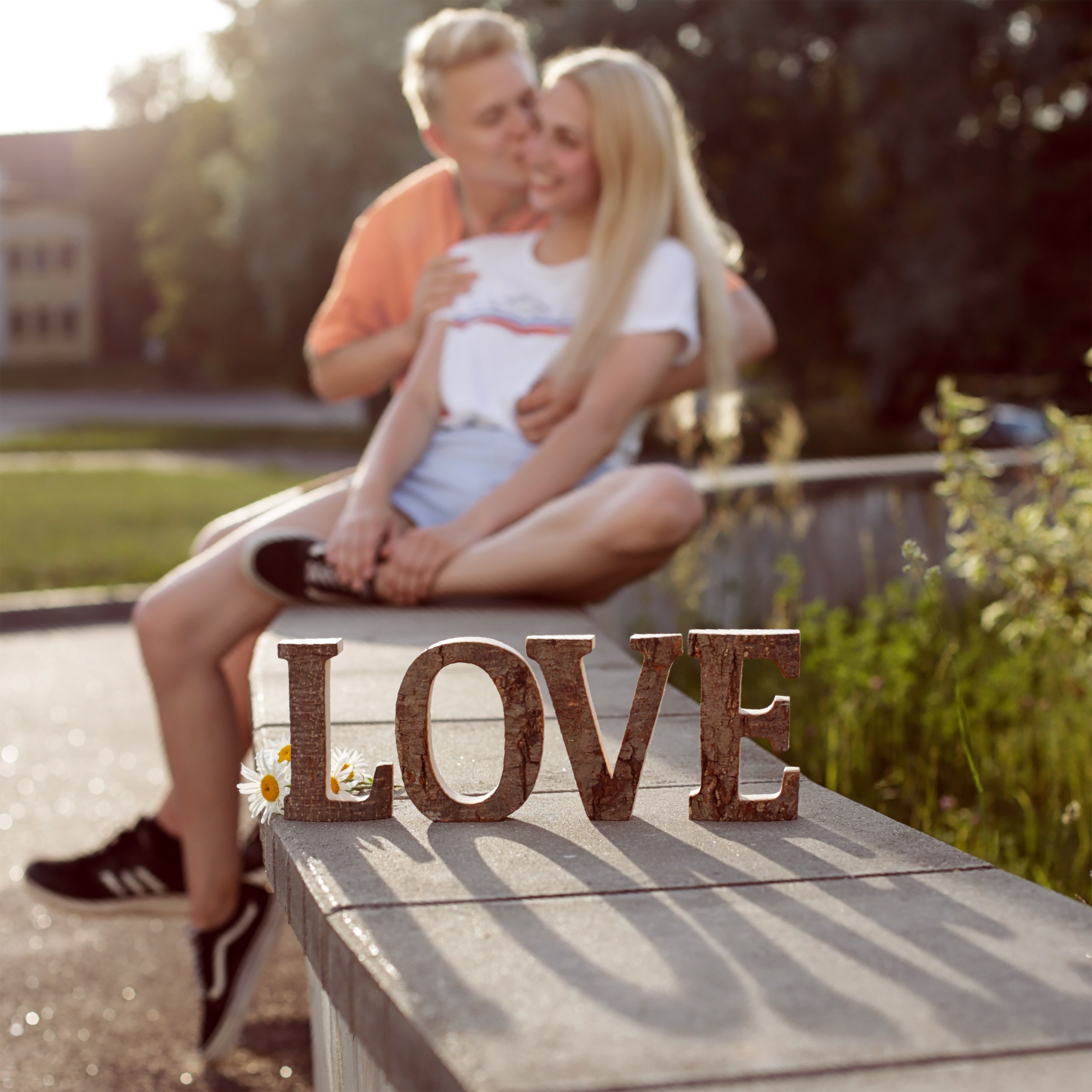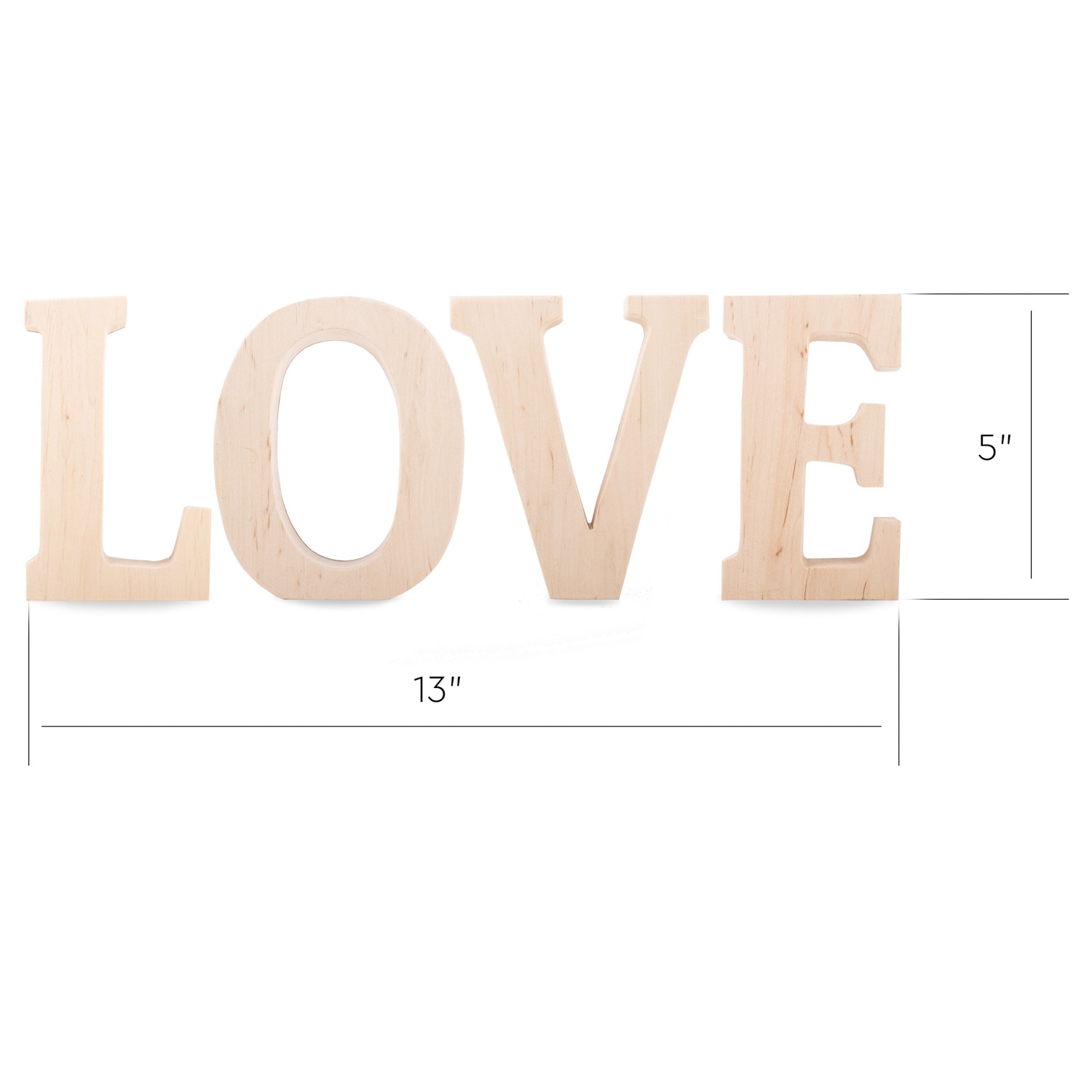 Product Details:
Wooden Love Letters (4 Piece Set)
Handcrafted from Genuine Wood
Finished and Unfinished Sides
Lightweight, Well-Balanced Design
Handmade
Rustic Wall Decor
Our wooden love sign letters offer versatility in style and decor, which means they can fit traditional farmhouse or rustic looks, contemporary or modern styles, and more.
Beautiful Gift Idea
A wonderful choice for birthdays, an anniversary, holidays, or even Christmas, this wooden love sign is cute, functional, and fits in well almost anywhere. And because each one is handmade it's a piece that's completely original every time.
Functional Design
These letters feature a smooth bottom on the base to ensure better stability, allowing them to stand up without needing a backing or stand. Ideal for table, desk, or counter displays.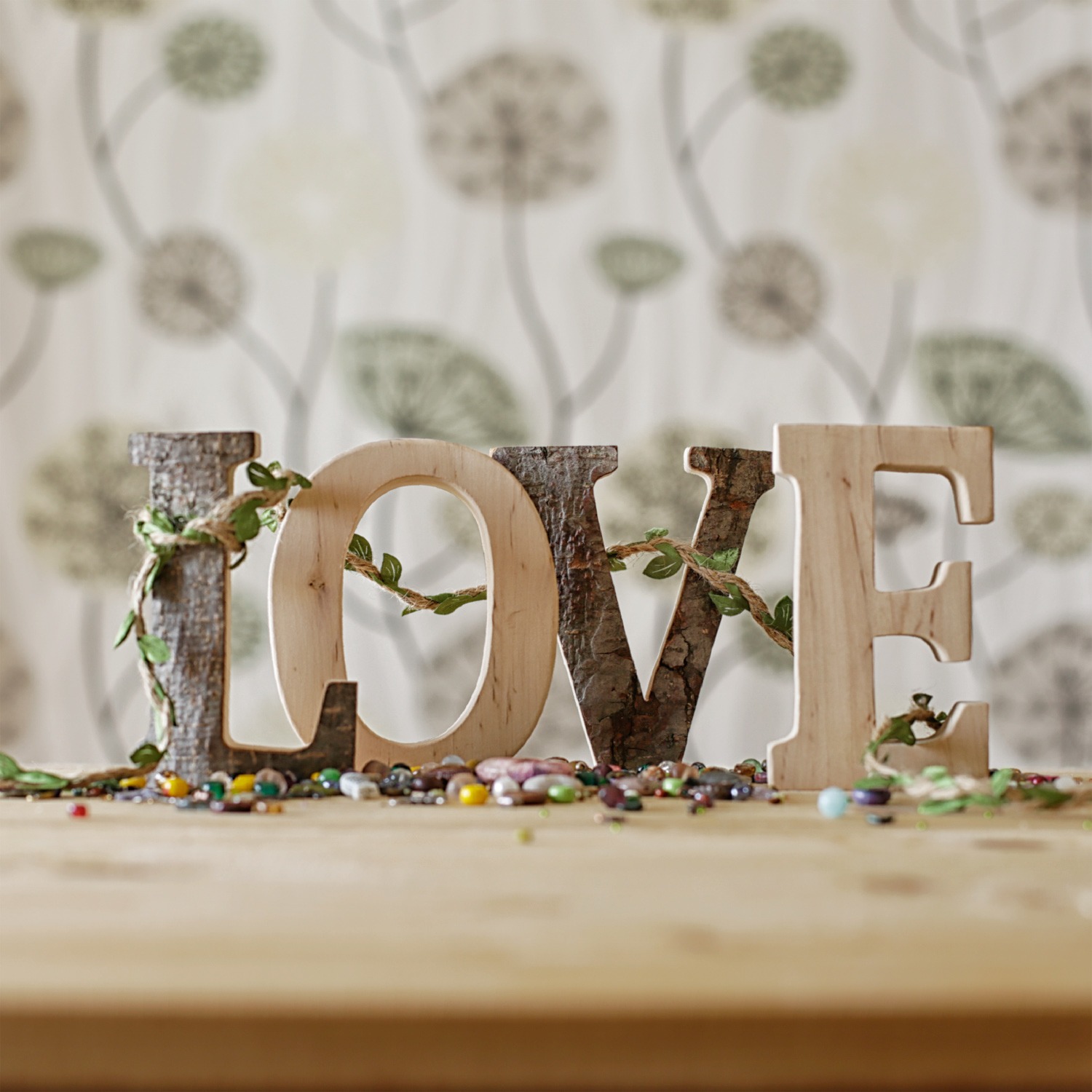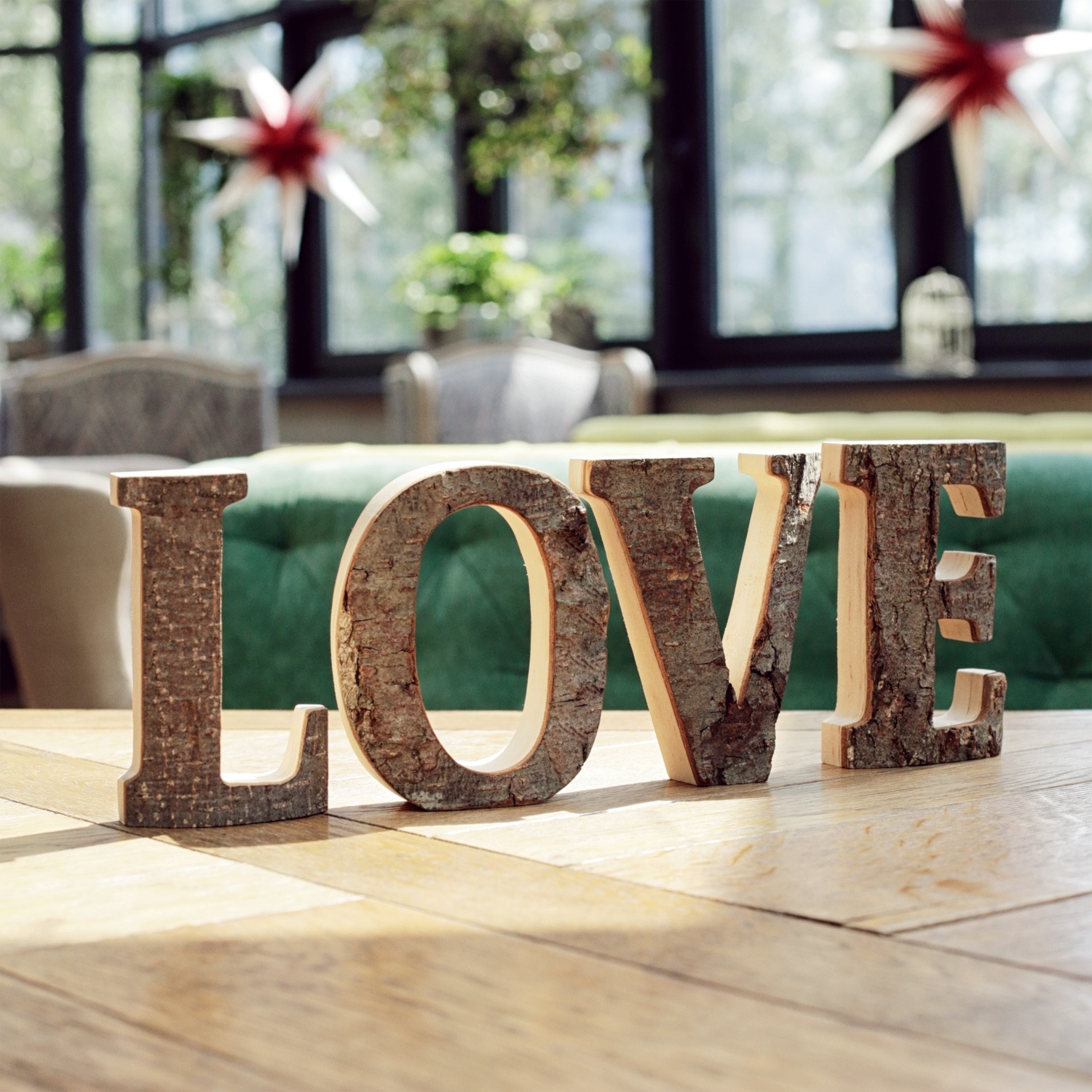 Well-Balanced Base
These rustic signs are made with genuine, high-density wood which gives them more weight and strength than standard plastic, ceramic, or MDF for longer-lasting durability. One of the best home decor signs out there!
Genuine Bark Edging
These letters are 5" x 4" in size which makes them easier to add to other home or office displays. It also allows you to spread them out or bunch them up for your ideal distance.
Multiple Display Options
Each piece has been carefully crafted from genuine wood taken from the forest, which means each one has a truly original look and feel you won't find anywhere else.
Love Sign Decor from Real Black Forest Wood
The unique dual-sided finish that features a smooth side and a side with bark allows you to create variations in how you display your home sign. For example, you can face all letters the same way for consistency, turn just the O around to highlight a single letter, or alternate them to create unique depth.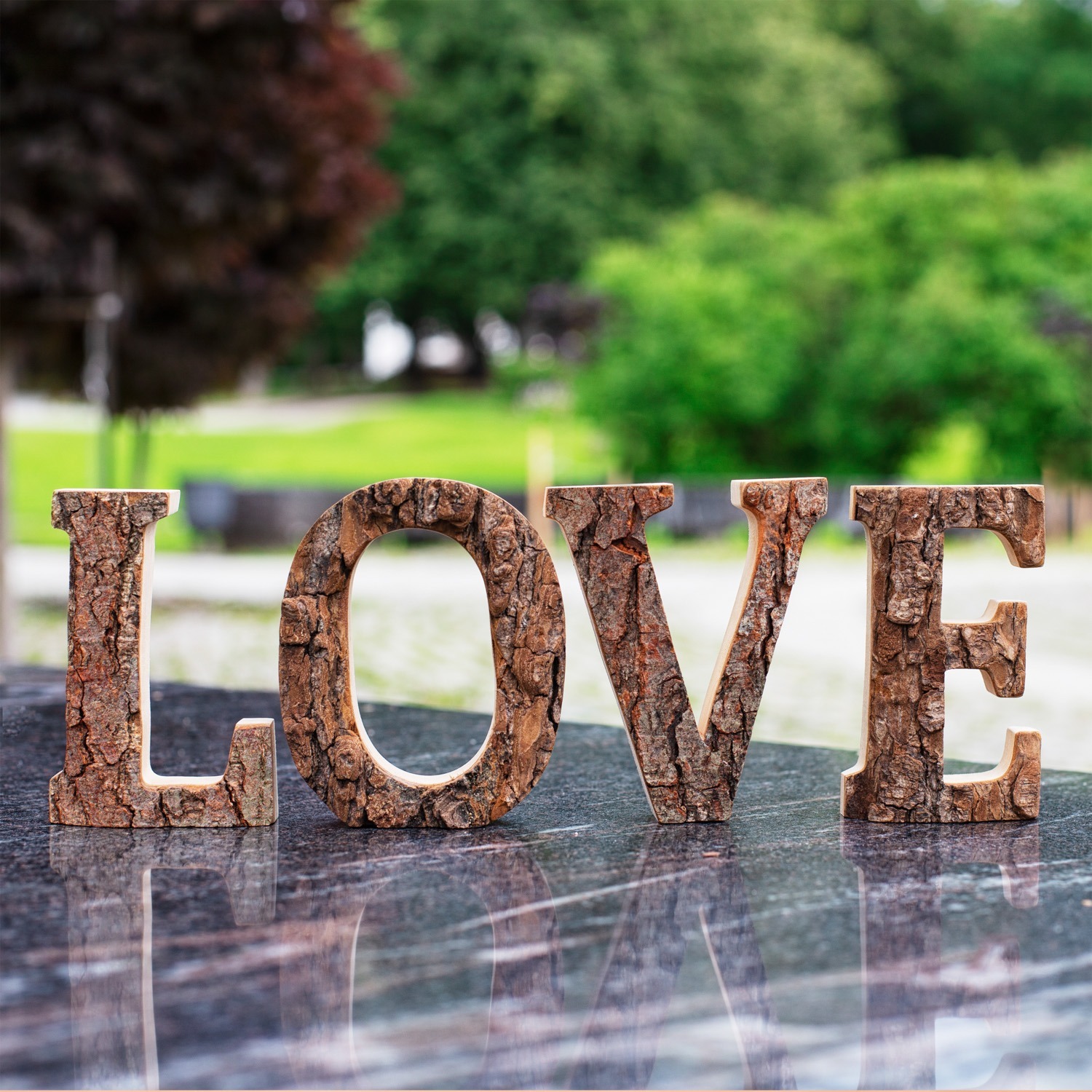 Reviews (2)
Only logged in customers who have purchased this product may leave a review.
Related products
Products that You Might Also Like