Rustic Owl Figurines For Home Decor – 2 Pcs
BEAUTIFUL, RUSTIC OWL DECOR – These charming, hand-crafted owl decorations for home and office add a natural touch to your personal space with a beautiful live-edge hardwood front with cute little eyes peering out just waiting to say, "Hoot". Our owl figurines are perfect small decor items for shelf or wall. These small owls measure 2″ x 3″ inches & 1.3″ x 1.8″ inches.
OWL DECORATIONS FOR HOME – Carefully crafted from genuine hardwood, owl decor boasts a unique look that enhances the feel of your kitchen, bathroom, dining room, or other personal space.
PERFECT OWL LOVER GIFTS – Add them to existing placements or get multiple sizes to create your own distinct owl family. They are perfect owl decorations for home or owl gifts for your friends and family.
STUNNING HARDWOOD DESIGN – Each of our beautiful owls figurines are made from real, authentic hardwood which means each one is a completely original design with its own wood, color, texture, and look. You're going to love our owl wall decor!
PREMIUM HANDMADE CRAFTSMANSHIP – We're a small family-owned and -operated business and we make each owl figurine completely right here in shop. That means you're getting premium quality and supporting a brand that actually cares about you. Explore the rest of our rustic home decor collection for more small animal figurines and wood knick knacks home decor.

FREE 3-DAY SHIPPING ON ALL U.S. ORDERS OVER $49. SHIPS WORLDWIDE WITHIN 24 HOURS.
SKU:

FD-WOF-2PCS
Categories: Animal Figurines, Owl Decor
Tags: wood owl, owl gift, forest animals, owl art, miniature animals, primitive owl, owl figurine, owl sculpture, owl ornament, owl decoration, owl lover, owl statue, owl decor, owl decorations, wooden owl
Description

Keep a Little Nature Overlooking Your Home or Office with a Handcrafted Wood Owl from Forest decor
The small things we decorate with really help tell our story, especially when it comes to bringing more rustic, natural items into our lives that are beautiful and handmade.Forest Decor Wooden Owls are designed with the perfect blend of imagination, style, and vintage charm to help you embrace nature in your kitchen, bedroom, office, bathroom, or anywhere else you want to keep a little "hoot" in your home.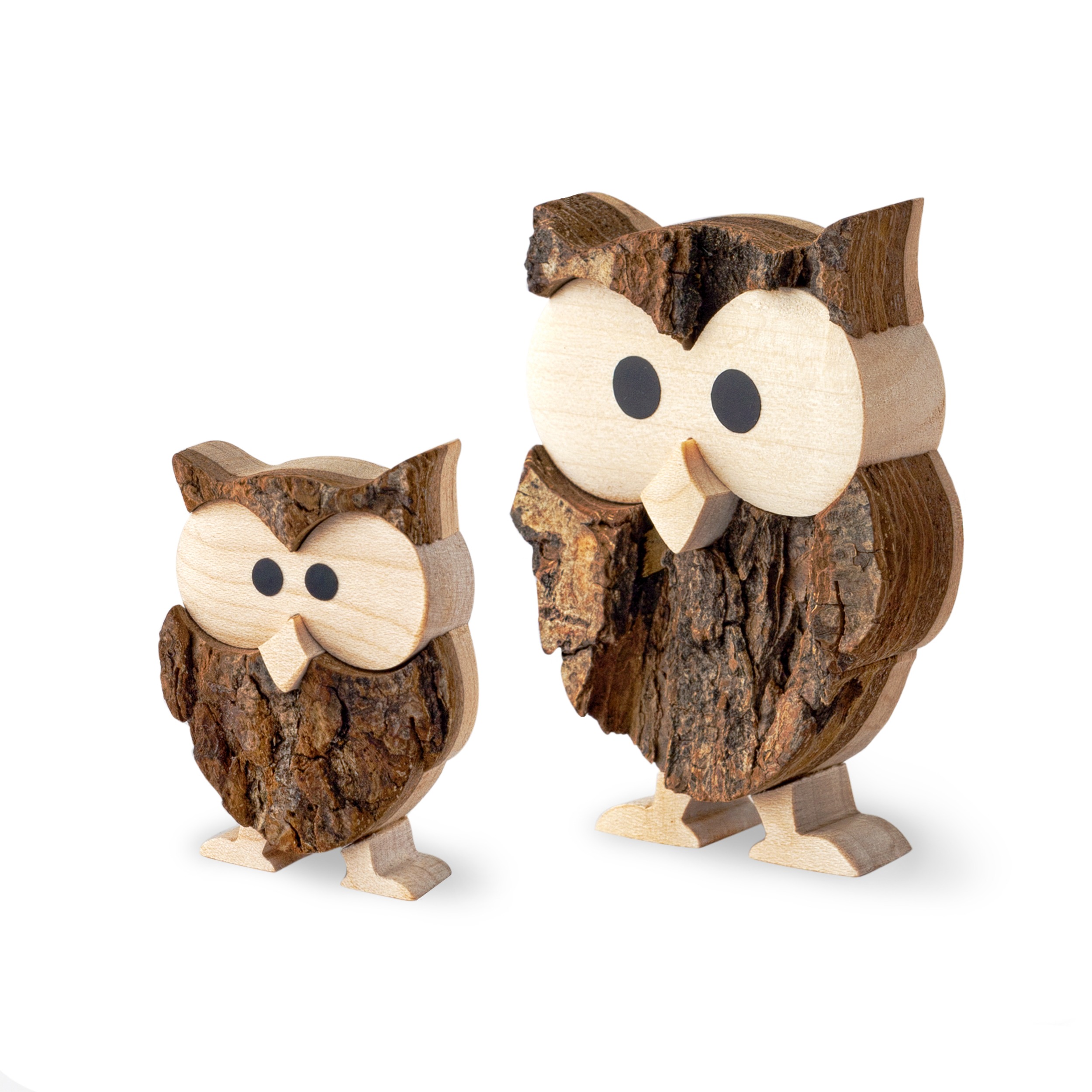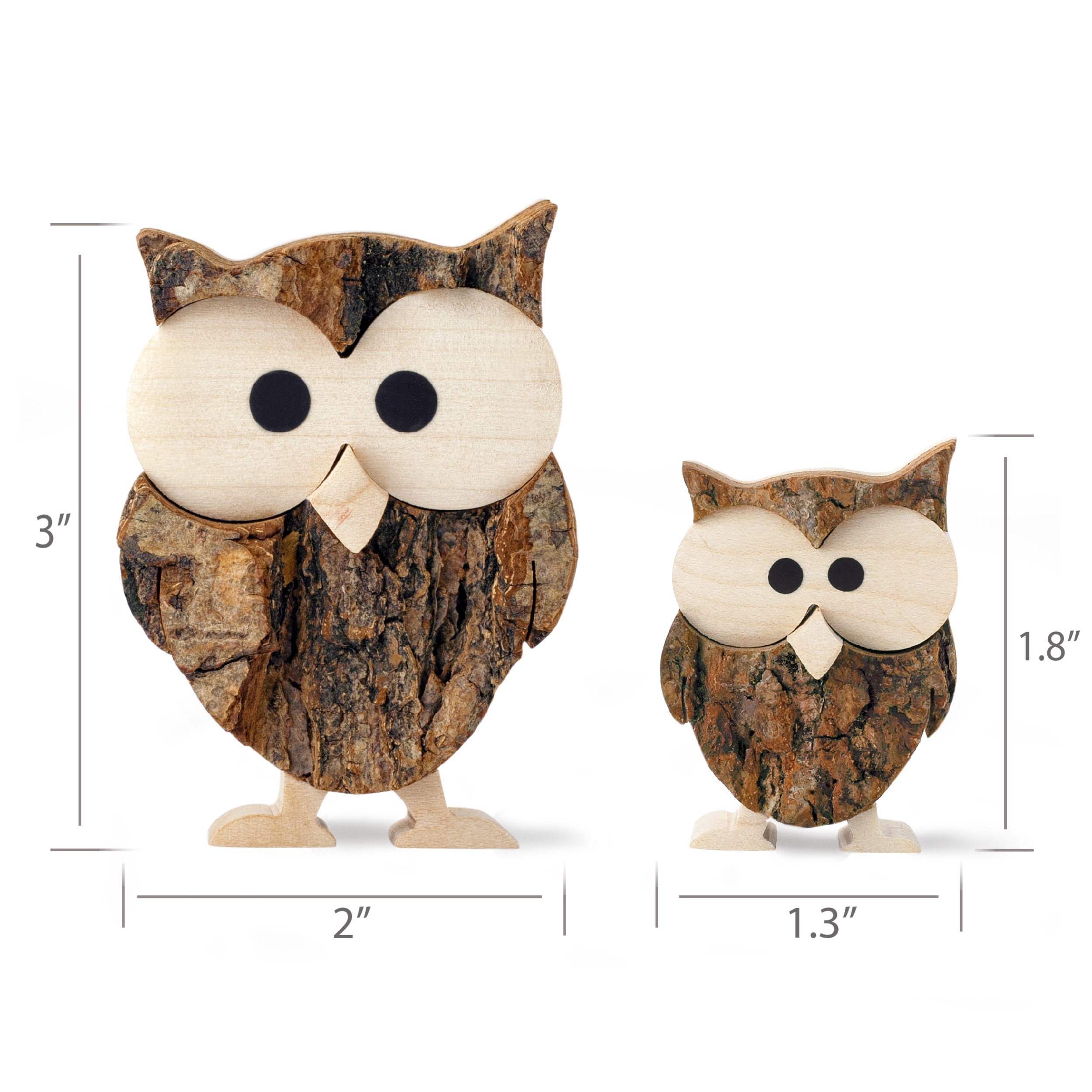 Product Details:
Wooden Owls – 1 Pair
Handmade Craftsmanship
Decorative Design with Small Eyes and Ears
Genuine Hardwood with Live Untreated Bark
Each owl is 100% unique which means they each have their own wood grain pattern, size, and texture.
Vintage, Charming, and Original
All Forest Decor items are made by hand by real craftsman who makes it piece beautiful and one of a kind. They make the perfect addition to your desk, bookshelf, kitchen countertops, or other space where you want to embrace nature. Suitable as owl kitchen and garden decor.
Gorgeous Gift Idea
These real wood owls make a wonderful idea for surprising someone on their birthday, an anniversary, as a wedding gift, or simply as a nice surprise for someone who loves owls. Perfect owl gifts for women, men – the whole family. Get them in small, medium, or large and create an owl family all your own.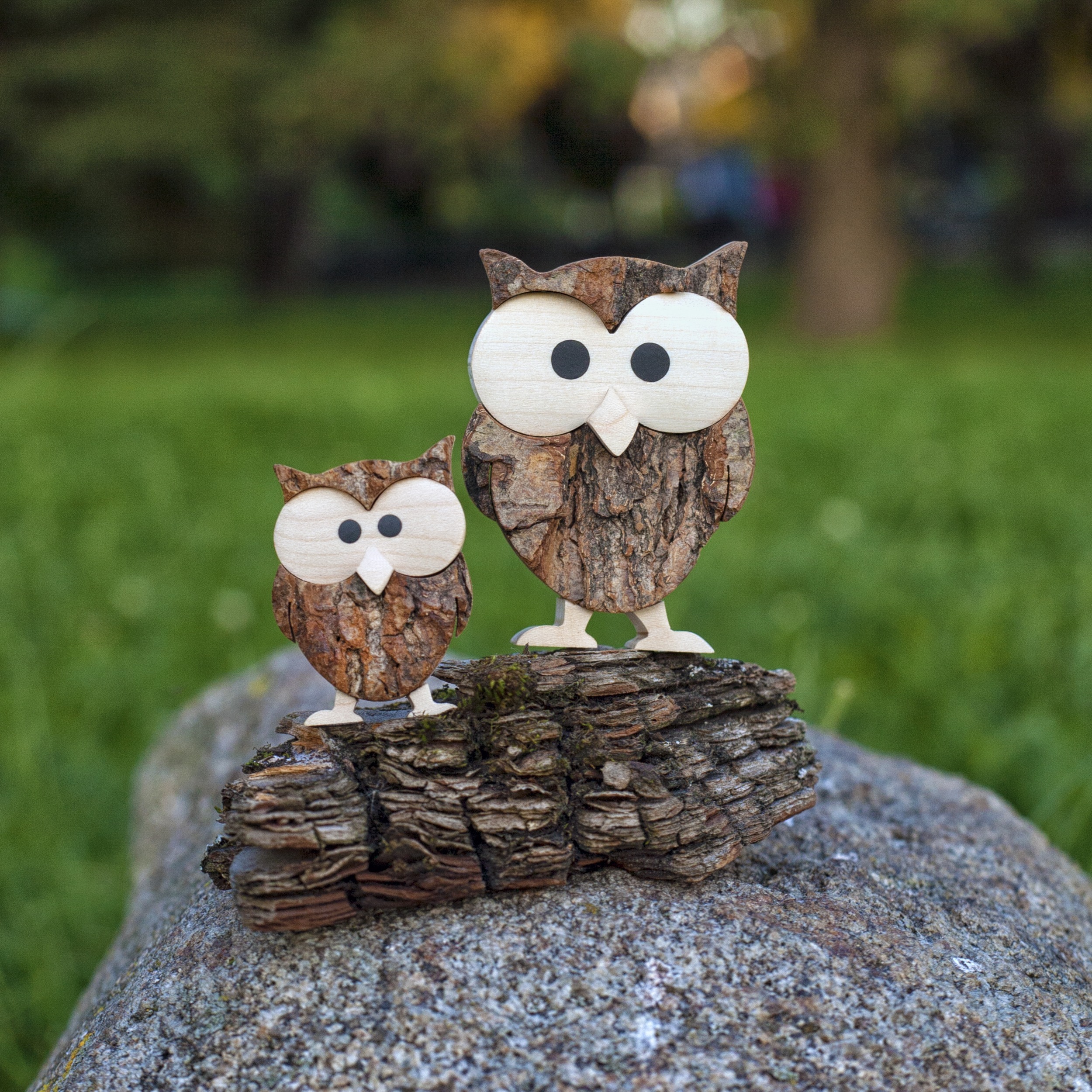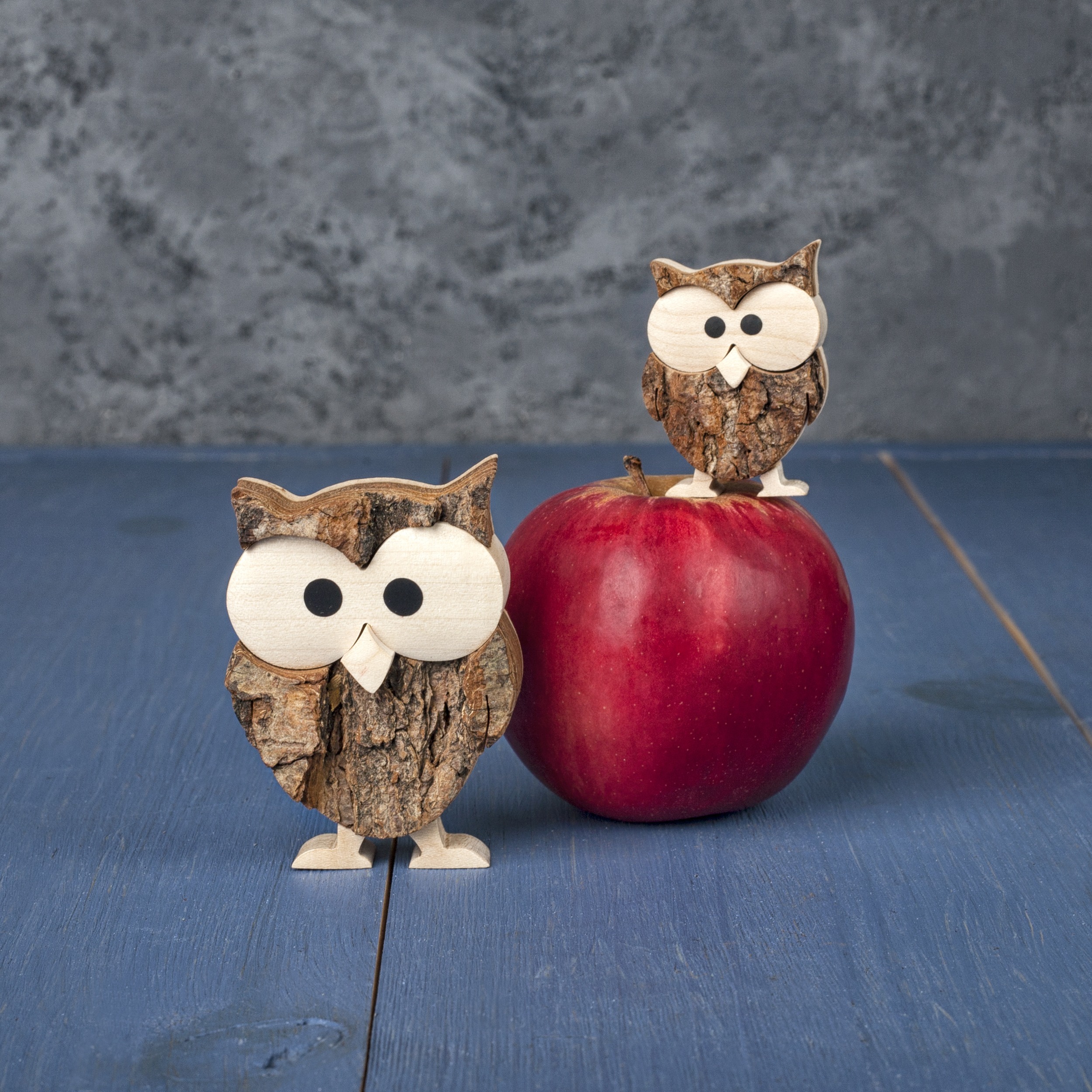 Long-Lasting Home Decor
These wooden owls are made with high-quality hardwood that's been carefully prepped, treated, and crafted to ensure it offers long-lasting color and texture quality indoors.
Product Features
Live and Smooth Surfaces The front of our little owls feature "live" hardwood to help bring it to life more naturally, while the smooth edges give it a natural tone that enhances the darker wood.
Cute Little Eyes and Wings
Each owl figurine features two smooth eyes with live edge pupils and small wings which help bring them to life and make it look as if they're staring off into the room or right at you.
Natural Aging Wood
We make our owls with genuine hardwoods, which means they will naturally age and change slightly in color over years of display.
Original Craftsmanship and Artistry
Make sure to check out our line of other wooden gifts and tabletop decor pieces for your home or to find special birthday, holiday, or anniversary gifts for friends and family.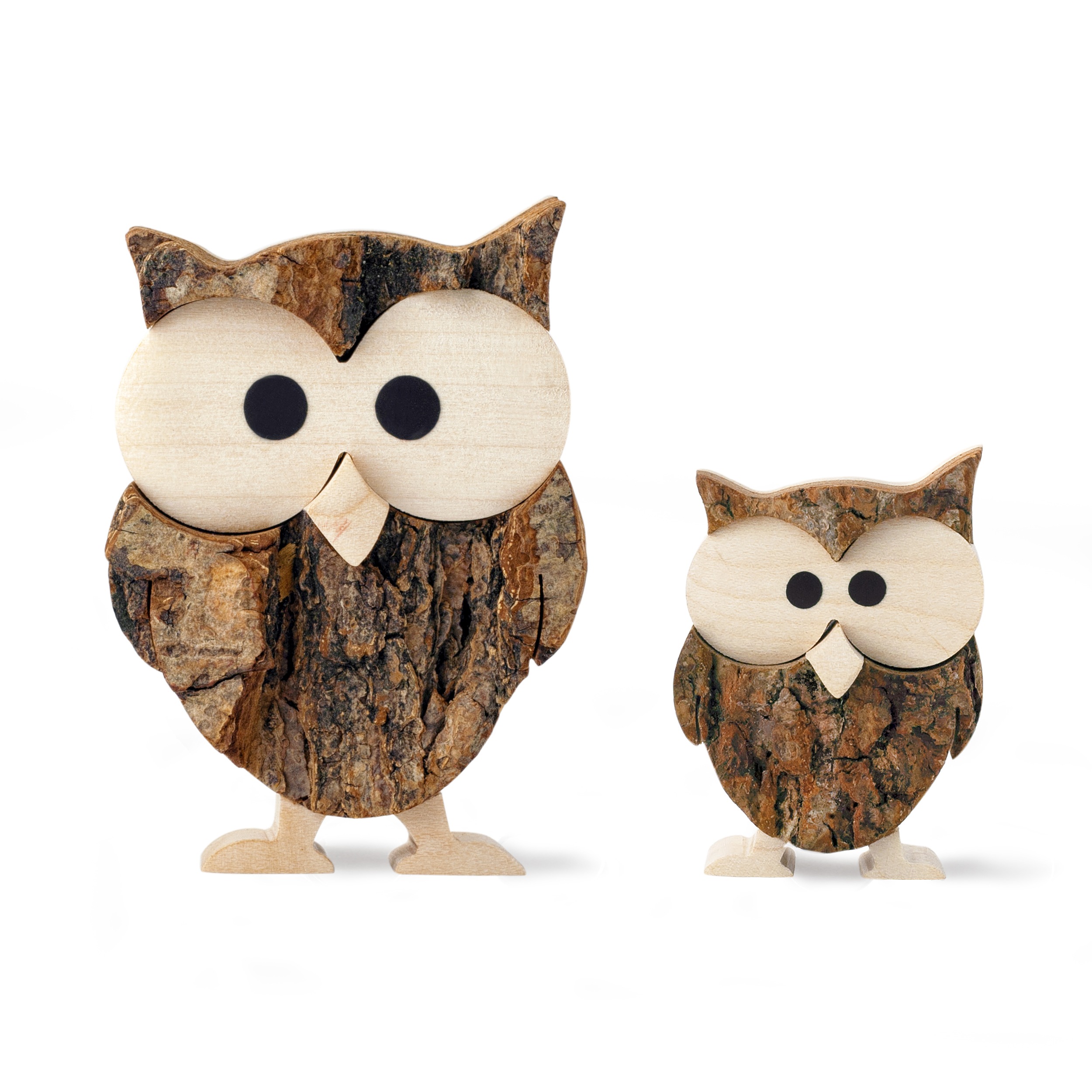 Reviews (5)
Only logged in customers who have purchased this product may leave a review.
Related products
Products that You Might Also Like