Nativity Scene Candle Holder With Bark
Wooden Tea Light Candle Holder – A classic design with a charming nativity scene, placing a small tealight inside creates a soft, beautiful glow that makes it come alive.
Classic Christmas Nativity Scene – Featuring Mary, Joseph, and baby Jesus in the manger this is a one-of-a-kind piece that looks great year-round or during holidays.
Rustic Steel Top Roof – The top of each small tealight candle holder house is fitted with a rusted steel roof with stars cut out to create a starry night above the family.
Finished and Unfinished Wood – We've embraced the natural, farmhouse style by leaving our tealight holder with a smooth finish and real bark for added warmth.
Intricate Handmade Artistry – Forest Decor home decorations are handcrafted using genuine forest wood, which means each one has an original look and feel.

FREE 3-DAY SHIPPING ON ALL U.S. ORDERS OVER $49. SHIPS WORLDWIDE WITHIN 24 HOURS.
SKU:

FD-TCH-NS
Categories: Candle Holders, Christmas Ornaments, Nativity Scenes
Tags: wood nativity scene, nativity set candle holder, wood nativity set, christmas candle holder, wooden nativity set, christmas lantern, christian gifts, rustic christmas decor, religious decor, nativity scene table ornament, wooden nativity scene, rustic holiday decor, Wood Candle Holder, christmas nativity, wooden candle holder, nativity ornament, nativity scene, nativity scene candle holder, nativity scene ornament, nativity candle holder
Description

Celebrate Faith, Love, and the Spirit of the Holidays with a Nativity Scene Tealight Candle Holder
When the holidays roll around and you really want to embrace your beliefs while creating a warm, welcoming environment, nothing does it quite like a natural nativity scene or a few relaxing tealights. But when you combine them together you create a wonderous sight that inspires the imagination and adds a little extra comfort to Christmas and the holiday season. That's why we created these stunning Forest Decor Nativity Scene Tealight Candle Holders that let you express your faith and love of a soft, glowing candle in one classic piece of art.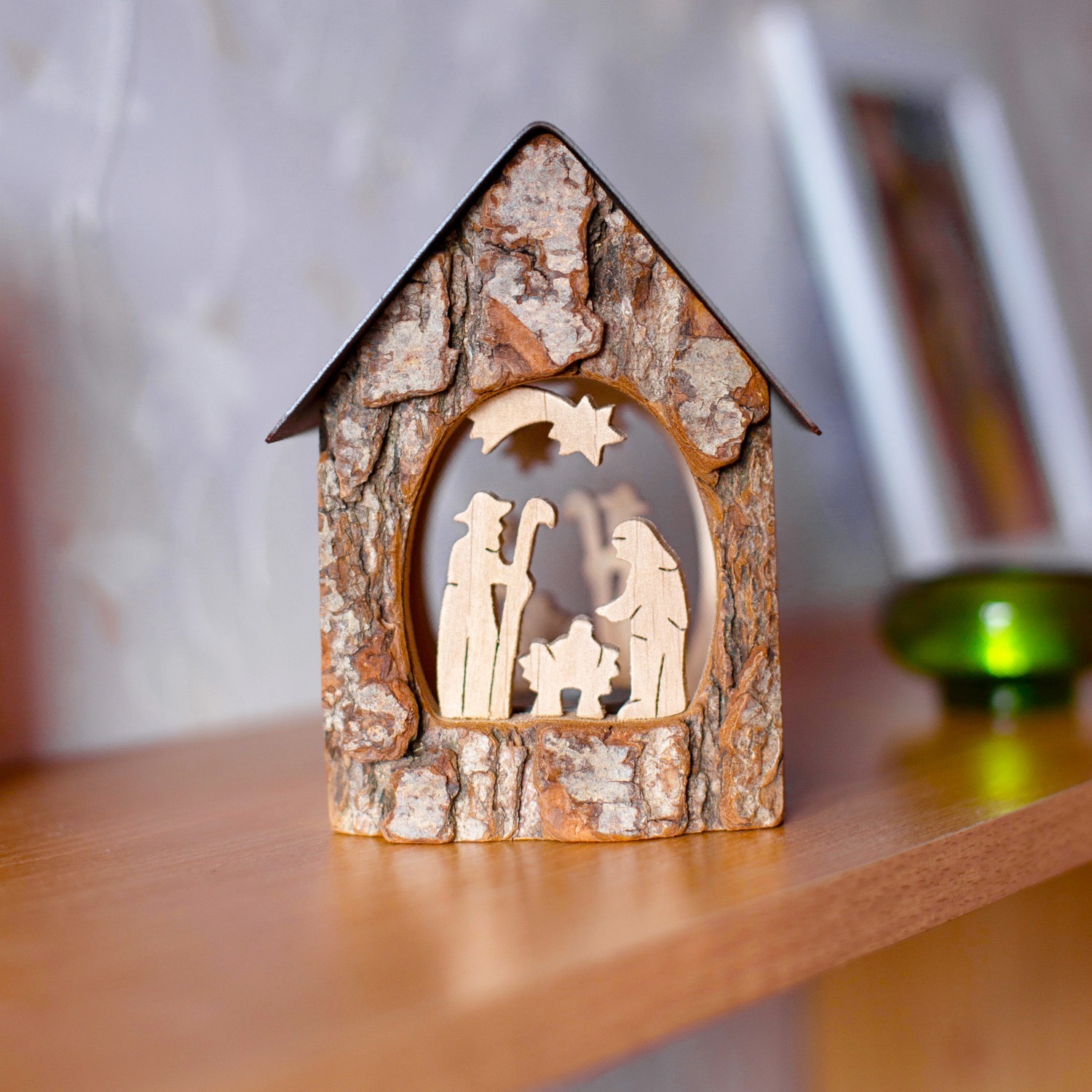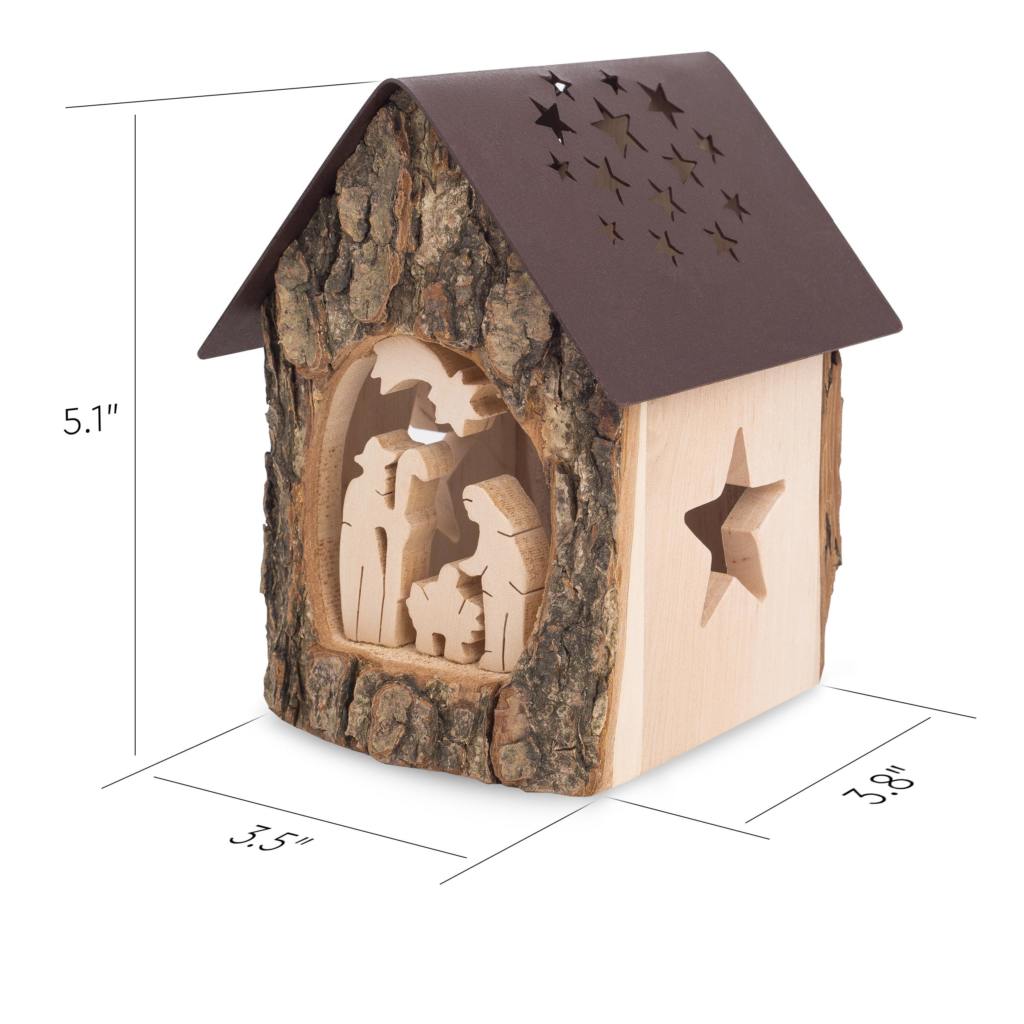 Product Details:
Rustic Tealight Candle Holder
Christmas Nativity Scene
Unfinished and Finished Wood
Smooth, Well-Balanced Base
Rusted Steel Roof with Stars
Dimensions: 5.1" x 3.5" x 3.8"
Handmade
Includes 1 White Tealight Candle
Original Craftsmanship and Artistry
We carefully craft our nativity scenes and pieces by hand which means each one boasts its own classic texture, rich color, and decorative feel. This means that you'll receive a wooden Christmas scene that's completely unique to your home.
Beautiful Christmas Candle Holder
You won't find anything quite like this in a store as each piece is handmade by a professional craftsman, which makes them a great way to highlight your other Christmas decorations or ornaments during the holiday season.
1 White Tealight Candle Included
We've included a single white tealight with every wooden candle holder to make sure you can create soft, warm lighting the moment you receive your decoration.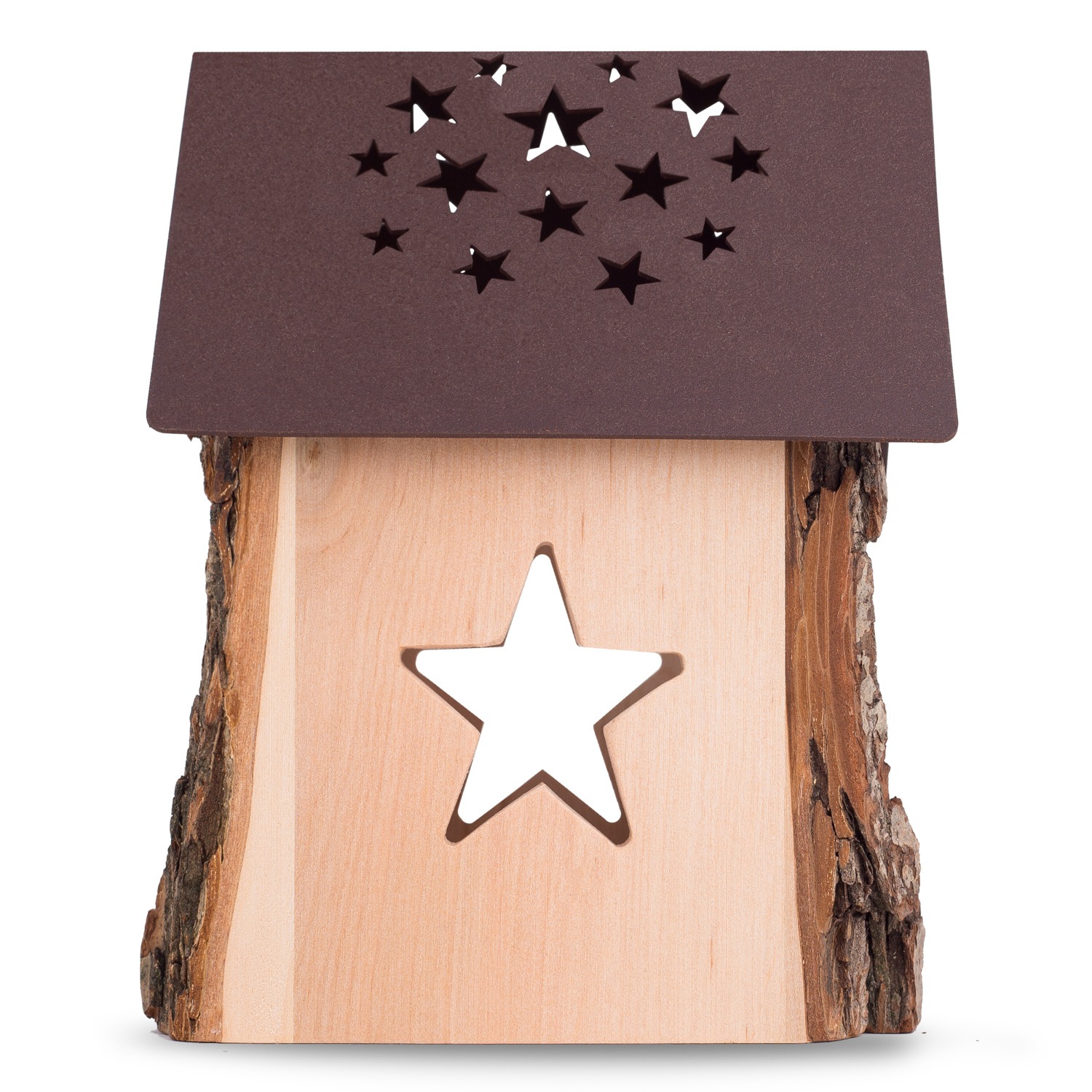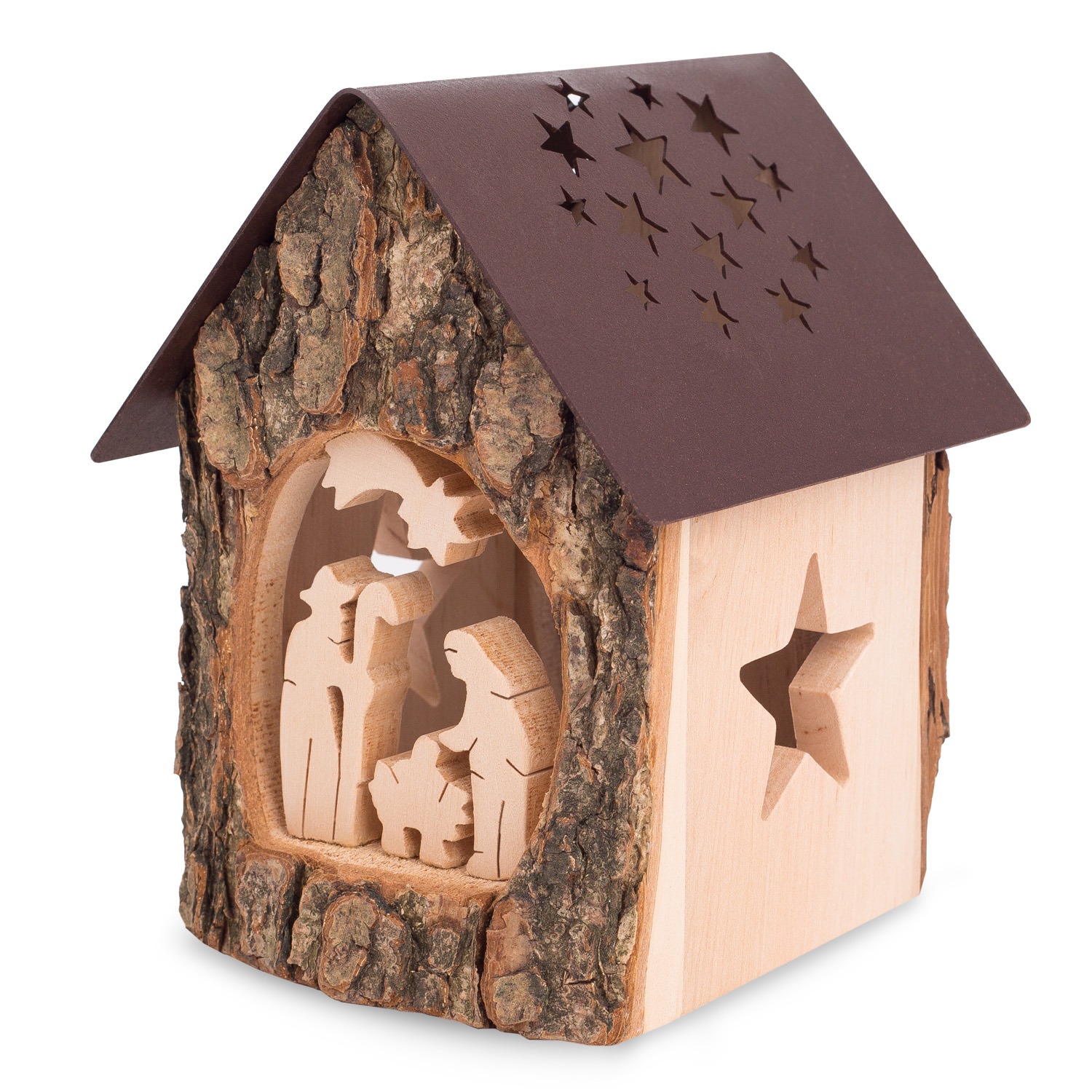 Premium Handmade Artistry
All of our handcrafted products are made from premium forest wood. This means that no two items are identical, and that passion and love are crafted into each one.
Stable, Well-Balanced Base
When lights are low or turned off completely, this beautiful piece really starts to shine as the flame backlights the nativity scene and the stars on the room for a classic look.
Special Starry Night
The small nativity scene is found on both unfinished bark sides to give it a 3D effect from any angle. This also allows people to enjoy viewing it from either side effectively.
Original, Charming, and Functional
We've made it easy to remove the top to place or remove a small tealight inside, but also ensure that it maintains proper balance and a seamless fit when returned to its place.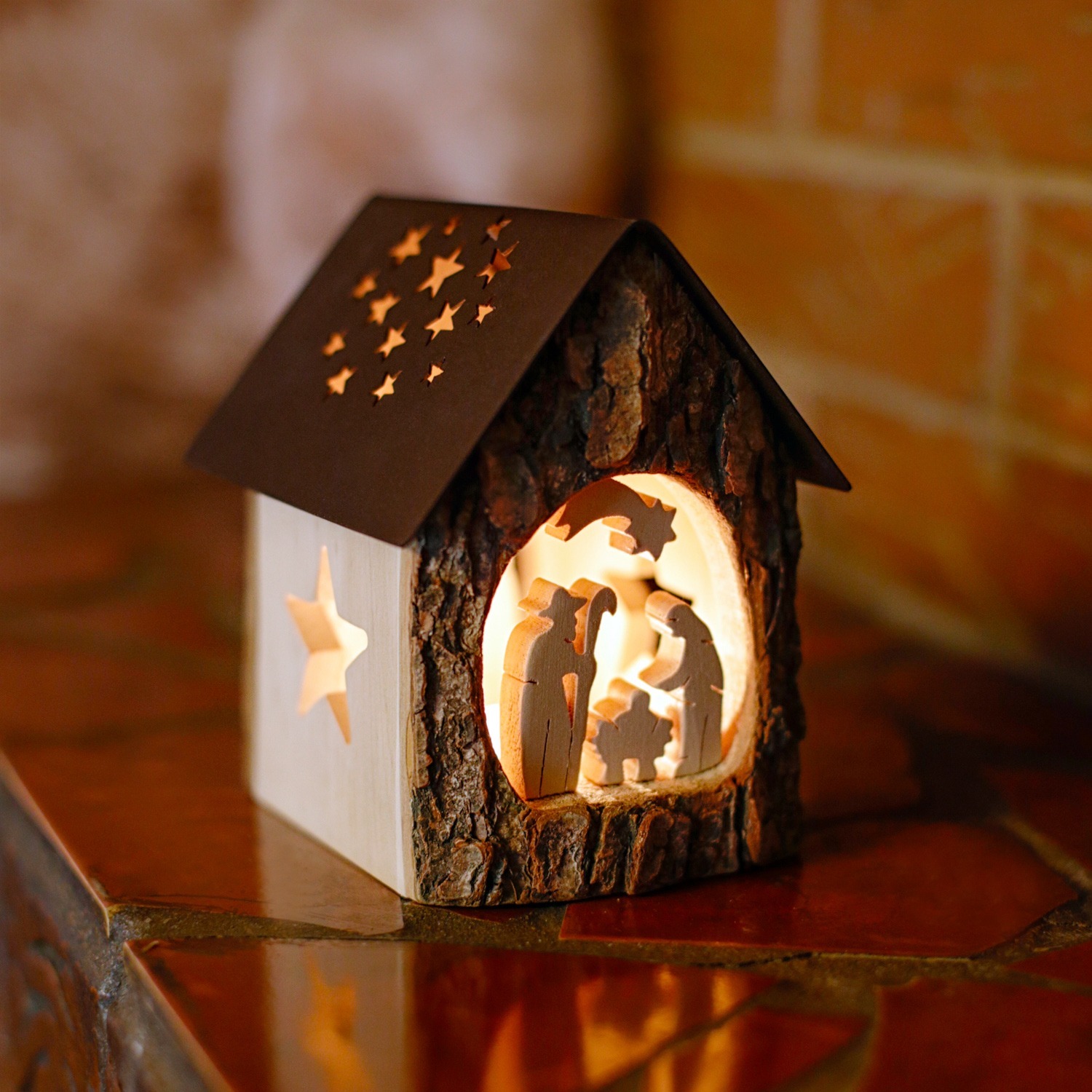 Related products
Products that You Might Also Like