Olive Wood Utensil Set – Set of 6
Forest Decor Set of 6 Olive Wood Utensils – Flat spatula, slotted spatula, round spoon, corner spoon, risotto spoon, and soup ladle
All-Purpose Olive Wood Utensils Set – Perfect for mixing, baking, flipping, and serving up delicious meals, this versatile 6-piece olive wood utensils set offers a well-balanced feel and rustic look that adds functional style to your kitchen.
Naturally Heat-Resistant Wood – Our olive wood spatulas and spoons are thick, durable, and provide a nice-weighted feel in your hand. More importantly, they are heat resistant, so you can be better protected when you're cooking or preparing food.
Scratch-Resistant and Surface Safe – The soft, yet durable olive wood construction is also safer for non-stick pots and pans, which means you can get the same support as a silicone or plastic utensils but with a more charming, farmhouse feel.
Premium Handmade Craftsmanship – As a family owned and operated business, we focus on premier handmade craftsmanship which is why each piece of wood utensils set for cooking is beautifully unique in terms of color, pattern, texture, and even size for true exclusivity.

FREE 3-DAY SHIPPING ON ALL U.S. ORDERS OVER $49. SHIPS WORLDWIDE WITHIN 24 HOURS.
SKU:

FD-WKU-6PS
Category: Utensils
Tags: wooden kitchen utensils, wooden cooking utensil set, wood utensils, wooden cooking utensils set, wooden utensils, olive wood utensils, wooden utensils for cooking, wooden cooking utensils, wood cooking utensils, wooden kitchen utensil set, wood utensils set for cooking, kitchen utensils set wood
Description

Stir Up a Delicious Meal with Multipurpose Olive Wood Utensils Set with a Rustic Touch
At Forest Decor we love making your time in the kitchen more enjoyable while also enhancing the ambiance of the room. That's why we offer handcrafted kitchen accessories made with premium olive wood designed to support your cooking, baking, and mixing needs with a style all their own. As a family-owned and operated business, we focus on premier handmade craftsmanship which is why each piece is beautifully unique in terms of color, pattern, texture, and even size for true exclusivity. A great kitchen utensil set can be used for so many different things. Mixing up that cake batter you're making for a kid's birthday. Serving up a warm tomato soup on a chilly day. Adding just the perfect layer of sauce over your favorite chicken dinner.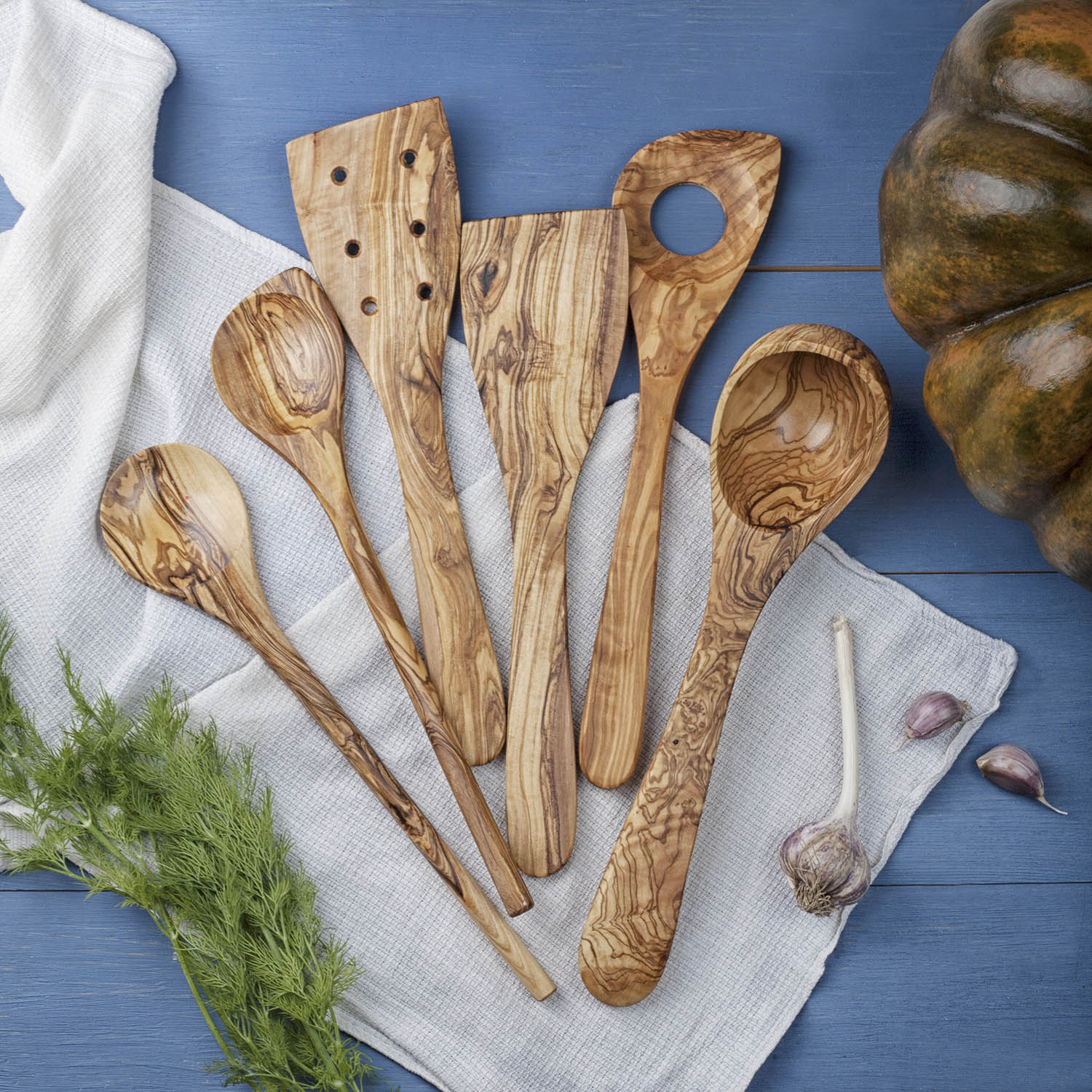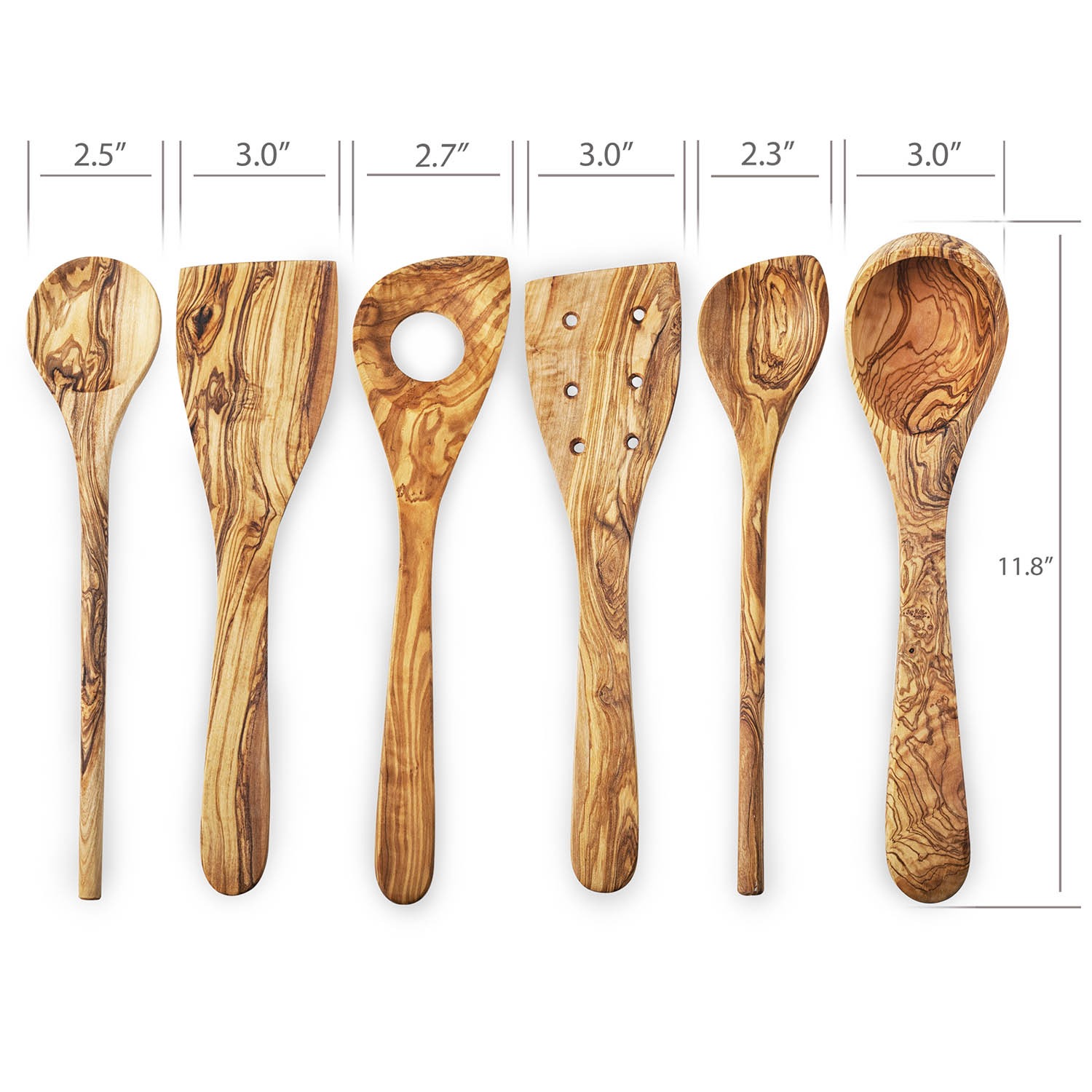 Product Details:
Olive Wood Cooking Set (6-pieces)
Genuine Handmade Craftsmanship
Non-Stick and Surface Safe
Heavy-Duty and Easy to Clean
Each item is 100% unique which means they each have their own wood grain pattern, size, and texture.
Premier Kitchen Accessories
Forest Decor olive wood Cooking Utensils are designed to help you prepare and serve your food, but also to add a more rustic, charming touch to your kitchen or dining you won't find with plastic or silicone. Beautiful, elegant, and handcrafted by expert woodworkers, these one-of-a-kind pieces are such to enhance your kitchen and your lifestyle.
Premier Kitchen Accessories
We believe that living a natural lifestyle begins in the kitchen; especially when it comes to your everyday cooking items. That's why each olive wood utensil is made by hand, carefully treated with natural minerals, and is completely free of harsh chemicals or additives.
Functional and Decorative
Forest Decor kitchenware items offer all the versatility you need for cooking, stirring, mixing, preparing, and serving food but they also add a special touch to your everyday kitchen style, which makes them a great choice for those who love a more rustic, farmhouse feel.
Gifts People Remember
Our olive wood utensils set are simplistic in nature but really become the backbone of almost every good cooking story. Give them as housewarming, wedding reception, or holiday gifts and help someone makes memories that last a lifetime.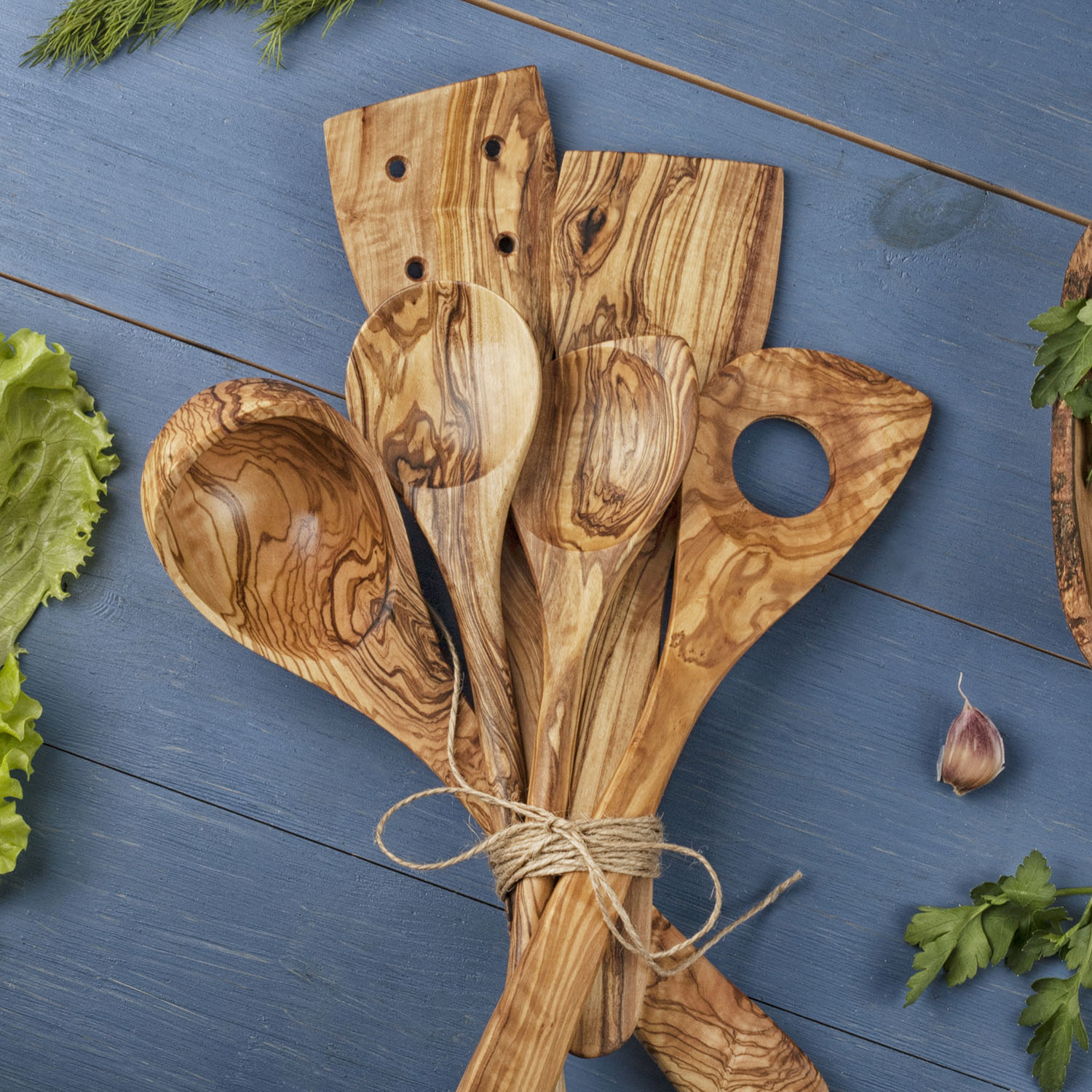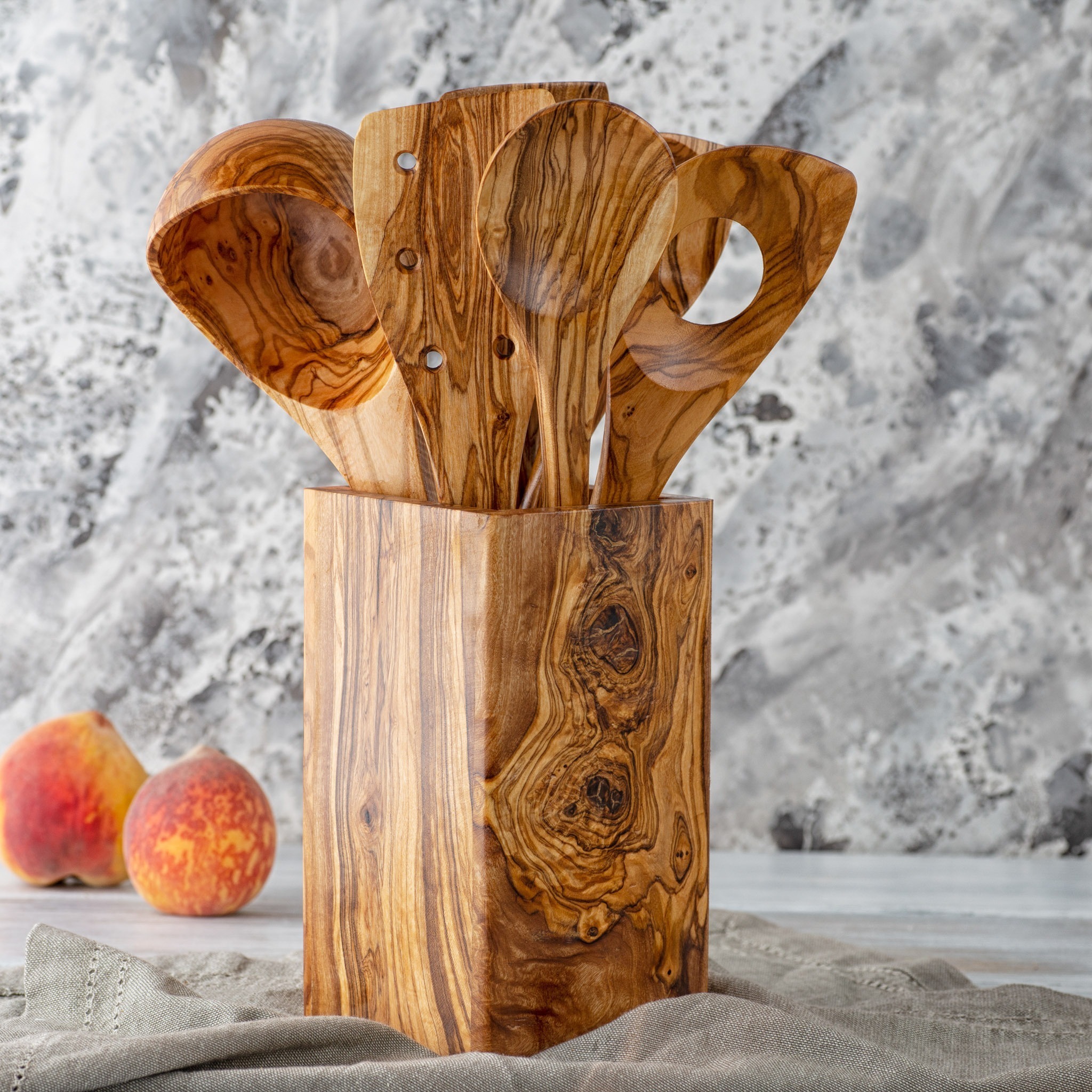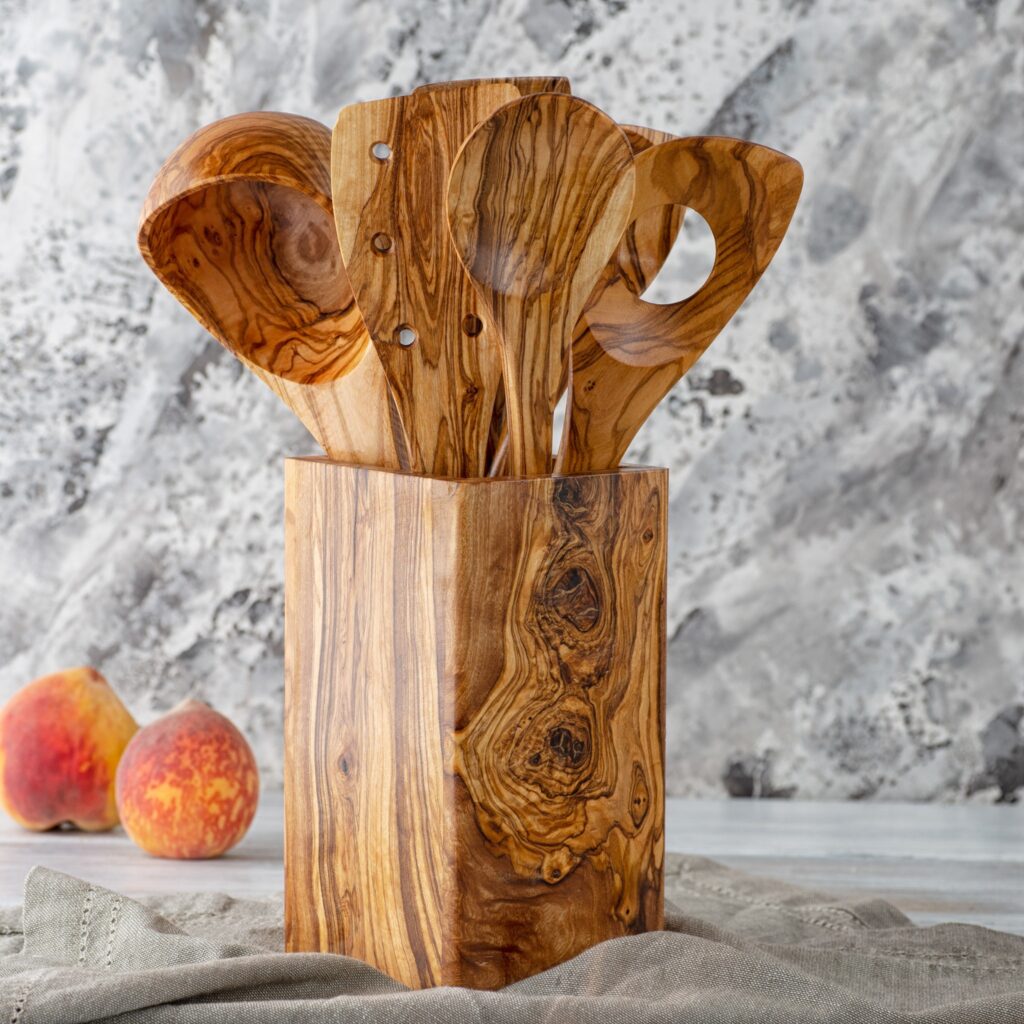 Beautiful Wood Finish
One of the most exciting things about these versatile cooking and stirring utensils is that each one is 100% unique in terms of coloration and shape, so you know you're getting a spoon that's truly exclusive.
Thicker Spoon Edging
We added a thicker edge surrounding the olive wood spoon head to make it easier to fill up to the brim with liquids and to help prevent spills or messes when you're serving.
Quick to Clean and Reuse
Like all our other real wood products, we recommend hand washing them after use to help keep them clean and to protect their strength and resilience for years to come.
Regular Wood Restoration
These olivewood kitchen utensils are made with genuine olive wood which is why we suggest adding a drops of olive oil to the surface to help them retain moisture, prevent cracking, and ensure long-lasting color vibrance.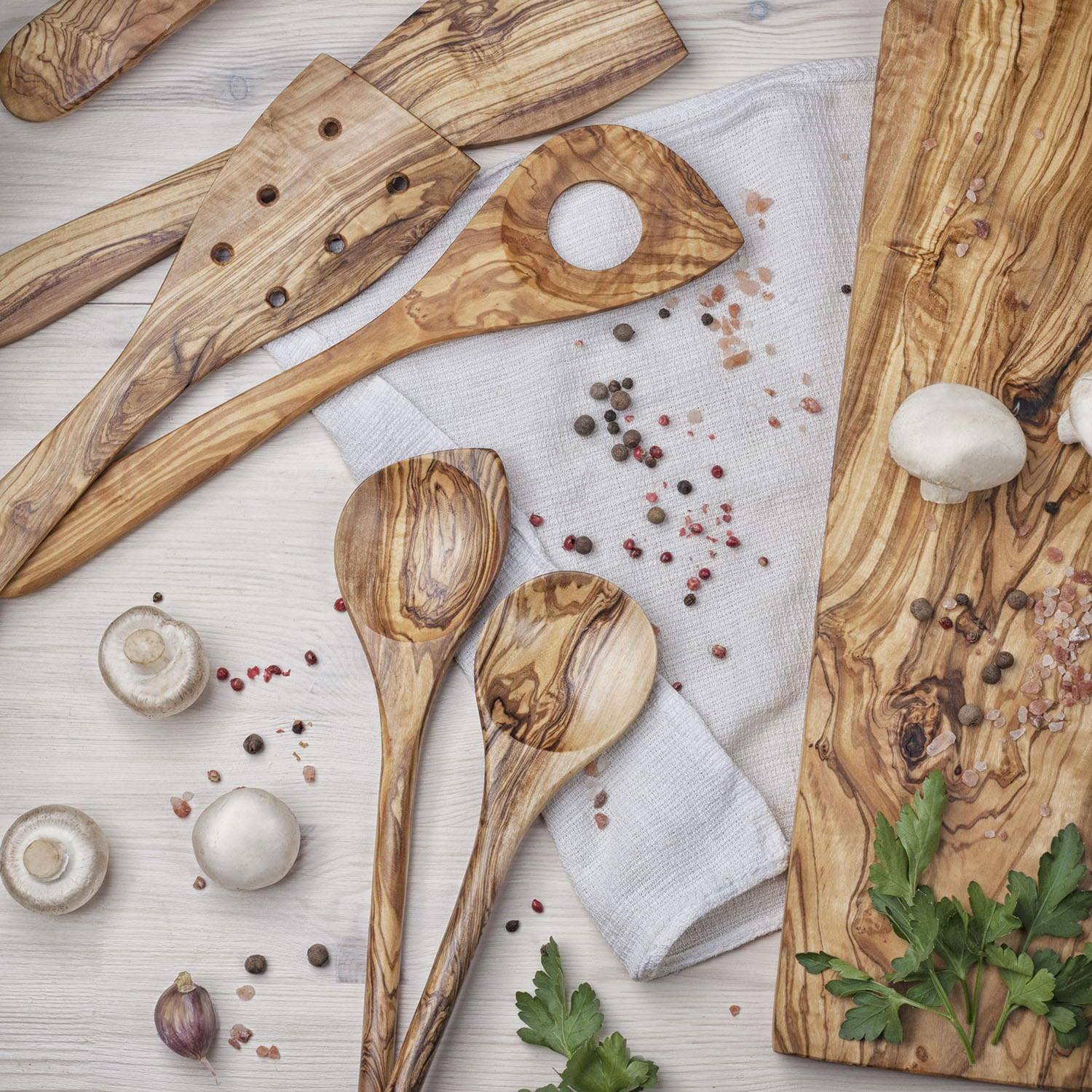 Reviews (79)
Only logged in customers who have purchased this product may leave a review.
Related products
Products that You Might Also Like