Olive Wood Honey Dipper Stick (5.3″) – Set of 2
RUSTIC OLIVEWOOD HONEY DIPPER SET OF 2 – This hand-crafted olive wood honey dipper stick is made with all-natural olivewood which gives it a more rustic look and feel that's perfect for decorating your kitchen or dining room table. Use this set of 2 honey comb sticks to add to your rustic home decor collection.
DEEP SERVING GROOVES – The head on our long honey spoon features deep grooves to hold onto honey after you dip it in the jar and to make it easier to drizzle or spread over your toast or favorite pastries. Add these
PREMIUM OLIVEWOOD CRAFTSMANSHIP – These Forest Decor olive wood honey dippers are made by real woodworking artisans which means each one features its own unique colors and tone. Perfect for adding a rustic look to your home.
LIQUID AND FOOD SAFE WOOD – You can either keep this long honey dipper stick tucked away in a honey pot or you can keep it in a kitchen drawer between uses. Our olive wood honey dipper sticks are tough, easy to clean, and offers long-lasting reusability.
HAND WASH RECOMMENDED – Like other Forest Decor products made with genuine olive wood, you should never put out olive wood honey drizzler in the dishwasher. We also recommend washing them by hand with warm water and drying immediately for proper care.

FREE 3-DAY SHIPPING ON ALL U.S. ORDERS OVER $49. SHIPS WORLDWIDE WITHIN 24 HOURS.
Description

Delicious Honey with a Vintage Forest Decor Olive Wood Honey Dipper
There's nothing quite like the taste of fresh, local honey when you're enjoying a nice piece of toast, making some oatmeal, or creating delicious pastries for your friends and family. But scooping it out of the jar with a spoon can be challenging and downright messy. That's why we created these handmade Forest Decor Olive Wood Honey Dipper Sticks that offer a beautifully rustic style and strong, well-designed craftsmanship. At a long 5.3" our dipper sticks make it easier to plunge them into a jar of honey and lift out just the right amount with less sticky mess left behind.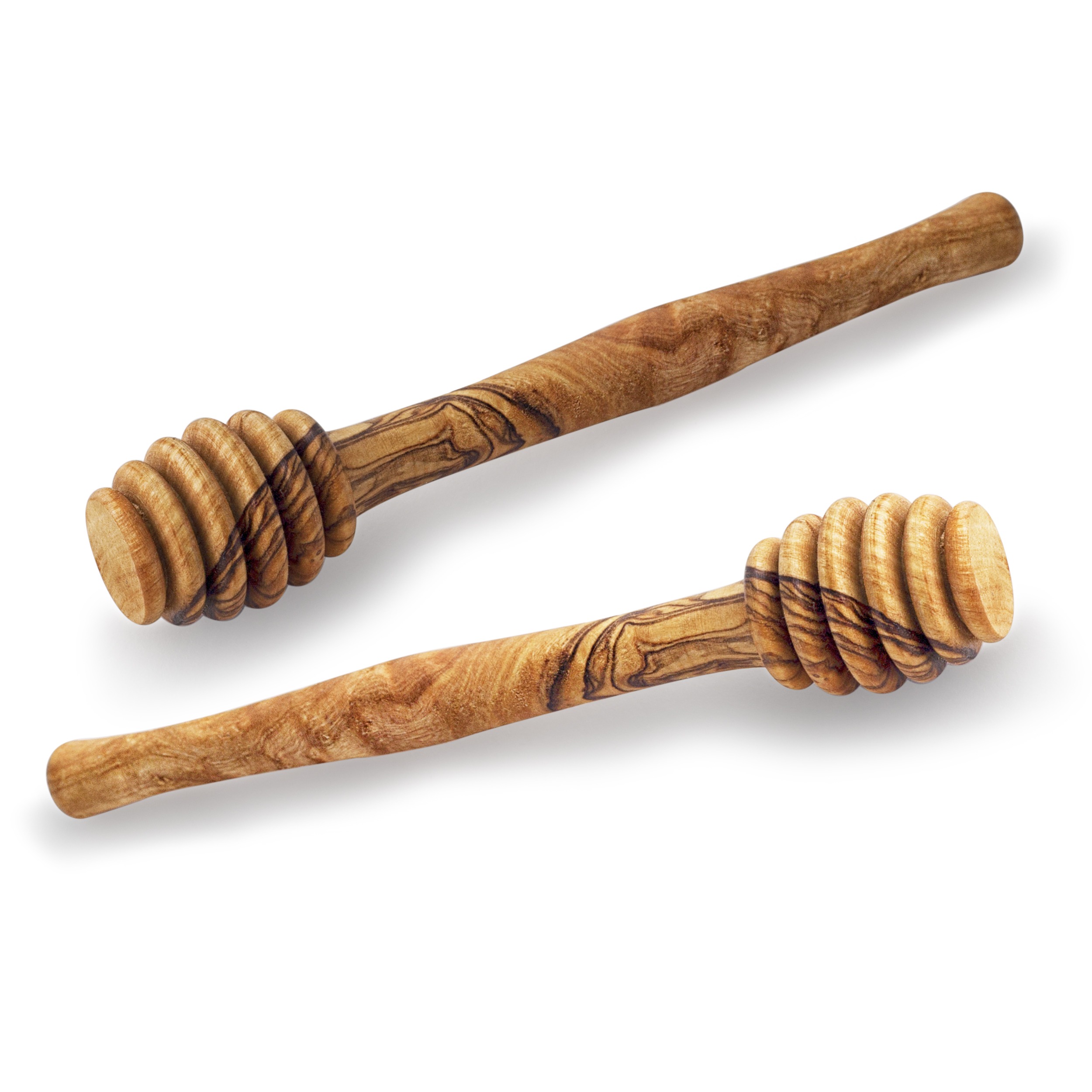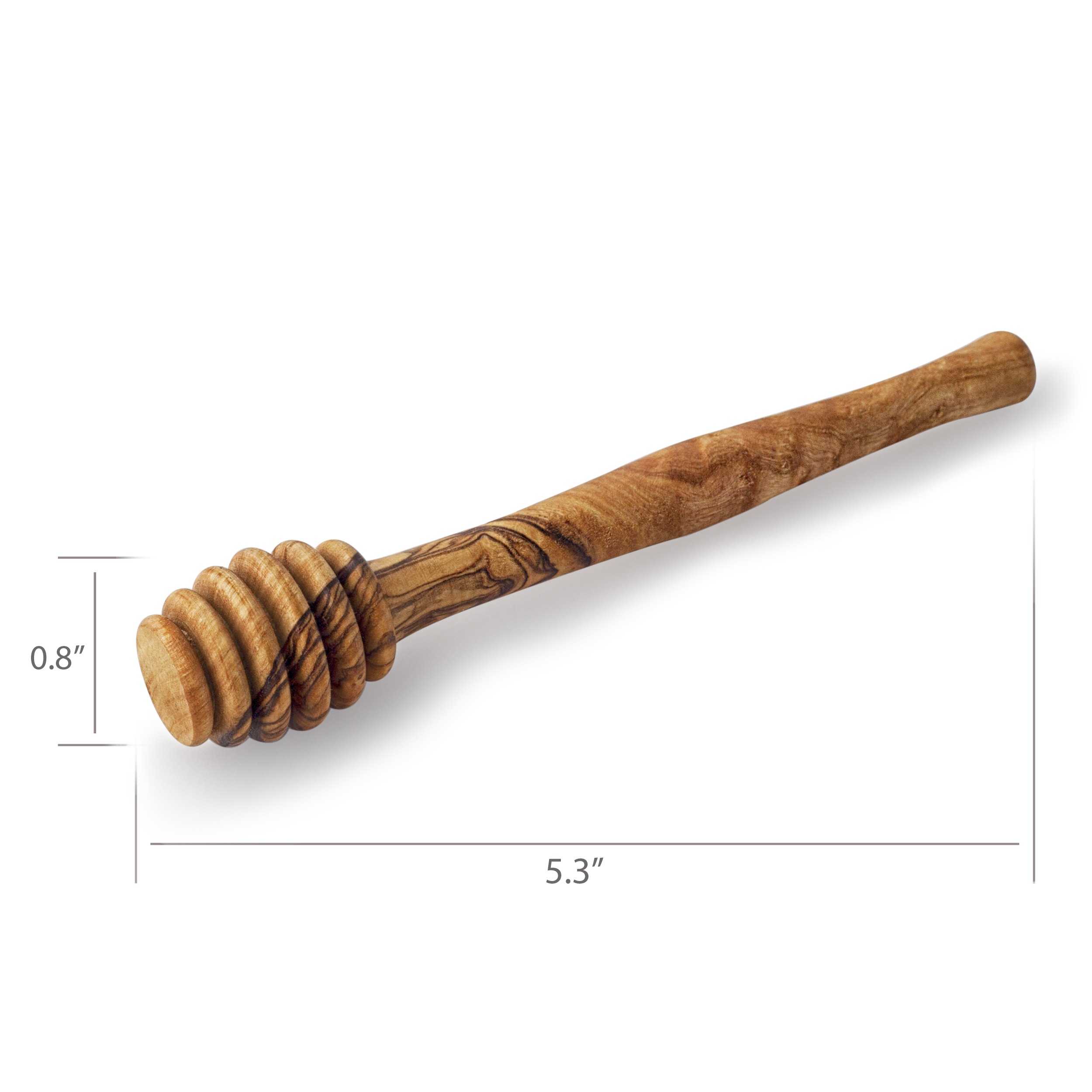 Rustic Olive Wood Honey Dipper
Genuine Olivewood
Handmade Craftsmanship
Food-Grade Safe Wood
Dimensions: 5.3" Long x 0.8" Head
Hand Wash Recommended
Olive Wood Honey Dipper
We want you to cherish your new hand-carved olive wood kitchenware made by skilled artisans in Tunisia for years to come. That's why to maintain their beautifully intricate designs and unique swirled grain patterns, you should follow these simple guidelines.
· Clean olive wood with only warm using a soft sponge or cloth. If extremely dirty, you can add a little dish soap. After washing, wipe wood dry with a soft cloth.
· Retain the beauty of our olive wood grain and color and prevent it from drying out or cracking by conditioning it with olive oil as needed.
· Never expose olivewood to a dishwasher or hot or cold temperatures for long periods (such as a fridge) to ensure they don't split or get damaged.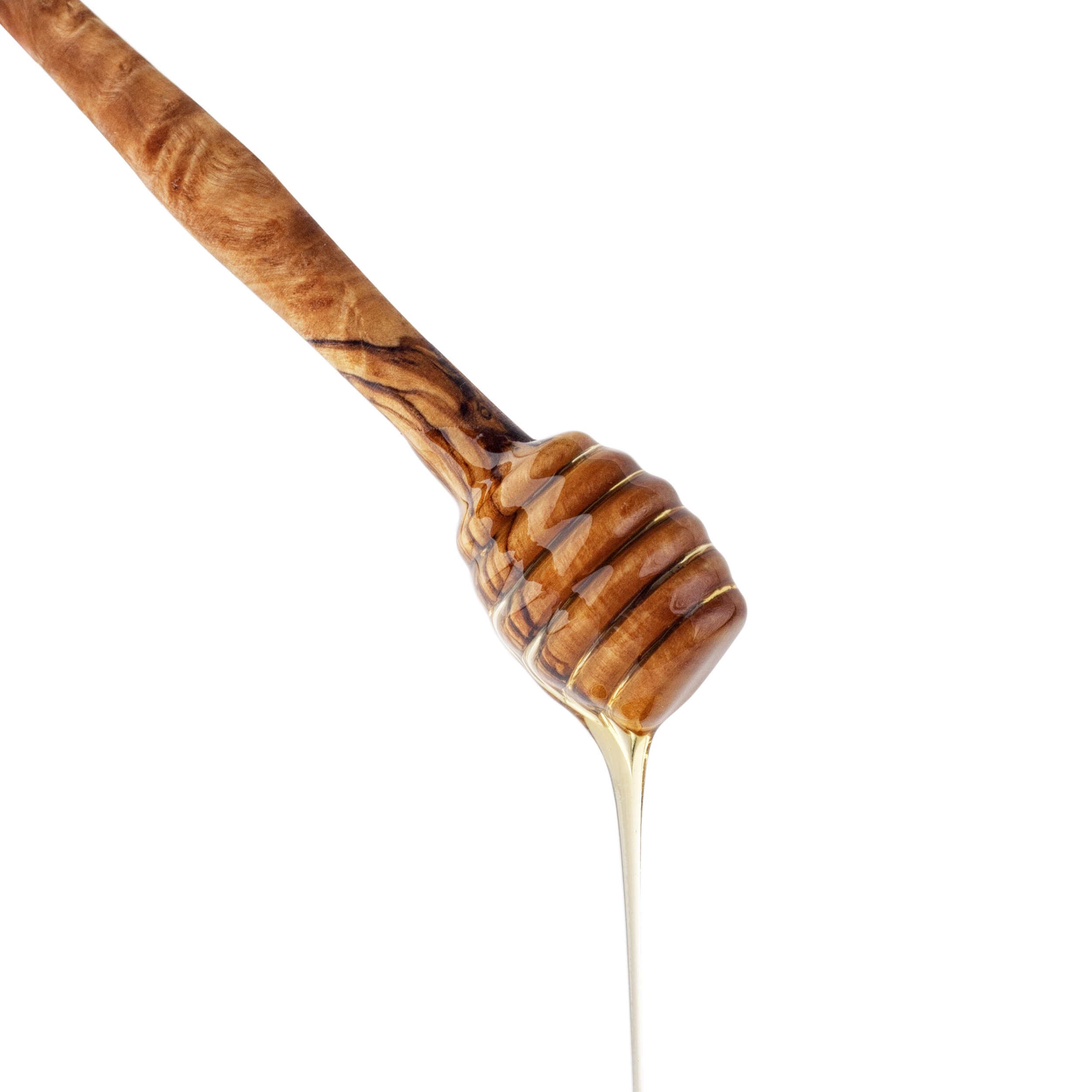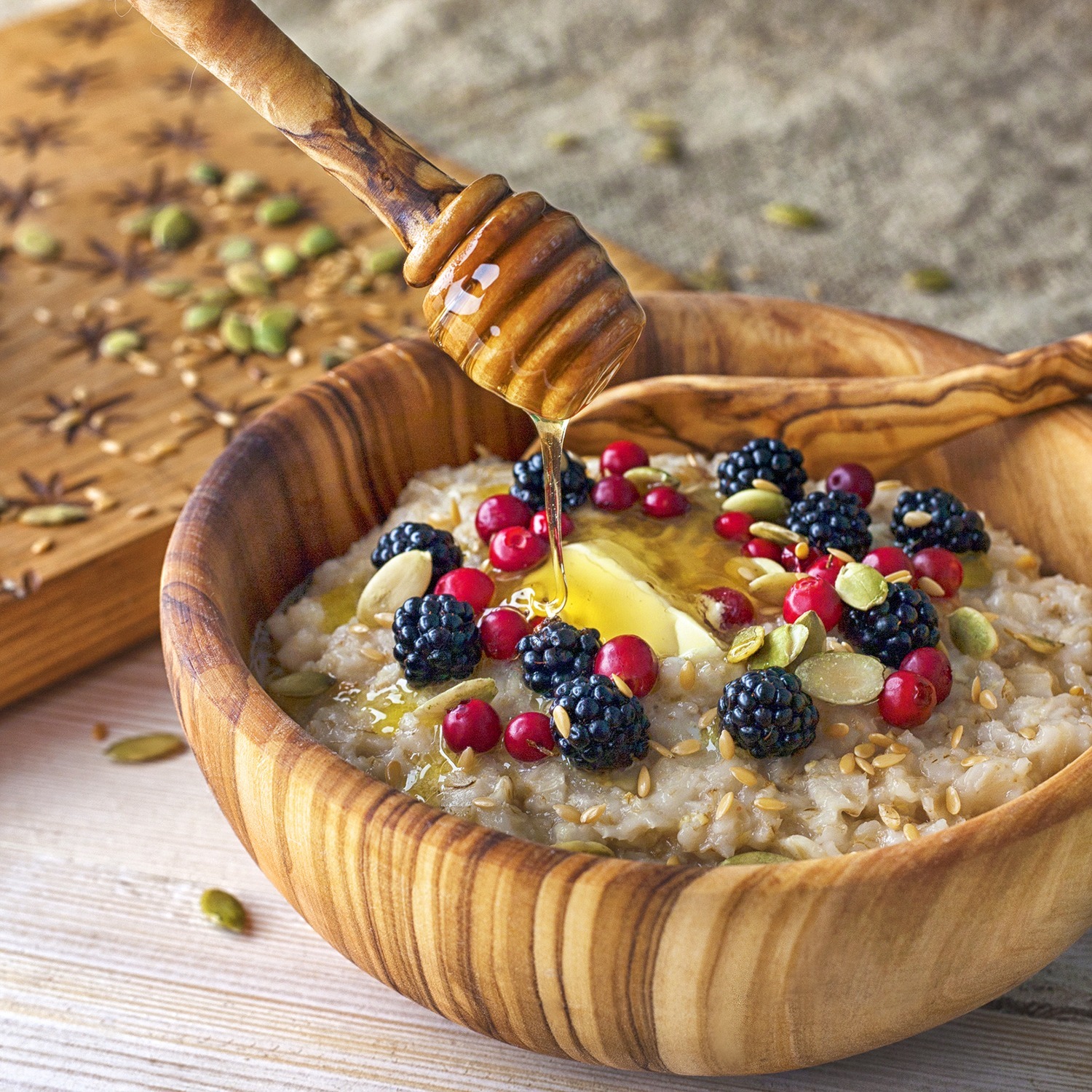 Ideal Jar Dipping Size
The longer 5.3" length and the more versatile 0.8" head on our honey dipper make it easier to use with a wide variety of different honey jars. Perfect for keeping on the kitchen counter, at the dining room table, or even enjoying fresh honey with guests in the indoor patio.
Food-Grade Safe
Forest Decor olive wood honey dippers are made with high-quality olive wood that's free of harsh sealants, additives, or chemicals so you can be sure it's better for your food.
Versatile Serving Use
Beyond traditional bee honey, these dippers can be used for all types of thick, slow-pouring liquids such as jam, syrup, blackstrap molasses, melted chocolate, or caramel.
Beautiful Gift Idea
A olive wood honey dipper is something that every kitchen can use, especially those going for a more farmhouse appeal. Makes a great birthday, Christmas, or wedding gift.
Ergonomic Handle
Unlike straight stick styles our wooden honey dipper features a more slip-resistant shape that's thicker in the middle to help provide you with a better grip.
Roll, Twist, and Drizzle
This honey wood dipper is made to let you dip into a fresh jar of honey, lift it out with less mess, and spread it over your food with a quick drizzle that isn't all over the place.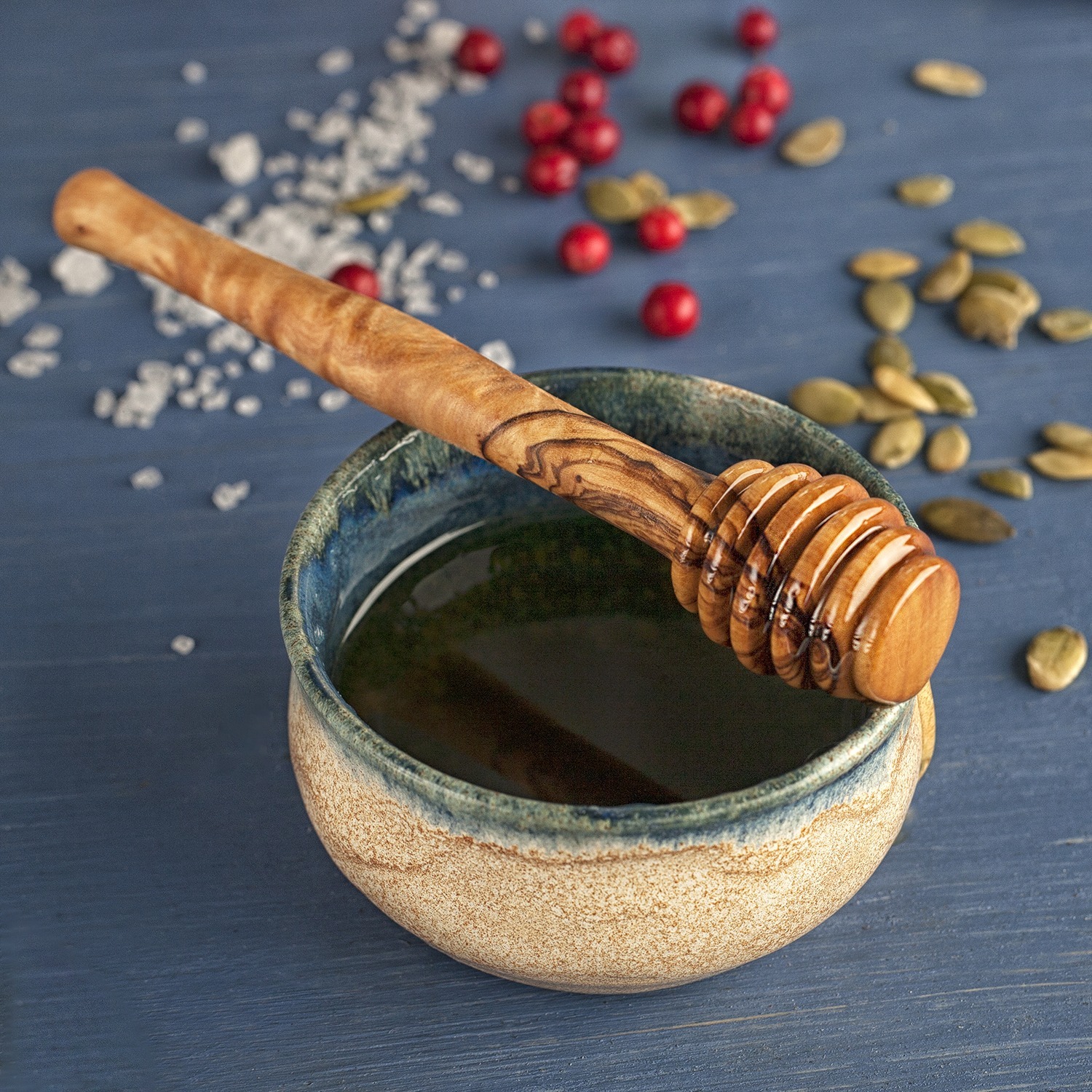 Additional information
| | |
| --- | --- |
| Dimensions | 5.3 × 0.8 in |
| Brand Name | Forest Decor |
| SKU | FD-WS-HD |
| UPC | 745860964504 |
| GTIN | 745860964504 |
Related products
Products that You Might Also Like