Olive Wood Board with Juice Groove – 18″
ALL-NATURAL MEAT OLIVE WOOD CUTTING BOARD WITH DRIP EDGE – This beautifully handcrafted olive wood steak board is made from natural olive wood and provides plenty of space for cutting, slicing, dicing, and chopping meats, vegetables, cheese, and more.
MULTIPURPOSE OLIVE WOOD CUTTING & SERVING BOARD – Our 3-in-1 

solid olive wood cutting boards

can be used as traditional meal prep boards, steak boards with juice groove, or a decorative serving board you can use in the dining room or kitchen. Great as farmhouse kitchen and rustic home decor.
BEAUTIFUL RUSTIC OLIVE WOOD CUTTING BOARD – Our olive wood meat cutting board each feature their own unique look, finish, feel, and size because they're all made 100% by hand. This gives them a more charming, original style that is wholly exclusive to your kitchen. Perfect as food gifts, kitchen gifts, cooking gifts, dad birthday gifts, barbeque gifts, house warming gifts, and more.
EXCLUSIVE DESIGN OPTIONS – At Forest Decor we love creating pieces that each have their own functional style, which is why we offer a chopping board with juice grooves, classic paddle style board for cutting, live edge cutting boards, and a decorative

handcrafted olive wood cutting boards

all in various sizes.
PREMIUM HANDCRAFTED CRAFTSMANSHIP – As a family owned and operated business, we focus on premier handmade craftsmanship which is why each

large olive wood cutting board

is beautifully unique in terms of color, pattern, texture, and even size for true exclusivity.

FREE 3-DAY SHIPPING ON ALL U.S. ORDERS OVER $49. SHIPS WORLDWIDE WITHIN 24 HOURS.
Description

Prepare Food, Decorate Your Kitchen, and Serve Up Delicious Meals with a Multipurpose Olive Wood Cutting Board with Juice Groove from Forest Decor
A cutting and Large rustic olive wood cheese board are one of the most vital additions you can make to your kitchen. It protects your counters and surfaces, helps you prepare foods more efficiently, and can even add some much-needed charm to your kitchen or dining experience. And nothing does it all quite like a beautiful, handcrafted rustic olive wood cutting board with juice groove from Forest Decor. Handcrafted by professional craftsman, these stunning pieces are made from genuine olive wood and each feature a thick cutting surface, exclusive pattern and finish, and original style that's both captivating and functional.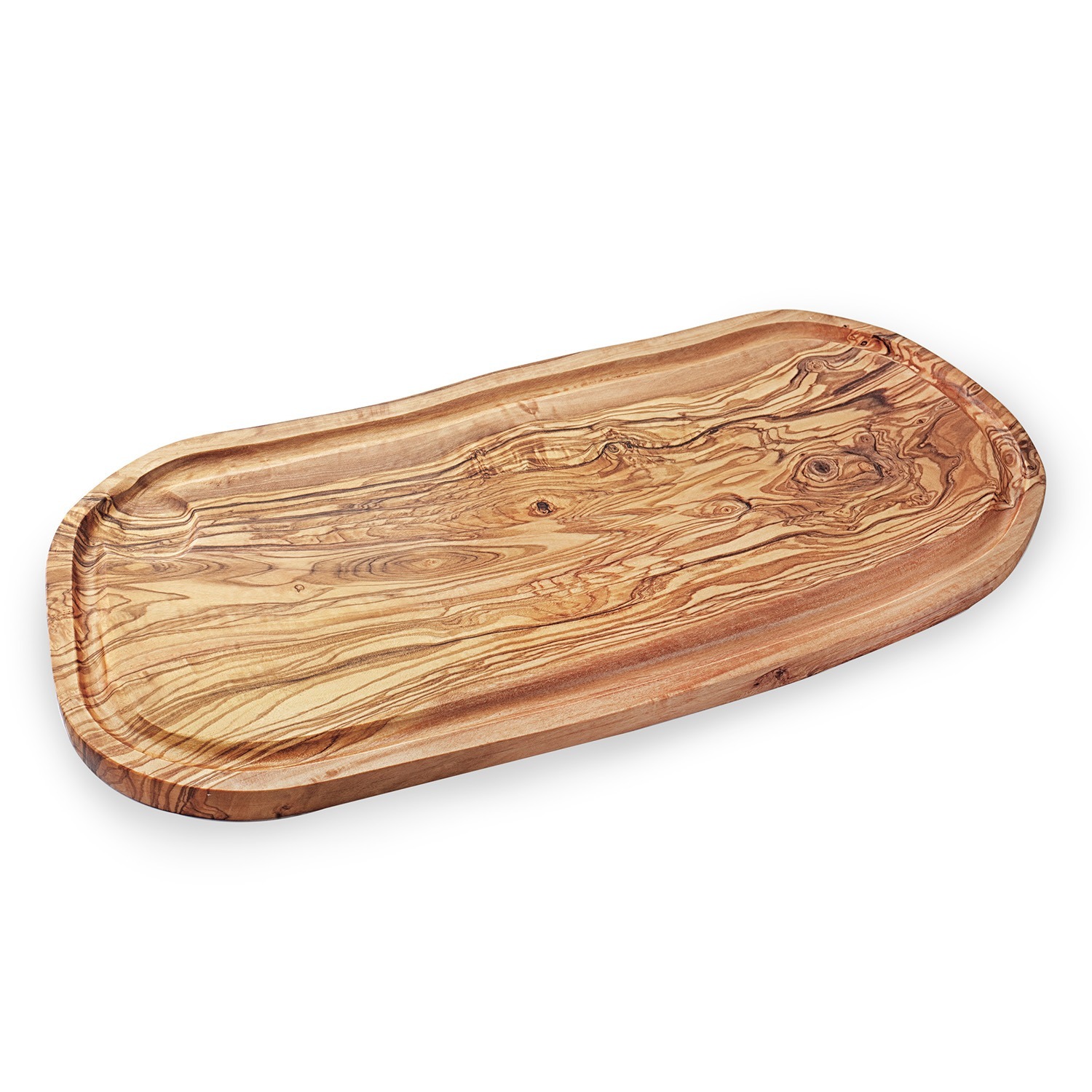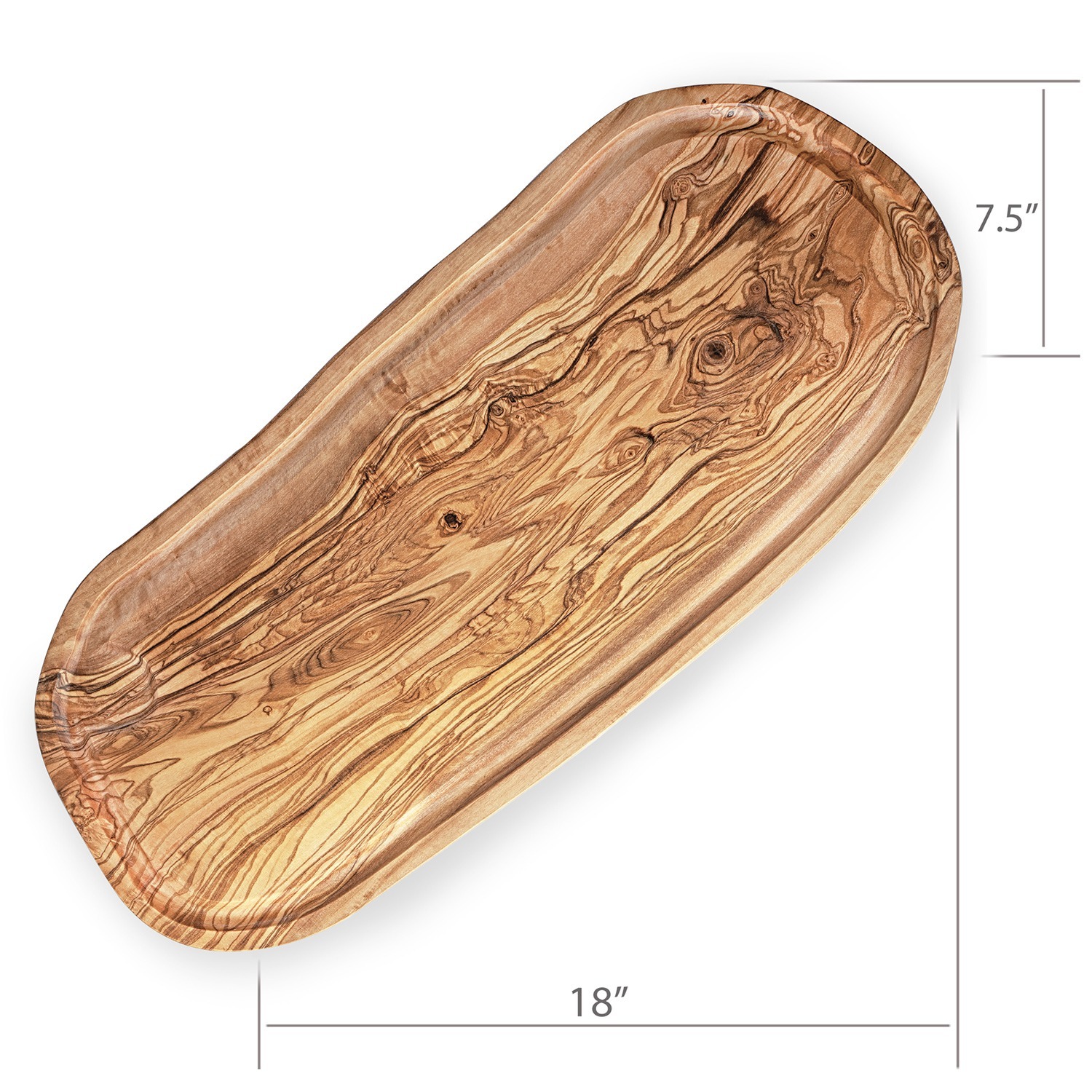 Product Details:
Genuine Handmade Craftsmanship
Self-Healing Surface
Gentle on Knives and Utensils
Easy to Clean and Maintain
Dimensions Vary by Product and Style
Note: Each product is 100% unique which means they each have their own wood grain pattern, size, and texture.
Adaptable Cutting Surface
These high-quality olivewood steak boards is durable and versatile enough for use with cutting up fruits and vegetables, slicing poultry and steak, or even serving up cheese with your favorite wine.
Better for Knives and Cutlery
Olive wood boards are far better for knives than heavy-duty plastic or bamboo cutting board because they provide a superior surface for cutting, chopping, and slicing.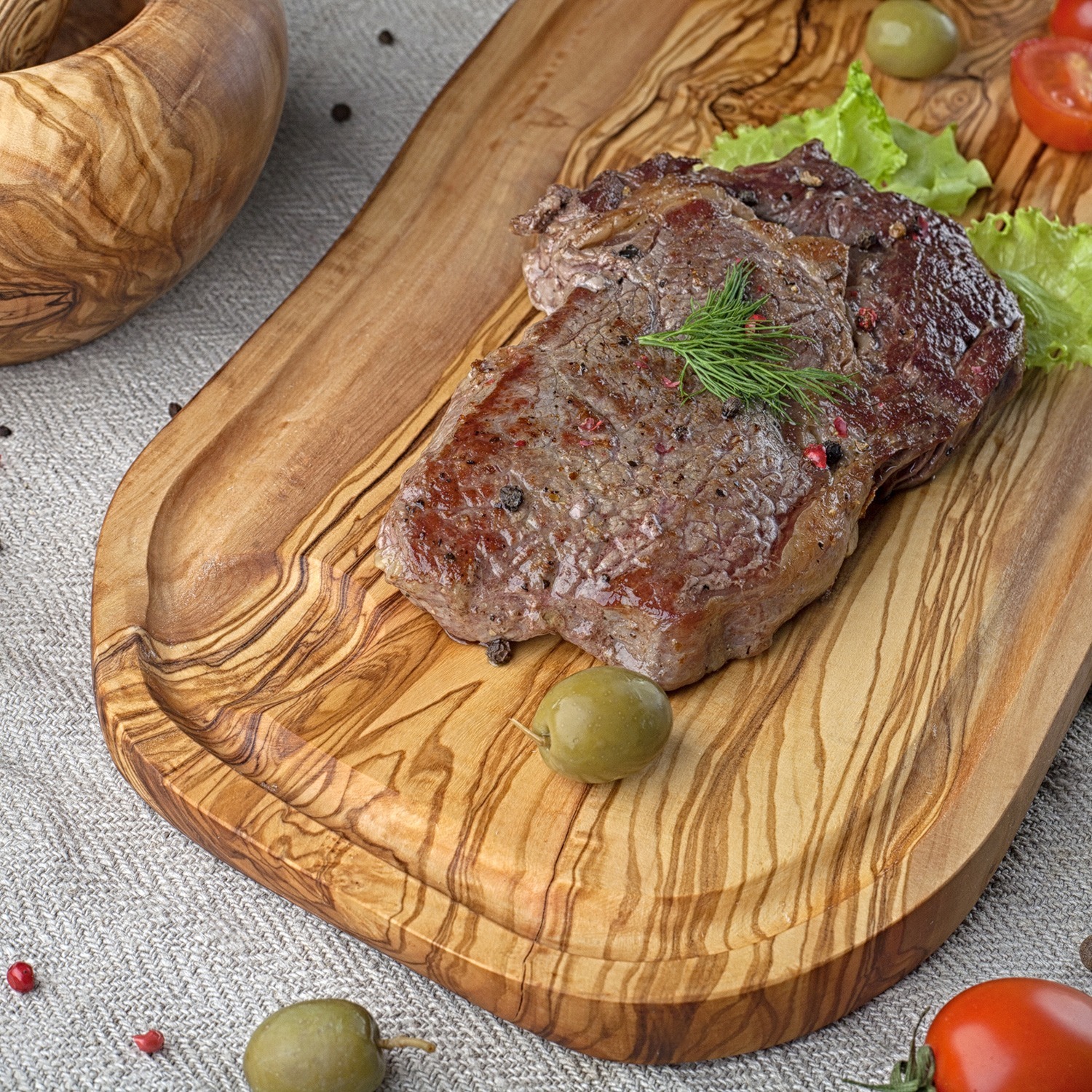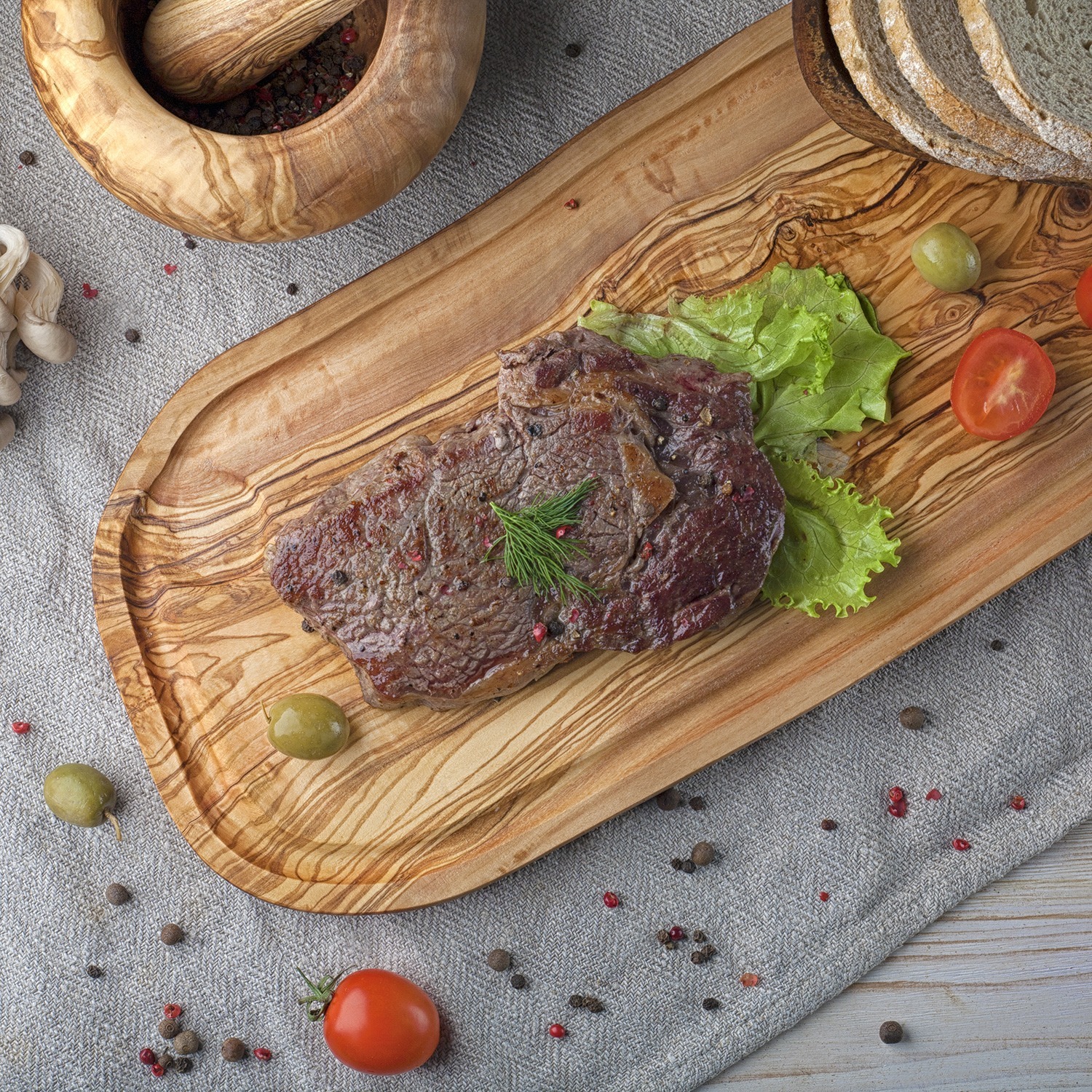 Exclusive, Handcrafted Kitchen Accessories
The kitchen is the most used room in every household. It's where you tell stories, share meals, and spend time preparing those unforgettable dinners. That's why we make custom kitchen products that transcend functionality and help you live a more engaged, natural lifestyle.
Hand-Selected, Handcrafted Wood
We care as much about your family as we do the quality of our products, which is why each one is not only wholly unique they're free from chemical additives or finishes. This ensures a cleaner, safer product for you and yours that will last and last with proper care.
Protect Surfaces and Countertops
Using one of our thick olive wood boards is a smart way to prevent damaging surface tops from cuts or intense heat, so you can use it for food or supporting hot pans or plates.
Authentic Character in Every Piece
These boards are made using real wood that's been carved by hand, which means the knots, grains, and color striations in each one make it completely unique to your kitchen or dining room.
Regular Wood Restoration
These olive wood steak boards are made with genuine olive wood which is why we suggest adding a few drops of olive oil to the surface to help them retain moisture, prevent cracking, and ensure long-lasting color vibrance.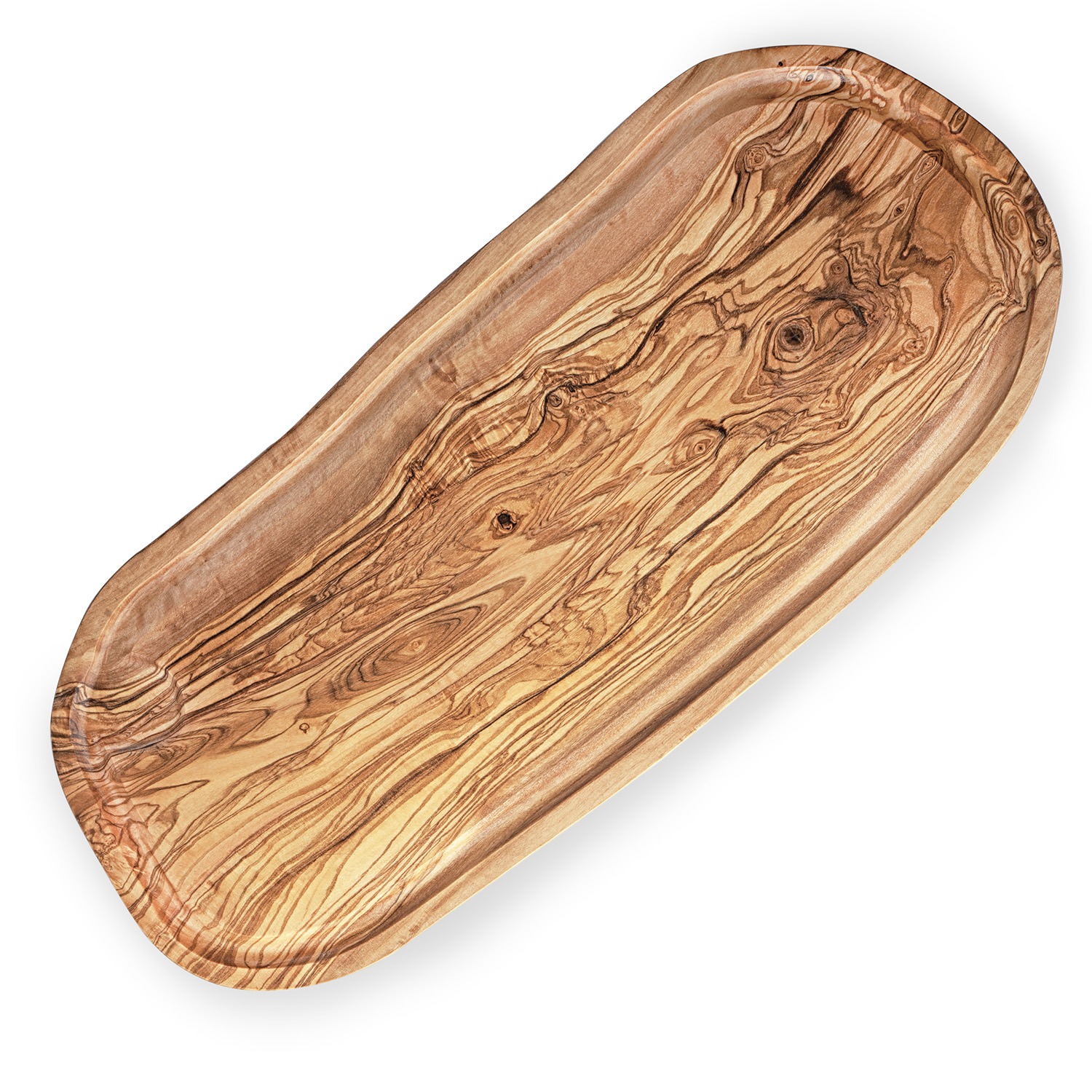 Reviews (12)
Only logged in customers who have purchased this product may leave a review.
Related products
Products that You Might Also Like