Wooden Salad Servers Set
Olive Wood Salad Servers Set – These multipurpose olive wood salad servers come with both traditional spoon and spork style utensils that make it easier to scoop, toss, prepare, and serve up salads, pastas, and food more easily.
Gorgeous Natural Olive Wood – Our olive wood salad servers are made with 100% high-quality olive wood that has been carefully designed by genuine craftsman. That means our salad fork and spoon set is heat resistant, durable, and add more rustic charm to your kitchen space.
Deeper Bowl-Shaped Serving Heads – Superior to standard flat salad tongs, these olive wood servers can be used with herbs, spices, soups, or other foods thanks to a deep head that lets you scoop or grasp more effectively.
Long, Well-Balanced Handles – This 2-piece salad server set features longer, thicker handles to give you more control over your lettuce, cheese, and croutons, so you can fill up plates or bowls with better leverage.
Premium Handmade Craftsmanship – As a family owned and operated business, we focus on premier handmade craftsmanship which is why each piece is beautifully unique in terms of color, pattern, texture, and even size for true exclusivity.

FREE 3-DAY SHIPPING ON ALL U.S. ORDERS OVER $49. SHIPS WORLDWIDE WITHIN 24 HOURS.
SKU:

FD-WSSS
Category: Utensils
Tags: salad spoon and fork set, cooking kitchen utensils, olivewood utensils, wooden serving spoons, wood serving spoons, serving spoons, salad servers, salad tongs, salad fork and spoon set, olive wood utensils, wooden salad servers, olive wood salad servers, wood kitchen utensil set, olivewood salad servers
Description

Toss, Mix, and Serve Up Fresh Salads with Natural Olive Wood Salad Servers from Forest Decor
There's nothing like a fresh, crisp salad to go along with your dinner or enjoy alongside an afternoon brunch. That's why we want you to toss and serve them up with style with beautiful, handcrafted Forest Decor Olive Wood Salad Servers that are made for modern kitchens who love more rustic, natural charm. These thick and well-balanced salad utensils for serving come with a traditional spoon and spork set that make it easier to grasp, scoop, and serve not only salads but pastas, hot potatoes, and even your famous pulled pork. Perfect for everyday use and made for long-lasting resilience, add these to your kitchen today and enjoy a farmhouse touch that goes well beyond stainless steel.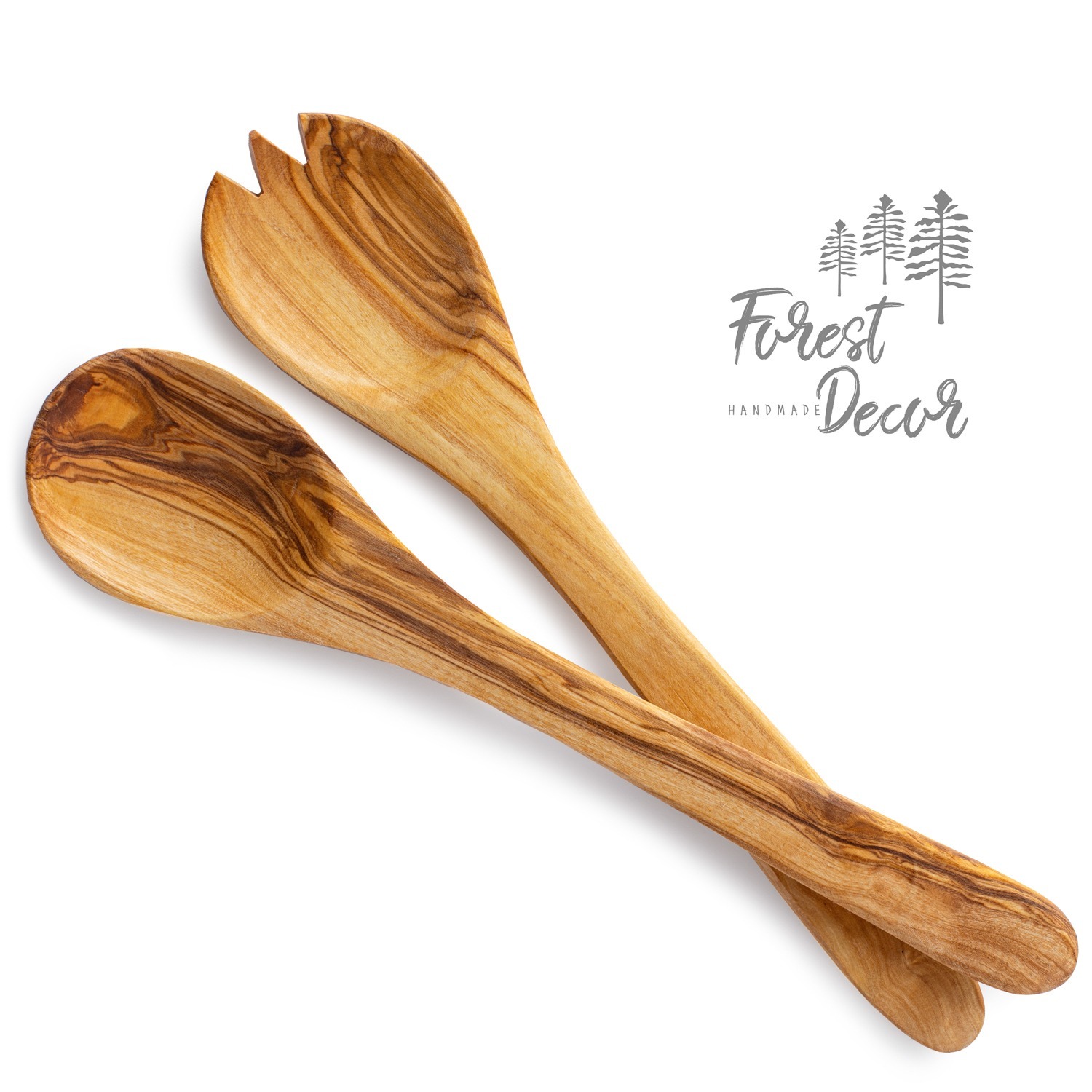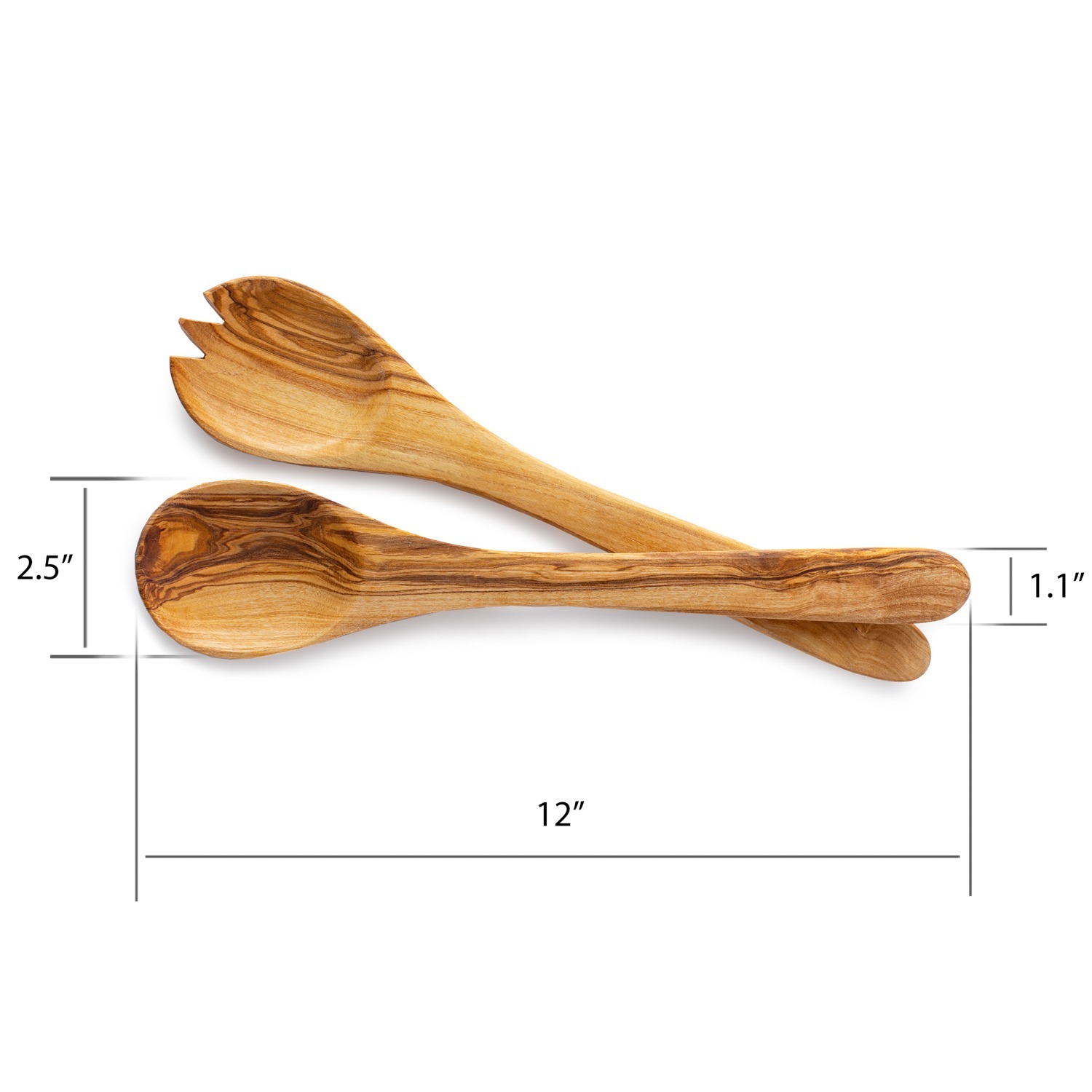 Product Details:
Olive Wood Salad Servers – 2pcs
Classic Spoon and Fork Combo
Genuine Handmade Craftsmanship
Non-Stick, Scratch Resistant Surface
Heavy-Duty and Easy to Clean
Note: Each product is 100% unique which means they each have their own wood grain pattern, size, and texture.
One-of-a-Kind Kitchen Decor
Everything we design and make is crafted by real professionals who believe that each piece should be its own special item. That's why our products are all slightly different in coloration and feel, but still give you the same premium quality you deserve in your kitchen.
Everyday Kitchen and Dining Use
Our olive wood utensils are a great choice when you're tossing salad before you bring the bowl to the table, keeping at the dining room table for serving guests, or as decorative pieces you keep on a buffet table or counter to add a special touch to your room's decor.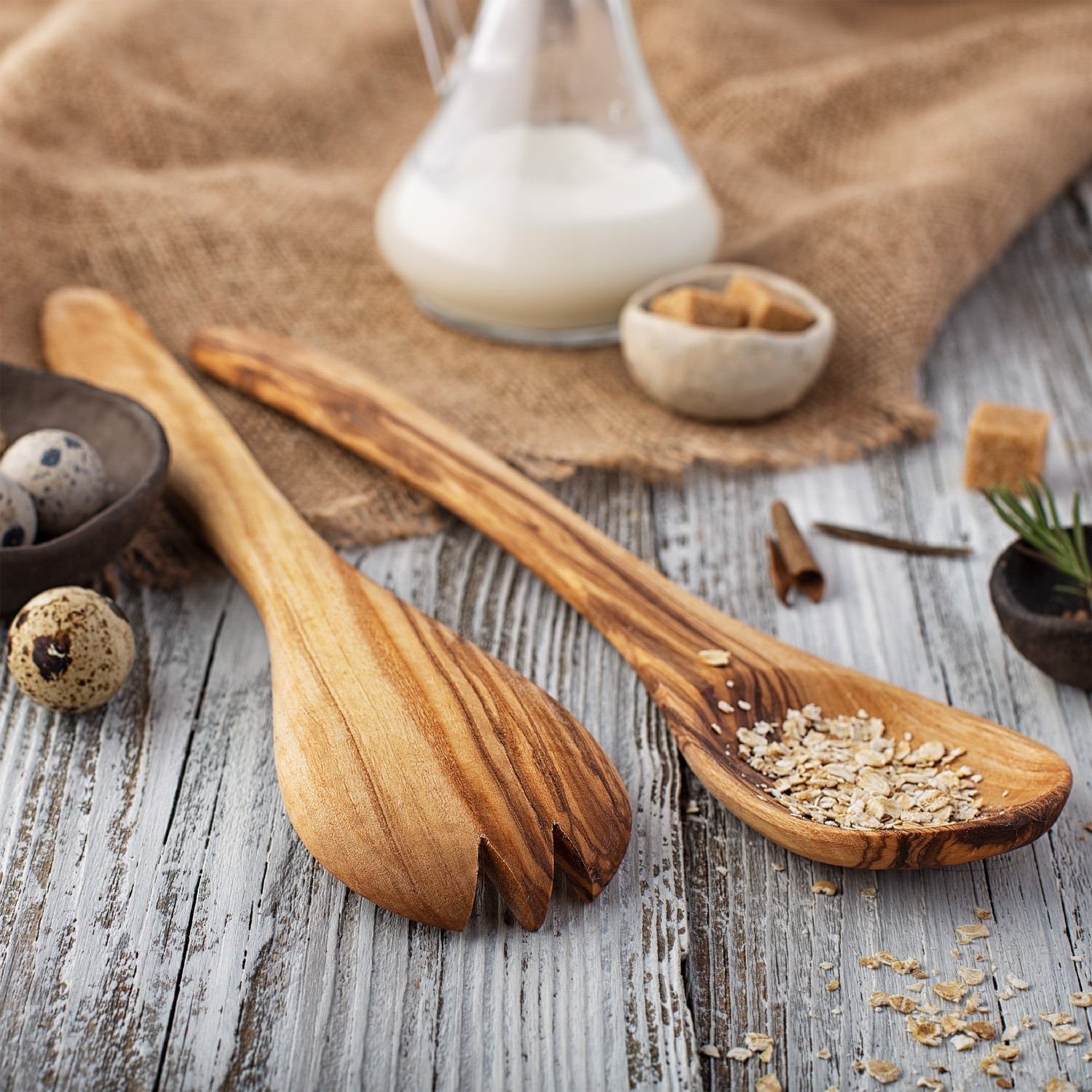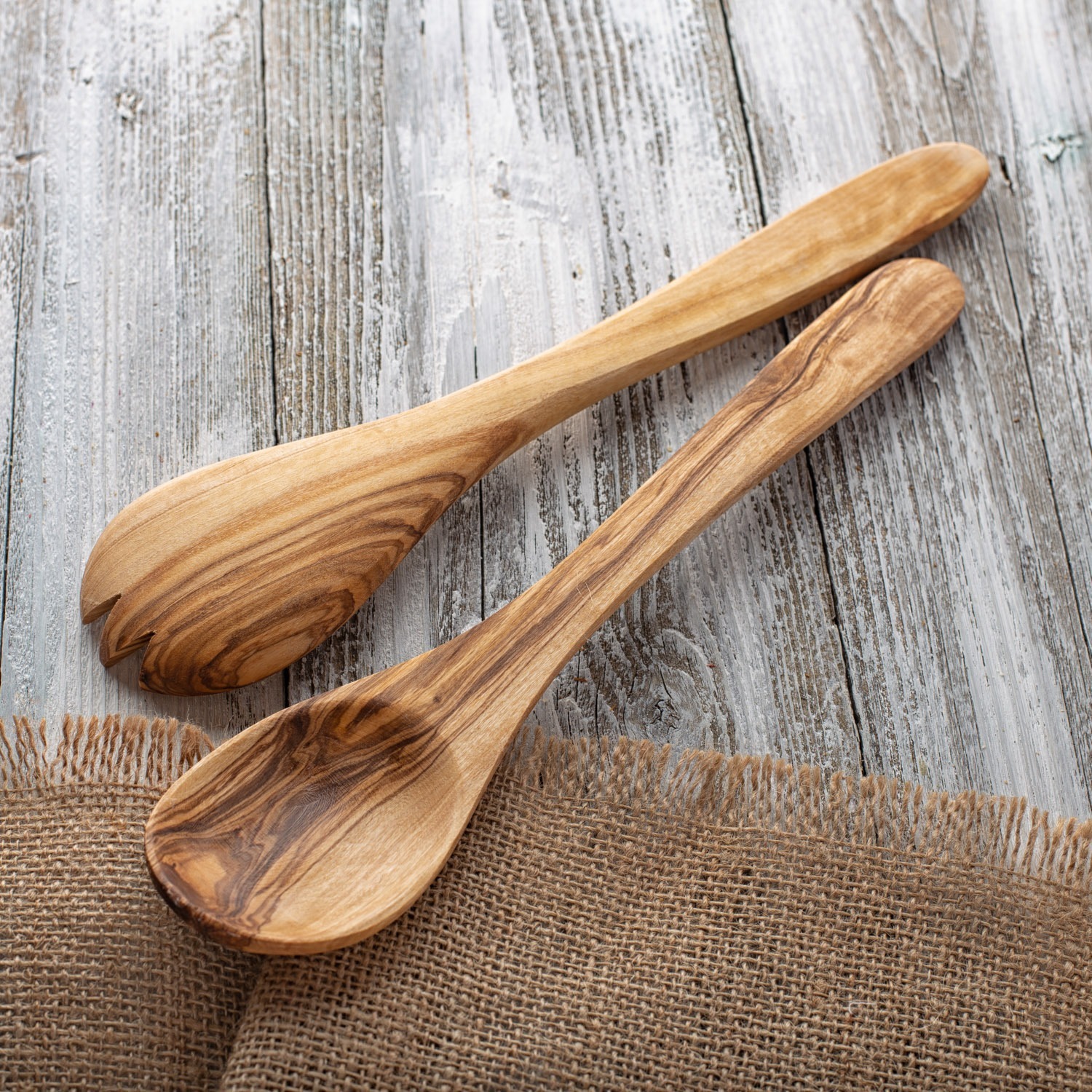 Smooth, Easy-to-Grip Handles
We made these handcrafted wood cooking utensils easier to manage and handle when you're tossing and serving, so you can focus on enjoying the food and not the effort beforehand.
Convenient Spork Edge
The long spork is a combination spoon and fork design that gives you more leverage and control when pinning and grasping food between the two servers.
Thoughtful, Personal Gift
From wedding receptions to anniversaries to Christmas gifts, this 2-piece serving set makes a wonderful choice for people who love cooking or serving friends and family.
Hand Wash Only
You'll end up using these olivewood kitchen utensils for preparing and serving all types of foods, which is why we recommend hand washing them between uses to help maintain durability and resilience.
Regular Wood Restoration
This salad serving set is made with genuine olive wood which is why we suggest adding a drops of olive oil to the surface to help it retain moisture, prevent cracking, and ensure long-lasting color vibrance.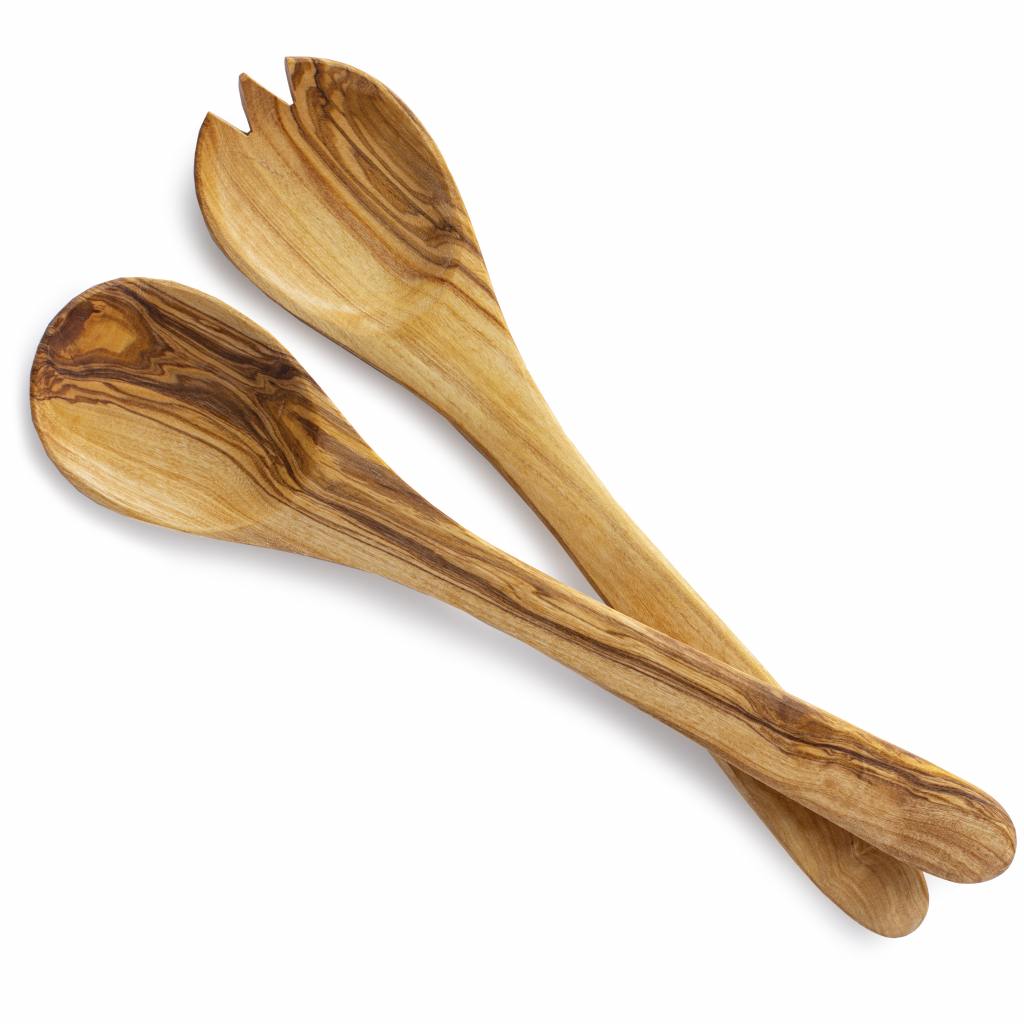 Related products
Products that You Might Also Like