Slotless Wooden Knife Block
Universal Olive Wood Knife Block – Designed to make it easier to store paring, steak, chef, and other food prep knives, this kitchen knife block uses packed in wooden skewers to let you add blades of mostly smaller-sized knives and keep them organized in any configuration.
Protects Steel and Ceramic Blades – This wood knife block without knives makes it easier to store your cutlery and protect it from scratches, dings, or damage by letting them slide natural between the skewers for a perfect fit.
Compact Countertop Storage – At 6.3" x 3" in size, this versatile chef knife block makes it easier to save space on your counter while still maximizing the storage area you need for your kitchen knives. Ideal for meal prep areas of all sizes.
Beautiful Housewarming Gift – A Forest Decor wood block knife holder without knives is one of the most useful gifts you can give someone as a birthday, wedding reception, or anniversary present because everyone spends time prepping food in the kitchen.
Premium Handmade Craftsmanship – As a family owned and operated business, we focus on premier handmade craftsmanship, which is why each piece is beautifully unique in terms of color, pattern, texture, and even size for true exclusivity.

FREE 3-DAY SHIPPING ON ALL U.S. ORDERS OVER $49. SHIPS WORLDWIDE WITHIN 24 HOURS.
Description

Organize Kitchen Knives and Save Valuable Counterspace with a Universal Slotless Wood Knife Block from Forest Decor
When it comes to your kitchen few things are more universally needed than a good set of knives for cutting up chicken, preparing fruits and vegetables, and even enjoying a good steak. That means you're going to need a Slotless Wood Knife Block that not only helps you stay more safe and organized but really enhances the look and feel of your countertops. We created these handmade Forest Decor Olives Wood Knife Blocks by hand and with wooden skewers on the inside to make it a truly versatile, slotless storage system. The innovative design lets you slide in a smaller-range of knife blade lengths and widths both protecting them and adding much-needed space to your kitchen countertops.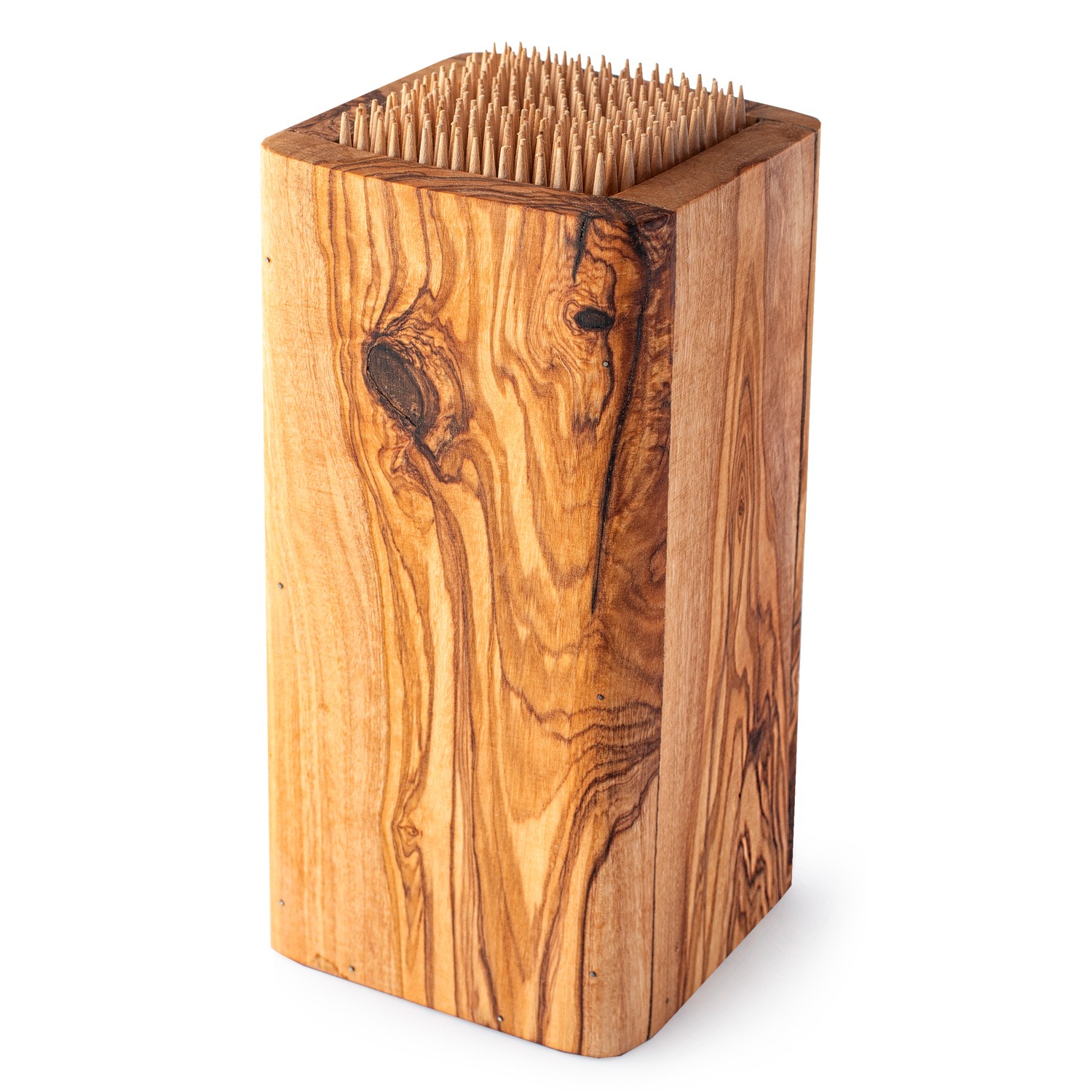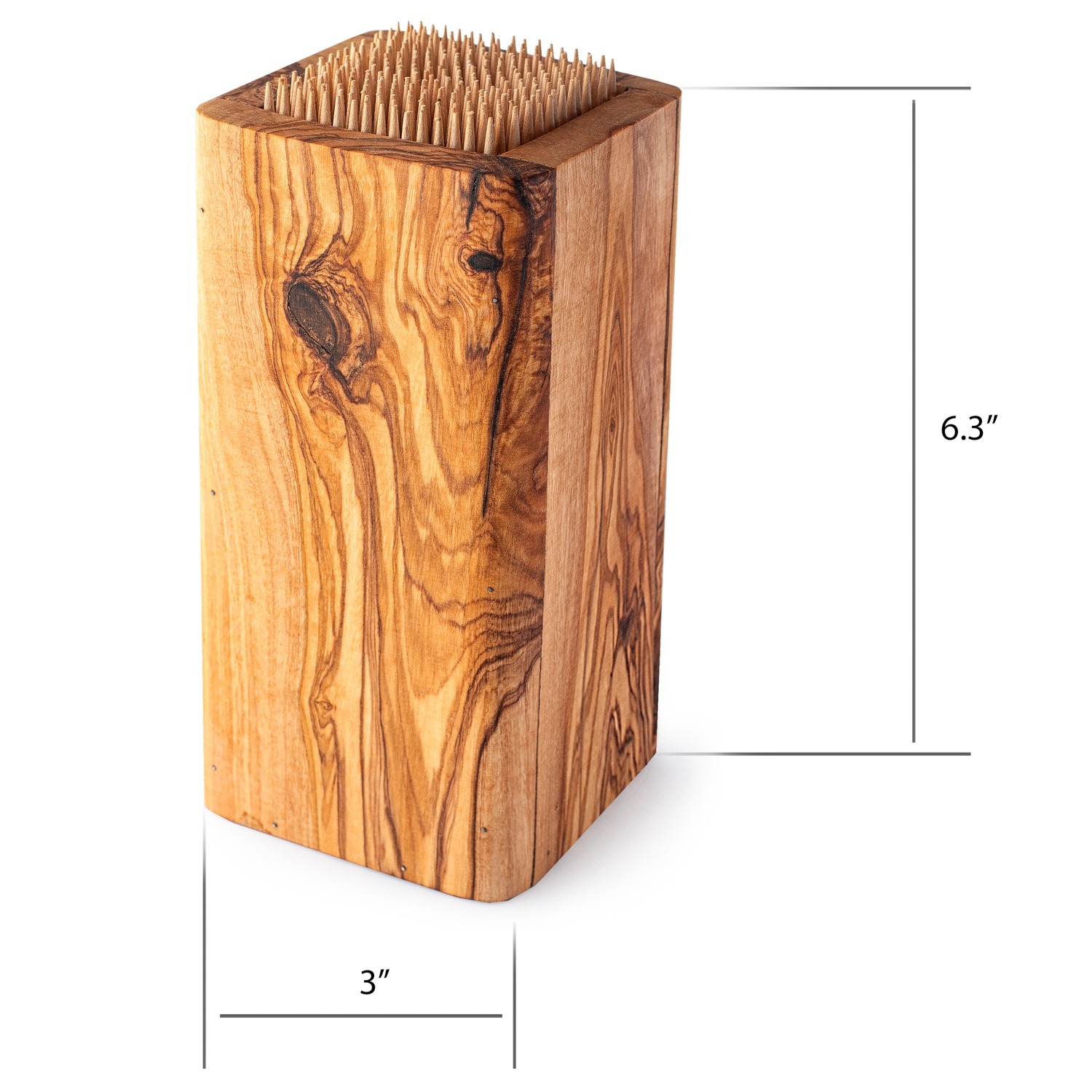 Product Details:
Universal Wood Knife Block
Genuine Handmade Craftsmanship
Holds Knives with Wooden Skewers
Adapts to Blade Length and Thickness
Practical, Space-Saving Design
Overall Dimensions: 6.3" Tall x 3" Wide
Note: Each product is 100% unique which means they each have their own wood grain pattern, size, and texture.
Handcrafted Kitchen Items
Here at Forest Decor we love making high-quality, custom-made kitchen products that support your daily life. And be it our bread bowl, knife block for kitchen counter, cooking spoons, or one-of-a-kind drink coasters, you won't find better quality or more unique designs anywhere else. Perfect for your home, office, or personal space.
Natural Olive Wood
One of the most important aspects behind the Forest Decor chef knife block is that we carefully selected each piece to ensure quality and durability for years to come. We've also crafted and treated it without the use of harsh chemicals or additives to ensure it is kitchen friendly and family safe.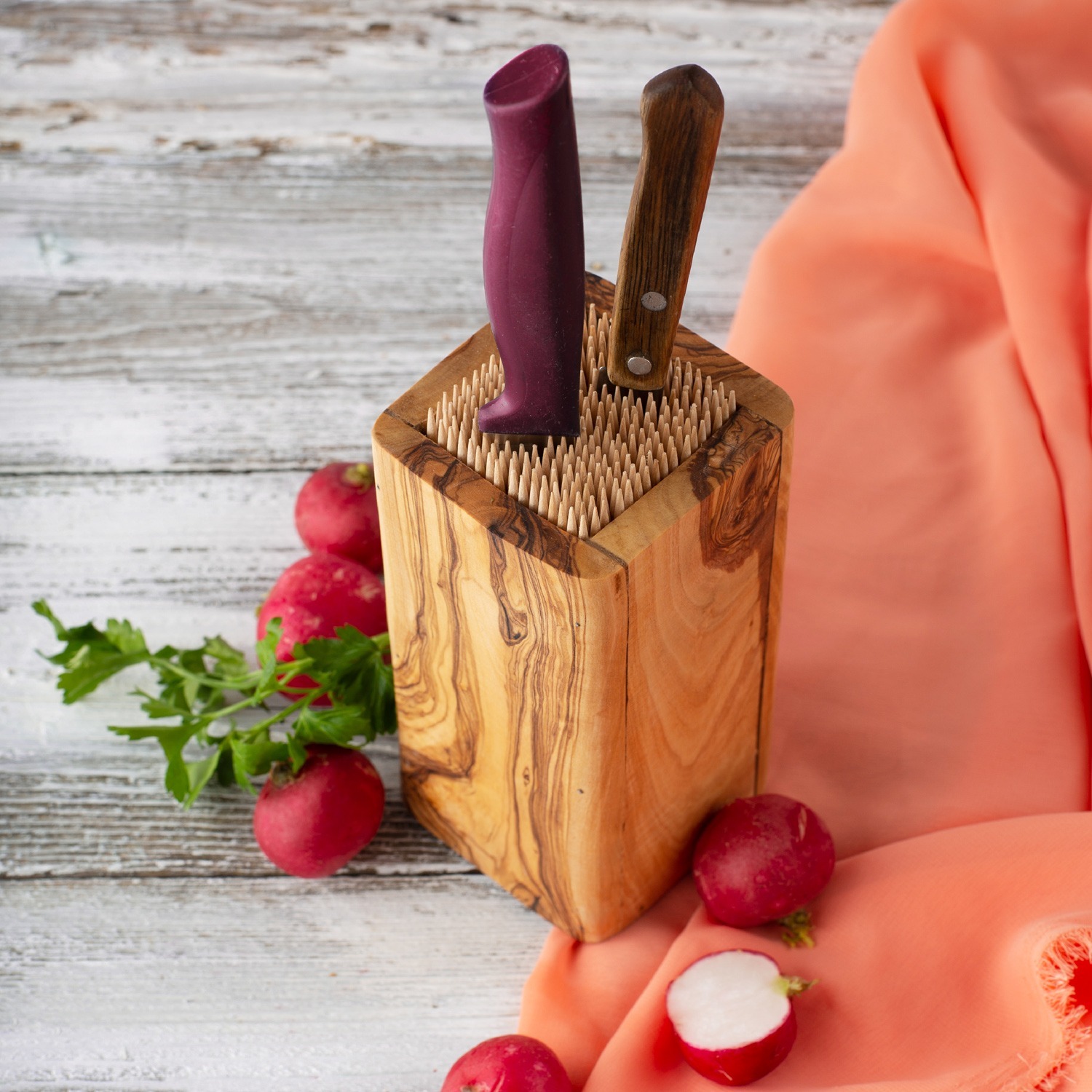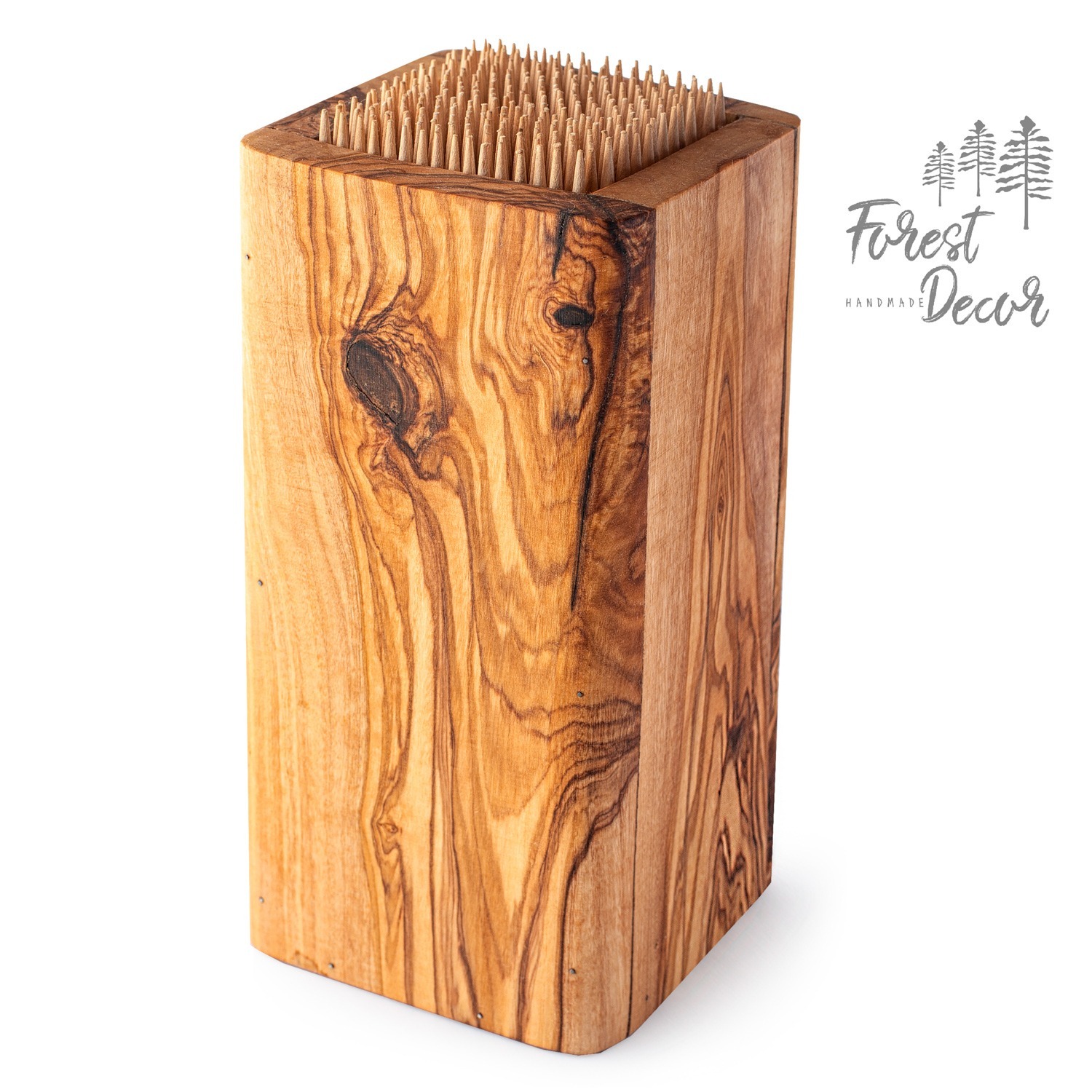 Comprehensive Knife Use
One of the best reasons to choose a wooden knife holder without slots is that it allows you to customize your kitchen knife storage based on the knives you already own.
Safe and Gentle on Blades
The wooden skewers inside our knives holder block move to make room for your knife no matter how you stick it in to help prevent scratching or dulling the blade in-between uses.
Improved Blade Coverage
The taller 6.3" height makes it easier to stick an entire knife into the kitchen knife holder and completely cover the blade from tip to hilt for better home and kitchen safety.
Stunning Wood Grain
From knots to coloration to the beautiful imperfections each individual piece has its own unique style and character which adds more value to your living space.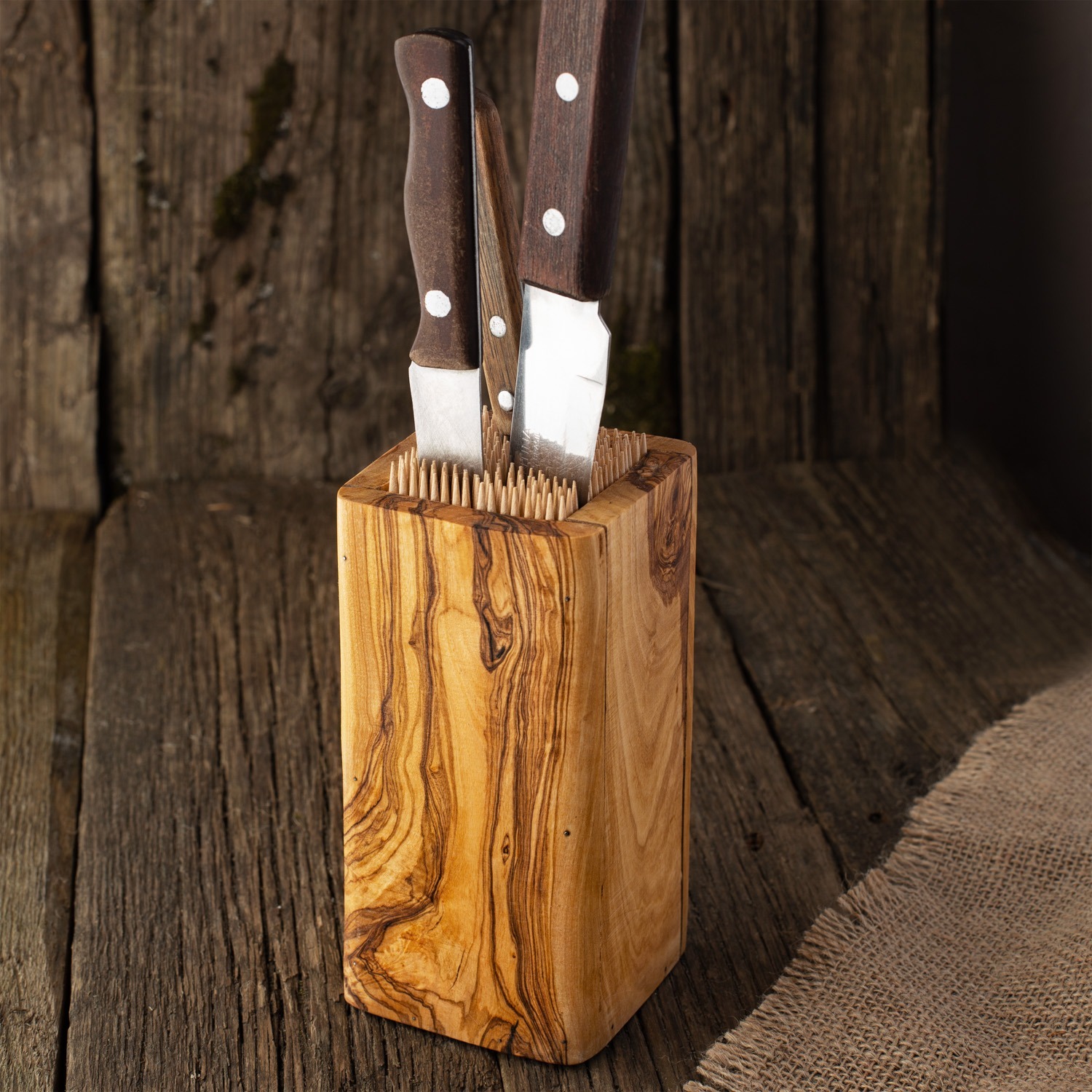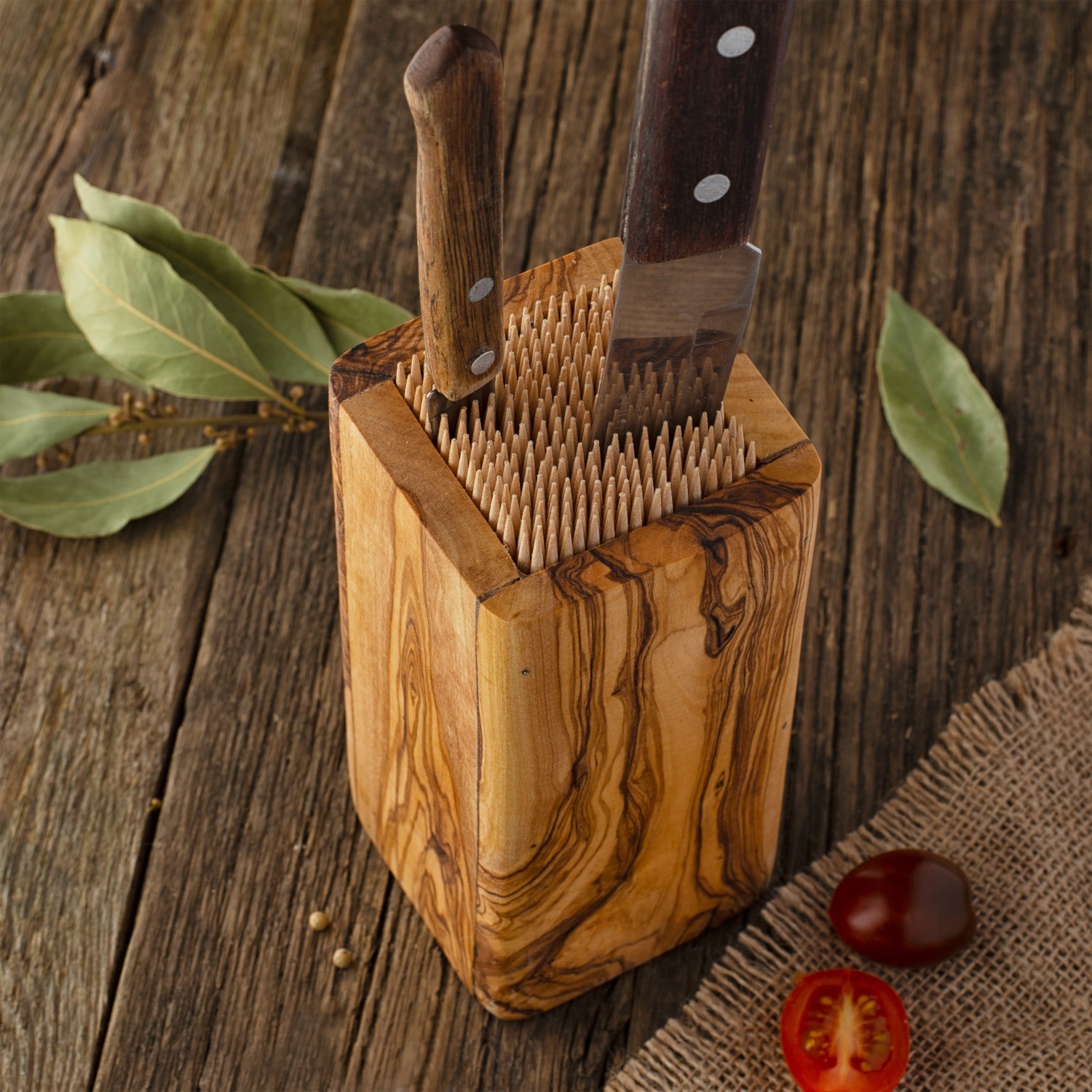 Regular Wood Restoration
Like our other kitchen products, our wooden knife block is made with genuine olive wood, which means that adding a few drops of olive oil to the surface can help retain moisture, prevent cracking, and ensure long-lasting color with vibrant grain.
Additional information
| | |
| --- | --- |
| Dimensions | 6.3 × 3 in |
| Brand Name | Forest Decor |
| SKU | FD-SWNH |
| UPC | 712885137589 |
| GTIN | 712885137589 |
Reviews (6)
Only logged in customers who have purchased this product may leave a review.
Related products
Products that You Might Also Like
Rated 5.00 out of 5
(3)
$

54.93 –

$

98.95