Olive Wood Salt Keeper with Scoop
Wooden Salt Box with Lid – This charming olive wood salt cellar with lid comes with an apple-shaped wood pot with stemmed lid as well as a small scoop that lets you dole out just the right amount when preparing food or touching up a meal.
Handcrafted Salt Container with Lid – Every olive wood salt bowl is carefully handmade by real craftsman which means each one has its own unique woodgrain coloration, which means it not only adds a stylish touch to your space, but it's also one of a kind.
All-Purpose Kitching and Dining Use – Our salt holder can also be used for all types of other common dried herbs and spices including peppercorn, black pepper, sea or pink Himalayan sea salts, or other freshly-ground options you love.
Keep One in the Bathroom – These bath salt container with bath salt scoop can also be used for storing aromatherapy bath salts, hiding jewelry, or simply adding a decorative touch to a living room shelf or your bedroom side table.
Premium Handmade Craftsmanship – As a family-owned and operated business, we focus on premier handmade craftsmanship, which is why each salt and pepper holder is beautifully unique in terms of color, pattern, texture, and even size for true exclusivity.

FREE 3-DAY SHIPPING ON ALL U.S. ORDERS OVER $49. SHIPS WORLDWIDE WITHIN 24 HOURS.
SKU:

FD-SP-BS
Categories: Olive Wood Bowls, Bowls, Salt Shakers
Tags: bath salt container, olive wood salt pot, salt pot with lid, salt pinch pot, wood salt pot, salt cellar with lid, wooden salt pot, salt keeper, Wood Salt Pot with Lid and Scoop Spoon, salt pig, Spice Box, wooden salt box with lid, salt box, salt container with lid and spoon, salt holder, salt bowl, bath salt holder, salt holder with lid
Description

Keep a Touch of Salt Handy with a Rustic Salt Pot with Matching Scoop
When it comes to cooking your favorite recipes there's often a moment where you're reaching for the salt, pepper, or other spices and adding a dash here or there to really help bring out the flavor. That's why we made this super cute Forest Decor Salt Pot with lid and scoop spoon to make it easier to season your food in a pinch. Crafted with genuine olivewood and shaped like a little apple this compact, countertop salt pot lets you keep salt or other spices within easy reach, so you're ready to cook like a professional.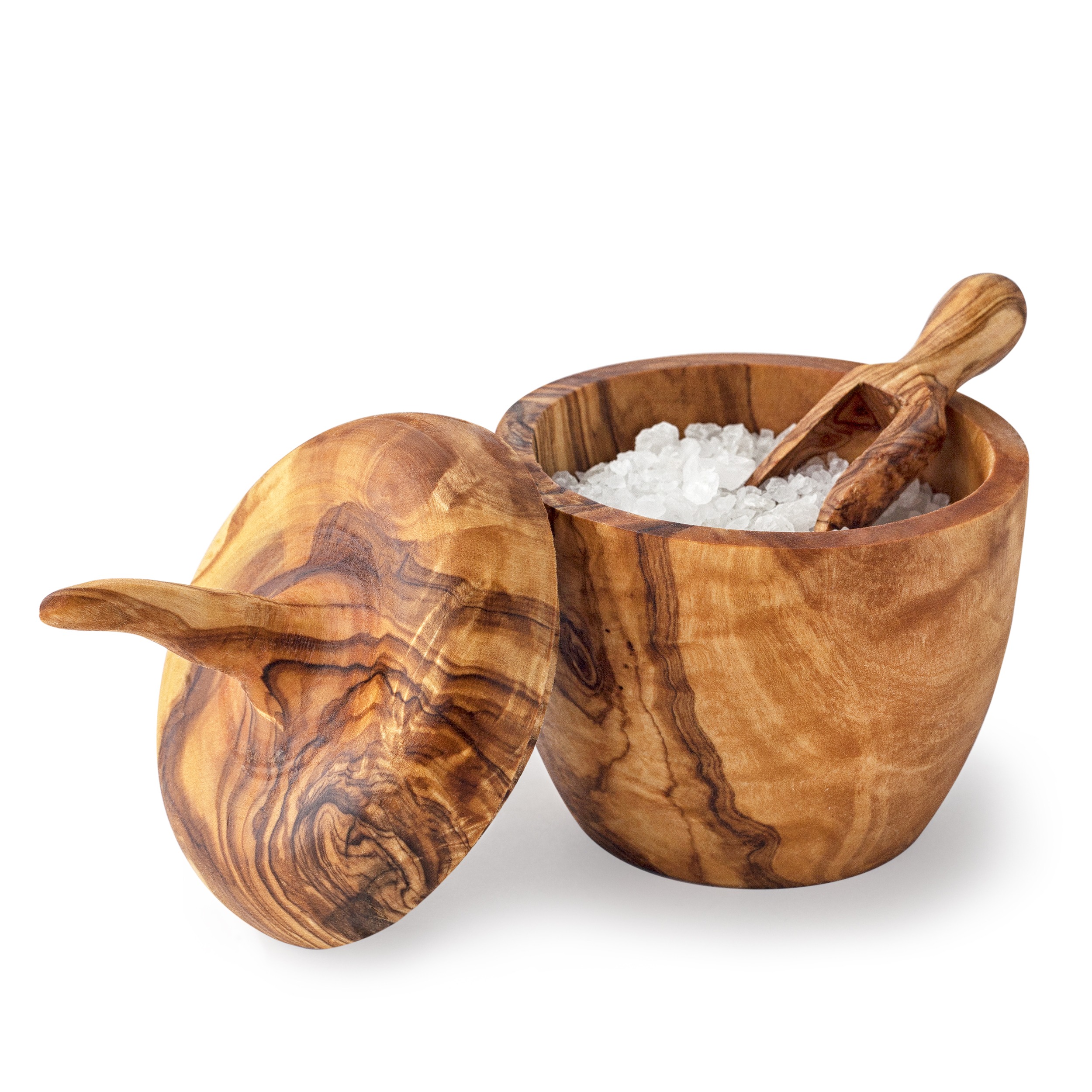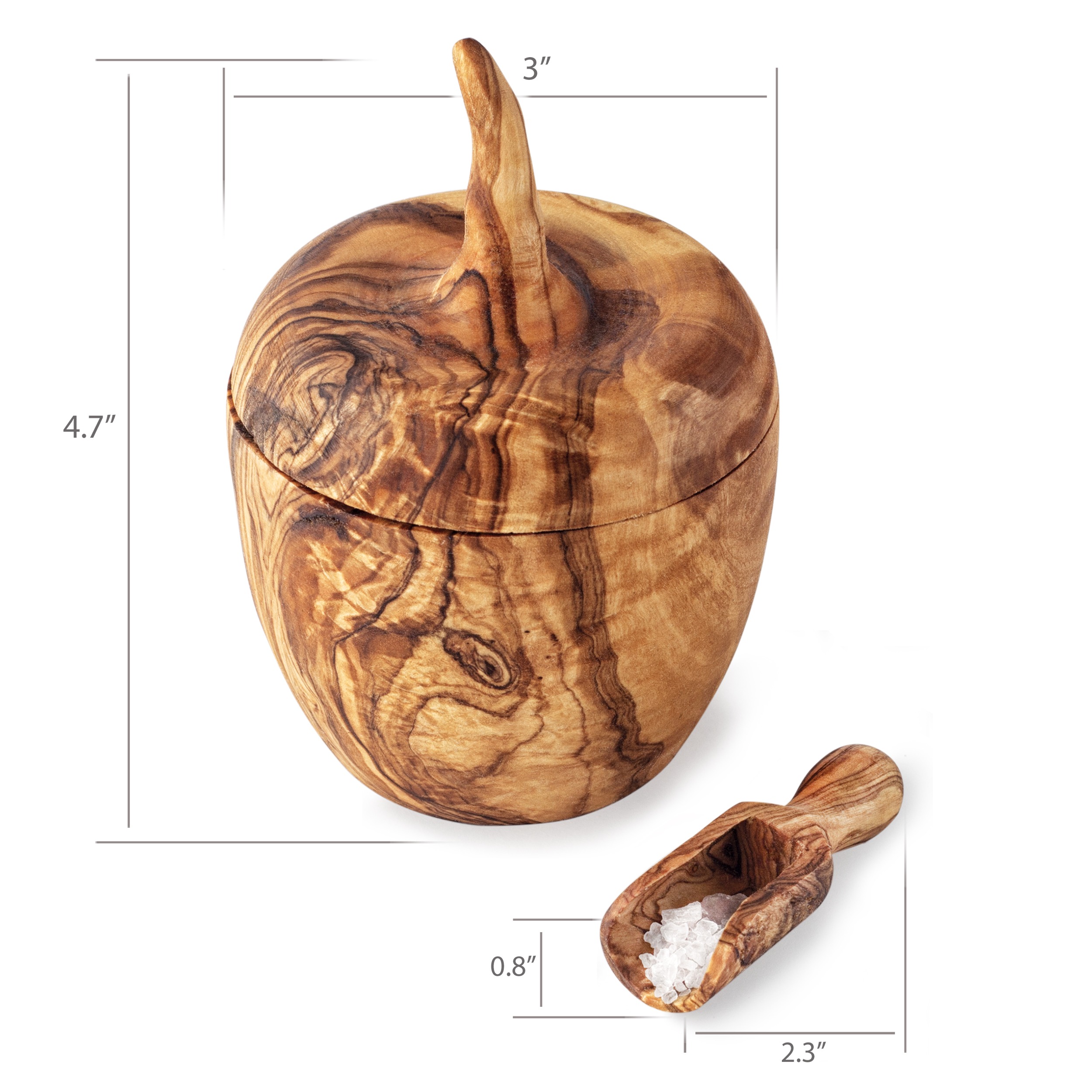 Product Details:
Premium Salt Pot with Lid
Matching Wooden Scoop Spoon
Genuine Olivewood
Handmade Craftsmanship
Food-Grade Safe Wood
Pot Dimensions: 4.7" Tall x 3" Wide
Scoop Dimensions: 0.8" Wide x 2.3" Long
Hand Wash Recommended
Proper Care for Natural Olivewood
We want you to cherish your new hand-carved olive wood kitchenware made by skilled artisans for years to come. That's why to maintain their beautifully intricate designs and unique swirled grain patterns, you should follow these simple guidelines.
· Clean olive wood with only warm using a soft sponge or cloth. If extremely dirty, you can add a little dish soap. After washing, wipe wood dry with a soft cloth.
· Retain the beauty of our olive wood grain and color and prevent it from drying out or cracking by conditioning it with olive oil as needed.
· Never expose olivewood to a dishwasher or hot or cold temperatures for long periods (such as a fridge) to ensure they don't split or get damaged.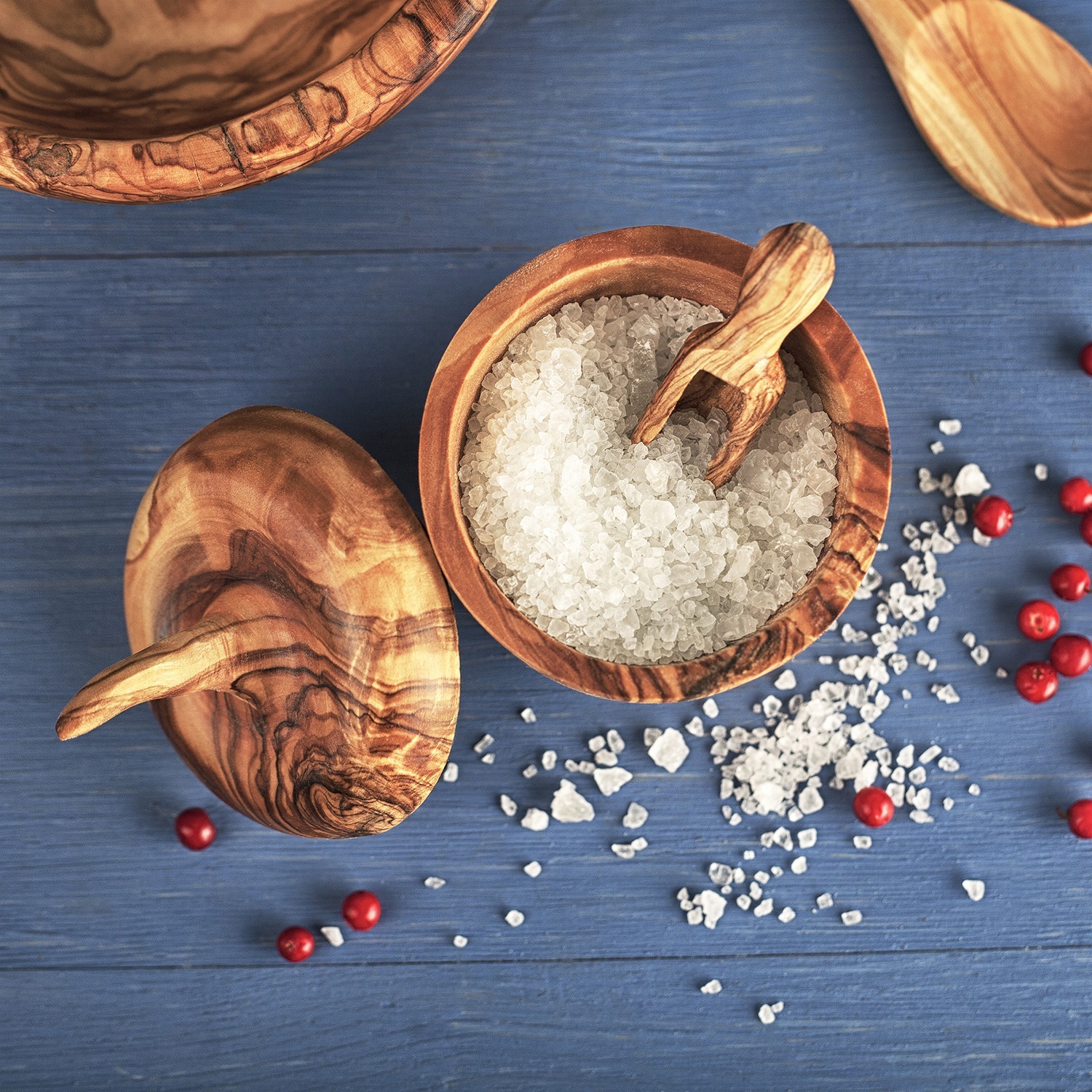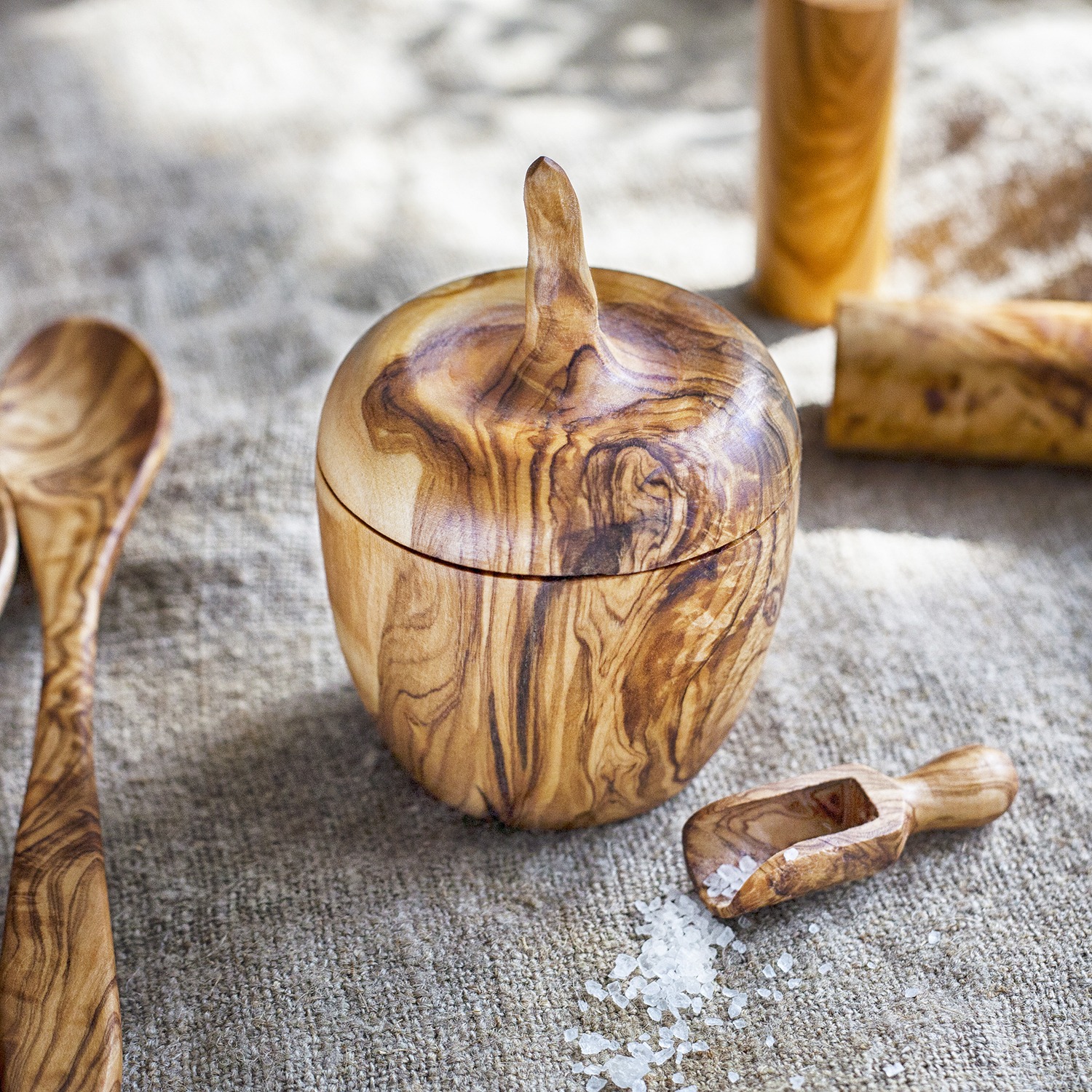 Thought Gift Set Idea
A wonderful choice for your own kitchen or a family member or friend who enjoys spending time making family dinners, our pinch pot comes with a high-quality, handcrafted soon to suit every modern home need. Get one as a housewarming, birthday, anniversary, or wedding gift today.
Quick Pull-Off Stem
The top of our salt pot lid features a short apple stem that makes it easier to lift off during use and replace it when you're finished for a seamless kitchen transition.
Product Features
Space-Saving Countertop Use The salt pot is big enough to hold plenty of salt or spices and small enough that you can easily stick it up by your oven on the counter to keep it within quick, easy reach.
Form-Fitting Stemmed Lid
Our apple-shaped salt pot also comes with a matching lid that you can use to keep the spices inside fresher while also helping to keep out any pests, ants, or bugs.
Deep Scoop Design
The salt pot spoon features high-arched edges to help you get more salt from the container without spilling it or leaving a mess behind.
Natural Woodgrain Colors
Each Forest Decor kitchen accessory we make is crafted by hand using real, genuine olive wood which means each piece has a vintage look all its own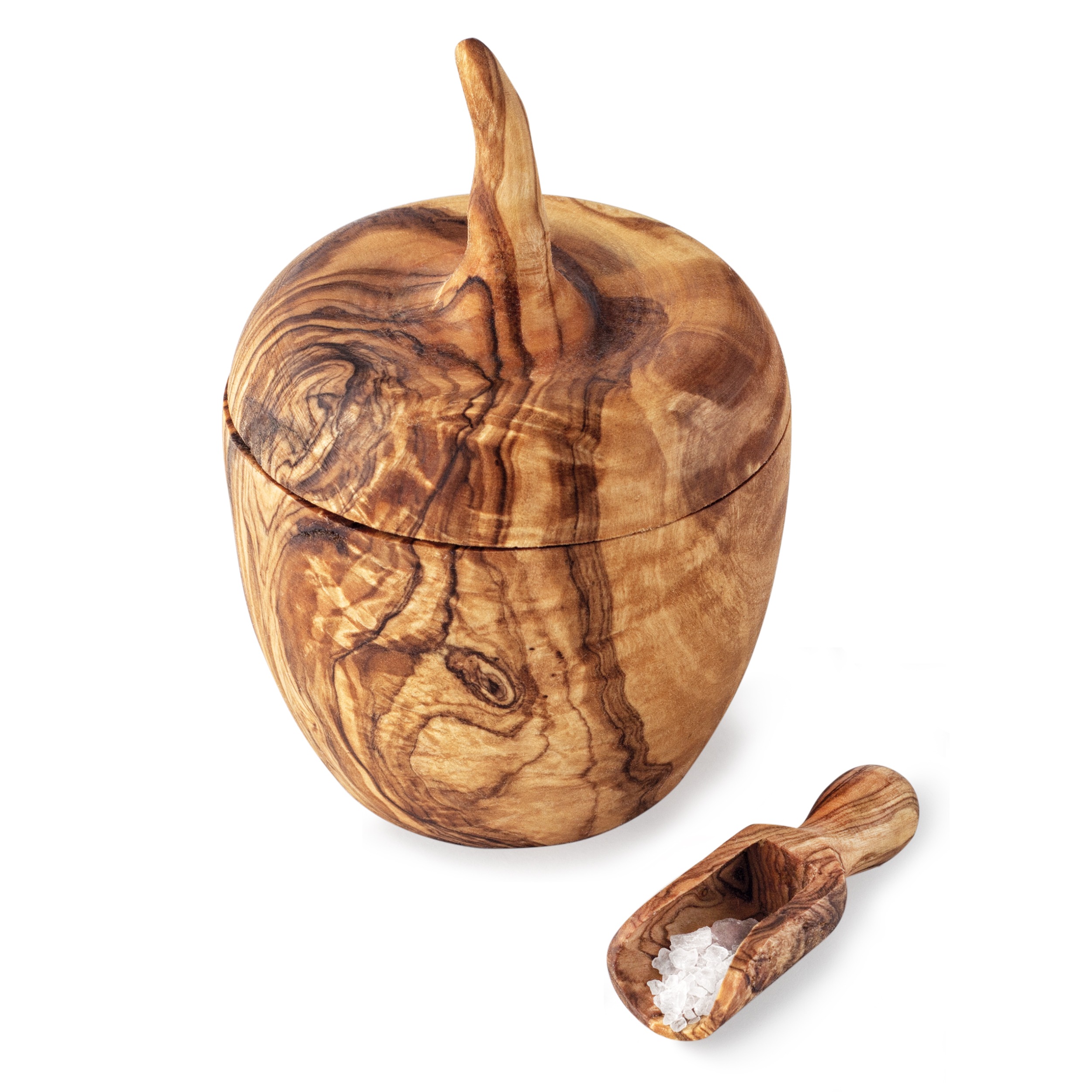 Reviews (14)
Only logged in customers who have purchased this product may leave a review.
Products that You Might Also Like