Rustic Wooden Mortar and Pestle
Multipurpose Pestle and Mortar Set – The perfect way to grind up fresh spices and herbs for an evening dinner, or delicious guacamole for a quick afternoon snack, this olive wood mortar pestle set helps you add just the right touch to your meal.
Genuine Olive Wood Set – Our highly-skilled craftsmen hand select each piece of olive wood and carefully carve it into these beautiful

large mortar

 and pestle wood sets. This makes our kitchenware completely unique with long-lasting durability.
Deeper Mortar Bowl – We made the sides of our mortar higher to help prevent contents from spilling or falling out while you're crushing them. This reduces the mess in the kitchen and helps you retain more herbs or spices.
Heavy-Duty Grinding Pestle – Thick and durable each wood pestle features a wide grip to give you more control over crushing, stirring, and mixing while the round, wide head provides a smoother, more even press against the mortar bottom.
Premium Handmade Craftsmanship – As a family owned and operated business, we focus on premier handmade craftsmanship which is why each piece is beautifully unique in terms of color, pattern, texture, and even size for true exclusivity.

FREE 3-DAY SHIPPING ON ALL U.S. ORDERS OVER $49. SHIPS WORLDWIDE WITHIN 24 HOURS.
Description

Never Leave Out Important Ingredients – Choose a Wood Mortar and Pestle from Forest Decor
You don't need to be a professional chef to know that the herbs and spices you use can turn an OK meal into an unforgettable dinner. That's why we want to help you create the freshest, most delicious flavors possible by grinding up your own herbs with a classic Forest Decor Wood Mortar and Pestle Set. Complete with a deep mortar bowl and thick, well-balanced pestle, this versatile 2-piece set makes it simple to crush peppercorns, basil, Himalayan sea salt, and all your other favorites with just a simple push.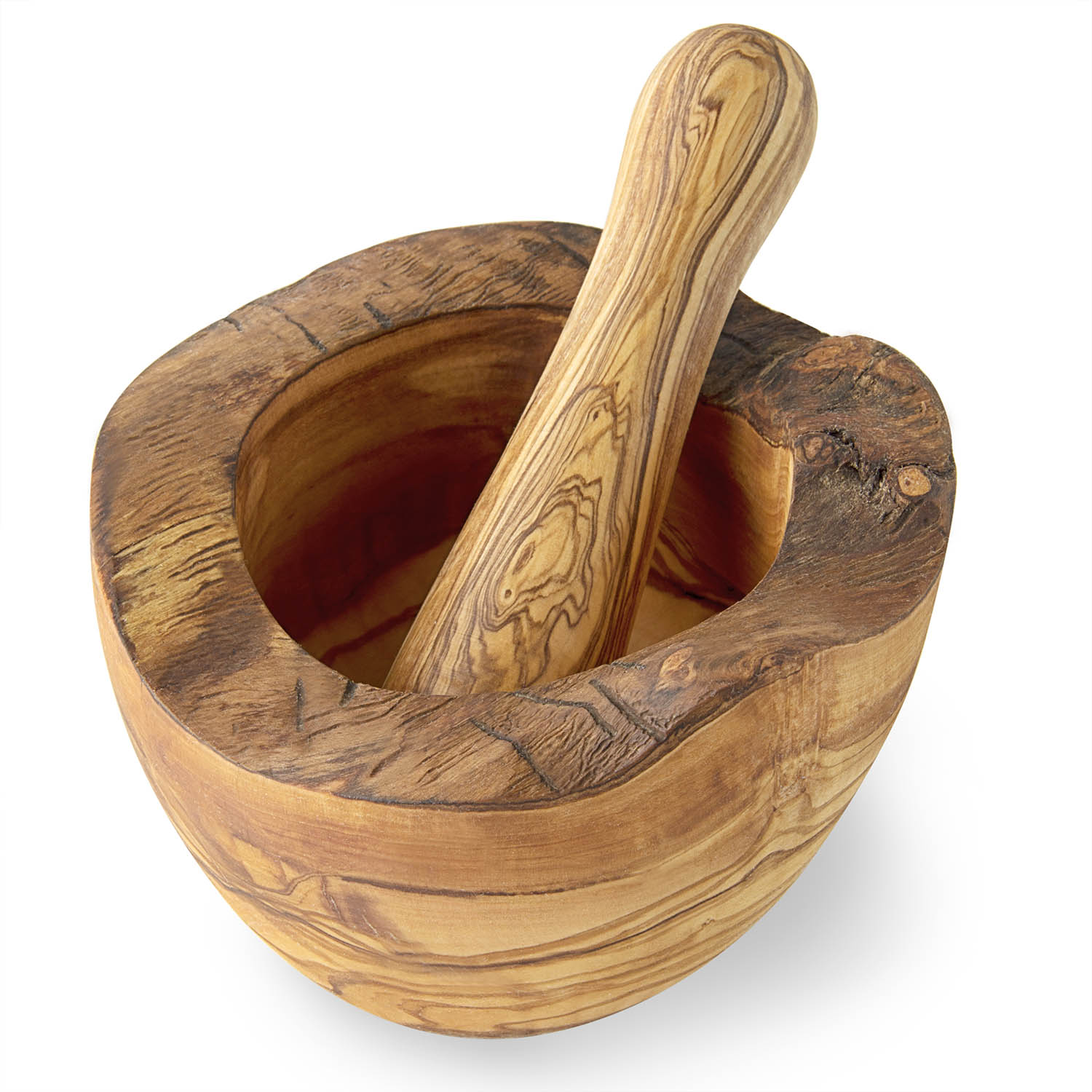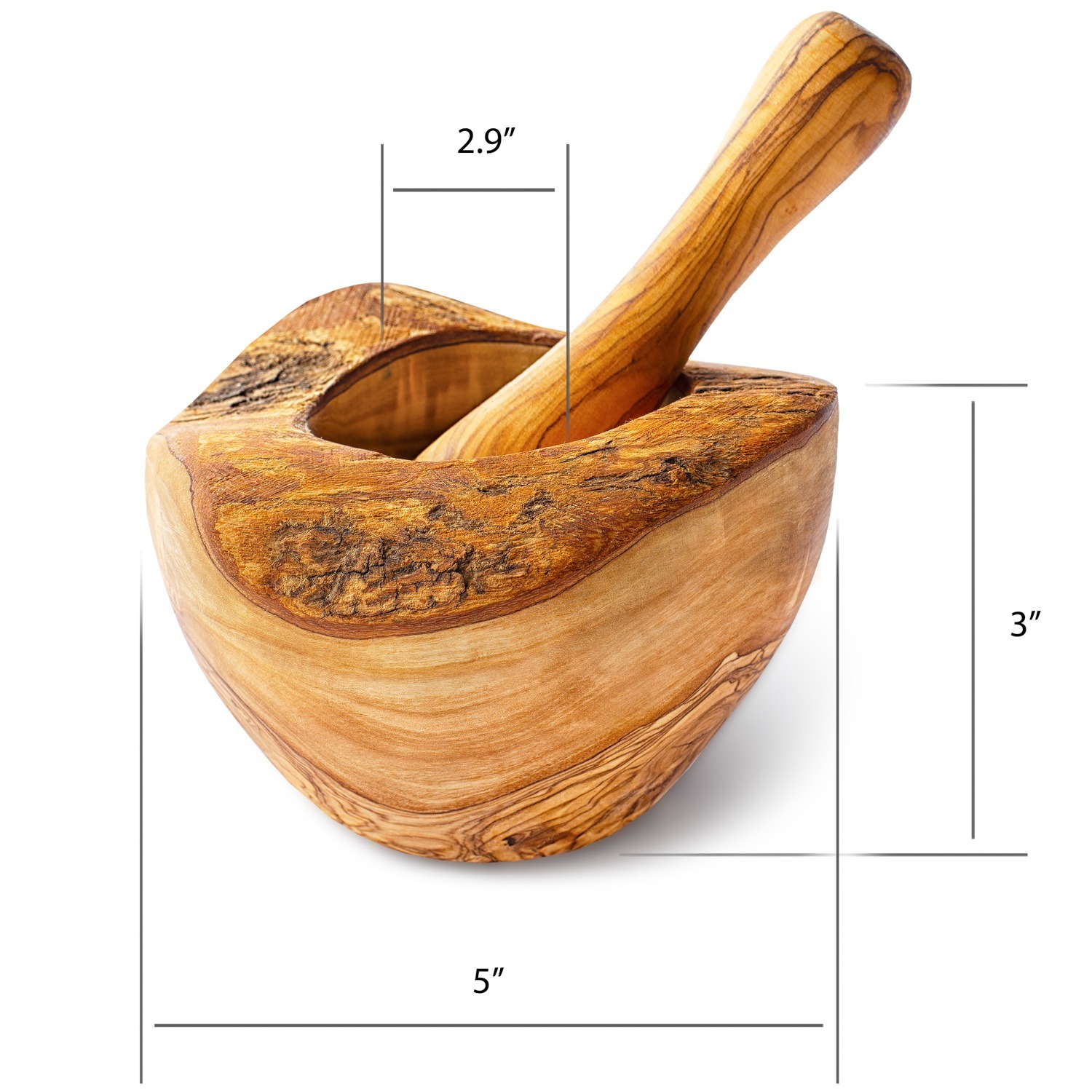 Product Details:
Olive Wood Mortar and Pestle (2 Pc. Set)
Finished and Unfinished Bowl Options
Thick, Well-Balanced Pestle Handle
Genuine Handmade Craftsmanship
Non-Stick and Surface Safe
Heavy-Duty and Easy to Clean
Note: Each product is 100% unique which means they each have their own wood grain pattern, size, and texture.
Enjoy Fresh Herbs and Genuine Quality
At Forest Decor we love making your time in the kitchen more enjoyable while also enhancing the ambiance of the room. That's why we offer handcrafted kitchen accessories made with premium olive wood designed to support your cooking, baking, and mixing needs with a style all their own.
Finished and Unfinished Mortar Options
Part of the fun of making all types of fresh, delicious food with real, natural herbs is doing it with quality kitchenware that suits your personal style. That's why we offer these stunning Forest Decor mortars in both a traditional bowl and a rustic, unfinished design.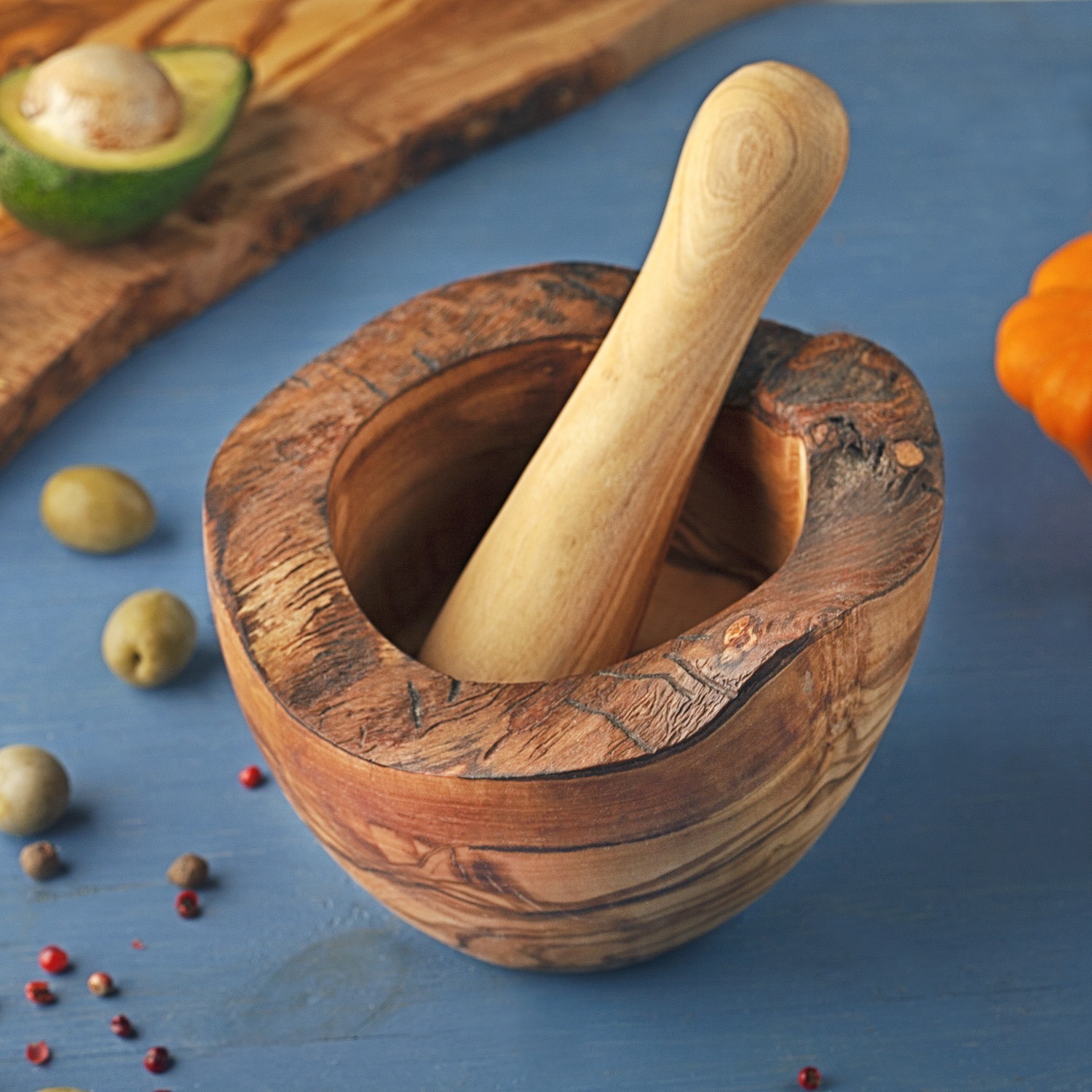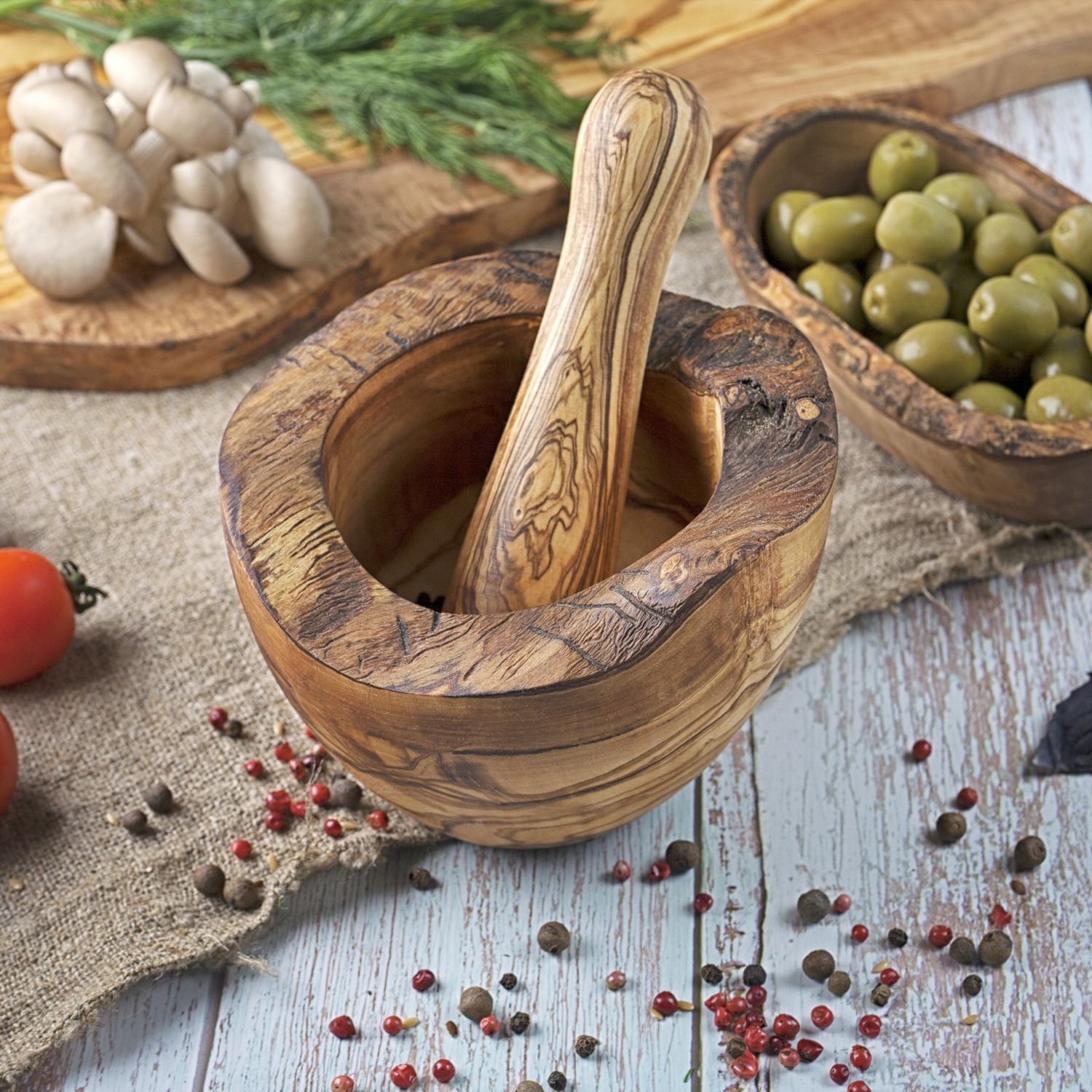 Smooth Touch Surfaces
We've carefully honed our bowl and pestle to create a softer, smoother feel against your skin, so you can focus more on grinding out the fresh spices with gentle, even strokes.
Wide Pestle Head
Each pestle is designed to help crush and grind your herbs and spices more evenly within the bowl, both to keep them from coming out and to ensure a more well-balanced finish. While not using as a spice grinder, it can also serve as a guacamole or herb bowl.
Supports Medicinal Needs
Along with crushing herbs and spices this mortar and pestle set can also be used for other common household needs such as crushing medicines to be used in elixirs or for those who can't swallow pills easily. Therefore, our olive wood mortar pestle also serves as a as great replacement for a pill grinder or a pill crusher.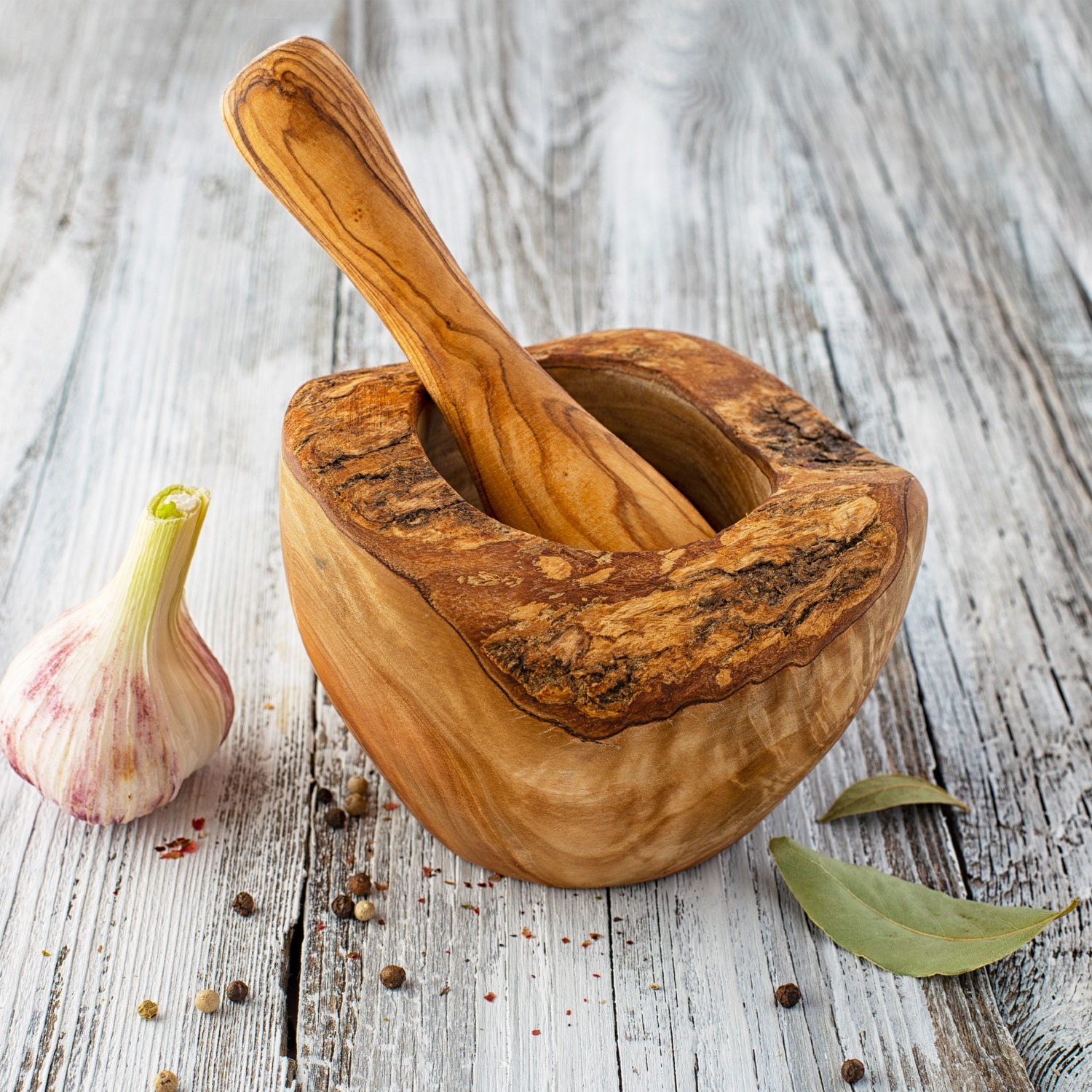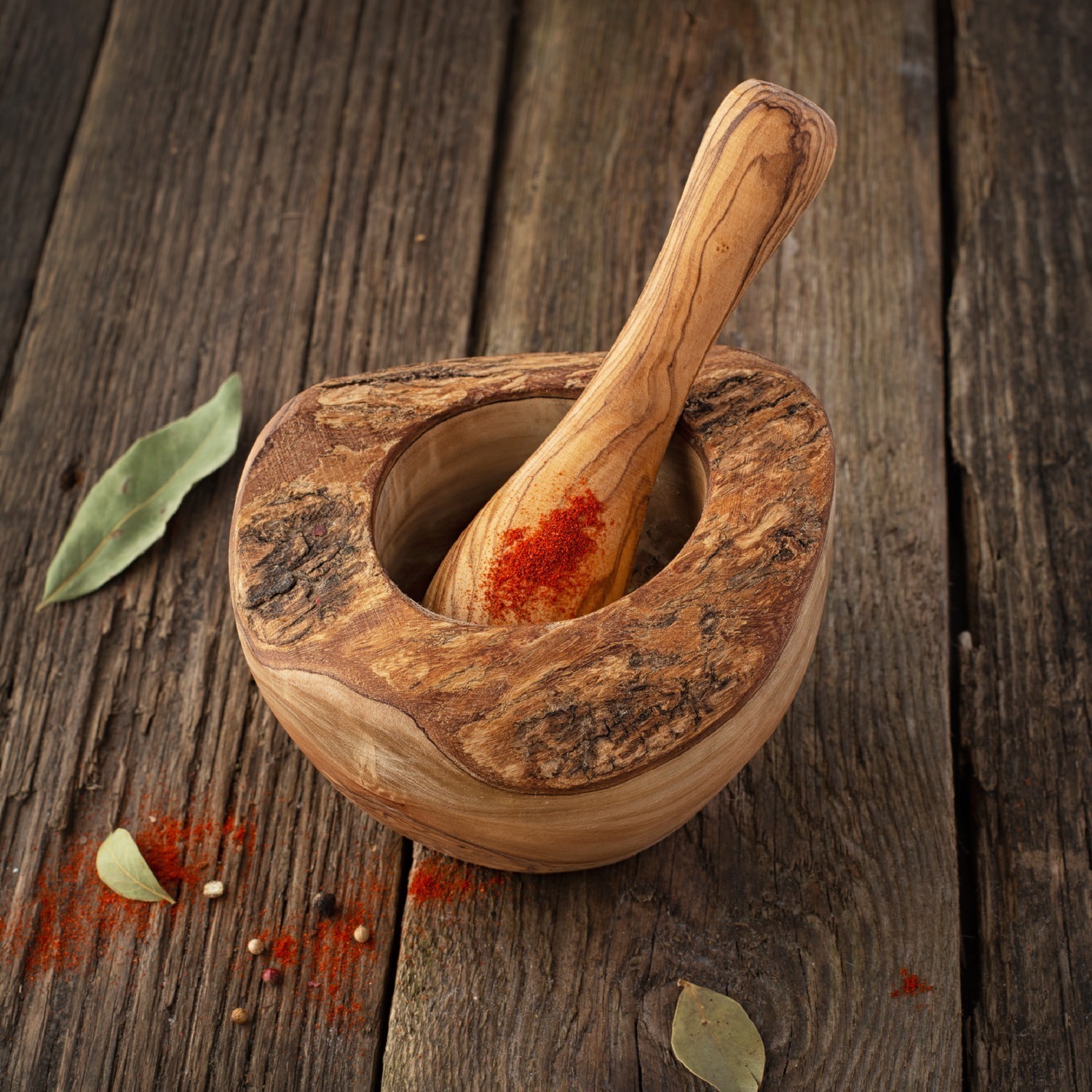 Simple Rinse and Reuse
We use naturally treated wood free of harsh chemicals so you can simply wash it out by hand in between uses, wipe it down and dry it, and reuse it once more. Perfect for every meal.
Regular Wood Restoration
This wooden mortar and pestle set is made with genuine olive wood which is why we suggest adding a drops of olive oil to the surface to help it retain moisture, prevent cracking, and ensure long-lasting color vibrance.
Additional information
| | |
| --- | --- |
| Dimensions | N/A |
| Brand Name | Forest Decor |
| SKU | FD-WMPS-RL, FD-WMPS-RS |
| UPC | 712885137459, 745860964788 |
| GTIN | 712885137459 |
| Size | Small, Large |
Reviews (11)
Only logged in customers who have purchased this product may leave a review.
Products that You Might Also Like