Wooden Utensils Holder
Olive Wood Utensil Holder – Designed to make it easier to store cooking utensils, knives and cutlery, this kitchen olive wood utensil holder is handmade with real olive wood and keeps your kitchen cookware organized in any configuration.
Protects Steel and Ceramic Blades – This kitchen utensil crock makes it easier to store your cutlery and protect it from scratches, dings, or damage.
Compact Countertop Storage – This olive wood cooking utensils holder makes it easier to save space on your counter while still maximizing the storage area you need for your kitchen knives. Ideal for meal prep areas of all sizes.
Beautiful Housewarming Gift – A Forest Decor olive wood utensil holder is one of the most useful gifts you can give someone as a birthday, wedding reception, or anniversary present because everyone spends time prepping food and needs to keep kitchen organized.
Premium Handmade Craftsmanship – As a family-owned and operated business, we focus on premier handmade craftsmanship, which is why each farmhouse utensil holder is beautifully unique in terms of color, pattern, texture, and even size for true exclusivity.

FREE 3-DAY SHIPPING ON ALL U.S. ORDERS OVER $49. SHIPS WORLDWIDE WITHIN 24 HOURS.
Description

Store and Organize Kitchen Utensils with a Rustic, Natural Olive Wood Utensil Holder from Forest Decor
Think about all the ways you use utensils when you're cooking. Spoons for stirring, spatulas for flipping, and even large forks for serving guests. That means you're constantly pulling them out of a drawer and using for preparing food, tossing salad, or simply to make cooking faster and easier. That's why you need a more stylish and convenient solution for keeping them all within easy reach. We created this beautiful Forest Decor Olive Wood Utensil Holder made with all-natural olive wood to provide just the right balance of form and function while embracing a more rustic design that fits your everyday lifestyle.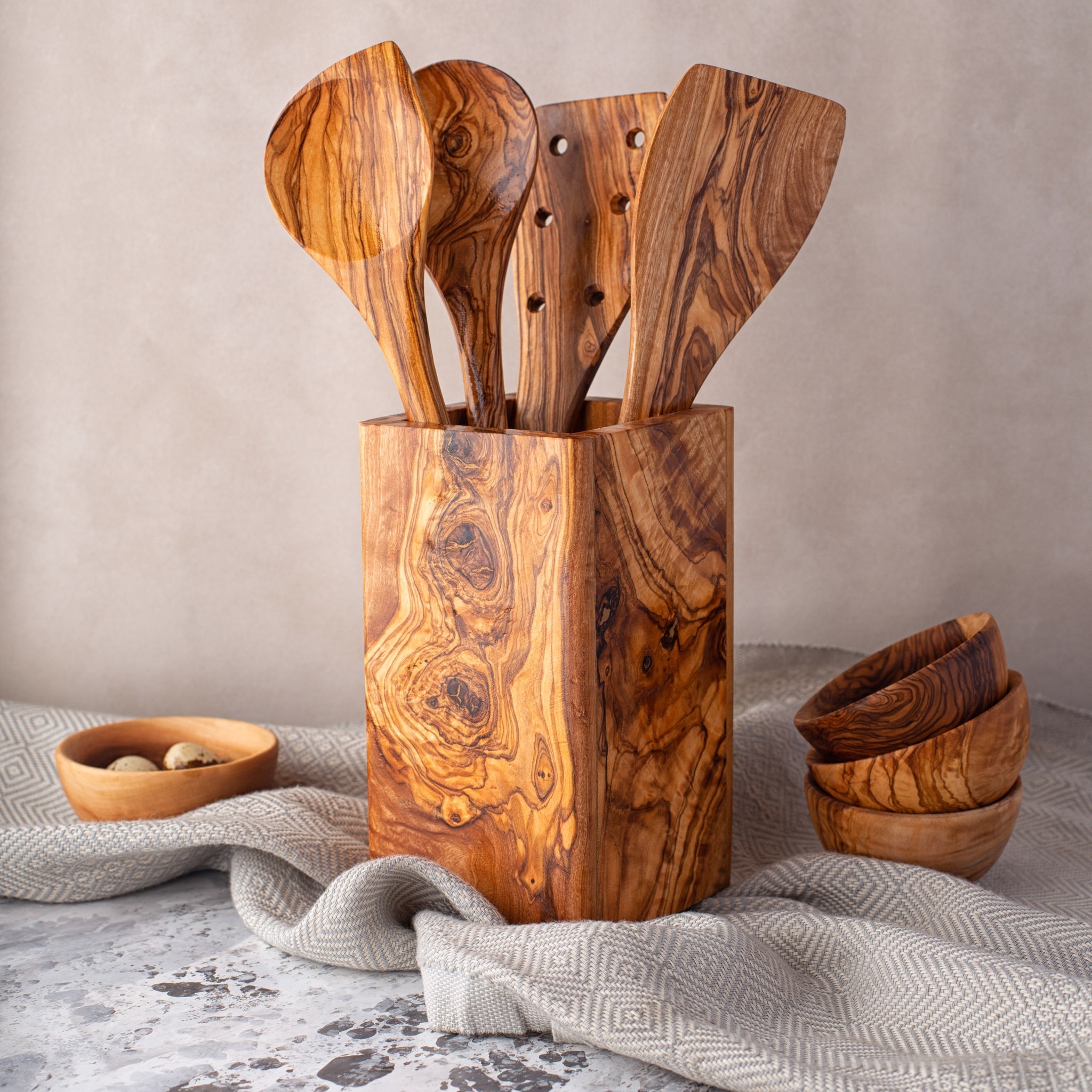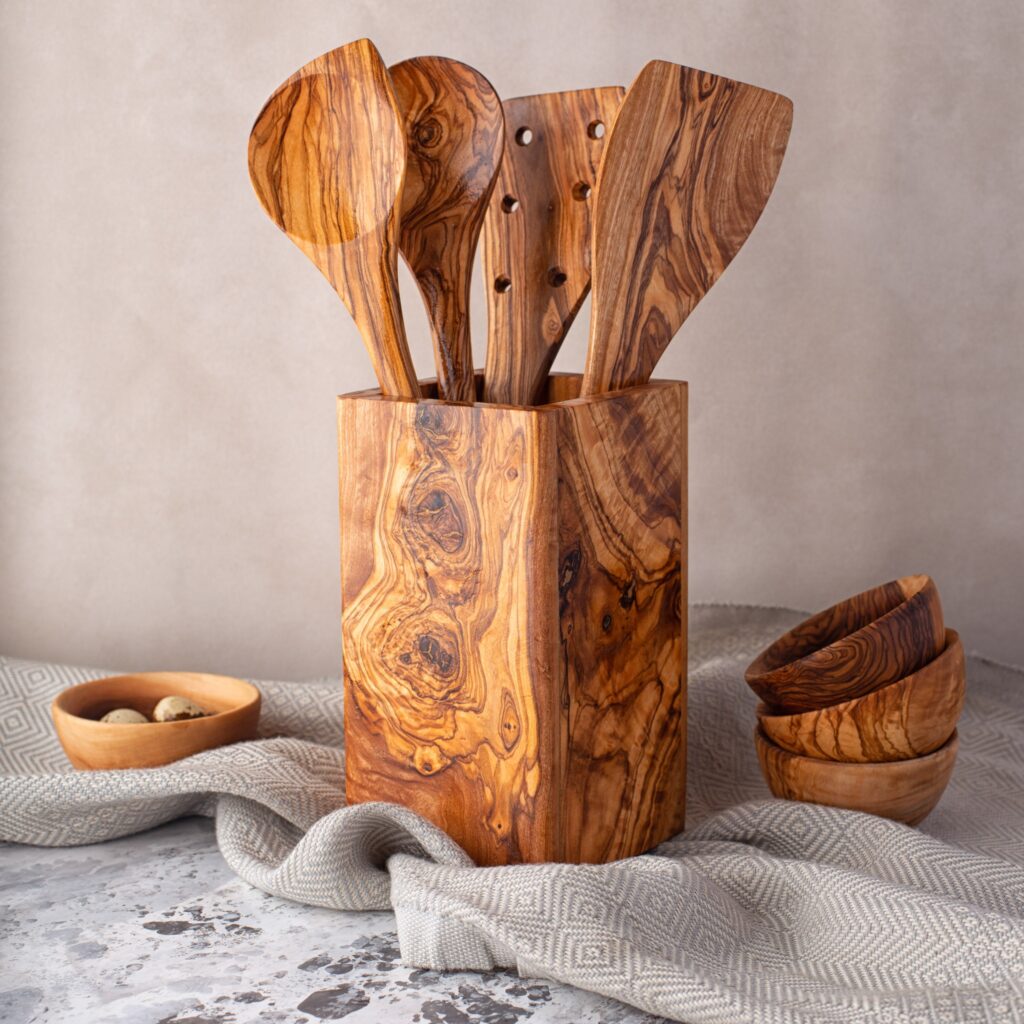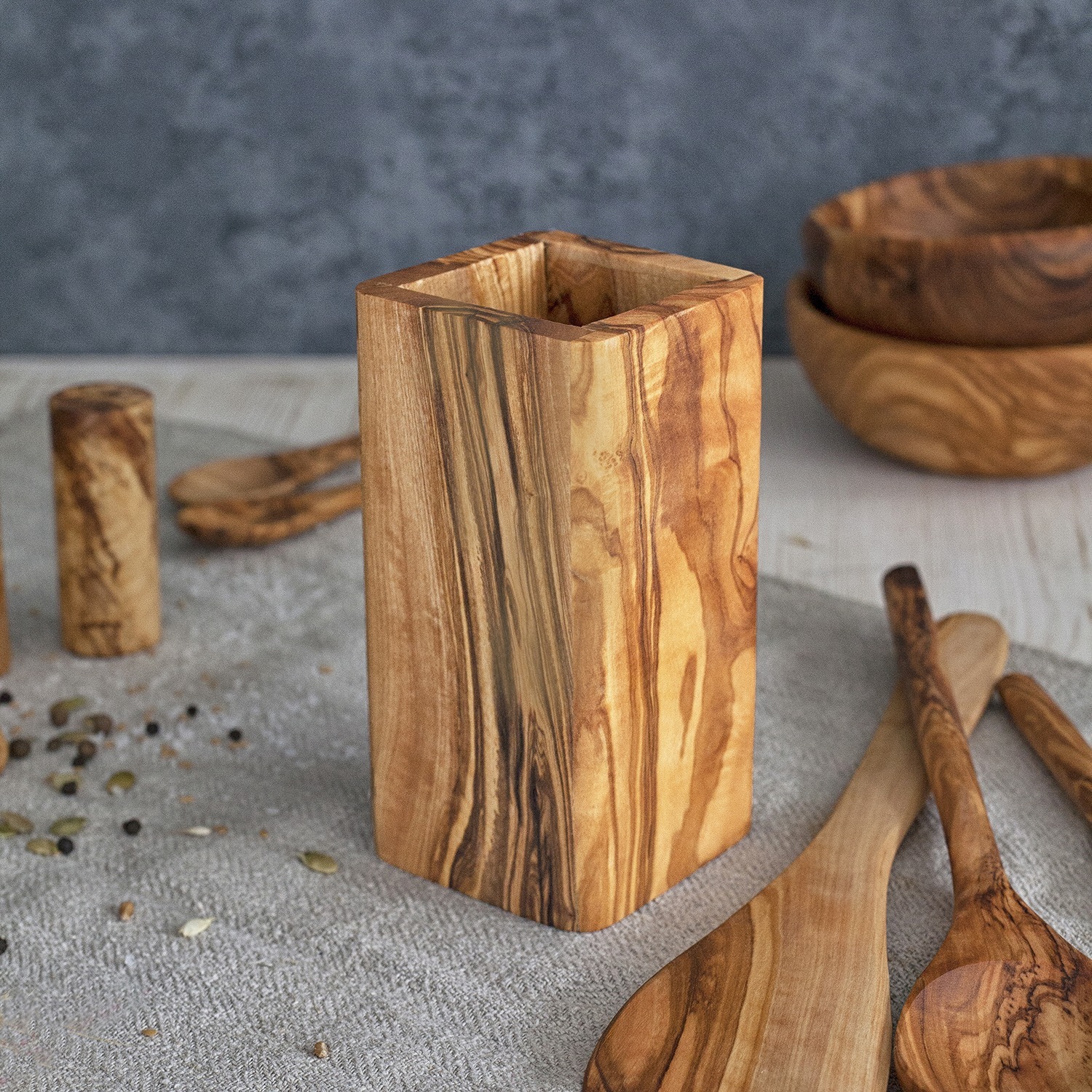 Product Details:
Free-

Standing Olive

Wood Utensil Holder (utensils not included)
Hand-Crafted with Genuine Olivewood
Food-Grade Safe and Easy to Clean
Hand Wash Recommended
Compatible with Multiple Utensil Styles
Proper Care for Natural Olivewood
We want you to cherish your new hand-carved olive wood kitchenware made by skilled artisans for years to come. That's why to maintain their beautifully intricate designs and unique swirled grain patterns, you should follow these simple guidelines.
· Clean olive wood with only warm using a soft sponge or cloth. If extremely dirty, you can add a little dish soap. After washing, wipe wood dry with a soft cloth.
· Retain the beauty of our olive wood grain and color and prevent it from drying out or cracking by conditioning it with olive oil as needed.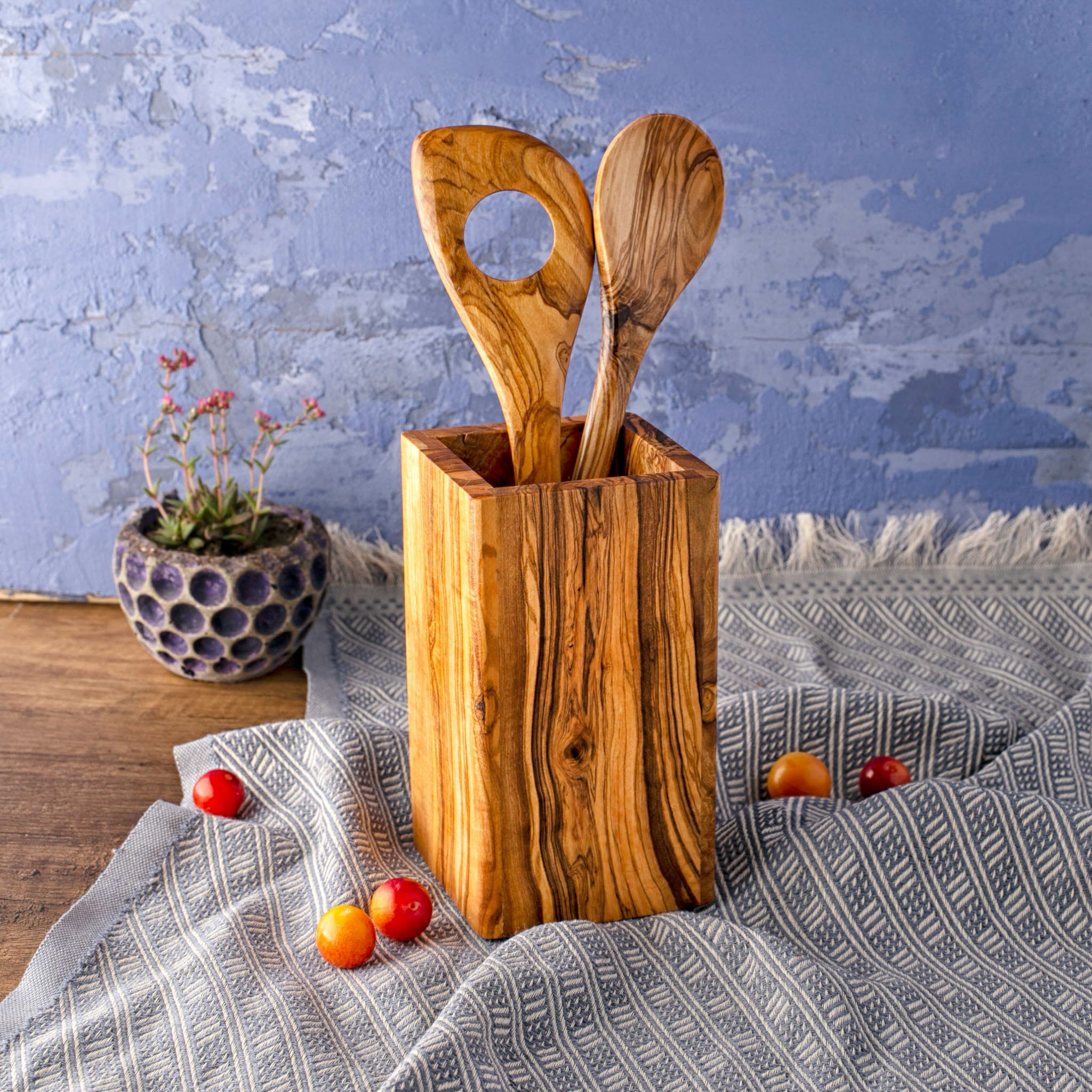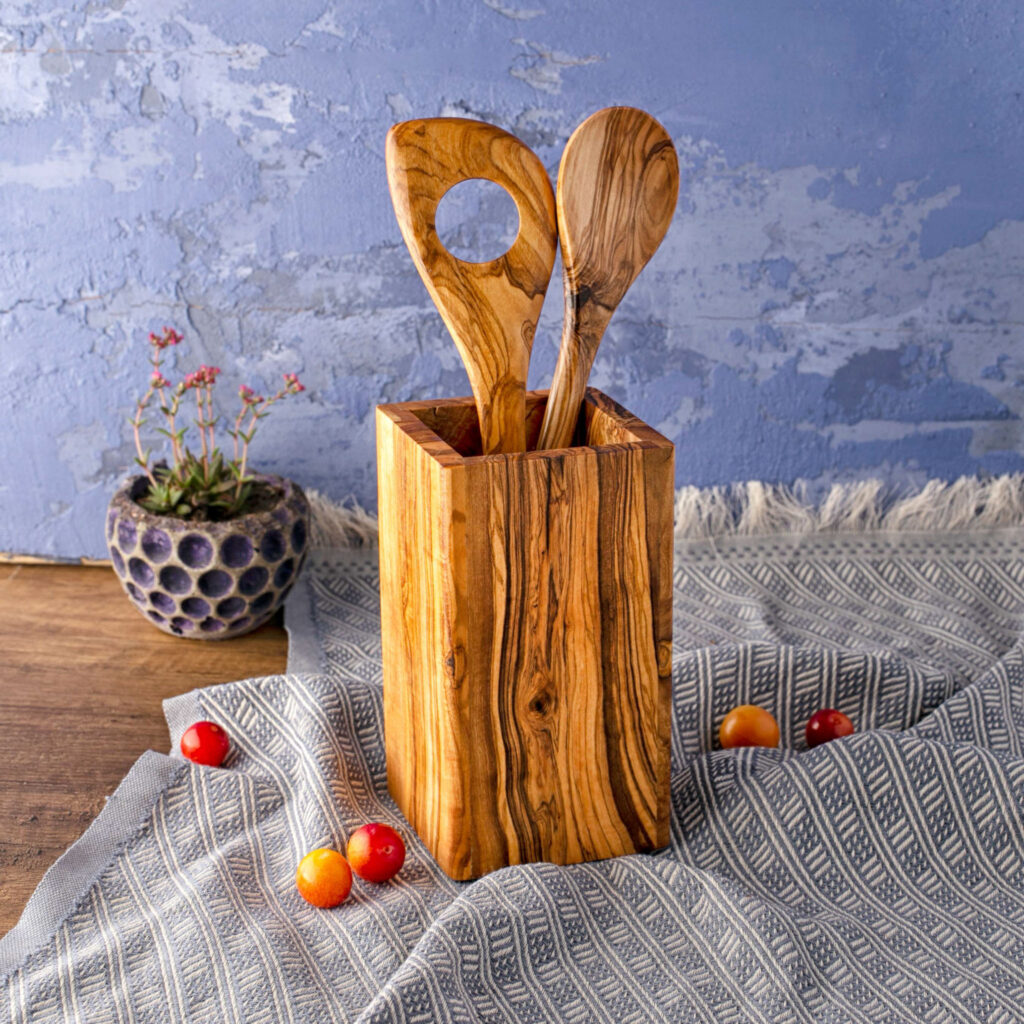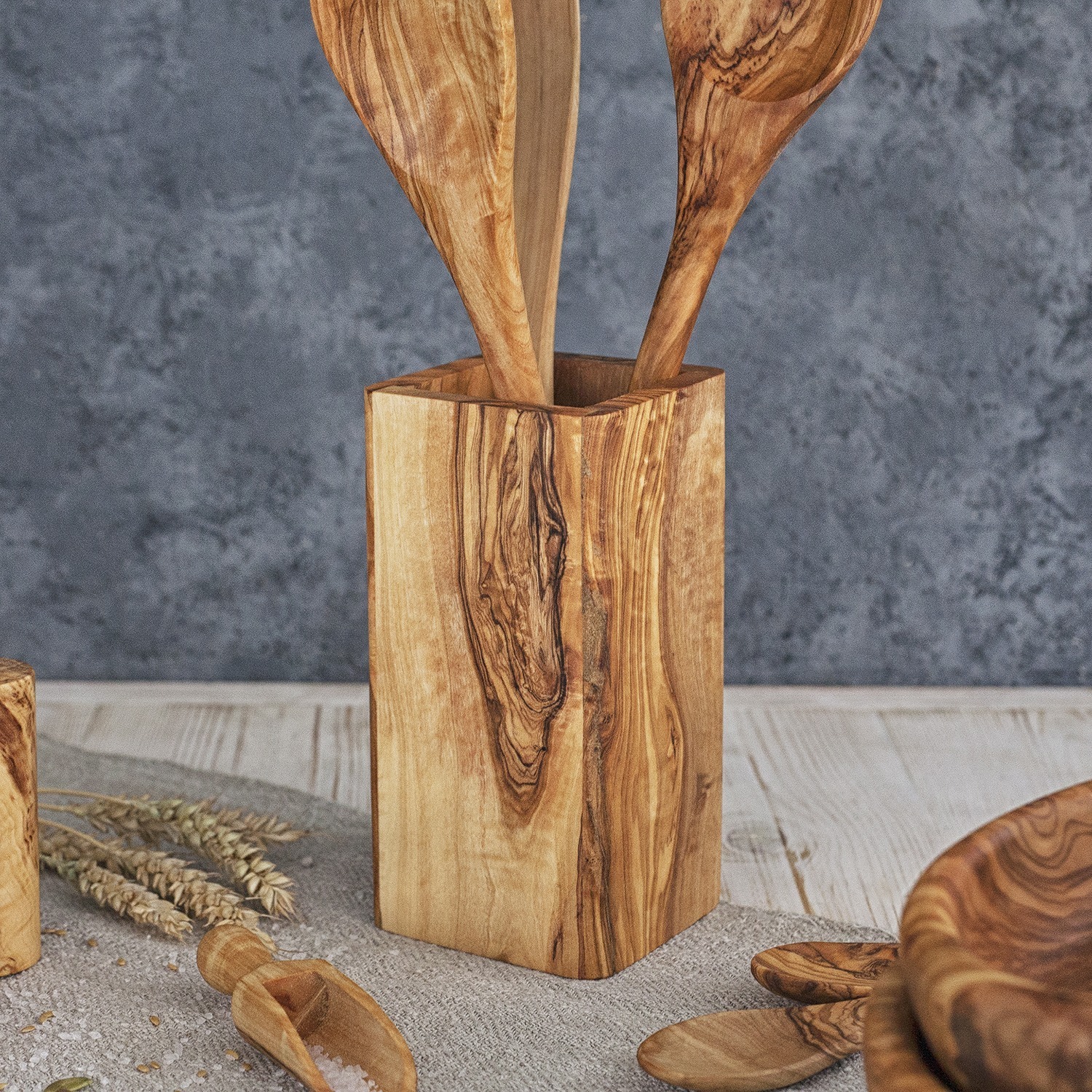 Decorative Kitchen Accessory
A truly great conversation piece that enhances the look and feel of your kitchen area you can easily keep this utensil cup near your stove, cooktop, or other appliances without taking up valuable room. It also fits in well as a decorative piece if you're looking to decorate your dining or living room space.
Heavy-Duty Wood Craftsmanship
We use the highest-quality olive wood in our designs which means they're naturally stronger, more resilient, and more stain resistant for long-lasting durability.
Product Features
Free Up Drawer Space Our stylish, handmade olive wood utensil holder makes it easy to save more room in your kitchen drawers while also keeping utensils within easy reach for quick grab-and-prep use.
Supports Most Utensil Types
We designed this olivewood cooking utensil holder to work seamlessly with our own utensils but it can also be used for standard plastic or silicone utensils you already own.
Thicker Wall Design
The thick walls and wide, flat base help keep our heavy-duty utensil holder from tipping over, even if you pack it with multiple utensils, to ensure well-balanced safety.
Natural Woodgrain Finish
Like our other handcrafted products our wooden utensil cups each boast their own one-of-a-kind look in terms of color, weight, texture, and even overall wall thickness.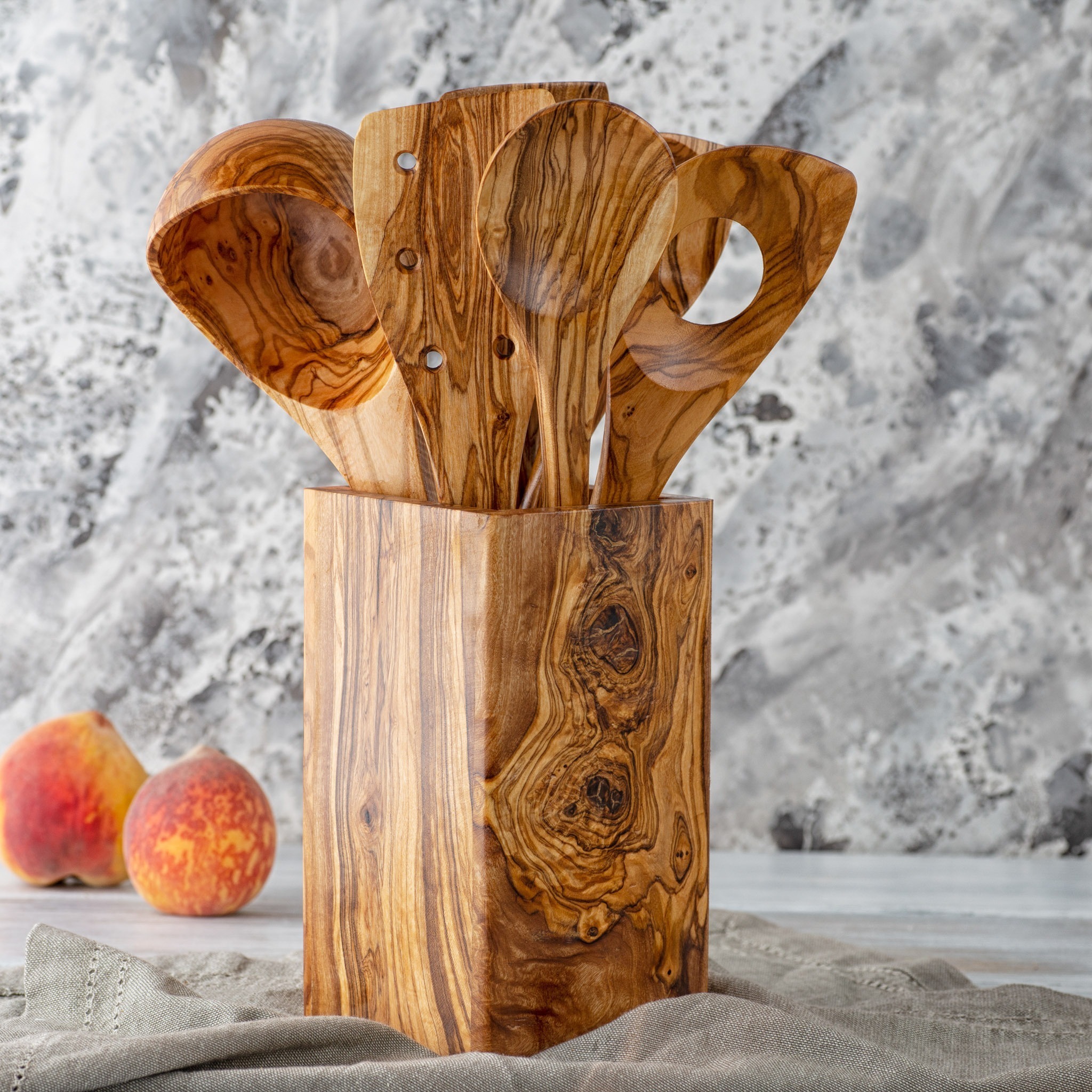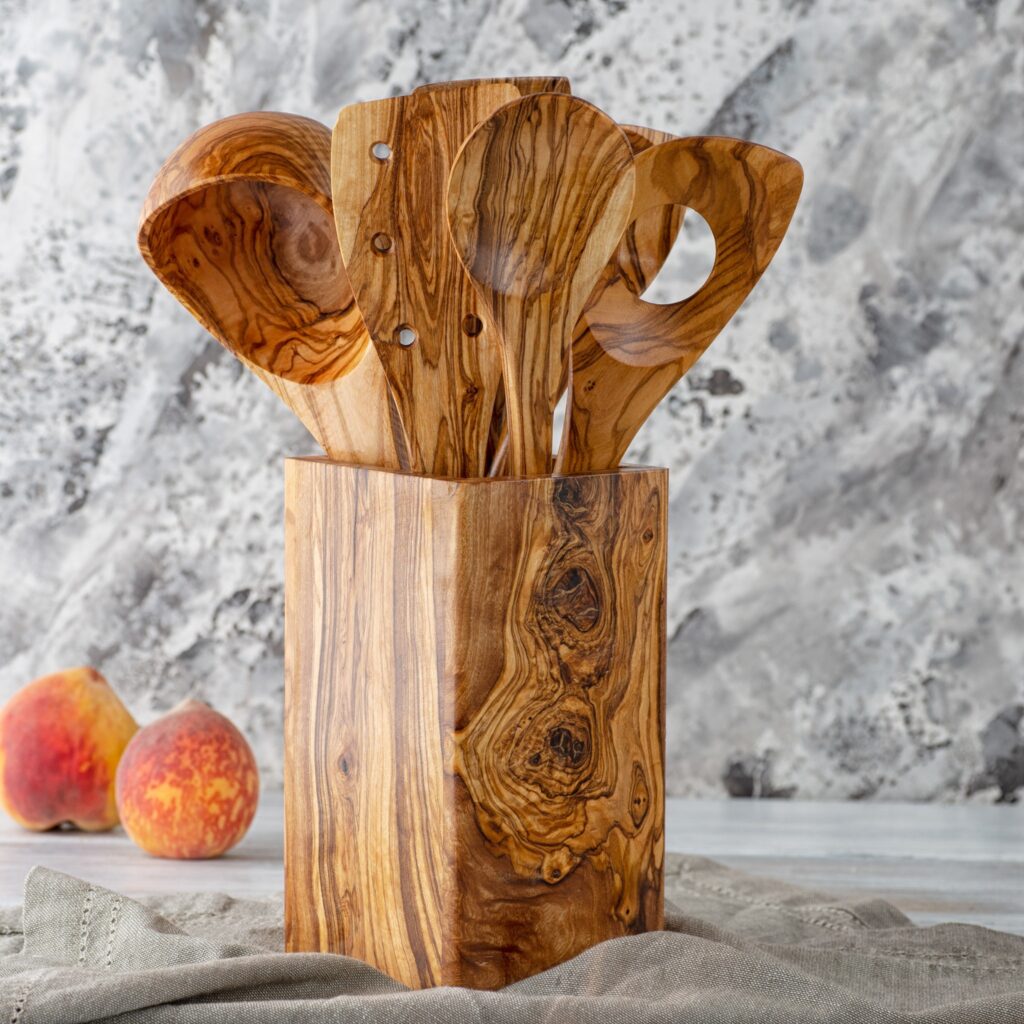 Additional information
| | |
| --- | --- |
| Dimensions | 6 × 3 in |
| Brand Name | Forest Decor |
| SKU | FD-WOUT-HO |
| UPC | 749666517247 |
| GTIN | 00749666517247 |
| Size | 3x3x6 inches, 4x4x7 inches |
Related products
Products that You Might Also Like