Wooden Salt and Pepper Shakers
Olive Wood Salt and Pepper Shaker Set – The perfect choice to add to your kitchen, food prep space, or your dining room table, these charming wood salt, and pepper shakers make it simple to add a touch of spice to your meal.
Hand-Crafted Olive Wood Shakers – Each Forest Decor salt and pepper shaker set is made by genuine artisans who have perfectly balanced both style, color, and spice distribution. We've added two holes on one shaker and three holes on the other.
Decorative Kitchen and Dining Room Use – Our beautiful salt and pepper shakers boast a classic farmhouse style which means you can use them by your recipe book by the stove or keep them at the table for style and convenience.
Quick and Easy to Refill Base – Once you've run out of salt or pepper, don't worry about having to replace them. The reusable design means you can simply remove the bottom and add new spices with little to no effort.
Premium Handmade Craftsmanship – As a family owned and operated business, we focus on premier handmade craftsmanship which is why each piece is beautifully unique in terms of color, pattern, texture, and even size for true exclusivity.

FREE 3-DAY SHIPPING ON ALL U.S. ORDERS OVER $49. SHIPS WORLDWIDE WITHIN 24 HOURS.
Description

Never Miss Out on Adding the Perfect Touch to a Meal with Refillable Salt and Pepper Shakers from Forest Decor
Be it prepping a recipe in the kitchen or spicing up your food at the dinner table there are no accessories more important than a good pair of salt and pepper shakers. Especially when they're Forest Decor Salt and Pepper Shaker Setscrafted with genuine olive wood. These beautifully charming pieces make a wonderful touch to your kitchen, dining room, or even patio thanks to a one-of-a-kind design and craftsmanship you can't get anywhere else. Handmade by real craftsman these shakers offer the ideal balance of style and functionality to support your salt and pepper needs.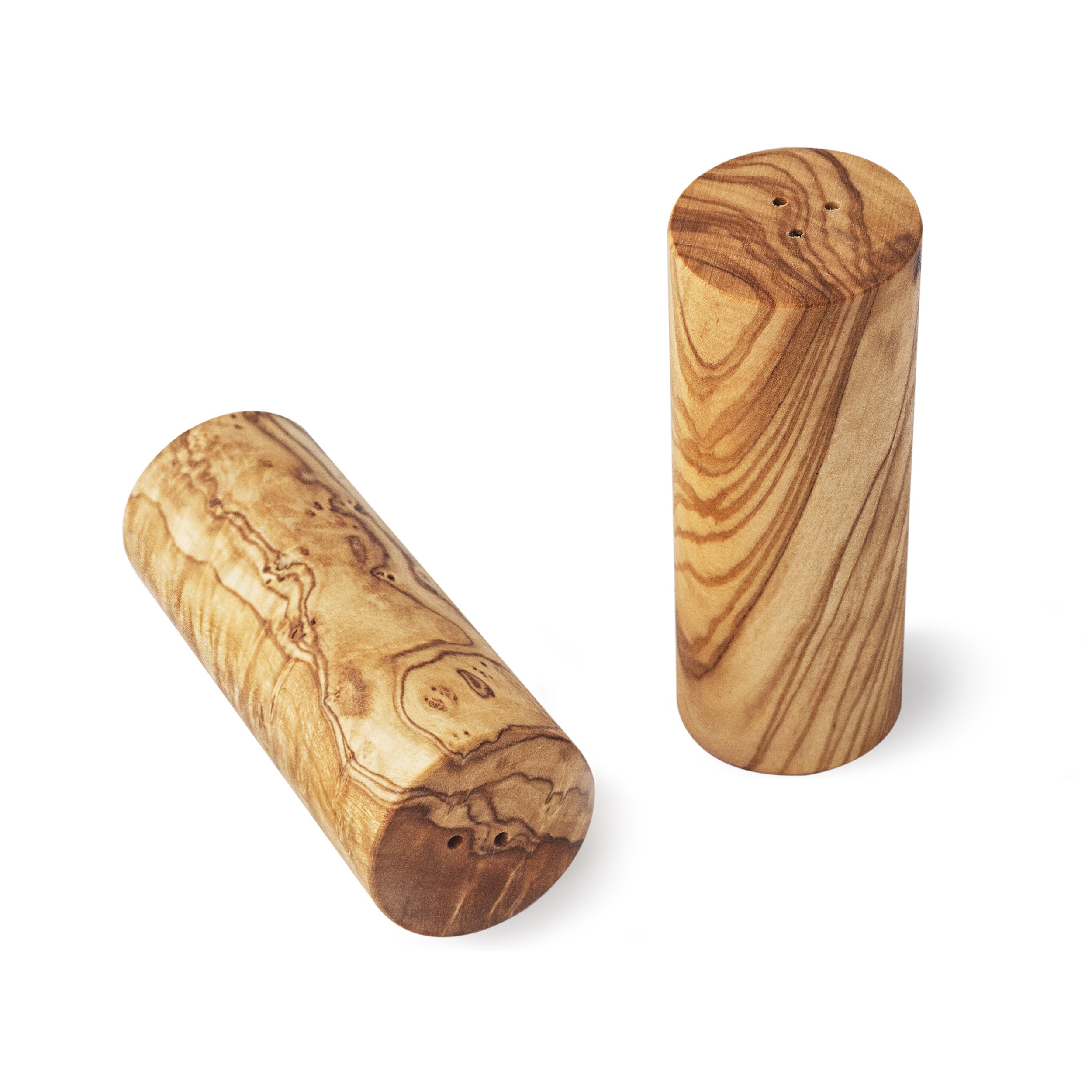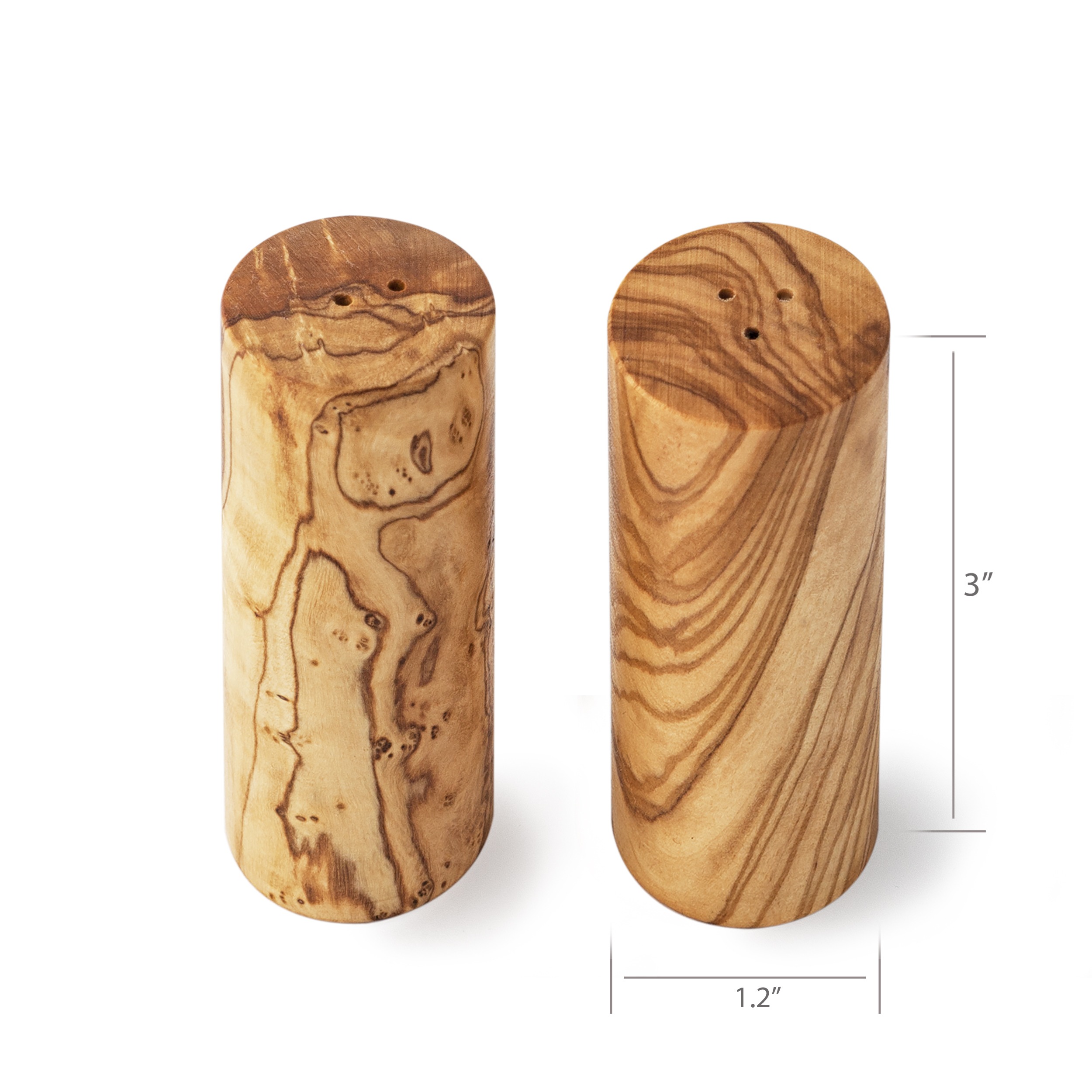 Product Details:
Natural Wood Salt and Pepper Shakers – 2pcs
Genuine, Premium-Grade Olivewood
Handmade Craftsmanship
Food-Grade Safe and Refillable
Dimensions: 3" x 1.2"  (Each)
Hand Wash Recommended
Proper Care for Natural Olivewood
We want you to cherish your new hand-carved olive wood kitchenware made by skilled artisans for years to come. That's why to maintain their beautifully intricate designs and unique swirled grain patterns, you should follow these simple guidelines.
· Clean olive wood with only warm using a soft sponge or cloth. If extremely dirty, you can add a little dish soap. After washing, wipe wood dry with a soft cloth.
· Retain the beauty of our olive wood grain and color and prevent it from drying out or cracking by conditioning it with olive oil as needed.
· Never expose olivewood to a dishwasher or hot or cold temperatures for long periods (such as a fridge) to ensure they don't split or get damaged.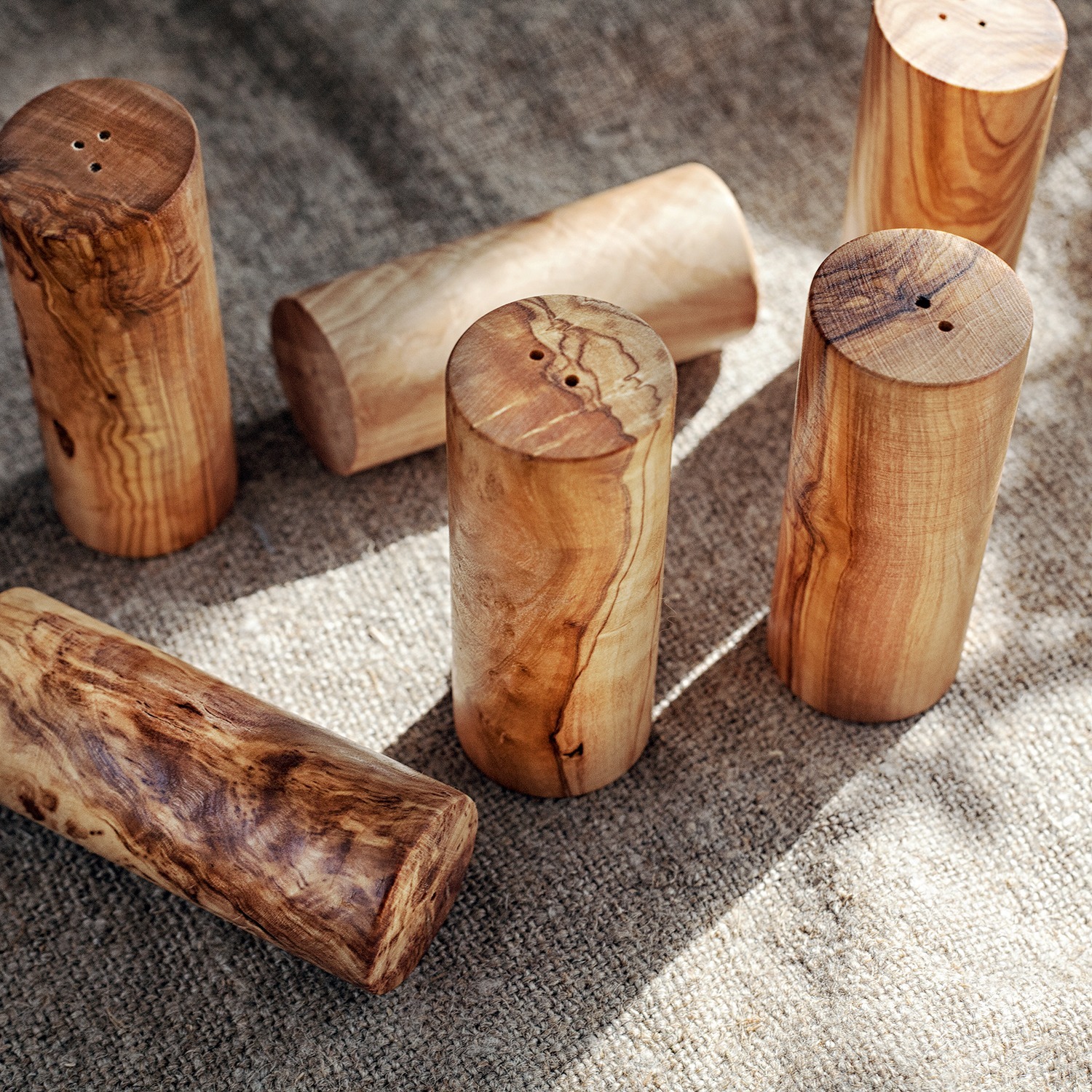 Classic Housewarming Gift Set
Everybody uses salt and pepper shakers when they're making dinner or enjoying meals, but few ever really add the style and look that handmade shakers from Forest Decor provide. That's why they make a wonderful gift idea for people getting married, celebrating an anniversary, or filling a secret Santa surprise.
Food-Grade Safe
Olive wood is 100% food-grade safe for salt, pepper, and finely-ground spices. They won't change flavor, texture, or taste for quality you can taste in every bite.
Short, Compact Size
At 1.2" wide and 3" tall these small salt and pepper shakers are just the right size for holding plenty of spices but also take up little room on your table or countertop.
Simple Refill System
The bottom of each of our shakers has a small, leak-resistant plug that can be removed so you can fill them back up with finely-ground pepper or salt for long-lasting reusability.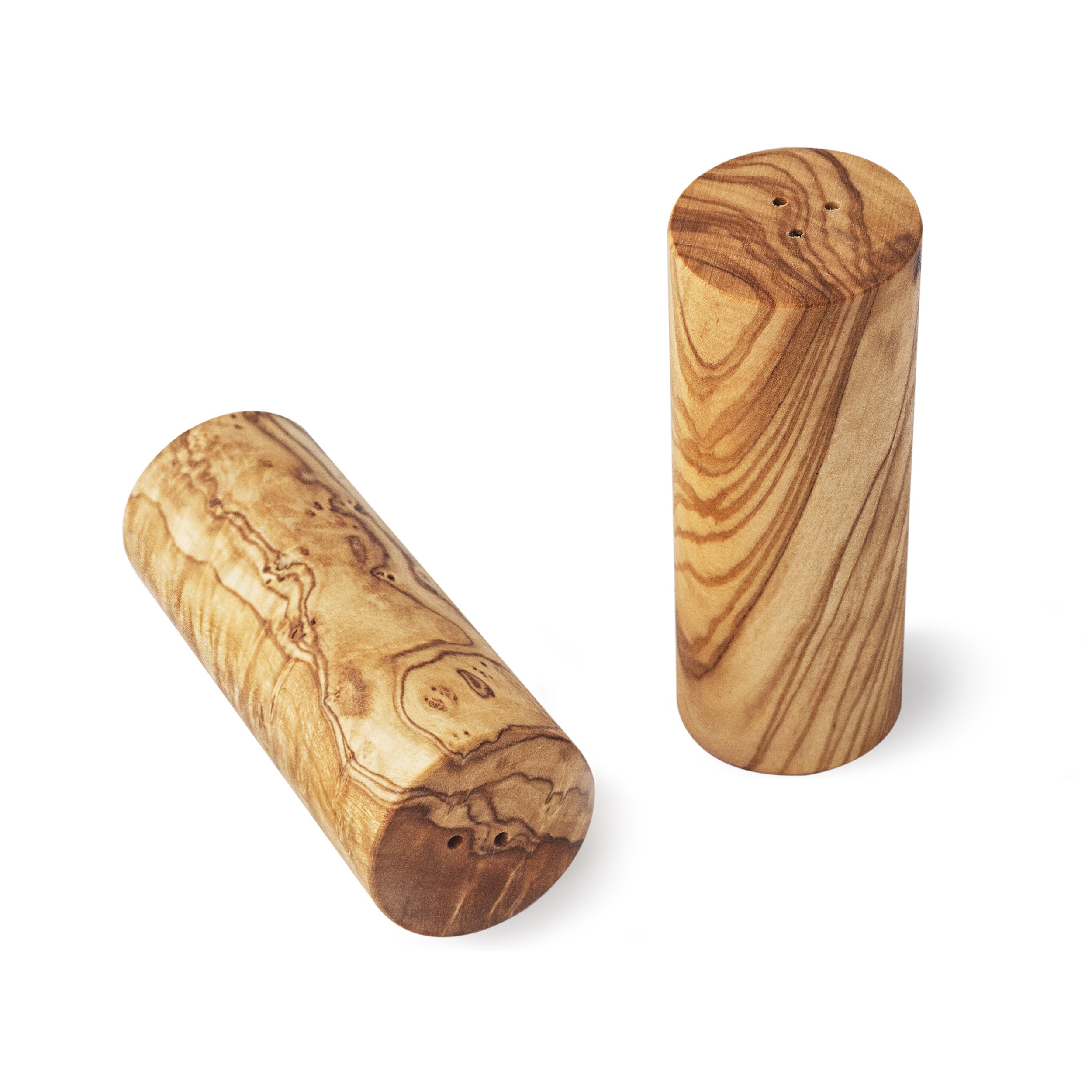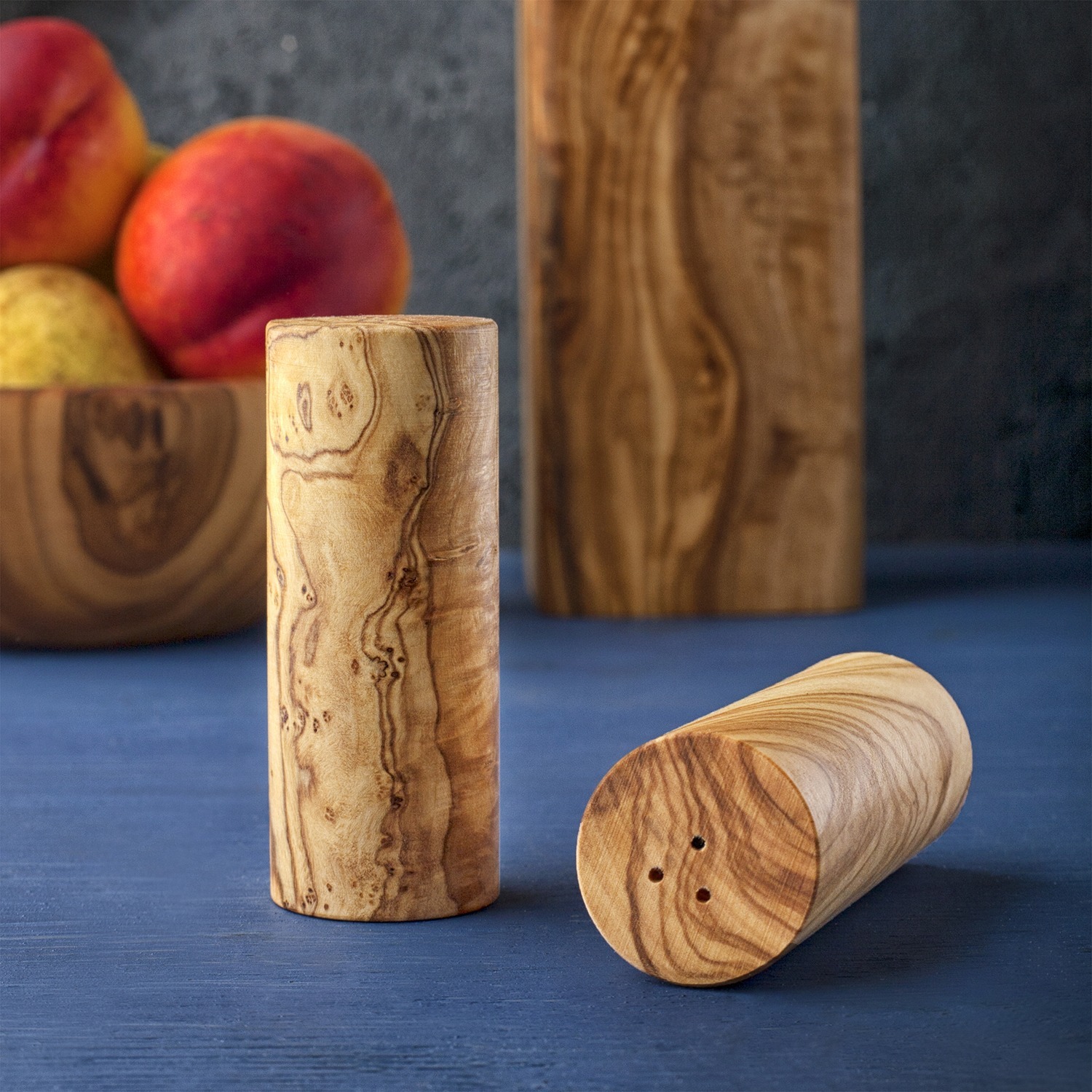 Ultra-Fine Holes
Each shaker is topped with small exit holes for shaking out just the right amount of spice without overdoing it. Perfect for younger kids who get a little wild with salt.
Exclusive Woodgrain Finish
Like our other Forest Decor handmade items our salt pepper shaker set features their own unique coloration and wood striations which sets them apart against plastic.
Additional information
| | |
| --- | --- |
| Dimensions | 3 × 1.2 in |
| Brand Name | Forest Decor |
| SKU | FD-WS-PSH |
| UPC | 745860964566 |
| GTIN | 745860964566 |
Reviews (9)
Only logged in customers who have purchased this product may leave a review.
Products that You Might Also Like