Custom Recipe Steak Cutting Board
EVOKE DEEP MEMORIES WITH A CUSTOM RECIPE CUTTING BOARD: What's your family's most special steak or roast dinner, the meal that reminds you of all the good times that make for great family? You know, the one dish you can taste when you picture it. Whatever the dish, the secret's in the recipe, and here's the good news. You can commemorate those sweet memories with an engraved recipe cutting board.
OLIVE WOOD ENGRAVED RECIPE CUTTING BOARDS: These rustic engraved olive wood boards with recipe are ideal for sophisticated country kitchens. No matter which size you choose – with handle or without – these boards will accommodate just about any meat you want. And when you have your cutting board with recipe engraved, you'll just as easily think of it as your go-to wooden personalized charcuterie board. Versatile, practical, rustic and beautiful — these are knockout boards!
PERSONALIZED WOOD GIFTS TO GIFT OR KEEP: No two ways about it, this recipe engraved cutting board is stunning. Want to gift one? Our customers tell us they order two – one to gift, and one to keep. You'll see why when you see it — if you just order one to gift, you'll get a little envious. A "little" envious? Who wouldn't love some sophisticated rustic style with their special family recipe?
PREMIUM OLIVE WOOD – THE GRAIN IS GORGEOUS: Hand-crafted with fine attention to detail, each custom recipe cutting board is designed to show off its unique grain. With your special recipe engraved on it, there's not another like it in the world. If you're giving it as a gift, just wait for the accolades – if you're gifting yourself, you'll get serious satisfaction out of using this beautiful wood cutting board.
THIS PERSONALIZED STEAK BOARD WILL INSPIRE YOU: Do you ever get tired of using the same old boards? Take your roast out of the oven and let it rest on this steak cutting board – carving it on a board that's engraved and personalized with your recipe will be a joy. Luscious, that's what it is.

FREE 3-DAY SHIPPING ON ALL U.S. ORDERS OVER $49. SHIPS WORLDWIDE WITHIN 24 HOURS.
Description

Serve Your Family and Guests and Spruce Up Your Kitchen Style with Our Olive Wood Steak Recipe Cutting Board
Every kitchen needs at least one really good cutting board, and these will do your recipe justice. Check out our photo and imagine it you're your recipe printed on it! You'll love this olive wood recipe cutting board. Of course, your board won't look exactly like that because each piece is unique – it'll be your own beauty. No matter which size you choose (and with or without the handle), these boards are both functional and stunning. And these wood boards are no prima donna! They're sturdy and practical, so keep yours on your kitchen counter and use it often for family and friends.
These personalized recipe cutting boards also makes one of the best wooden engraved gifts. You know that personalized recipe gifts are among the most appreciated gifts, and the beauty of these pieces puts them right at the top. Can you imagine what it would feel like to be given one of these? Personalized to give as gifts, the exclusive pattern, finish, and style of these beautiful wooden meat boards is both captivating and functional.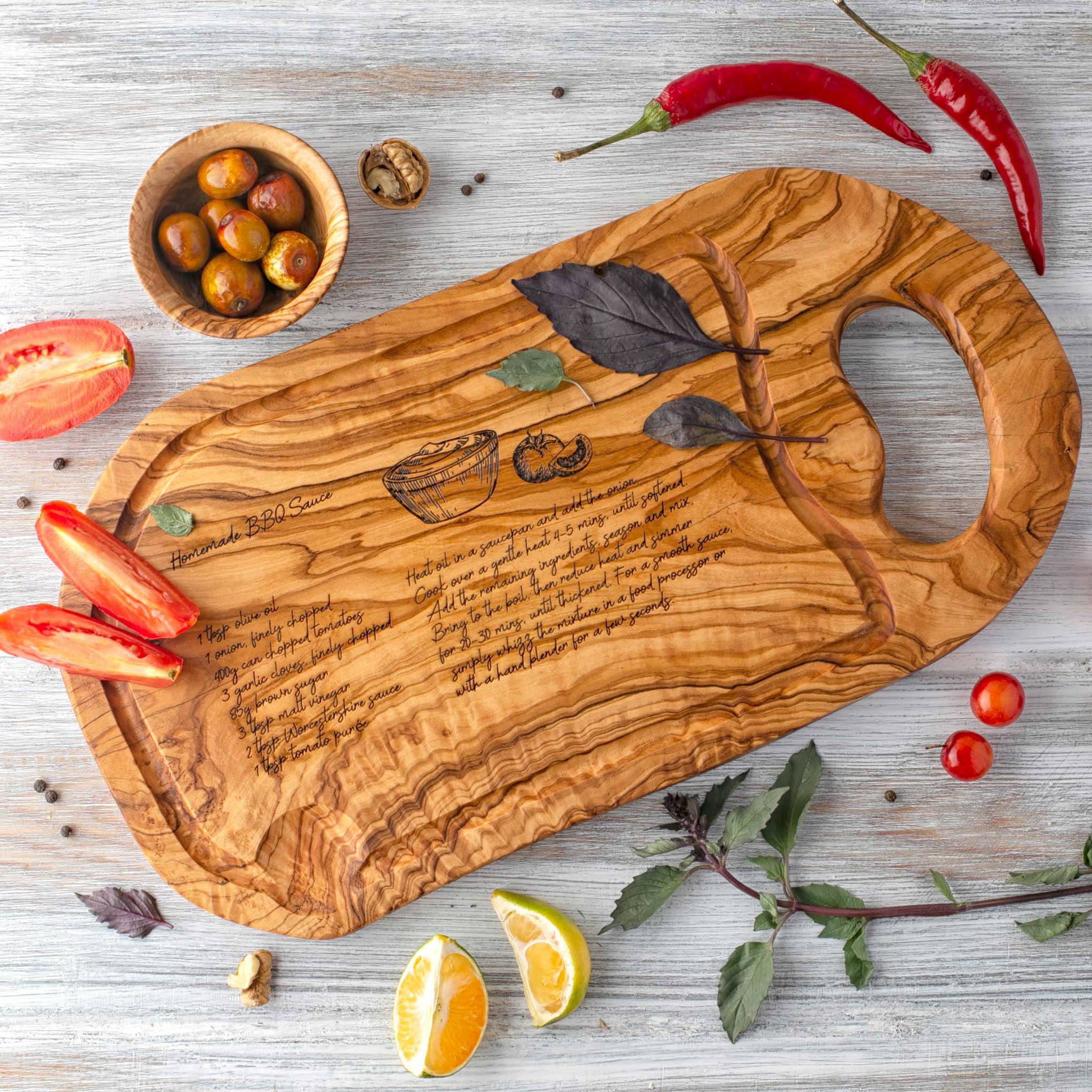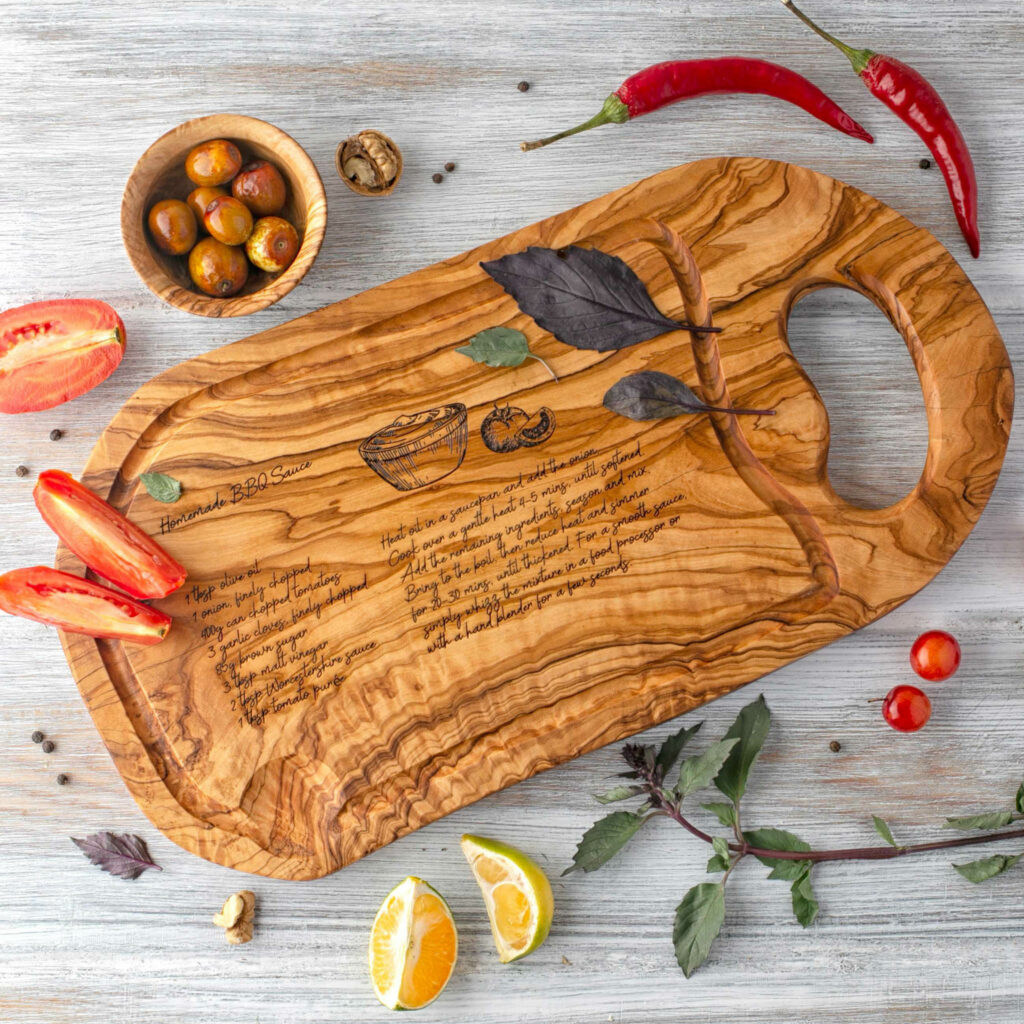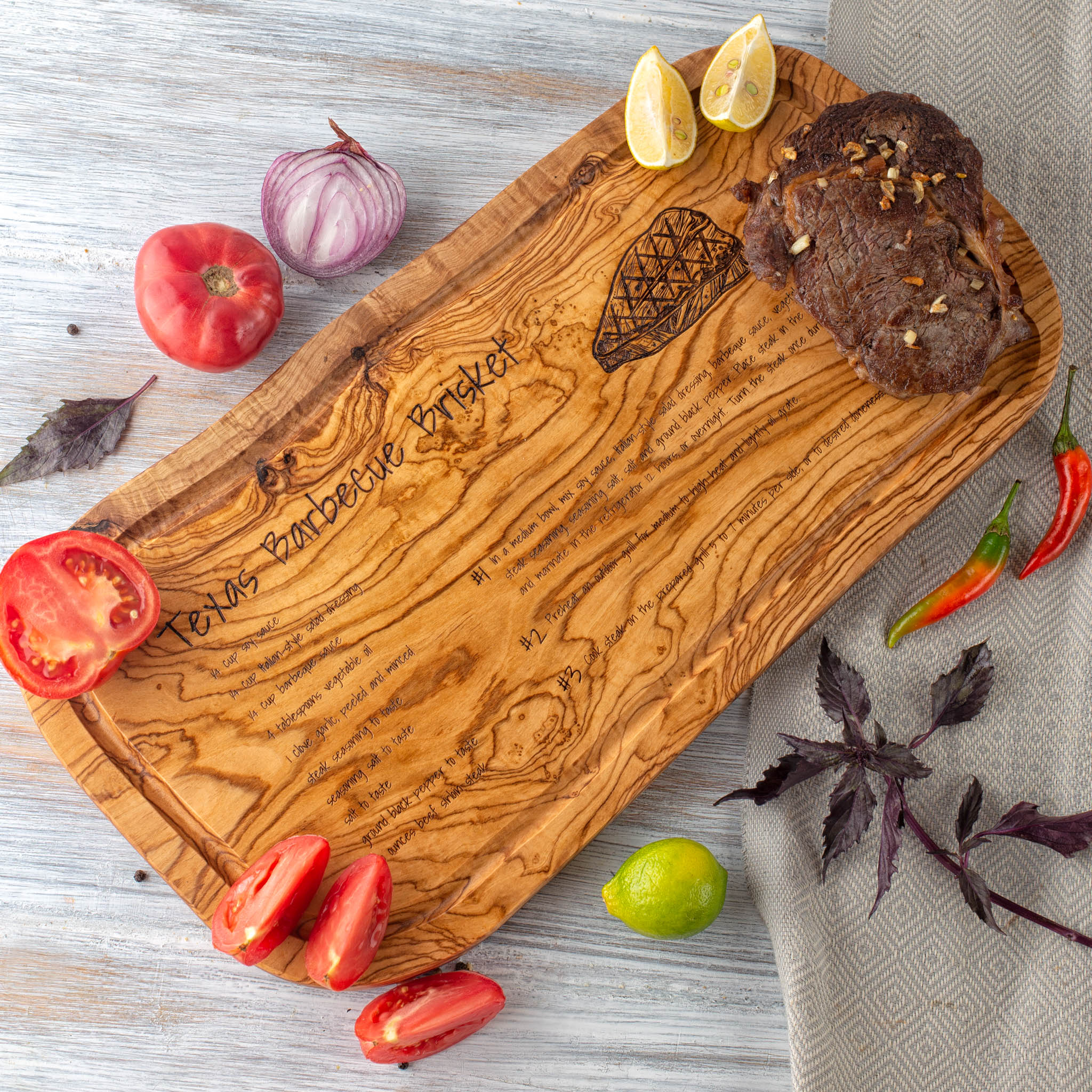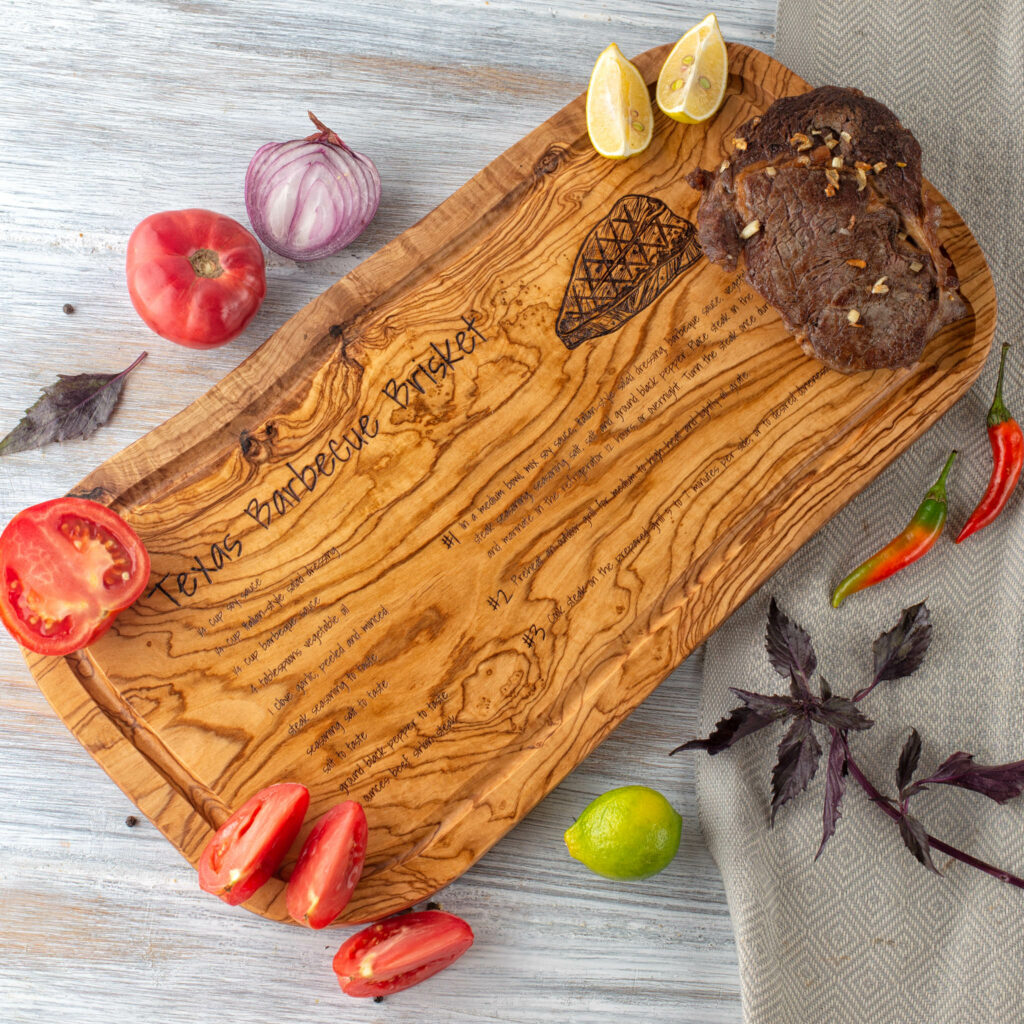 Product Details:
Engraved Wooden Steak Meat Boards – with and without Handles
Premium Natural Tunisian Olive Wood
Elegant, Durable, and Easy to Clean
Genuine Handmade Craftsmanship
Note: Each wood board is 100% unique which means each has its own wood grain pattern and texture.
Premier Kitchen Accessories
Don't we all love our kitchens! They're the casual meeting place, the space that invites you to relax, enjoy each other, and make some good memories. Our handwritten recipe cutting boards celebrate those times. We're all about that sophisticated, casual lifestyle, which is why each of our engraved kitchen gifts is hand crafted and free of harsh chemicals or additives. Whether you keep or gift it, this wooden board with recipe will give pleasure for years to come.
Gifts People Remember
Olive wood recipe cutting boards make great personalized kitchen gifts. Birthdays, anniversaries, graduations, Mother's Day or Father's Day — our wood boards with recipe engraved are one of the most thoughtful gifts you can give. You can also give this laser engraved wood board to friends who are moving. Handwritten recipe gifts are always appreciated for helping the family feel settled into their new home.
Functional and Decorative
One of the most exciting things about these versatile custom engraved cutting boards with recipe is the olive wood. Olive wood makes our wooden engraved boards 100% unique in terms of coloration and grain. When you receive your board, you'll know there can't be another like it. Your handwritten recipe cutting board will be a truly special engraved wooden gift for your friends, family, or yourself.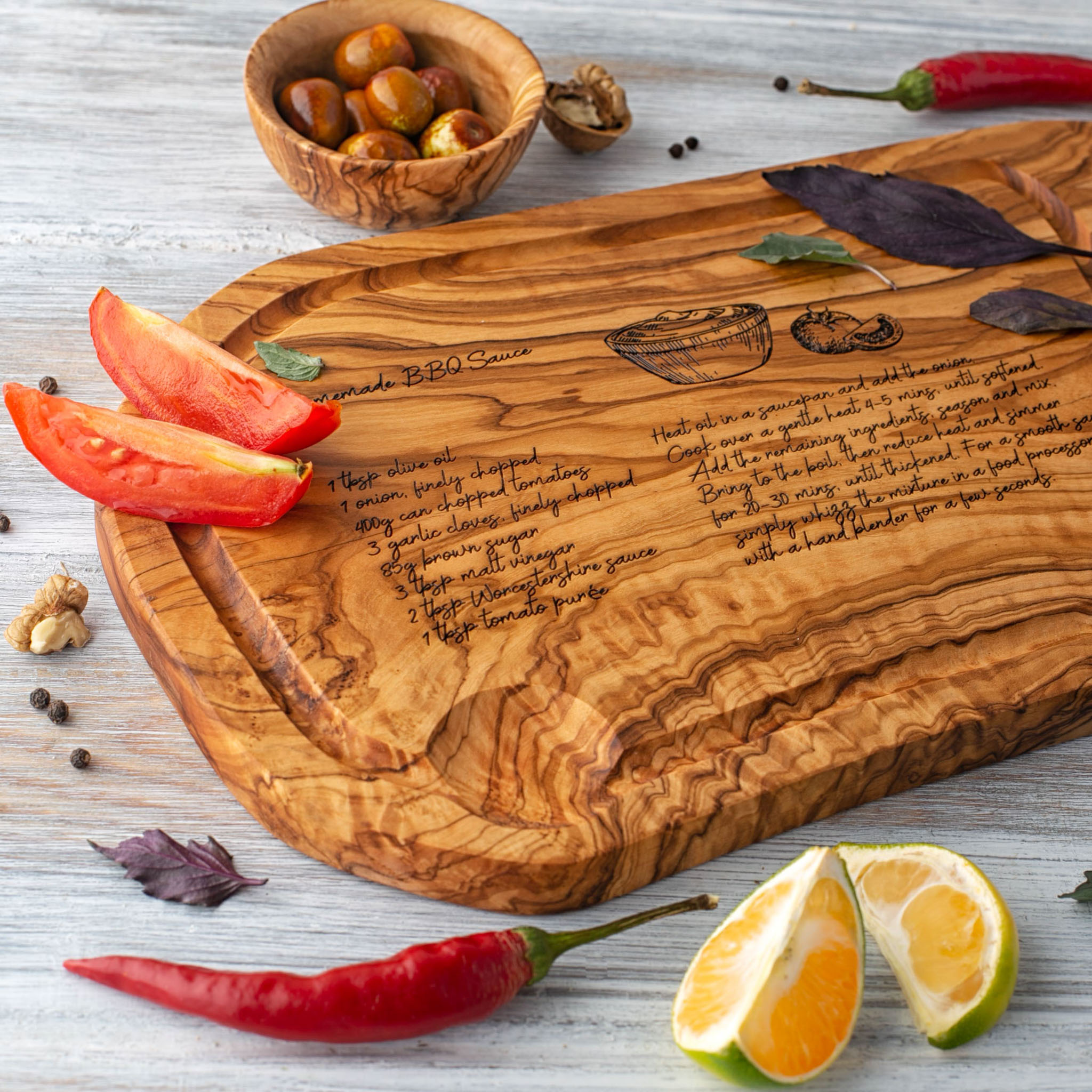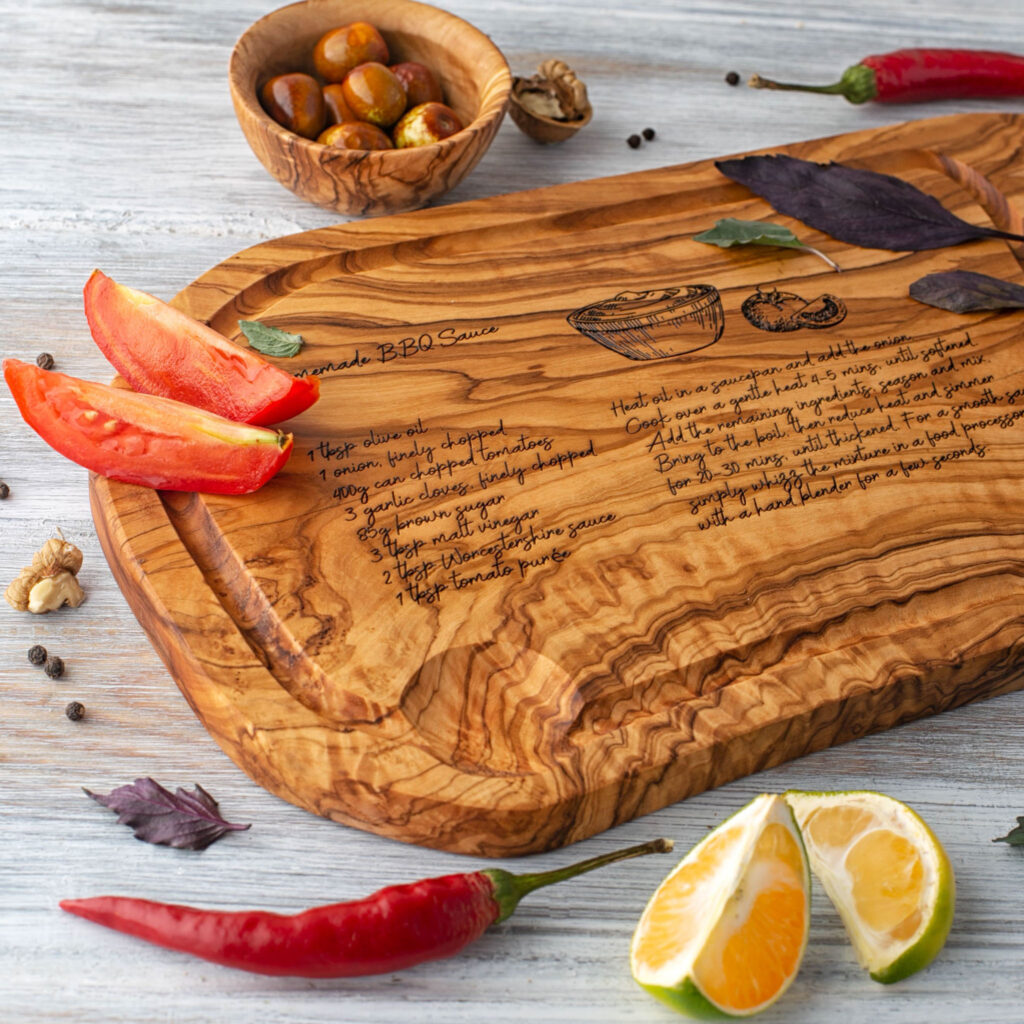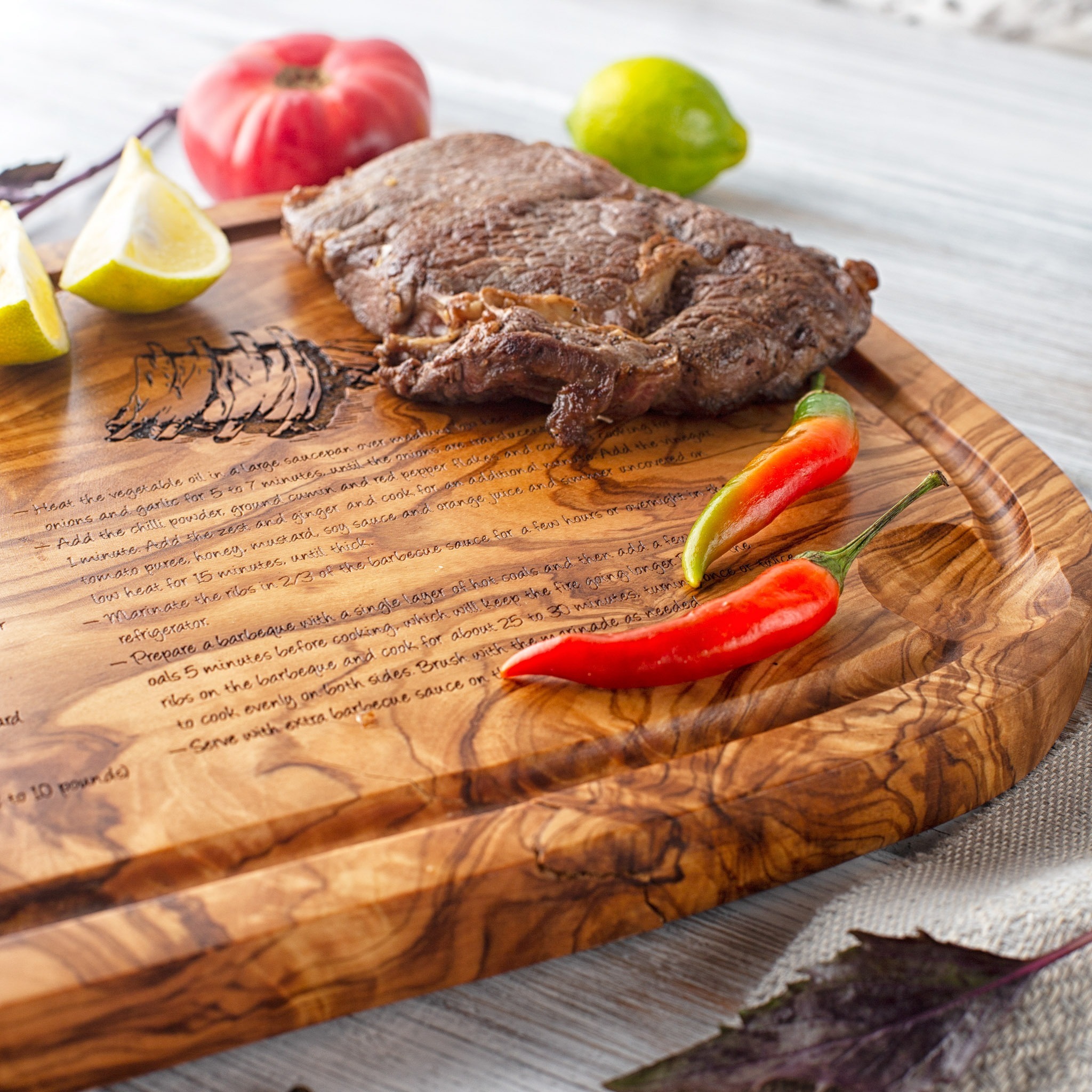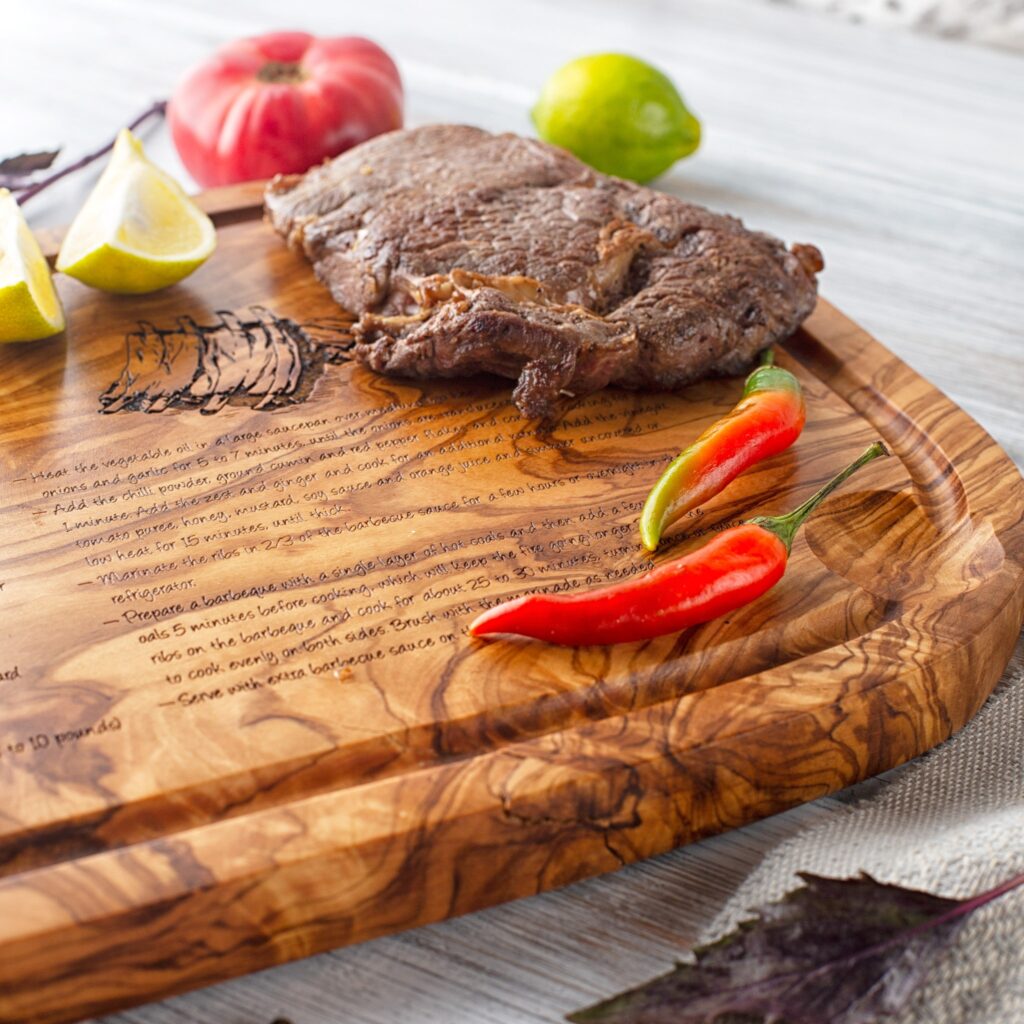 Hygienic Olive Wood
Wondering about the safety of olive wood versus plastic? The porous nature of wood makes it naturally hygienic. As studies have shown, the bacteria are drawn into the wood where they quickly die.
Durable Cutting Surface
Our olive wood boards are made to last and last. Their thick cutting surface means they won't wear out, and did you know that wood boards won't dull your knives like plastic?
Easy to Clean
Like all our other real wood products, we recommend hand washing these steak recipe cutting boards in warm soapy water. Give them a coat of mineral oil each month and you'll protect their strength and resilience for years to come.
Bulk Orders – Wedding Favors, Corporate Branding
These personalized olive wood cutting boards make awesome bridesmaids' gifts, or how about mother or father-of-the-bride-and-groom gifts? We can also accommodate corporate branding orders – contact us for details.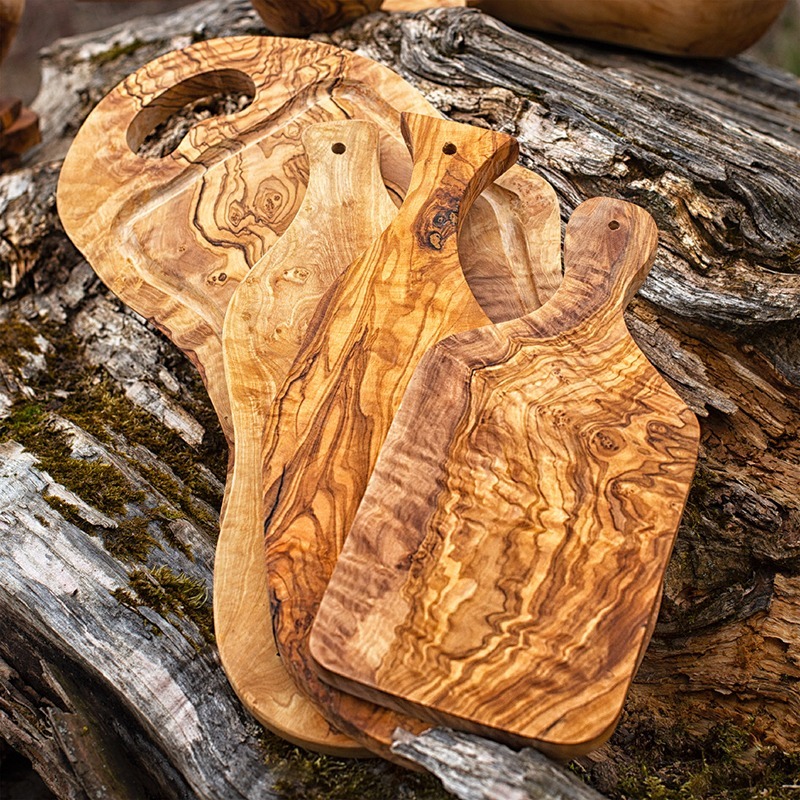 Related products
Products that You Might Also Like