Rustic Wooden Jewelry Box & Jewelry Organizer
Rustic Wooden Jewelry Box – An exclusive design by Forest Decor this storage box with two small drawers features unfinished bark edging for a vintage look ladies love.
Storage and Organize Small Items – Perfect for rings, earrings, necklaces, or other small knick knacks this

wooden jewelry organizer

 keeps things organized with true style.
Cute Little Pull Handles – Each tiny jewelry box features small drawers with handles that let you slide them in or out with ease to store your personal items quickly.
Decorative Tabletop Display – Our wood jewelry box makes a wonderful addition to your bedroom, closet, living room, or kitchen and adds classic farmhouse warmth.
Premium Handcrafted Artistry – Crafted with genuine wood and real bark this Forest Decor storage box has been handmade by real artisans for custom quality care.

FREE 3-DAY SHIPPING ON ALL U.S. ORDERS OVER $49. SHIPS WORLDWIDE WITHIN 24 HOURS.
Description

Keep Rings and Small Wooden Jewelry Box Neatly Tucked Away with a Rustic Jewelry Box from Forest Decor
When you want a wooden jewelry box that's perfect for storing just a few of your favorite items, you don't need something that's big, bulky, and hard to manage. Better yet, you want it to blend in with your other home or bedroom decor while enhancing the look and feel of a room. That's why we made this premium Forest Decor Natural Wood Storage Box that can be used for rings, earrings, small jewelry, and even knick-knacks and boasts unfinished wood bark sides to help set it apart from standard wooden jewelry boxes. Original, fun, and rustic this is the perfect choice for ladies who are looking for a charming piece to add to their home.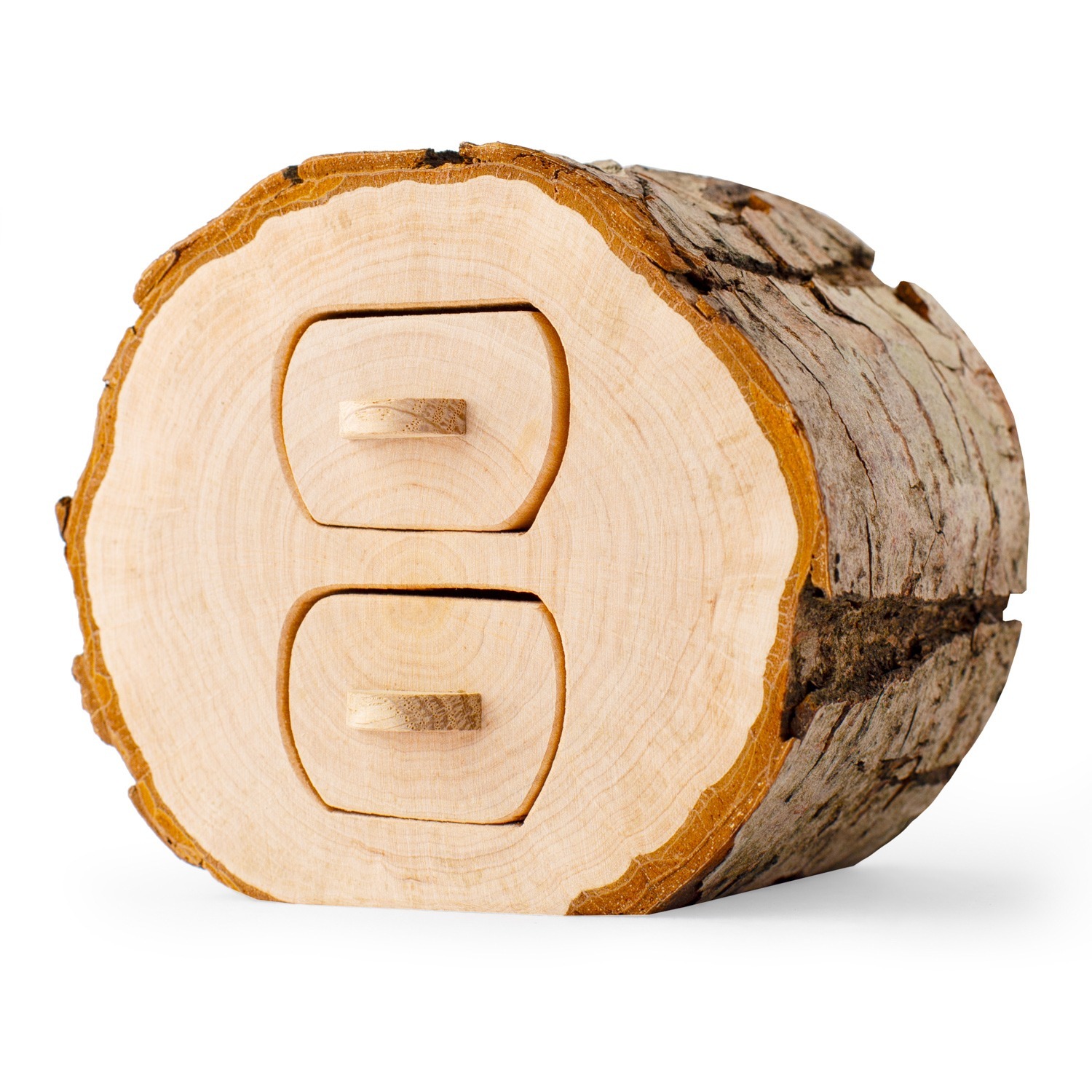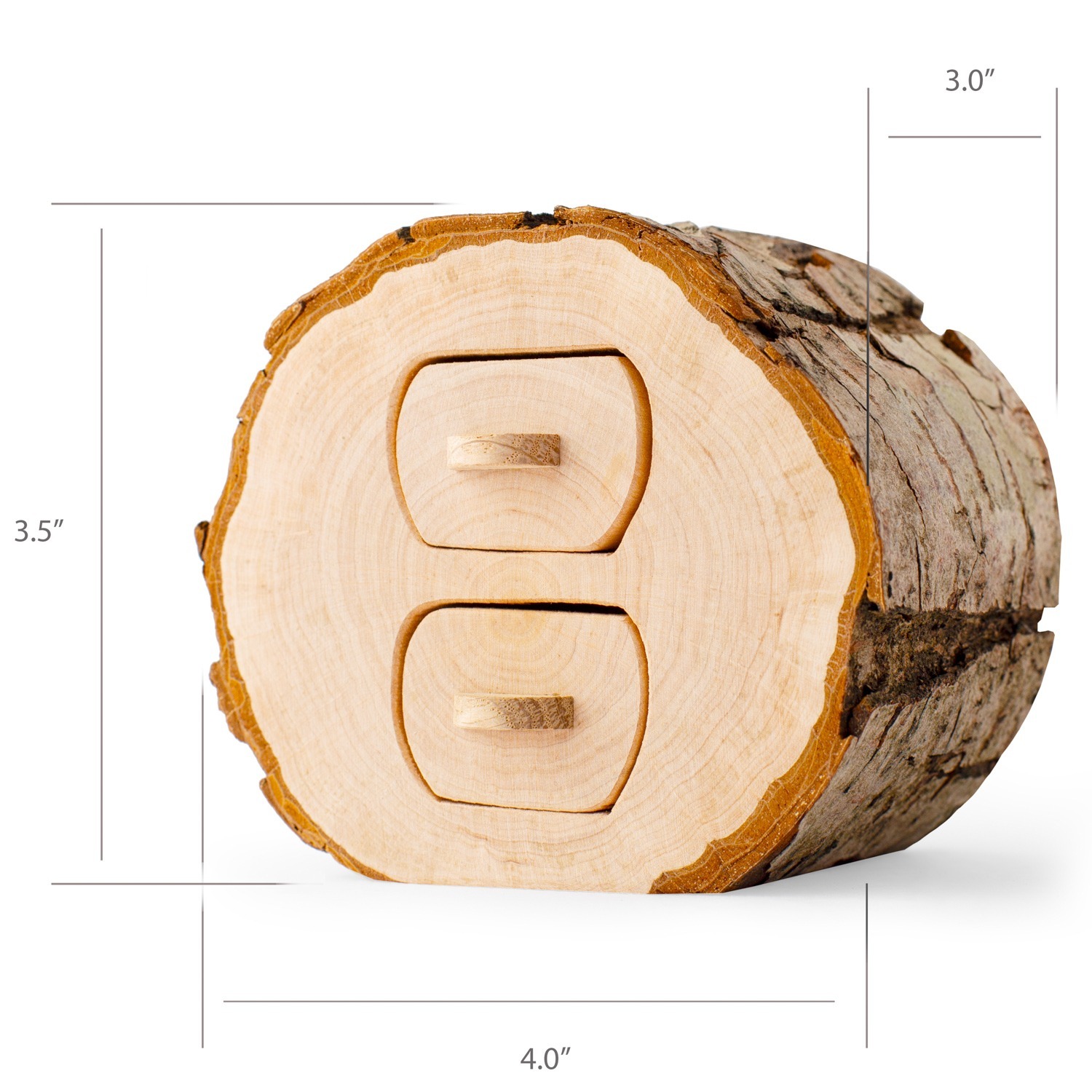 Product Details:
Natural Wood Storage Box
Two (2) Small Drawers
Easy-Pull Drawer Tabs
Handcrafted Design
Real Forest Wood
Unfinished Bark Edges
Dimensions: 3.5 x 4.0 x 3 inch
Genuine Bark Edging
This natural Wooden Jewelry Box features a rustic unfinished bark edge on the top and sides to create a more vintage feel that looks great in any modern or farmhouse home.
Small, Personal Display
These boxes are only 10 x 10 x 8 cm in size which means they can easily be put on a dresser, kitchen counter, bedside table, living room coffee table, or even a desk.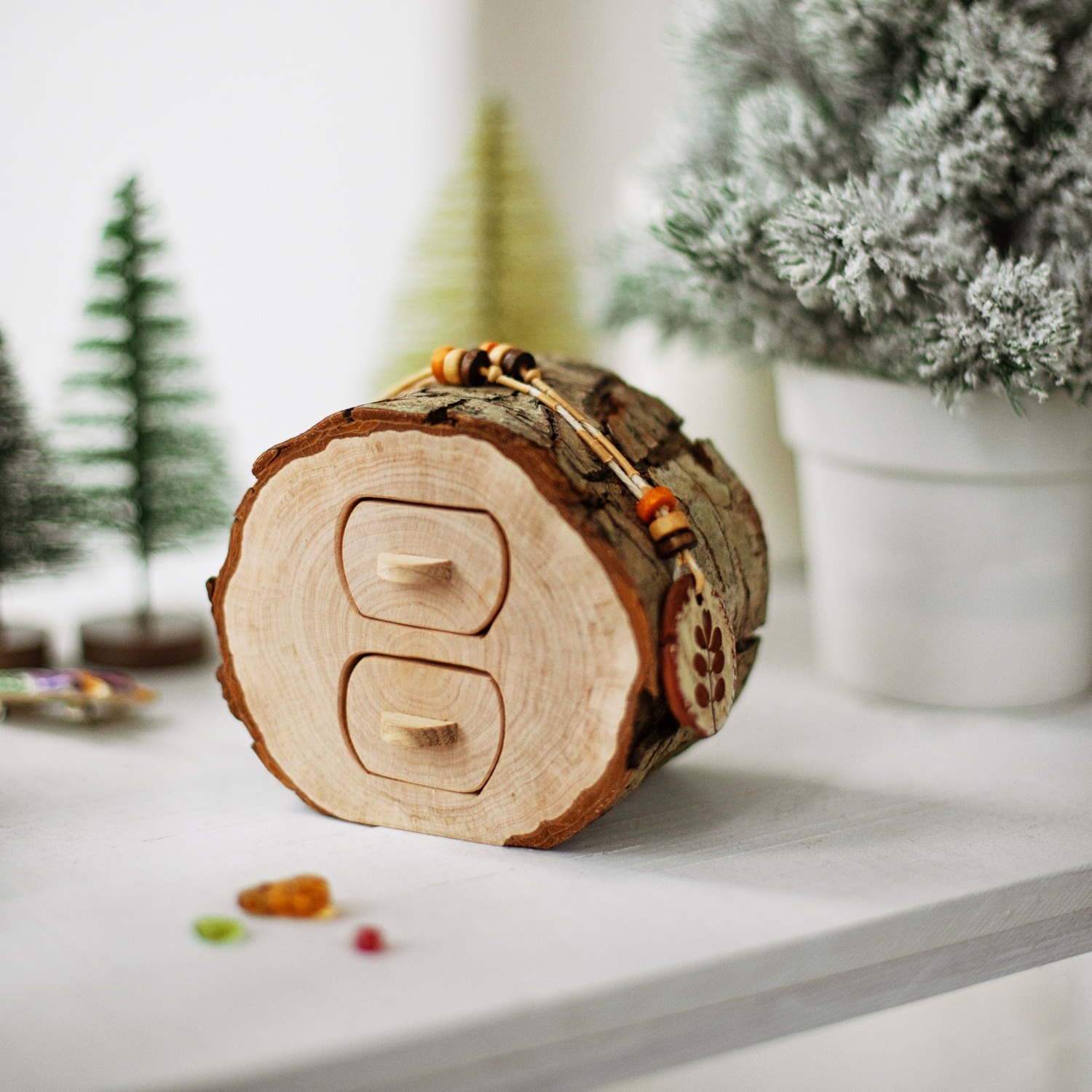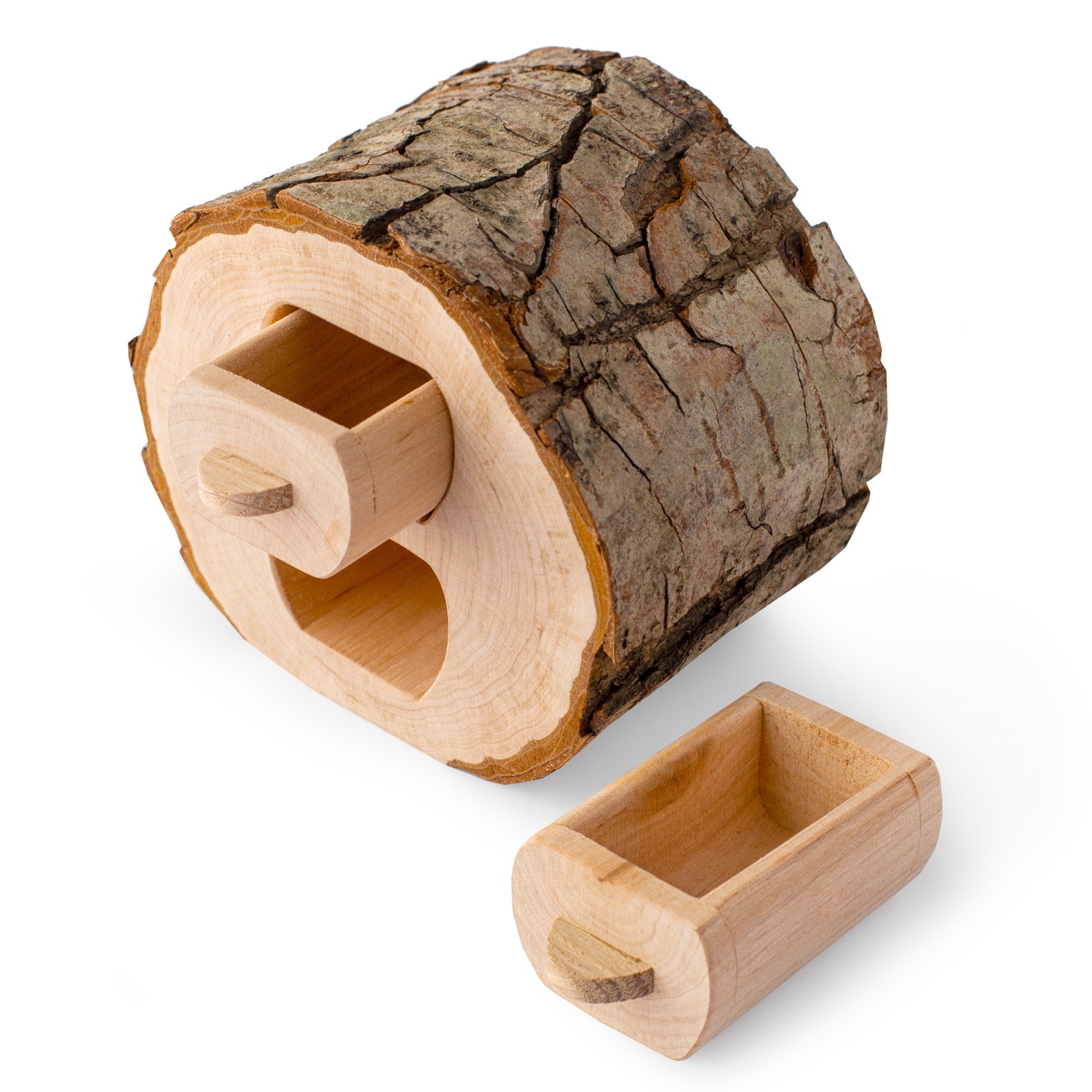 Charming and Original Craftmanship
Each jewelry box is made by a real woodworker using premium-grade Black Forest wood which means each one has its own original charm. This means colors, textures, and even sizes can all be slightly different, which means a custom look and design.
Beautiful Gift Idea
A wonderful choice for birthdays, an anniversary, holidays, or even Christmas this jewelry box for women is cute, functional, and fits in well almost anywhere. And because each one is handmade it's a piece that's completely original every time.
Smooth, Finished Front
The drawers, front face, and back of each wood storage box are completely smooth to make help enhance the look of the entire piece and to create gorgeous bark contrast.
Removable Drawers
The drawers on our box are not connected with means you can pull them out completely, add in rings or jewelry, and then put them back with ease.
Youth and Adults
Teenage girls, moms, sisters, and grandmas will all love this original storage box. Get one for yourself or give one to someone special in your life to show how much you care.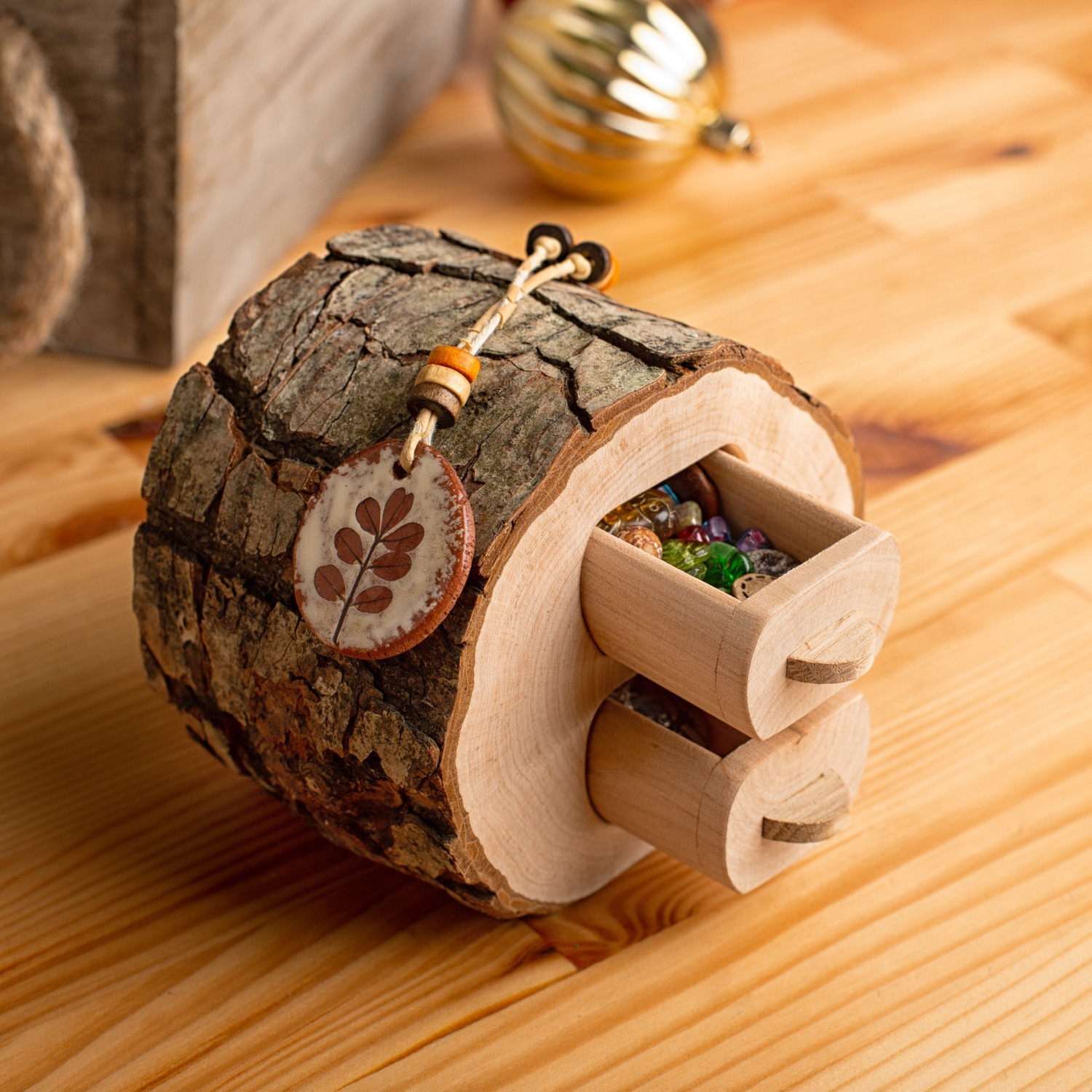 Reviews (5)
Only logged in customers who have purchased this product may leave a review.
Related products
Products that You Might Also Like