Wooden Christmas Tree Ornament – Nativity Scene
Fun Christmas Decorations – Crafted with real wood with finished and unfinished bark sides these tree decorations help enhance your holiday spirit with joyous cheer.
Holiday Inspired Designs – These wood Christmas tree ornaments come in seasonal figures kids and adults love including a snowflake, moose, nativity scene or reindeer.
Convenient Hanging Ribbon – Each of our Christmas tree decor items comes with a pre-drilled hole on the top and a matching ribbon that makes hanging it up easy.
Inspire Family Tradition – Hang these on your tree every year to celebrate the birth of Jesus, commemorate friends and family, or simply add rustic charm to your home.
Original Handmade Craftsmanship – These exclusive, handmade tree Christmas decorations are crafted by professional artisans using genuine forest wood.

FREE 3-DAY SHIPPING ON ALL U.S. ORDERS OVER $49. SHIPS WORLDWIDE WITHIN 24 HOURS.
SKU:

FD-WCTO-NS
Category: Christmas Ornaments
Tags: nativity ornament, nativity tree ornament, wood ornament, wooden ornament, wood christmas ornament, wooden christmas ornament, rustic christmas decorations, wooden tree ornament, wooden christmas decorations, wood christmas decorations, wood tree ornament, nativity scene tree ornament
Description

Every Christmas Tree Deserves a Rustic, Charming, Handmade Christmas Tree Ornament from Forest Decor
The Christmas ornaments we hang on our tree every year tell a story about our family, our faith, and the memories we make with one another. We want to help continue those traditions and memorable moments with beautiful, handcrafted Forest Decor Wooden Christmas Ornaments that celebrate the holiday season together. Available in a classic nativity scene, moose, snowflake, or reindeer these wood tree ornaments look great with your shiny bulbs, natural pinecones, and glittery lights.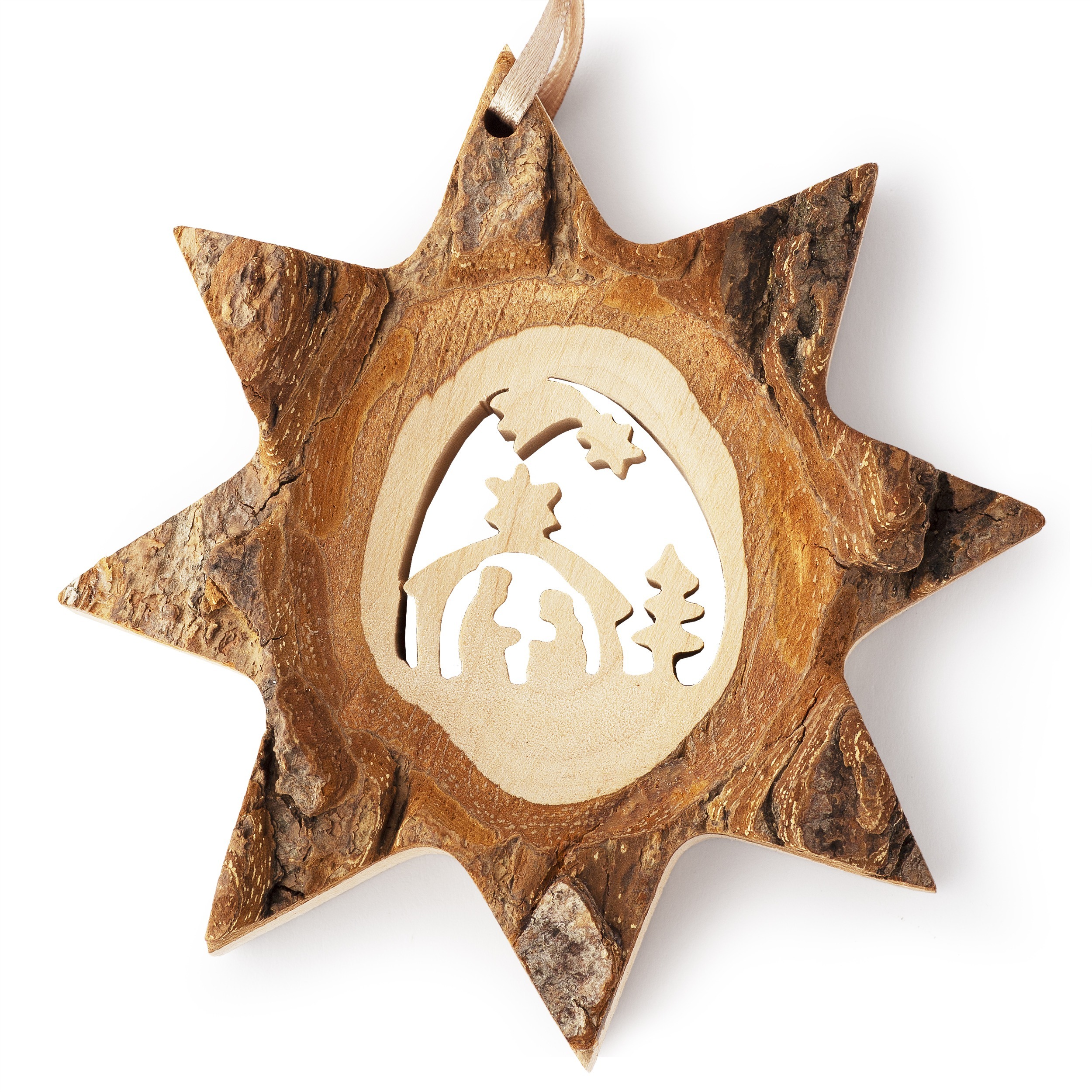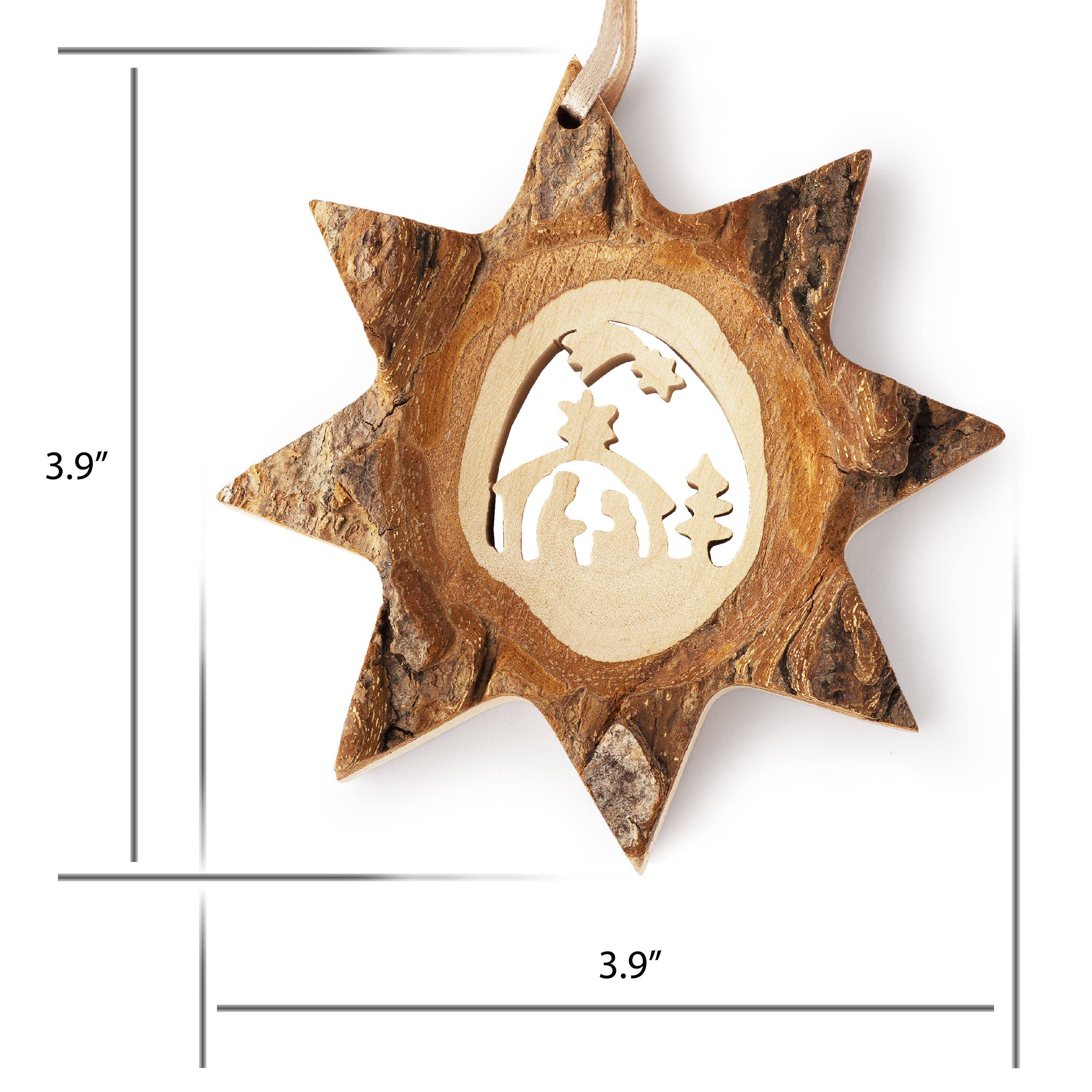 Product Details:
Charming Wood Christmas Ornament
Available in Four (4) Different Designs
Handcrafted from forest Wood
Smooth Finish and Unfinished Bark
Convenient Hanging Hole with Ribbon
Dimensions: 3.9″ x 3.9″
Lightweight and Easy to Hang
These Christmas decorations are made with premium forest wood, but they're light enough that they won't weigh down branches or cause heavy sagging.
Hand Carved Designs
Every ornament is made by hand which means they each feature their own unique color variation, bark texture, and look; which makes them especially charming for collectors.
Inspire Friends and Family
Get one of these wooden Christmas tree ornaments for your own family or give them as a special gift this holiday season to friends or new neighbors and create traditions than span generations. You and your kids will love adding such a unique and memorable piece to your Christmas experience.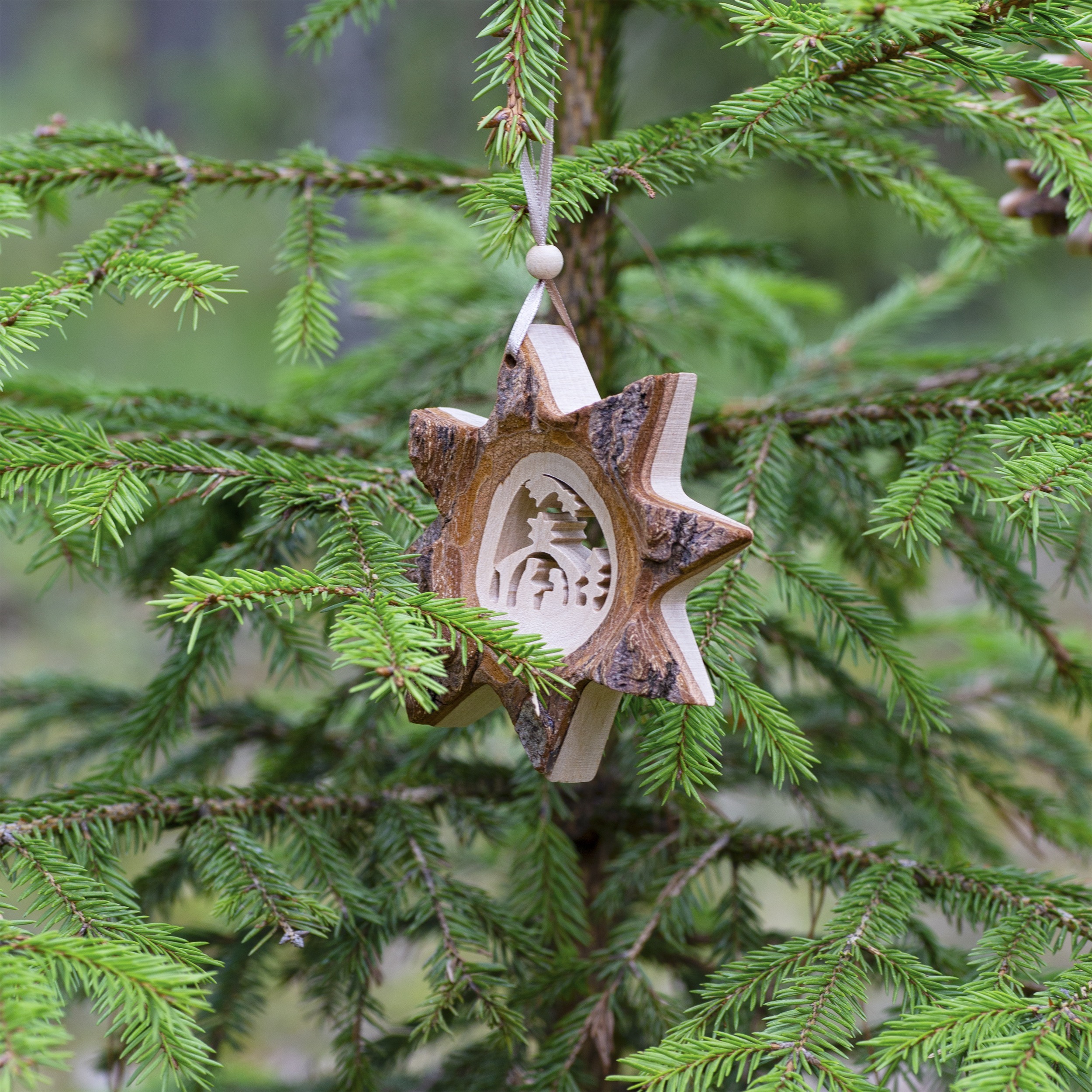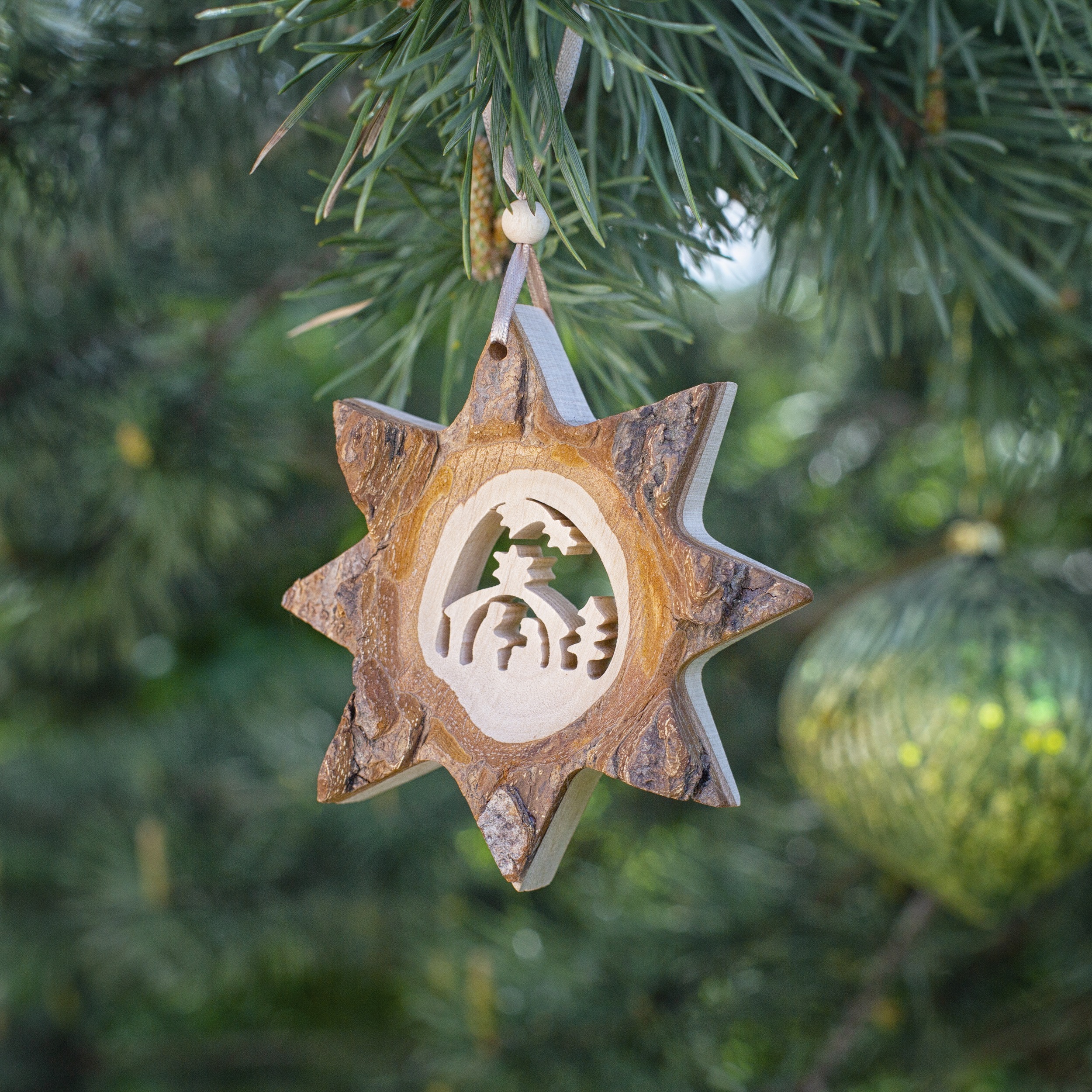 Choose One or Choose All
This order comes with a single wooden hanging Christmas tree ornament, but you can collect all four to complete the set. Check about to see our beautiful Christmas nativity scene, cute reindeer in the wilderness, strong moose, and wintery snowflake.
Thick, Durable Shape
We use the highest-quality wood possible to ensure they stay strong even after years of Christmas use. We recommend storing them in an ornament box for long-lasting protection.
Great for Kids and Families
Picking out a new Christmas ornament every year is a fun holiday tradition that parents and their children can share together. Look above to get one or collect them all.
Cute, Colored Ribbon
We've added a ribbon to the top to make it easier to hang over the end of a branch or on a wall-hanging hook. With proper care it too can be used year-after-year.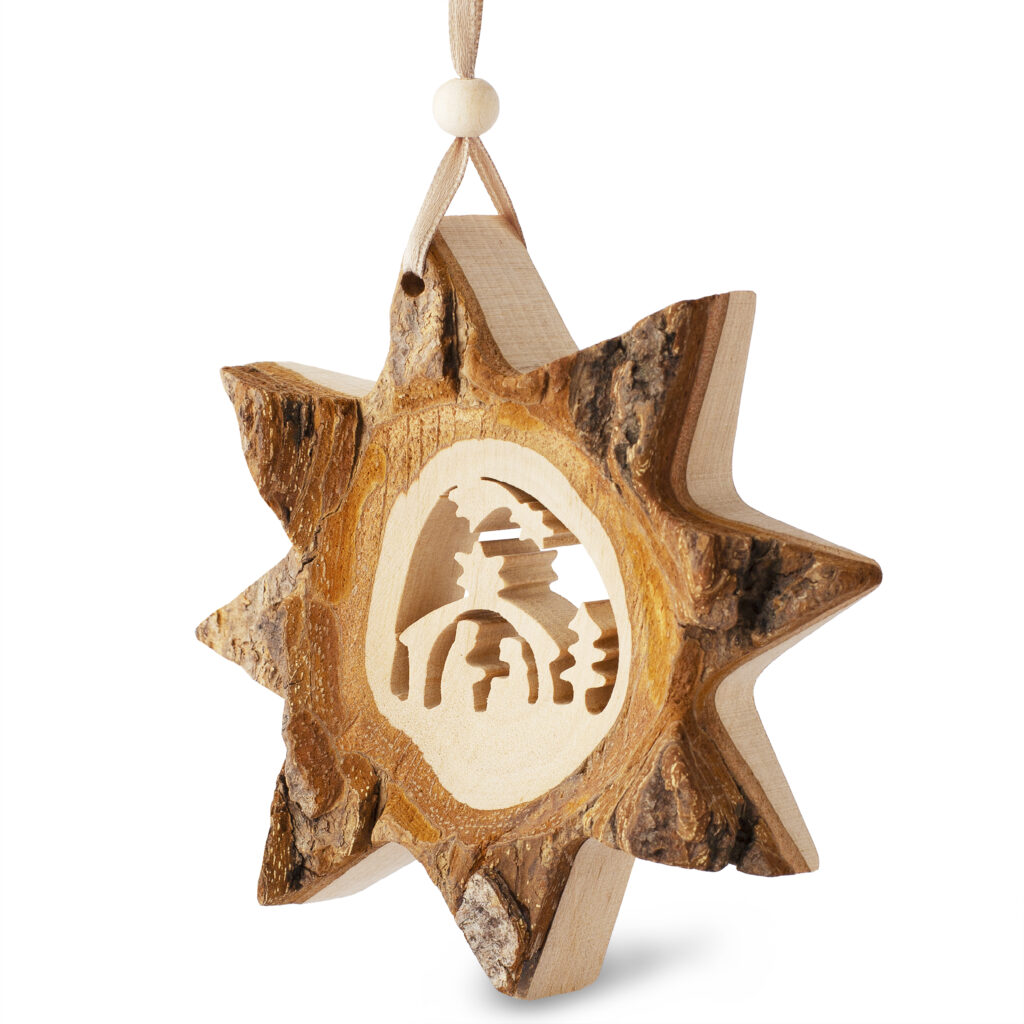 Reviews (10)
Only logged in customers who have purchased this product may leave a review.
Related products
Products that You Might Also Like