Wood Angel Figurine with Wings and Love Heart
WOODEN ANGEL FIGURINE WITH LOVING HEART – An original design that focuses on nature and enduring spirit, these angel figurines make a beautiful addition to a home, living room or bedroom.
FILLED WITH LOVE AND INSPIRATION – Our rustic wood angel statue has an open heart in the center to remind you to keep it filled with hope and faith in family. Give these wooden angels

 

as bereavement gifts, sympathy gifts for loss of mother, memorial gifts, remembrance gifts or religious gifts for women and men.
ELEGANT WING DESIGN – Featuring finished and unfinished sides, our wooden

 

angel figurine is spreading its wings as if its about to take flight to create stunning movement.
BEAUTIFUL GOLDEN RIBBON – Around the neck of our beautiful angel decorations, you'll find a stunning gold ribbon that complements the rustic and charming farmhouse design.
PREMIUM HANDMADE ARTISTRY – Each intricate piece is handmade and gently sanded by real artists to create a rich, authentic piece of art that's original from top to bottom. Explore the rest of our rustic angel figurines and statues for more angel gifts for women and men.

FREE 3-DAY SHIPPING ON ALL U.S. ORDERS OVER $49. SHIPS WORLDWIDE WITHIN 24 HOURS.
SKU:

FD-NWAL
Category: Angel Figurines
Tags: wooden angel, wooden angel figurine, wood angel, angel statue, guardian angel, bereavement gifts, Small Guardian Angels, Grief Gift, Memorial gift, Remembrance Gifts, Religious Gifts for Women, angel figurine, sympathy gifts for women, wood angel figurine
Description

Embrace Love, Hope, and the Enduring Spirit with a Forest Decor Open-Heart Angel
Angels provide us with inspiration, remind us to be positive and be hopeful, and help us express our faith and our passion. And with Forest Decor Open-Heart Wooden Angel Ornaments you can keep these feelings and emotions on full display with beautiful style. Crafted by hand, these intricate wood angels with both finished and unfinished bark sides make a stunning addition to your holiday decor or your everyday farmhouse style.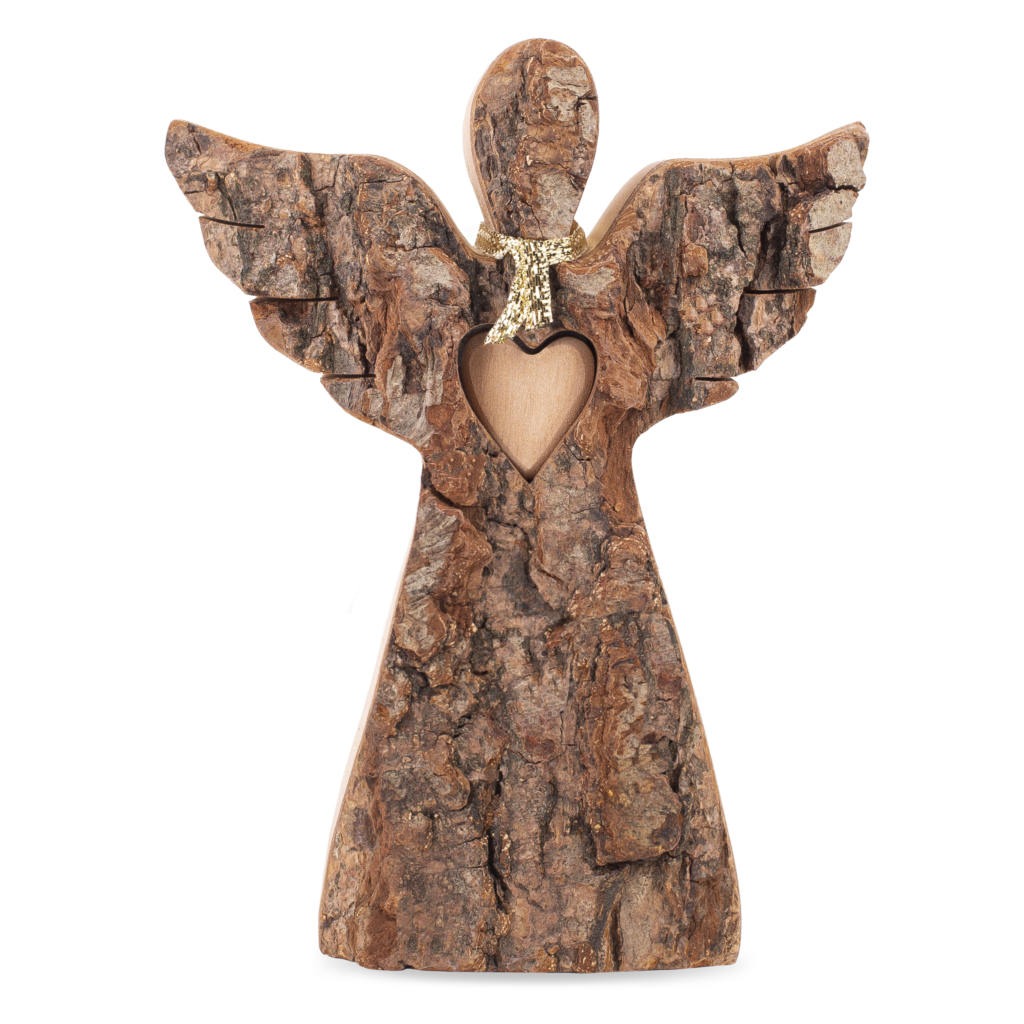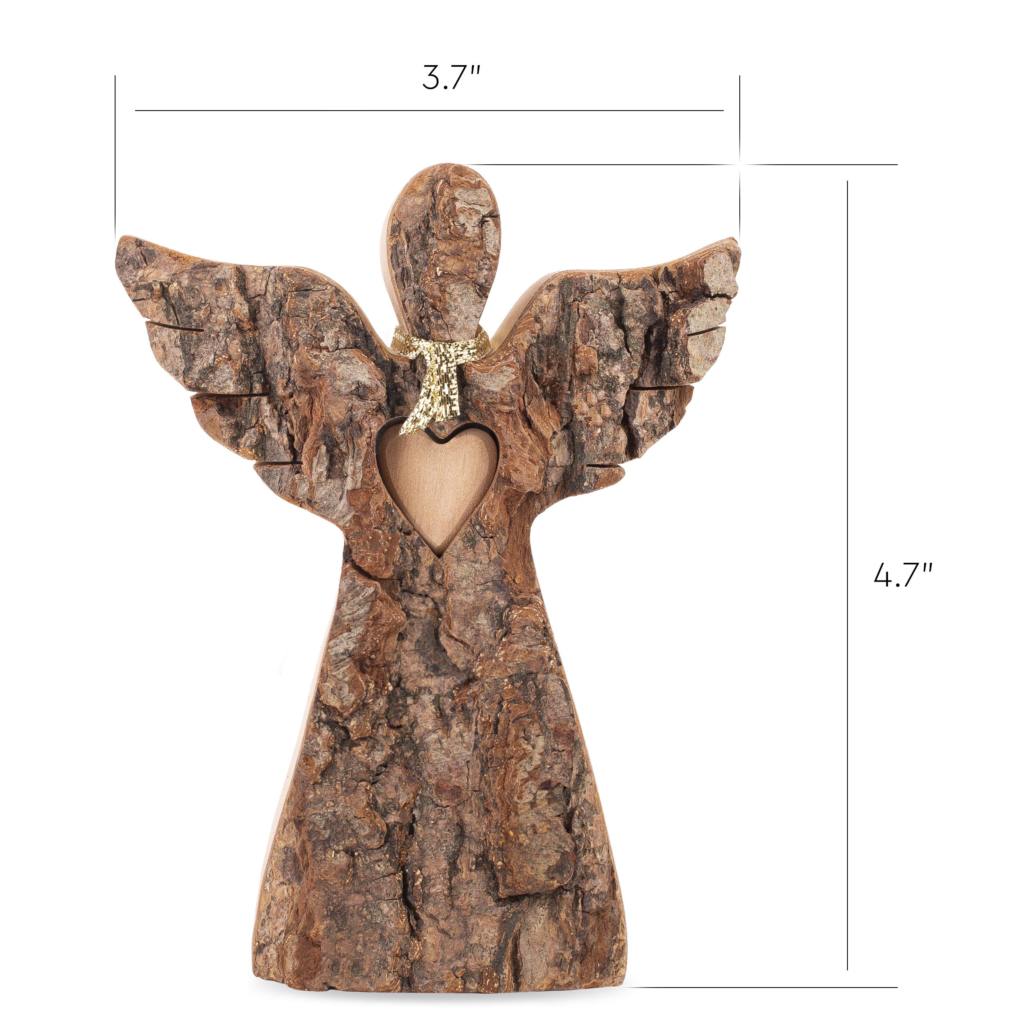 Product Details:
Wooden Angel Decoration
Inlaid Open Heart Design
Finished and Unfinished Sides
Free-Standing Stable Base
Handmade
Celebrate Special Occasions
While a wonderful piece to add to your Christmas collection these lovely guardian angels can also be given to recent high school or college graduations, children moving away to start their own life, or even special friends as a way to have someone look after them while they're on their own adventures.
Inspiring Housewarming Gift
Along with making a great addition to your own home these small, wooden angels (figurines) make an especially charming gift to those who share your faith and beliefs. Get one for friends or family members this year for a one-of-a-kind birthday, anniversary, Christmas, or housewarming present.
Year-Round or Holiday
A wooden angel can be proudly displayed year-round or during the Christmas holiday season. And this particular piece is sized to fit in on the kitchen counter, on a living room table, or even your fireplace mantle.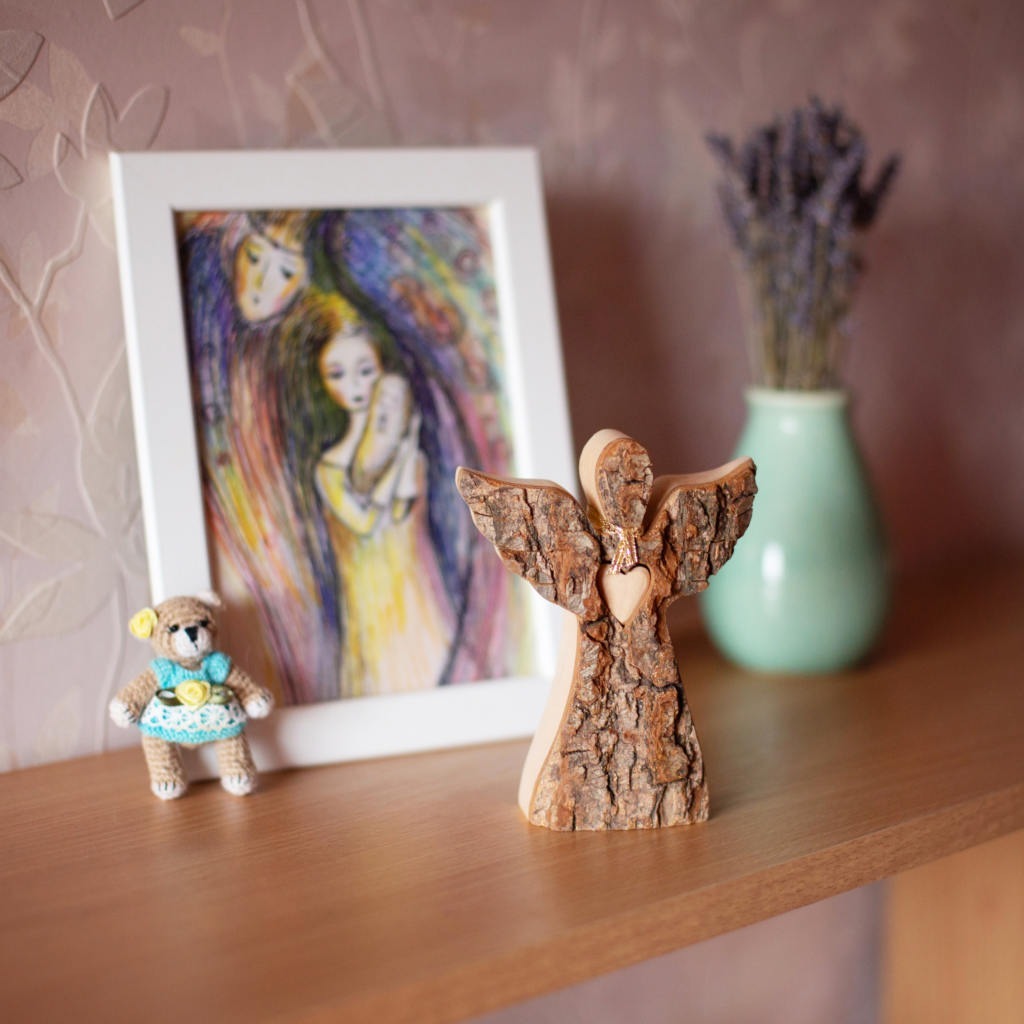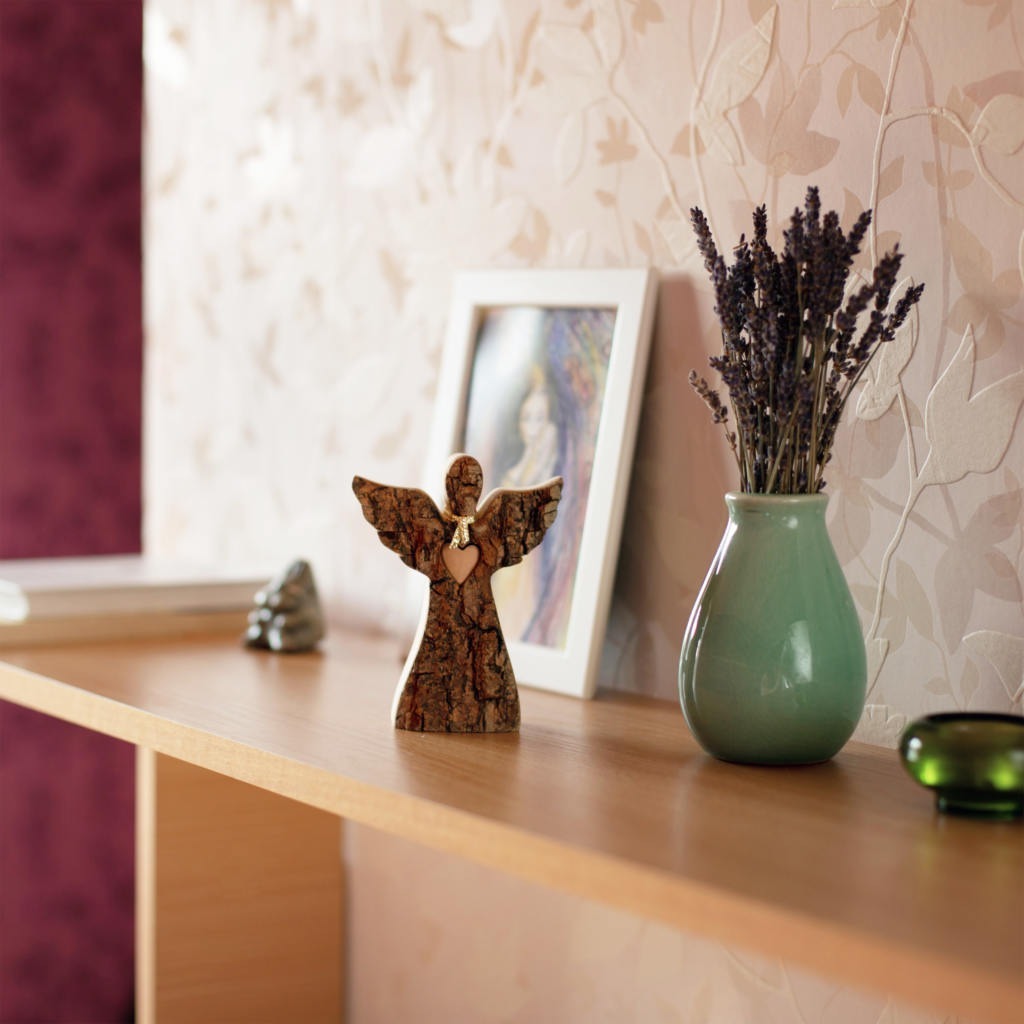 Beautiful, Contrasting Finishes
The finished heart on the inside of our adorable Christmas angel creates a stark contrast against the genuine bark finish to add warmth, openness, and originality to its look.
Perfect Fit for Wooden Christmas Decorations
Both sides of this unique piece can be displayed as the "front" which gives you more options when matching it with other pieces of your home or living room decor.
Guardian Angel from Real Forest Wood
The heart on the finished side of our wooden angel is darker than the finished wood to still maintain that beautiful contrast and to highlight the "open heart" imagery.
Original & Charming Design
Our wood is carefully protected with safe, family-friendly treatments that help maintain the color and quality in each piece and to provide years of long-lasting resilience.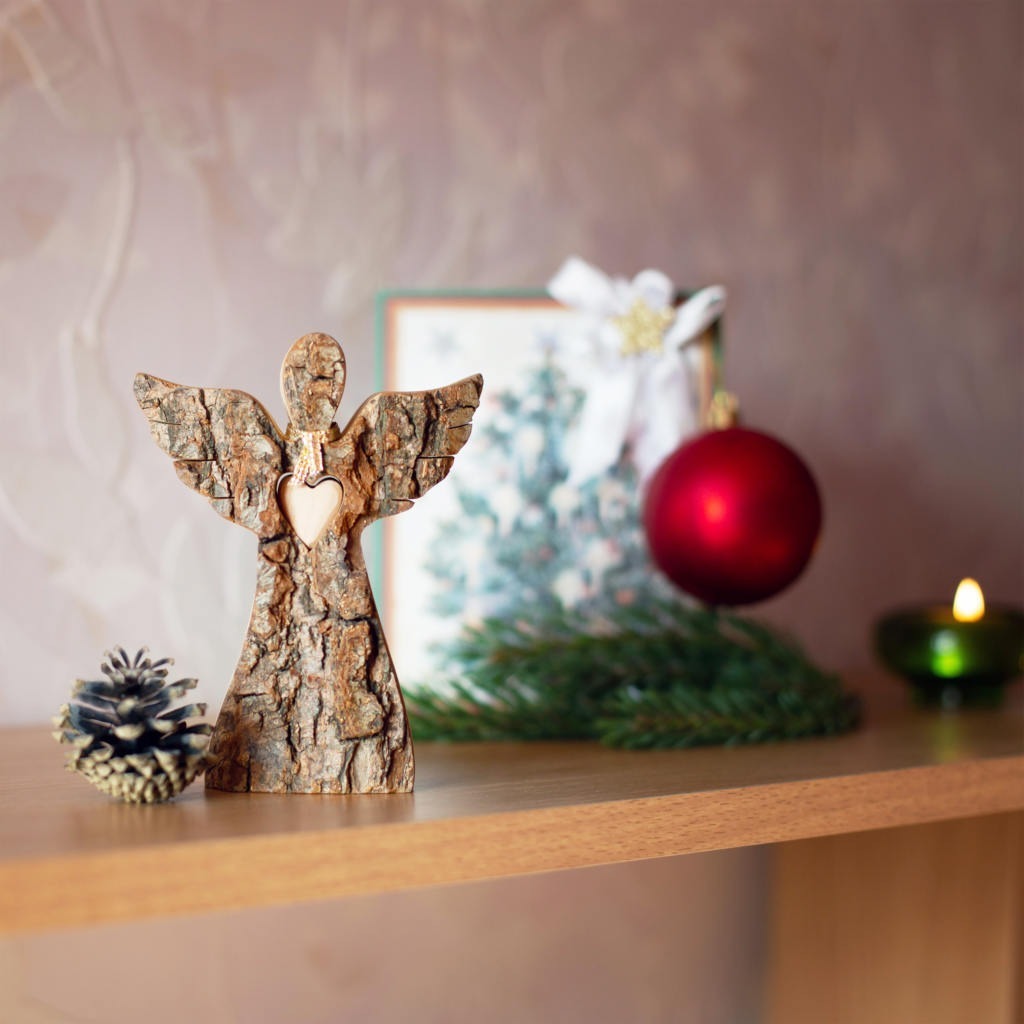 Reviews (11)
Only logged in customers who have purchased this product may leave a review.
Related products
Products that You Might Also Like