Reindeer Piggy Bank with Personalization
HANDCRAFTED RAINDEER BANK WITH PERSONALIZATION – A truly rustic piece to help kids collect, store, and protect their money, this cute personalized reindeer bank is handcrafted from genuine forest wood to give them something that is both fun and functional.
BEAUTIFUL CRAFTSMANSHIP – Handmade by a master craftsman, this kids piggy bank features adorable leather ears and tail, well-balanced legs, and a cute snout that will make you smile. One of the cutest savings bank for adults too!
PERFECT PIGGY BANK FOR KIDS AND ADULTS – Teaching children the value of money is important when they are young, which is why our unique piggy bank makes one of the smartest one-of-a-kind unique gifts for girls and boys who are looking to save money with a bit of original flair. Perfect fit as woodland nursery decor or woodland baby shower gift.
UNIQUE MONEY BANK & PIG DECOR – At 8.7" x 4.6" x 5.5" in size, our laser-engraved wooden coin money bank is small enough to fit on a desk, bookshelf, bedroom side table, and anywhere else they can be easily seen and still accessible for little hands. Perfect cute wooden decor.
PREMIUM HANDMADE ARTISTRY – We take pride in the quality and originality of our Forest Decor handmade wooden piggy banks for adults and kids, which is why they come with a satisfaction guarantee to ensure your total happiness. Explore the rest of our rustic home decor collection for more handmade gifts and rustic decor.

FREE 3-DAY SHIPPING ON ALL U.S. ORDERS OVER $49. SHIPS WORLDWIDE WITHIN 24 HOURS.
Description

Meet Wooden Piggy Bank Rudolph, the Wooden Reindeer Who Helps Save Money while Making You Smile
A piggy bank is still one of the most important parts of a young childhood. It's an opportunity for parents to teach kids about saving money, having patience, being responsible, and working hard to reach their goals. But it should also be fun and make kids realize that it's OK to express yourself and be creative at the same time. That's why we created Rudolph, a Forest Decor Wood Piggy Bank that's been handcrafted from genuine forest wood. Cute, original, and great at protecting both coins and cash, he's an adorable reminder that saving money is important; but so is being playful and original.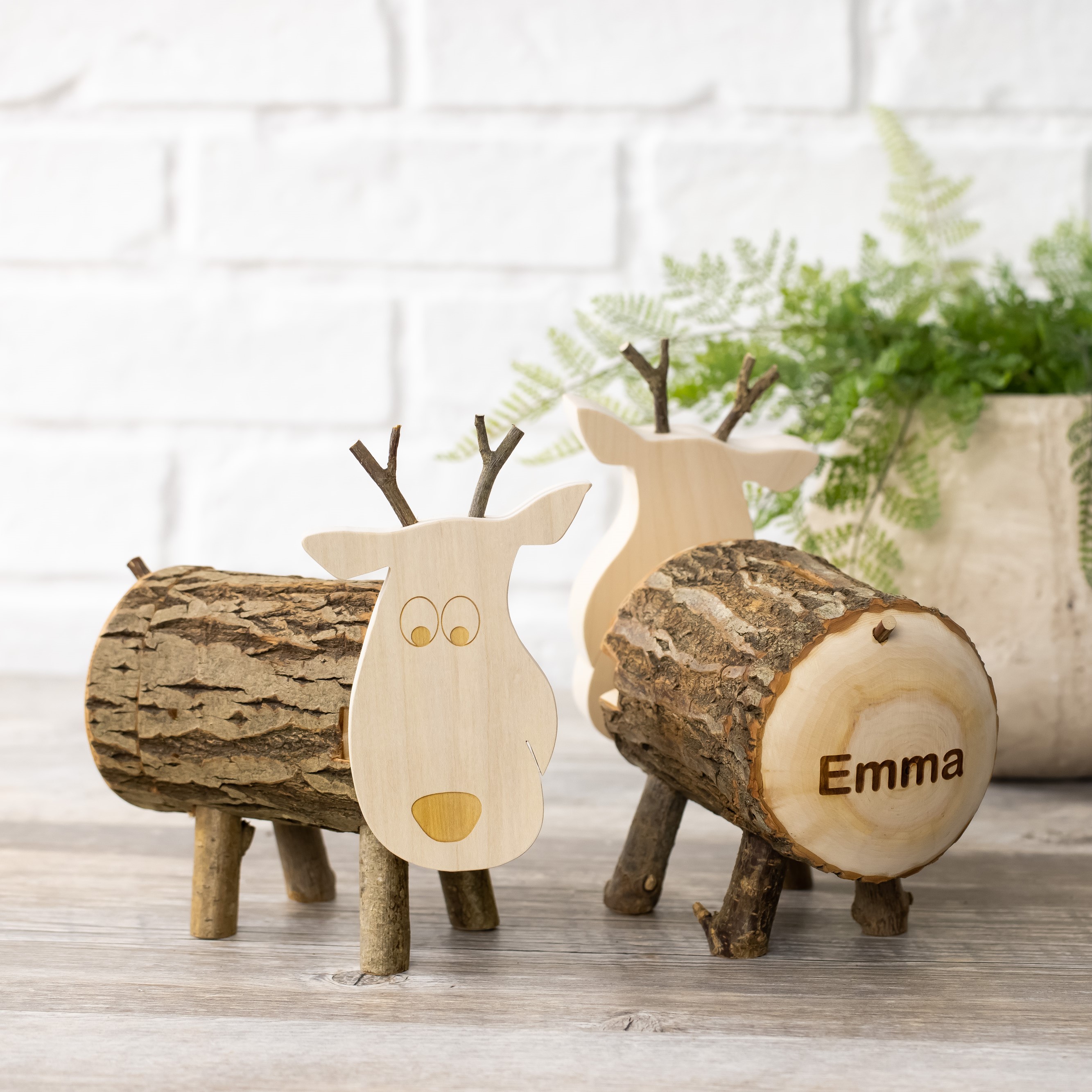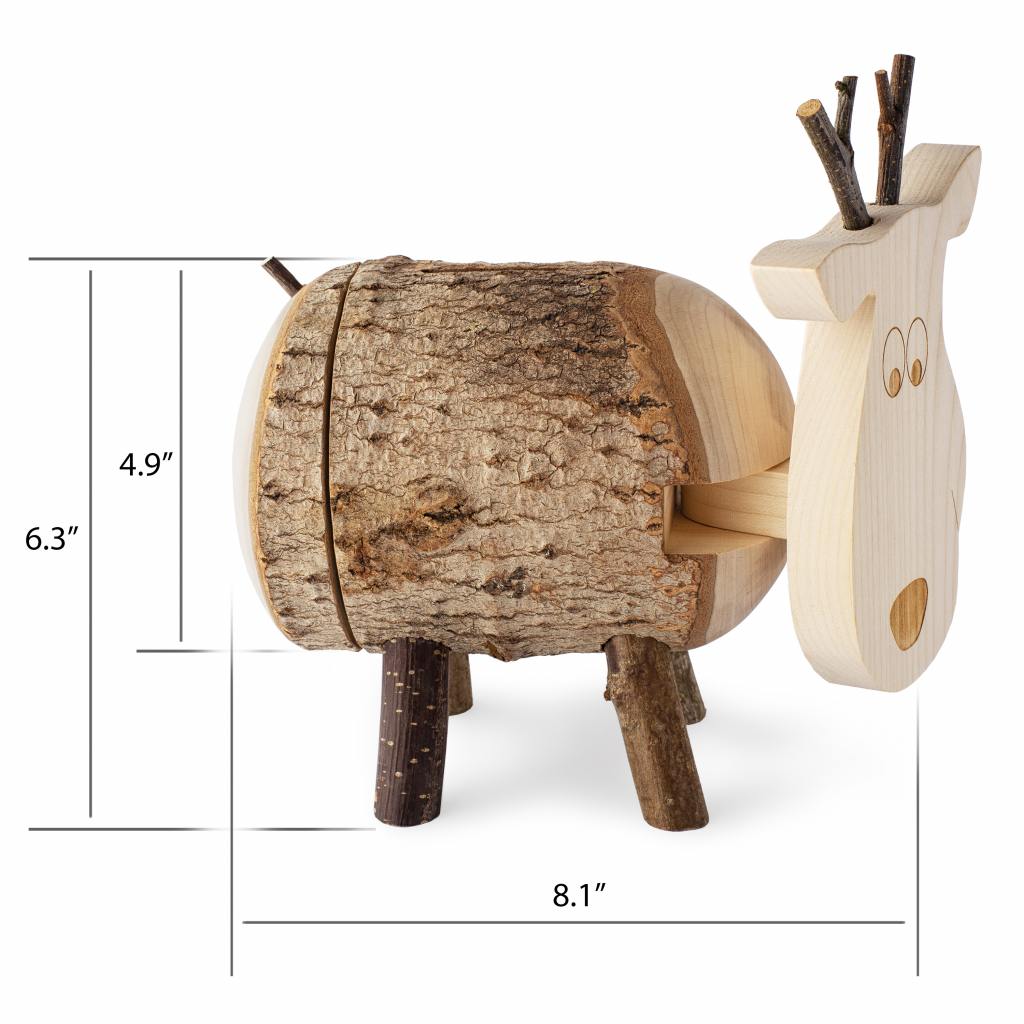 Product Details:
Wooden Piggy Bank with Name Personalization
Premium Handmade Craftsmanship
Finished and Unfinished Wood
Wooden Antlers and Tail
Adorable Face and Snout
Inspire People of All Ages
These piggybanks are for more than just kids, which is why they make great birthday, anniversary, holiday, baby shower, or housewarming gifts for travelers and adventurers saving for an exciting trip, vacation, or big investment in the future
Also One of the Best Piggy Banks for Adults
The rough bark exterior gives Rudolph an original look and feel that's truly rustic. And yet, he can match a wide range of decorating styles or home decor so you can put him anywhere.
Original Craftsmanship and Artistry
Make sure to check out our line of other wooden gifts and tabletop decor pieces for your home or to find special birthday, holiday, or anniversary gifts for friends and family.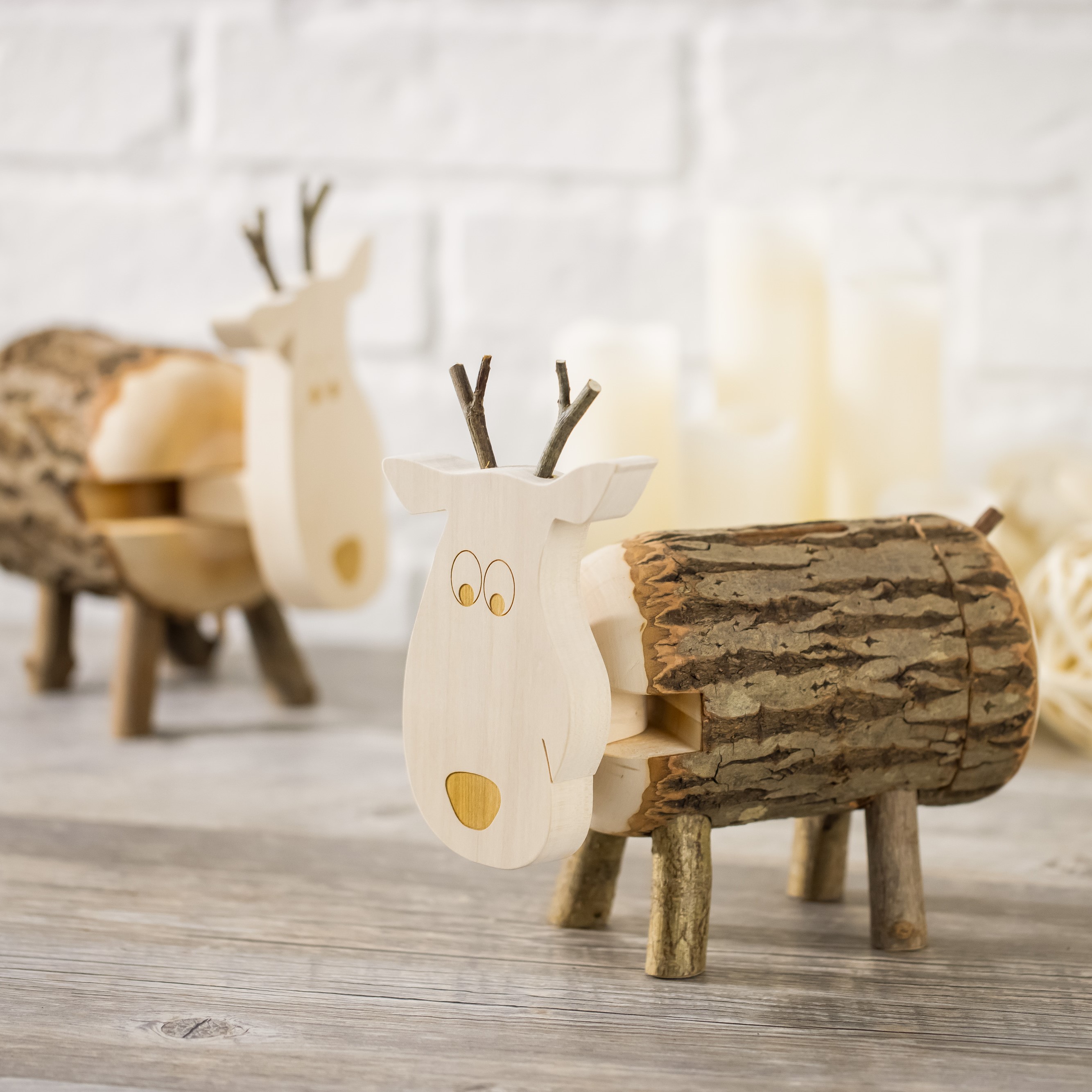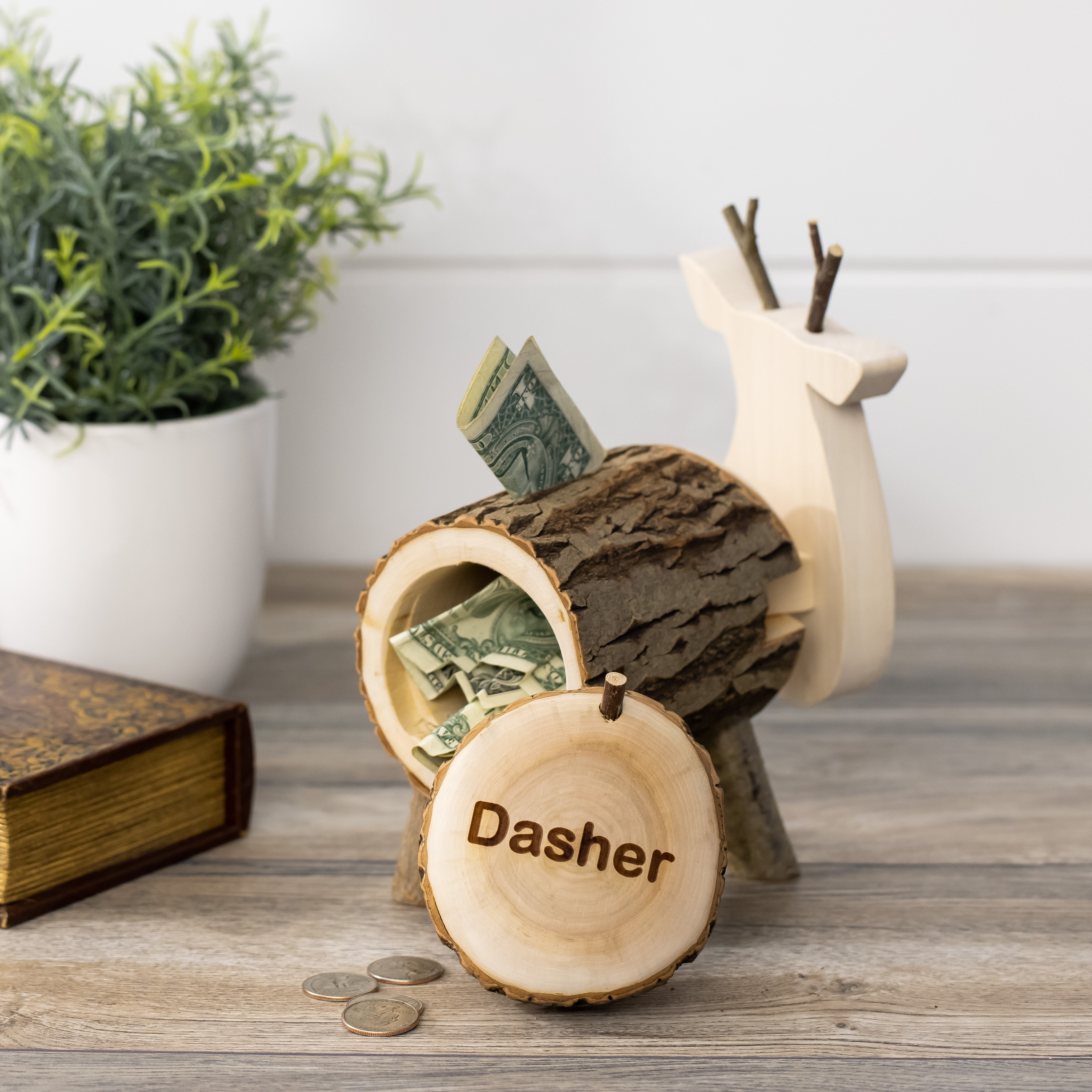 Unique Gift for Kids & Nursery Decor
Rudi makes a wonderful companion for bookshelves or bedside tables to make it easier for kids to add money and to see him protecting their investment with a smile.
Easy Opening & Closing
The backside of our money bank can be quickly and easily removed so you can access the stored cash or coins inside. Just remember to wait until he's full to maximize your investment.
Beautiful & Functional Design
The top of our wood piggy bank features a wide slot that make it easy to stuff multiple coins or bills in at the same time, so you don't have to worry about getting them stuck.
Cute Piggy Bank for Boys and Girls
We've added a curly leather tail and soft leather ears to this bank that are attached directly to the wood to create a more fun, lifelike appearance kids will love. Perfect baby shower gift or woodland nursery decor.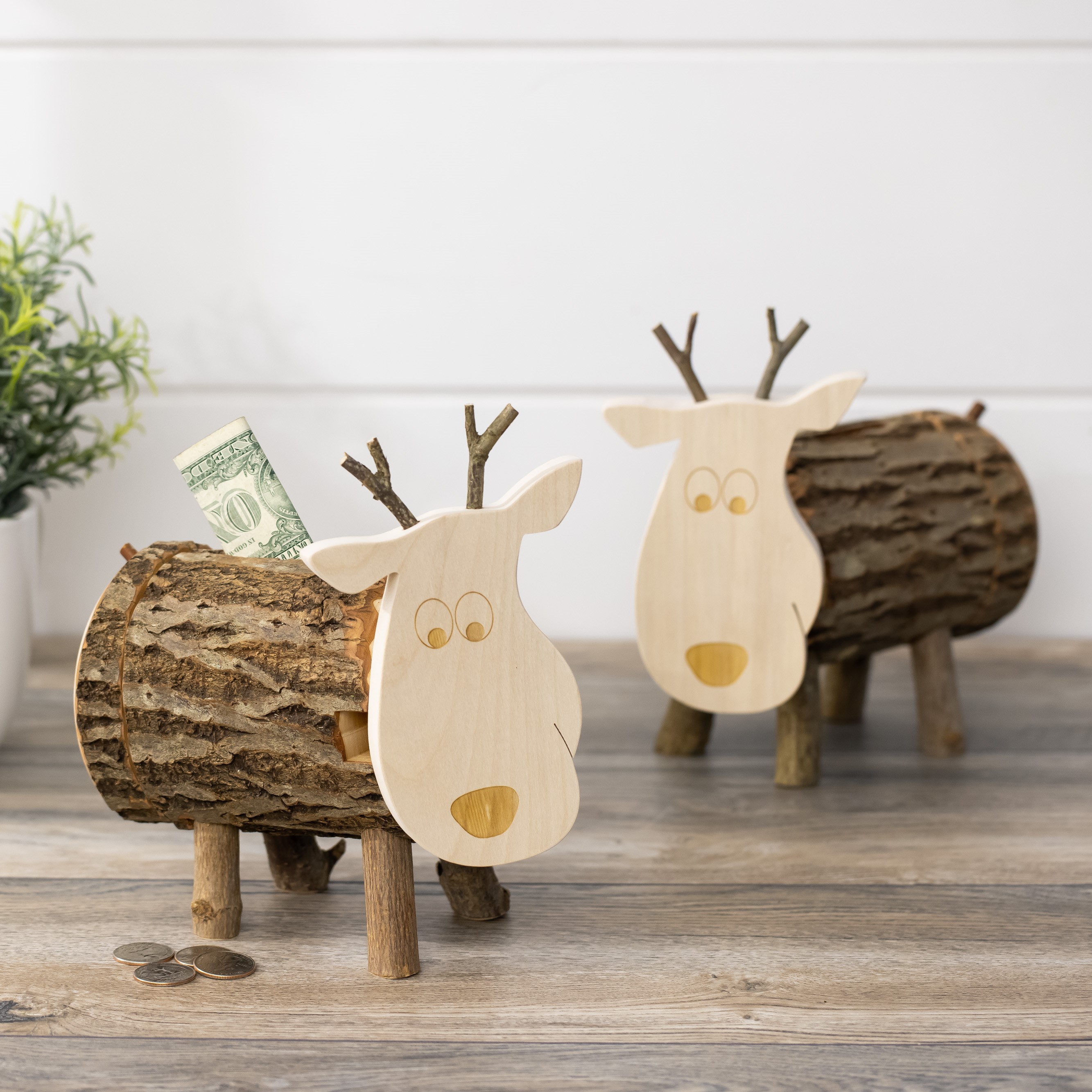 Additional information
| | |
| --- | --- |
| Dimensions | 8.7 × 4.6 × 5.5 in |
| Personalization | Without Personalization, With Personalization |
| Brand Name | Forest Decor |
| UPC | 712885137718 |
| GTIN | 712885137718 |
| SKU | FD-WPB-RR |
Reviews (3)
Only logged in customers who have purchased this product may leave a review.
Related products