Olive Wood Coaster Set with Pin Holder
PREMIUM QUALITY OLIVE WOOD COASTERS:  There's no two ways about it, these wooden coasters are sweet. Stacked on their pin, they'll look great parked on your table – placed individually around the room, they'll get compliments galore.
RUSTIC OLIVE WOOD MAKES UNIQUE COASTERS:  Made from the finest olive wood in the world, these wood coasters have a rustic edge, giving them a special appeal. They make great olivewood gifts, but who said you have to give them all away? Get one olivewood coaster set for the kitchen table and another wood coaster set for the living room. Oh, and did we mention the compliments you'll get?
CHARMING COUNTRY COASTERS THAT OOZE QUALITY: The unique grain and premium quality of these olivewood coasters will inspire you to plump your cushions and adjust that clock on the wall that's been tilting over to the left. They're an awesome combination of trendy and rustic that will take your room up a notch. They're nothing like ordinary wood coasters, and of course they're made with no chemical additives or finishes.
PREMIUM CRAFTSMANSHIP: As a family owned and operated business, we focus on premier handmade craftsmanship. That's why each olive wood coaster set is beautifully unique in terms of color, pattern, and grain – truly individual. Each wooden coaster set will be a creative addition to your home you'll enjoy for years to come.
EXCLUSIVE DESIGN OPTIONS – At Forest Decor we love creating pieces that each have their own functional style, which is why we offer a wide variety of olivewood products. Stock up on olivewood coasters, wooden charcuterie boards, wood meat boards, and our olivewood kitchen utensils. Their contemporary country charm will transform your home.

FREE 3-DAY SHIPPING ON ALL U.S. ORDERS OVER $49. SHIPS WORLDWIDE WITHIN 24 HOURS.
Description

This Trendy Olive Wood Coaster Set with Pin Will Turn Heads
Do you like compliments? Silly question, but you'd better be prepared – the character of these coasters makes for great conversations and great compliments. Olive wood! Ours is the finest olivewood in the world, and our artisans are skillful in how they highlight the grain. Not just that, but these wooden coasters have rustic edges – some live edge wood, some not, for interest – so they are (here comes that word again) truly unique.
Take a look at that photo and imagine those coasters in your home. And don't forget to count them. There are six coasters on that pin – enough for a cozy gathering of friends. Whether you get them for your own home or to give as gifts (wouldn't mom love to be trendy too?) this olive wood coaster set will dazzle everyone with its personality. Ready to get your own set?
One more important detail: all of our products are free from chemical additives or finishes because we know that a healthy home is a happier home. So, each of our handcrafted olivewood coaster sets isn't just unique, it's ecofriendly.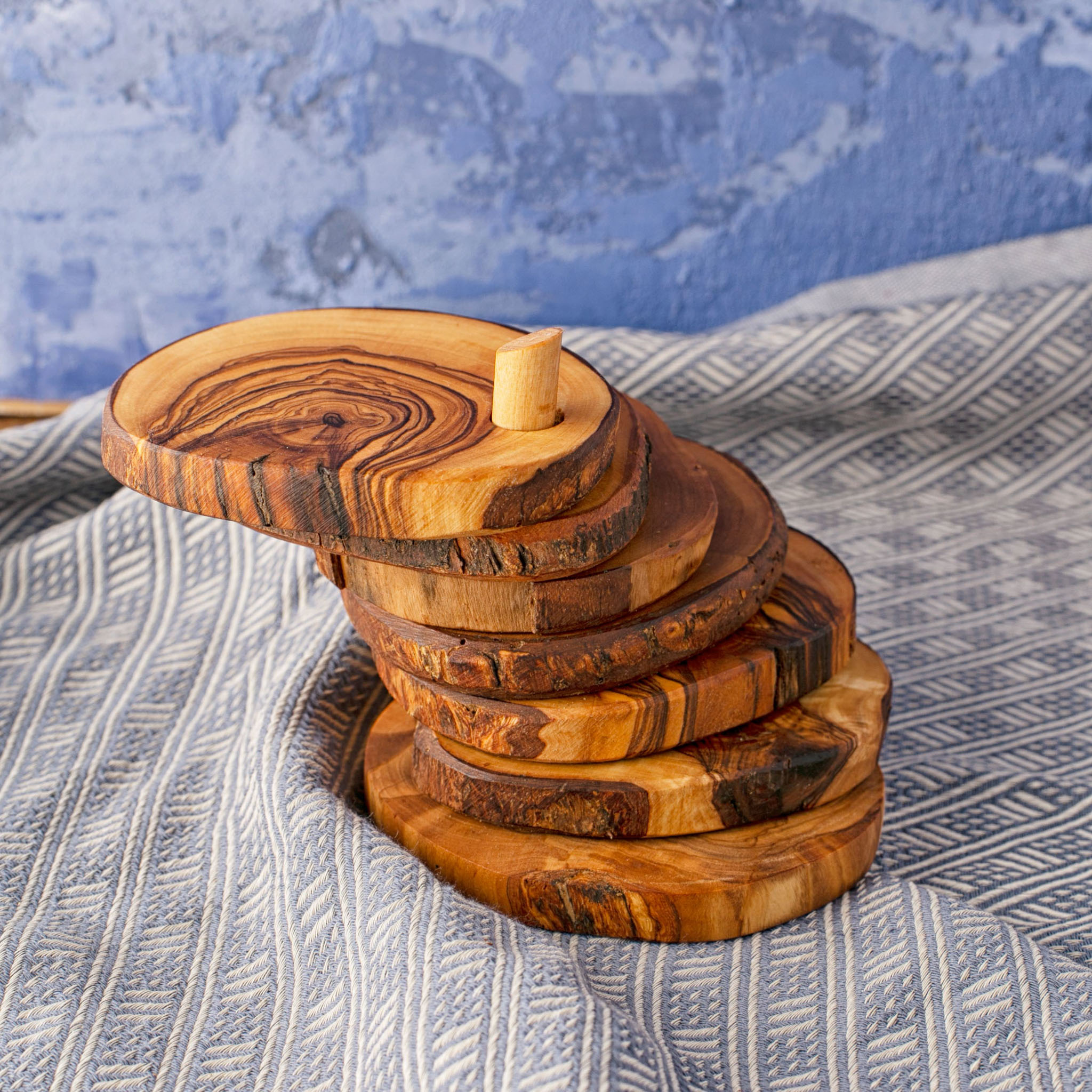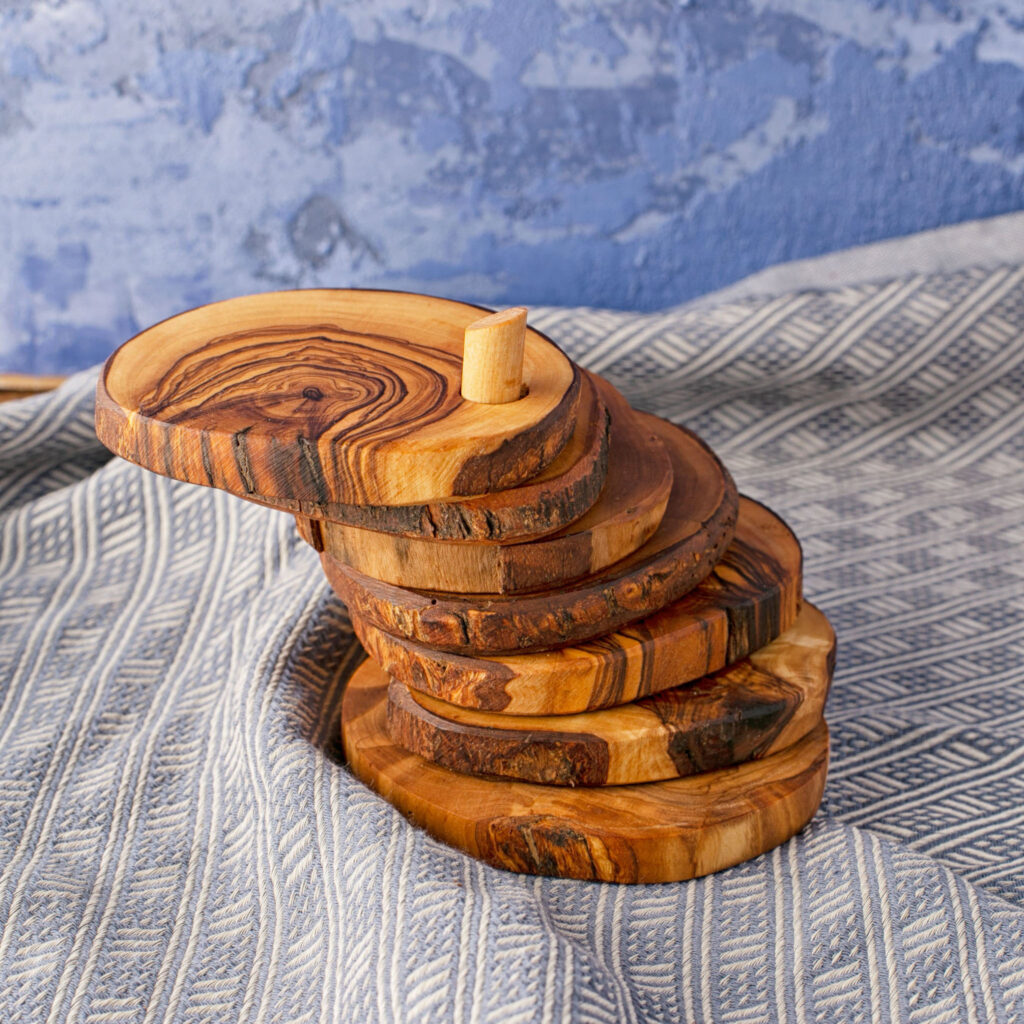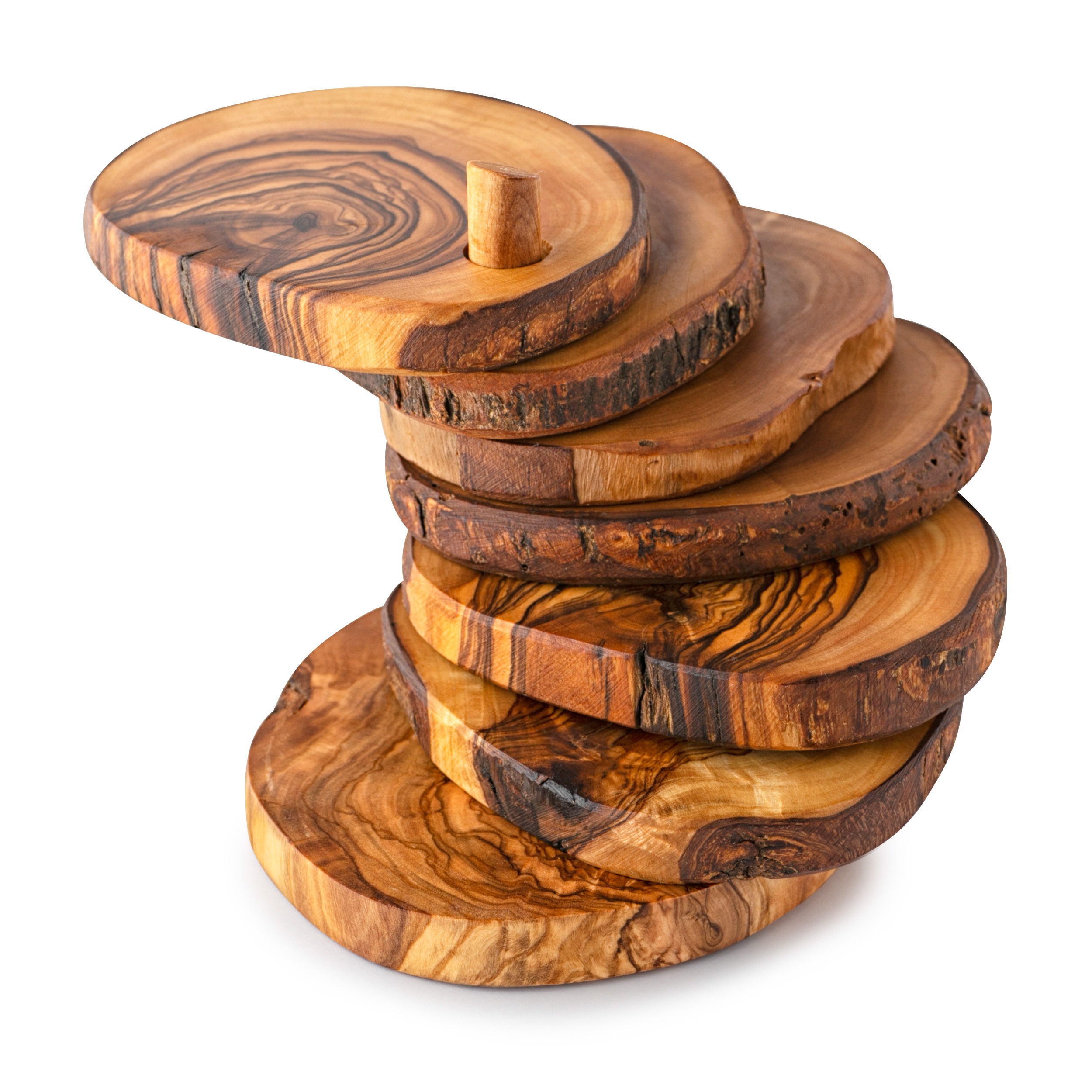 Product Details:
Rustic Olive Wood Coaster Set with Pin
Hands-on Artistry at Your Fingertips
Beautifully Finished and Easy to Clean
Genuine Handmade Craftsmanship
Premium Rustic Tunisian Olive Wood
Overall Dimensions: 4.7 x 4.5 inch ; Dimensions of Each Coaster: 4.7 x 0.5 inch
Note: Each olive wood coaster and coaster set is 100% unique, so each has its own wood grain pattern.
Premier Olive Wood Coaster Set
Our family believes that living a natural lifestyle means using handmade products and ditching the plastic. That's why we work with talented artisans to create olivewood coasters that you'll love to use. Olive wood has such personality and character – the grain is always unique. And, since we work with the finest olivewood in the world, our coasters are not only beautiful, they're durable.
Handmade Wooden Live Edge Coasters
Each olive wood coaster in the set is handcrafted, carefully polished with natural minerals, and completely free of chemicals or additives. Check out the photo to see how they're set on a pin to look calm, cool, and collected on your table. There's nothing quite like handcrafted olive wood to make your rustic wood coasters shine.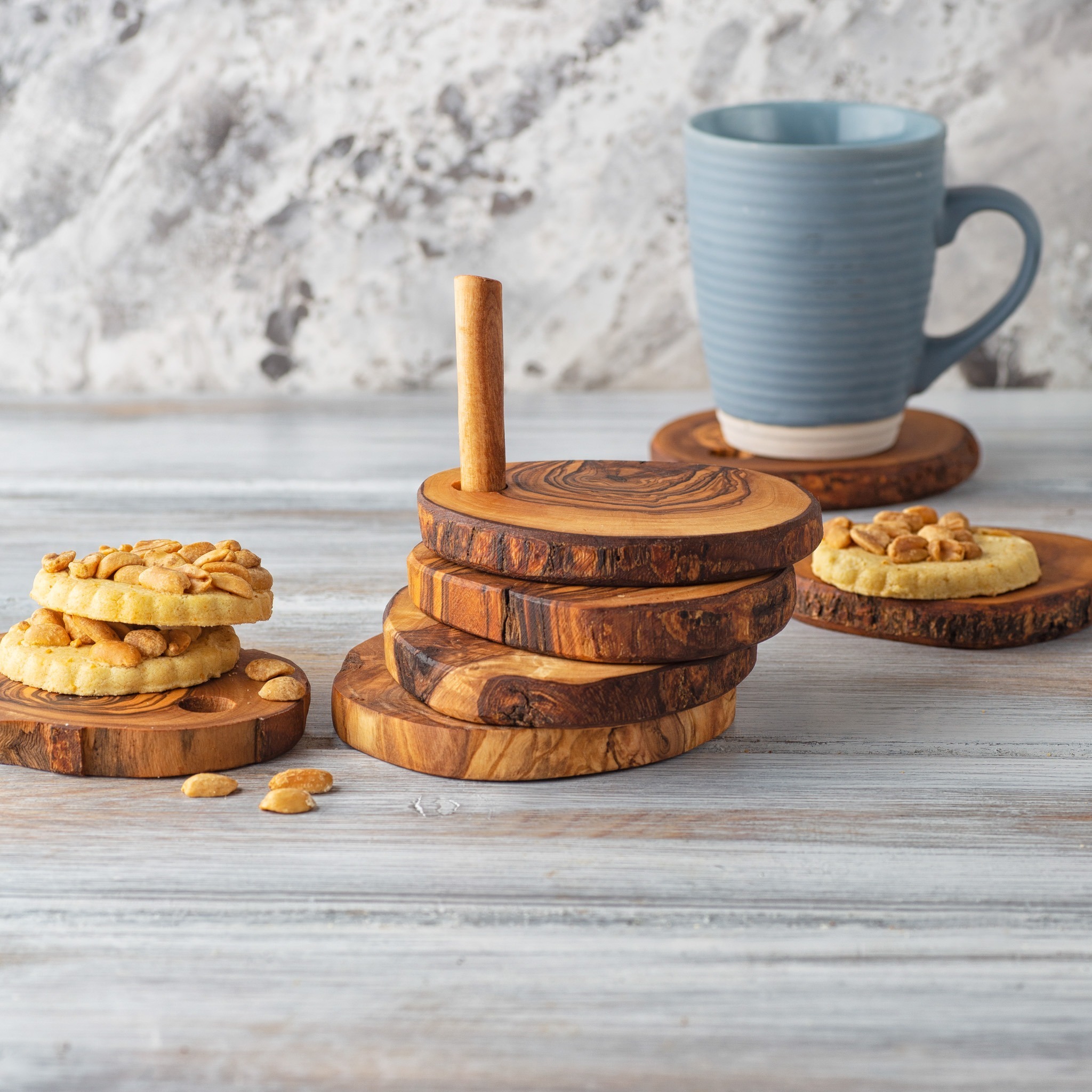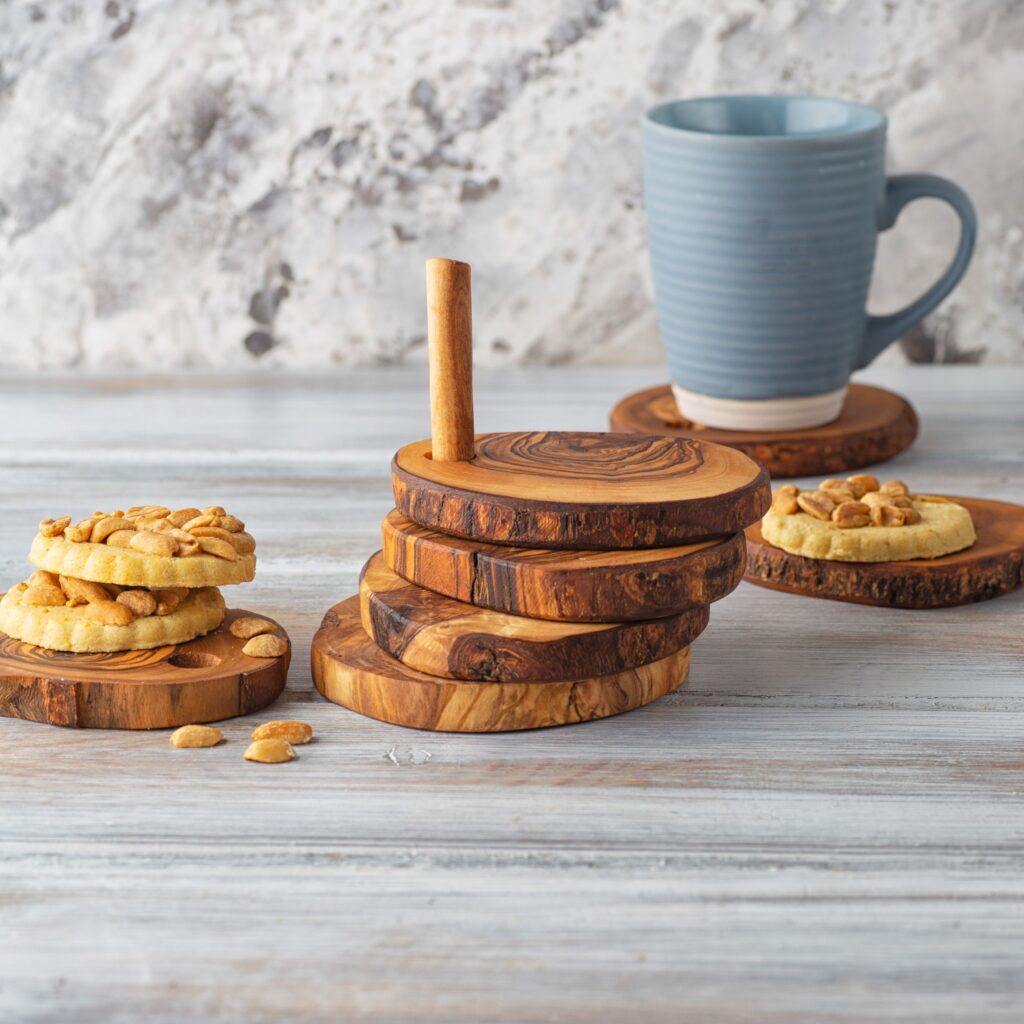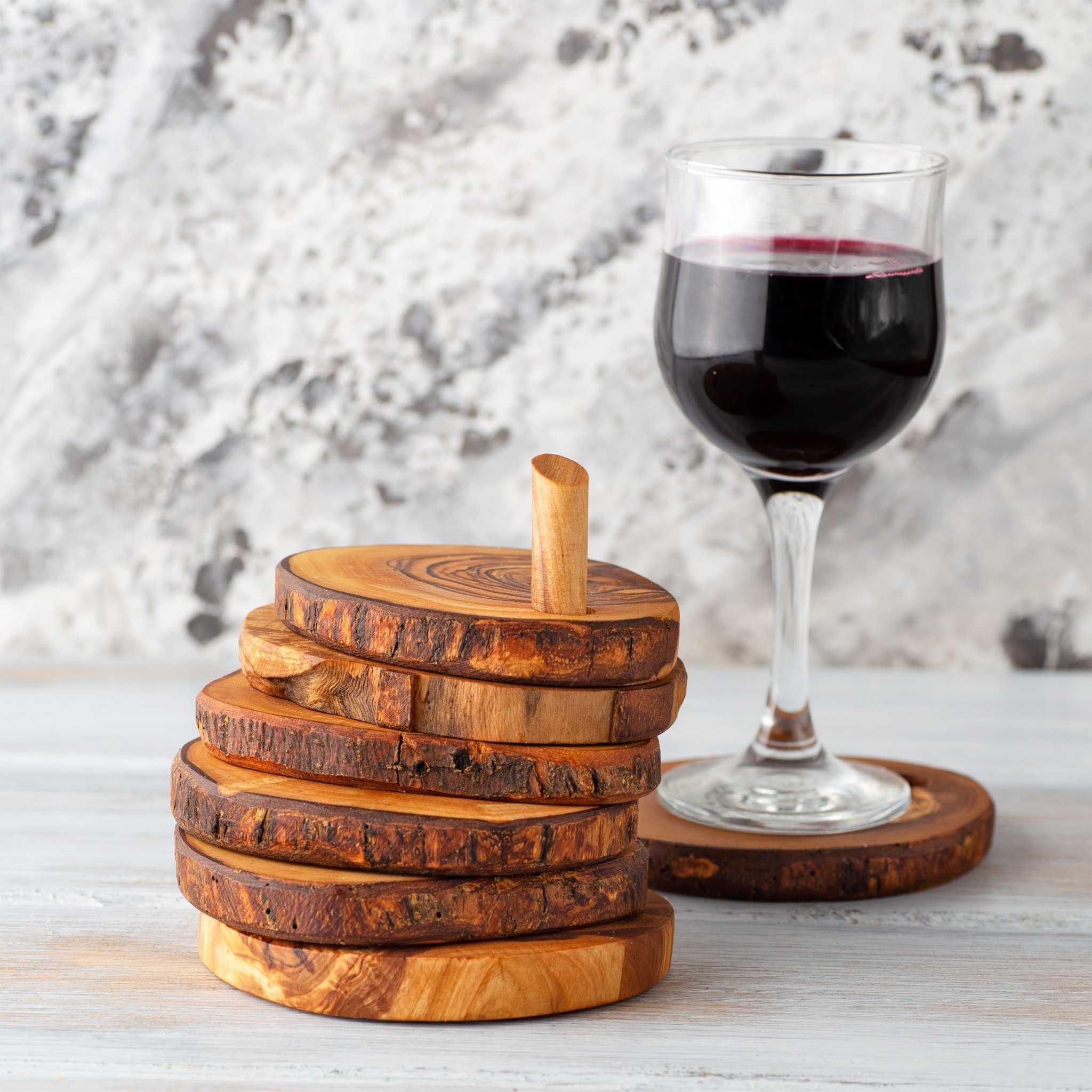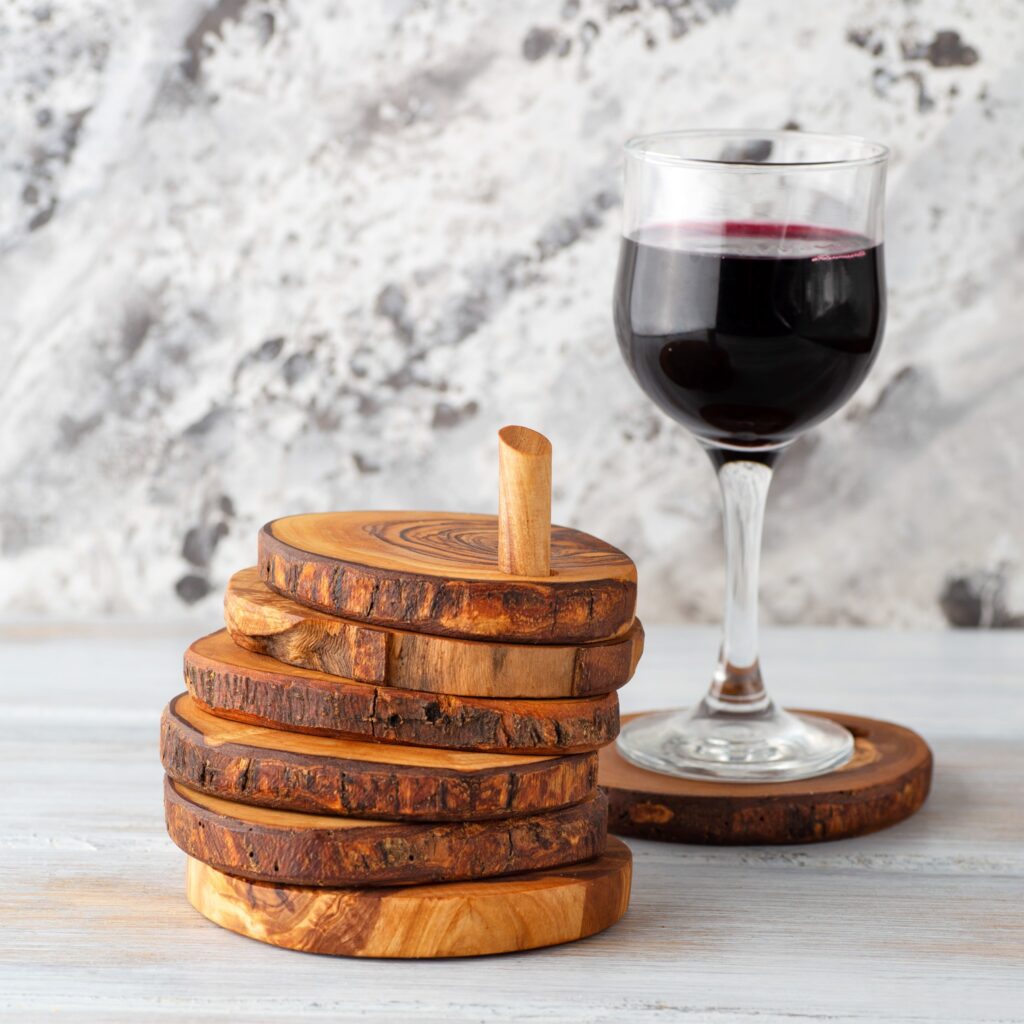 Beautiful Wood Finish
Our artisans enjoy designing quality into every piece. They have a great eye for detail and they style the olive wood grain to its best advantage. So, our rustic coasters aren't just generic wooden coasters – they're artistic renderings of the amazing patterns found in our premium olive wood. Stack them straight or arrange them like the photo and they'll do your home justice.
Made to Last
Our olive wood coasters are made to last and last. Beautifully shaped and solid in design, when properly cared for they will give you years of enjoyment.
Easy to Clean
Like all our other real wood products, we recommend hand washing this olivewood coaster set with pin with warm soapy water and drying them to help keep them clean and ready for your next gathering.
Regular Wood Maintenance
These beautiful olivewood coasters are made with genuine olive wood, so we suggest polishing them periodically with mineral or olive oil.
Gifts People Appreciate
Who wouldn't love a set of olive wood coasters stacked on a trendy pin? They make great birthday gifts for anyone – and imagine them sitting beside Dad's grilling accessories. Who do you know who's moving? Olivewood housewarming gifts are the best.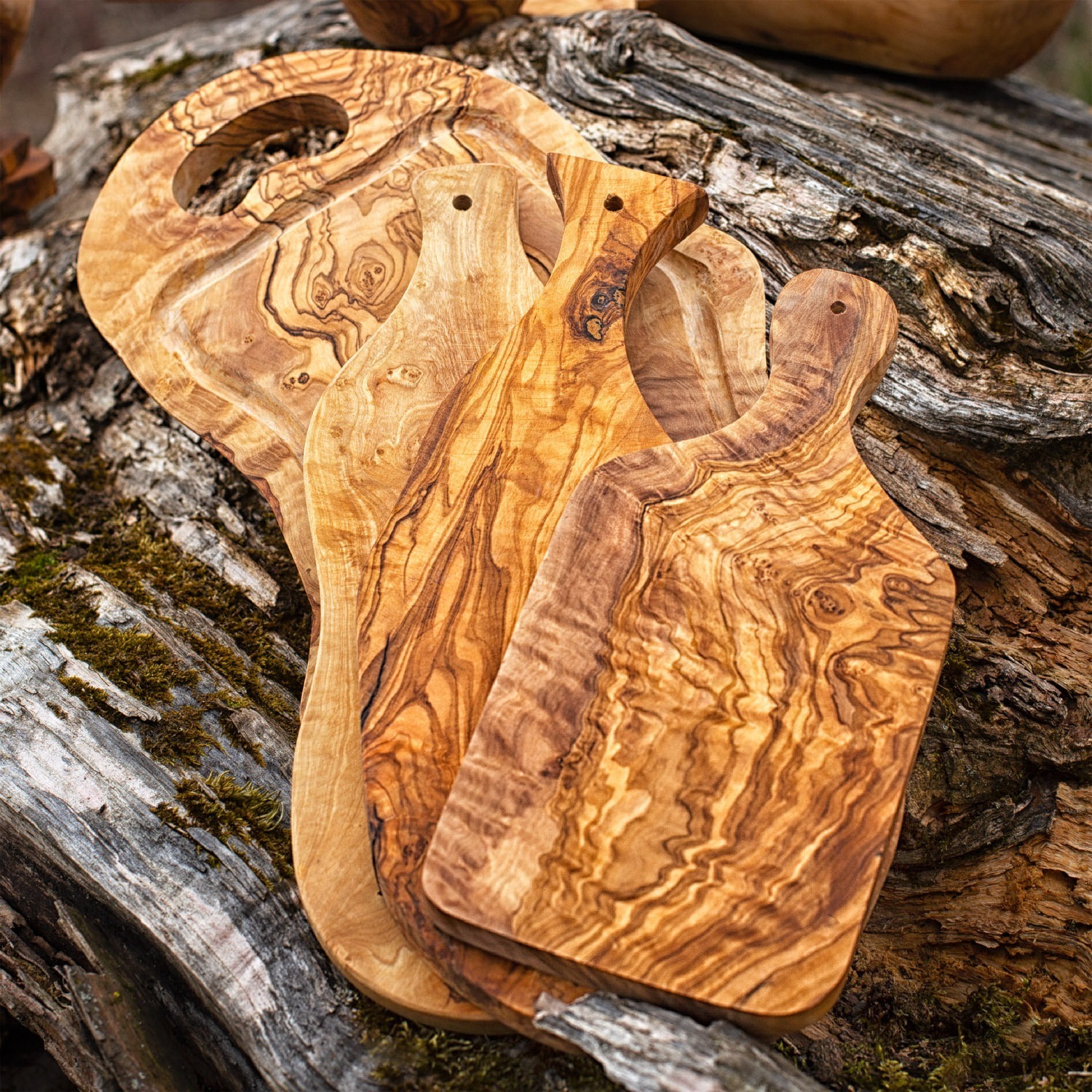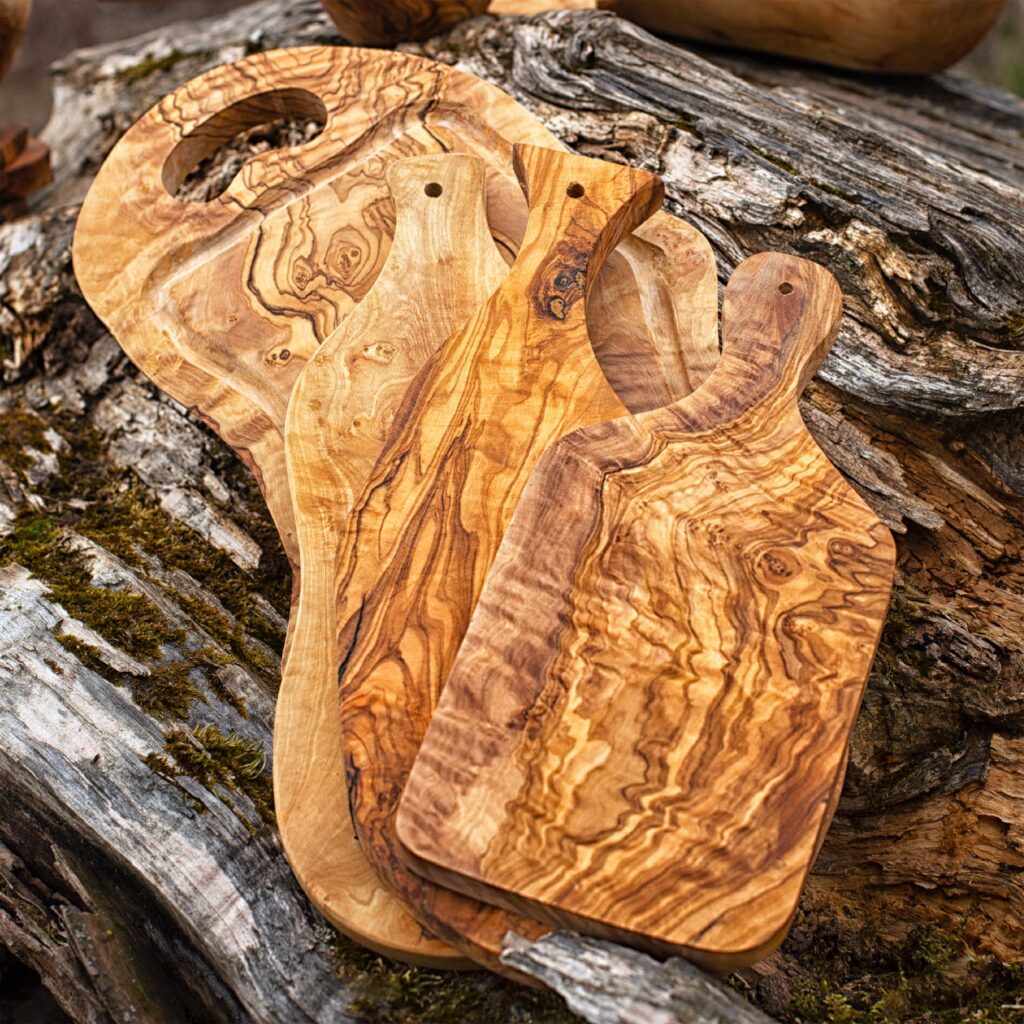 Related products
Products that You Might Also Like