5
Min Reading
Fancy steak dinners and date nights do not have to occur in a restaurant. You can have steak dinners at home. If you know how to pan-sear or grill a steak, you may never order one in a restaurant again. It is not only cheaper but tastes better.
You have to know how to choose a steak, season it, and cook it. Learning and putting the knowledge to the Grill will make you a more confident cook.
An Epic Steak Charcuterie Board is an excellent way to entertain.
A cheeseboard and steak dinner are combined on one plate. It is easy to make a splendid tray for a dinner party or date night with various steaks cooked to perfection and complemented by cheeses and other cheese board favorites.
Ingredients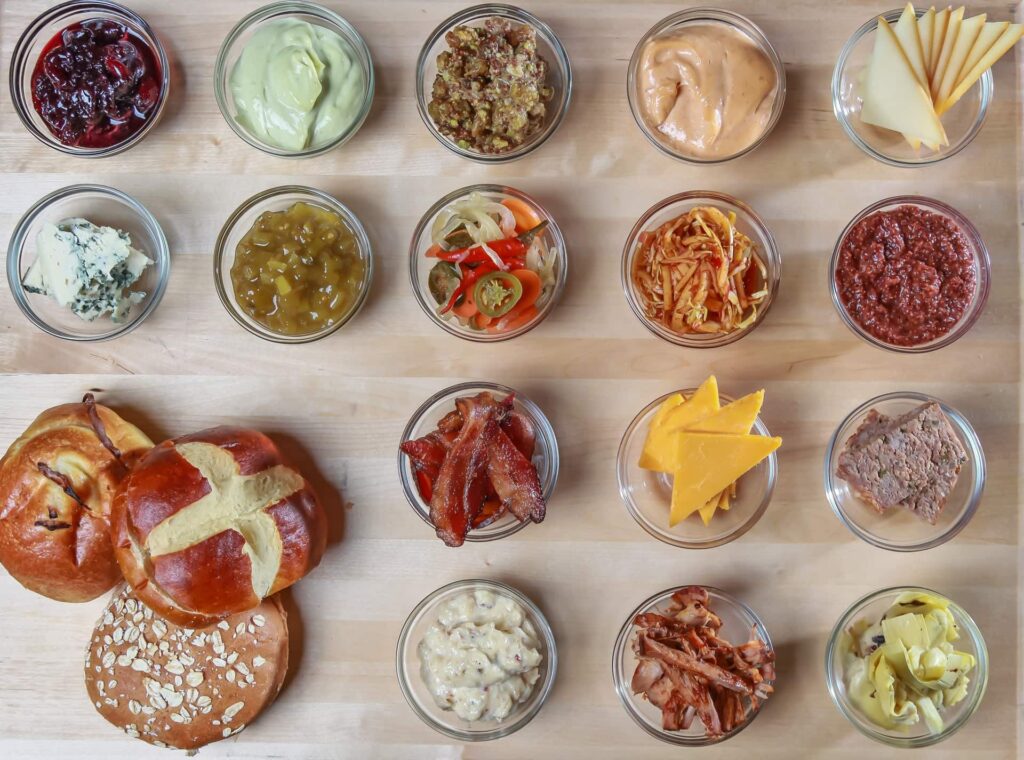 A charcuterie board is a platter or board arranged with finger foods, cheeses, and cured meats. It can be fancy or simple. There have been charcuterie trays that cover an entire table. They are also referred to as meat and cheese boards.
What you call them is not as important as what you use to create them. A Steak Charcuterie Board implements the staples of a typical charcuterie board with steak added. The ingredients include
Steak

Cheese

Fruits and nuts

Condiments

Bread and crackers

Vegetables
Choose a budget-friendly or favorite steak. Filet mignon or a Tomahawk steak are excellent choices. Quality is critical when it comes to selecting cheese. You want two or three kinds that differ in texture and flavor on the board. Hard, semi-hard, and semi-soft cheeses are recommended.
Pecans, almonds, pistachios, or cashews 'fill in' the empty spaces on the board to make it look bountiful and full. Use seasonal or dried fruit. Olive tapenades, Pestos, fig jam, or stone-ground mustard are go-to charcuterie board condiments.
Choose toasted baguettes, multigrain crackers, baked crispy pita chips, breadsticks, or water crackers for the board. A lot of vegetables are not necessary. Most of the classics that are always appreciated are roasted brussels sprouts or red pepper, marinated artichokes, and olives.
Choosing the Steak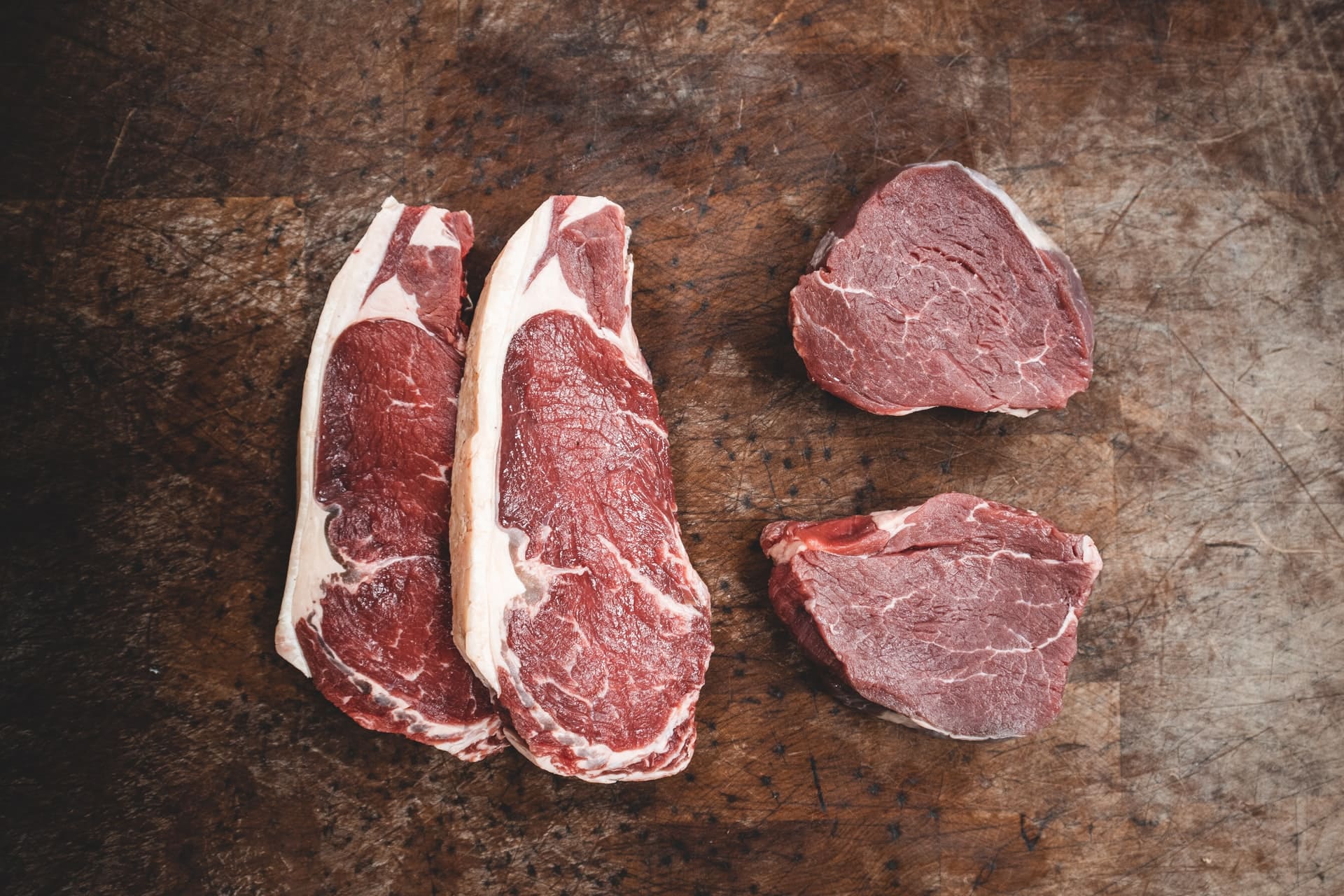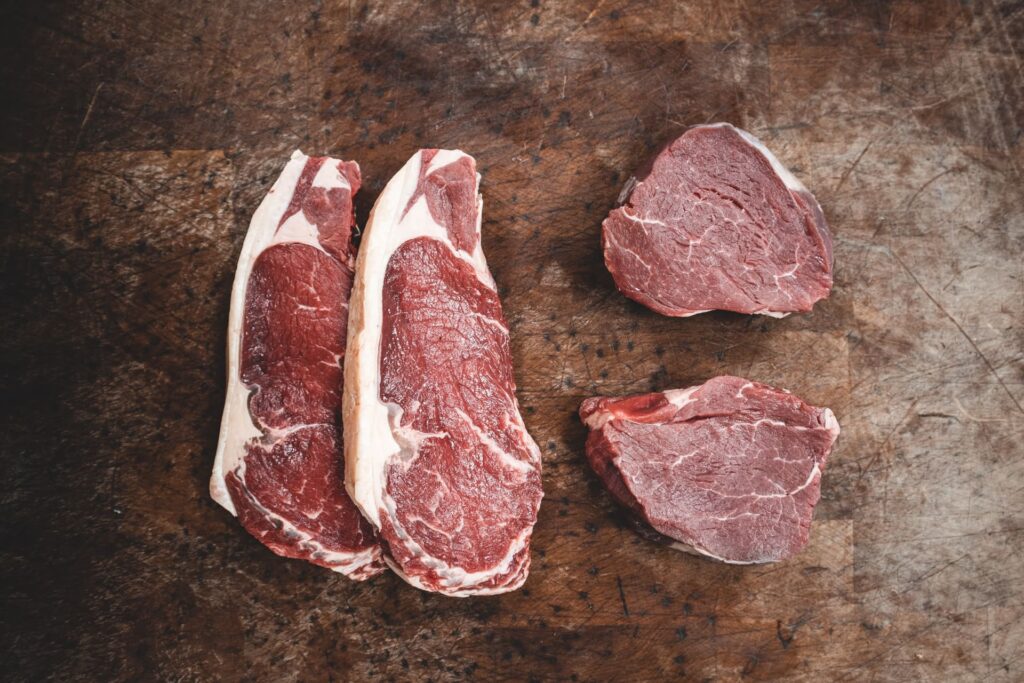 You can use any steak on the board. There is a sort of hierarchy of steaks. The steaks that yield an OMG finish include
Filet mignon

Ribeye

Tomahawk

Top sirloin

T-Bone
Filet mignon is the most tender. It is usually two to three inches thick with a very mild flavor. For a rich steak flavor and excellent marbling, choose ribeye. You can buy this steak with or without the bone. Steak connoisseurs believe the bone-in variety has more flavor.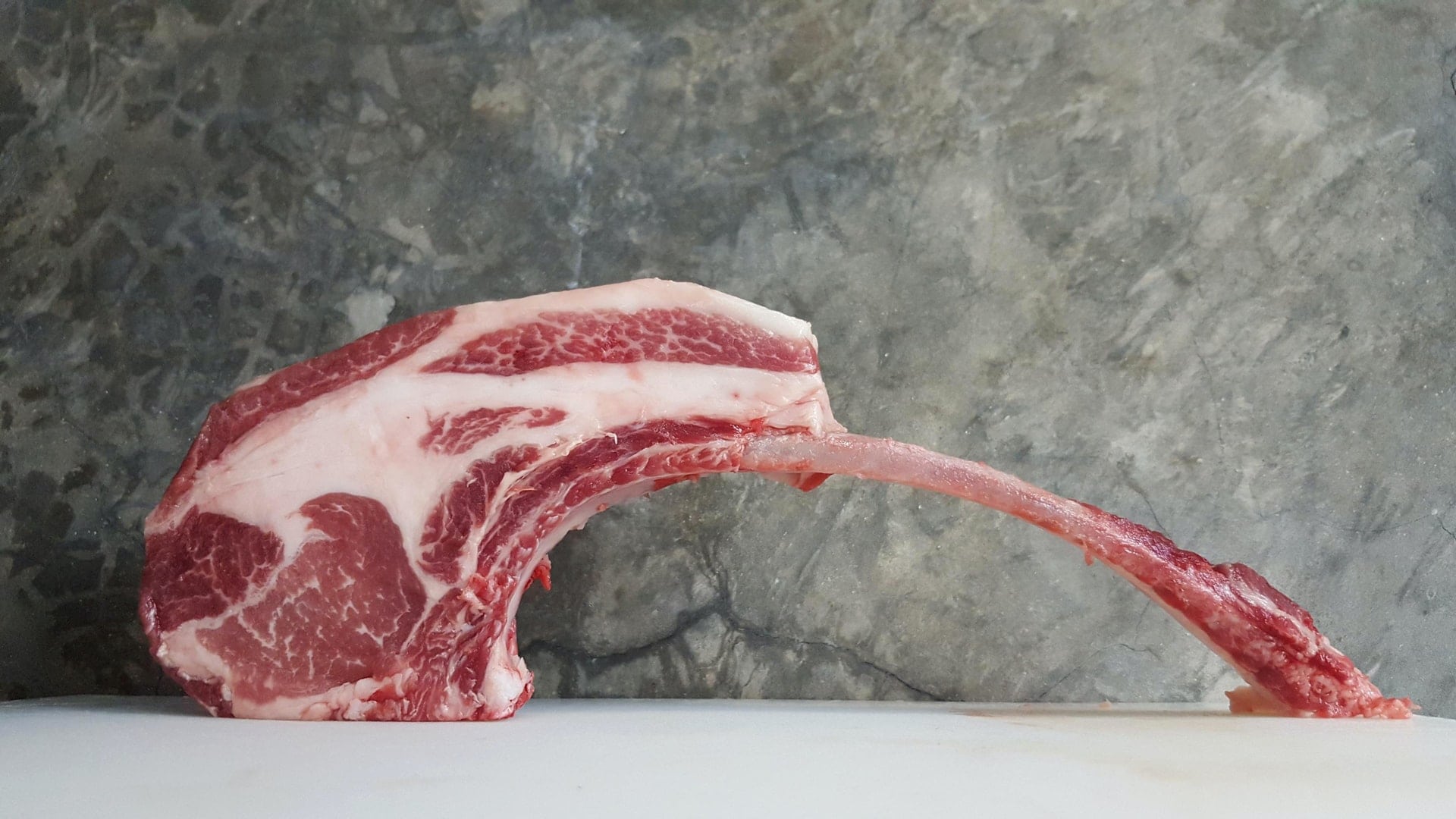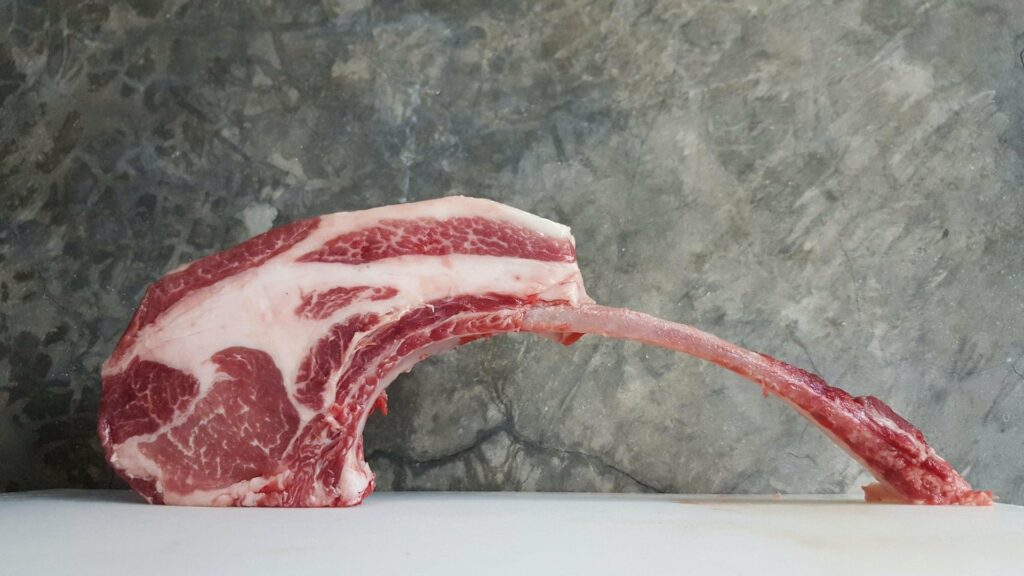 A Tomahawk steak is much like a ribeye with a bone. The difference is at least five inches of the bone extends from the meat. It is sort of like a steak with a handle. The flavor is intensely glorious, especially if prepared with a reverse sear.
The New York strip steak is also called the Kansas City strip or simply a strip steak. It is marbled less than a ribeye and has a firmer texture. Top sirloin is a naturally lean cut of meat. It usually weighs between five and ten ounces.
You get a deal with a T-bone steak with two kinds of steak in one cut – a NY strip and a ribeye. The steak you choose must be cooked well. How to Grill is a suggested book that shows techniques for grilling that will wow the crowd.
Choosing Ingredients for a Steak Charcuterie Board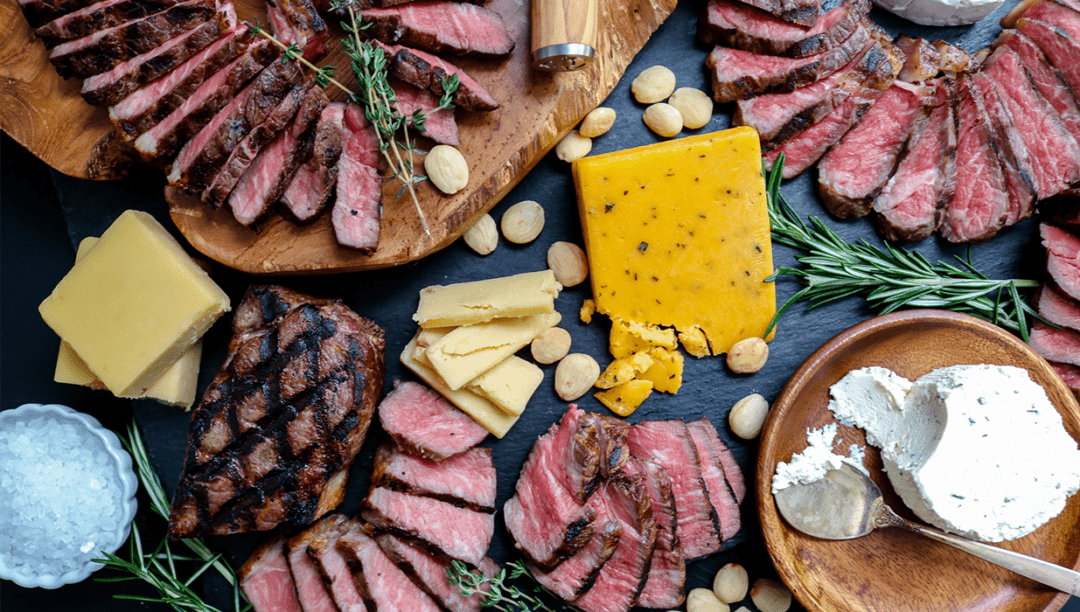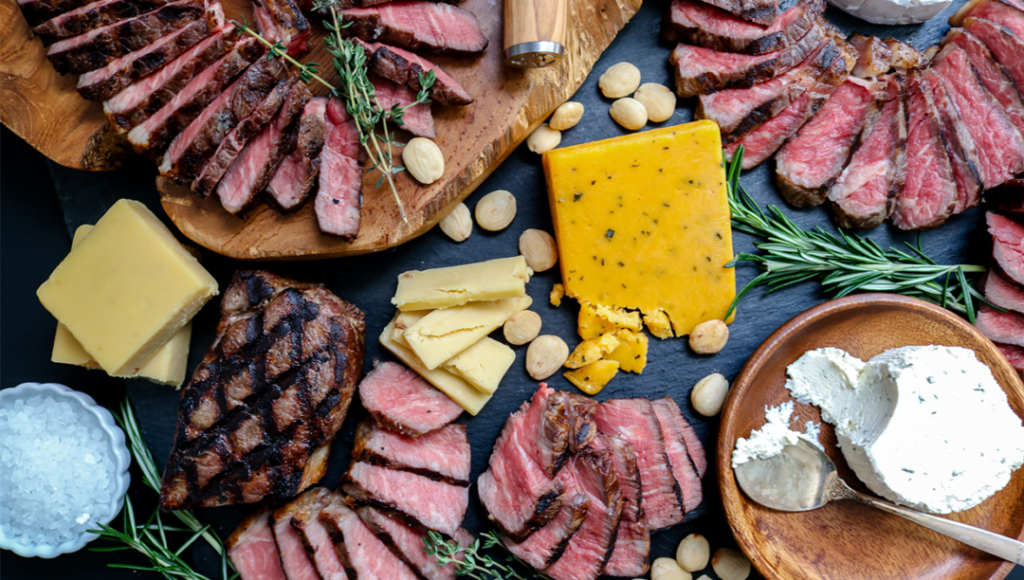 The trick to epic steak charcuterie boards is choosing quality cheeses, steak, and fun extras. It is absolutely necessary that you know how to grill the steak. When you master grilling steaks, all other grilling comes naturally. Messing it up is a costly mistake.
There are three grades of steak – Prime, Choice, and Select. Select is advertised or sale-priced meat with little marbling. Choice is signified by a sticker that says it is Choice. With its moderate marbling, most people consider it an excellent cut of meat. Prime is the highest quality with abundant marbling and worth the extra money you pay for it.
When picking the cut of meat, keep in mind the grade of meat, date, and amount of marbling. Prime is highly recommended but choose Choice if the budget doesn't allow it. It is permissible to shuffle through the meat packages to find the freshest. You can also ask the butcher behind the counter. because they know what's out and the best buy. Be sure you see plenty of marbling, but not to the extent there is little meat.
Choose two or three cheeses that vary from hard to soft.
Select three to five sauces and condiments to add to the board.
Use breadsticks, whole wheat crackers, or toasted baguettes.
If you add fruit, cranberries, dried cherries, pomegranates, grapes, or figs are recommended.
Raw almonds, candied pecans, and cashews are excellent choices for nuts.
Some vegetables to add to the board are grilled mushrooms, olives, roasted red pepper, and marinated artichokes.
Grilling the Steak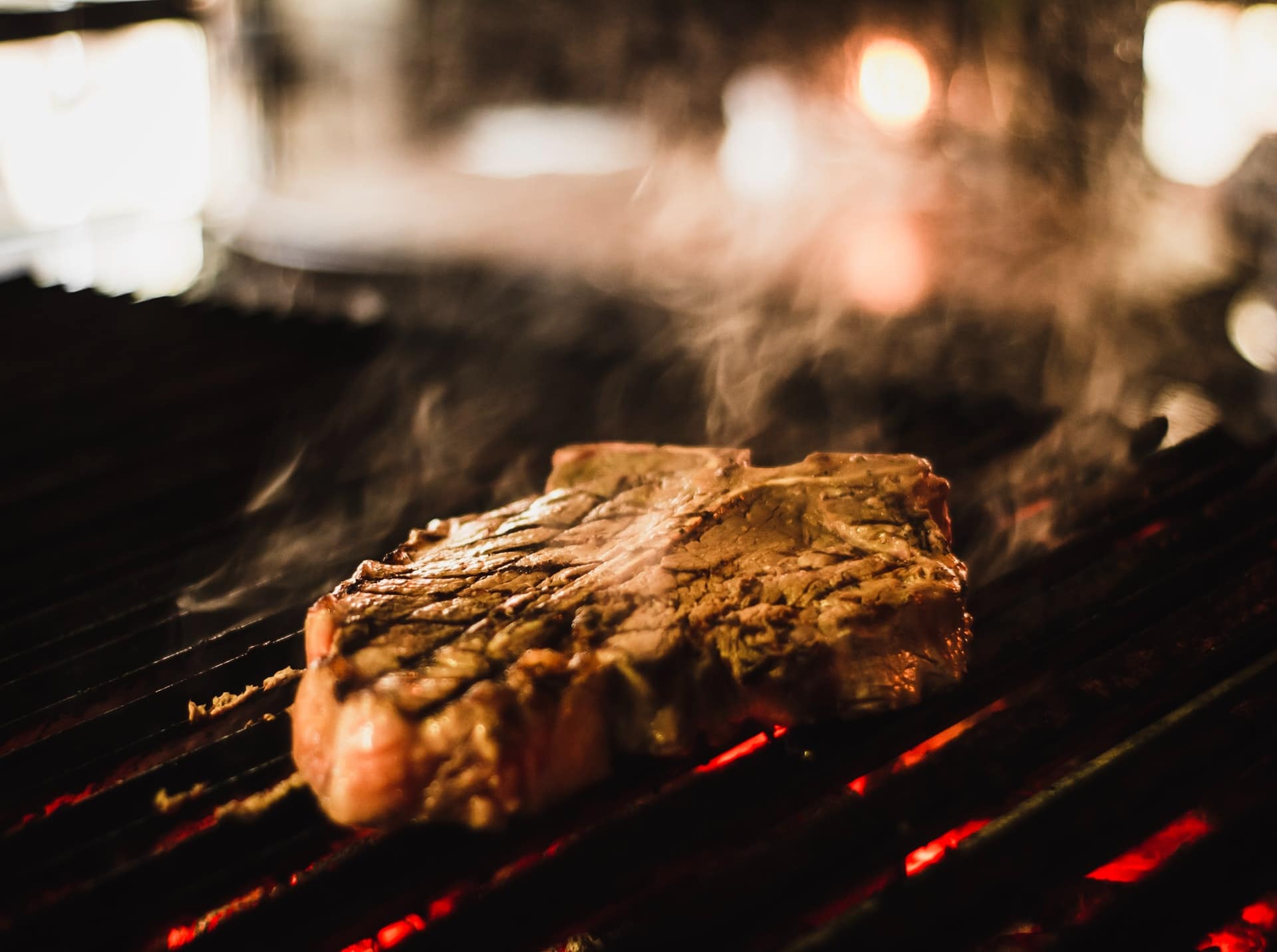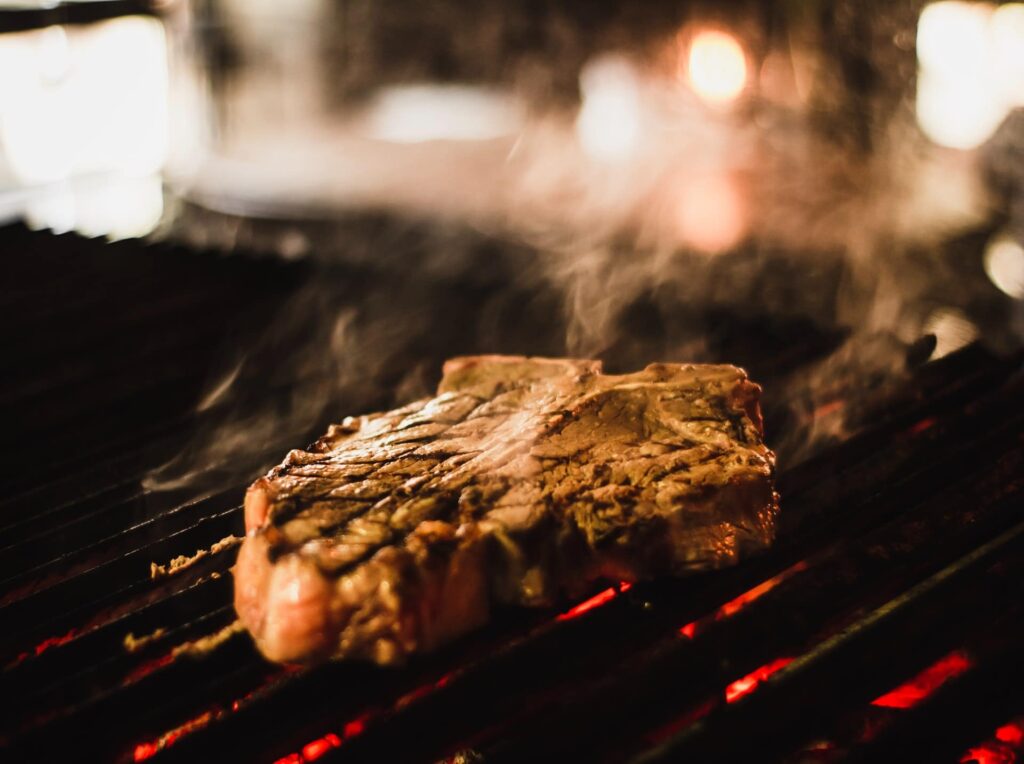 An excellent thing about steak is choosing the temperature and level of doneness you prefer. The doneness levels are well-done, medium, medium-rare, and rare. Respective temperatures are 150° F, 135-140° F, 130° F, and 120° F. A meat thermometer helps achieve the temperature and doneness.
After grilling, allow the steak to rest, because any protein placed on a hot surface seizes up, and the juices go to the center. Letting steak rest for five minutes allows the juice to redistribute through the steak.
Assembling the Steak Charcuterie Board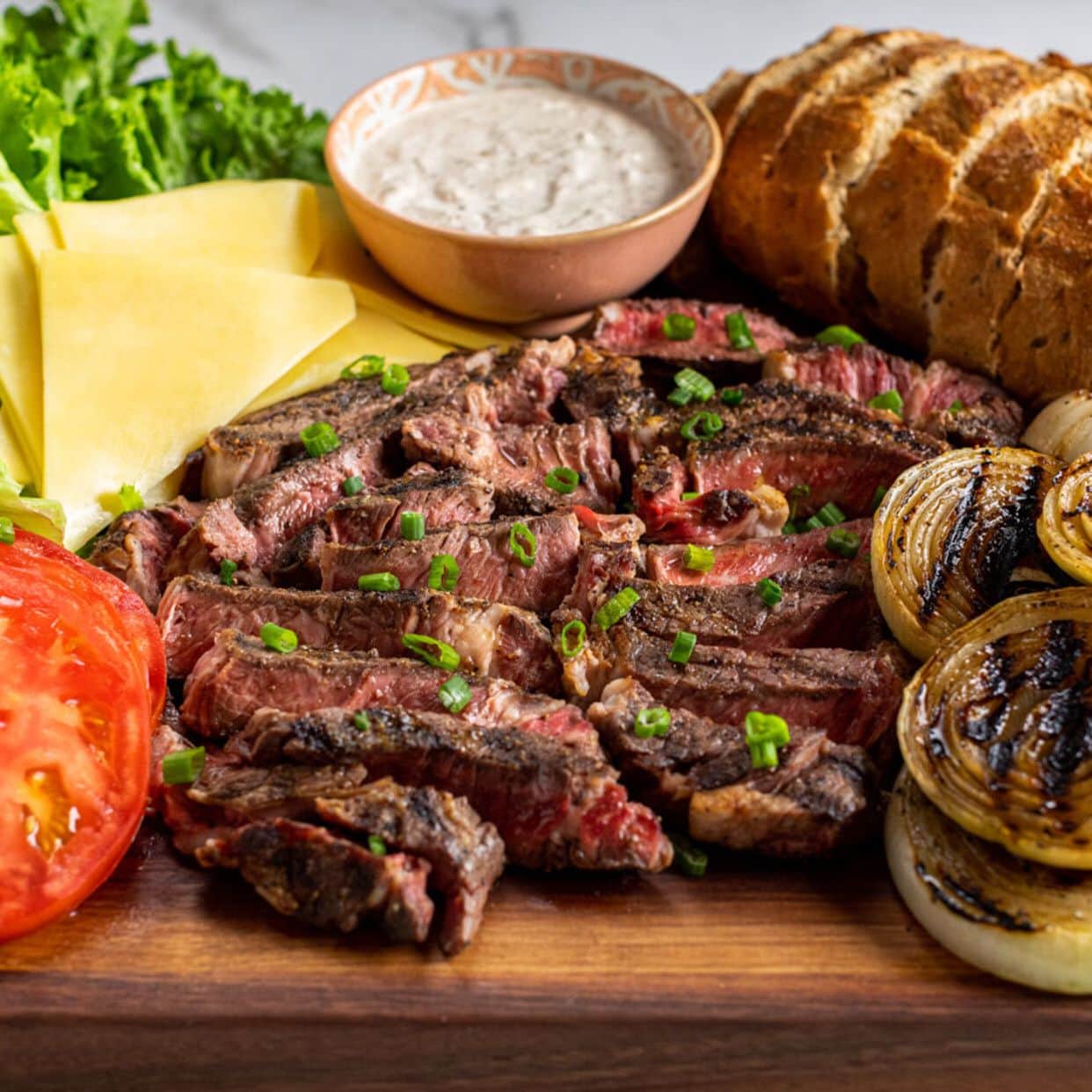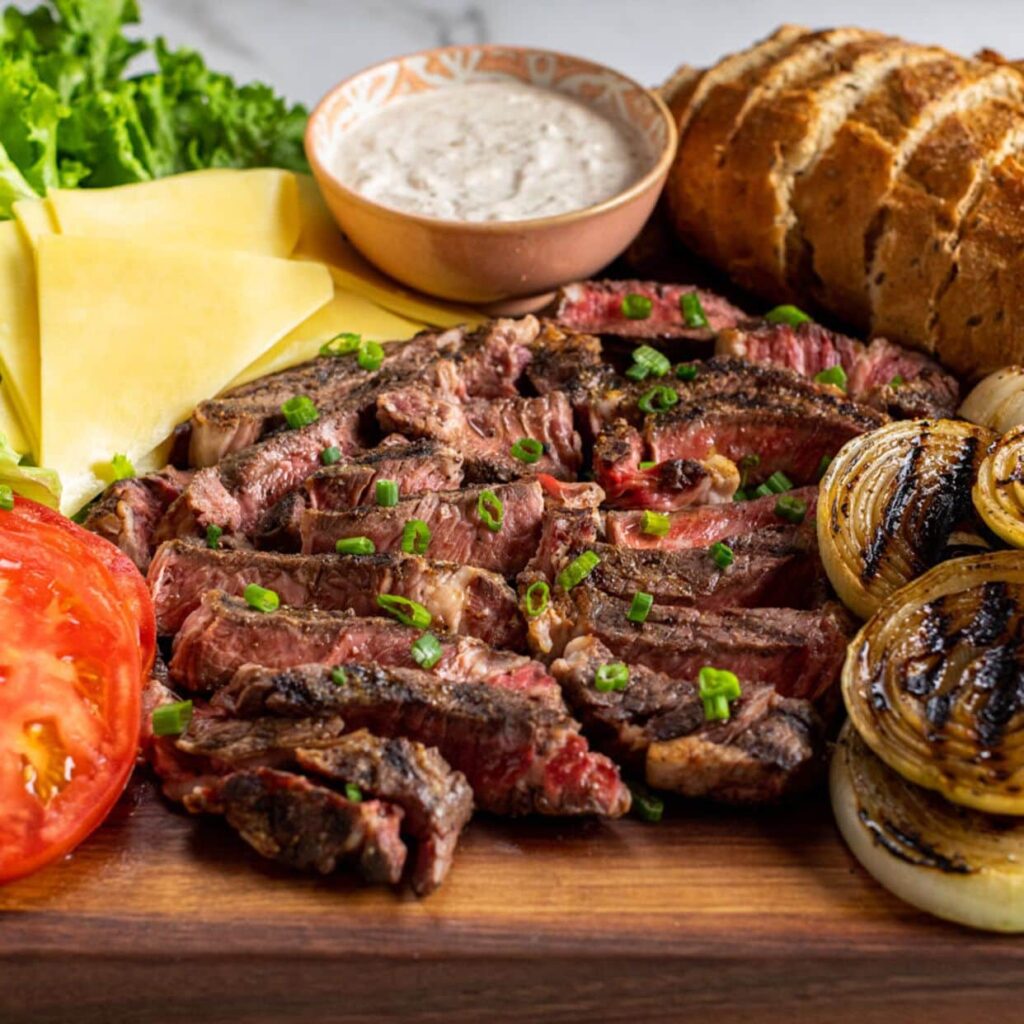 A wood charcuterie board is an excellent choice to display your creation. Place the vegetables and condiments in several places on the charcuterie wood board. After allowing the steaks to rest and redistribute the juices, place them in groupings on the charcuterie wooden board.
Assemble cut and uncut cheeses between the vegetables and steak. Add crackers or bread to the board. It does not have to be perfectly organized. Fill in open spots with nuts and fruit to make the wooden charcuterie board look full. The finishing touch is placed alongside the board by including a pinot noir or cabernet sauvignon wine.