5
Min Reading
Make a lovely appetizer platter for entertaining needs by preparing and arranging a cheese and meat tray. This article provides information about the best cheeses, cold cuts, and charcuterie tray meats to pair with the best types of wine.
What Is a Charcuterie Tray?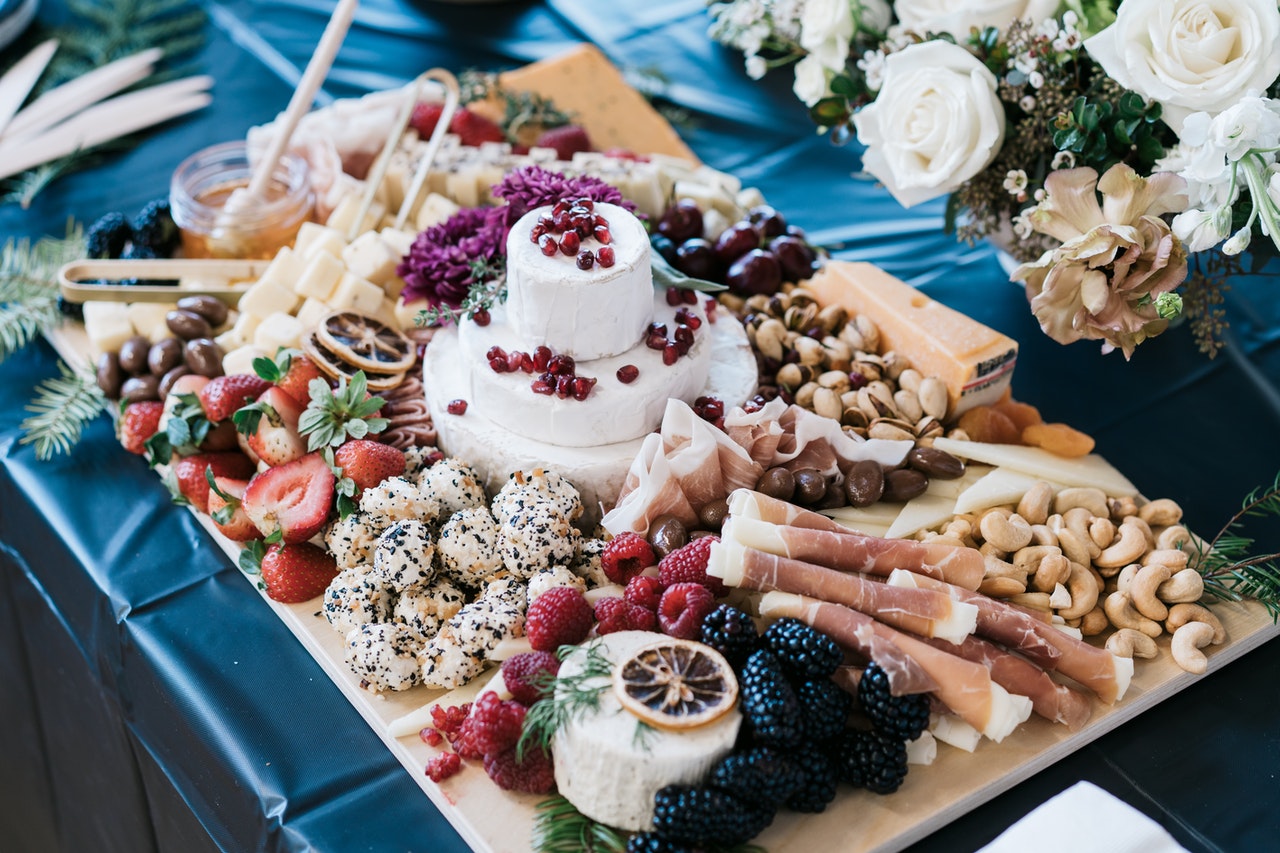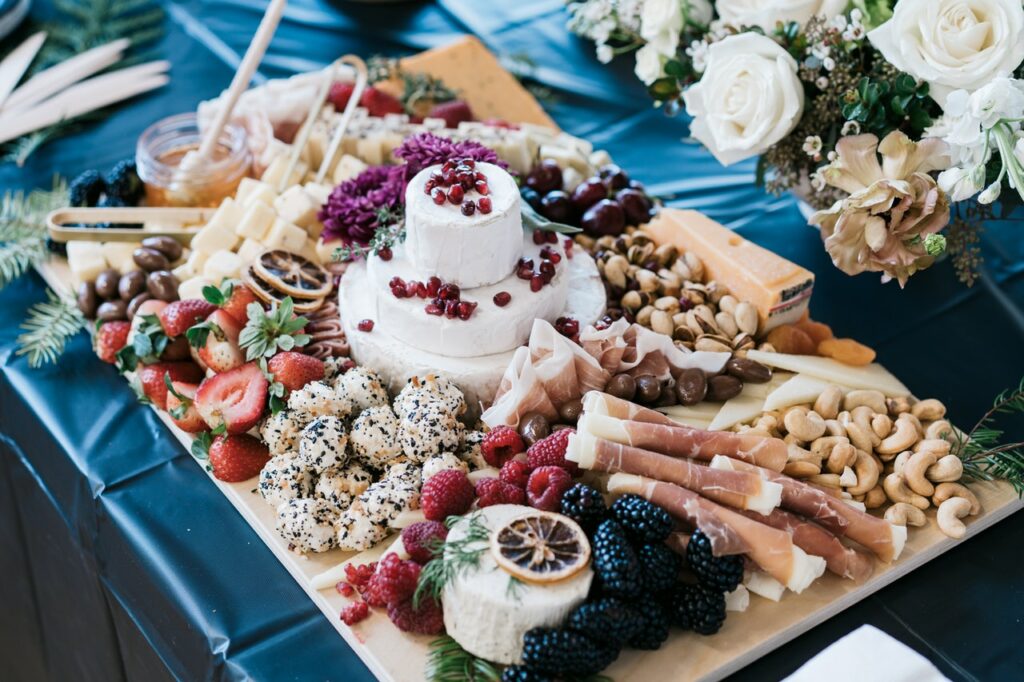 Charcuterie is a relatively recent term. 'What is a cheese and meat tray called?' is among the most frequently asked Google questions. According to Wikipedia, charcuterie is taken from the French to refer to cooking devoted mainly to pork meat products.
With the increased popularity and availability of cold cuts from various meats, charcuterie is the general term for any meat, including salami, confit, ham, and bacon. A charcuterie board is prepared with a variety of cured meat.
A charcuterie cheese and meat tray involves more than putting cold cuts and cheese on a board with bread and crackers. The arrangement is acceptable, but a charcuterie board feeds guests' eyes before satisfying their appetites.
Most are arranged with crackers, nuts, dried fruit, and various cheeses and served as appetizers. The right combination of crackers, meats, cheese, and wine helps master the preparation of a gorgeous cheese and meat tray.
Choosing the Cheese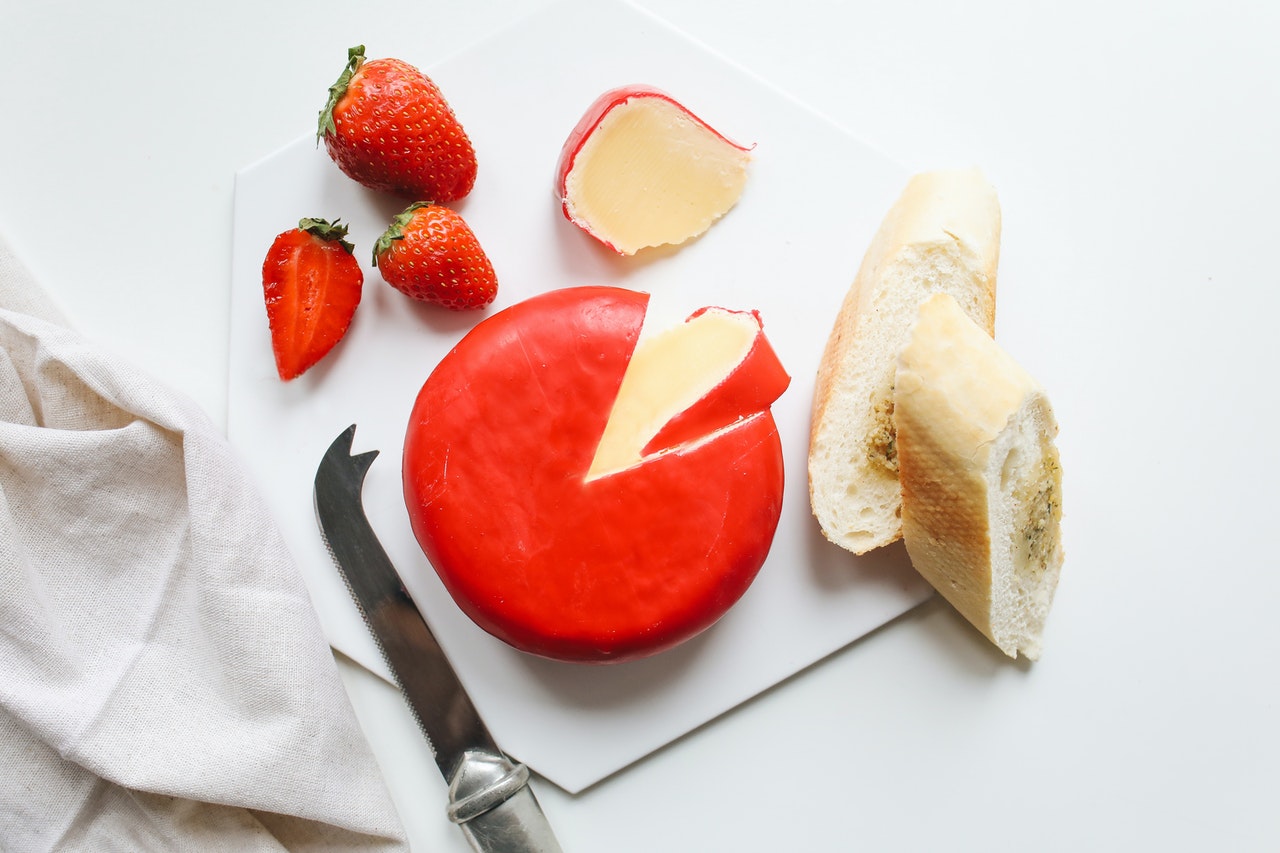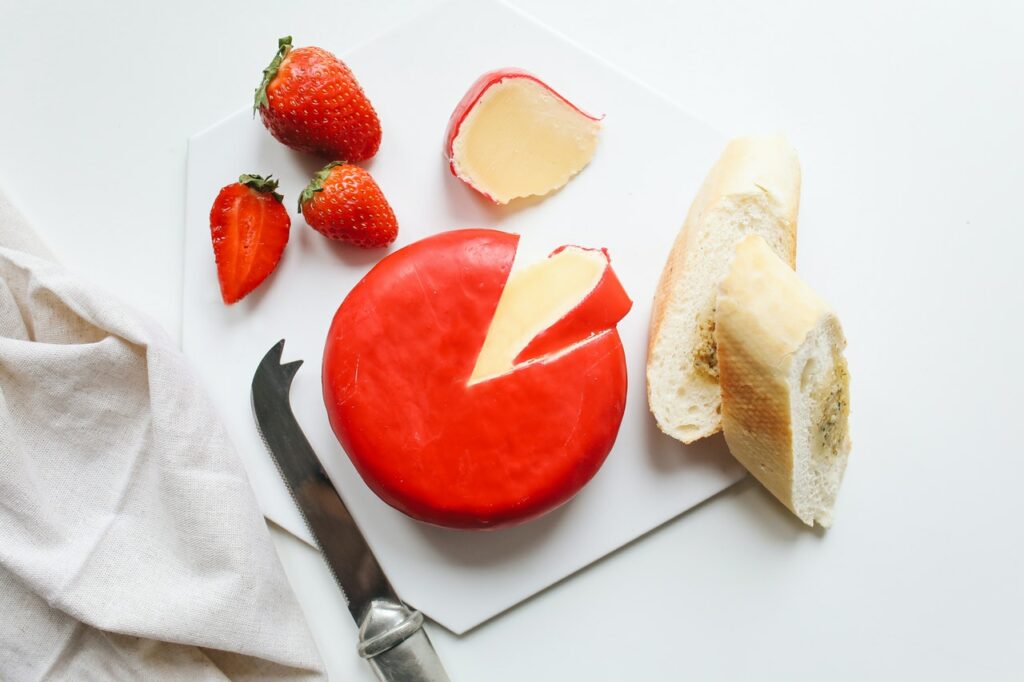 Most supermarkets have a selection of cheese that goes beyond cheddar, cottage, mozzarella, and provolone cheese. When choosing cheeses for a charcuterie board, consider texture and taste. There is a variety of cheese textures and flavors.
Having an odd number of cheeses on the board makes it visually appealing. Each type should have a different texture. Some excellent choices include
Aged Gruyere, Sharp Cheddar, or Gouda

Blue Cheese that includes Roquefort, Stilton, or Gorgonzola

Crumbly Feta or Goat Cheese

Firm Gouda, Manchego, or Parmigiano Reggiano

Smoked Cheddar, Provolone, or Gouda

Soft and Creamy Fresh Buffalo Mozzarella, Burrata, Epoisses, Camembert, or Brie
Each variety has a unique smell, texture, and flavor. Gorgonzola, Stilton, and Epoisses have excellent taste and texture but are a bit smelly. You may want to avoid them if you are uncertain about the palate of your guests.
Cheese and Wine Pairing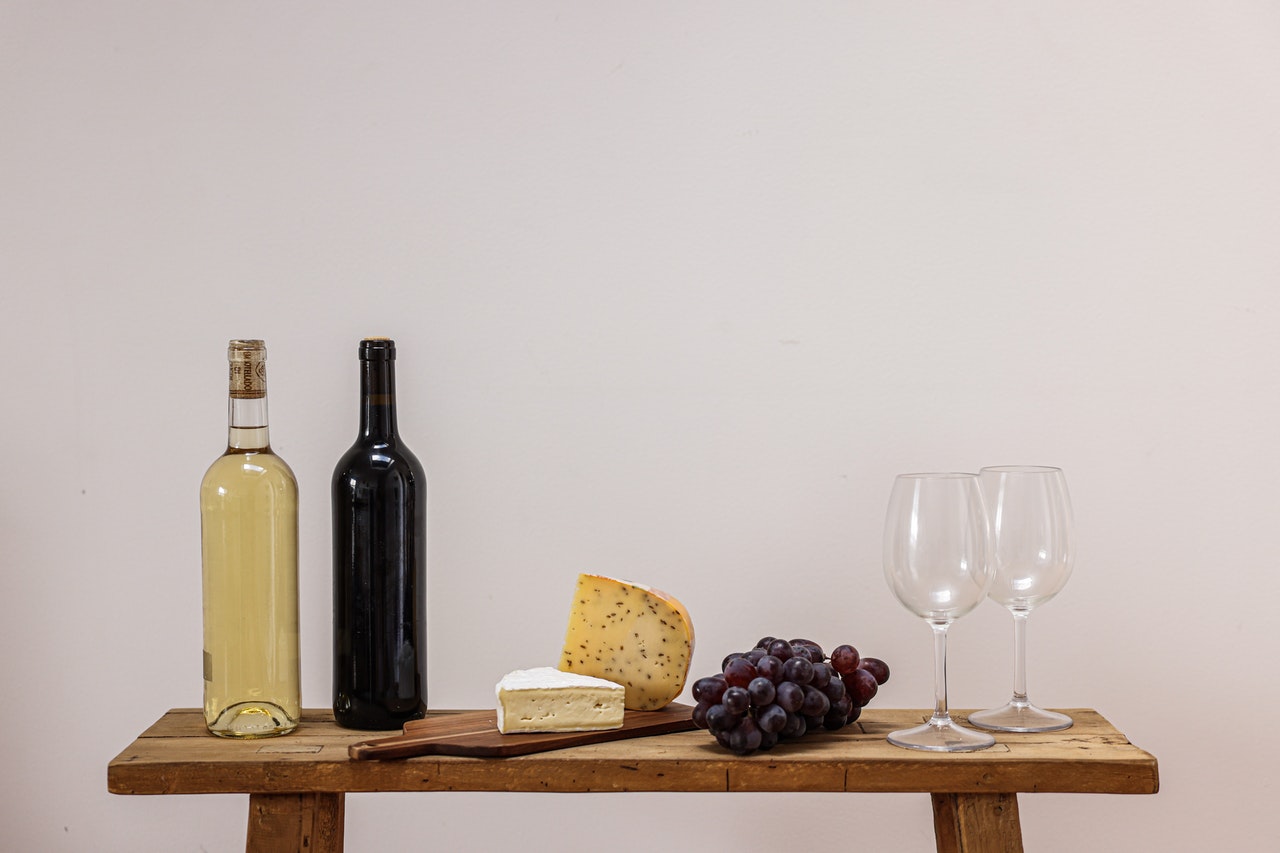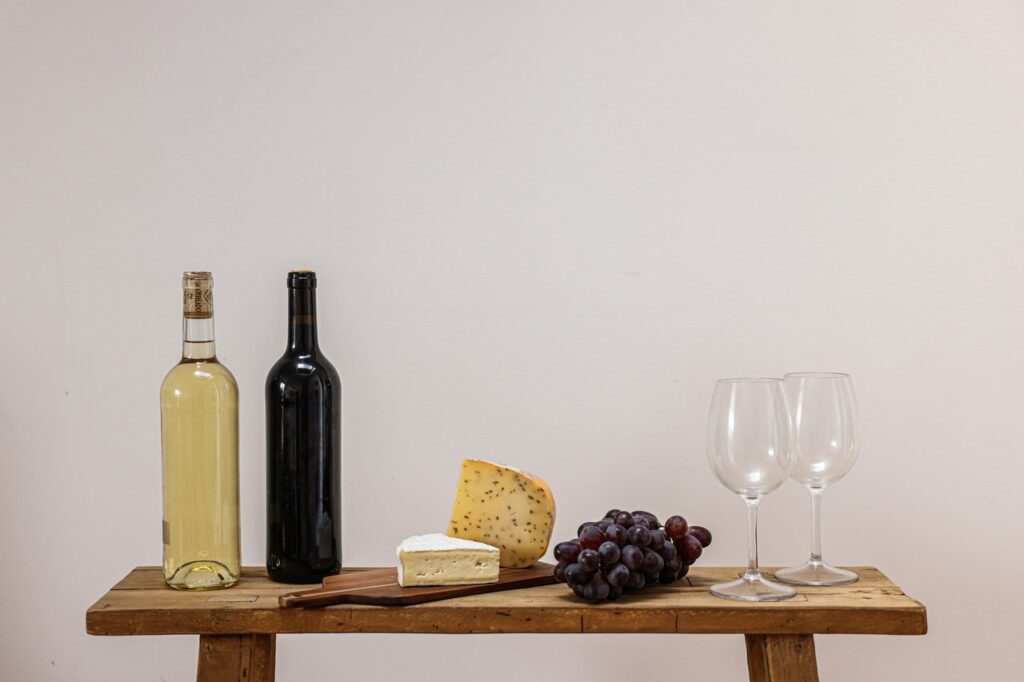 Wine is another critical factor when choosing cheese for a meat and cheese platter. Here are some suggestions.
Cabernet pairs well with sharp cheeses like Irish Dubliner, Smoked Gouda, and Cheddar

Chardonnay has a crisp, clean fruit flavor that pairs well with Brie.

The chocolate tones of Malbec pair nicely with aged Manchego and sharp aged Cheddar

Light to medium-bodied Pinot Noir goes well with Fresh Sheep's Milk Cheese or Manchego.

Citrus notes of Sauvignon Blanc pair well with firm cheese like Gruyere, or soft cheese, such as cream cheese, Burrata, or Mozzarella

Shiraz as dark fruit and cocoa flavors that enhance the taste of smoked Gouda and aged Jack Cheese
Choosing the Charcuterie (Meats)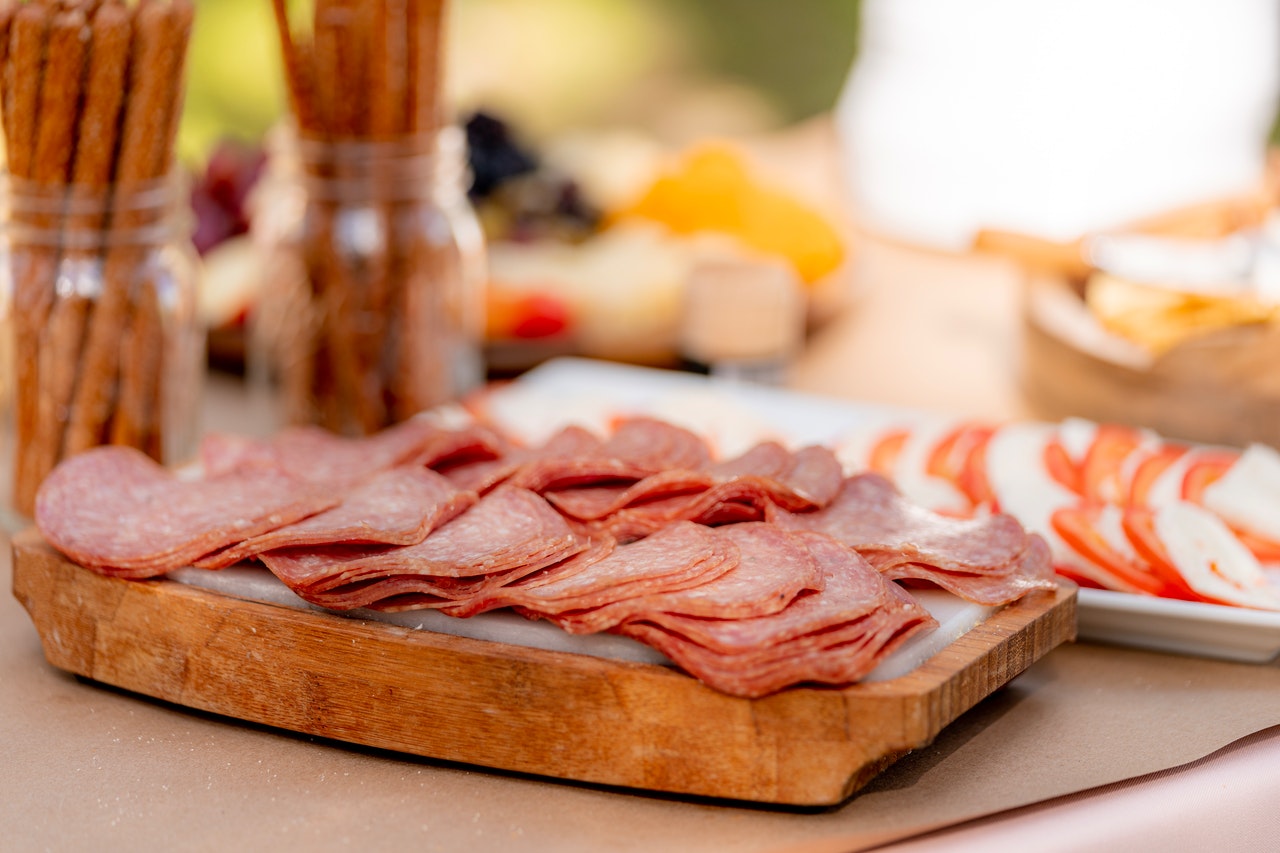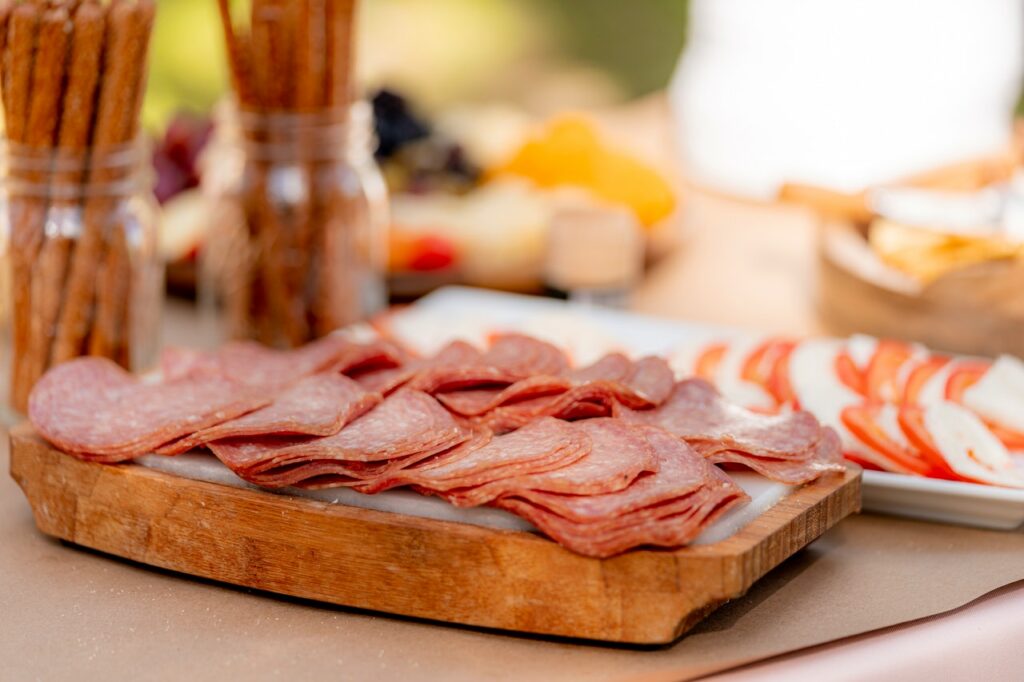 When choosing the meat for a charcuterie tray, select the same number of choices as the cheese. If you use three kinds of cheese, have three types of meat. Some excellent choices include
Dry-cured salami that is made from pork or beef and aired dry

The Italian sausage, Mortadella

Italian Prosciutto which is a dry-cured ham

Sopressata, an Italian dry salami
Bite-sized pork, turkey, or beef jerky is often used.
Bread and Crackers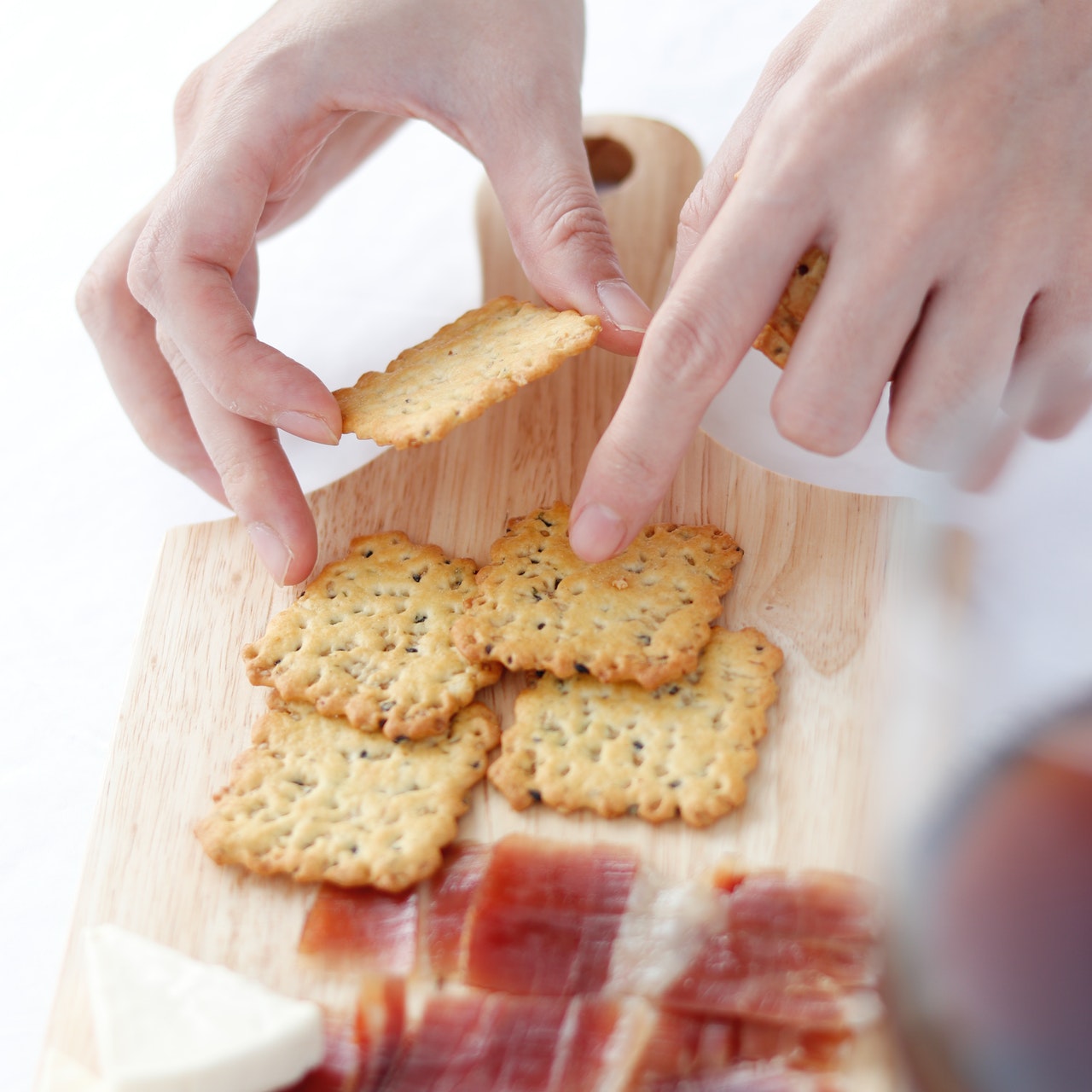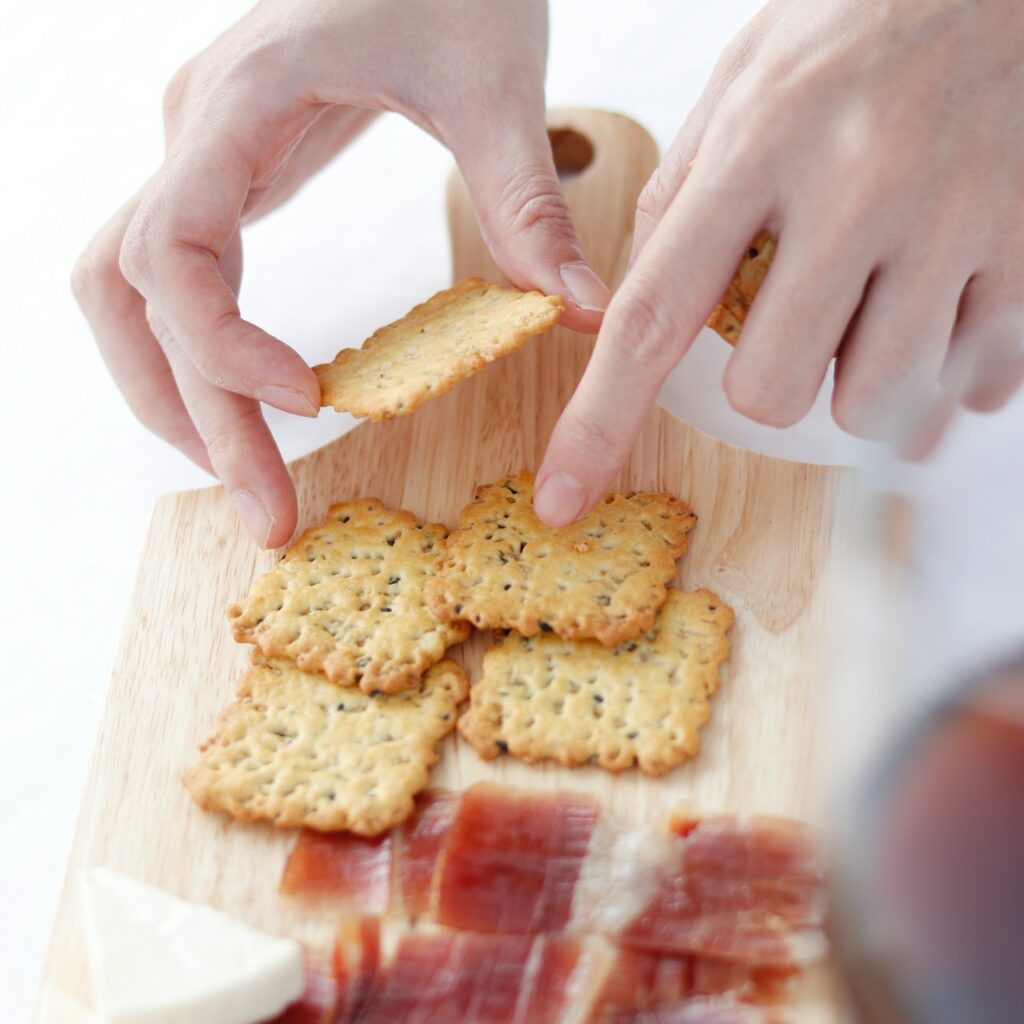 Bread and crackers are the vehicles that get the other items on the board into your guests' mouths. Grocery stores have a variety of breadsticks and crackers from which to choose. Gourmet crackers with nutty and sweet notes are an excellent choice, but you may have a preference of your own. A crusty French baguette can be sliced into ideal-sized portions as a bread choice.
Additional Charcuterie Board Ideas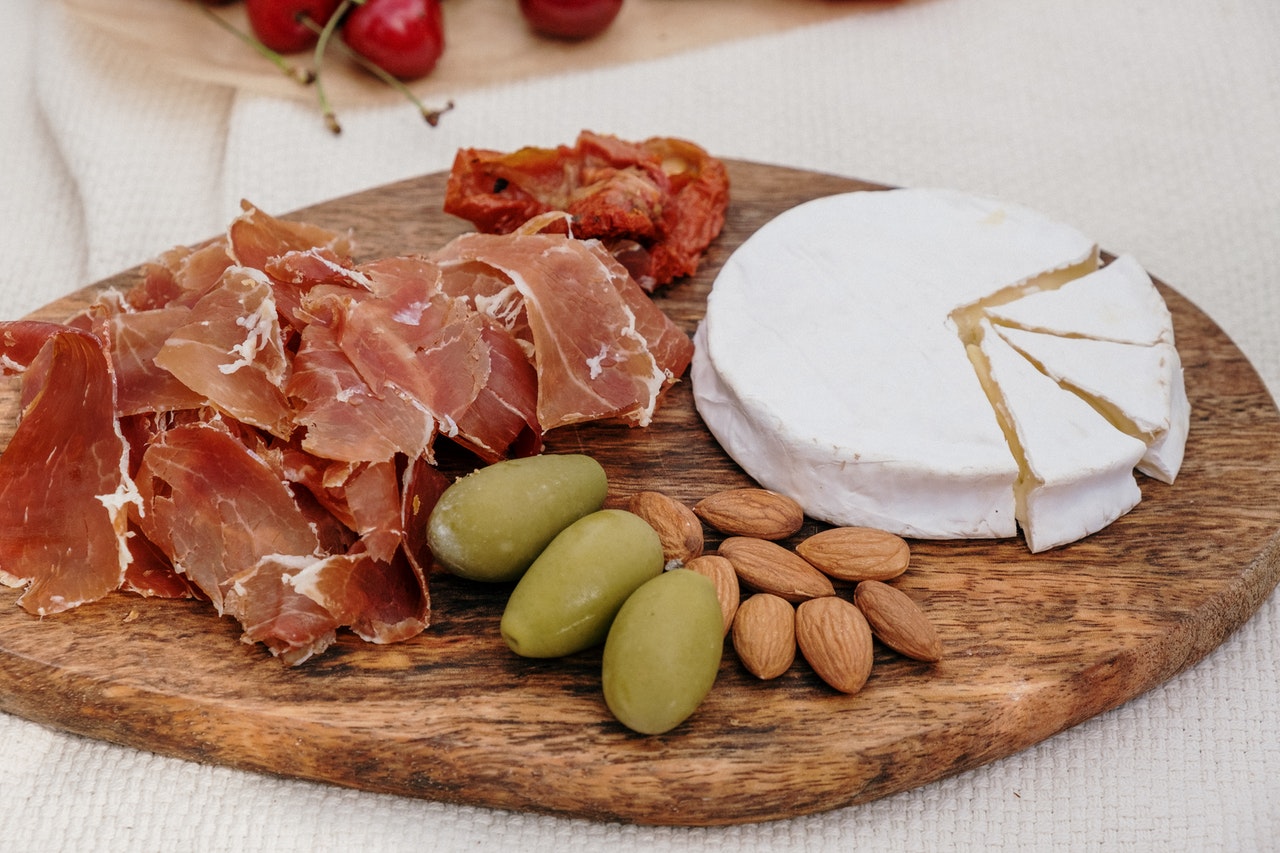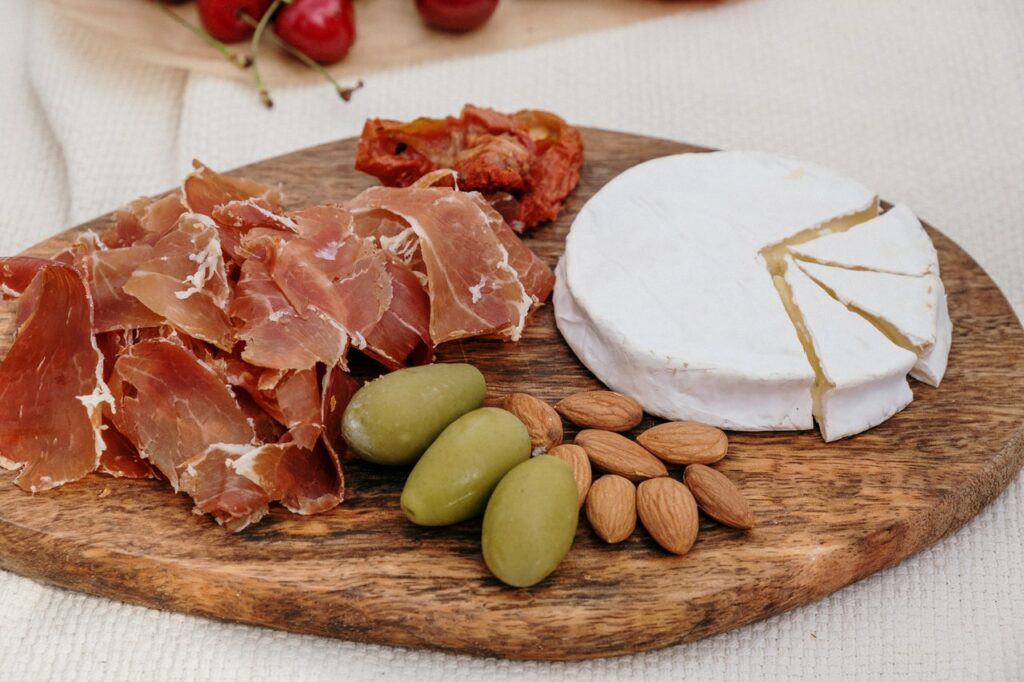 In addition to the various cheeses and meats, some add-ons balance the flavors of a charcuterie board. They include
Sweets

Crunch

Pickles and Olives

Dips
Sweet condiments, such as fig jam, local honey, and fresh vegetables and fruit in season balance the umami and salty flavors provided by meats and cheeses. Sweets mellow the flavors and add color for a visually impressive spread.
A handful of nuts add crunch and make the cheese and meat tray look abundant and full. Macadamia nuts and pistachios are excellent choices. Any nut you prefer is suitable. Spicy candied nuts take the board to a new level.
The tartness of pickles and olives is a welcomed taste on a cheese and charcuterie board. A mixture of cornichons and green and black olives is an excellent choice, but any you like work well. Dips enhanced with fresh herbs add variety and color to a spread. Suggestions include walnut and roasted red pepper dip or Mediterranean hummus.
Serving on a Wood Charcuterie Board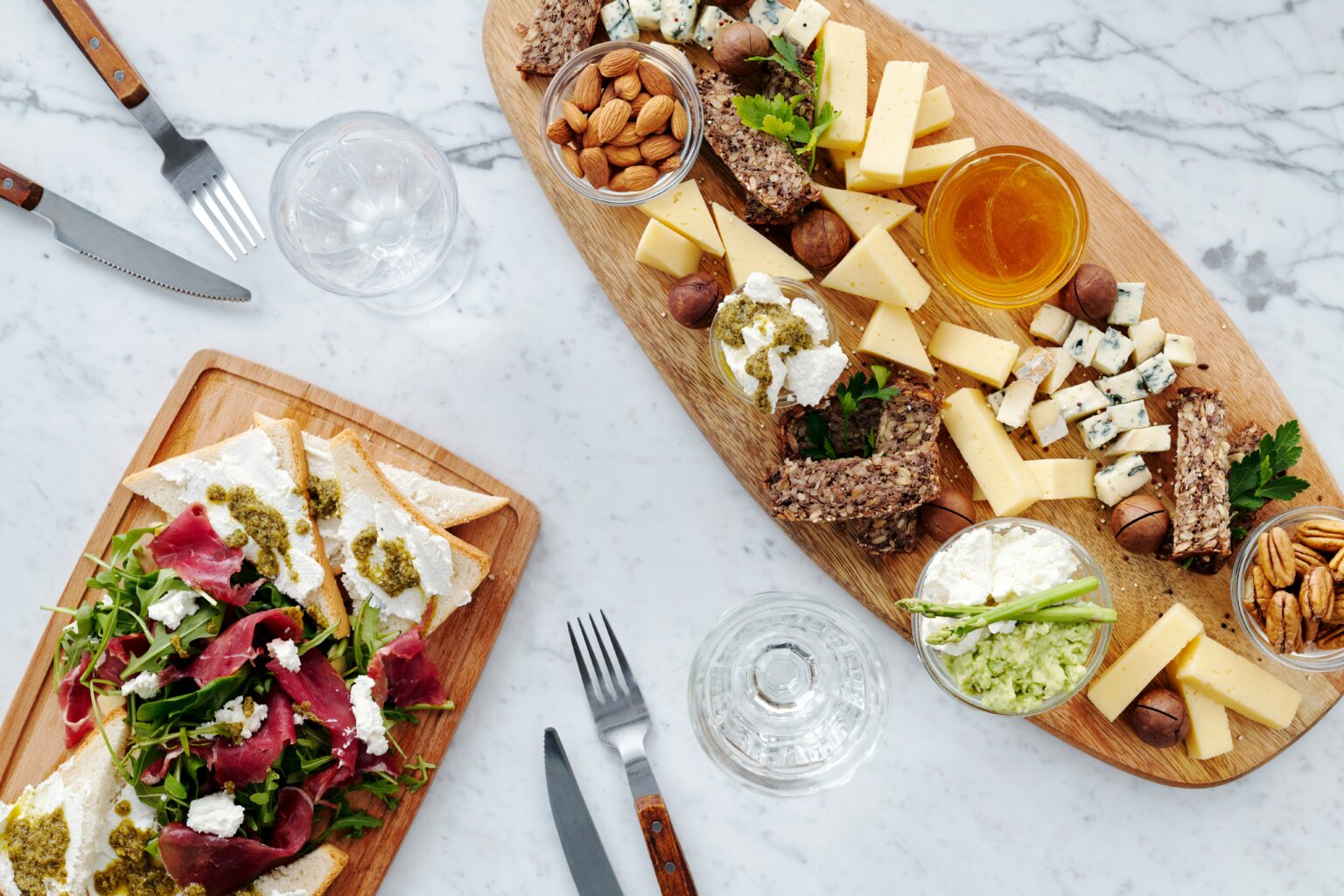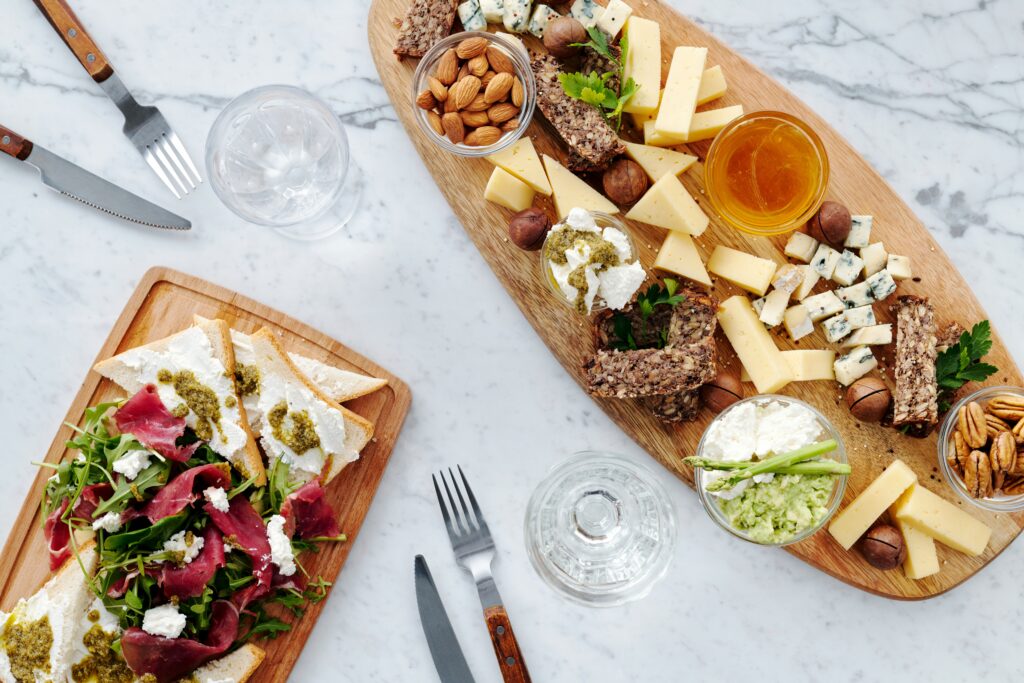 Presentation is an aspect of charcuterie board appeal. A wood charcuterie board is an excellent choice for bringing out the best presentation. There are some types of wood varieties to avoid. Softwood has a porous nature and takes on unpleasant flavors.
Non-porous hardwood, such as olive wood, is best for a wooden charcuterie board. Olive wood is distinct. It is a fascinating wood that makes a rustic wood cheese board or charcuterie tray. Olive wood is naturally antimicrobial and antibacterial. Forest Decor has some beautiful olive cutting boards.
Presentation is an aspect of charcuterie board appeal. A wood charcuterie board is an excellent choice for bringing out the best presentation. There are some types of wood varieties to avoid. Soft wood has a porous nature and takes on unpleasant flavors.
Cheese and Meat Tray Ideas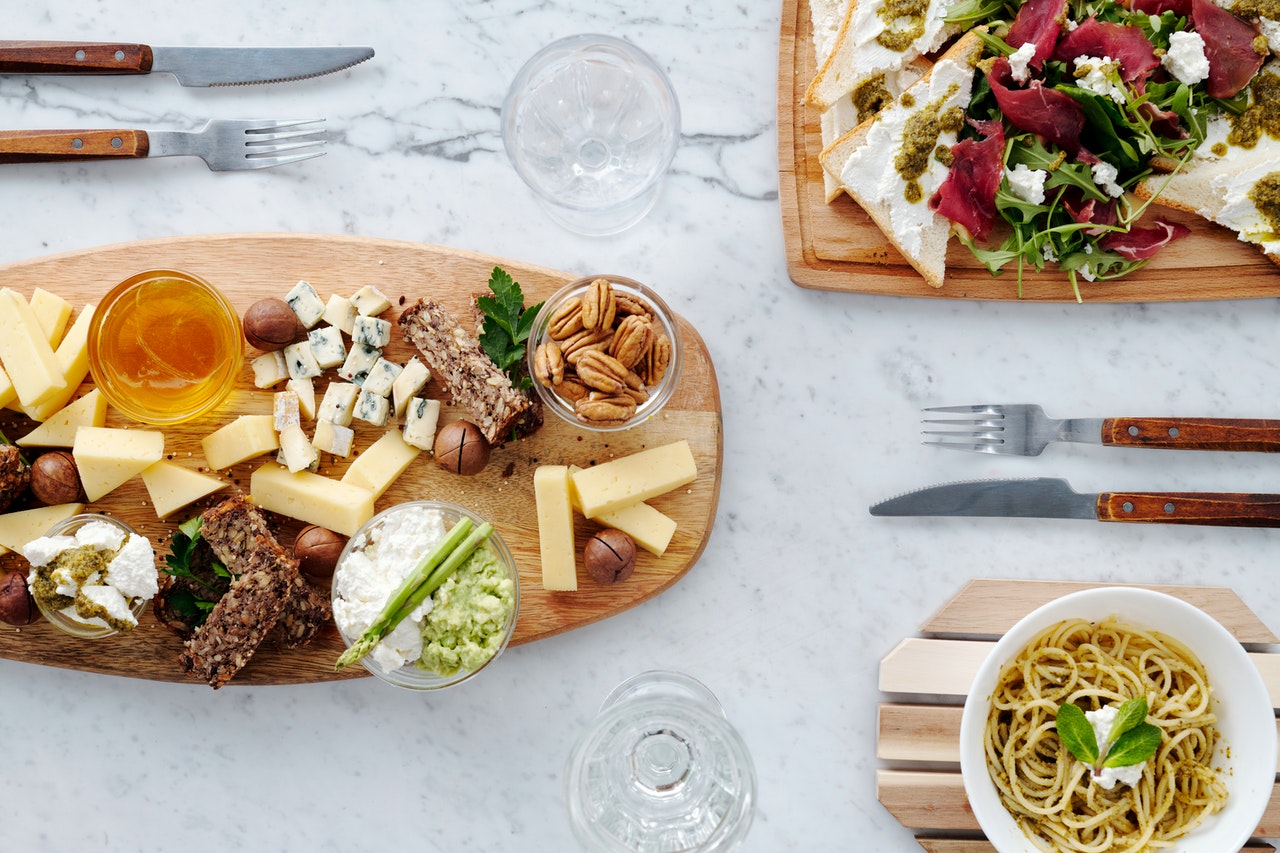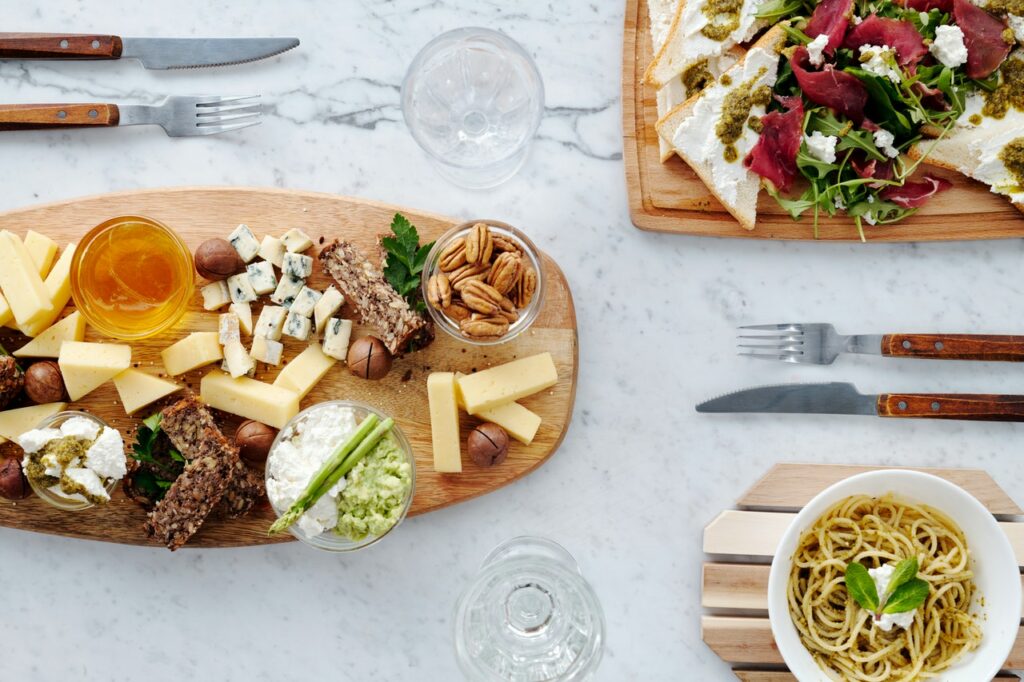 A basic charcuterie tray has meat arranged alongside some cheese. There are creative ways to make it more visually appealing and exciting. Take breadsticks and wrap them with soppressata or sliced cantaloupe or other fruit in season with Prosciutto. 
A carefully curated cheese and meat board is both easy and elegant. It turns a not-so-great appetizer into a delicious gourmet dish with visual appeal. Treat guests to a combination of global flavors and artisanal craftsmanship in the form of cheese and meat. Don't forget some wine to wow your guests and enrich the experience. 
Here is a 'recipe' for a delightful meat and cheese board. On a wood charcuterie board, add,
Three types of meat

Three types of cheese

1 cup of 2 or 3 kinds of fresh fruit

1 or 2 types of nuts

1 or 2 types of crackers

1/2 cup mixed olives

1/2 cup pickles

One dip of your choice
If the meat and cheese take up all the room on the board, place the other ingredients in small cups near the platter.