5
Min Reading
The nativity scene is a prominent feature of Christian Christmas celebrations. It always includes the figures of baby Jesus, Mary, and Joseph. To set up a nativity scene places the foundation of Christianity in the home, church, or other areas of the display. The nativity scene represents the birth of Christ in art. Distinctive nativity traditions and scenes are observed and displayed worldwide in shopping malls, homes, churches, and other venues.
History of Nativity Scenes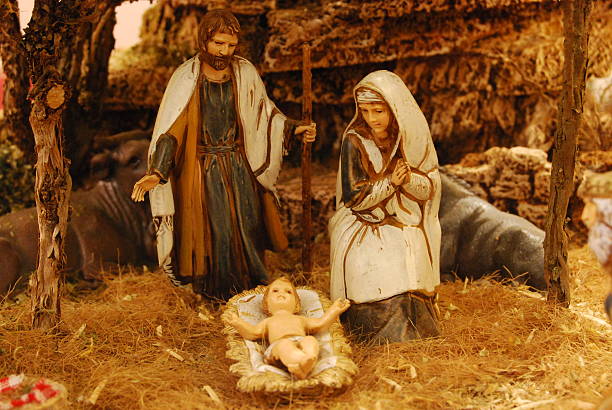 The inspiration for the nativity scene stems from the accounts of Jesus' birth in the Bible. An angel announced the Christ child's birth to shepherds who visited the humble stable where he was born. He was lying in a manger.
The earliest nativity scenes can be traced back to 380 AD. Saint Francis of Assisi is credited with their creation. It was meant to emphasize worshiping Jesus rather than material things. The first nativity scene was staged in a cave with living people and animals cast in Biblical roles.
Such exhibitions spread through Christendom. Within 100 years, Catholic churches were expected to display a nativity scene at Christmas. Statues replaced the animals and human participants. The static scenes became elaborate affairs.
Richly robed figures were placed in intricate settings. Nativity scenes became popular in other Christen denominations. They were made in various sizes and materials, such as ivory, wax, paper, terra cotta, and wood.
Pine Wood Nativity Scenes
 
Pine is an exceptional wood used in making nativity scenes that smells so good. These sets are usually left in the natural variant. Artisans avoid varnish to preserve and highlight the characteristics of color, texture, and fragrance.
The best pine wood is carefully selected. This softwood is malleable, which makes it easy to use in nativity scenes. Cutting and carving is easier than with other natural wood. Pine is naturally pleasing to your eyes. Little is required to make it beautiful. The natural wood grains and patterns give an aesthetic appeal. Pine is also wear-resistant.
This is a beautiful piece that celebrates the birth of Jesus and his mother. It embodies the holiday spirit, faith, and love. The intricate, rustic design is crafted from both unfinished and finished wood. Tiny figures in the center represent the Holy Family. It is shaped like Christmas trees having a manger inside. The nativity scene looks excellent in shared spaces, like the living room or kitchen.
It is an ornament that makes a perfect holiday decoration in the home or a charming, personal gift for family or friends who value those beliefs. Each nativity scene is handcrafted. It embodies a coloration and texture of its own.
Nativity Scene Candle Holder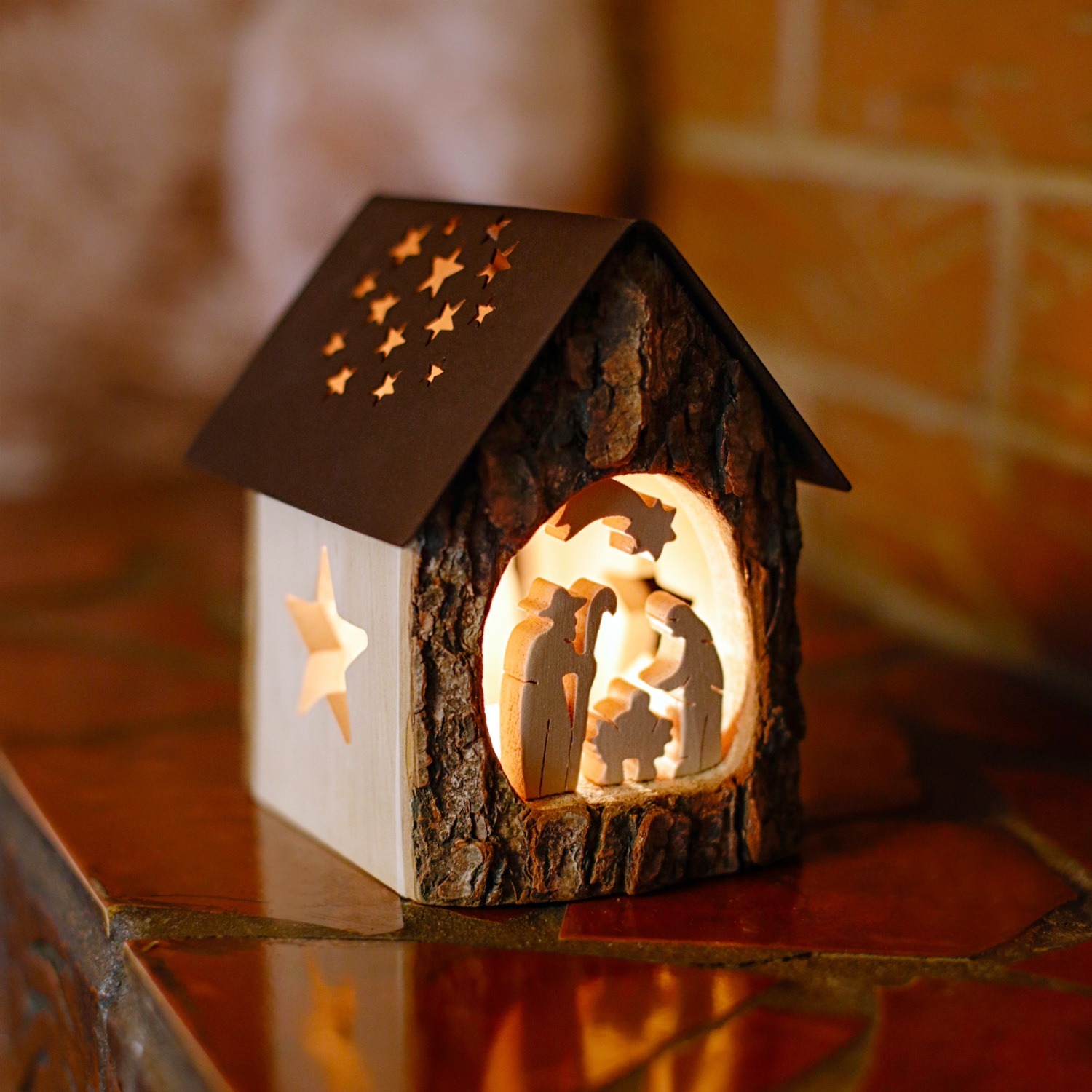 Made for tealights, this wooden candle holder is a classic design that has a charming nativity scene. A small tealight placed inside the Christmas decoration creates a beautiful, soft glow that makes it seem alive. It is a one-of-a-kind piece that features Joseph, Mary, and baby Jesus in a manger. This piece looks great during the holidays or all year long.
A starry night above the Holy Family is created with a rusted steel roof at the top of the tealight holder that has stars cut out of it. The use of unfinished and finished wood embraces the farmhouse, natural style with a smooth finish on some sides and bark on the others for added warmth.
Nativity Scene Table Ornament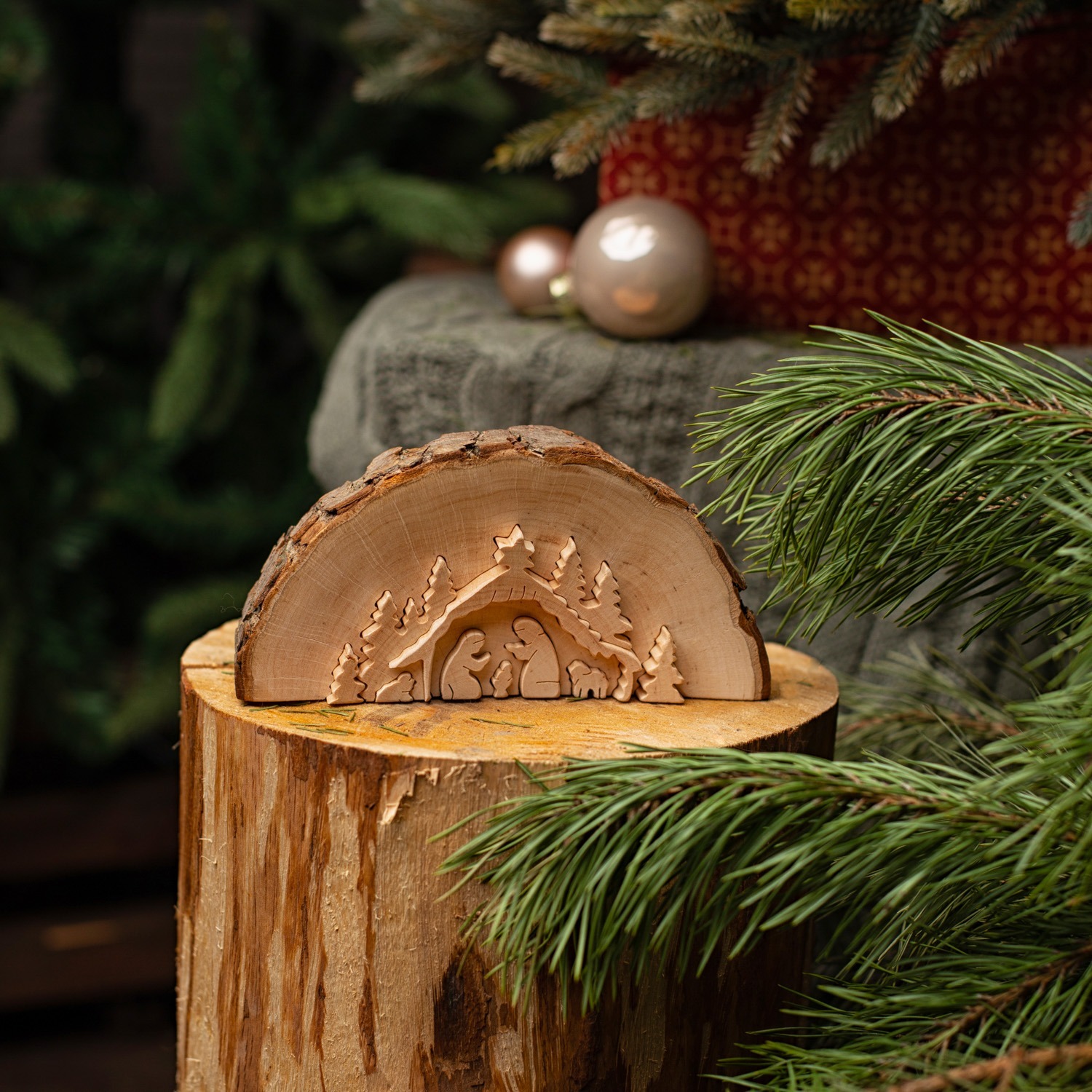 This table ornament measures approximately 6.5 inches. It is a handcrafted piece, which means there will be variation in color and dimension. Handmade wooden nativity scenes are truly original. This piece made of finished and unfinished wood, celebrates the birth of Christ. Few scenes are more vital to Christian values the nativity scenes that depict His birth in a manger.
This scene was created to help celebrate religious passion with a simple and elegant display that provides a style, beauty, and warmth that is unique. The piece has a well-balanced, smooth bottom that ensures it sets solid and upright on a living room mantle, side table, or countertop.
Nativity Scene of the Holy Family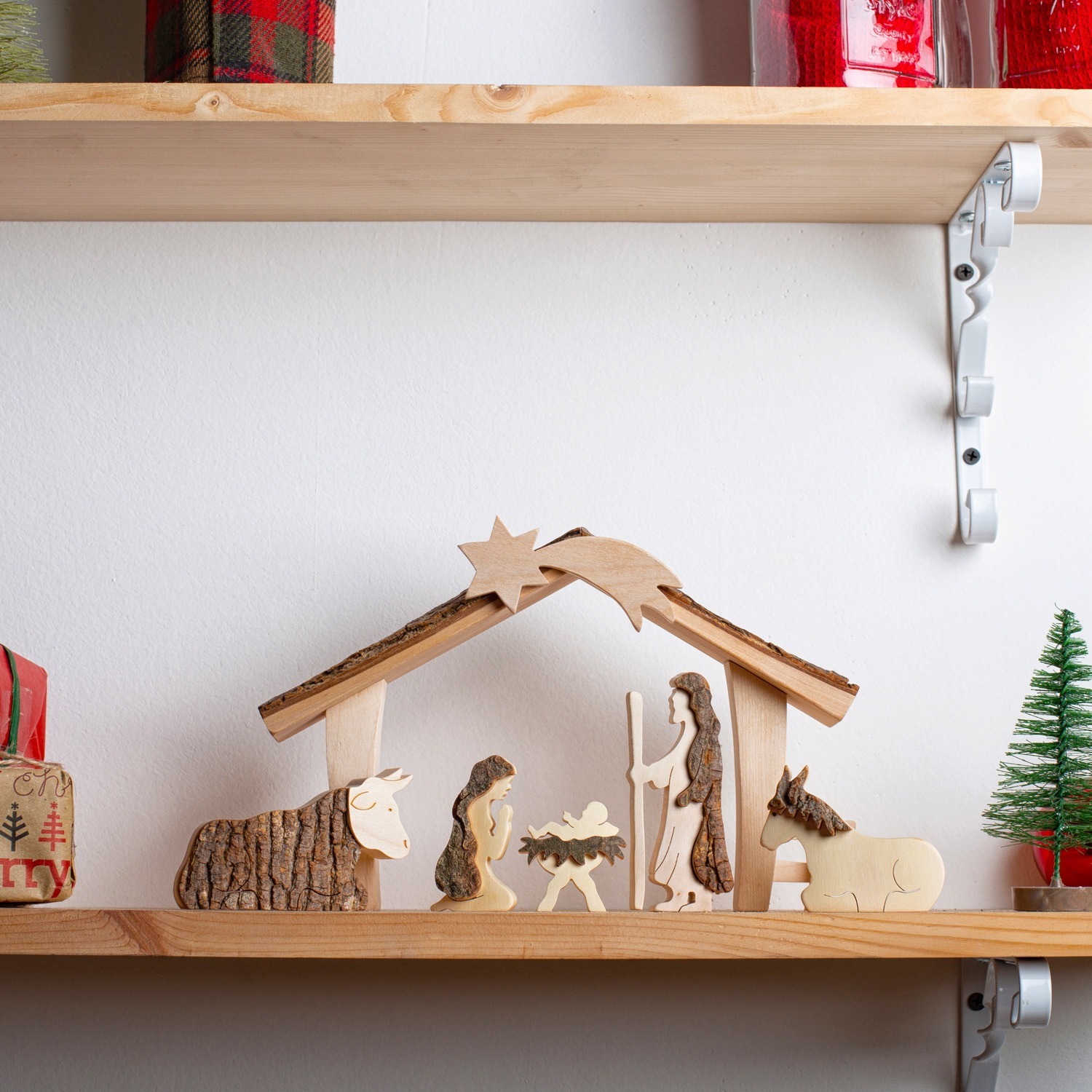 Celebrating the Christmas season with family and friends by sharing good times, great food, and gifts are made more special with a  Forest Décor Nativity Scene. Display a cute baby Jesus, strong Joseph, and praying Mary with this handmade, beautiful nativity scene ornament.
The manger and figures are not attached so that you can create a 3D Christmas scene of your own. A stunning contrast in the wood is created by featuring a smooth finished side and an unfinished bark edge on the figures and roof.
This wooden scene looks great in a dining room, kitchen, or living room. It creates warmth throughout the Christmas season. Like other Forest Décor products, being handcrafted from forest wood makes each piece original. No two sets are identical.
Nativity Scene Puzzle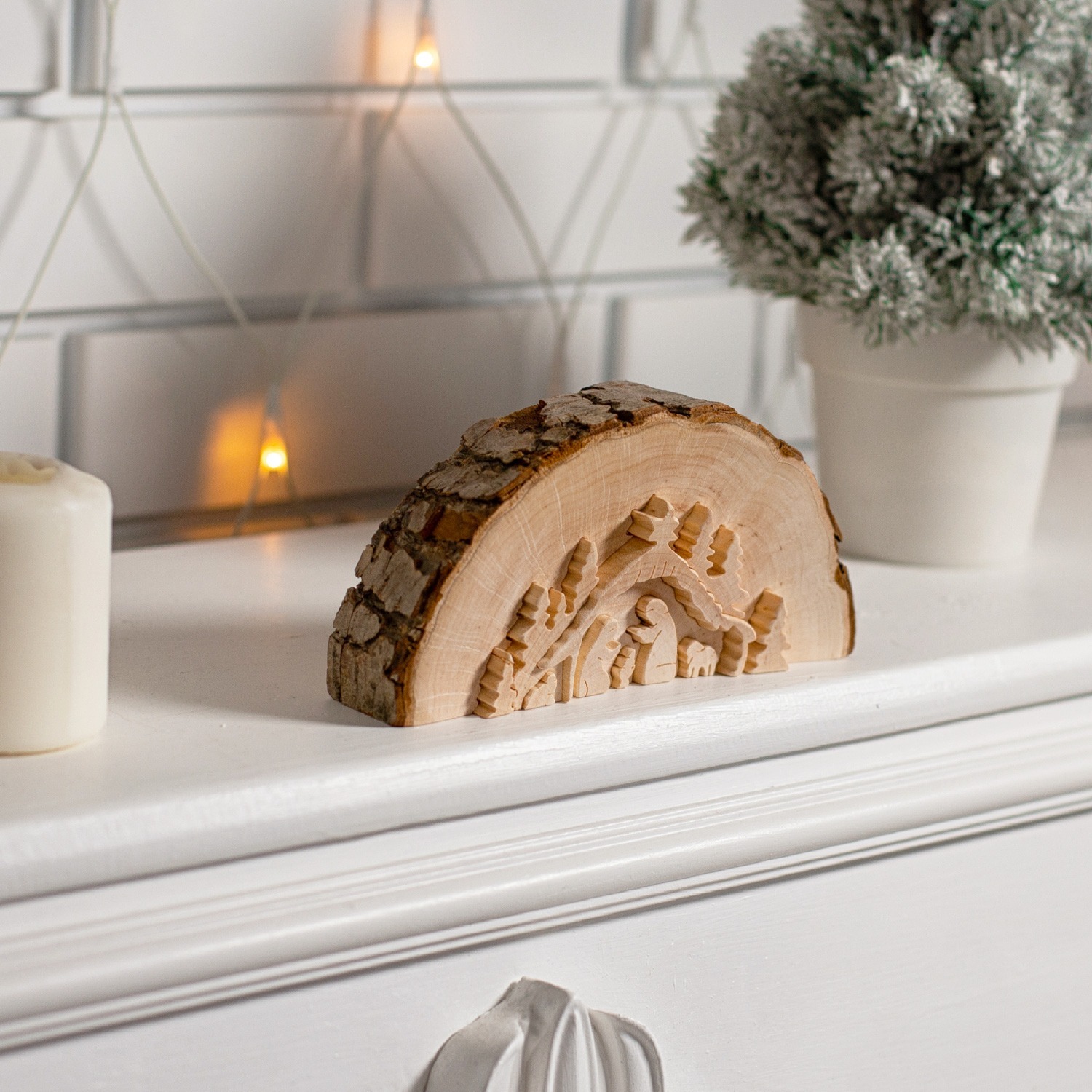 The rustic décor piece is made of high-quality wood with natural bark on the outside. Though small, on size, these pieces are big on charm. They fit together like a jigsaw puzzle that allows moving pieces around the Christmas tree. Parts can be left out, added to, or flipped for beautiful originality. The manger and small people are reversible.
You can create a smooth finished piece or flip to create a 3D ornament. The puzzle blends with or stands out from other holiday décor for a well-balanced environment. This Christmas Nativity Scene is an excellent decoration for your home or can be given as an early holiday gift to celebrate with those who share your faith. It is an ideal gift for friends from your church.
Wooden Christmas Nativity Scene Table Ornament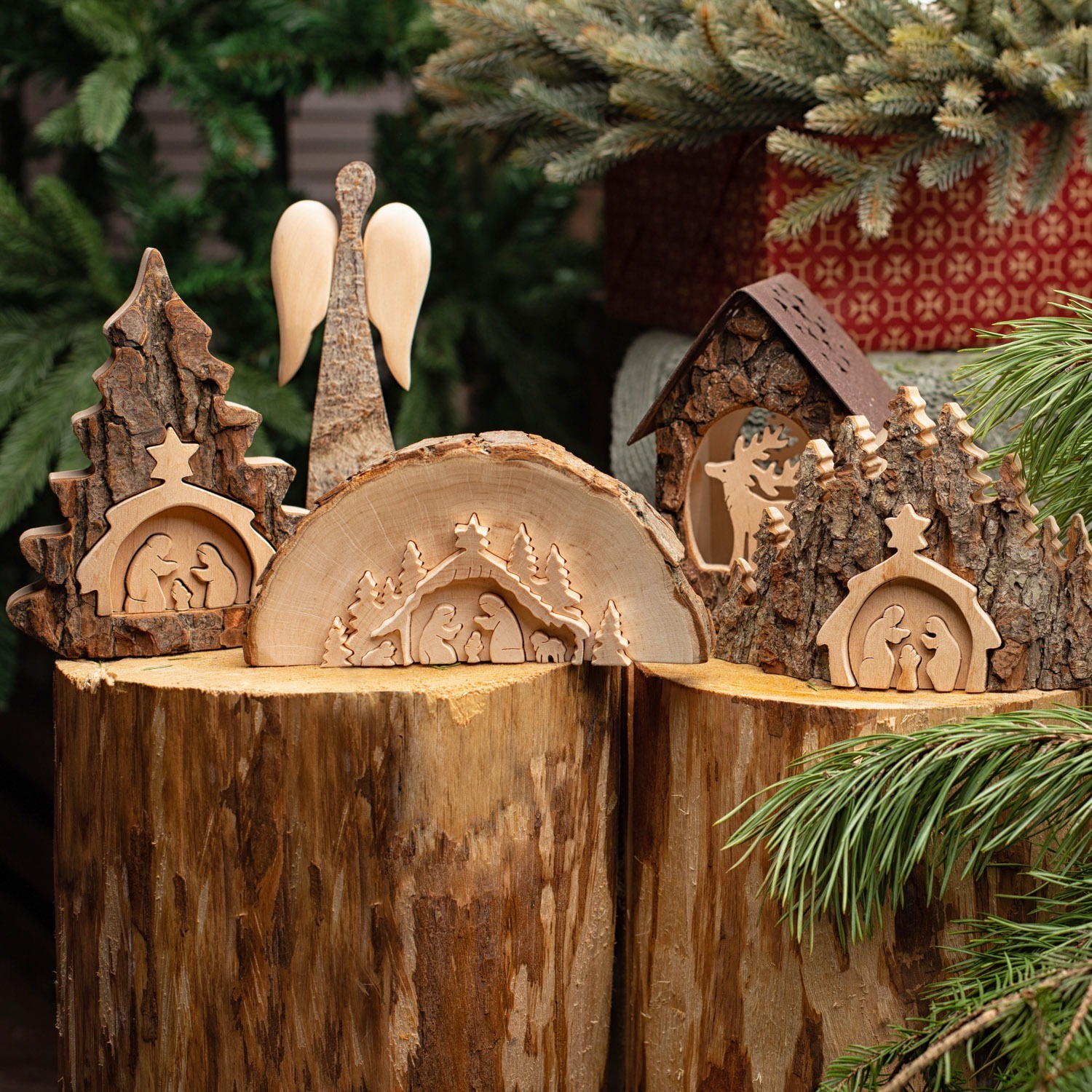 This is a beautiful piece for celebrating the birth of Christ and Mary, his mother. The handcrafted ornament is made with unfinished and finished wood. In the center, small figurines represent the Holy Family.
It is a rustic, intricate design shaped like a Christmas tree having a manager inside. This is an excellent Christmas decoration to display in shared spaces, such as the kitchen or living room. It also makes an ideal gift.
Each handcrafted ornament boasts its own decorative feel, rich color, and classic texture because they are handmade. They are beautiful pieces that are solidly built. The natural feel and look add to the value of the home décor. This ornament measures approximately 5.1 inches X 6 inches.
Recap
Before you know it, Christmas will be upon us. What better way than a nativity scene on display to celebrate Christmas? Every nativity set mentioned above is made of forest wood, giving each finished wood and bark a unique texture and color.
Each piece has a one-of-a-kind texture, feel, and look. The bottom of each nativity scene is well-balanced to ensure it rests solidly on the area of the display. The craftsmen use all the parts of a tree – the bark, branches, and wood.
Nothing is wasted in the crafting process. These nativity scenes add value to the decor of a home. While enhancing holiday and Christmas displays, they can also enhance other gift-giving, family gathering, special occasions.