5
Min Reading
Having a place to store money is an incentive for kids to save it. You likely had at least one piggy bank when you were a child. The pocket change was kept there with a goal in mind to spend it eventually. Today's kids need the same experience.
It's never too young to teach financial responsibility. A fun way to do so is with a piggy bank. Young children may not have a savings account, but they can practice with a personalized piggy bank. A piggy bank gives kids a place to store money they earn and teaches them the habit of saving money.
That is a lesson they need for their future. When children set a goal, they see how saving money accumulates in value. A personalized piggy bank is a fun place to store money. A wooden piggy bank in the shape of an animal is an excellent gift for girls and boys of all ages.
They are educational, practical, and durable wood toys. You can find three of them on the Forest Décor website. They are handcrafted wood money storage vessels. There are two pig-shaped banks – a small and large, and a wooden reindeer piggy bank.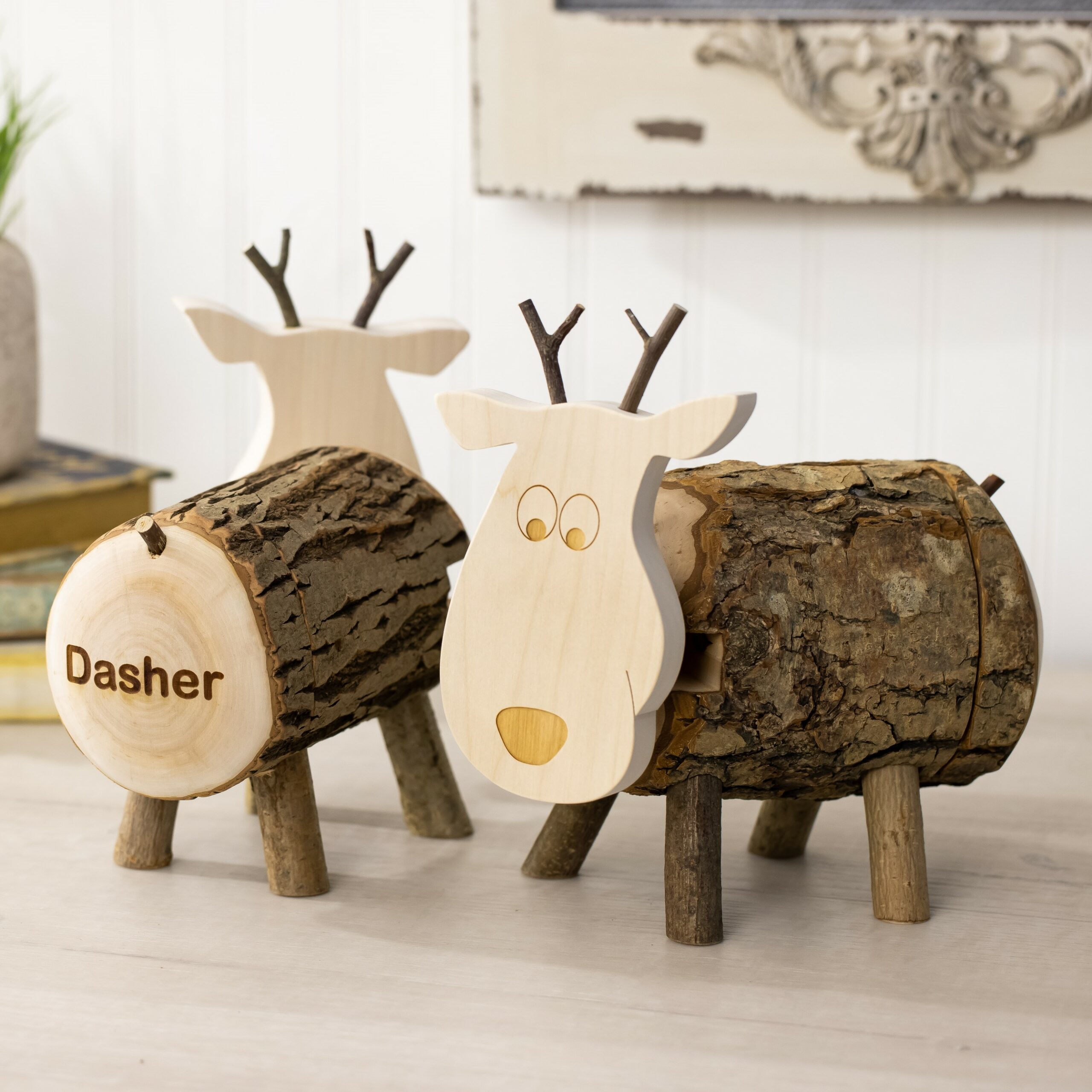 They help kids learn to collect, store, and protect the money they save. The cool piggy banks are both functional and fun. A master craftsman makes these banks. The piggy banks feature a cute snout, well-balanced legs, and adorable leather tail and ears.
The reindeer piggy bank is an original and playful tool to protect cash and coins. It makes an excellent Christmas gift. The reindeer bank has a wooden movable tail, antlers, and head. They are attached to the wood to create a lifelike, fun appearance kids love.
The banks are sure to bring a smile to your face. They are suitable for adults also. Because learning the value of money is an essential life lesson, these one-of-a-kind banks are among the most innovative gifts for boys and girls who want to save with a bit of flair. Your child will think these handcrafted wooden money-saving banks are adorable and will want to start using them. Teach them how to use them, and after a while, buy a little present.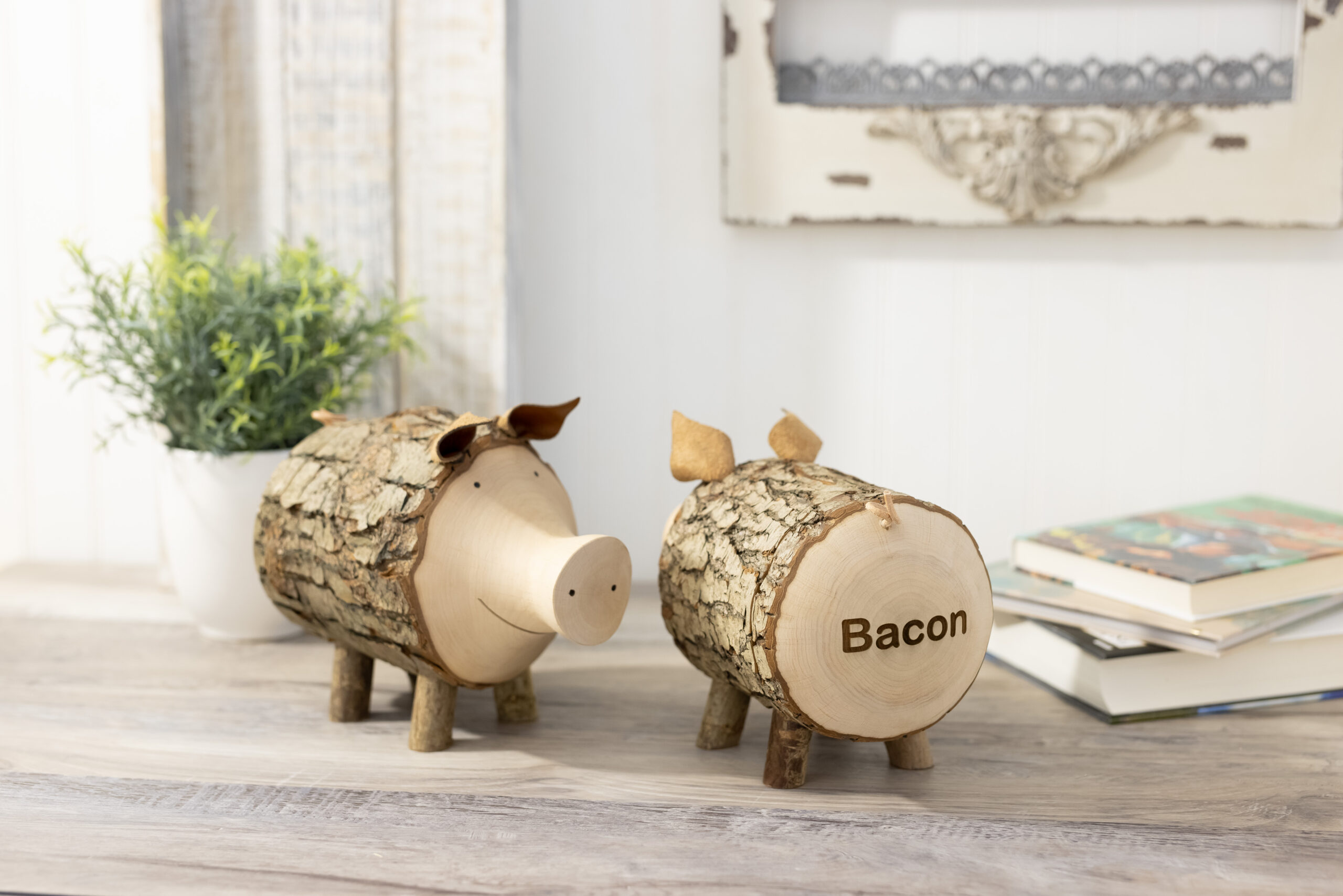 The banks are an ideal fit in woodland nursery décor or as a baby shower gift. They fit nicely on a bedroom side table, bookshelf, desk, or anywhere they are accessible to children and easily seen. Wooden handcrafted piggy banks are all unique.
Because they are handcrafted and not machine-produced, no two are exactly alike. Wooden piggy banks are eco-friendly items that are free of harmful substances. Wood is a functional product, and each one is slightly different in color.
A piggy bank doesn't have to be boring. There are cool wooden piggy banks available. They range from simple, classic banks to modern interactive options that are ideal for kids and adults. There is a bank here for everyone. Some can be customized, which makes them even more special.
Wooden Shadow Box Bank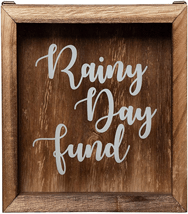 Not only is this shadow box cute, but it is also an excellent way to save for a rainy day. It is a unique gift for any occasion – bridal showers, birthdays, graduations, weddings, or other special events.
This high-quality bank is made from paulownia wood. It has flexible, flat metal nails, transparent glass, and two hooks that make hanging easy. The dimensions are 7.1 inches x 7.1 inches x 1.8 inches.
If saving has been difficult, this is the best way to hold onto extra change by investing in this practical, creative piggy bank. It allows watching your wealth building.
The shadow box has a natural design with front glass containing the reason for saving. The slot at the top is big enough to add paper money or two or money coins at one time. It is also available in a Vacation Fund and Our Adventure Fund versions.
Alphabet Letter Storage Tank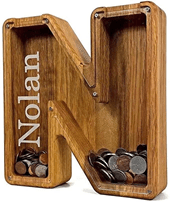 This organic oak piggy bank is a handcrafted wooden money storage container that is finished with food-safe mineral oil, making it eco-friendly and safe for children.
The letters are available in two sizes – large (approximately nine inches) and small (about seven inches). They have an acrylic front that can be personalized by engraving for the recipient.
The text location varies depending on the letter selected. The most optimal location for the name will be chosen. You can observe the storage through the plexiglass. A coin slot is at the top. It is opened by unscrewing the screws and removing the acrylic cover.
This money-saving box is an excellent option for shower gifts, Christmas presents, and birthday gifts. A letter-shaped bank shows the gift is meant especially for the receiver. The banks are fun gifts for friends, family members, kids, or anyone who wants to save money. It is an excellent gift for a boy or girl. A nice added touch is putting some coins or cash into the bank to start the saving process. This bank is a combination of craftsmanship, beauty, and quality.
Adventure Awaits Coin Bank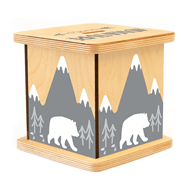 The charming wooden piggy bank is the ideal keepsake for a child to treasure long into the future. It is a modern rendition of a classic favorite from childhood.
The bank is a stylish accent for a child's room or nursery. It is available in gray or blue. Start early to teach little ones the fun of saving by gifting them with this outdoorsy mountain and bear-themed piggy bank.
On the top of the bank is the message that reads, 'Adventure Awaits.' The bank is handcrafted with love in a small shop in Upstate, New York, out of Baltic birch wood. A non-toxic, child-friendly ink is used for the design. You can personalize the bank with a child's name. The only downfall of the bank is that it must be broken to get the money out of it.
Personalized Wooden Piggy Bank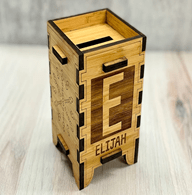 This handcrafted wooden piggy bank will surely be treasured for years to come. It is an excellent gift for young children that encourages them to save. The wooden coin box has a slot on the top for coins and a PVC plug at the bottom. You can have names placed beneath the selected letter. The dimensions are 5.75 inches X 4.25 inches X 4.25 inches.
All the bamboo banks are finished with butcher block oil that protects the wood and brings out the beautiful natural color. The design is an original that is handcrafted and laser cut, producing amazing workmanship.
Recap
All piggy banks are not shaped like a pig, but they serve the same purpose. They are used to teach children how to save. Some adults still have piggy banks they use to keep money or save for a rainy day. You must break one of the selections above to access the funds. The theory behind the construction is a lesson in finance for children. It forces them to justify spending the money.
Wooden piggy banks are popular collector's items and gifts for children because of their appealing appearance. The gift of a handcrafted wooden money container will bring a chuckle or smile each time some money is deposited.