Personalized Wooden Cutting Board 11″ x 6″
ANNIVERSARY GIFTS, WEDDING GIFTS, AND BIRTHDAY GIFT IDEAS: Many of our customers order two personalized gifts – one for their friend or family and one to keep – saying it's hard not to own one after holding it in their hands. Just wait 'till you open the package! If you only ordered one unique wooden gift for your friend, you're going to pick that wooden board up and get a little envious. A "little" envious? Who wouldn't love an engraved wood cutting board?
PREMIUM OLIVE WOOD — NO TWO ITEMS ARE IDENTICAL: Hand-crafted with fine attention to detail, each olive wood board is designed to show off its unique grain. Add an engraved personalized name or saying, and there's not another like it in the world. Love the feel of quality? If you're giving it as a gift, just wait for the oohs and aahs. And if you're gifting yourself, watch how quickly it becomes your go-to cutting board.
PERSONALIZED CHARCUTERIE BOARDS INSPIRE YOUR CREATIVITY: Break away from blah! The personalization of our gorgeous olivewood boards will inspire you to create your own personally expressive charcuterie. How would you like the name or saying displayed? Personalization is easy. Just choose your design and you'll be taken to a screen where you can enter the information you would like engraved on the board.
ARTISAN CRAFTSMANSHIP: Comparing our products to bamboo? Bamboo is a grass, not wood. Bamboo doesn't come close to exotic Tunisian olivewood for beauty, durability, or uniqueness. As a US-based family owned and operated business, we focus on premier handmade craftsmanship. That's why each olive wood board is beautifully unique in terms of color, pattern, texture, and even size – truly individual.
SUSTAINABLE, TOP QUALITY WOODEN PERSONALIZED GIFTS: All of our boards – in fact, all of our products – are sustainably created out of a single piece of olive wood. That means we never use glue, and the grain is consistent in every piece. We take great pride in creating top quality wood engraved gifts you can give to your friends or gift to yourself.

FREE 3-DAY SHIPPING ON ALL U.S. ORDERS OVER $49. SHIPS WORLDWIDE WITHIN 24 HOURS.
Description

Prepare Food, Serve Your Guests, and Get Your Kitchen Style Going with a Multipurpose Engraved Wood Cutting Board from Forest Decor
Every kitchen needs at least one cutting board, and if you enjoy using personalized quality, you'll want this handcrafted olive wood board from Forest Décor. Not only does it help you prepare food more efficiently, but as an engraved piece it's a joy to use. It will serve you however you need it — as a personalized cheese board, a personalized steak cutting board, a personalized charcuterie board… you name it.
And it makes one of the best wooden personalized gifts! You know that personalized wood gifts are among the most appreciated gifts. These stunning pieces feature a thick cutting surface, exclusive pattern and finish, and original style that's both captivating and functional.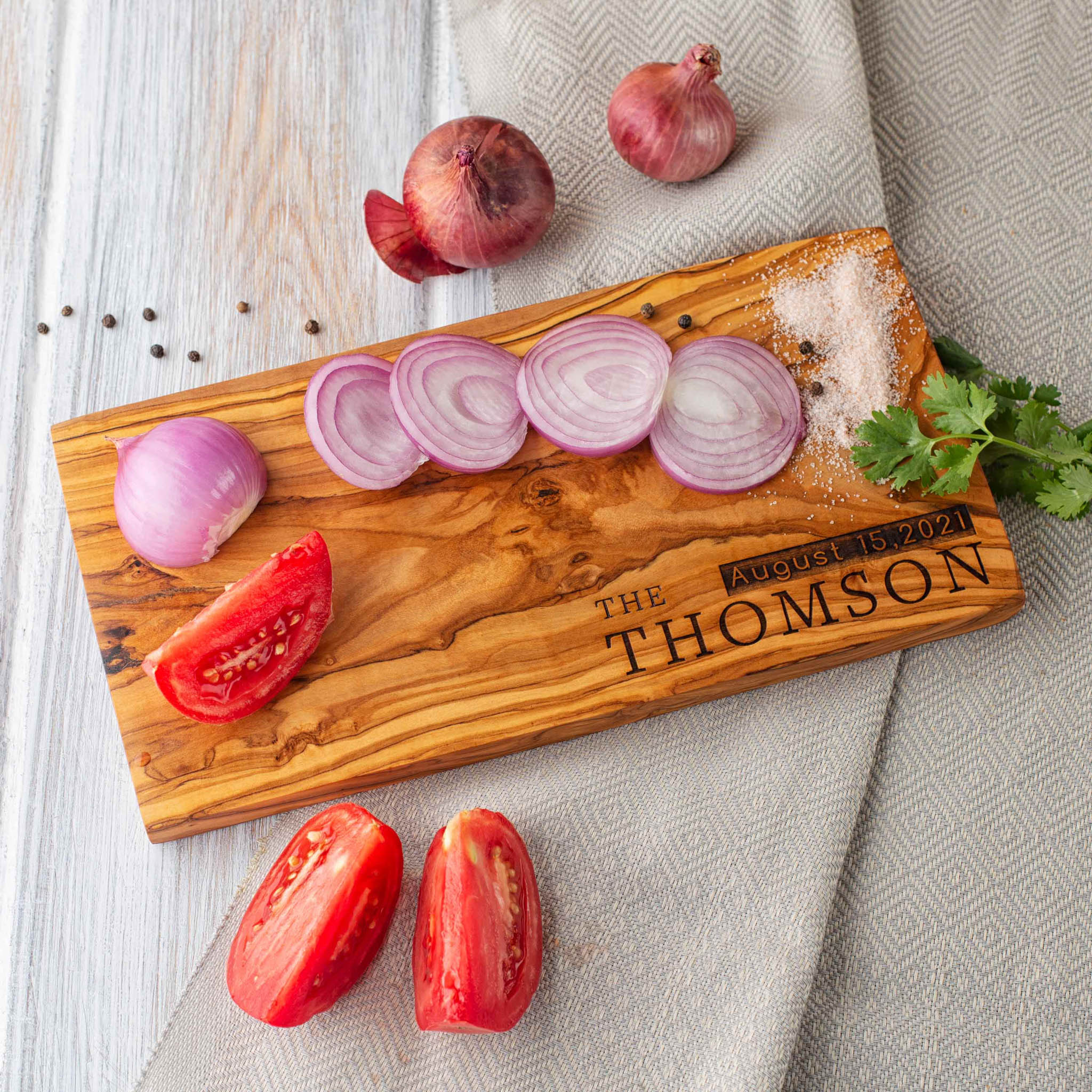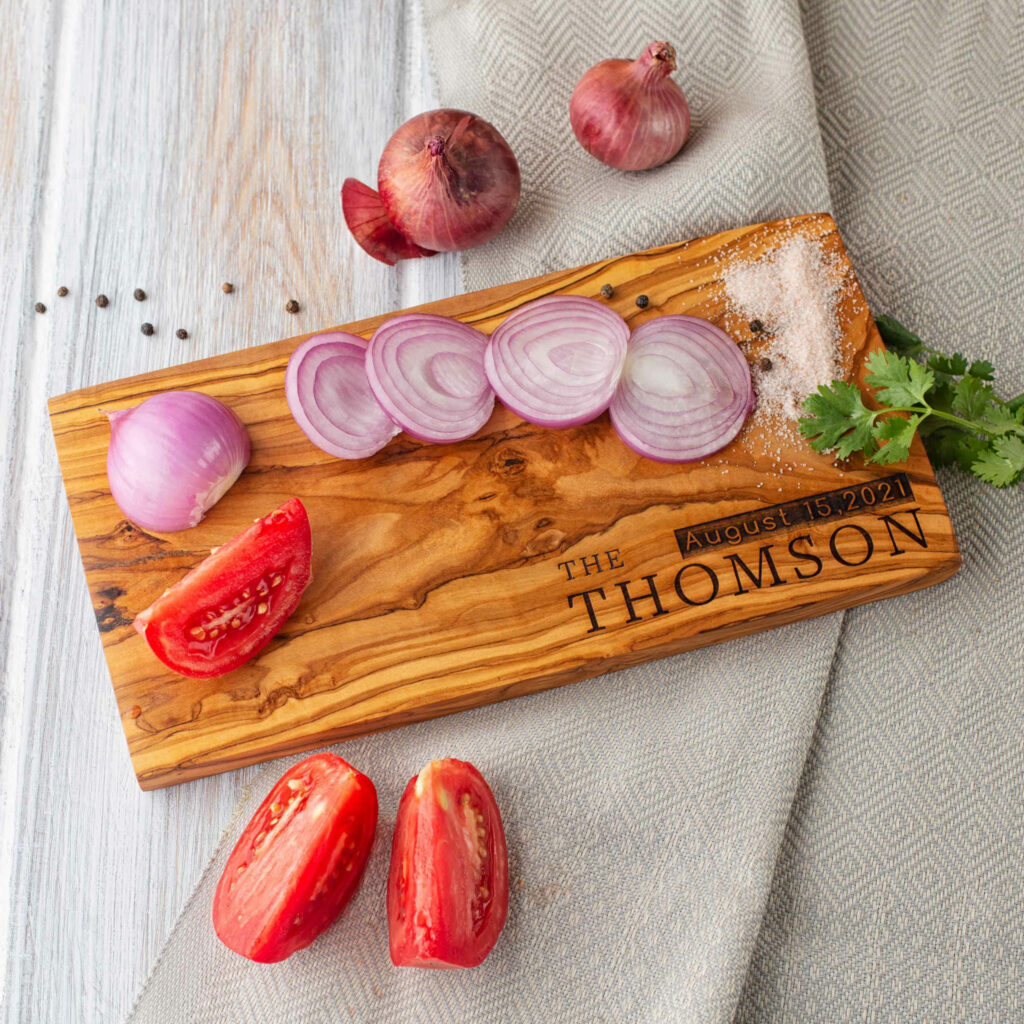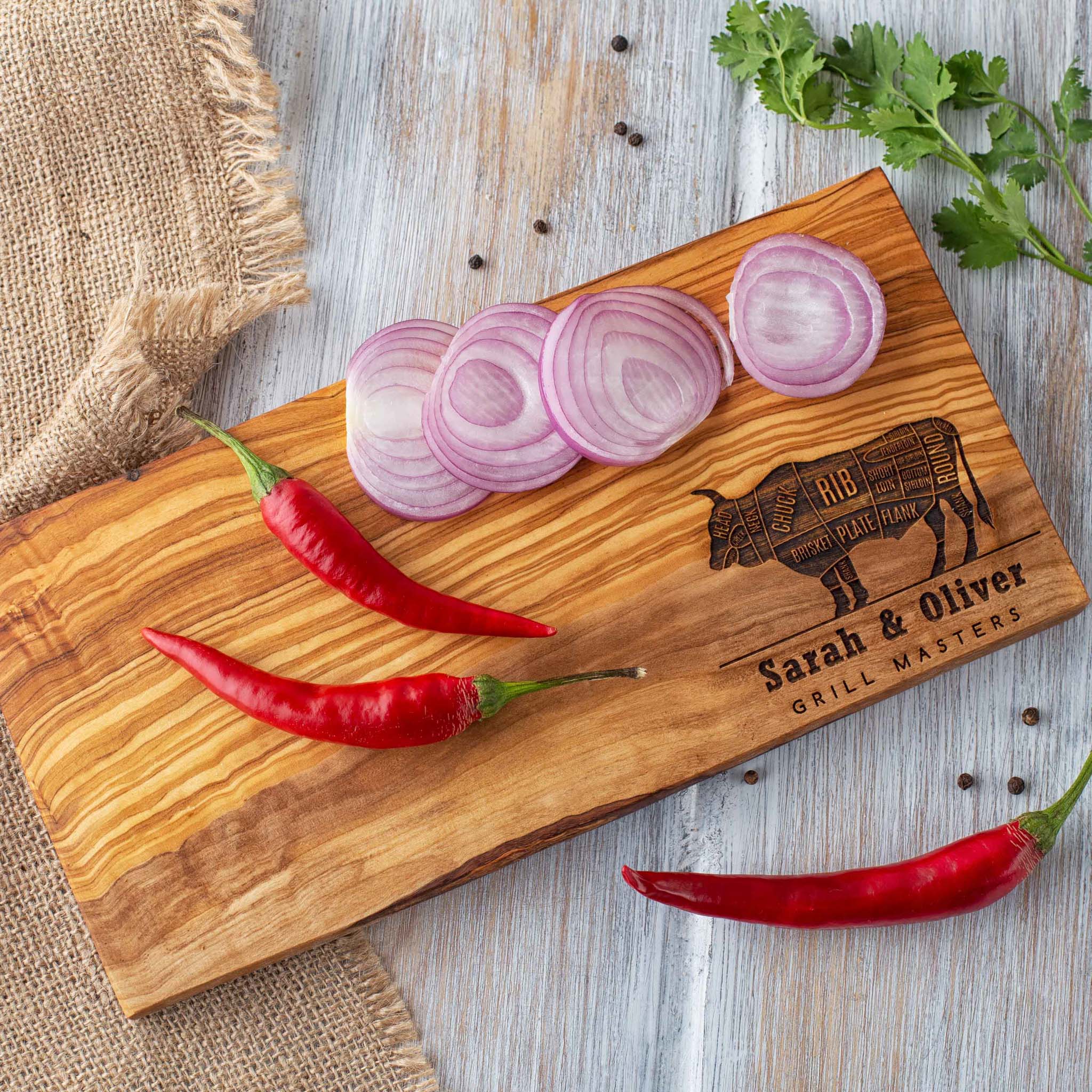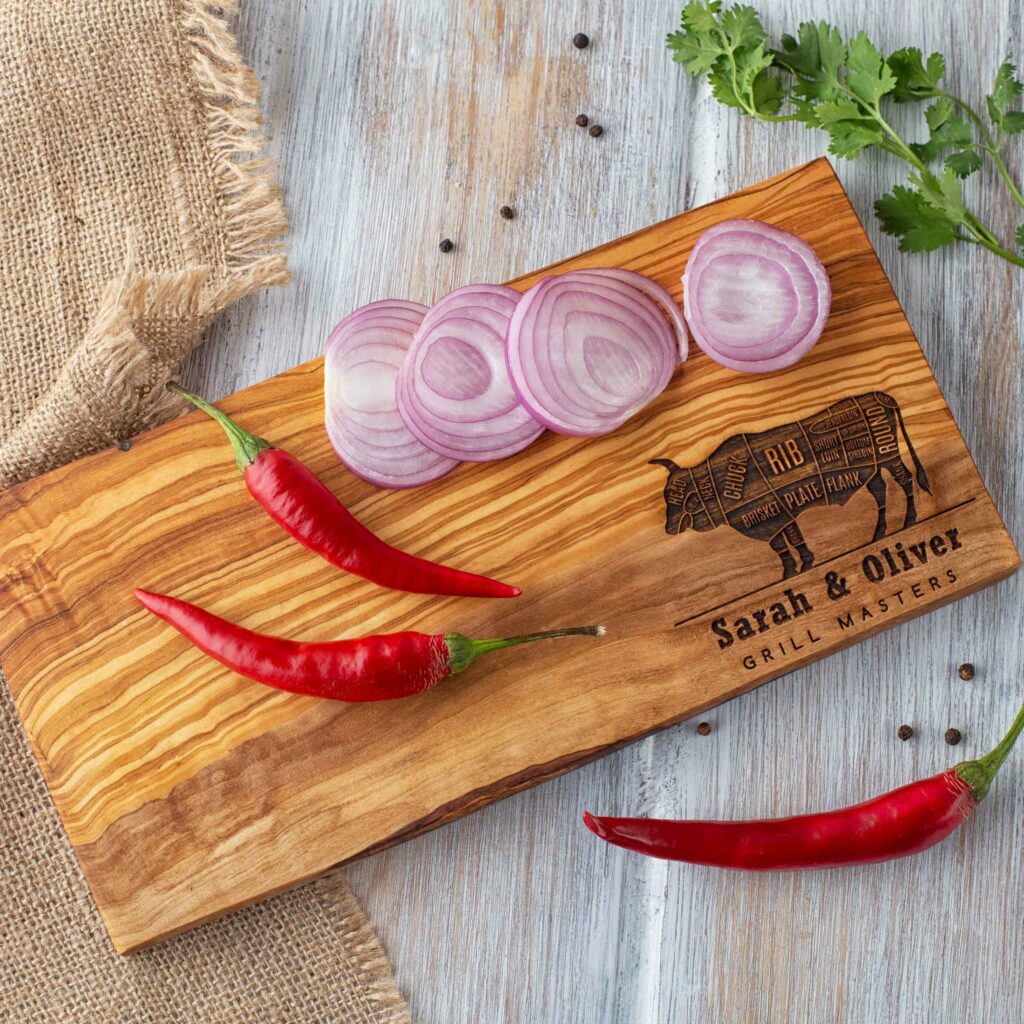 Product Details:
Engraved Olive Wood Cutting and Serving Board
Elegant, Durable, and Easy to Clean
Genuine Handmade Craftsmanship
Premium Natural Tunisian Olive Wood
Dimensions: 11 x 6 x 0.75 inch
Note: Each board is 100% unique which means they each have their own wood grain pattern and texture.
Premier Kitchen Accessories
We believe that living a natural lifestyle begins in the kitchen – especially when it comes to your everyday cooking items. That's why each personalized wooden cutting board is made by hand, carefully treated with natural minerals, and completely free of harsh chemicals or additives. Whether you keep or gift it, this engraved chopping board will give pleasure for years to come.
Gifts People Remember
Olive wood boards make great personalized kitchen gifts. Birthdays, anniversaries, graduations, Mother's or Father's Day — our engraved wood chopping boards are one of the most thoughtful gifts you can give. You can also give this personalized wood cutting board to friends who are moving. Personalized housewarming gifts are always appreciated for helping the family feel settled into their new home.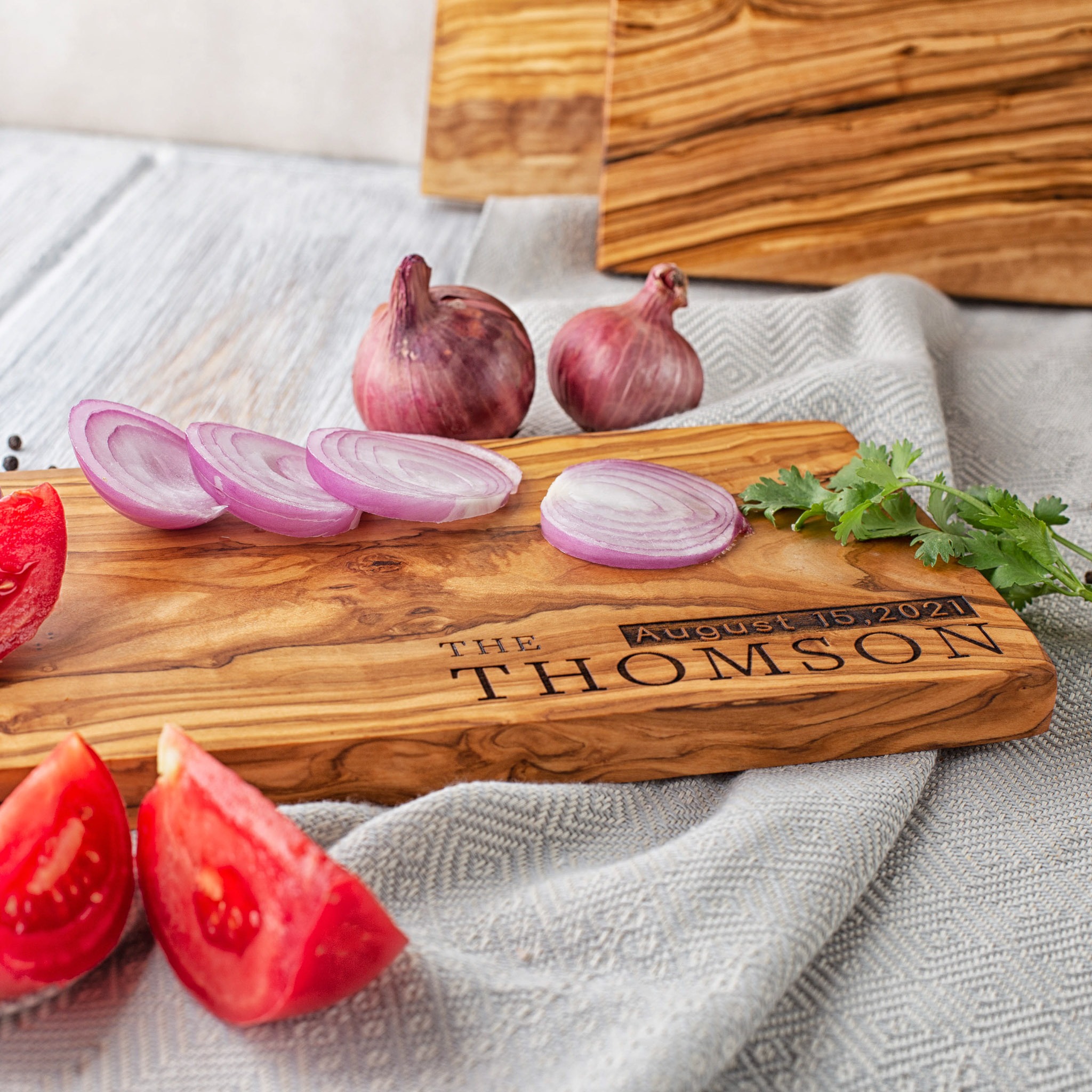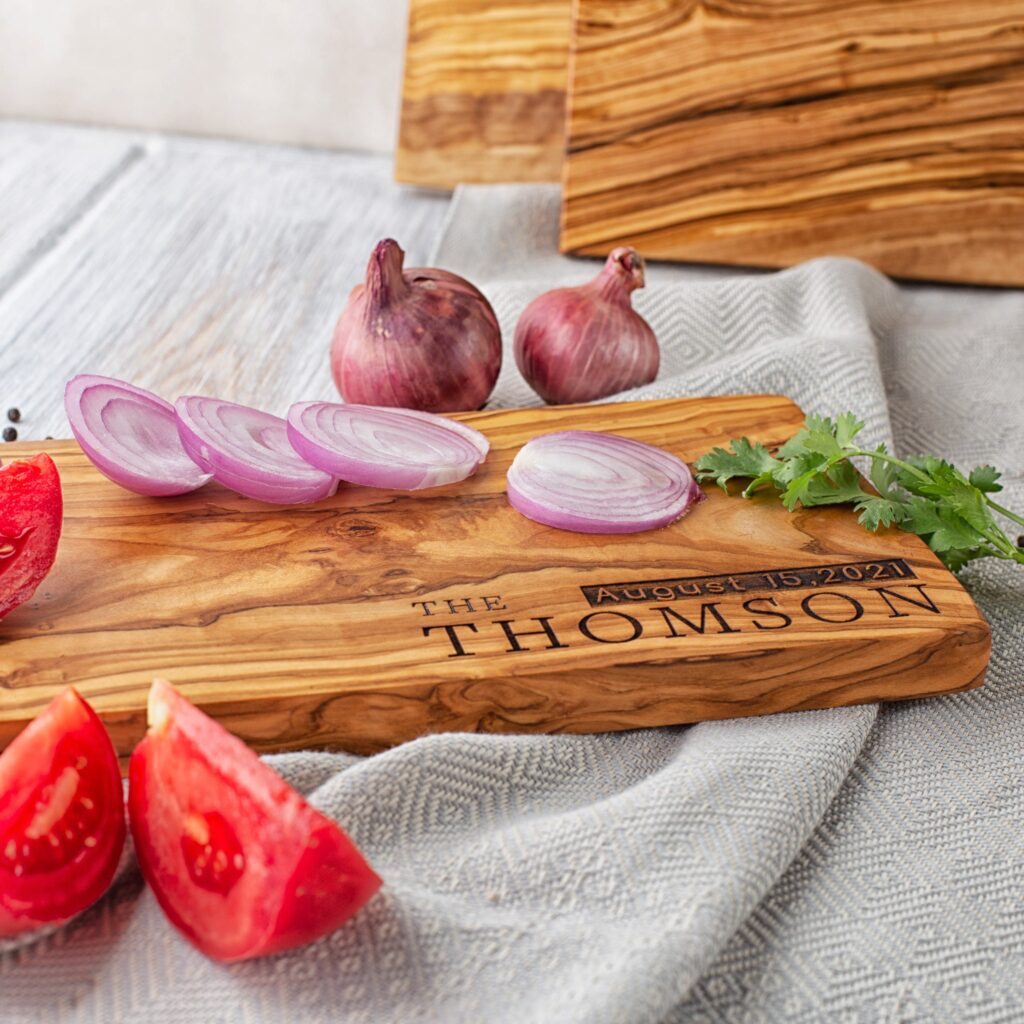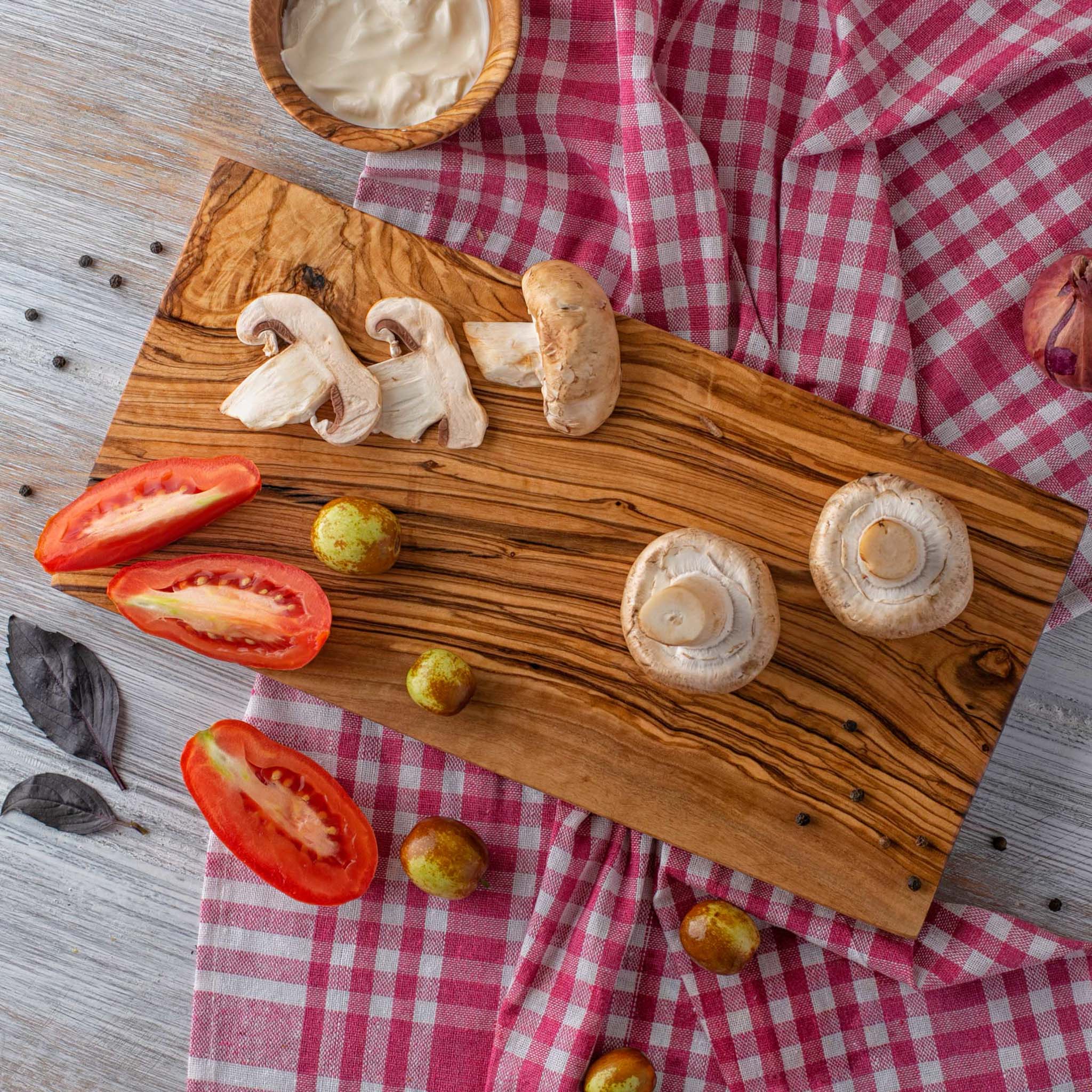 Functional and Decorative
One of the most exciting things about these versatile personalized wood boards is the olive wood. All of our wooden engraved cutting boards are 100% unique in terms of coloration and grain. When you receive your board, you'll know there can't be another like it. Your board will be a truly special engraved wooden gift for your friends, family, or yourself.
Hygienic Olive Wood
Wondering about the safety of wood versus plastic? The porous nature of wood makes it naturally hygienic. As studies have shown, the bacteria are drawn into the wood where they quickly die.
Durable Cutting Surface
Our olive wood boards are made to last and last. Their thick cutting surface means they won't wear out, and did you know that wood boards won't dull your knives like plastic?
Easy to Clean
Like all our other real wood products, we recommend hand washing these cutting boards in warm soapy water. Give them a coat of mineral oil each month and you'll protect their strength and resilience for years to come.
Bulk Orders – Wedding Favors, Corporate Branding
These personalized olivewood cutting boards make awesome wedding favors, or how about the mother-of-the-bride and groom gifts? We can also accommodate corporate branding orders – contact us for details.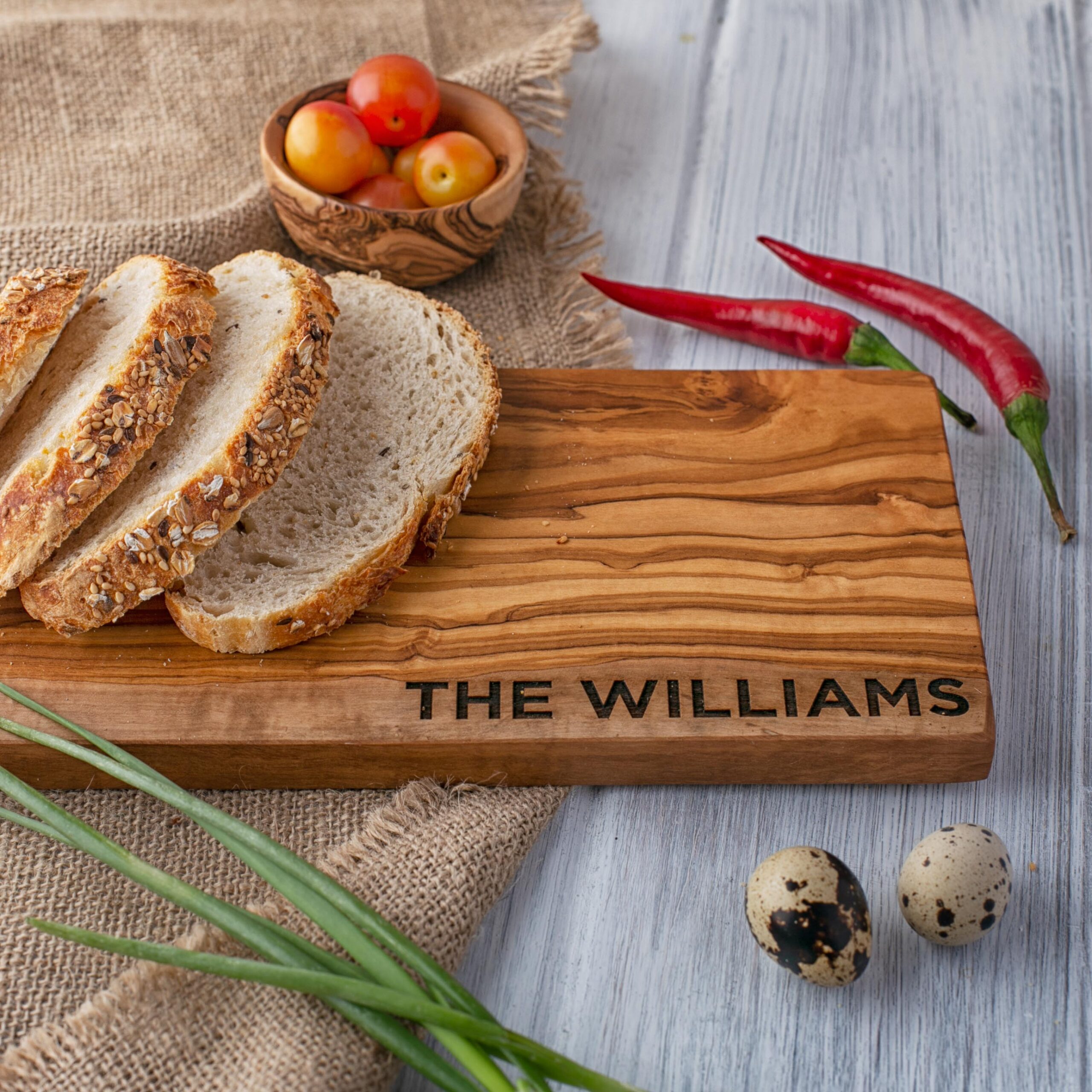 Additional information
| | |
| --- | --- |
| Weight | 16 oz |
| Dimensions | 15 × 12 × 10 in |
| Brand Name | Forest Decor |
| SKU | A0-9H7Q-QO8B |
| UPC | 749666517254 |
| GTIN | 749666517254 |
Reviews (1)
Only logged in customers who have purchased this product may leave a review.
Related products
Products that You Might Also Like