5
Min Reading
Home decorating is fun but sometimes challenging. Rustic décor reflects a love of the outdoors and makes a house homey and welcoming. It adds elegance and beauty to a home. The beauty and charm are stunning to those who walk into the home. A rustic look offers homage to outdoor life and the feel of the woods. Rustic décor is made from natural materials. No two items are the same. Each beautiful piece is unique in size, pattern, texture, and color. They are made by craftsmen that have a love and passion for what they do. Wooden home décor pieces are crafted from high-quality wood. The outside of the pieces has real bark. Artisans use the whole tree, which includes the bark, branches, and trunk wood. Nothing goes to waste. Decorating gives a home a new look that is attractive, comfortable, and stylish. Rustic furnishings provide a home a natural look of wood. It helps preserve natural splendor and old age ideas. They are stunning and bring a feel of the outdoors, relaxation, and warmth. After a long, hard day, the cozy atmosphere is pleasant to come home to. It is a personal space where you can relax, put your feet, and take in the home's beautiful décor. There are many decorative items available to accomplish this scenario. Rustic decorating includes the unexpected in both placement and furnishings. They personalize a space. The rustic style embraces the natural.
Modern Rustic Christmas Home Decor Ideas
You do not have to live in the country or in the woods to have a rustic feel and look. Log cabins are 100% rustic, but there are ways to incorporate rustic décor with buying a rustic home. The rustic style is popular today because wood brings natural character and warmth to a home. Personal touches ensure a home is welcoming and fits your style preference. Here are some suggestions that add interesting touches to a home during the Christmas and holiday season.
Angel Figurines
Angel figurines create a welcoming and comforting atmosphere in the house. Those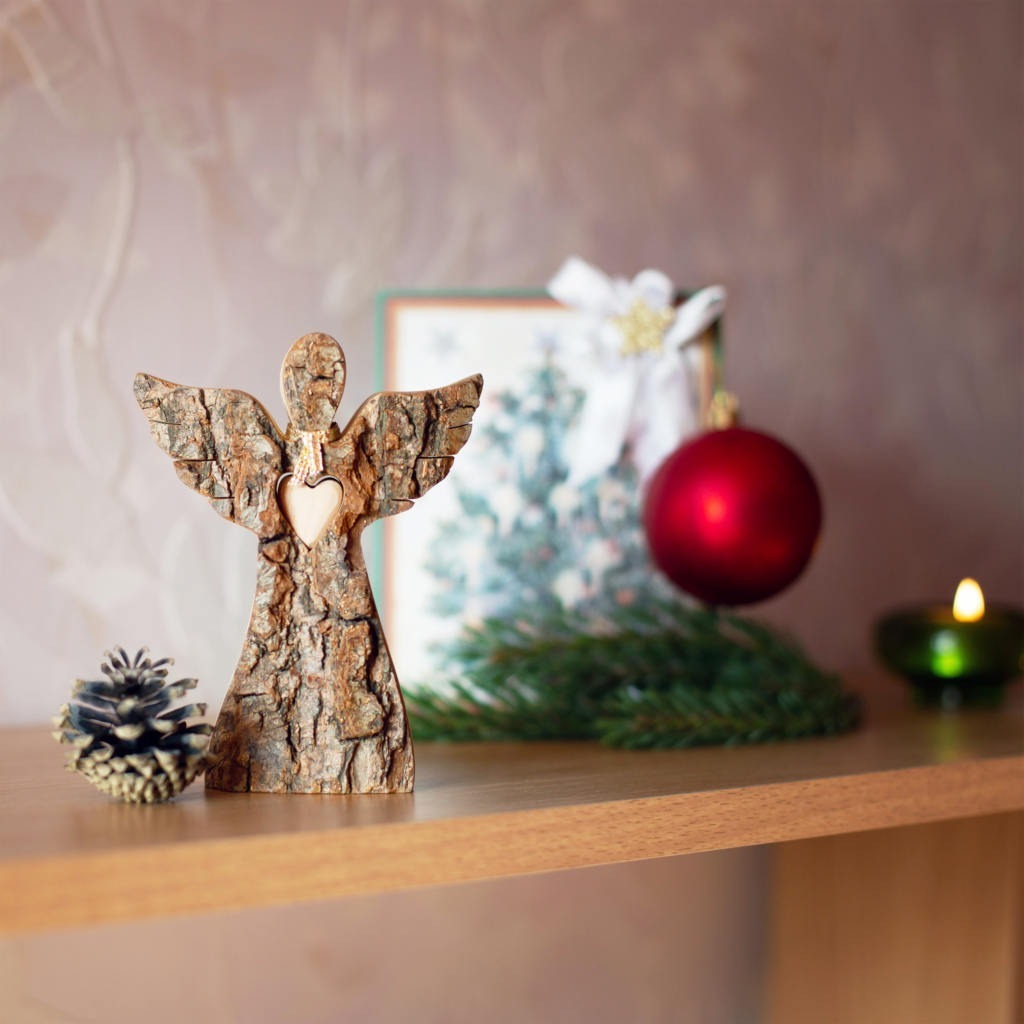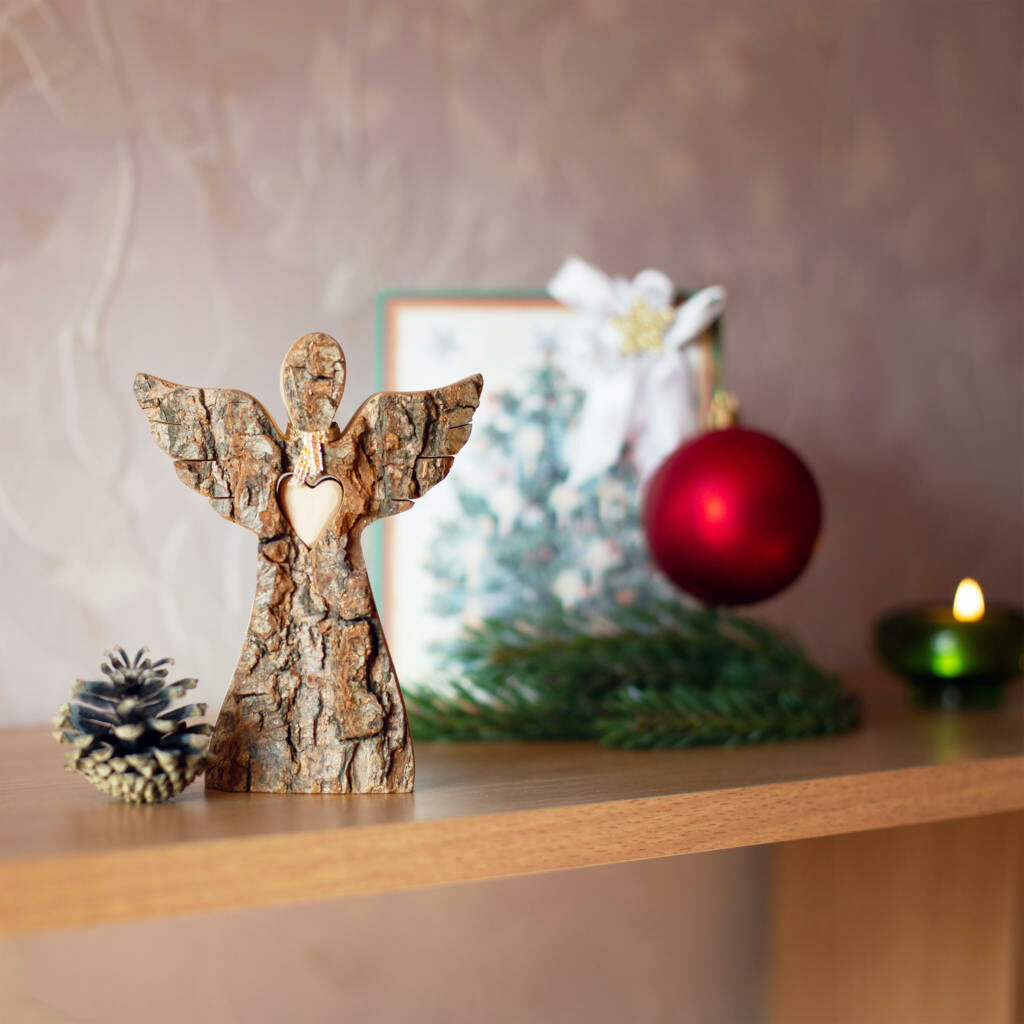 made of wood have a natural beauty that is preserved in the design. Spiritual people tend to prefer the rustic design to polished statutes of resin, plastic, or glass. Wooden angel figurines are suitable in any home, regardless of the design. They fit into the farmhouse, contemporary, or urban interiors.    
Candle Holders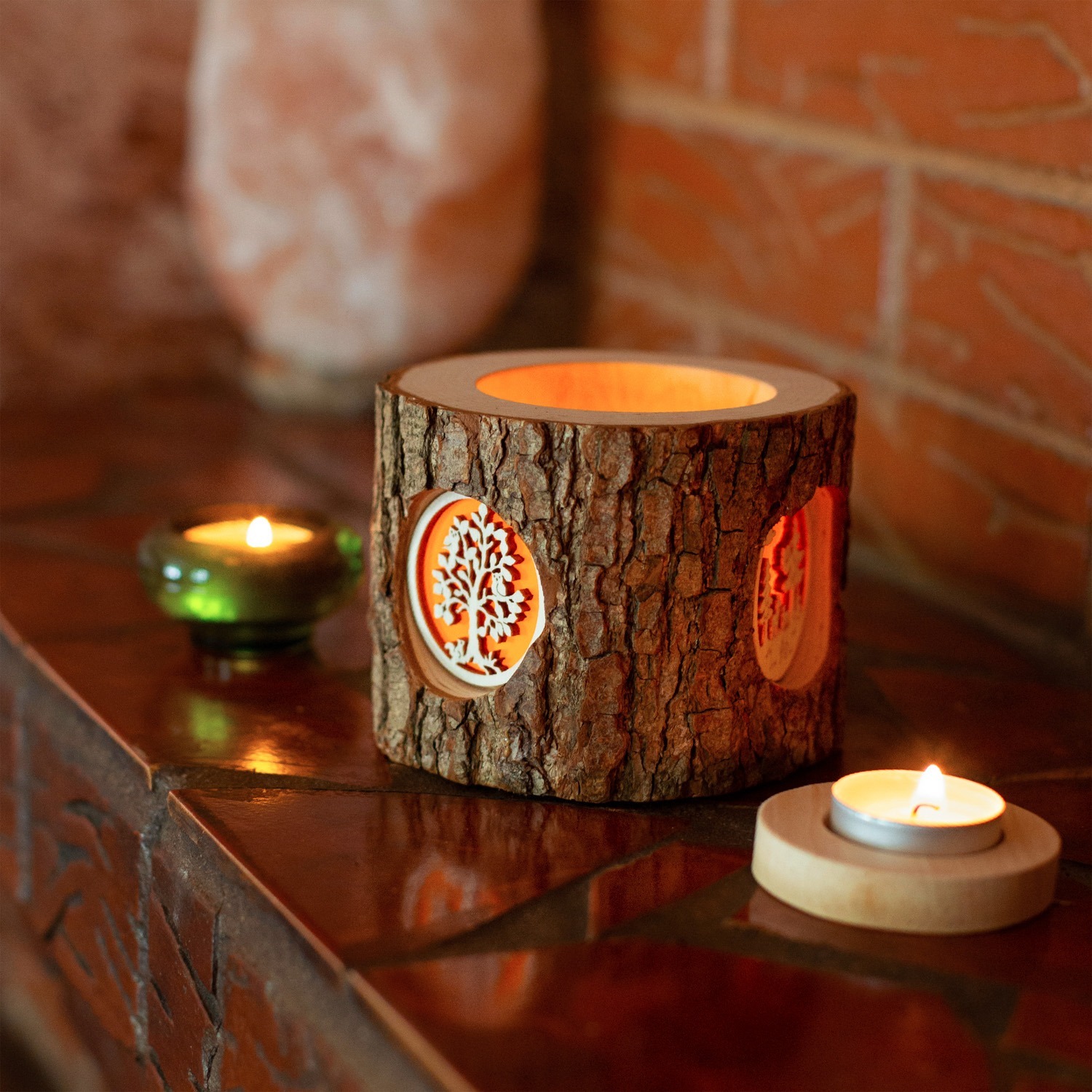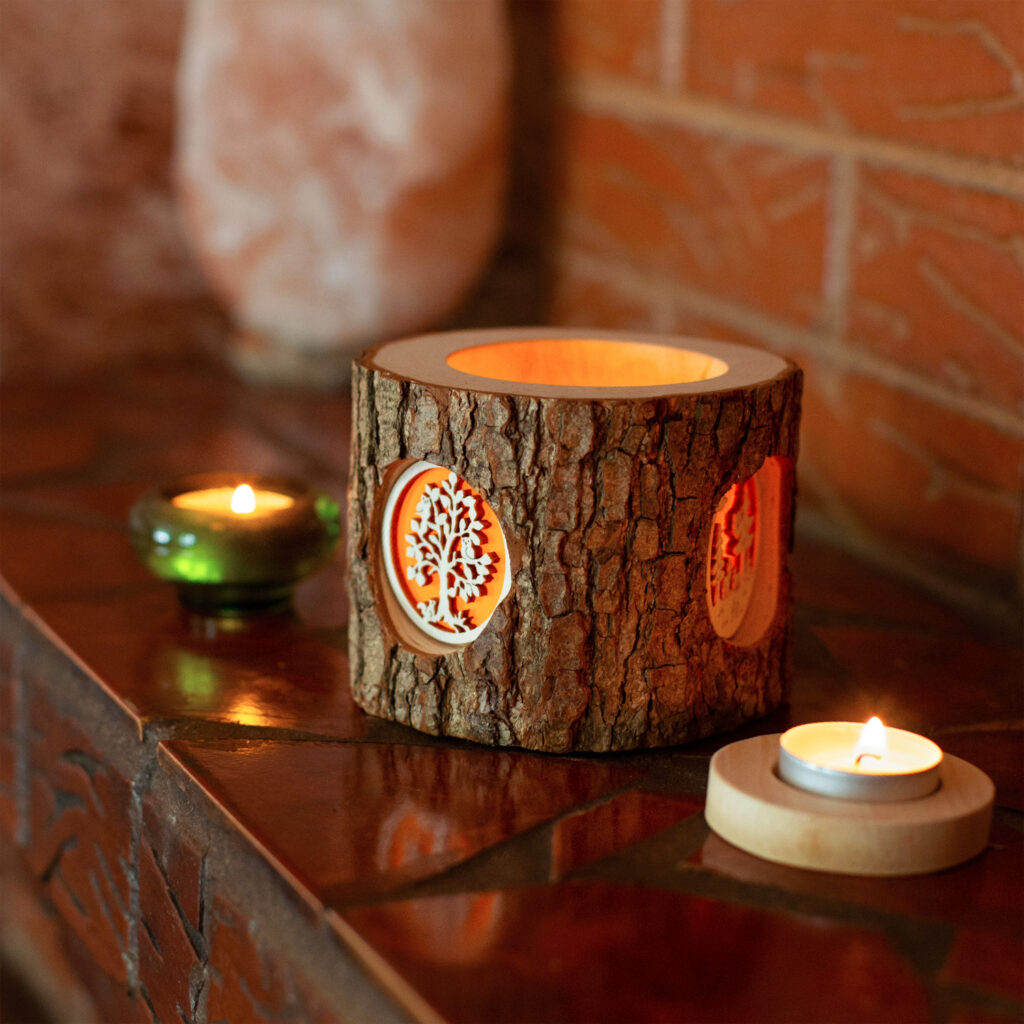 Nearly everyone loves candles, especially those that are scented. They add movement, comfort, and warmth to a home. Candle holders made of wood retain a natural appearance and are one of the great gifts for her. They are available in several designs that include nativity scene candle holders and tea light holders.
The Nativity Scene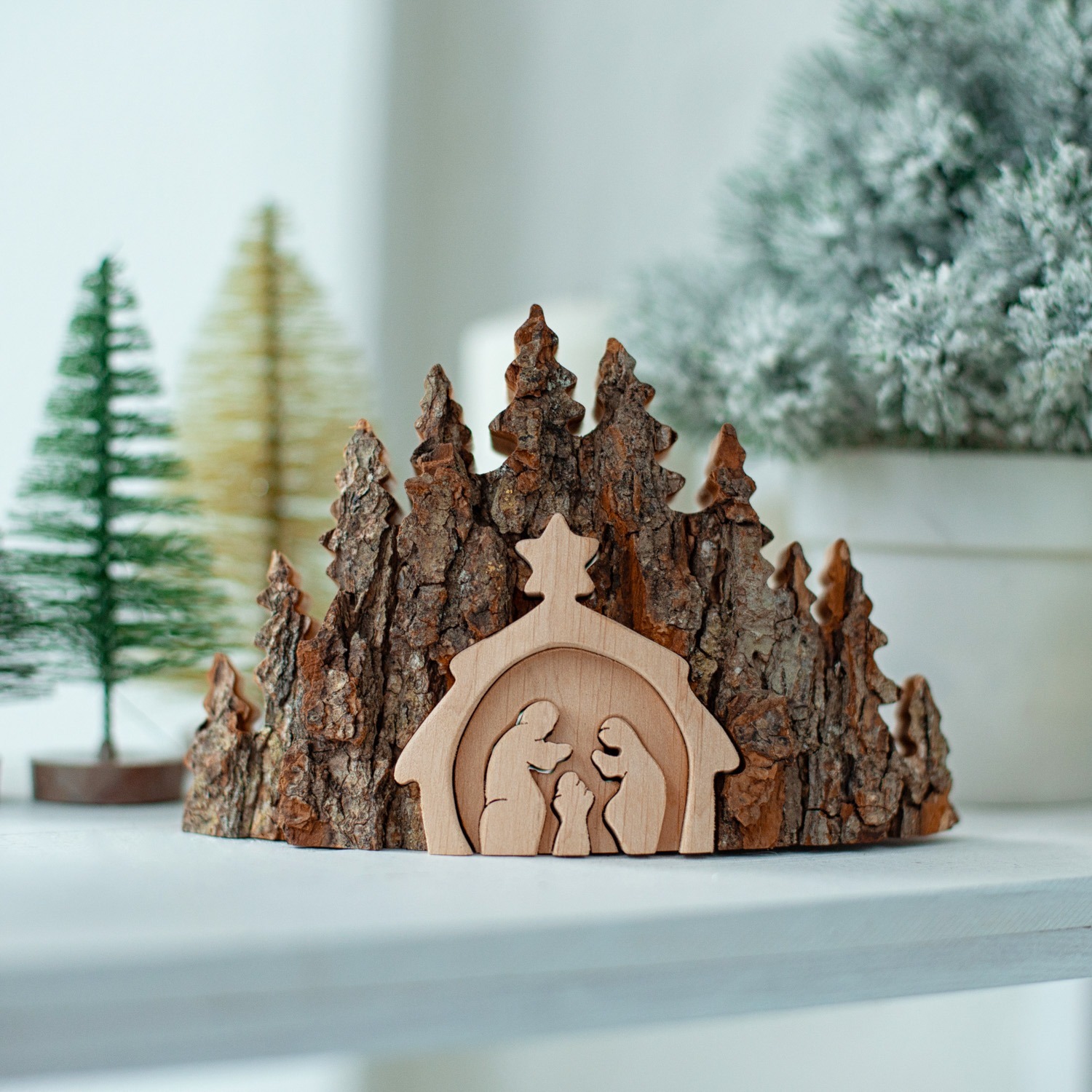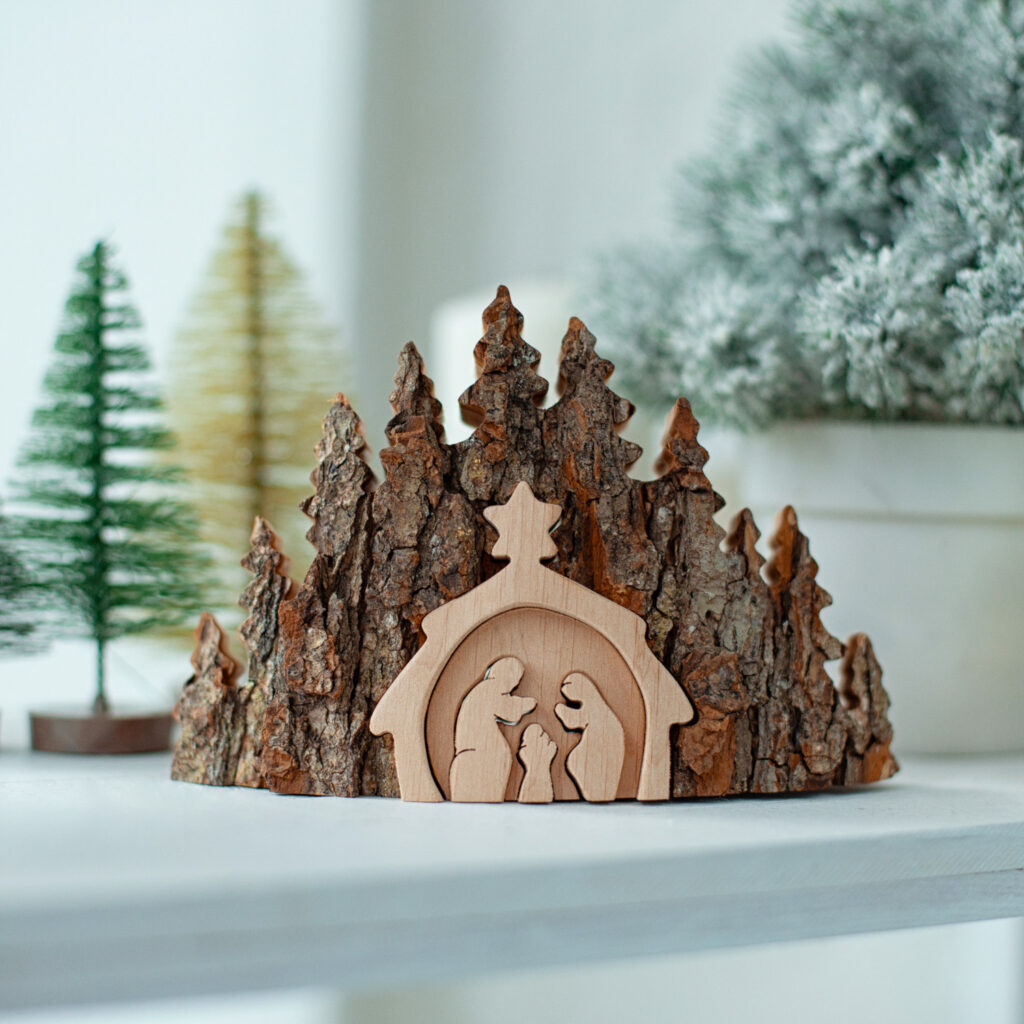 The nativity scene is a religious symbol placed in the homes of spiritual people. Something is comforting about them. You can use them as decorative items during the Christmas season. Different Christmas tree ornaments can be part of the décor all year.
How Your Home Décor Affects Your Mental Health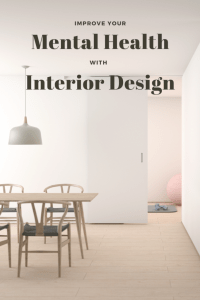 People are visual creatures who may be affected by what is seen in a home. We want our home to reflect ourselves, an expression of our personality, inviting, and warm. People want to transform their homes into a personal oasis. Some changes can easily be made to ensure a home improves mental health and maintains a sought-after comforting vibe. When you realize how much a home affects overall mental health and mood, you quickly identify décor aspects that do not mesh. Personal items should conjure up good memories and inspire sentimental feelings. They can be artwork, special books, or decorative rustic wood items that cause you to smile. Incorporate them as much as possible. The scent may not be the first thing that comes to mind when thinking about your décor, but it plays a role in your mood. The smell is among the most potent senses and has a tie to memories. Fragrances are used to created feelings of calm. Fragrant candles placed in a rustic wooden candle holder are an excellent way to create a soothing space. Home decorating decisions are influenced by a person's preference and style. A house makes a statement about those who live there. Decorative rustic items have an impact on mental health. They should not be a cluttered array of objects but a few meaningful pieces. Every aspect of home décor sets the mood in the home. Choose items that create an overall ambiance.    
Vintage Décor Ideas for Your Living Room
A vintage theme is a timeless inspiration from which to draw. It infuses feeling and warmth in the home. Vintage living rooms are comfortable, soft, classic, and elegant. A broad spectrum of living room decoration styles is available that are attractive and inspiring. They can be Victorian, traditional country, and shabby chic. Dark shades of furniture are typically used in creating vintage living rooms. Natural materials, such as wood, are a means of creating a vintage theme. Wood carved items are popular vintage elements. Use them to fill a vintage living room, but do not overdo it. A vintage living room style minimizes the items used to decorate and keeps the space clean-cut—Mix pastel colors with natural wood items to provide the essential vintage living room elements. Make an elegant statement by painting living room walls a bold yet soft blue. Elegant vintage living rooms revolve around room essentials and antique furniture. Some decorative wooden items that fit nicely in a vintage living room include:
Windows have thick curtains and ruffled tiebacks. The selection of accessories requires focusing on minute details. They complement the vintage living room style. Consider colors, such as blues, plush violets, and pale pinks. Vintage living rooms take a 'not-so-bold,' yet sophisticated approach.
The Essence of Rustic
The essence of rustic is the use of natural materials and warm earthy colors and tones. Anything from suede to leather, rustic metals to wrought iron, materials such as stone, concrete, wood, animal hide, or cotton create a rustic but chic blend. For nature lovers, a rustic lifestyle with present times comfort is a dream come true. With relatively small amounts of effort, money, or time give surroundings this natural soft feel and touch of nature and make every minute spent in a home a connection to nature. Present time rustic décor is trendy. People are moving from unfeeling plastics and hard metals to more warm and natural wood. Knots and other imperfections provide a unique look. Many rustic items have the bark on them. Cuts are made that follow the natural line of wood instead of regular sizes and shapes. Using wood accessories multiplies the effects and warmth. They are like spices that season the home. You can create a visually delightful atmosphere without worrying about making a mistake. When a room has a contrast of colors and texture, the overall effect of the décor is dramatic. A wooden candle holder or a carved animal on a table is a way to complement other articles in the room to achieve a rustic country feeling without cluttering the home or going overboard. People spending time in their homes during this pandemic look for ways to add functional comfort. Rustic décor accomplishes the goal.