5
Min Reading
Many wooden Christmas tree ideas are easy and cheap to make. Wood elements have been trending for some time. Wooden items are an excellent way to bring in natural elements that go with any style in a home, from rustic farmhouse to boho.
Building a DIY Christmas tree is a fantastic way to craft homemade tabletop decor, decorate a front porch, or have an alternative Christmas tree. The types of wood you can use include
Branches or twigs
Dowels
Driftwood
Lumber
Paint sticks
Pallet wood
Pinecones
Popsicle sticks
Scrap wood
Wood slices
Branch or Twig Christmas Trees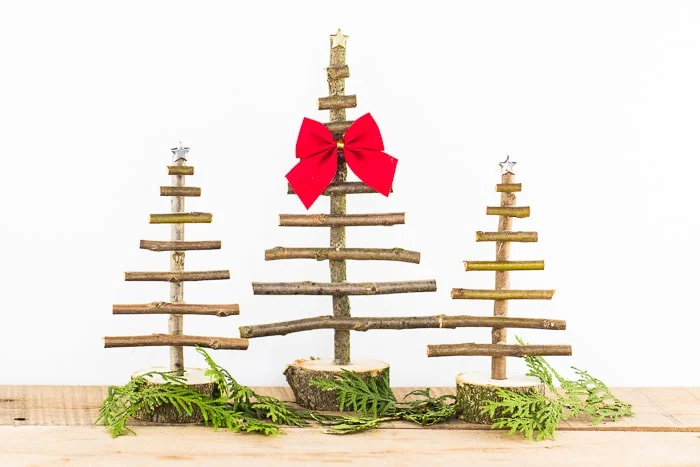 These Christmas trees, made from twigs, are cute on a mantel and cost nothing to make except the price of a bit of glue. Even if small items are purchased to decorate the trees, the cost is only a few dollars at a discount store. The directions include
Gathering sticks

Making a template

Cutting the branches

Gluing together with hot glue

Adding the base

Decorating the trees
A small red bow in the center gives the trees a pop of color.
Dowel Christmas Tree

A DIY wood Christmas tree may seem daunting but is relatively easy to make. It is one step repeated over and over. You can make a dowel wood Christmas tree in less than an hour.
You make the base and add the branches. The list of materials and instructions are found on this link. You drill some holes and assemble. Dimensions can be cut in half for a tabletop tree if the space is tight.
Driftwood Christmas Tree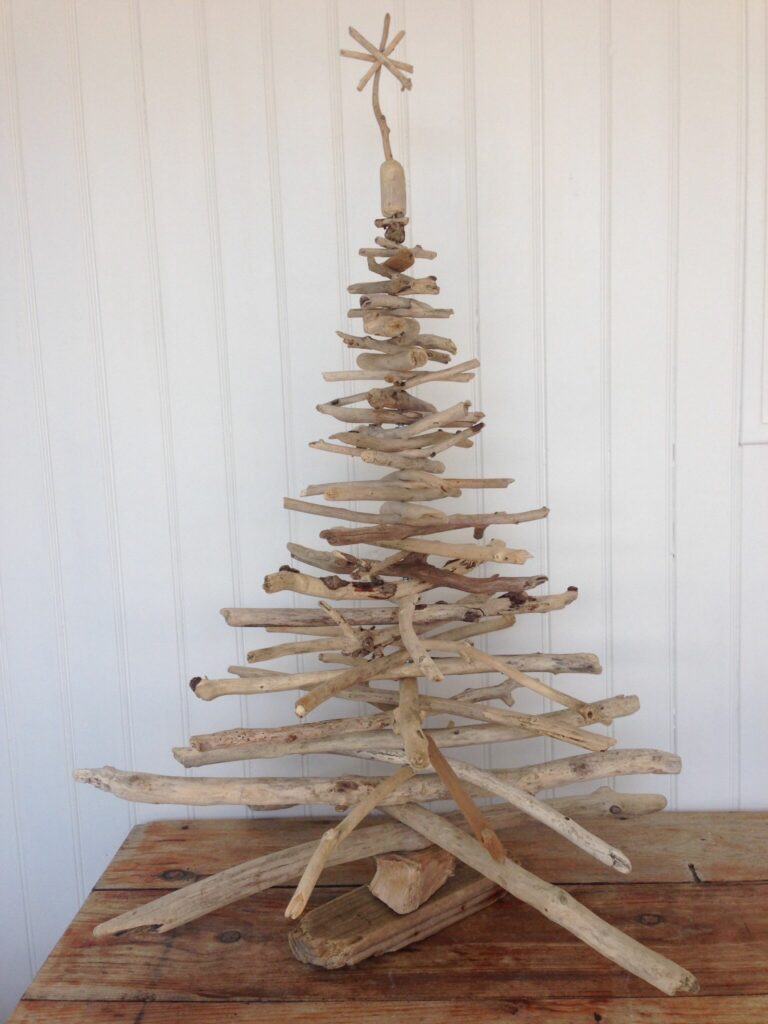 The parts, tools, and directions for making a driftwood Christmas tree are on this link. Here is another link for making wooden tree ornaments from driftwood. If you plan a coastal Christmas, this tree can be the soul of the festive decor.
It is also an excellent idea for an outdoor driftwood Christmas tree that is a bit unconventional. A full-sized tree makes fantastic decor for a front porch or cottage during the holidays.
Lumber Christmas Tree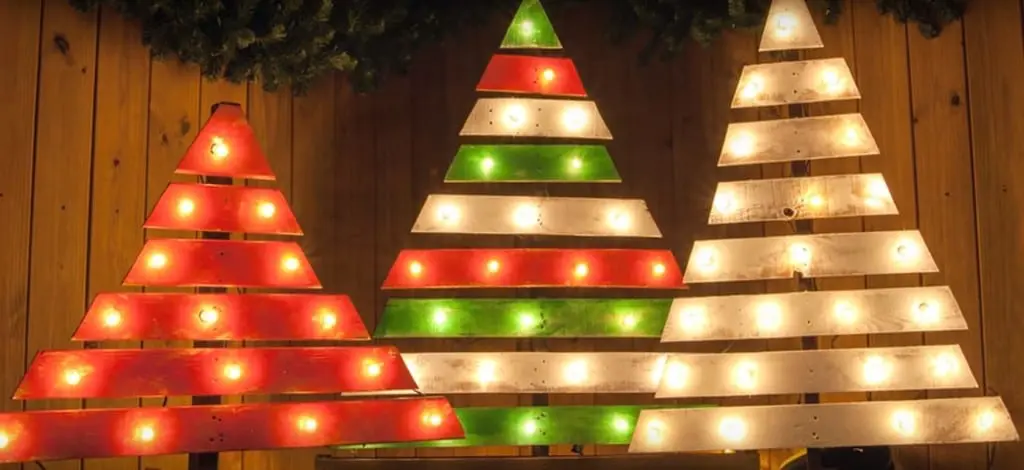 This video gives step-by-step instructions on how to make a 3D wooden Christmas tree like these out of lumber. There is a list of materials and tools needed to complete the project.
The project is made easy by taking the cutting list to a lumber yard and having the pieces cut to the correct sizes. Unleash festive creativity with this fun, funky, and excellent wood Christmas tree. It can be used as wooden tree decor in your home or office.
Paint Sticks Christmas Tree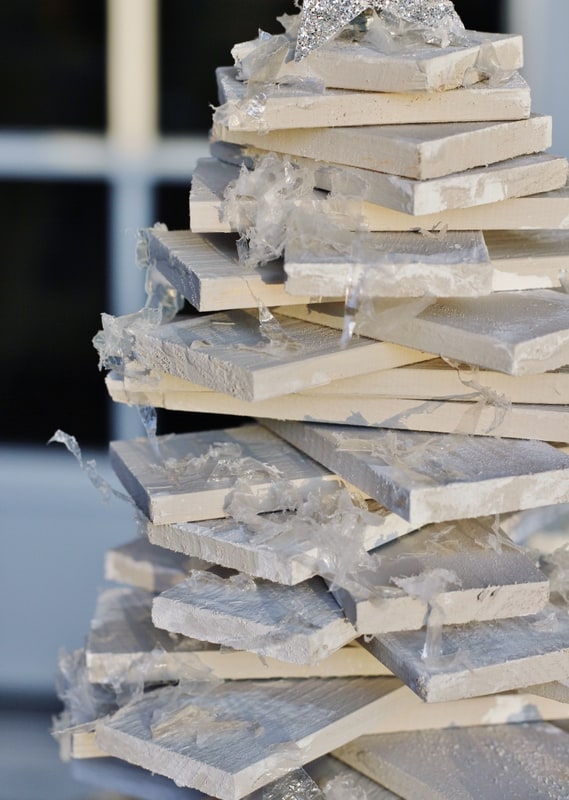 Amazon sells paint sticks available in ten, 12, and 14-inch lengths with no writing on them. There are 50 sticks in the package, costing about 30 cents each. This picture is a close-up of the tree that shows the effect of snow.
Paint sticks are turned differently, and cotton is tucked under the tree bottom for more 'snow.' Create a snow forest with multiple trees. Place them on a cabinet or sideboard. You can find directions on this link.
Pallet Wood Christmas Tree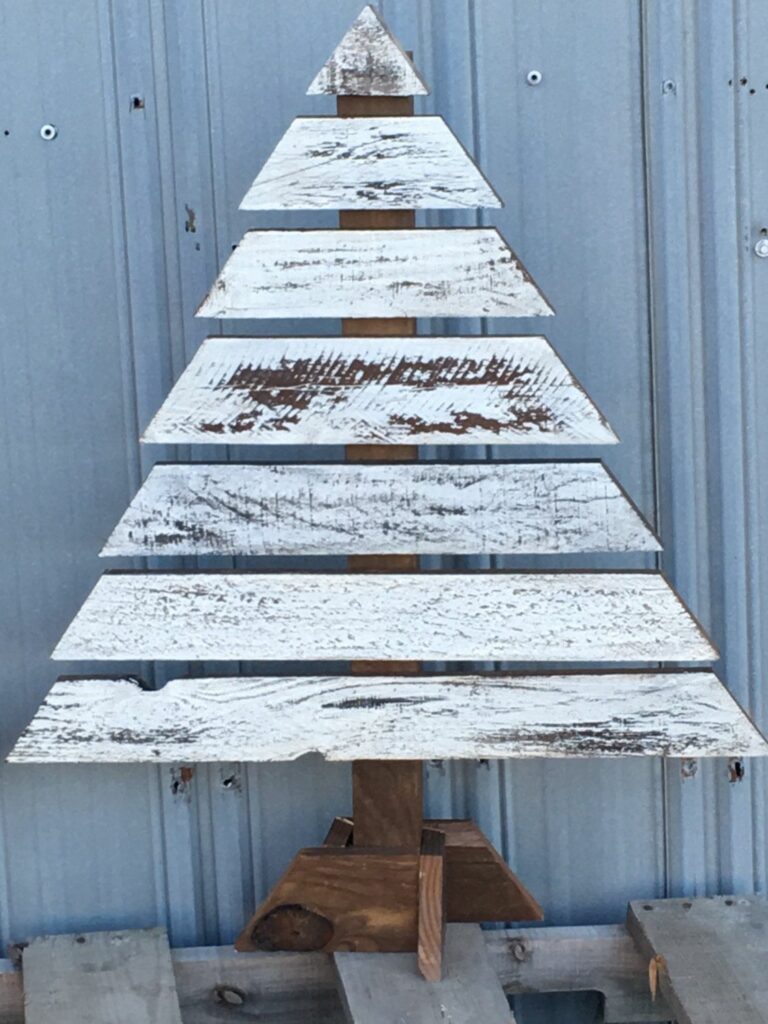 Christmas does not have to be celebrated with a traditional tree. Use a reclaimed pallet and make it a wooden Christmas tree with lights and a few modifications. A pallet tree is portable and pet-proof.
It is an ideal rustic decoration to use in your home or give as a gift. A pallet tree is inexpensive and takes only a few hours to make. After cutting out the tree's shape, add the finishing touches and choose the best place to put it. Here is the 'How-to.'
Pinecone Christmas Tree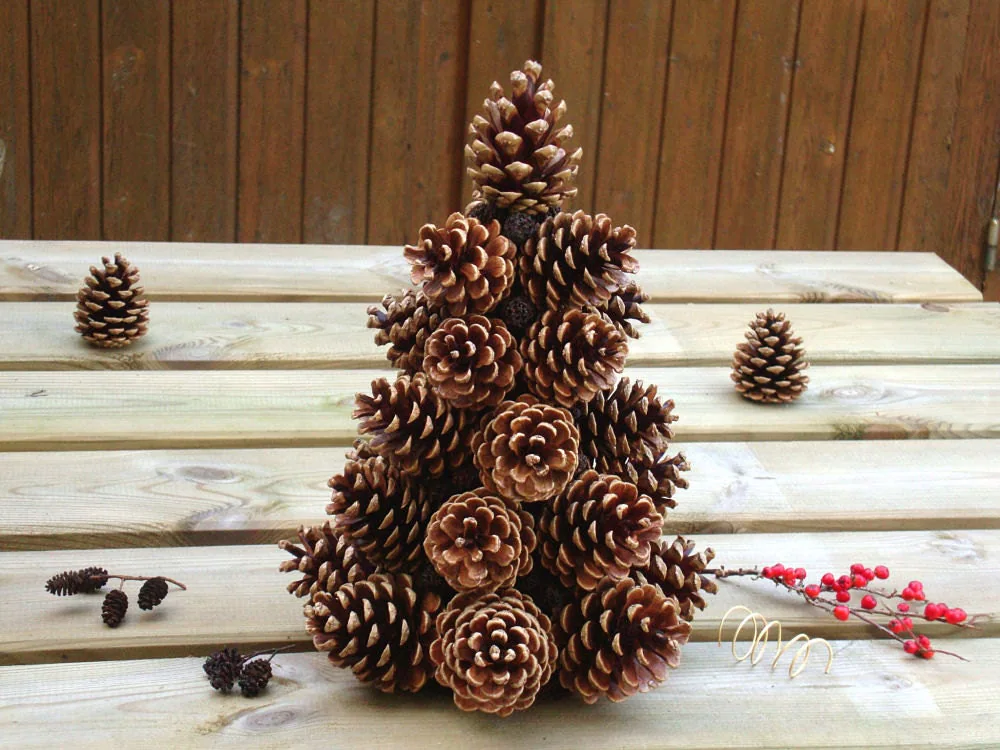 Here are two directions for making wooden tree decor with pinecones. They bring fun winter vibes into the home without being snowmen or snowflakes. One of the trees is a mini version, and the other is a bit bigger.
You can paint the trees green or opt for a more natural look if you like. The small ones are excellent as trees in a holiday village or for holiday place cards. Use the bigger one as a tabletop decoration.
Scrap Wood Christmas Tree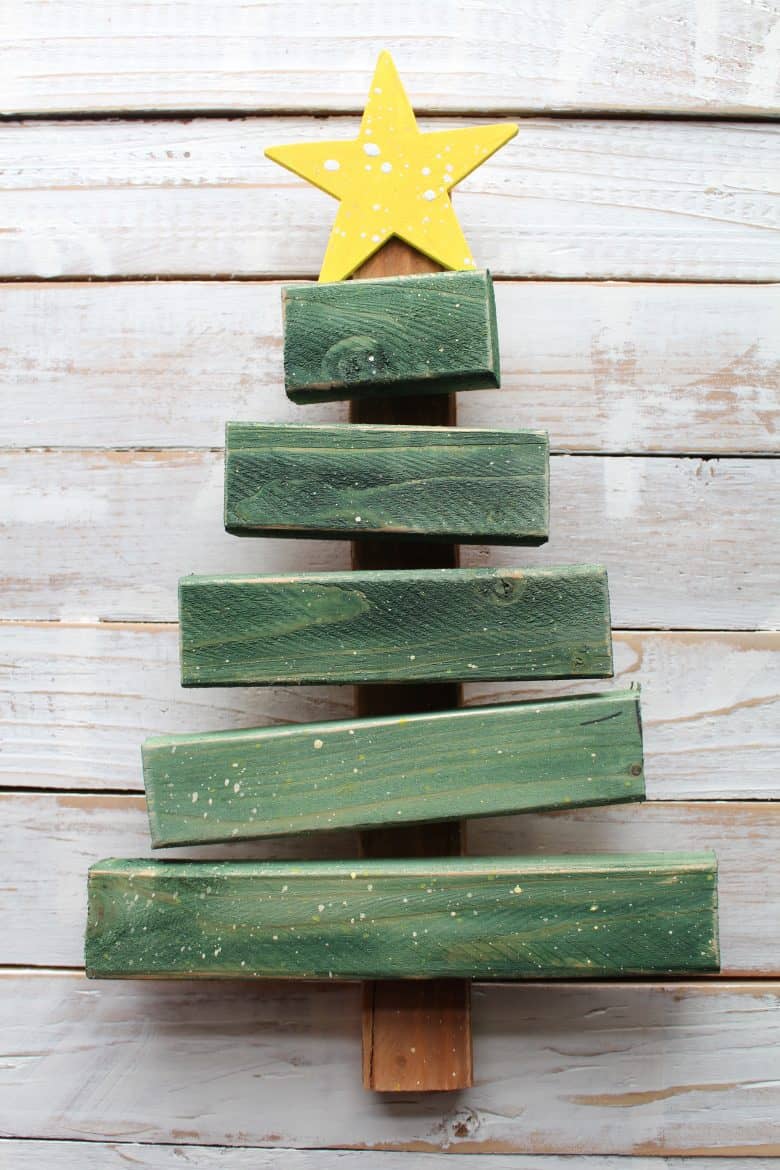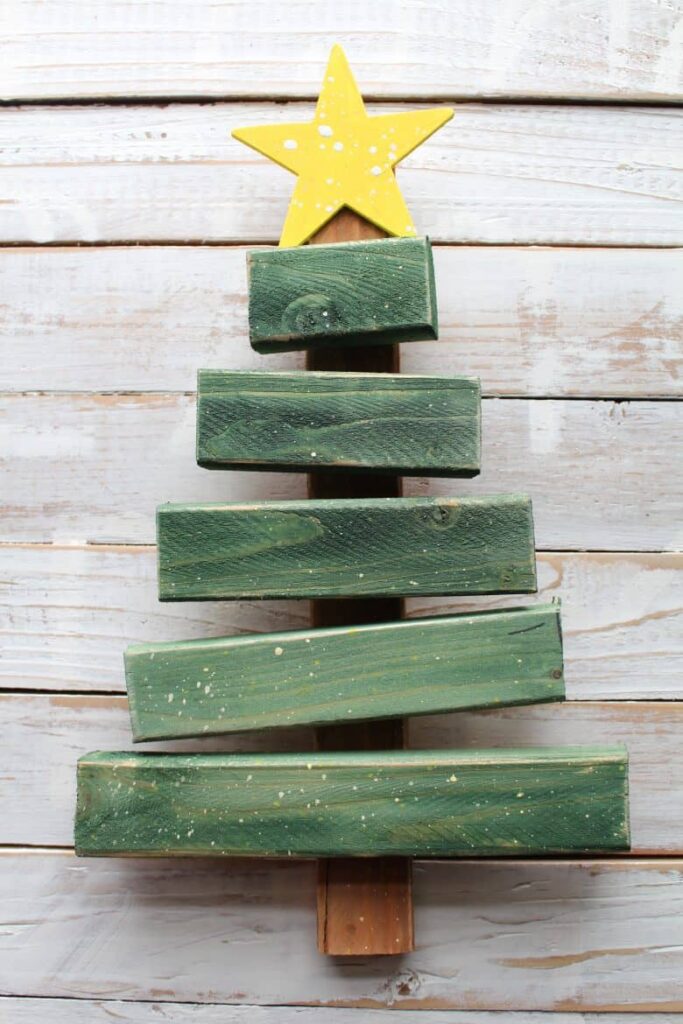 A scrap wood Christmas tree is an excellent way to repurpose old wood into something beautiful and new. Scrap wood is cut into various lengths with a saw. It does not matter if there are different lengths and widths.
Using them together gives the finished tree character. You create a fabulous rustic wood Christmas tree for your yard or porch. There are directions for wooden trees that look similar to those made with pallets.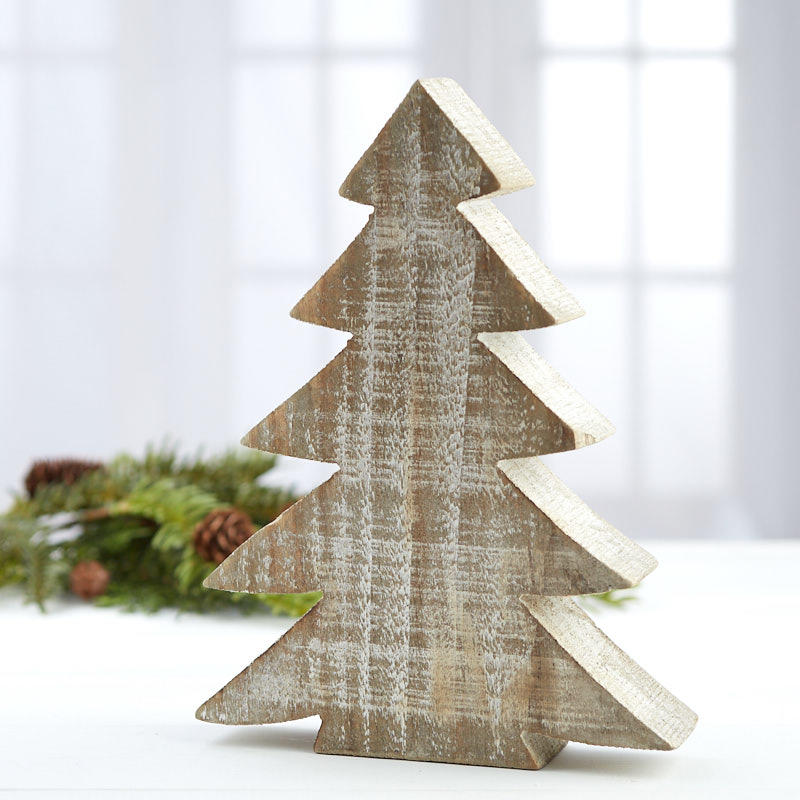 You can also use these free wooden Christmas tree patterns to make trees like the one pictured here or some other design.
Wood Slices Christmas Tree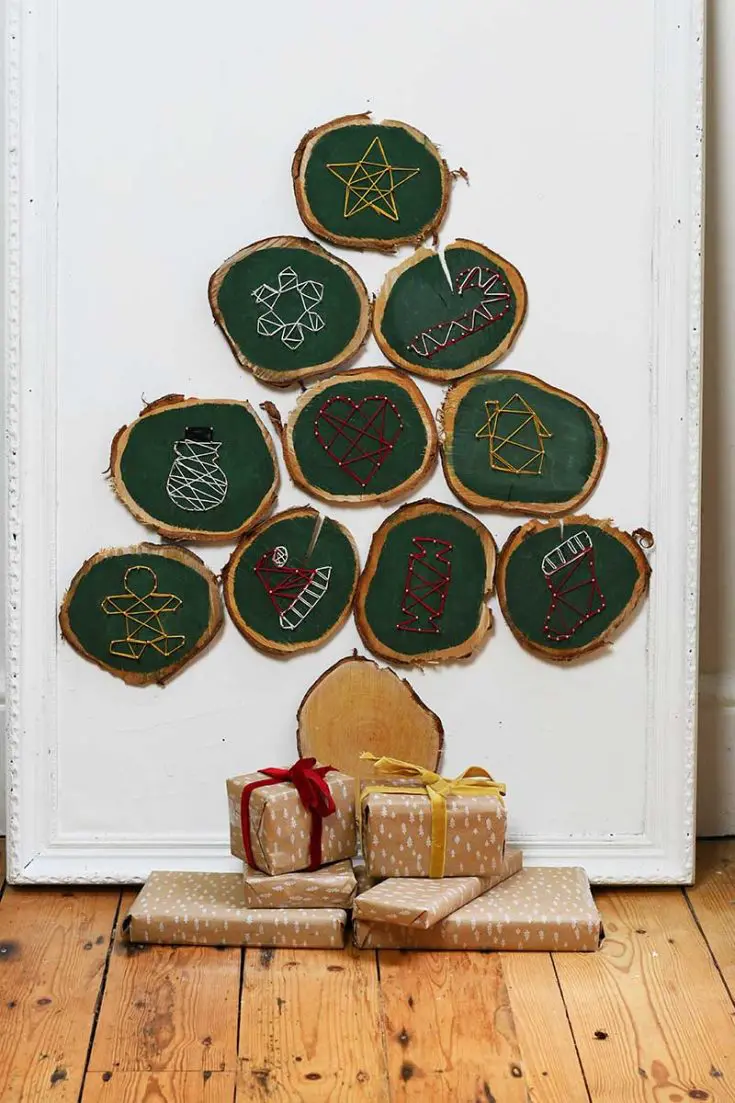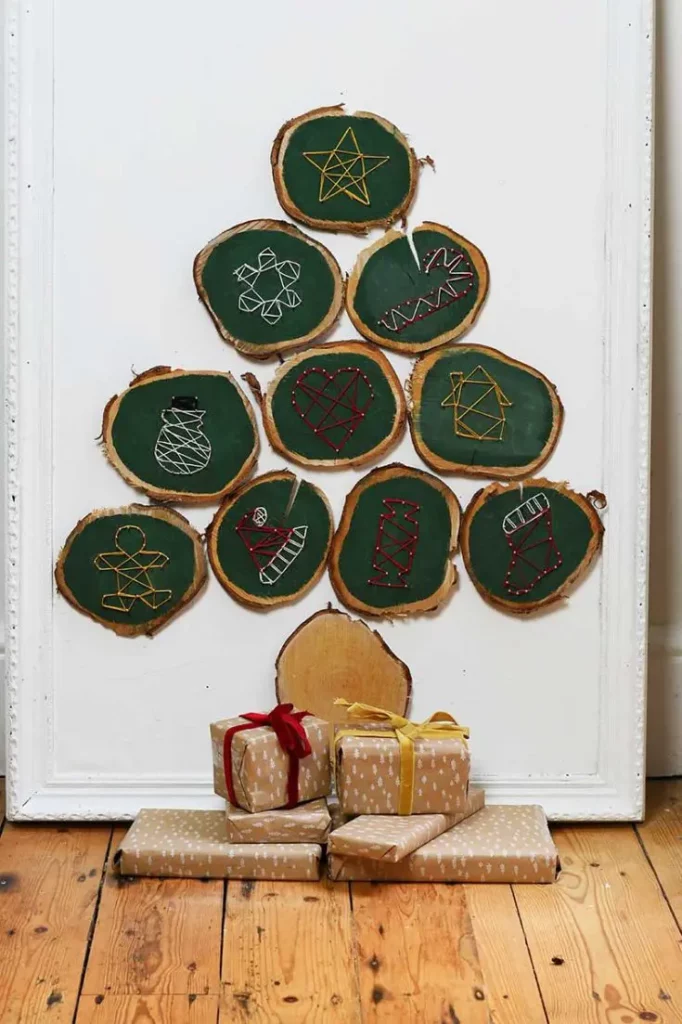 When there is limited space in a home, a real tree takes up a lot of space. This is an alternative made of pine wood slices available from Amazon. It takes up so little space that there is room for more than one in your home.
The directions for the tree show how to make each slice into an ornament with some cookie cutters, panel pines, and embroidery thread. The finished pieces are put into a frame using mounting tape squares.
Wooden Tree Decor
For those who are not so DIY savvy but love rustic tree decor, Forest Decor has a line of wood Christmas ornaments to decorate your tree. Hang a rustic wood snowflake, stunning star, majestic wooden moose, or flying pig on the tree, or use them for festive home decorating. There is also a selection of nativity scenes made from wood.