10
Min Reading
Owl gifts include vases, bookends, pillow covers, outdoor decor, wall art, figurines, and keychains. They make lovely gifts for birthdays, anniversaries, wedding gifts, or a pleasant surprise for an owl lover. The selection of owl gifts from Etsy, Amazon, and Forest Decor contains excellent ideas for the whole family and comes in various sizes and price ranges.
Vases
1. Owl Planter with Succulent Indoor Plant
The ceramic brown owl planter contains a succulent plant that should have ten to 12 hours of indirect, bright sunlight and periods of shade to keep from sunburn. Use well-draining soil and maintain a mild temperature for the succulent by watering only when the soil is completely dry.
2. Crystal Owl Vase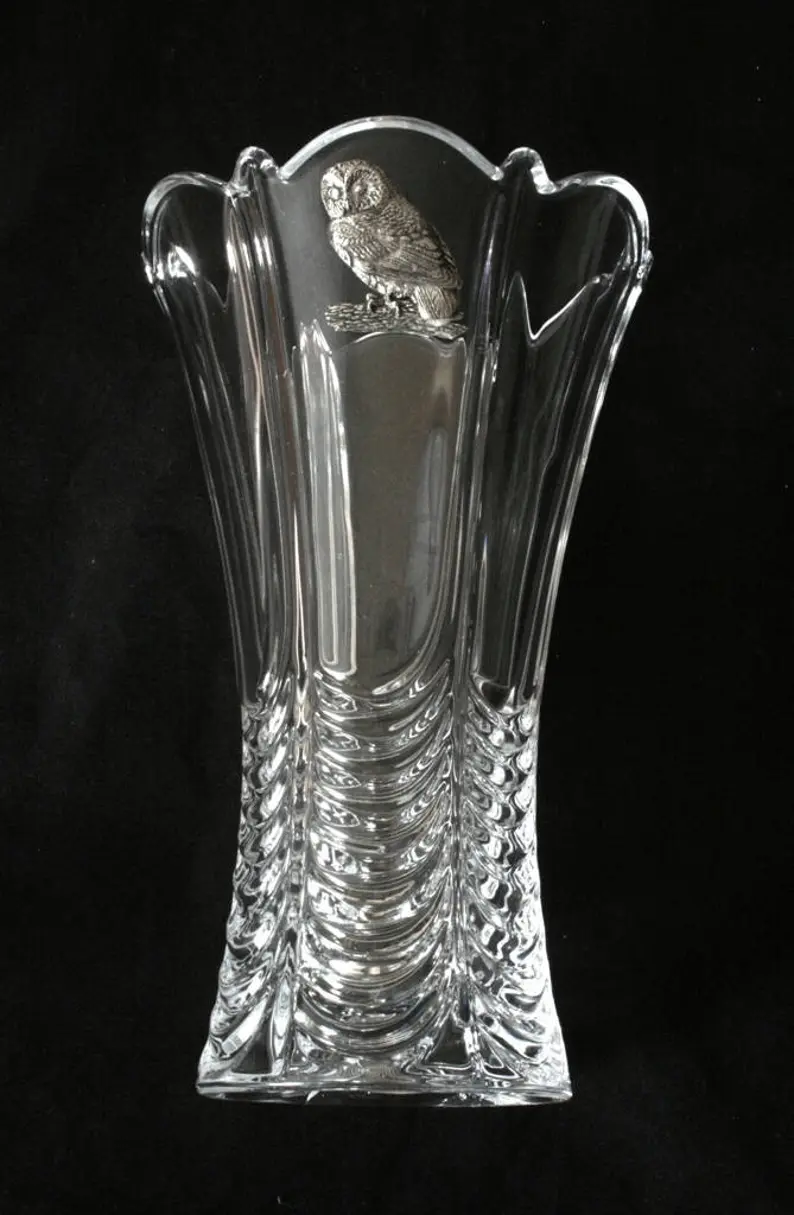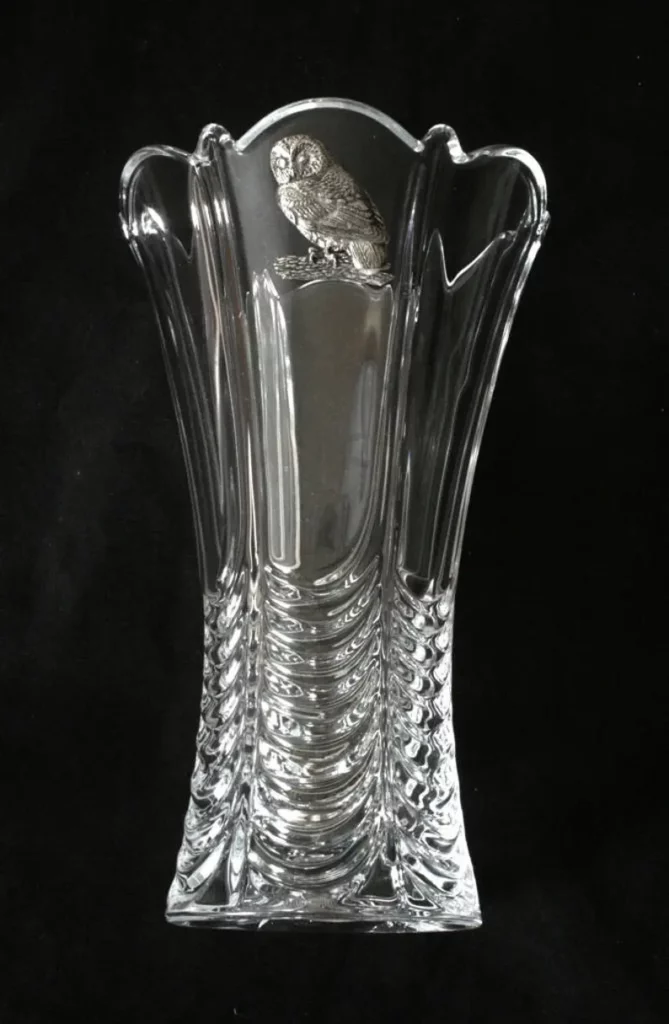 A crystal glass vase is a perfect gift for anyone. This vase features an emblem made of enamel or pewter on the front panel. Six panels splay at the top. The dimensions are 20 cm. tall, 12 cm deep, and 8 cm wide. It makes a perfect award or prize.
3. Tall Owl Succulent Planter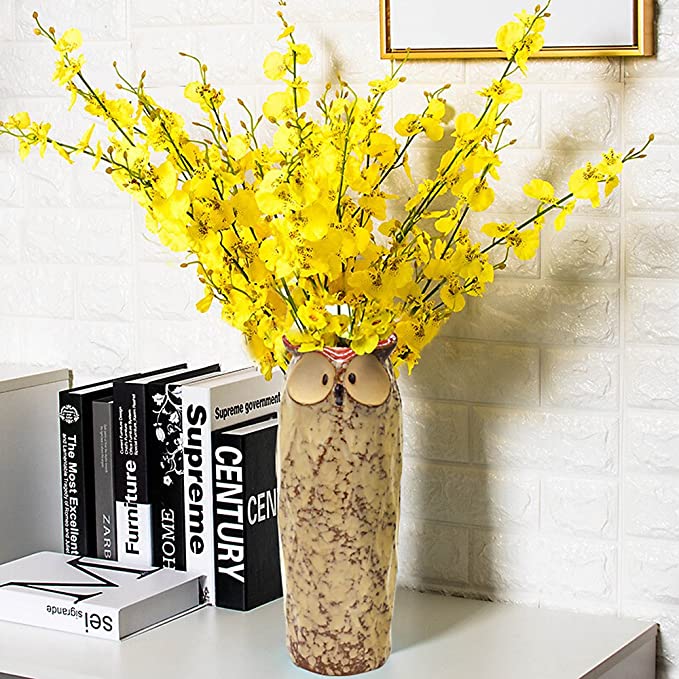 A unique and fun owl ceramic succulent planter like this one, with no holes in the bottom, is excellent for hydroponic container plants. The vase is ideal for cutting plants, buds, artificial flower arrangements, and ikebana. It would be cute in a window or easily fit on any table or shelf.
4. Blue Owl Ceramic Planter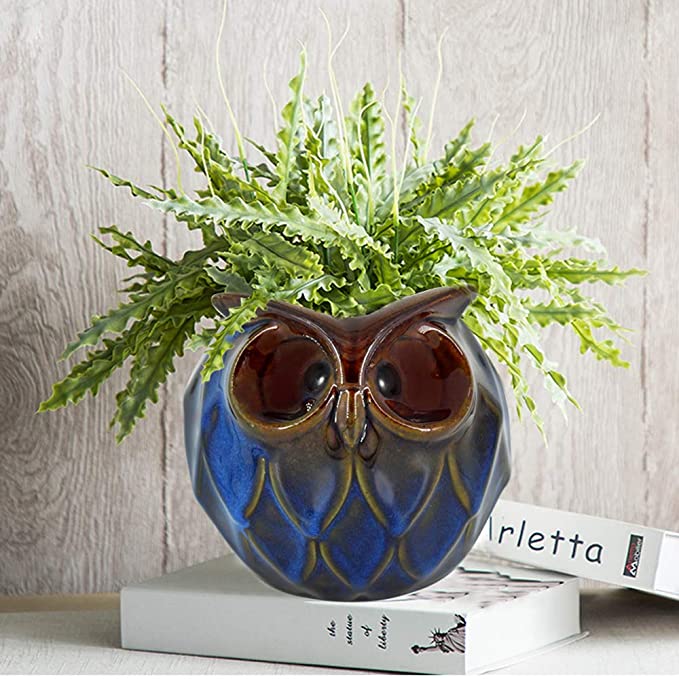 This adorable owl is an excellent gift for someone who loves animals or plants. There are drain holes in the bottom that make it ideal for planting herb plants, seedlings, lithops, and succulents in the office or home. The planter is versatile for decorating countertops, windowsills, tables, bookshelves, and desks.
Bookends
5. Statues Bookends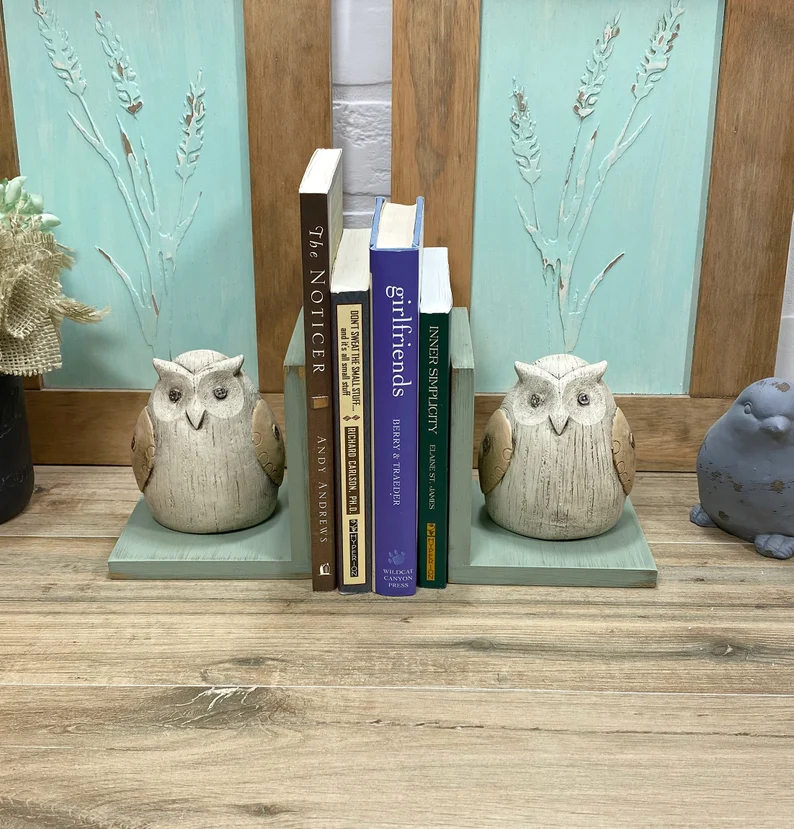 With 18 colors to choose from, the bookends are painted in your choice of color. You also choose copper or silver for the color of the screws on the wings and eyes. These owls are handcrafted from plaster, and the painting is distressed. There is some assembly required.
6. Owl Miniature Bookends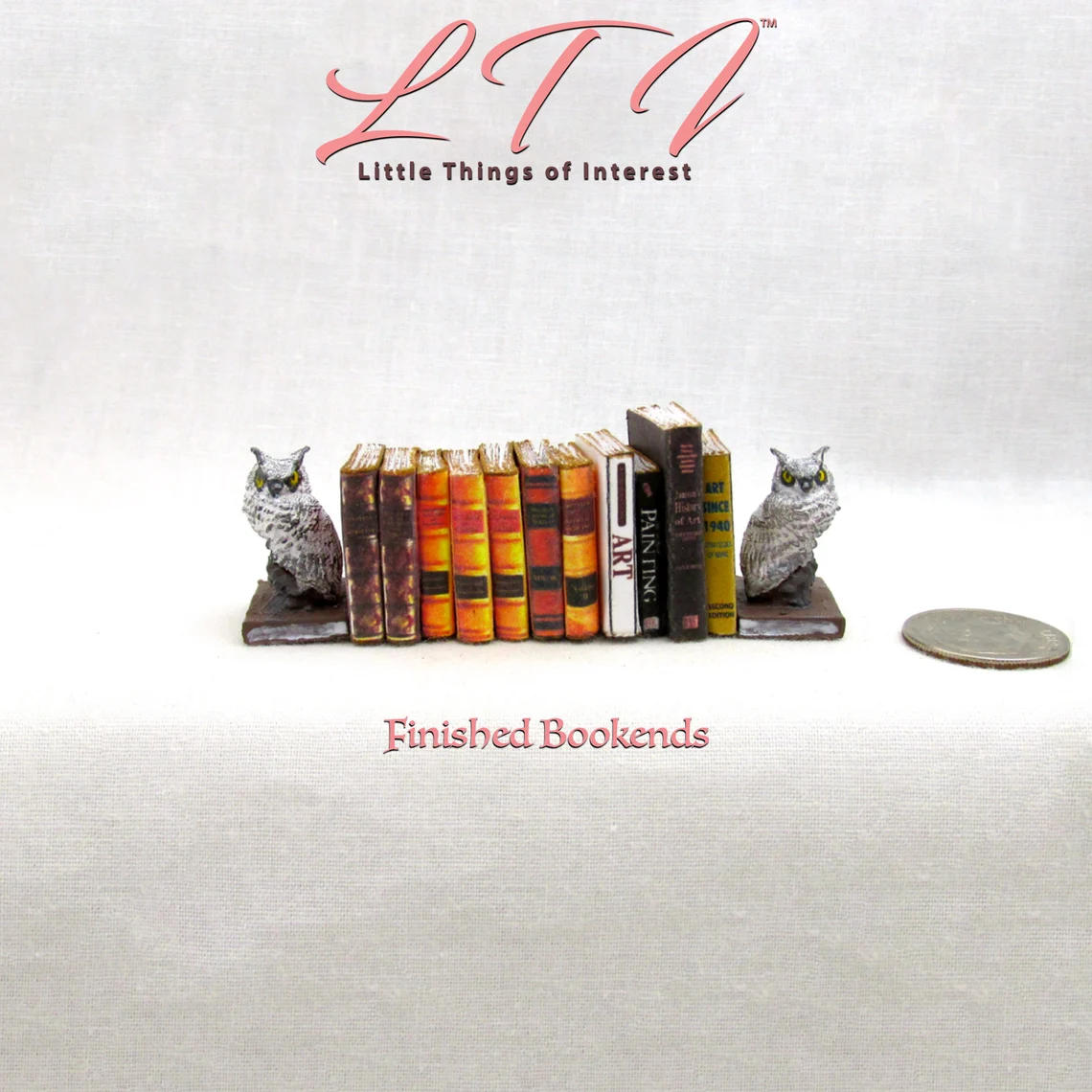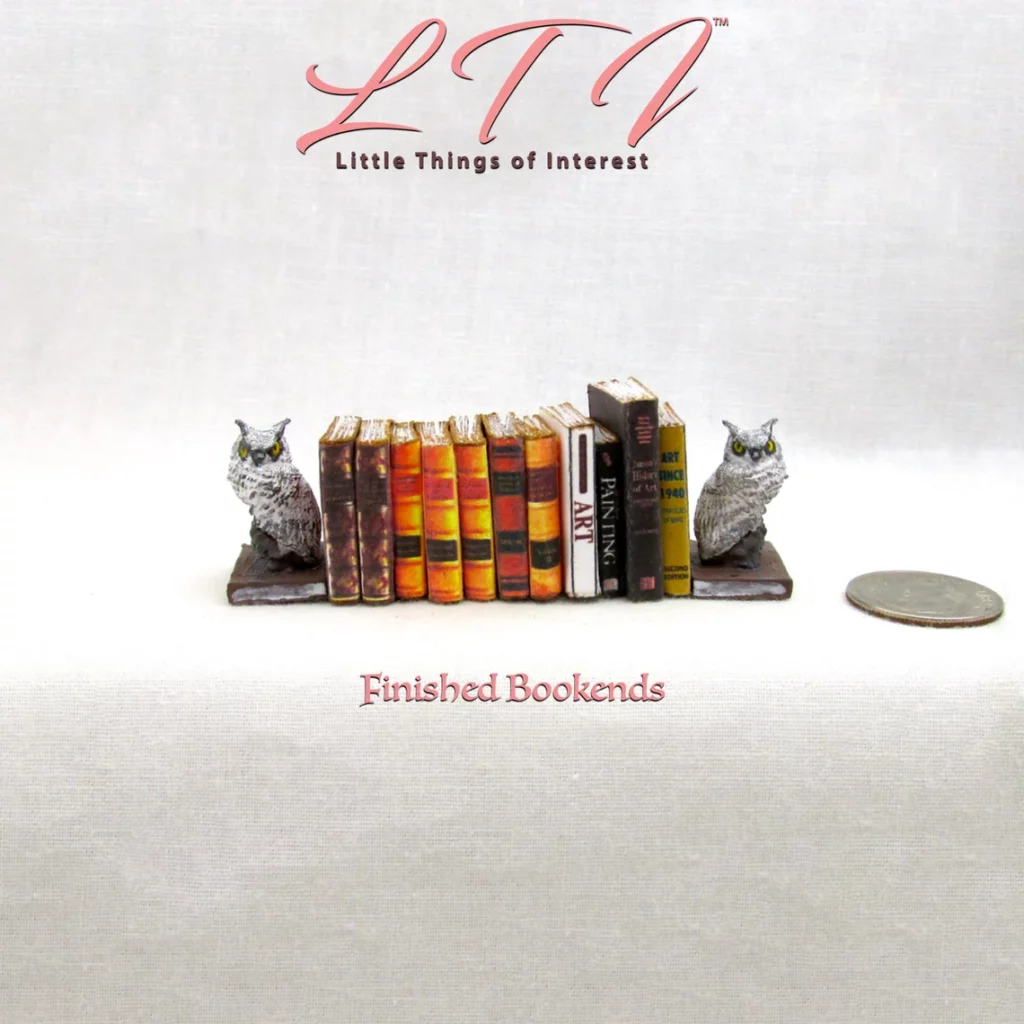 The resin miniature bookends bring sophistication to a library, room box, or dollhouse room. Each set is intricately detailed, especially the feathers of the owls.
When mixed with the right accessories, a scene becomes more real and inviting. These bookends look fabulous in an attic loft, study, library, living room, or bedroom.
7. Owl Nonskid Bookends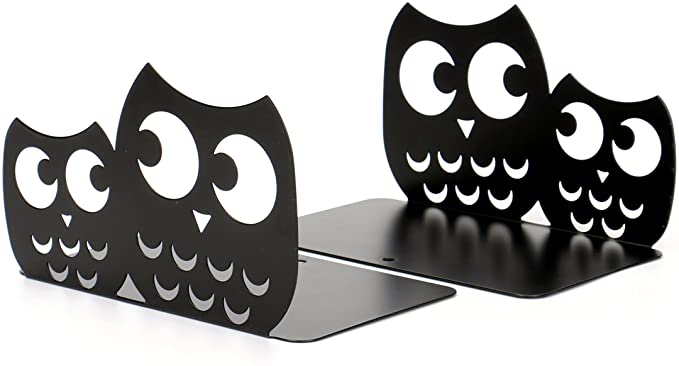 Keep catalogs, magazines, and books in view and organized with this pair of cute art bookends. They have padded bases to prevent slipping and minimize scratches. Vertically arranged material does not tip easily. The classic color creates a nice and beautiful look. They are ideal for a home, school, library, or office.
8. Decorative Metal Bookends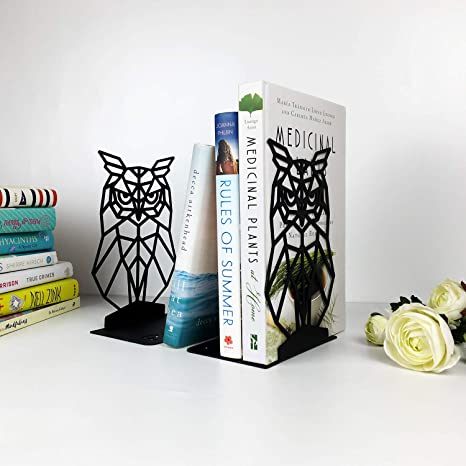 This unique farmhouse shelf decor is tall enough for all-size books. It is an excellent way to display decorative books. The sturdy, non-slip design holds a lot of books. A simple L-shape has a cushion pad to prevent scratching a desktop. The metal book organizer is a modern book holder for floating shelves.
Outdoor Decor
9. Garden Yard Decor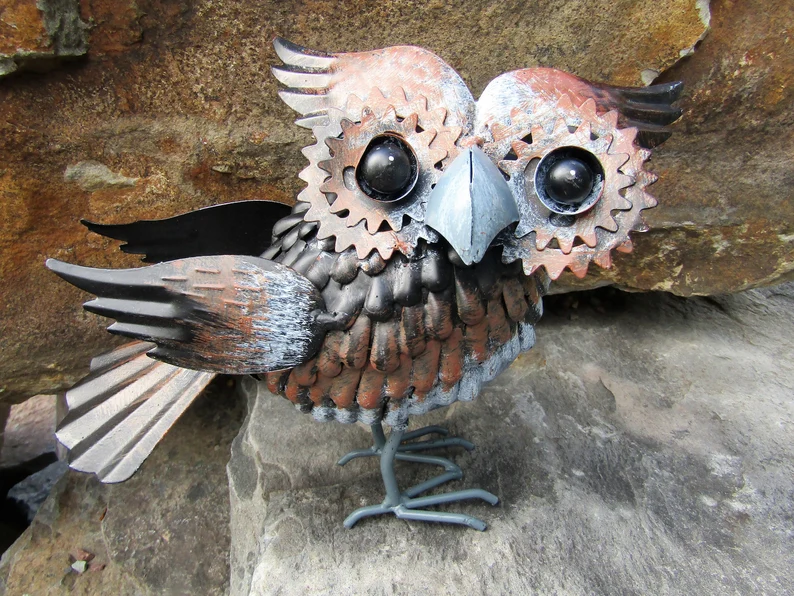 The chunky little owl featured here keeps you company and brings a smile. He is made of metal with 'feathers' in multiple shades of browns, blacks, and grays that suit any decor. The metal figure is seven inches tall and ten inches long.
10. Owl Garden Stake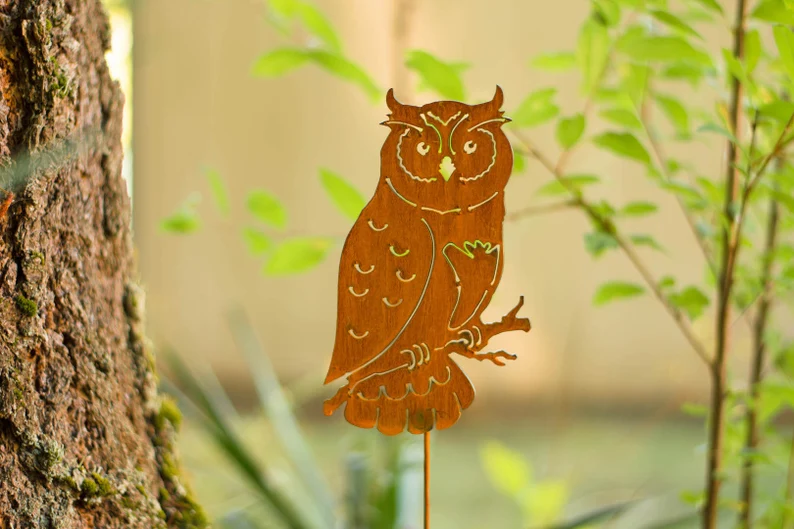 This artistic garden stake can be set up quickly and last more than one season if you constantly replace garden decor. It adds contrast to a garden setting as it gives the yard a pop that will make the neighbors jealous.
11. Two Fake Horned Owls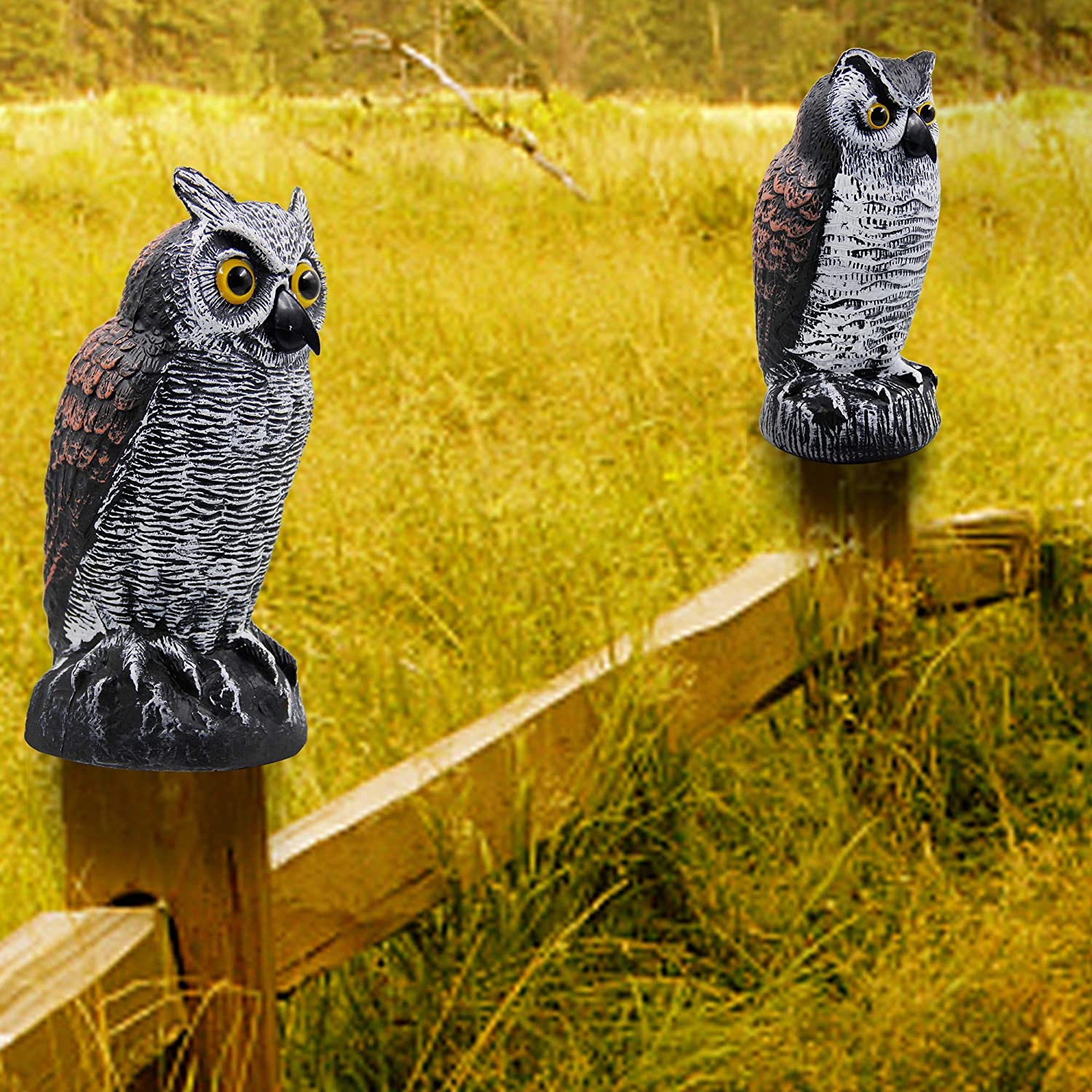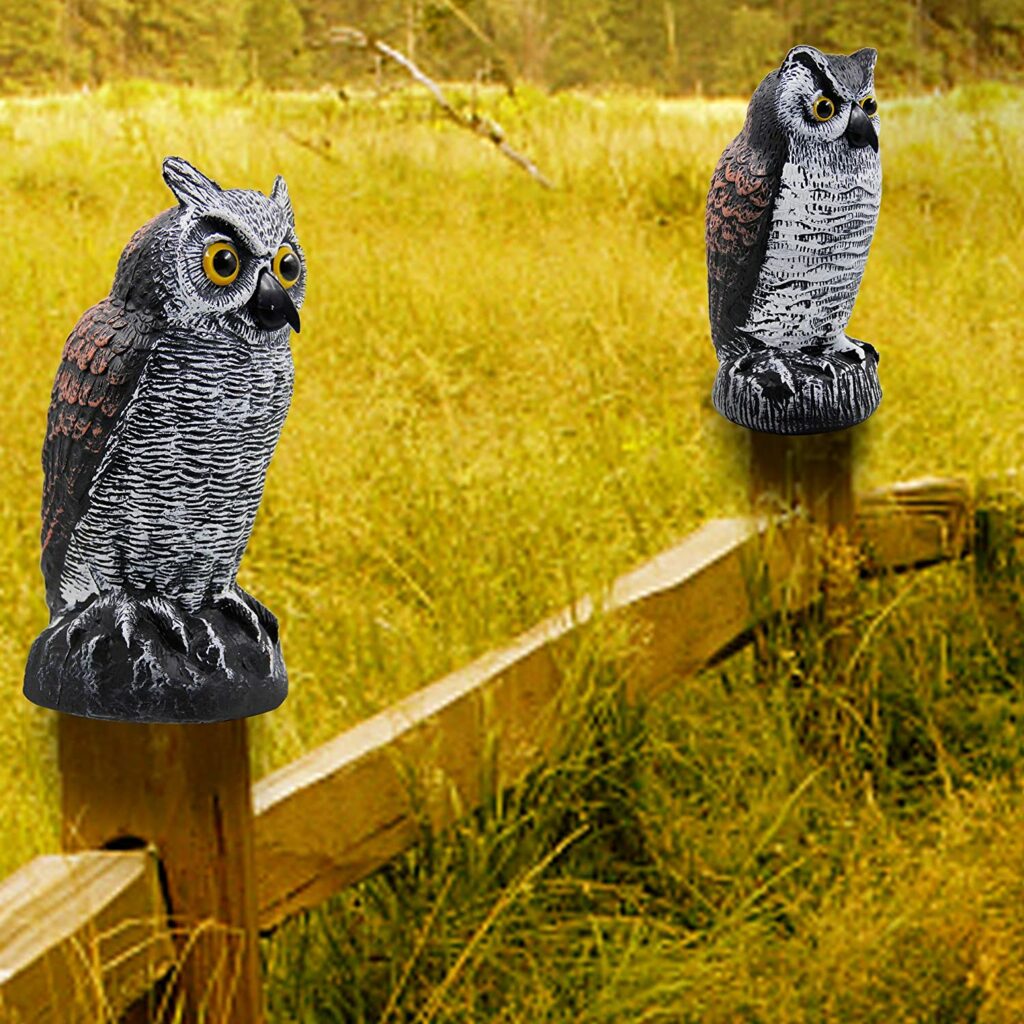 These owl bird repellant garden protectors scare away raccoons, squirrels, pests, and birds. They keep birds and pets away effortlessly. Each is made of sturdy, realistic appearing molded plastic.
They have highly detailed feathers, binocular-like frightening eyes, and the iconic eagle beak creates a terrifying predatory look. The pair is wildlife and eco-friendly.
12. Solar Lights Outdoor Owl Decorations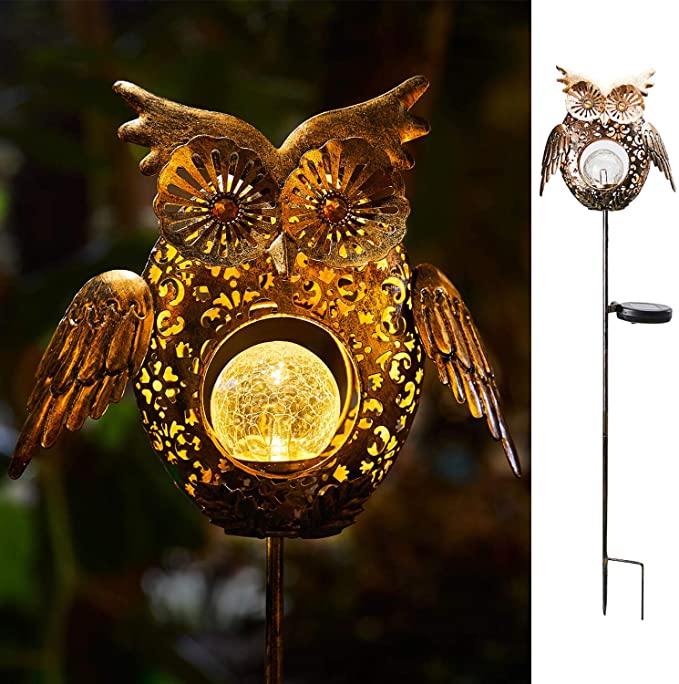 Cute owl solar lights emit a soft, yellow glow that adds a warm relaxing touch to a patio. The antique owl makes a grand statement in garden decor. Outdoor solar lights are a great accent to lawn and pound decor. It is an excellent garden gift.
Pillow Covers
13. Owl Print Pillowcases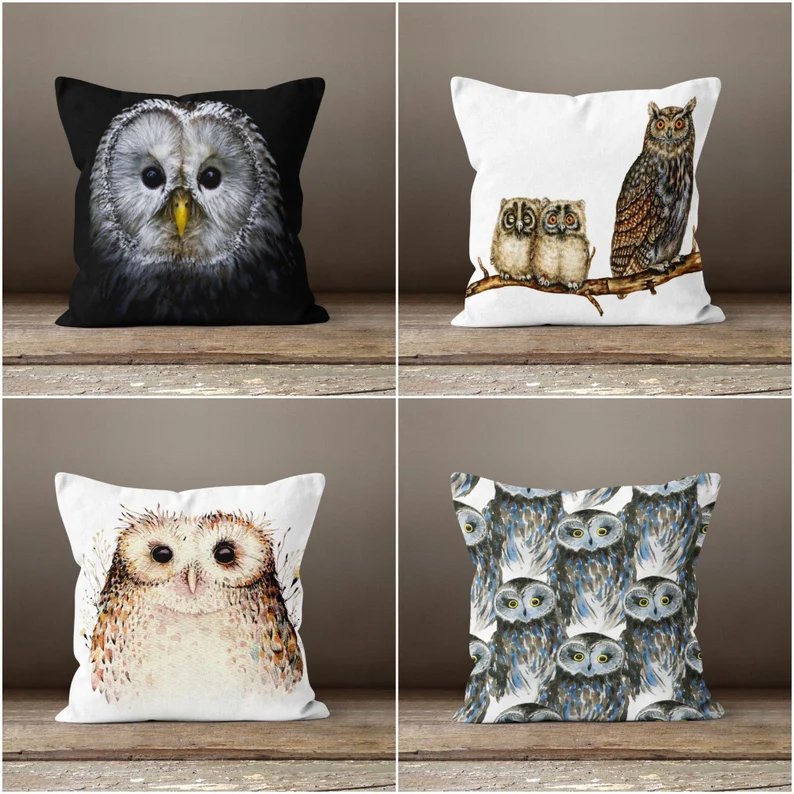 Imagine welcoming your friends and family to have a seat next to pillow covers in one of these cute prints. The elegant and rustic square cushion covers have brown and gray owls. They look great displayed with other bedding and home decor.
14. Yellow Owl Throw Pillow Cover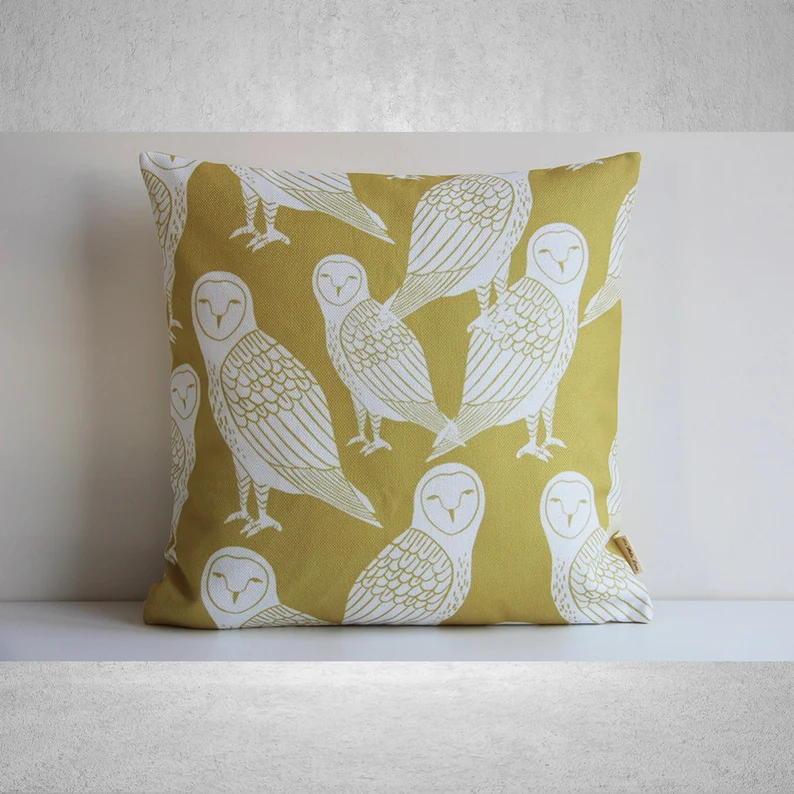 Add a chick texture to a room with the owl decor throw pillow cover made of polyester, linen, and cotton blend. It is perfect for bringing comfort, pattern, and color to a living room. The pillow cover is an ideal housewarming gift that is brilliant from season to season.
15. Linen Cotton Throw Pillow Cover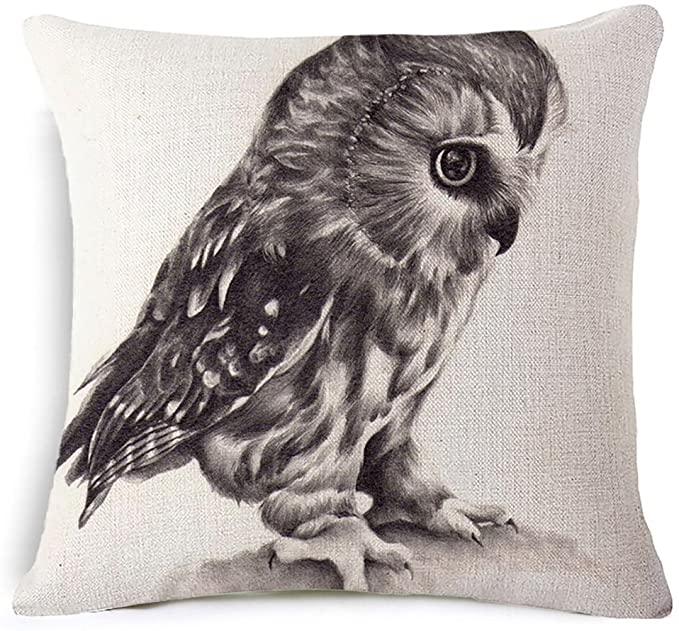 Comfortable, soft, and airy are words used to describe the quality cotton-linen blend of the material for this owl throw pillow cover. Mix and match it with other pillow materials, such as silk, latex, and cotton. It is an excellent choice for decorating a farmhouse, office, parlor, or bedroom.
16. Burlap Owl Pillow Covers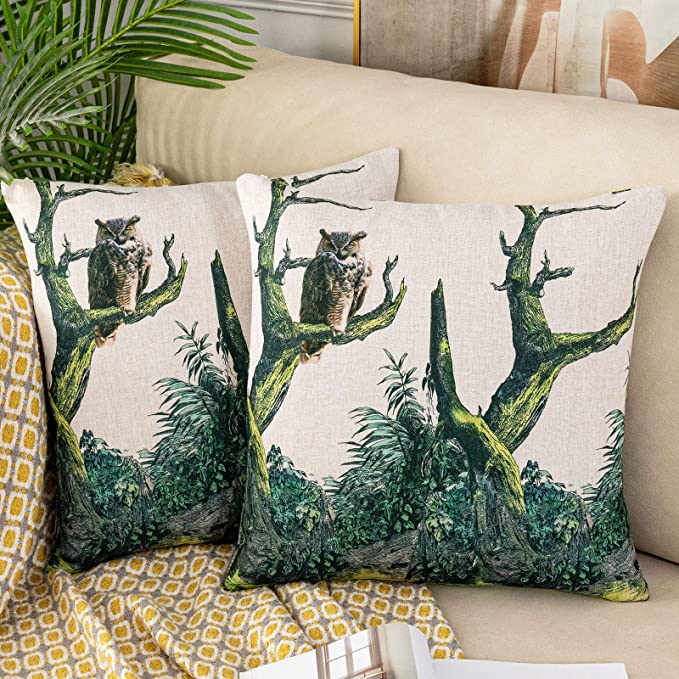 The digital print on these pillow covers makes the owls look cute and active in a three-dimensional world. The pattern is on both sides of the surface. They are made of textured imitation linen, durable, skin-friendly, and comfortable to touch. An invisible zipper makes the covers look more exquisite.
Wall Art
17. Rusty Metal Owl Wall Art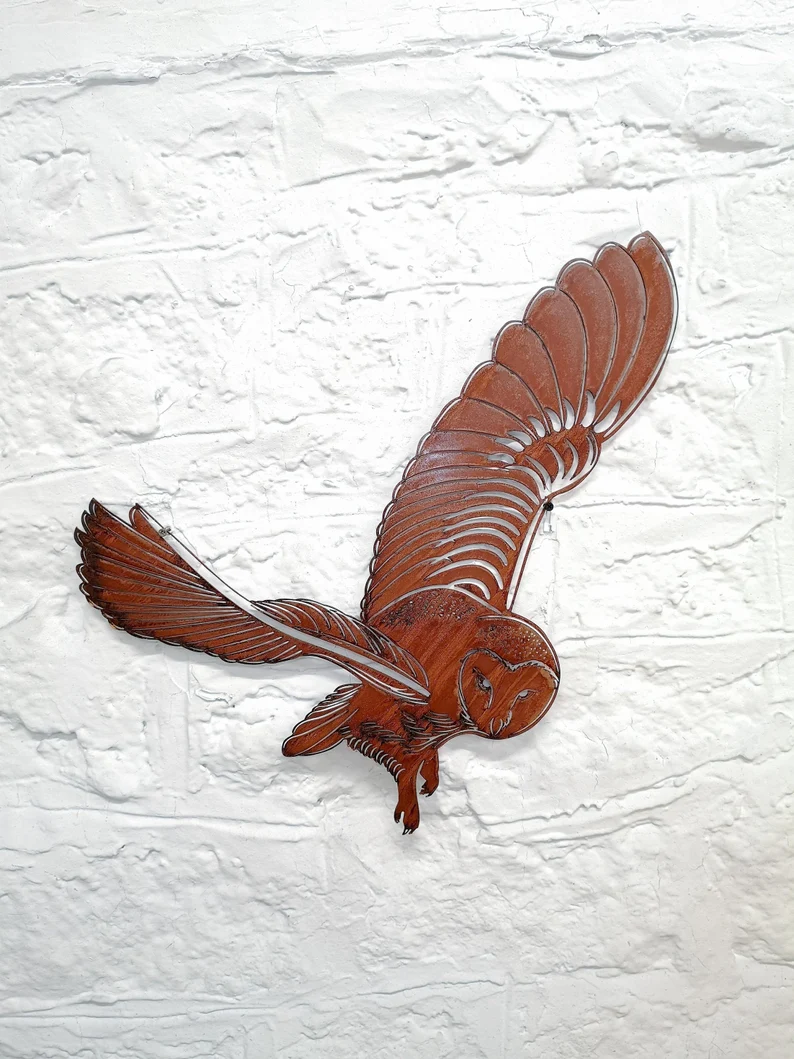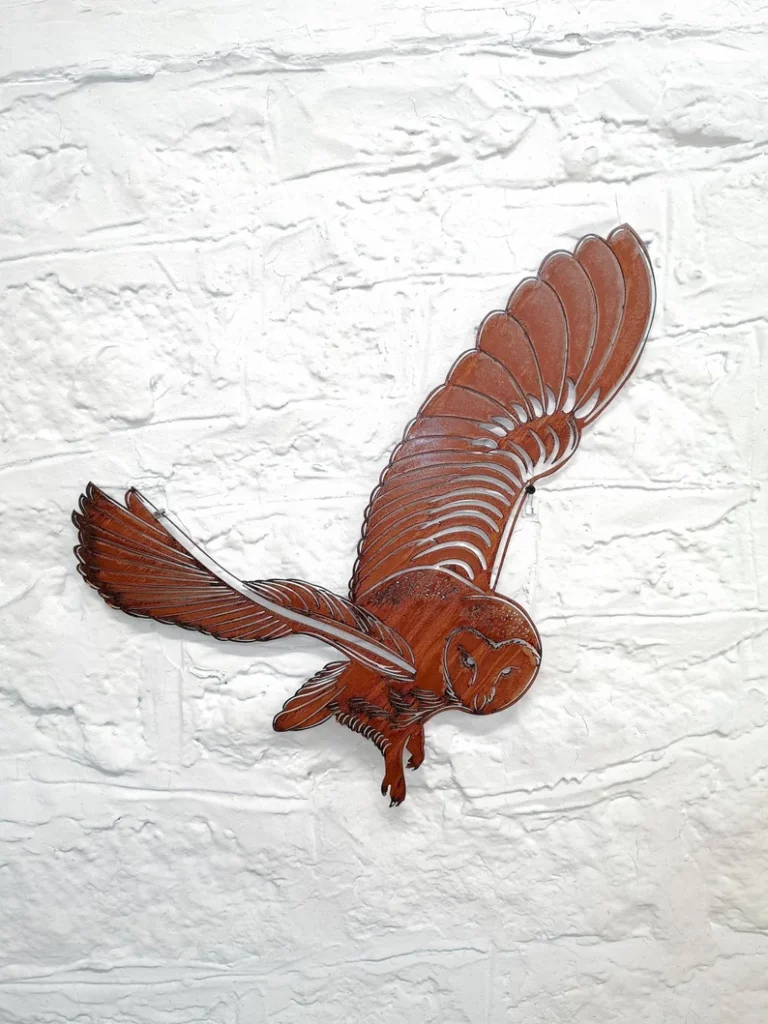 Hang this lovely, majestic barn owl on a wall or adapt it for floor or fence mounting. The owl is life-size and highly detailed. It makes a statement as an indoor or outdoor art piece. The piece has a high-quality laser finish cut from thick steel that will last for years.
18. Owl Canvas Painting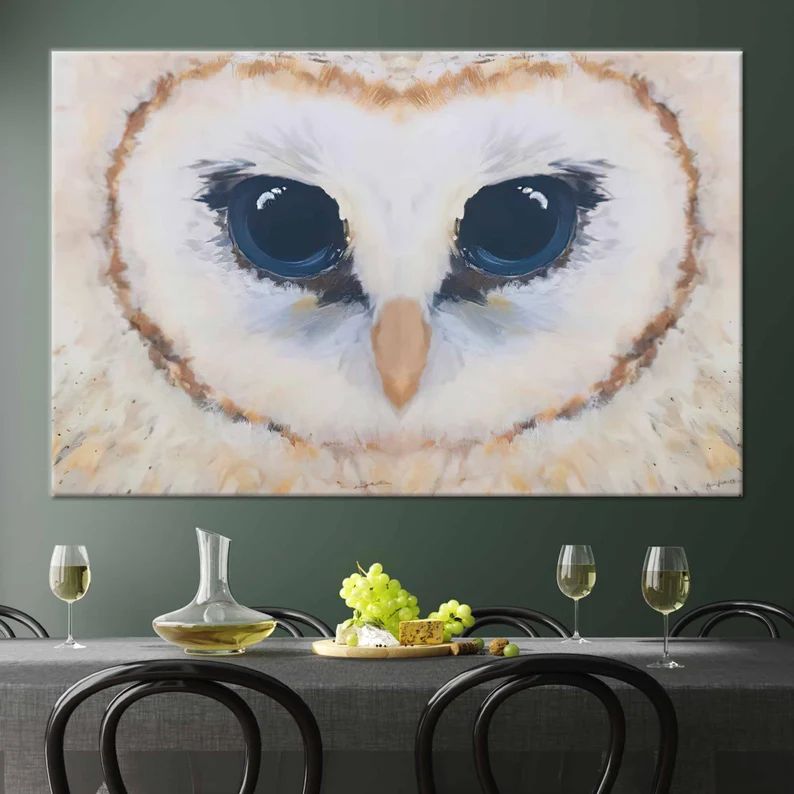 This stretched cotton canvas is a means of changing the atmosphere of a home with a slight touch. It is the ideal solution for office or home decor. There are six-panel options and 27 sizes from which to choose. A small or large canvas owl painting is beautiful as wall art decor.
19. Two-Piece Owl Macrame Wall Hanging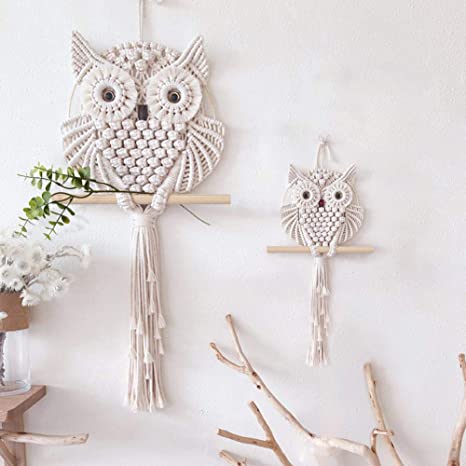 Fill your home with dimension, whimsy, texture, and warmth by hanging these lifelike owl decors. The lovely and unique wall hangings have a tassel and gathering knot finish.
They are suitable for any occasion and fit perfectly in a dining room, entryway, front door, craft room, bathroom, kitchen, bedroom, nursery, apartment, or living room.
20. Mystical Spirit Owl Wall Sculpture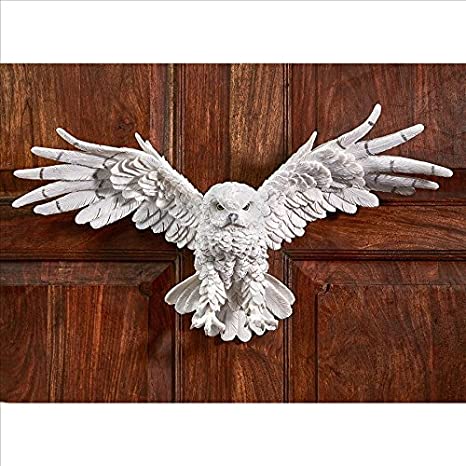 Whoo ushers in the symbol of wisdom, magic, the moon, and the feminine? It is this mystical, gorgeous snowy oil with a wingspan of nearly two feet. Painstaking sculpting created the powerful beak, wide dark eyes, talons, and feathers. Bring nature into your house with this decorative wall art.
Key Chains
21. Barn Owl Leather Keychain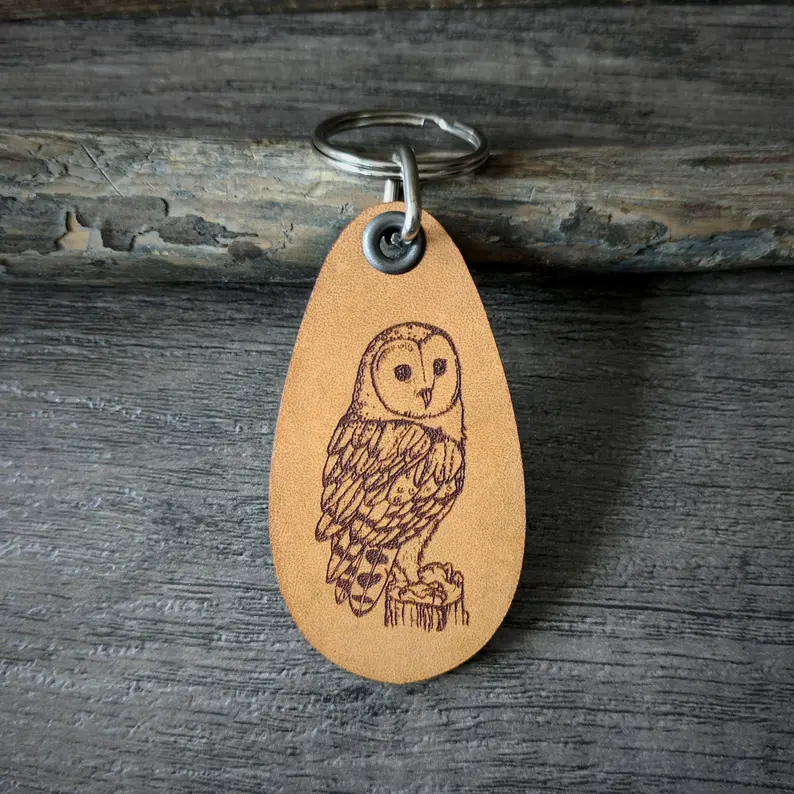 Fanny Dallaire's branded art collection features this unique, Bohemian style keychain. Treat your friend or yourself to a gift that improves with age. You can add a custom text or name to the back of the keychain. It is 1¼ inches long with a ring that is three inches in circumference. 
22. Owl Keyfob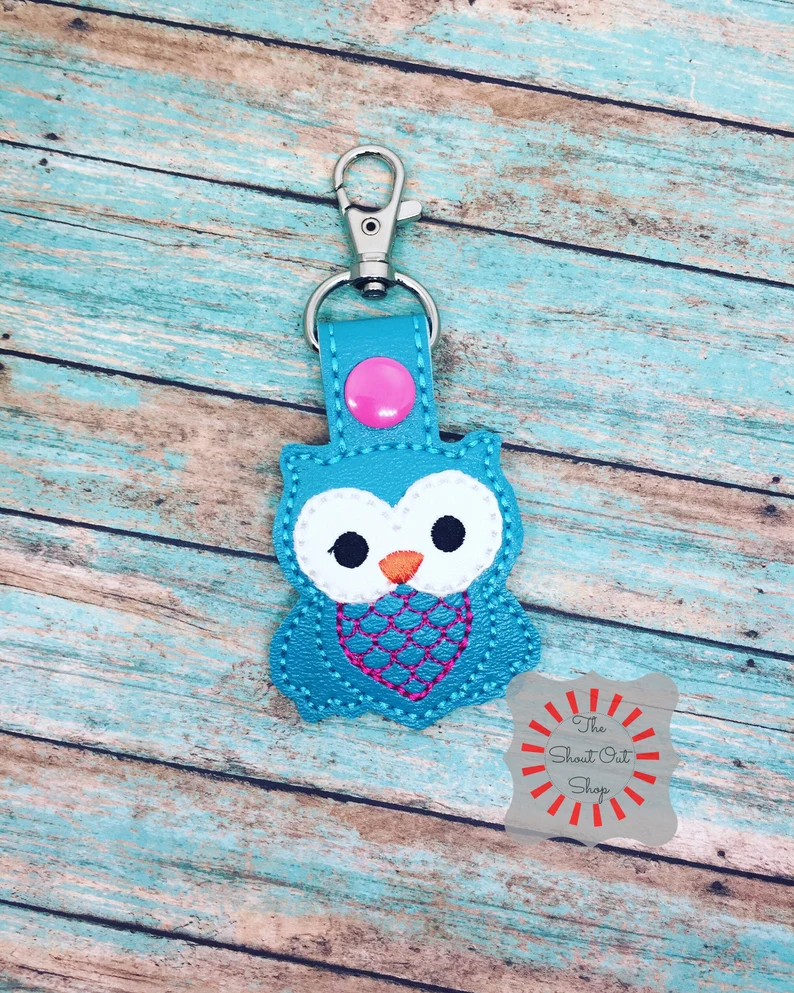 This keychain can is among the owl gifts for her. It can be a purse charm, backpack swag, zipper pull, or luggage tag. The snap is marine vinyl embroidery thread. A lobster swivel claw or split keychain options are available. Customize it further by choosing from a variety of colors.
23. Owl Rhinestone Keychain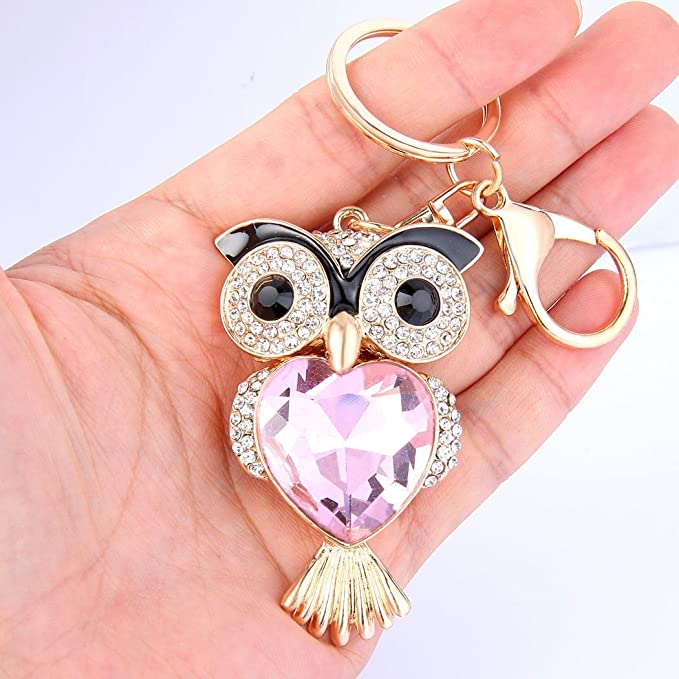 Use the fabulous accessory with the keyring as a keychain or the clasp closure for a purse charm. Either way, you accessorize in style. Rhinestones in bright colors give the keychain scintillating beauty and bling. The durable, spacious keyring will hold all of your keys.
24. Alloy Crystal Key Ring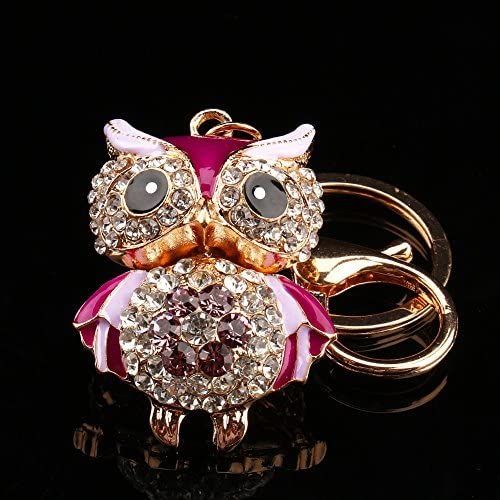 The crystal keychain is an excellent gift for a birthday, friendship, holiday, Valentine's Day, graduation, or anniversary. It can be a keychain, handbag decoration, or purse pendant. The stylish and simple design of the keychain is beautiful and useful. Dimensions are approximately 1.77 inches X 1.38 inches.
25. Wooden Owl Keychain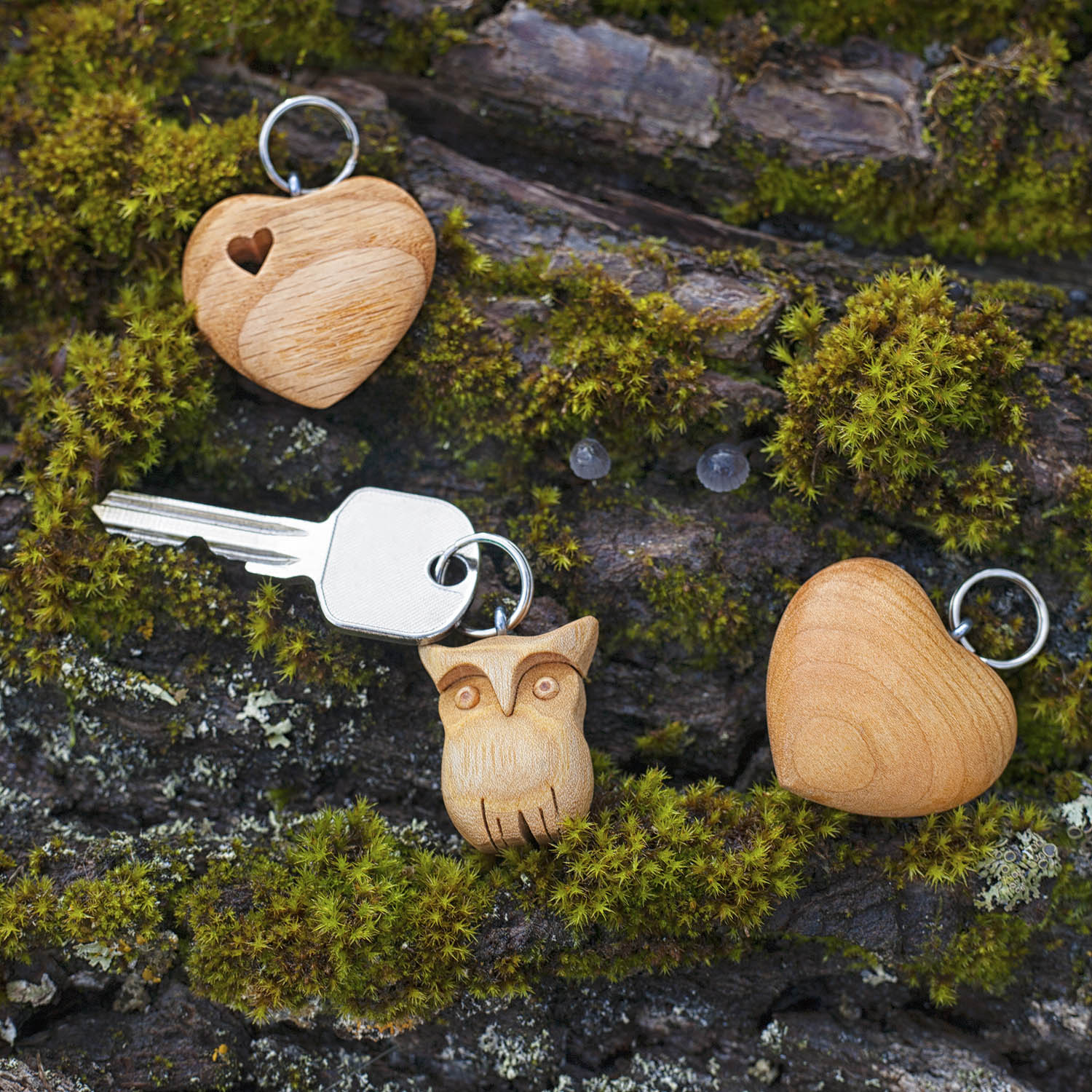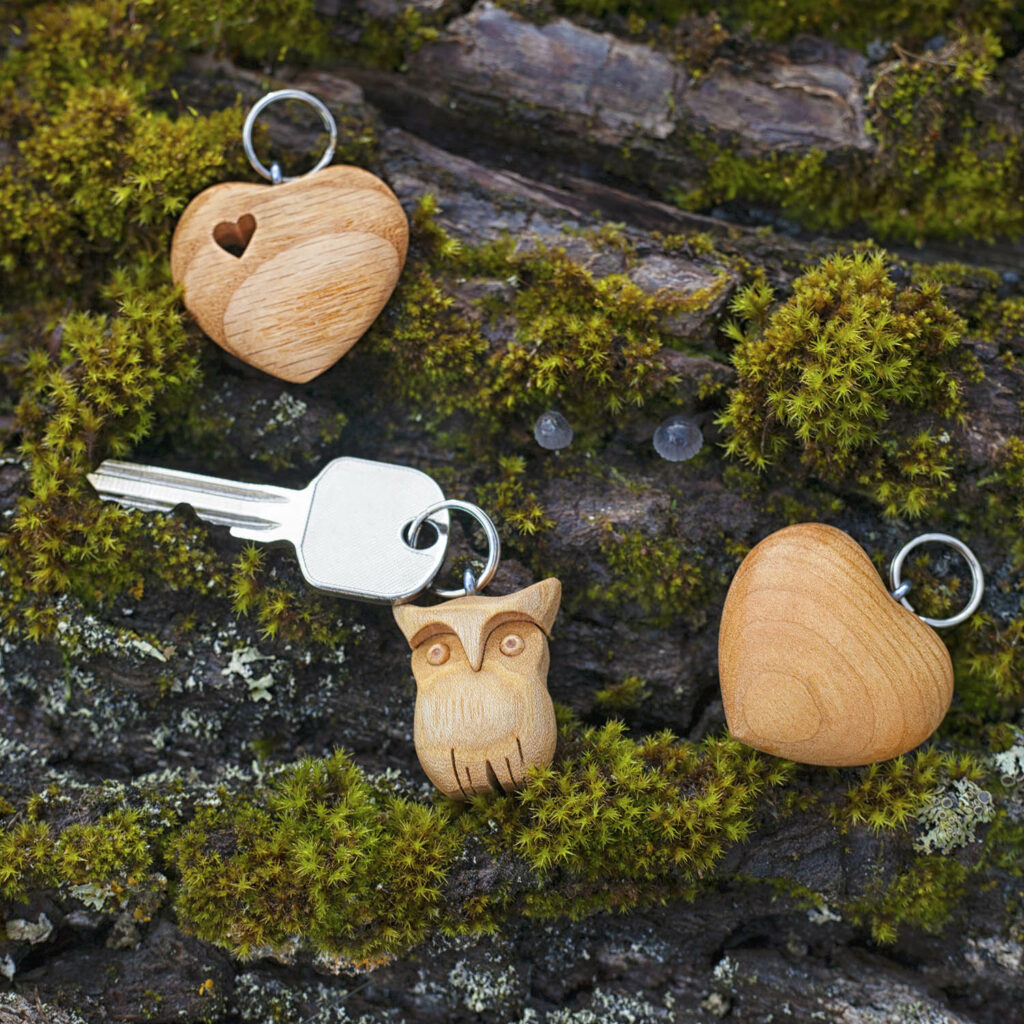 This owl keychain is made by hand by real artisans. The size, texture, and colormay vary slightly. It is super durable and lasts a long time under everyday use. The smooth finish keychain is made of genuine olive wood that is carefully sanded and designed.
A strong, durable keyring and chain are added to the rustic wood charm to ensure it holds all your keys and does not corrode, rust, or fade. The chain and key ring are connected to the wood charm and reinforced to keep tight and prevent breaking apart in a pocket or purse.
An owl keychain represents love and affection. It is a beautiful gift idea for friends, your spouse, or a new driver who is always on the go and loves natural elements. This is a fun option for those who love having original keychains.
Figurines
26. Saw-Whet Owl Sculpture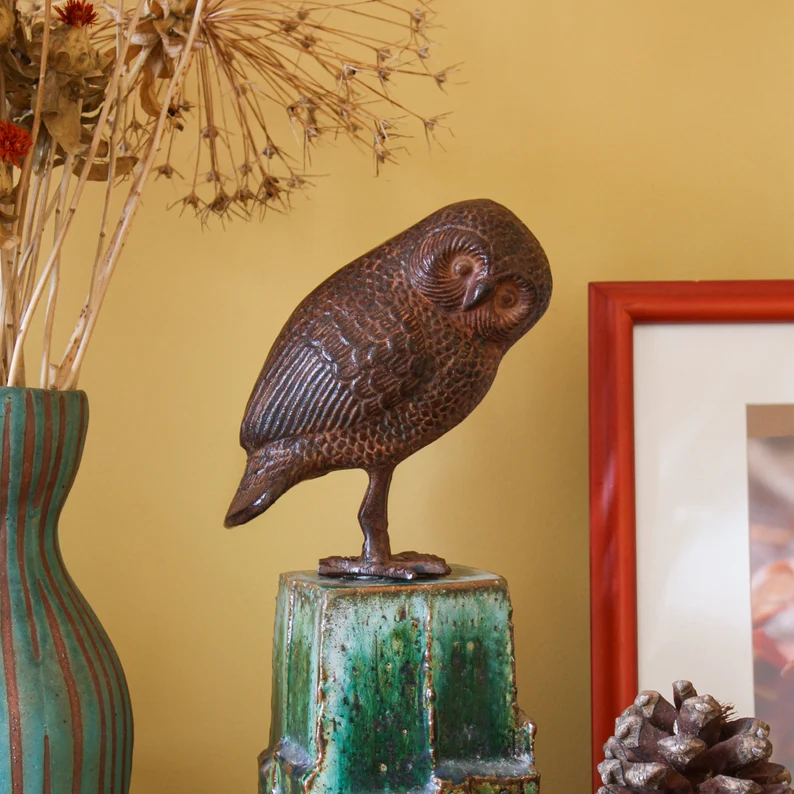 Among the smaller owls that live in the forests in northern North America is the Saw-whet owl. This is a stylized figure of the bird, which is a reflective sculpture to grace a garden wall or library shelf. It is made from cast aluminum and has a rustic bronze finish. The statue measures six inches in height.
27. Concrete Baby Owl Figurines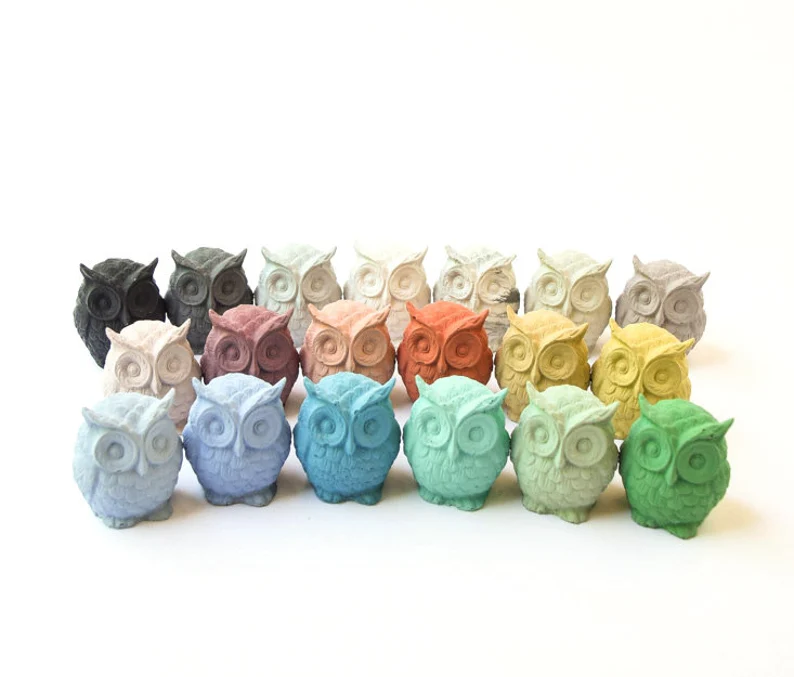 The adorable concrete owls accent a planter pot, garden, shelf, or desk perfectly. Although they are tiny, they make a statement. They are made from solid concrete and are available in various colors. The little cuties are ideal stocking stuffers or unique gifts for owl lovers.
28. Four-Piece Resin Mini Owls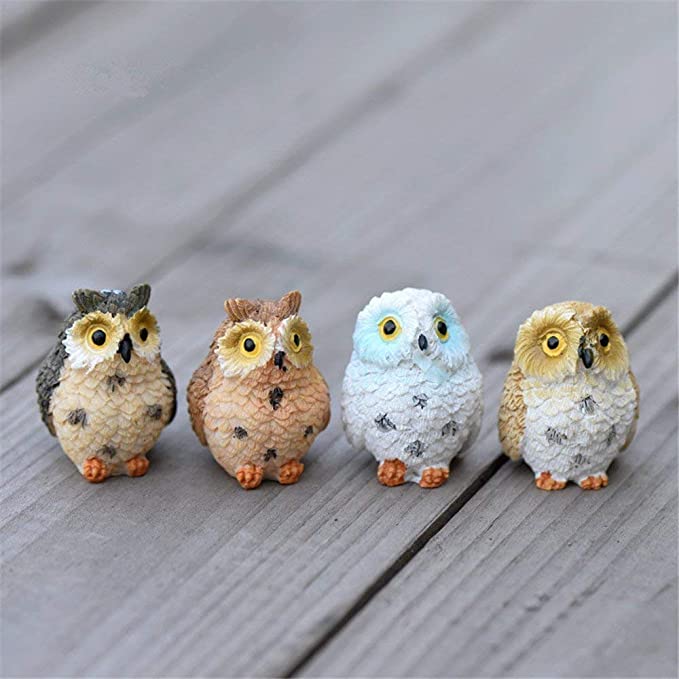 Sometimes work makes us anxious and busy. We need time to relax the mind and body. Creating an antique fairy garden adorned with these mini owls is an excellent way. They are small but provide fun for children and adults. Make a fairy garden for colleagues, friends, and family.
29. Owl Statue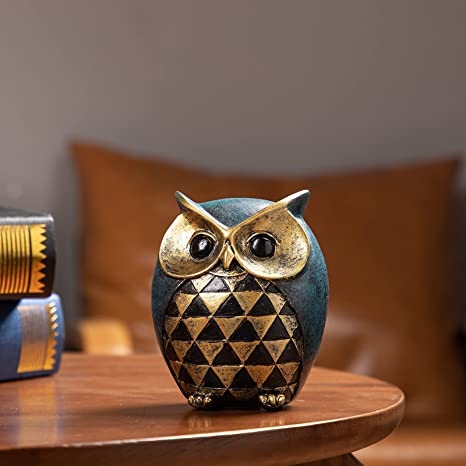 This cute owl statue is made of resin and painted with a technique that shows a mix of dark blue and gold colors. Display it on an entertainment center, fireplace mantel, bar table, coffee corner, windowsill, TV stand, desktop, nightstand, living room, or bookshelf. The figurine is among the unique owl gifts for those who admire owl decorations.
30. Owl Figure with Bark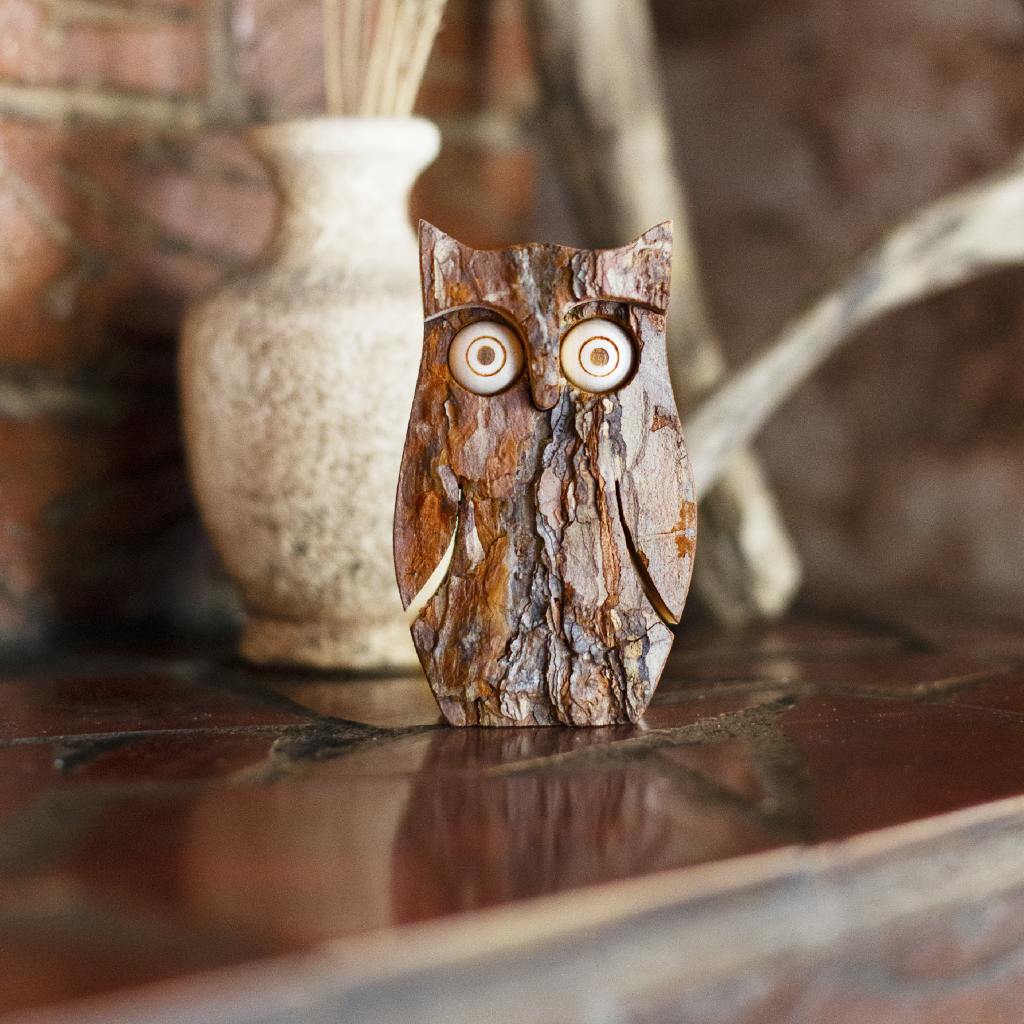 Add a natural touch to personal space with one of these charming handcrafted owl decorations. The beautiful live-edge hardwood front has cute little eyes peering at you as if to say, 'Hoot.' They are ideal for the wall or shelf in your home or office.
Owl decor also enhances the feeling in a dining room, bathroom, or kitchen. They are available in multiple sizes and make ideal owl gifts for family and friends. Each is made from authentic hardwood and is an entirely original design with a look, texture, and color. You will love the owl wall decor.
31. Wooden Owl Figurine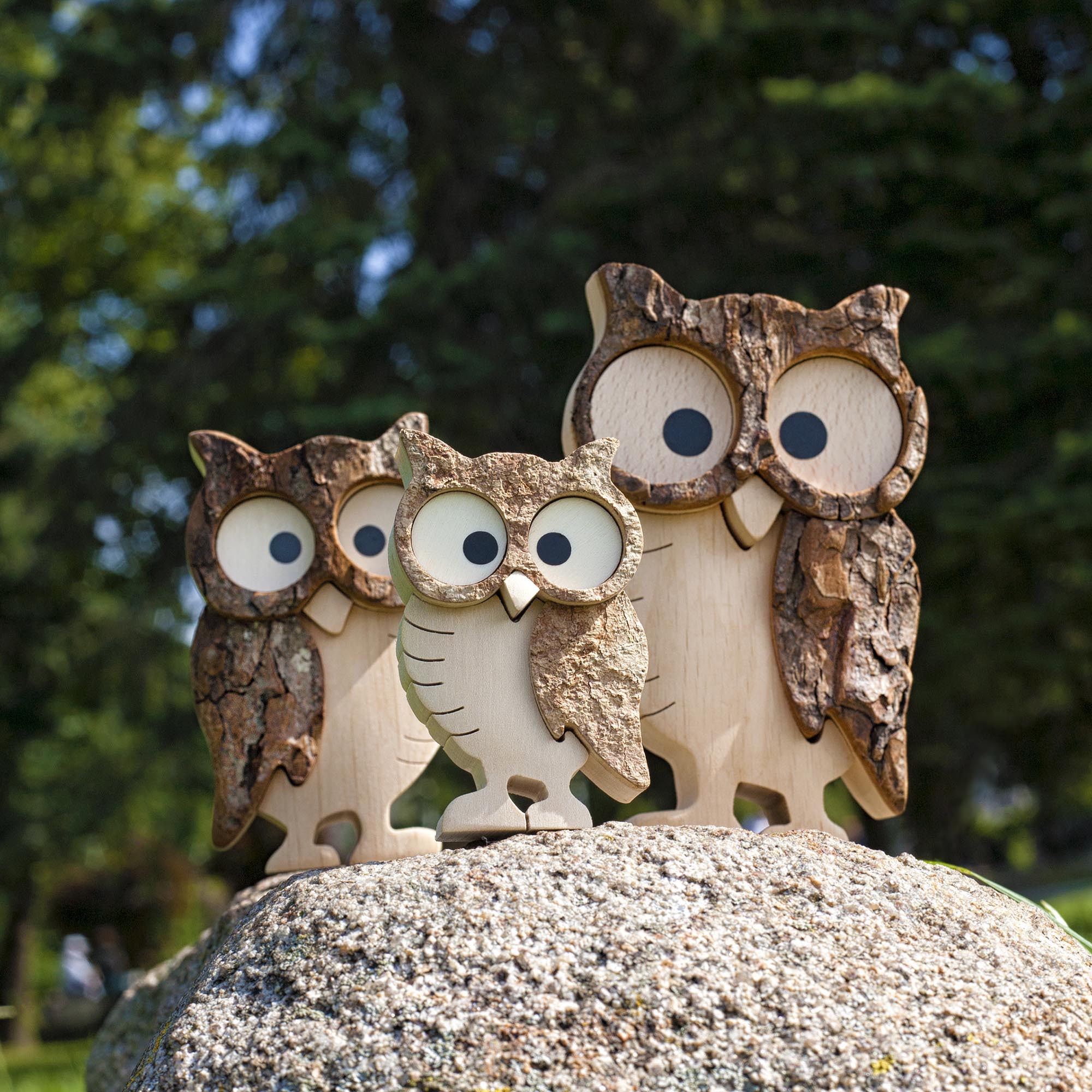 With this handcrafted wood owl, you will have a little nature overlooking your office or home. Small items used for decor say something about a person, especially natural, rustic things. This wooden owl is designed with a blend of vintage charm, style, and imagination to help embrace nature in the bathroom, office, bedroom, kitchen, or any other space you want to give a 'hoot.'
There are three sizes from which to choose – small, medium, and large. Each wooden figurine is made with premium handmade craftsmanship. The decorative design includes small ears and eyes. Genuine hardwood with untreated bark is incorporated into the design. Because they are handmade, they each have a texture, size, and wood grain pattern.
32. Two-Piece Set of Wood Snowy Owl Figurines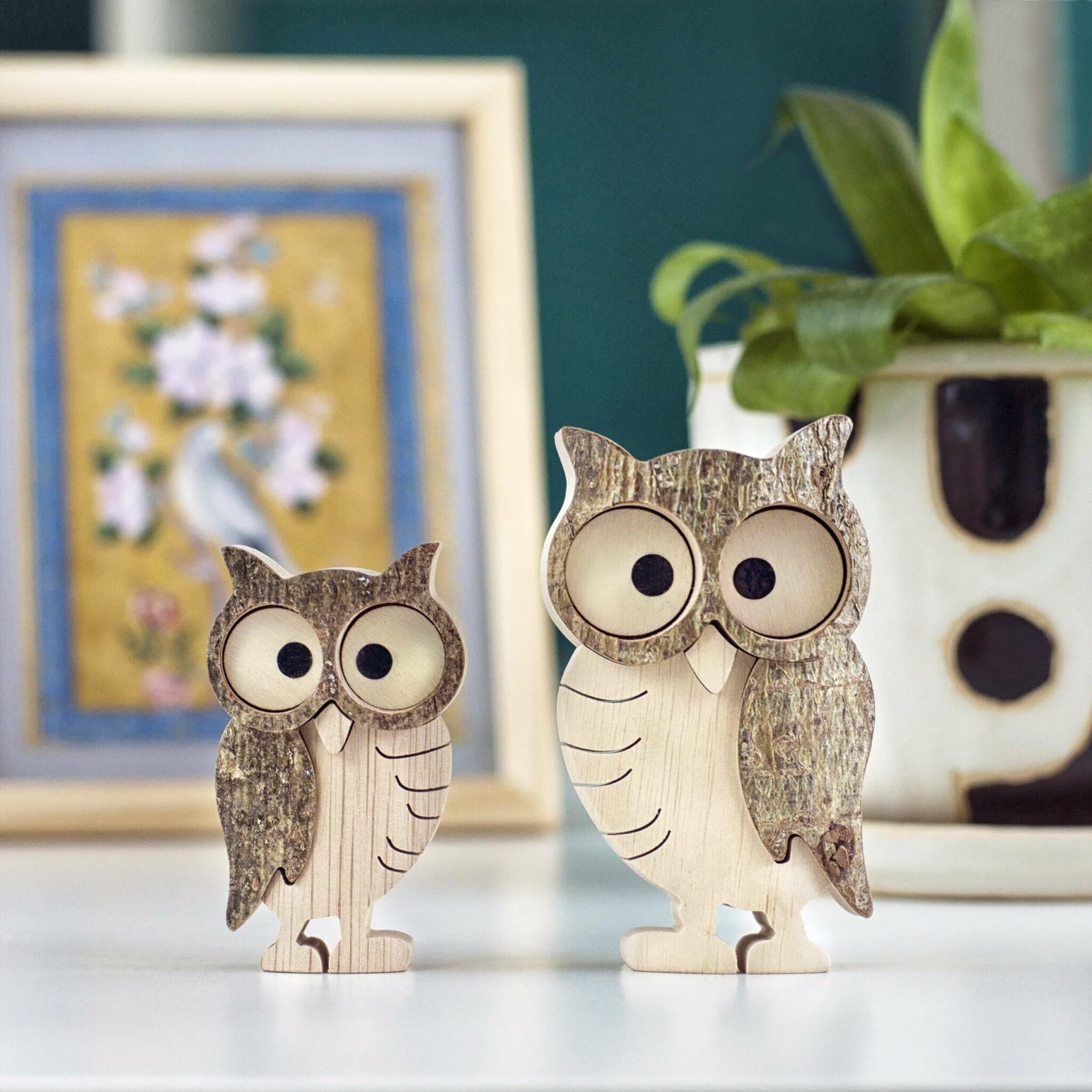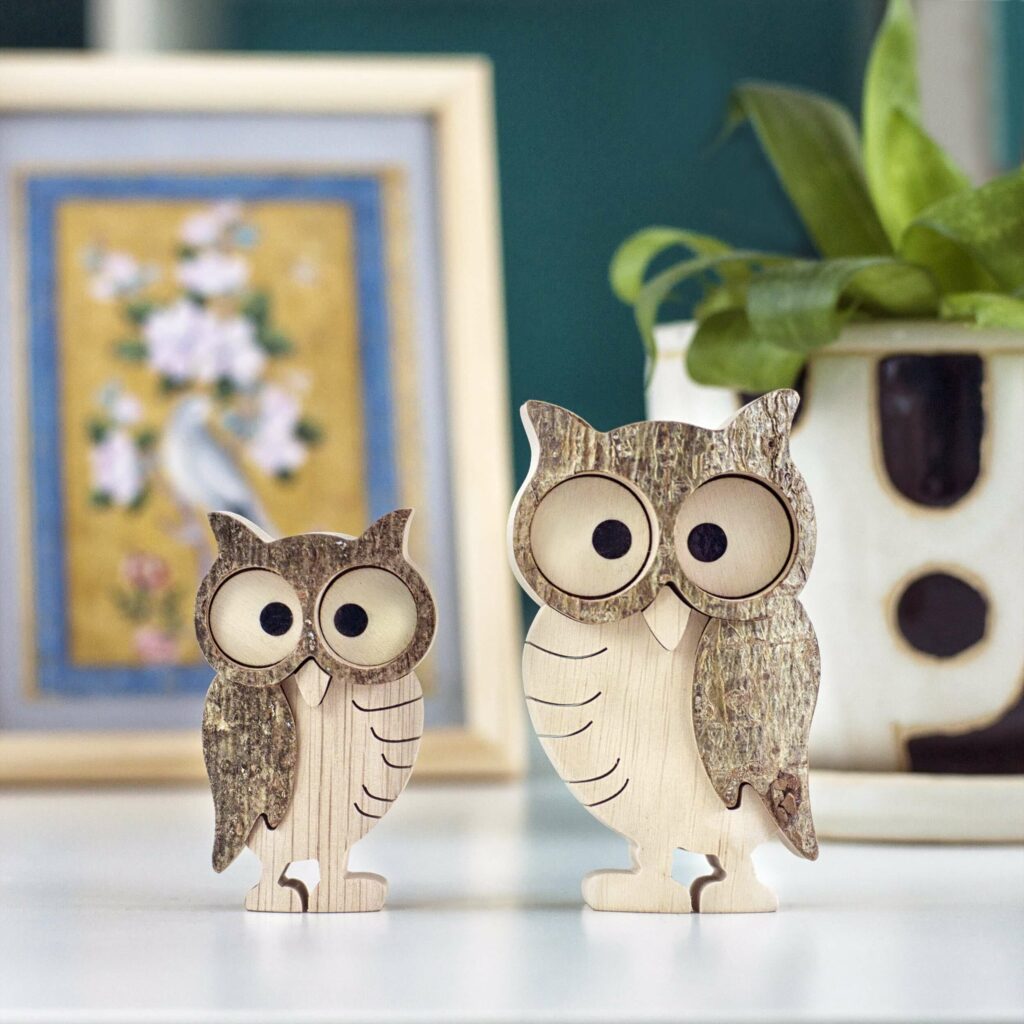 Each of these owl figurines has tiny wings with live-edge pupils and two smooth eyes that make them look as though they are staring at you or looking off in the room. The design brings them to life. Smooth edges enhance the darker wood and give a natural tone.
These owls are made of genuine hardwood that ages naturally and changes slightly when displayed for years. When displayed indoors, they are prepared, treated, and crafted to ensure long-lasting texture and color. Surprise someone with an owl gift for a wedding, anniversary, or birthday.
33. Two-Piece Wooden Bark Owl Figurines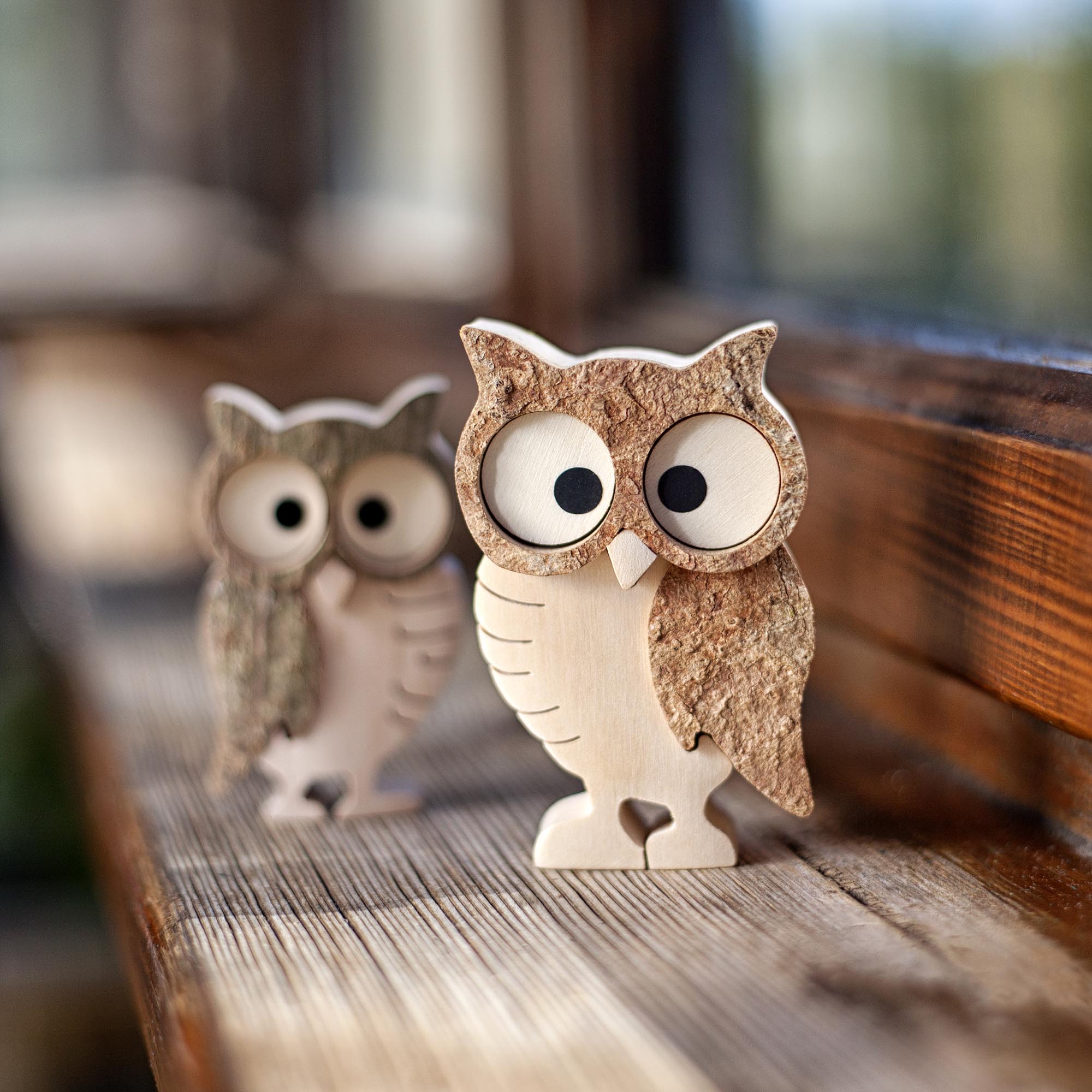 These charming owl decorations add a natural touch to a personal space. Like the set above, they have cute little eyes that seem to be peering at you. They are ideal decor for a wall or a shelf.
The design is entirely original, which means each set has a look, texture, and color of its own that makes it one-of-a-kind and beautiful. They make ideal owl gifts for him or her. Forest Decor will also gift wrap the set for you, or you can use some of the gift-wrapping ideas found by clicking on this link.
34. Owl and Owlet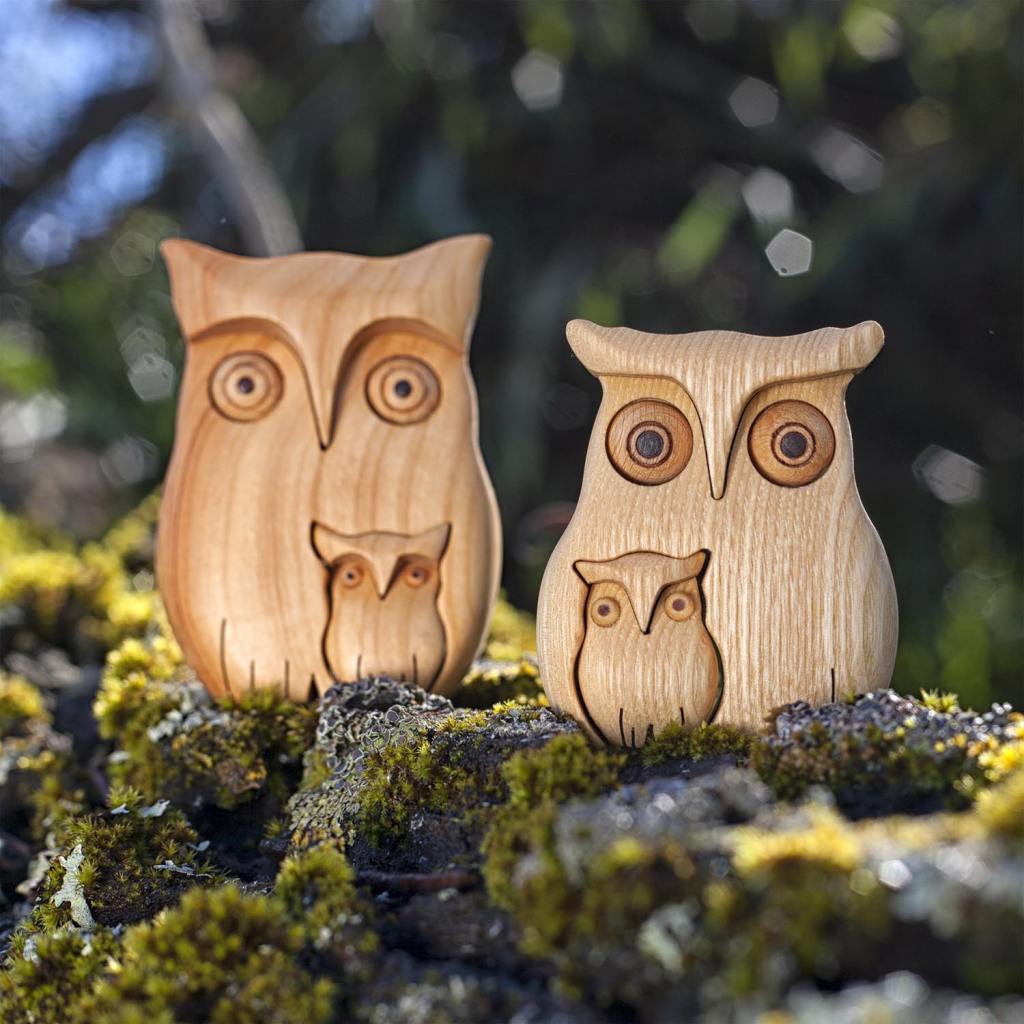 This adorable wooden owl and owlet are ideal for a desk. The nesting baby owl is a unique figurine. You can order the figurine with one or two owlets. When purchased together, they make a distinct owl family.
The natural wood owls are a fantastic idea for a surprise birthday gift or other occasions. 'Live' hardwood on the front of the owls brings them naturally to life. Each one has two smooth eyes made of genuine hardwood. The owls are made in the Forest Decor shop, which means you get premium quality from a brand that cares about you.
Recap
The items above depict owls in the form of bookends, pillow covers, outdoor decor, wall art, keychains, and figurines. They are among the best owl gifts available. Those that are truly unique are the wooden owl figurines from Forest Decor. Look no further if you are searching for the ideal gift for a wise, owl-obsessed loved one.