9
Min Reading
Many people look for inspiration for the ambition to change, persistence to finish something important, or being courageous to take a leap of faith. The assistance they need to push them along may be bigger than they are.
Often, the help comes through spiritual guidance. If you know someone struggling, there are various best angel gifts and decor that are beautiful ways to inspire, support, and create a feeling of comfort.
Angel gifts help people remember meaningful qualities and times in their lives. Viewing a beautiful angel sitting on a shelf or using an angel worry stone may help them find the inspiration to mimic those characteristics.
Giving angel gifts is an excellent way to show someone you care. A friend or family member having a difficult time or celebrating achievement is a beautiful opportunity for giving angel figurines. Etsy, Amazon, and Forest Decor are excellent resources for finding angels and ornaments.
Vases
1. Cherub Planter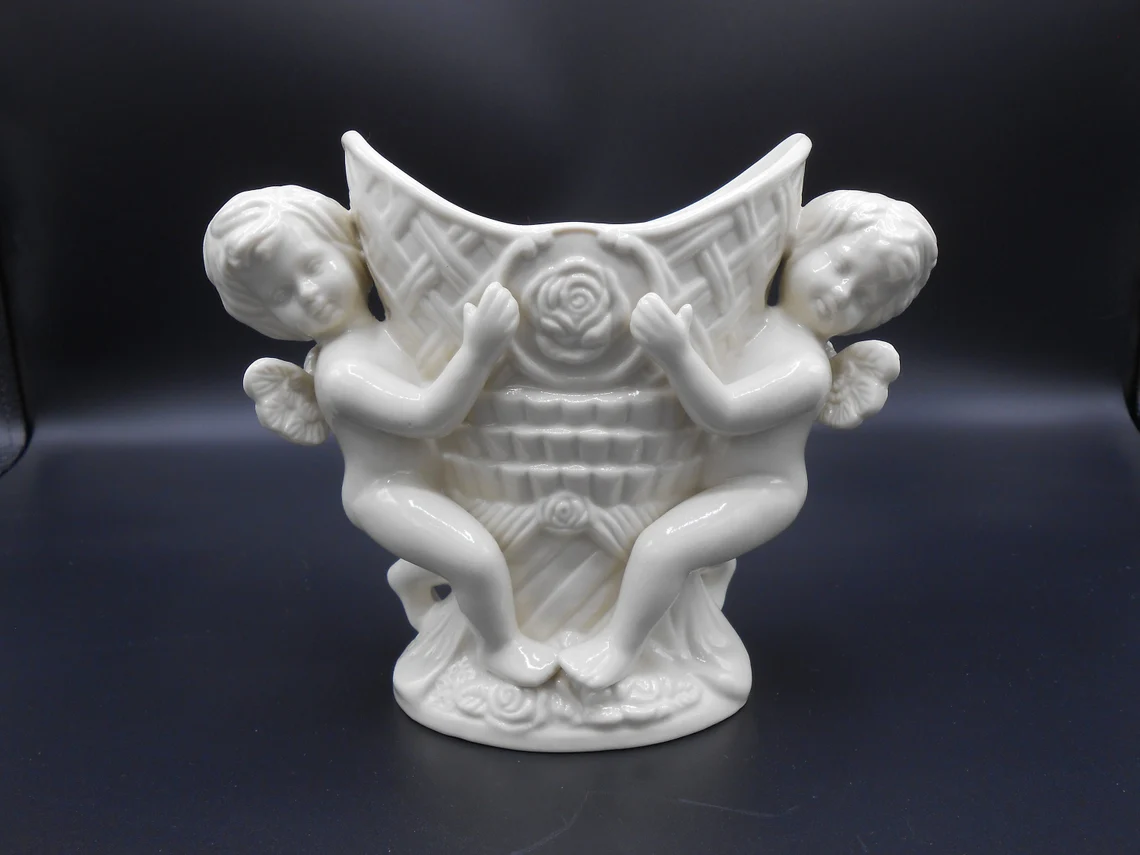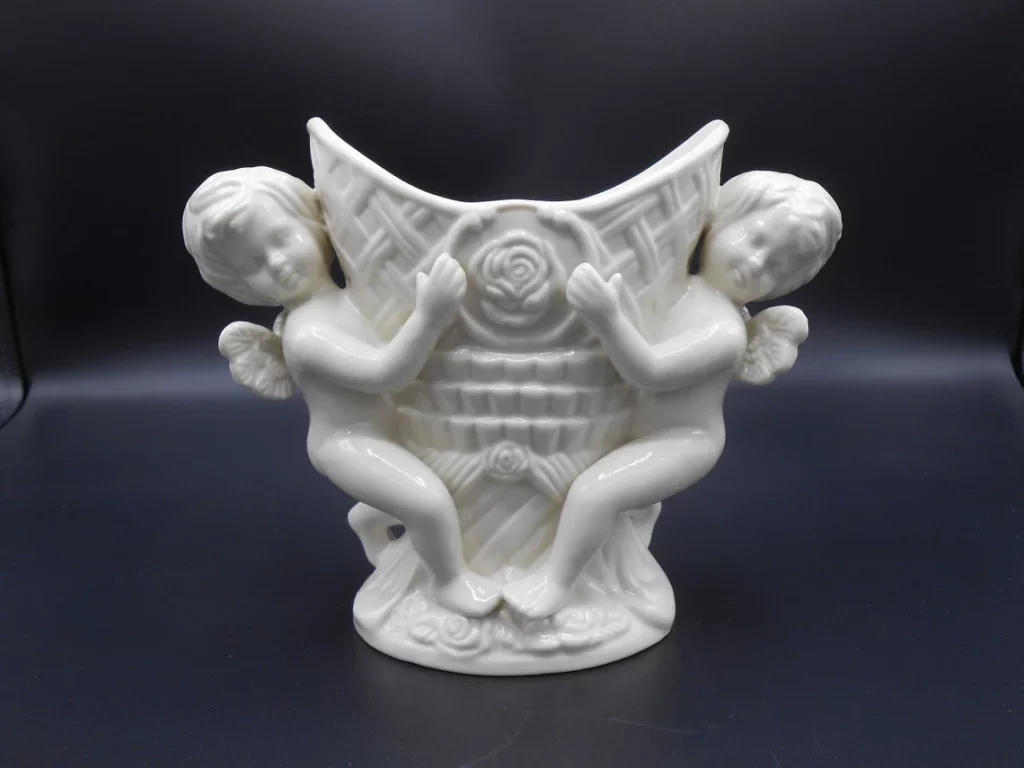 This planter is beautifully detailed with a pleated ribbon and roses motif. The feathers on the wings and a serene expression on the faces of the angels have the 70s or 80s style. Fill it with a flower or a plant and give it as a Valentine's or Mother's Day Gift.
2. Angel Head Vase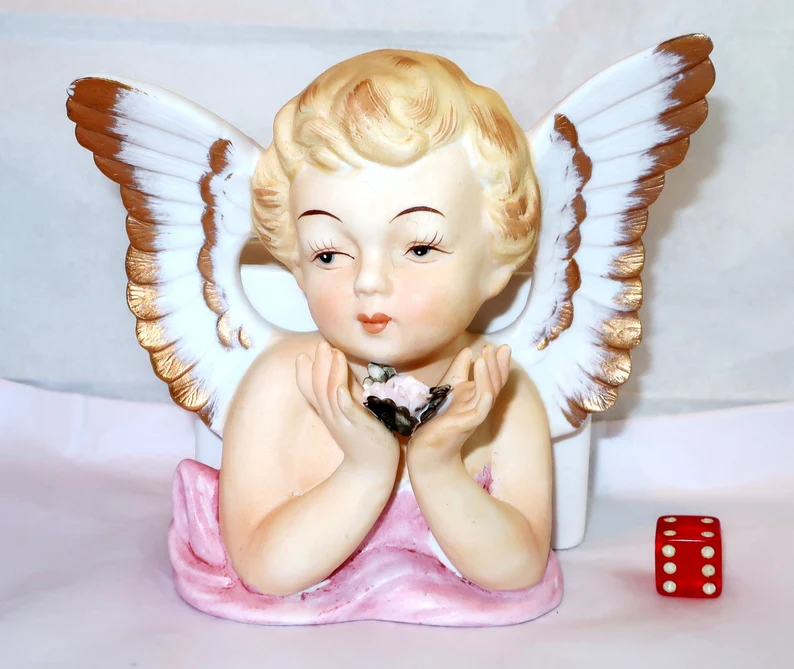 Beautifully hand-painted and crafted, the cherub posed here is the definition of angelic. Her hands frame her delicate face and hold intricately detailed roses in her palms. The sweet face is encased in beautiful gold-edged wings and short blond curls. Chubby elbows rest on a pink swath. Besides being gorgeous, she has a vase at her back.
3. Rose in Glass Angel Figurine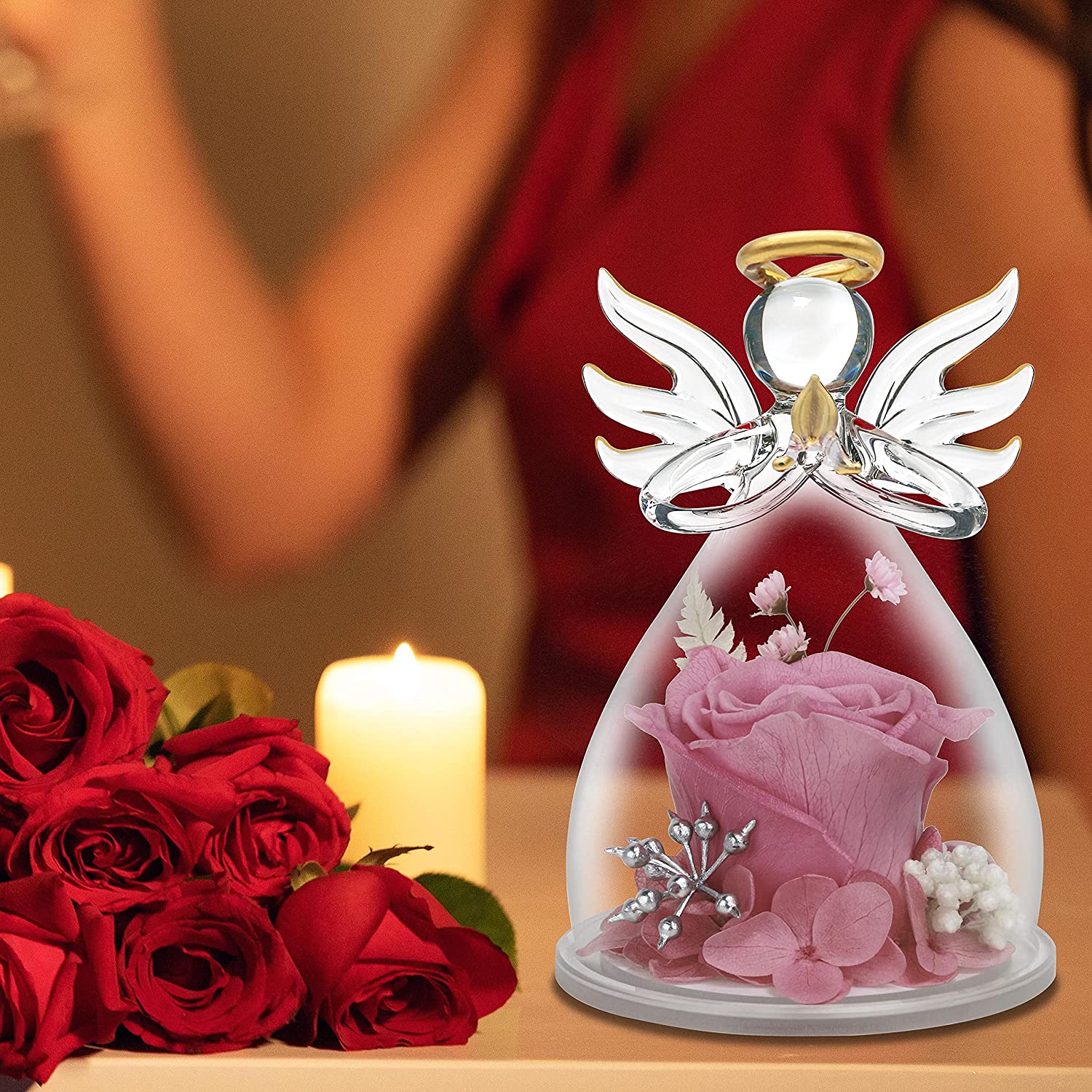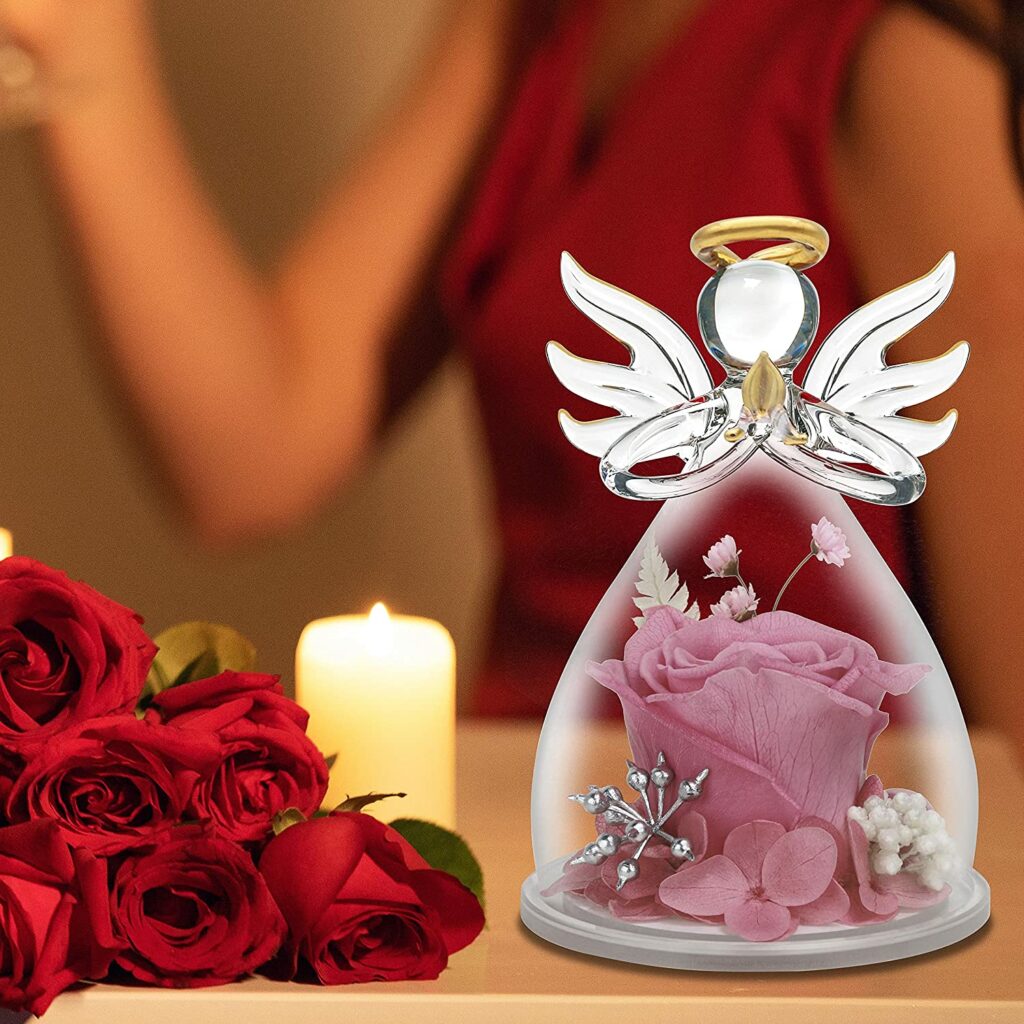 An excellent angel gift idea is a beautiful and delicate rose encased in an angel made of glass. Choose from five colors – blue, pink, purple, red, and white. Give it as a wedding, holiday, Mother's Day birthday, anniversary, or Valentine's Day gift. The heartwarming clear glass figurine has namaste palms, and gold outline painted halo and wings.
4. Vintage Robed Angel Vase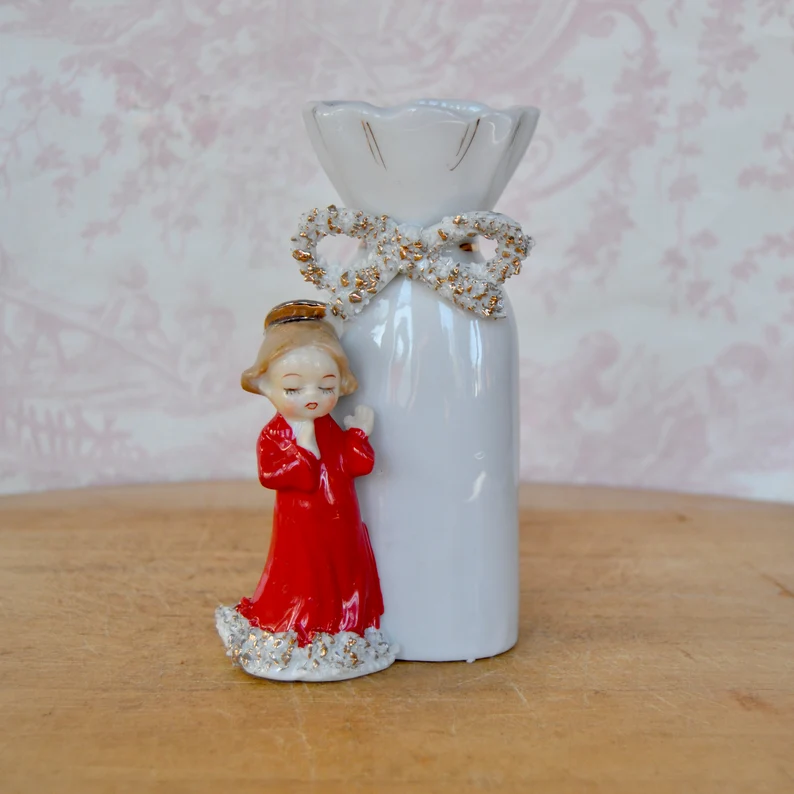 This lovely vintage vase is made of ceramic. It is a wingless angel in a robe of red, trimmed with a spaghetti bow and gold-painted accents. It is a rare find that is hard to come by. The measurements are 3 inches x 2.25 inches, by 5 inches.
Stones
5. Clear Quartz Guardian Angel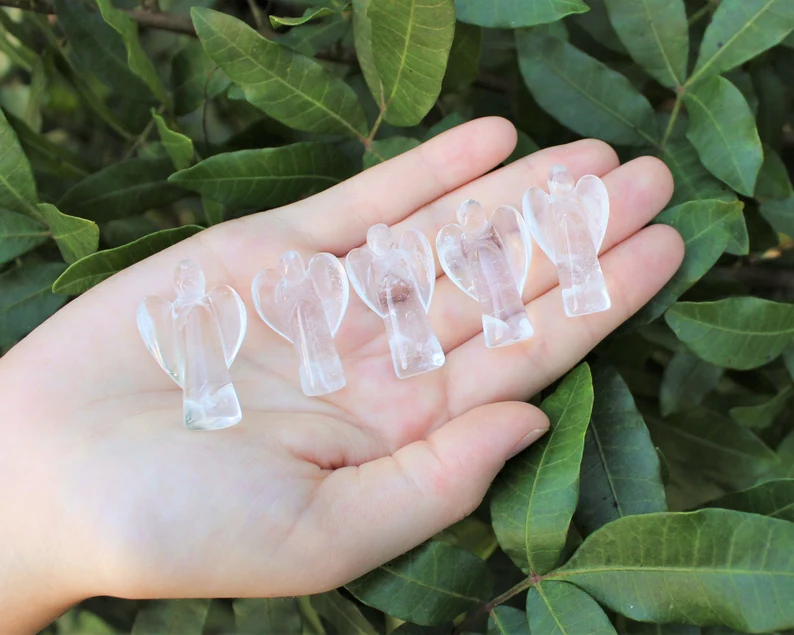 Carry a guardian angel of your own with these handmade crystal pocket angels. They are genuine, hand-carved gemstone peace angels. The free-standing pieces can be used as lucky charms, statues, figurines, or ornaments. They are lovely gifts for those who are religious, crystal lovers, or believers in spiritual healing. Clear quartz crystals radiate the universe's white light energy
6. Angel Pocket Stone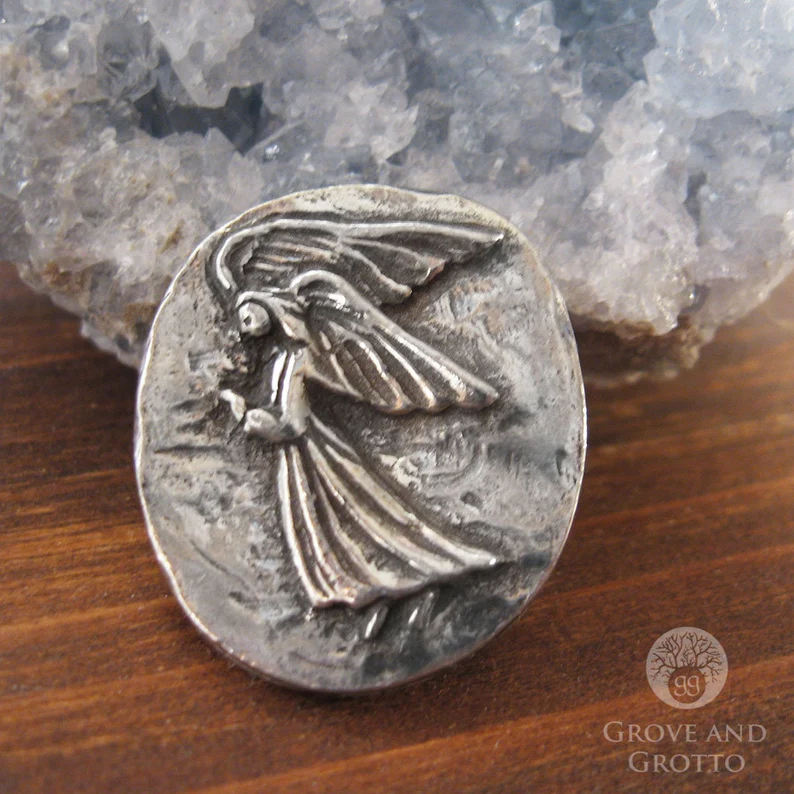 Keep angelic guidance and love close at hand. The cast pewter pocket stone reminds you that you have a guardian angel. This is a popular item that can be used as the focal point for meditation, a worry stone, a good luck charm, or a protective amulet. Give it to a family member or friend to remind them of your love.
7. Six Carved Crystals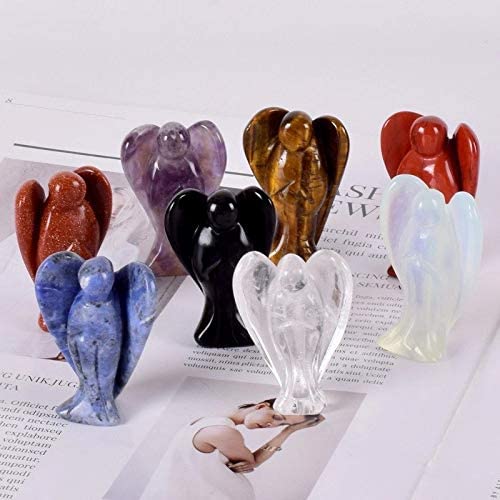 The hand-carved angels will heal, nurture, and protect the body and mind. Bless loved ones or yourself with divine energy and spiritual healing infused in the pocket angels. They are the ideal addition to a collection of healing stones and crystals. Receive the extra push you or a loved one may need.
8. Guardian Gemstone Angel

It is easy to carry this 1.5-inch pocket angel all day for a sense of harmony and peace. Angels are believed to have spiritual healing powers that stabilize mood swings. Keep this angel in places where serenity and stability are needed, including your pocket. Each hand-carved angel is unique.
Candle Holders
9. Angel Themed Candle Holder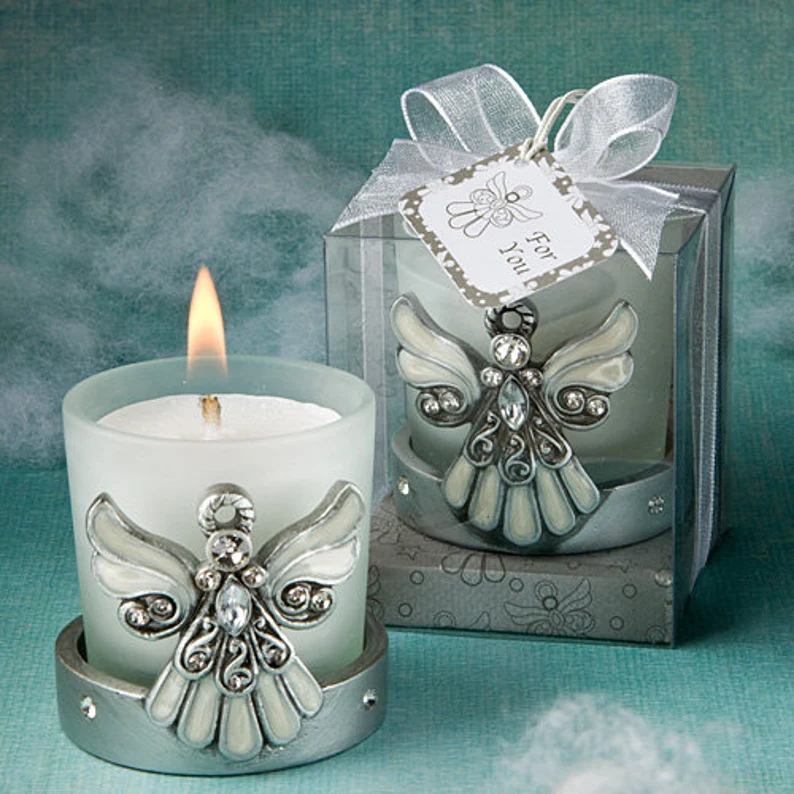 What a precious angel-themed candle holder this is! Give friends and family an angel to look after them. This two-inch round, the two-inch tall candle holder is enhanced with a rhinestone and pewter finished resin base. An inlaid enamel ivory angel is featured on a frosted white glass votive candle holder.
10. Sympathy Heart Candle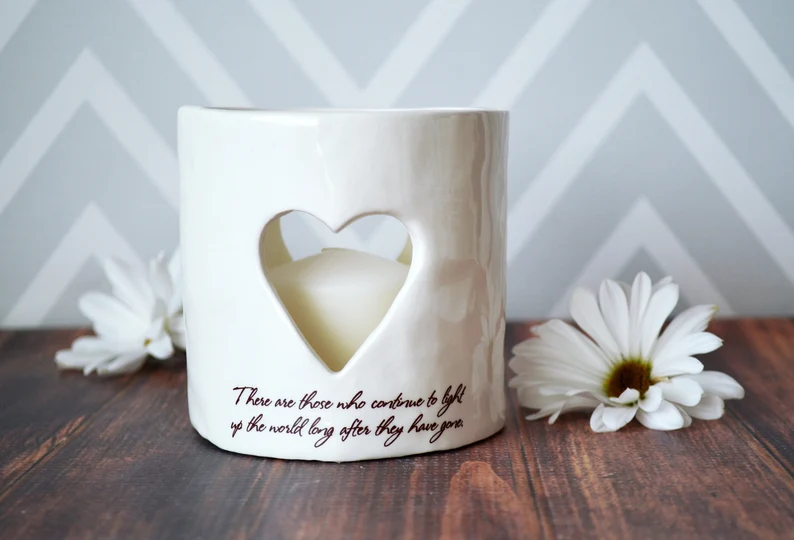 This lovely candle holder makes a meaningful and beautiful sympathy gift. A message of comfort is written below the open heart. It will continue to light the world after a loved one passes. A small candle on the inside provides the glow from the four-inch diameter, 3¾- inch tall holder. 
11. Star Angel Tealight Candle Holder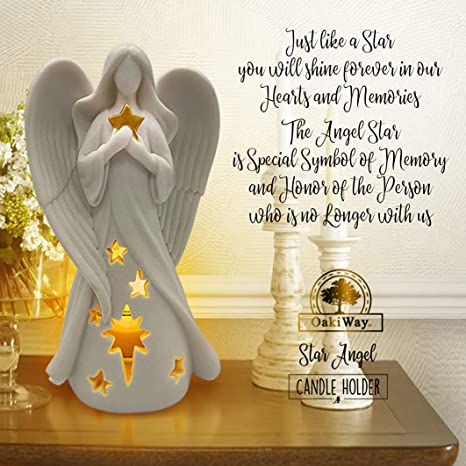 When your family member or friend loses someone they care about, what you do for them means more than what you say. This is Amazon's version of a sympathy candle. The memorial candle holder is high-quality polished resin and has a flameless tealight candle inside. Batteries are included for a long-lasting gift of condolence.
12. Praying Angel Tealight Candle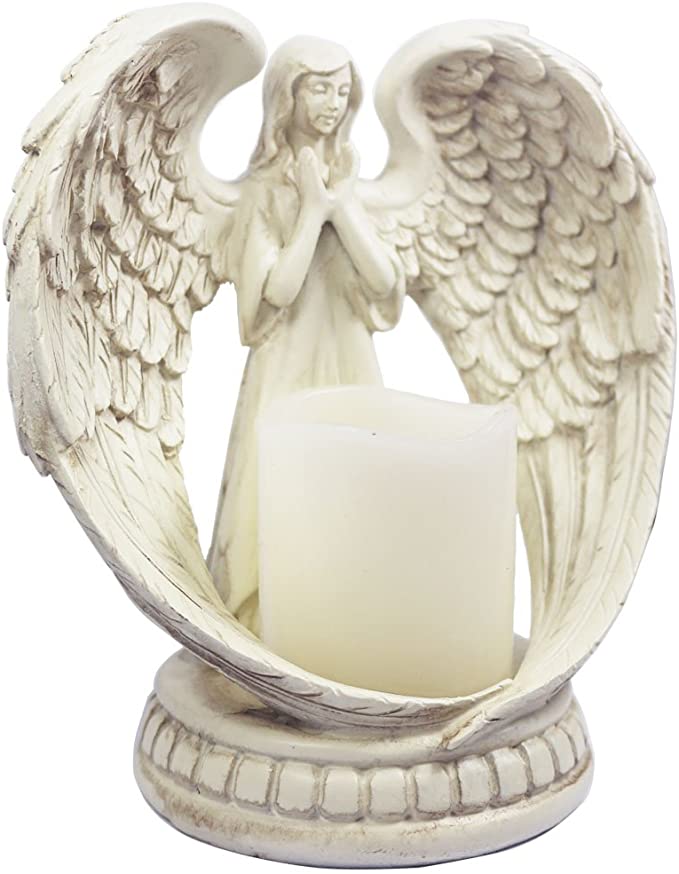 A prayer angel is a quiet way to inspire, protect, comfort, and heal. Sculptures like this praying angel candle holder mark a memory or communicate an emotion. Use it on a shelf, countertop, mantle, bedside table, or tabletop. It brings happiness with its elegant character, rustic charm, and appealing beauty. The angle lights up a favorite space.
13. Wooden Angel Tealight Candle Holder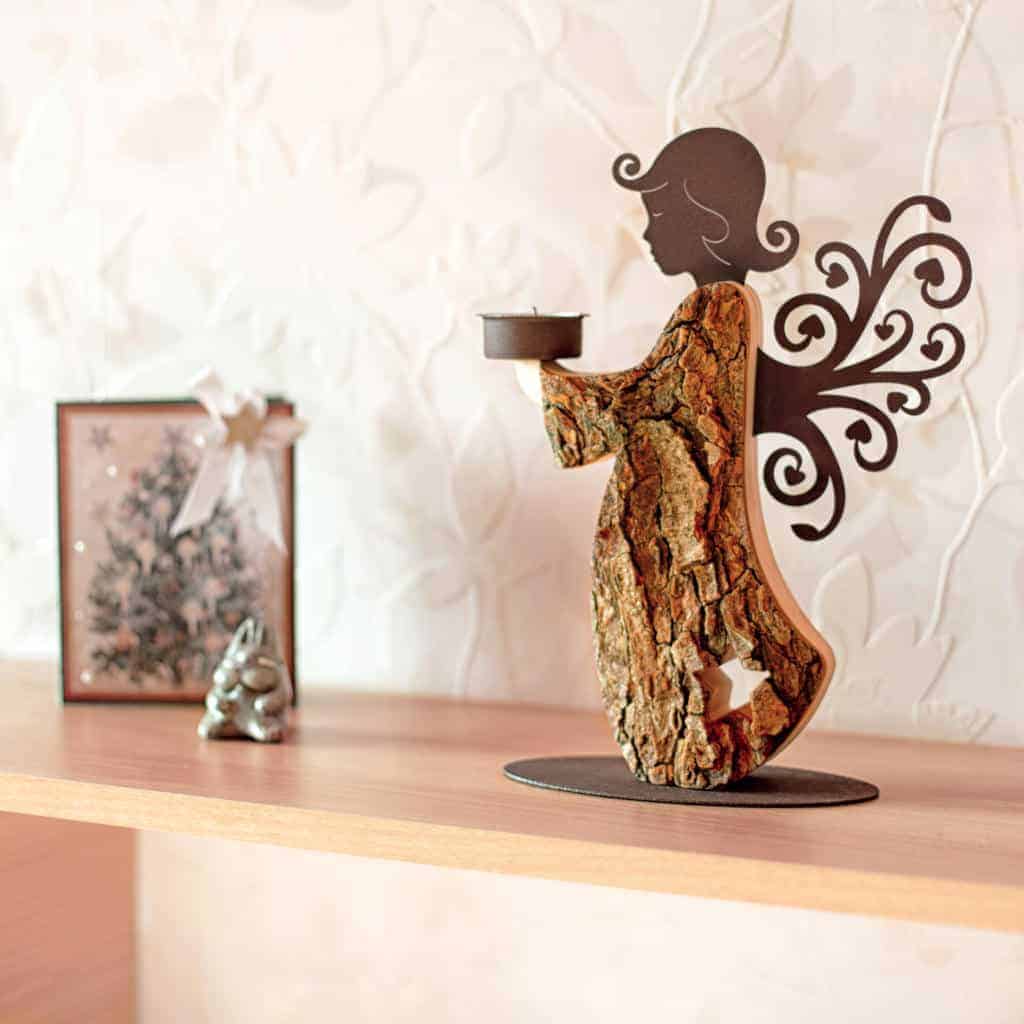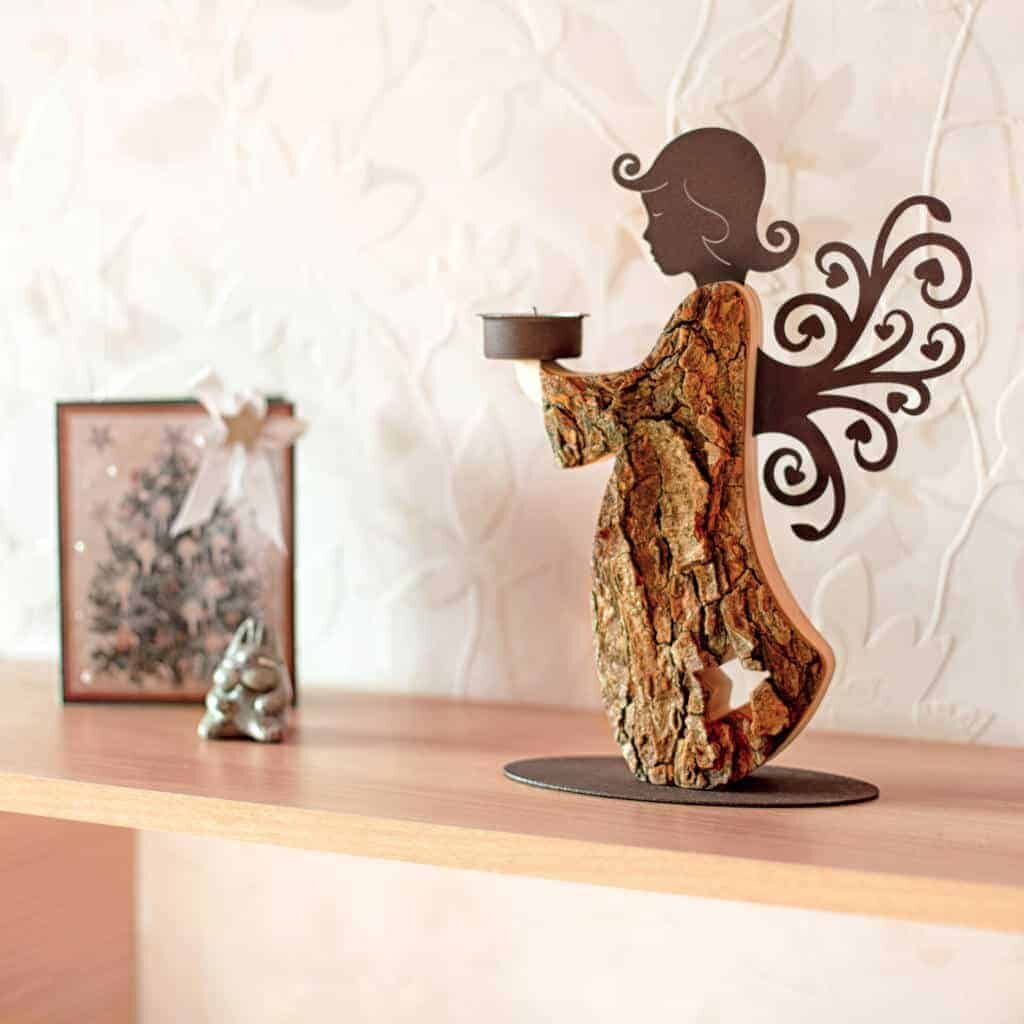 Forest Decor has a beautiful angel candle holder. It is a rust-colored steel and wood creation. The stunning angel candle holder holds a tealight candle for a subtle, soft display. The original and elegant rustic figurine has a finished and unfinished side.
A star that passes through provides a gorgeous contrast. The stand, tealight holder, stylized head, and rusted wings are crafted with heavy-duty steel, making for a sturdy, durable, and safe design.
It is an excellent piece for an existing angel collection, bedroom, or living room. The candle holder is a beautiful addition to a modern, rustic, or farmhouse style. It can be used as a gift for Grandma, religious, bereavement, or memorial gift.
Ornaments
14. Angel Sun Catcher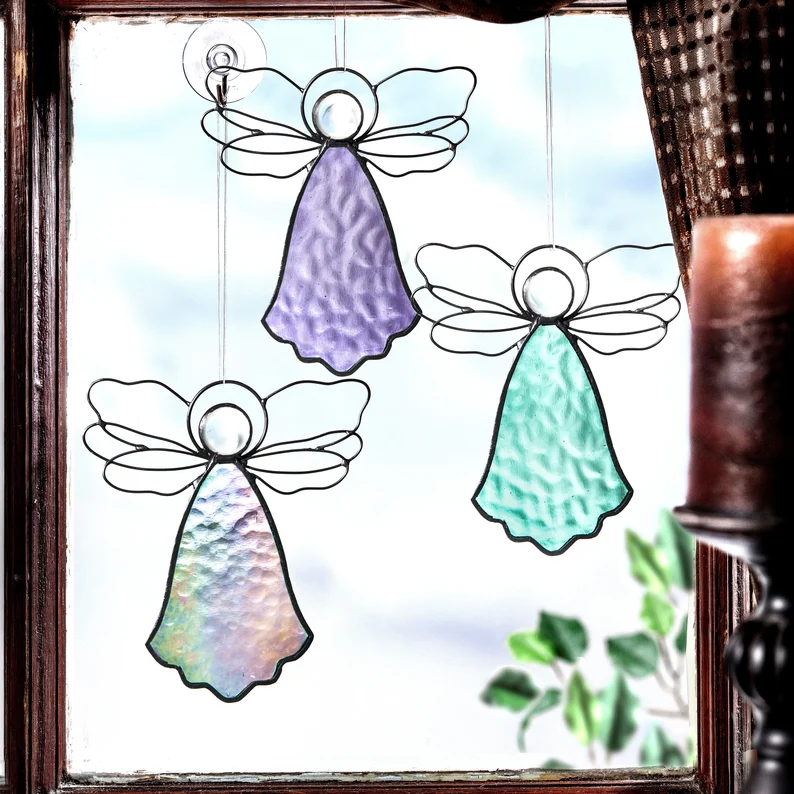 The graceful angel radiates a feeling of comfort, light, and soft color. Keep it displayed in a home as a reminder of joy and peace. The glass's delicate wings and soft rippled texture make it an ideal angel ornament for the Christmas tree but should not be put away after the holiday. As a window sun catcher, it is beautiful all year long.
15. Angel Wings Christmas Ornament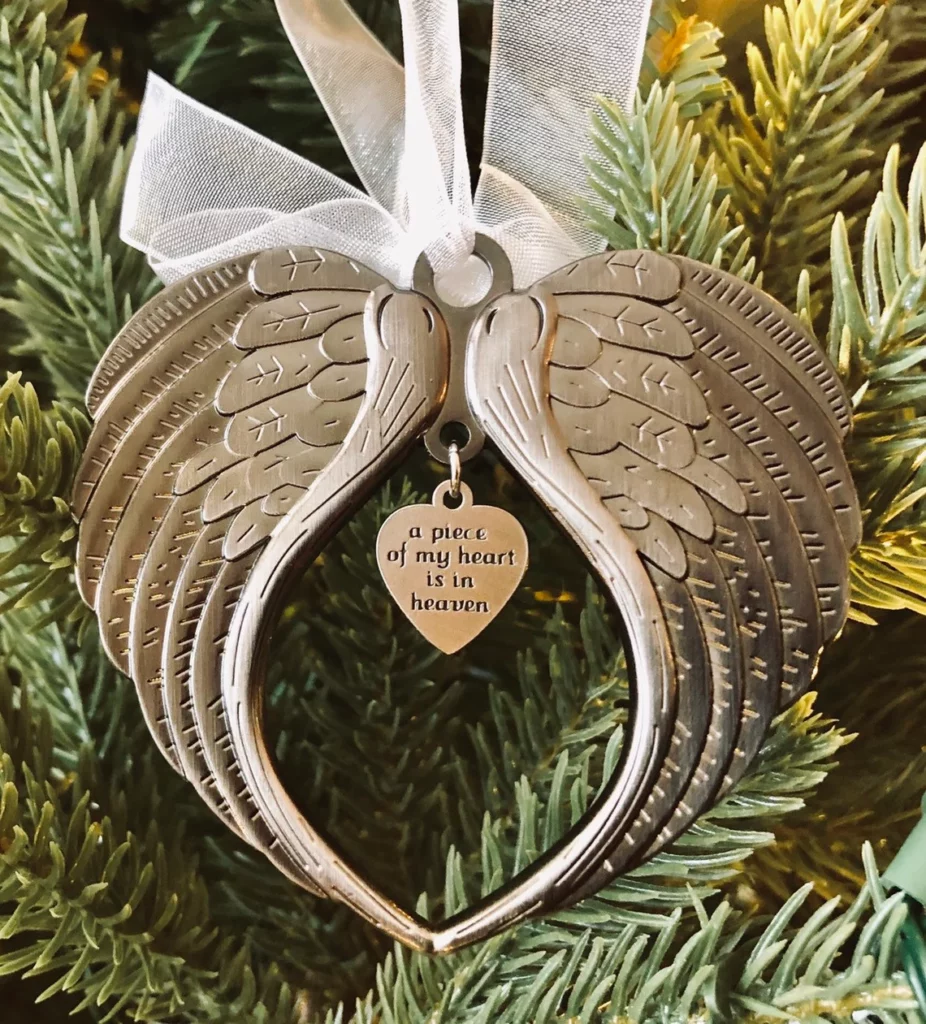 If you want a special gift to serve as something to remember a loved one, you can hang this set of luxurious antique angel wings prominently on a Christmas tree. It is suitable for display any time of the year. Loved ones remain in our thoughts to motivate, inspire, and empower us. The ornament has a white eye-catching silk ribbon. It is double-sided and looks elegant from any angle.
16. Christmas Angel Bell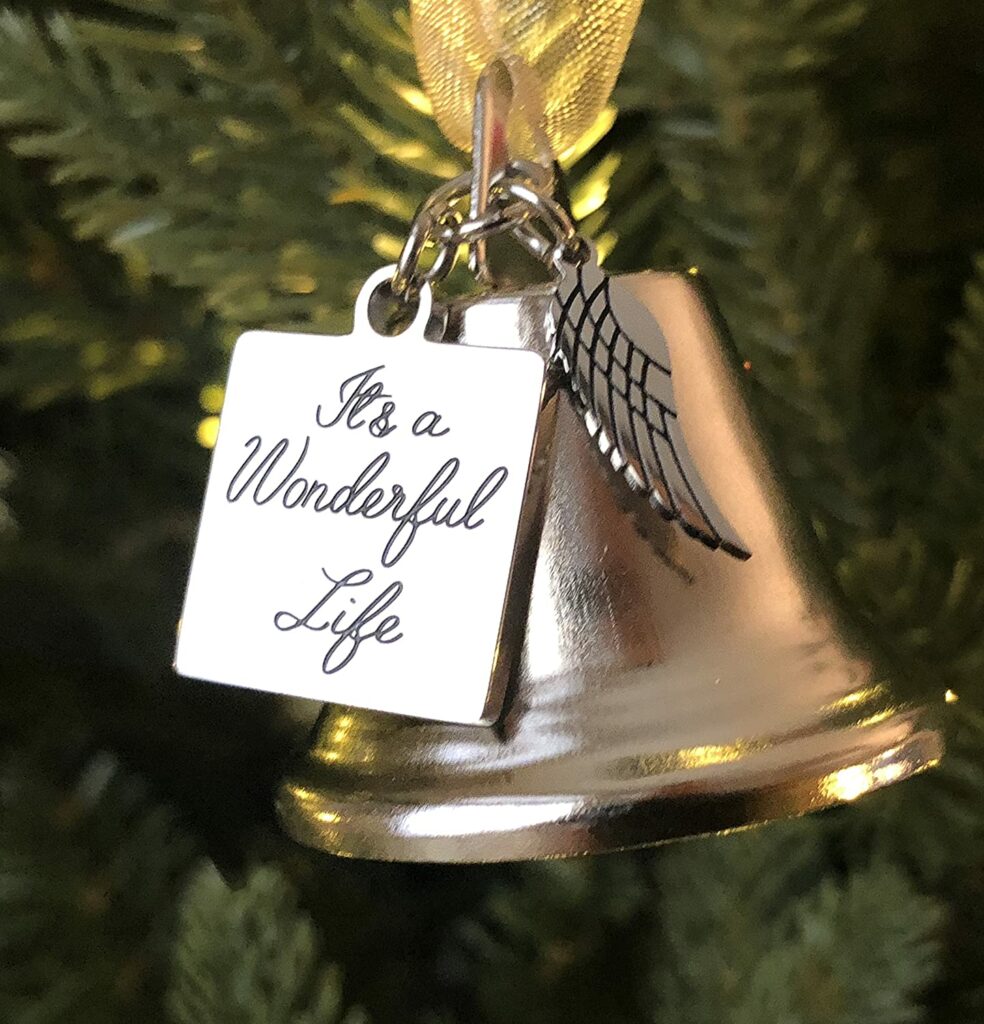 Inspired by It's a Wonderful Life, this angel bell brings a touch of joy to holiday packages, mantels, and Christmas trees. Attached is a red silk ribbon for hanging. There is also a white ribbon that will match any decor. The bell is made of stainless steel and copper.
17. Willow Tree Angel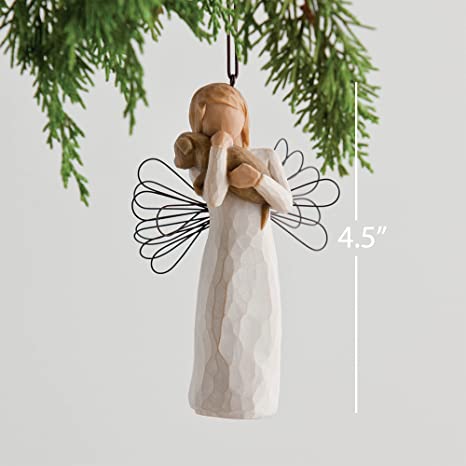 This ornament is an excellent gift for many occasions; it can be for holidays or every day. Give it as a gift to celebrate life's milestones, an expression of appreciation and love, birthdays, graduations, or weddings. Those who appreciate the sculpture that communicates through gesture include graduates, friends, teachers, and dog lovers.
Angel Keychains
18. Angel Traveler Keychain Gift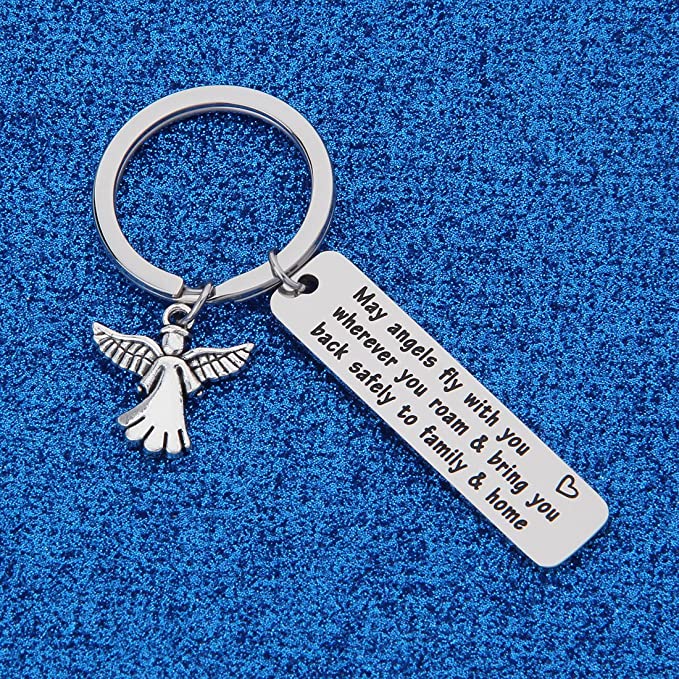 The keychain is hypoallergenic steel that will not tarnish, change color, or rust and is nickel and lead-free. This guardian angel keychain arrives in a gift-giving velvet bag. It is ideal for someone embarking on an adventure or journey, such as a trucker, driver, flight attendant, pilot, globe trotter, or the avid traveler.
19. New Driver Guardian Angel Keychain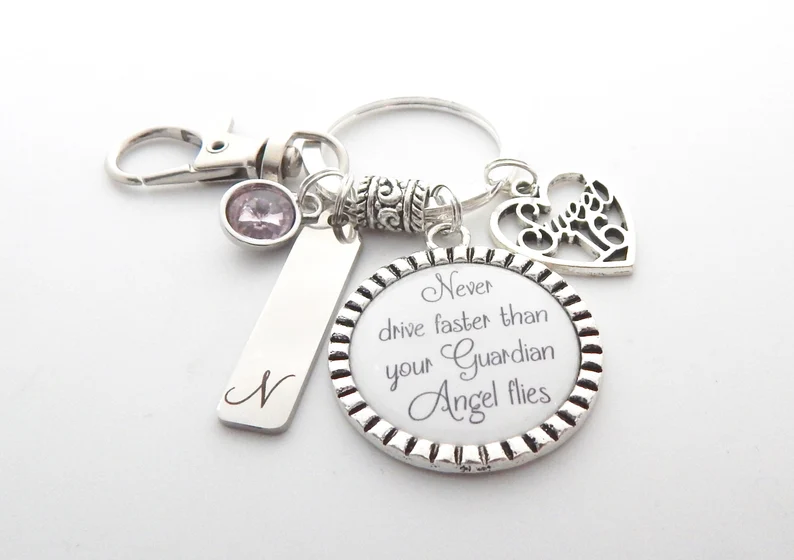 What an appropriate Sweet Sixteen gift in the adorable new driver keychain, adorned with the recipient's birthstone and initial. A quote is written on a white pendant to remind the new driver to drive with caution. Each keychain is in a baby blue organza gift-giving bag.
20. Guardian Angel Coin Keychain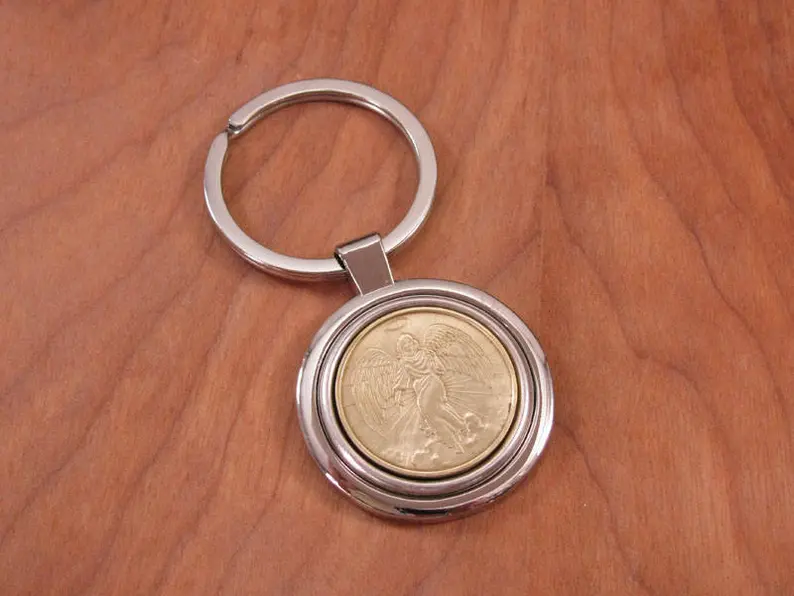 Guardian angel tokens and coins were created in various styles and given to people as a reminder their guardian angel was near. Expanding on the idea, using the coins in a keychain makes an excellent gift for men or women.
Being mounted on a keychain reduces the risk of getting lost. The wonderfully detailed gold coin is shined and set in an antique silver bezel and mounted on a stainless steel key ring.
21. Cremation Ash Urn Keychain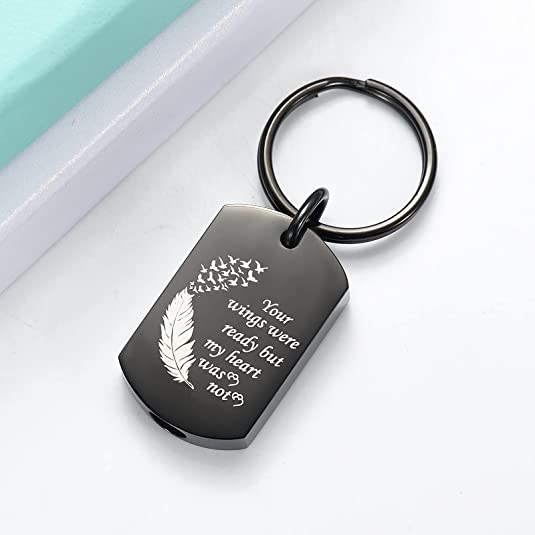 The waterproof design of the angel wing cremation keychain extends love and blessings to a loved one and keeps them close to the heart. It expresses how the loved one's wings were ready, but the recipient's heart was not. The keychain is made of durable stainless steel that will not rust.
Angel Figurines
22. Guardian Angel Figurine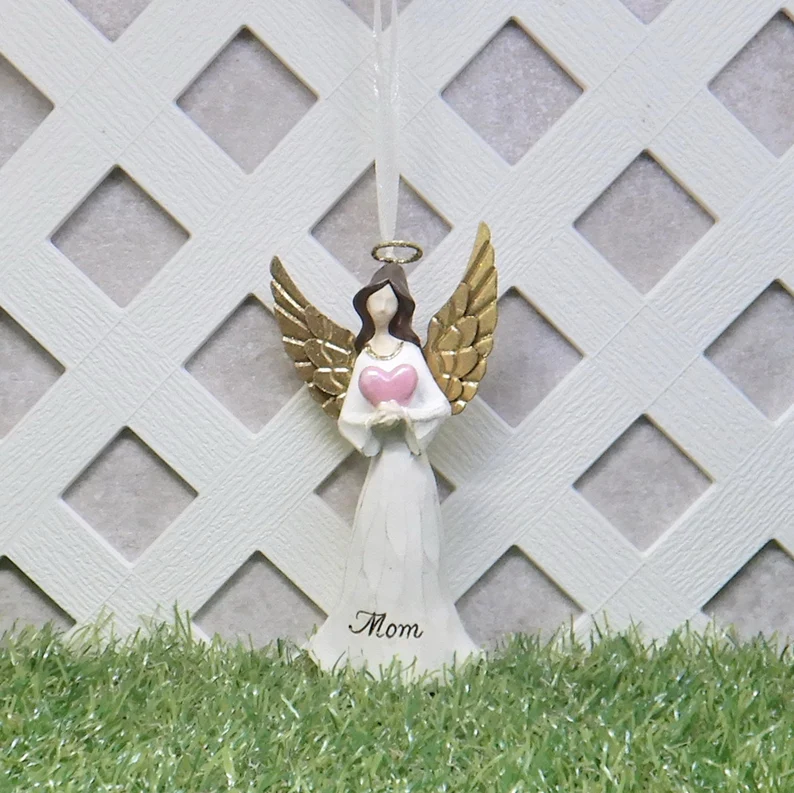 This 'Mom' angel decoration gives your home a heavenly touch. It has a slightly distressed look of cream, off-white color. You can let a special someone know you appreciate them and always remember them. The figurine is adorned with gold wings and holds a pink heart.
23. Two Musical Figurines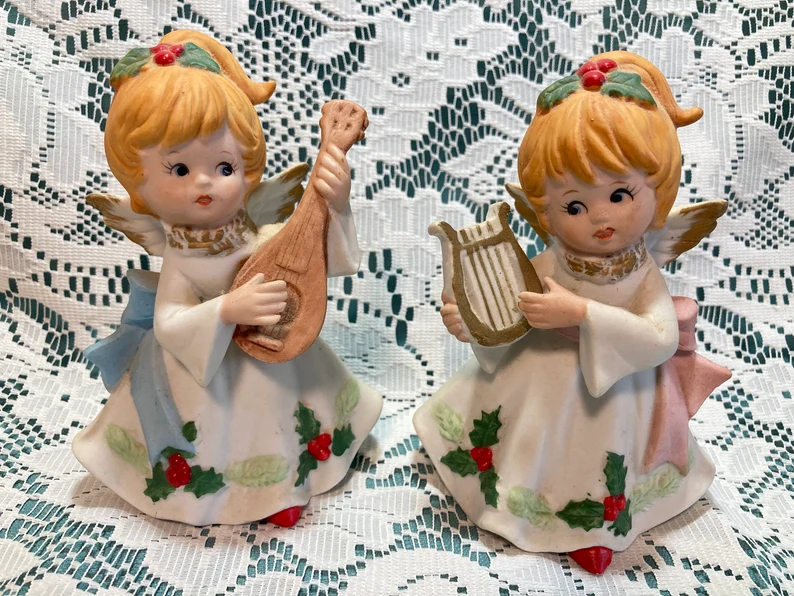 These adorable little girl angels have their blond hair in a ponytail with holly added. They wear a white dress with holly along the hemline and bows that tie in the back. The angels are playing musical instruments. They are made of porcelain and are five inches tall.
24. Embossed Blossom Flowers Angel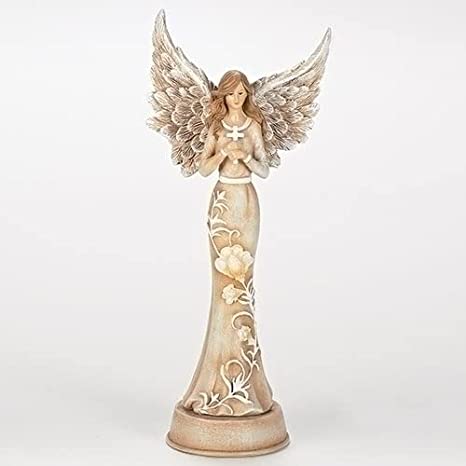 The angel is beautifully painted and has incredible details on the flowers of the dress and the wings. In the hands of the angels is a white cross. The figurine is made of high-quality stone and resin. It is a beautiful memorial that is carefully packaged and ready for gift-giving to celebrate one's life and memories.
25. Praying Angel Statue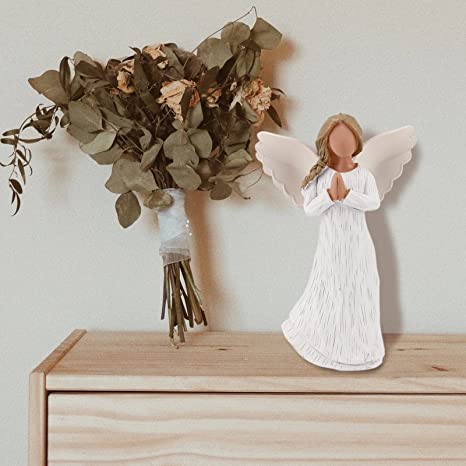 The angel who holds her hands to her chest in prayer expresses the positive energy of tranquility, revitalization, healing, nourishment, and protection. Every guardian angel comes with a blessing of peace that brings a positive spirit to life. The figurine is a beautiful emblem to bring comfort and lift spirits..
25. Rustic Wood Angel with Wings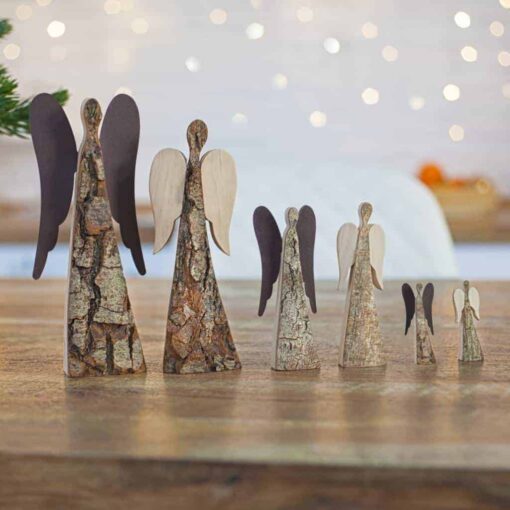 The flowing wings of the wood angel create a two-toned rustic style that is ideal for any decor. The angel is available in five sizes, from XX-Small to Large. They are charming Christmas, anniversary, or holiday gifts for family or friends. Each angel is handcrafted from natural forest bark and wood. The intricate handmade design has unfinished and finished sides.
27. Wooden Angel with Metal Wings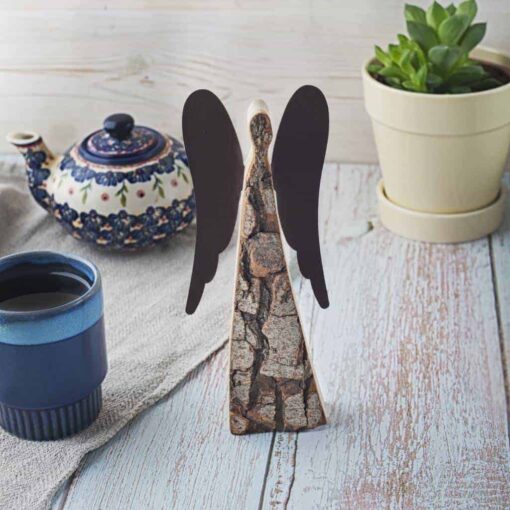 This is a more noticeable design that is taller and used as a centerpiece for home decor. Display it all year long or surround it with ornaments at Christmas. The color on the smooth finished side is lighter and creates a contrast against the metal wings.
A deeper brown on the bark side is used for demure, subtle displays. This angel is an excellent addition to the home that celebrates religious faith and creates an environment of hope and love. The wooden body and metal wings have smooth, rounded edges to ensure a safe display and prevent accidents in homes with small children.
28. Wooden Angle with Love Heart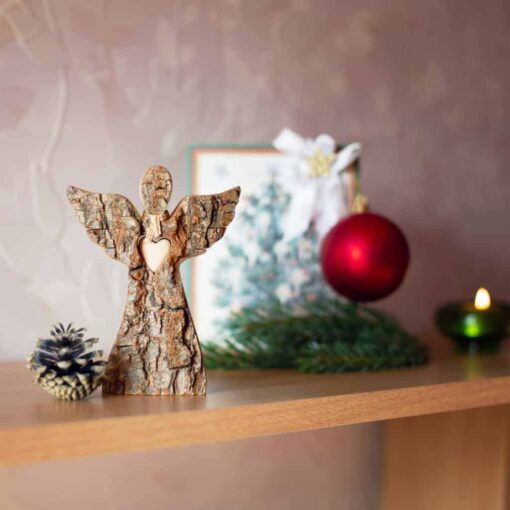 Forest Decor offers this rustic angel statue with an open heart in the center. It reminds the recipient to keep it filled with faith and love. A stunning gold ribbon is placed around the neck of the beautiful angel decoration. It complements a charming, rustic farmhouse design.
The open-heart wood angel inspires and reminds you to be optimistic and express passion and faith. Keep emotions and feelings on display with its beautiful style.
The heart contrasts against the bark, which adds originality, openness, and warmth to the look. A finished and an unfinished side offer options to match with other home decor pieces.
Recap
All of the items above make excellent angel gifts. Those offered by Forest Decor are especially appropriate. All of the handcrafted products come from premium forest wood. No two items are alike.
Love and passion are crafted into each one. The bark, branches, and trunk wood are all used. Each item varies slightly in color, which makes it unique. These wooden angels are an excellent addition to a home and are incredibly charming gifts for those who share beliefs and faith. They make one-of-a-kind housewarming, Christmas, anniversary, or birthday presents.