6
Min Reading
Nothing is as timeless as DIY wooden Christmas decorations. Wooden Christmas crafts to make and sell are popular items. They combine practicality with holiday cheer when you have a handmade gift.
Christmas will be here before you know it. People will be looking for last-minute gifts for family members and friends. Wouldn't it be grand to offer them something you made? Here are some fantastic wooden Christmas decorations for gifts.
1. DIY Wooden Christmas Ornaments
Tree ornaments are among the most popular wood crafts to make and sell. The ornaments shown here are inexpensive crafts that sell for prices based on how ornate they are made.
Depending on the ornament, some tools are required. Remember that ornaments should not be too heavy so that you can hang them easily. Wood slice ornaments can be made with wooden slices purchased from Amazon.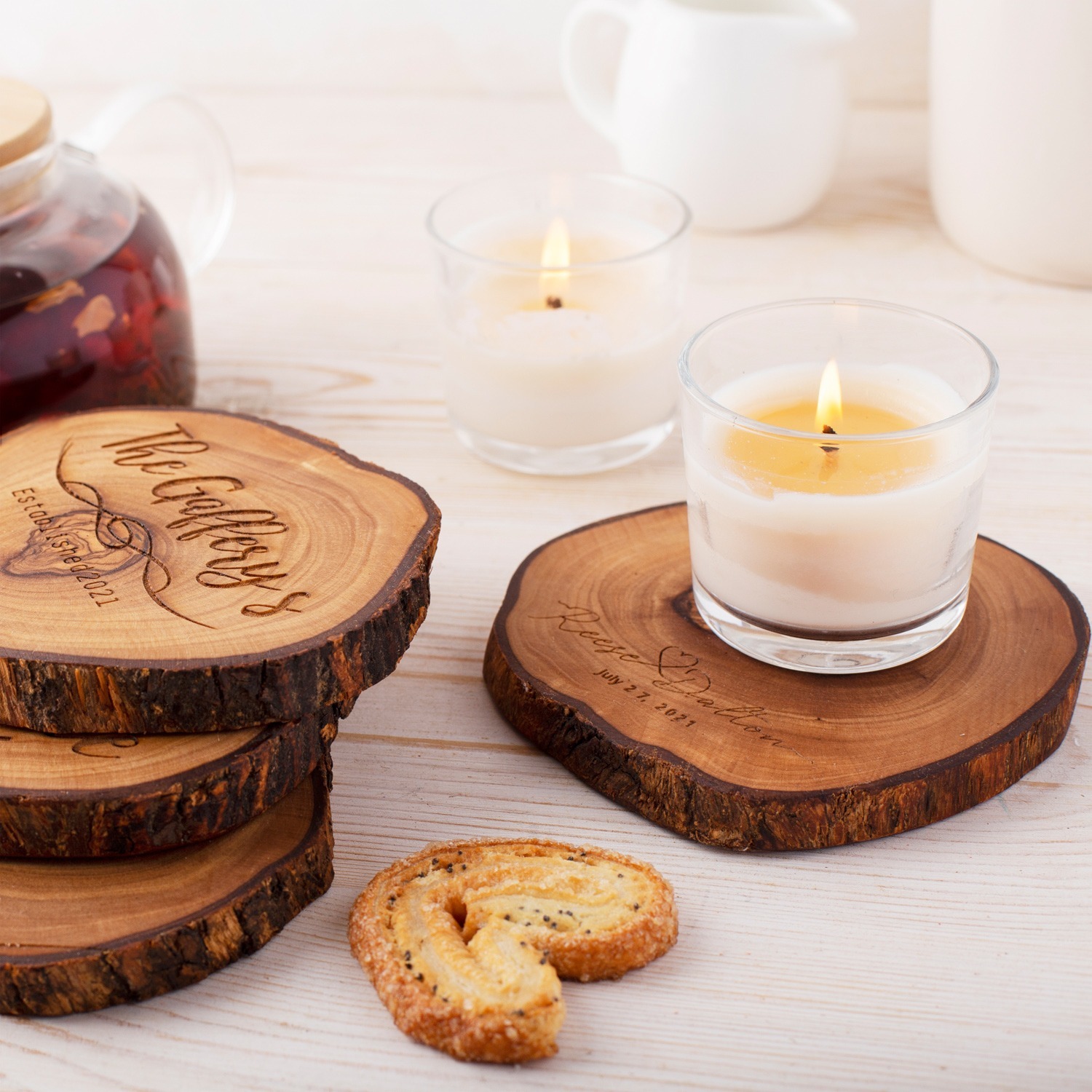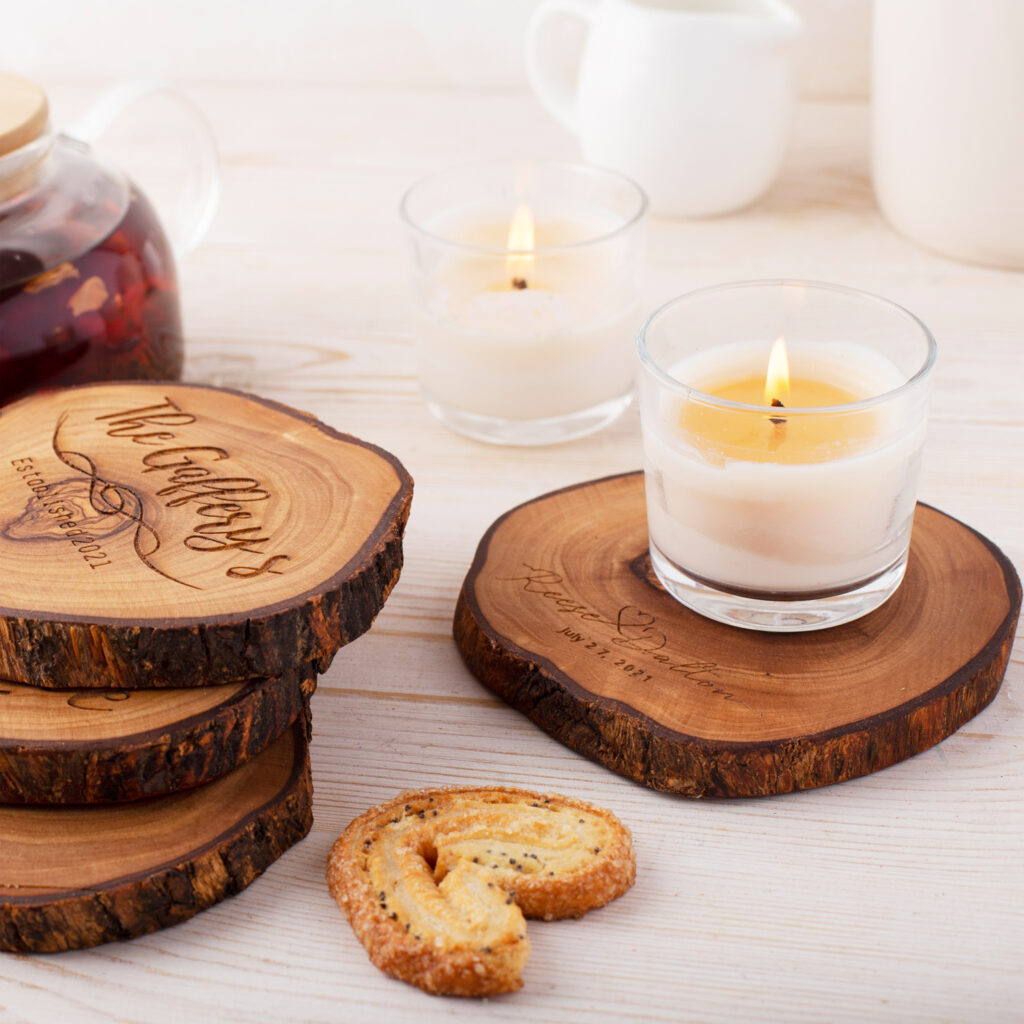 They come with holes punched in them and twine to use for hangers. Paint the surfaces black with acrylic or chalk paint. This video shows how to add words or designs with Christmas wood craft patterns with vinyl. When the stencils are finished, the Christmas ornaments are unique and capture people's attention.
2. Wooden Christmas Tree Decor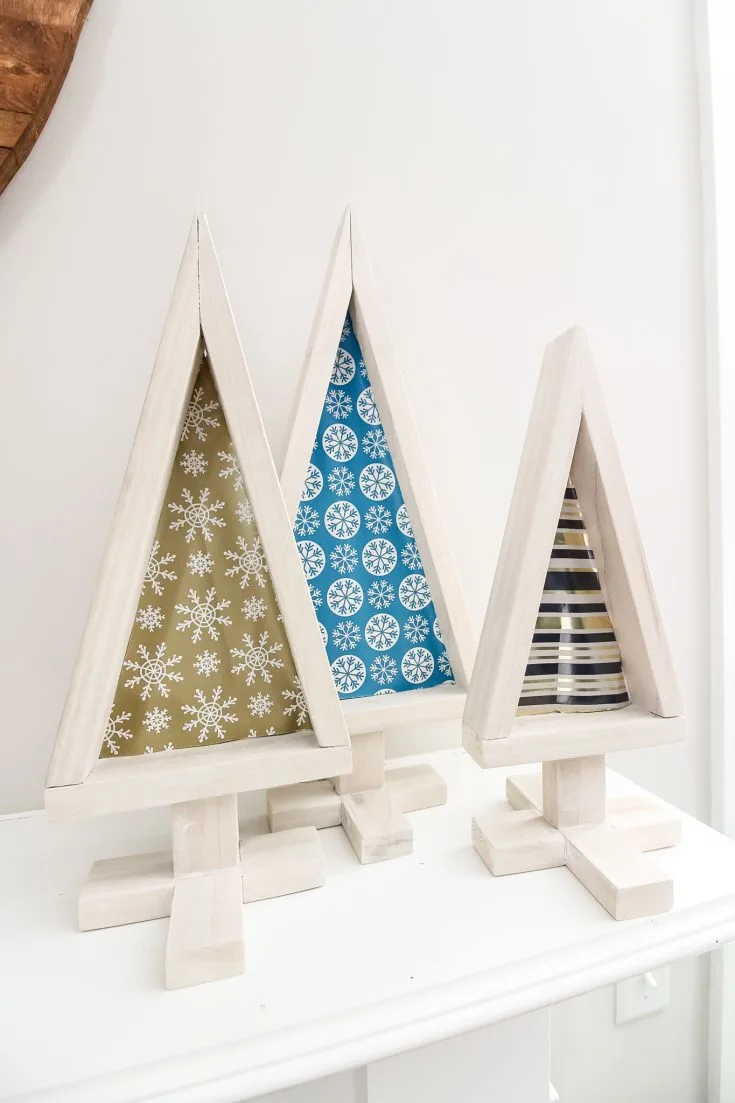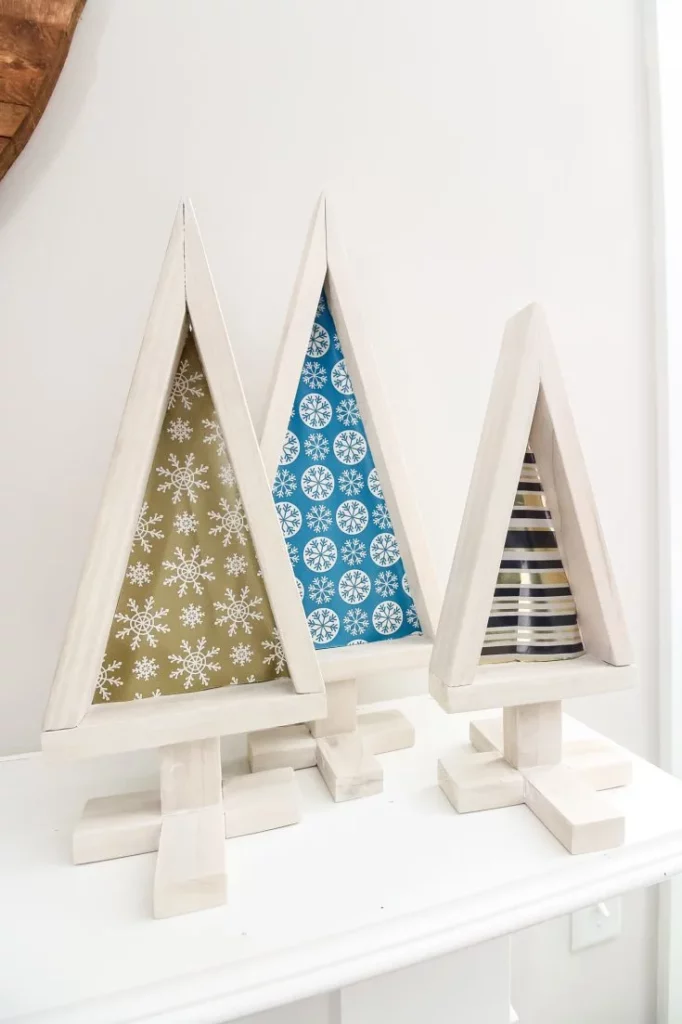 Things made of wood may include more than ornaments. They are ideal additions to holiday decor, whether contemporary or traditional. The most traditional, of course, is the Christmas tree.
Add a bit of Christmas flair with these tabletop Christmas trees. They are easy to make and coordinate with a lot of Christmas decor. By adding wrapping paper, you can make any style you like.
Make them different heights to give them visual appeal. Cut two long sides and one short side to connect them. After making the base, attach the bottom to the top with wood glue. You can find instructions for these trees on this link.
3. Reindeer Stocking Holder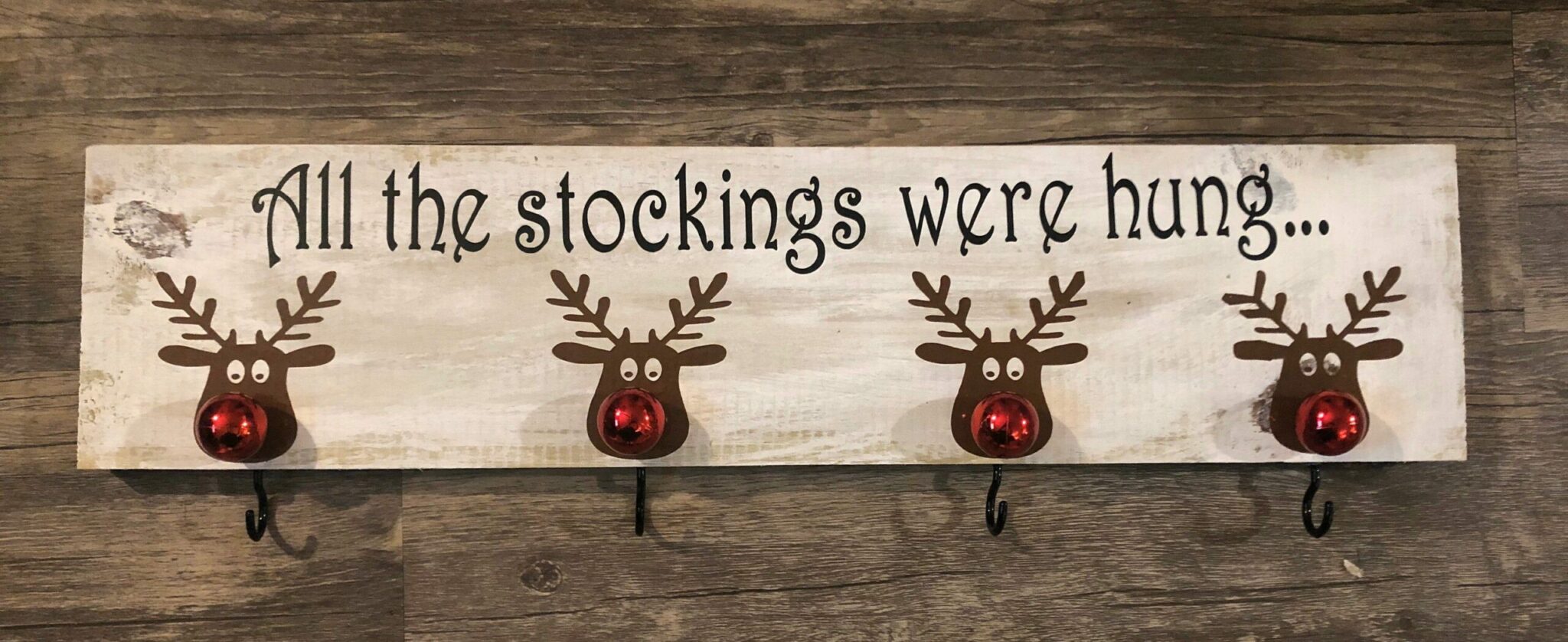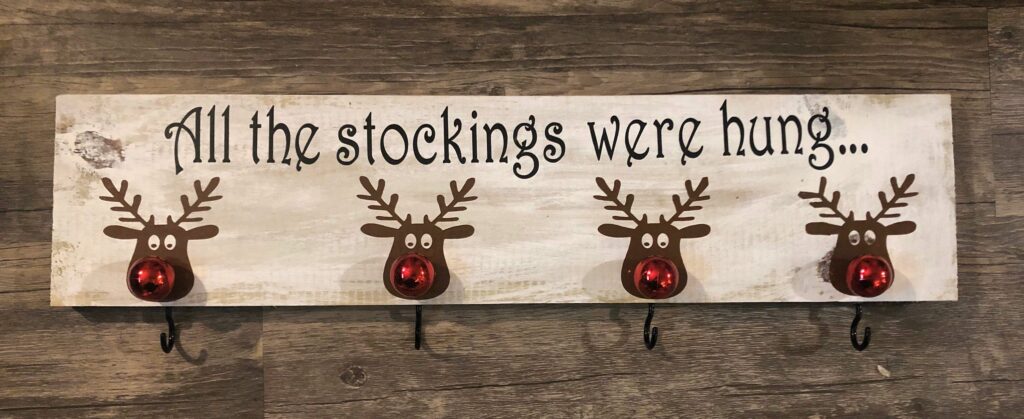 If you wanted to display stockings but could not find a design you liked, this one might be the answer. Wood project ideas that sell well at craft fairs include wooden stocking hangers.
Little children love a place to hang their stockings. This one uses just a few materials and is simple to make. The instructions for a similar reindeer stocking holder are provided on this link.
You will need a vinyl cutting machine. The base board and knobs are painted. SVG files are printed on vinyl. You add the wording and attach the 'noses' to the Reindeer Stocking Holder by drilling holes in the board through the center of the reindeer's faces.
4. Christmas Magnets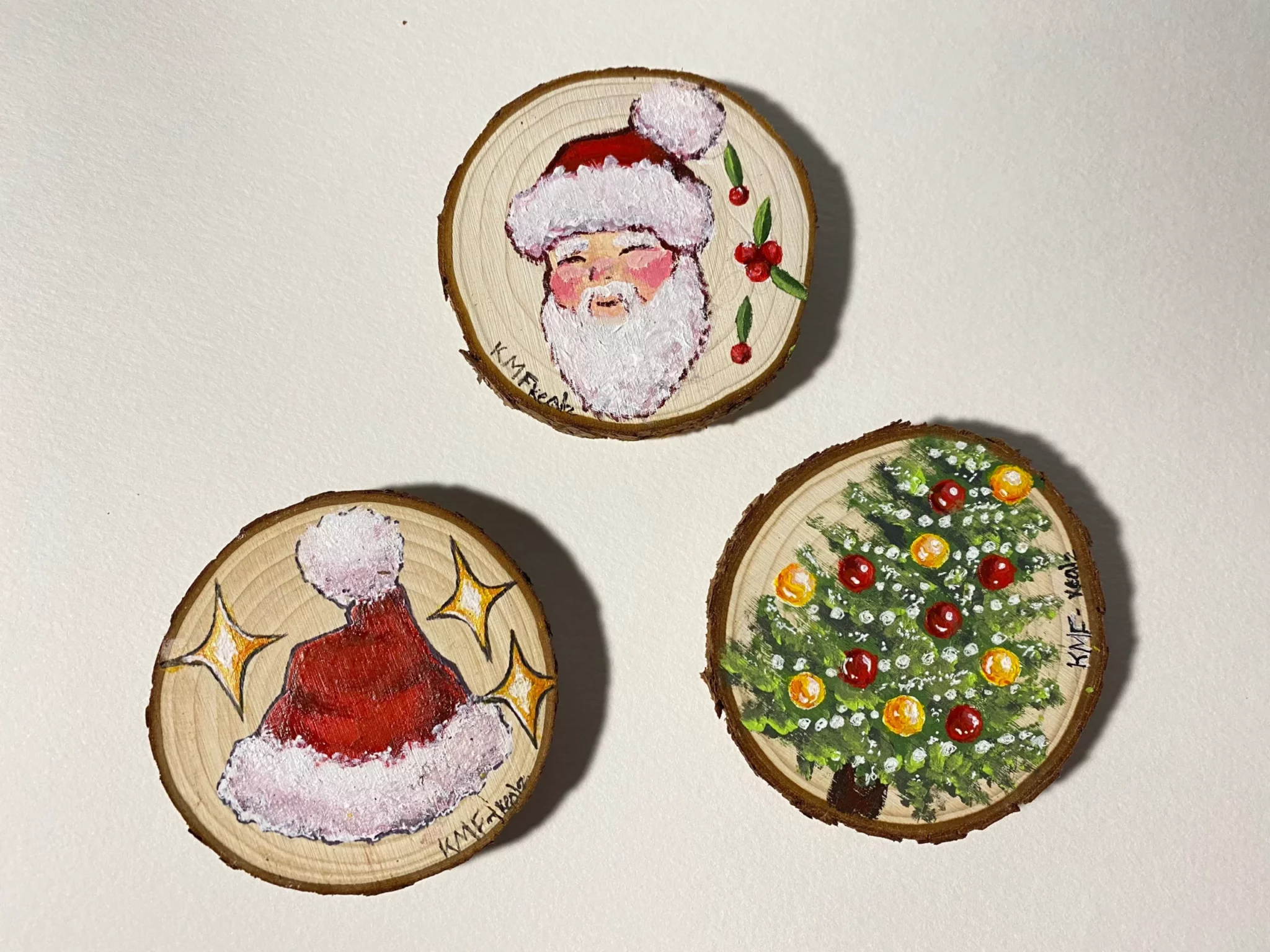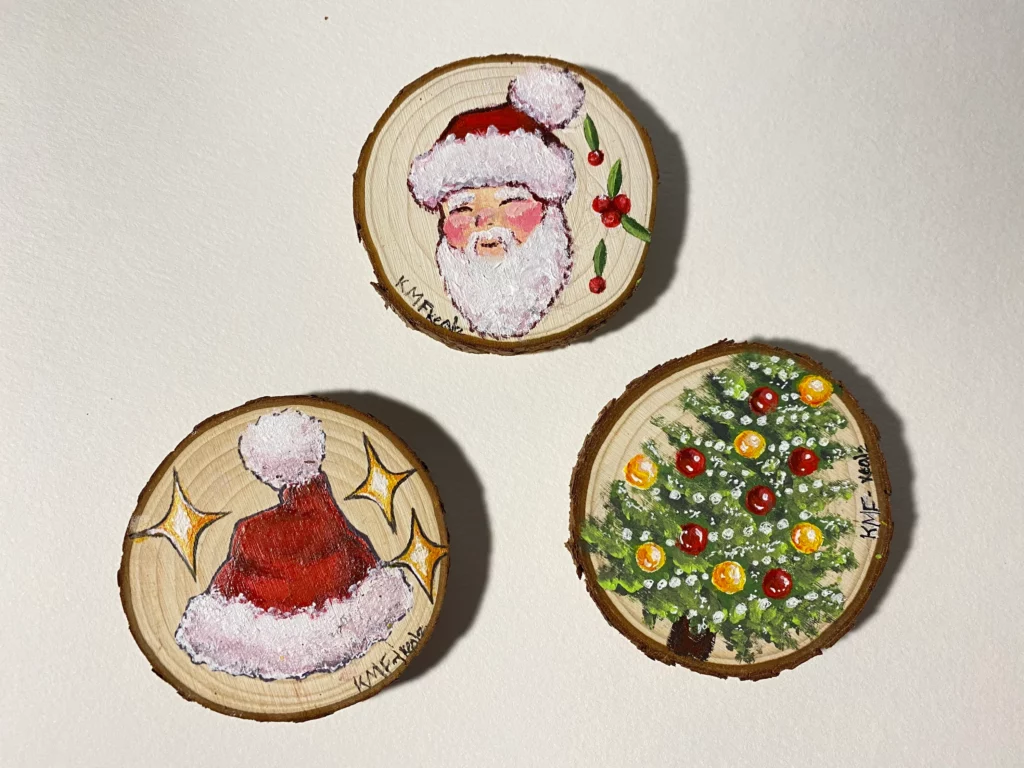 Magnets are excellent gifts for family members and friends because they take up little space on the refrigerator. The magnets pictured here can be made using the wood slices mentioned above. The surface can be painted, left natural, or decorated with other materials, such as wrapping paper or Christmas cards.
Place a small amount of strong glue on the backside of the magnet and lay it down on the center of the wood slice backside. Here is a set of directions to decoupage wooden magnets. This is one of the wood crafts ideas that children or a craft club can make and sell.
5. Scrap Wood Snowman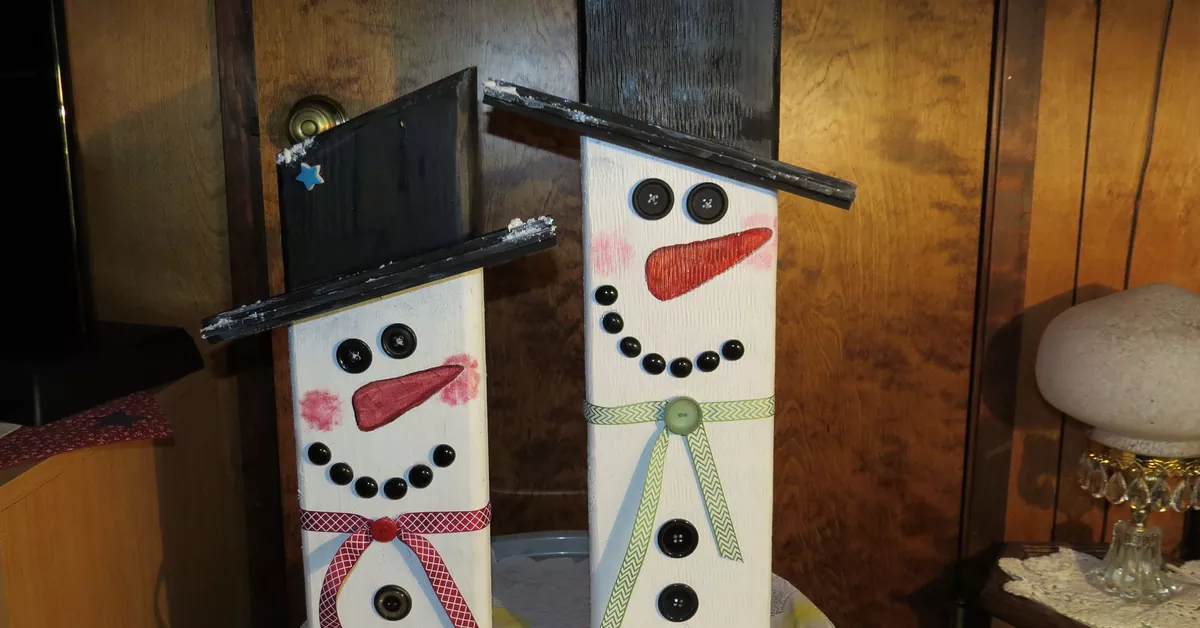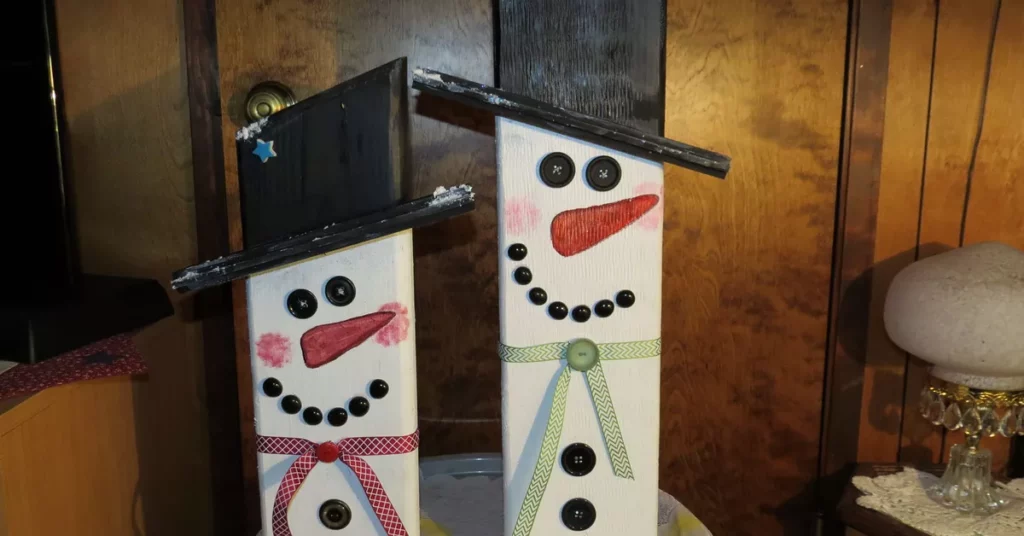 An excellent way to make holiday decorations and use scrap wood is by making wood snowmen. They are ideal decorations for craft fair sales. The snowmen bring rustic charm to a home. They take about 20 minutes to complete and will not melt. The snowmen can be any height you like.
Instead of a hat pictured here, you can also use a ribbed sock at least eight inches long above the heel as a stocking cap. There are no instructions provided here. Making them is pretty self-explanatory. Paint a plank of wood white, then add the facial features and buttons. Finally, add a scarf and hat.
6. Christmas Wood Block Countdown Calendar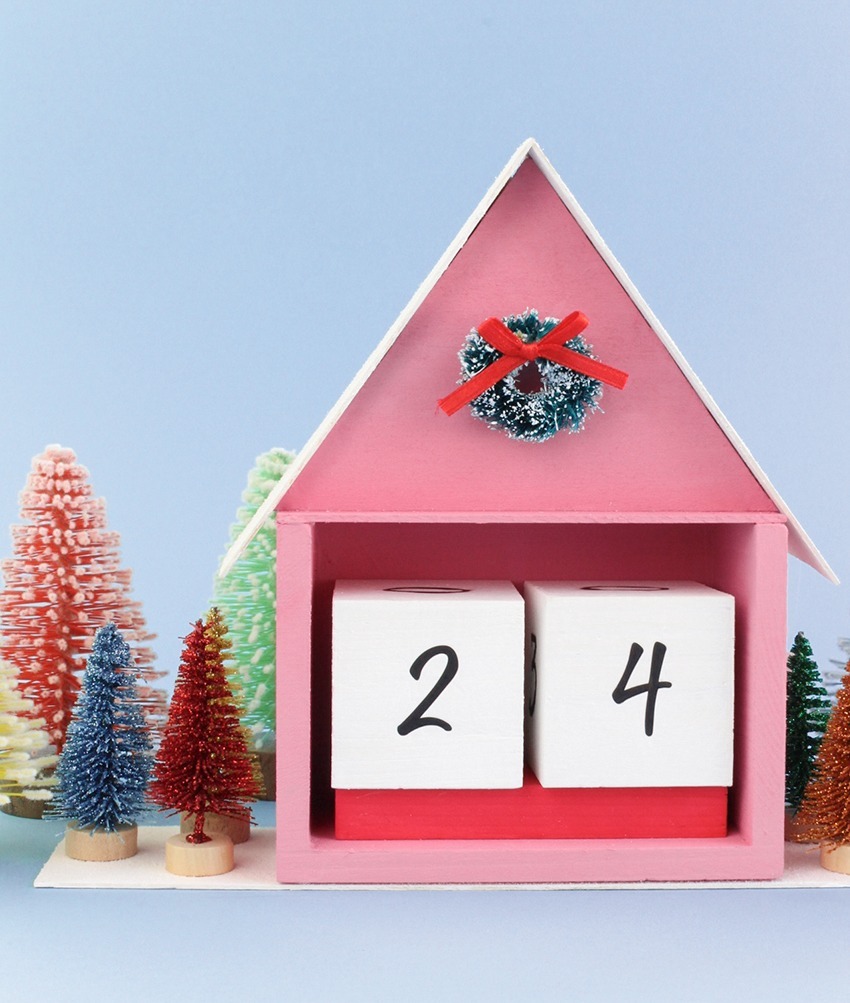 Here are the instructions for making the wooden block Christmas countdown decoration. They make excellent gifts for family and friends or items to be sold at craft bazaars. Wood project ideas like this take time but are worth the effort. The unfinished block calendar is available through Etsy.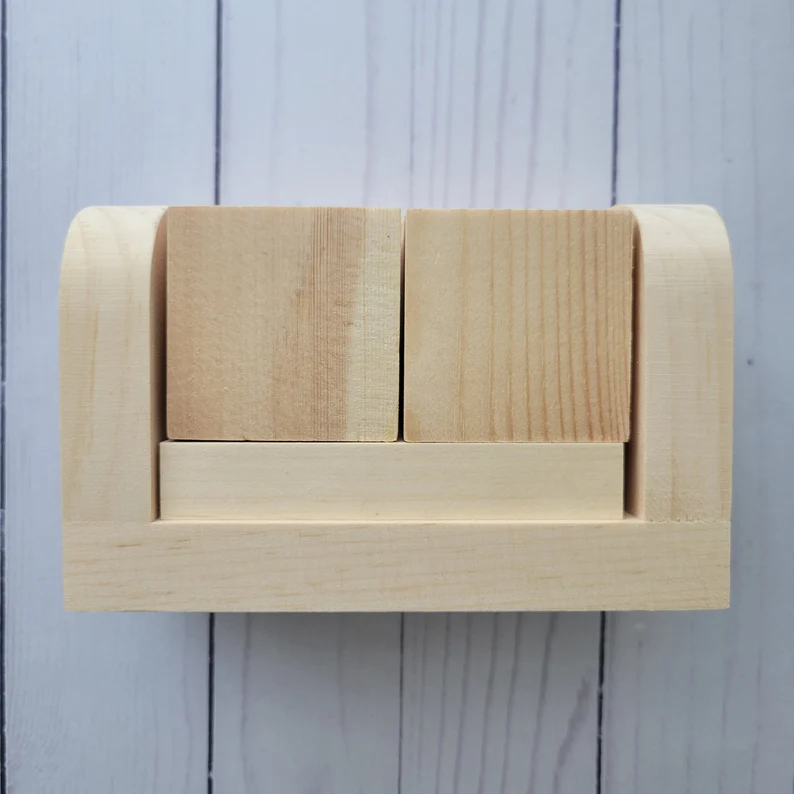 Adorn the houses with small trees glued to the side. You will also need thin Balsa wood, glitter, paint, number stickers, and a small wreath. All of the supplies are available through Amazon. The DIY wooden Christmas decorations will be a hit.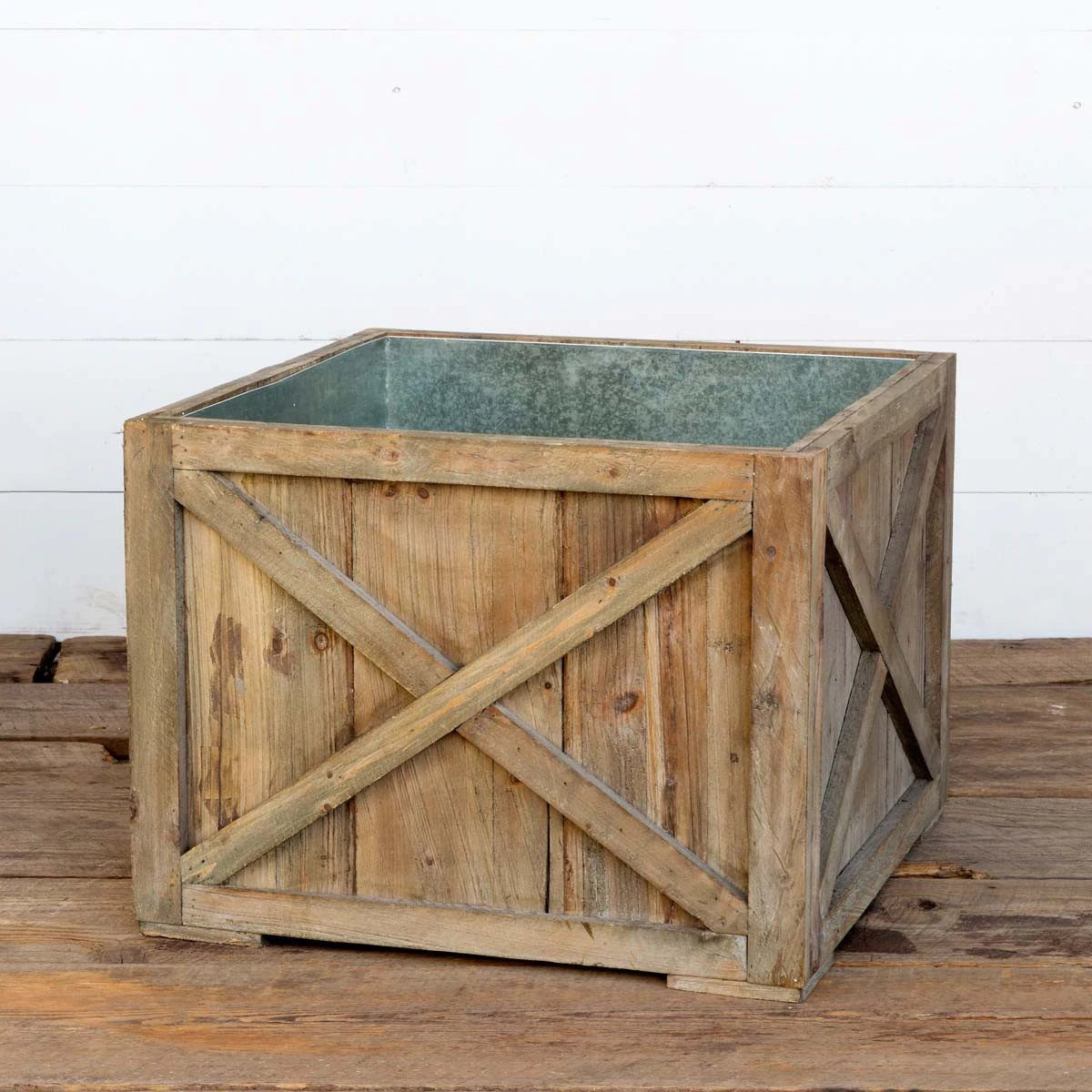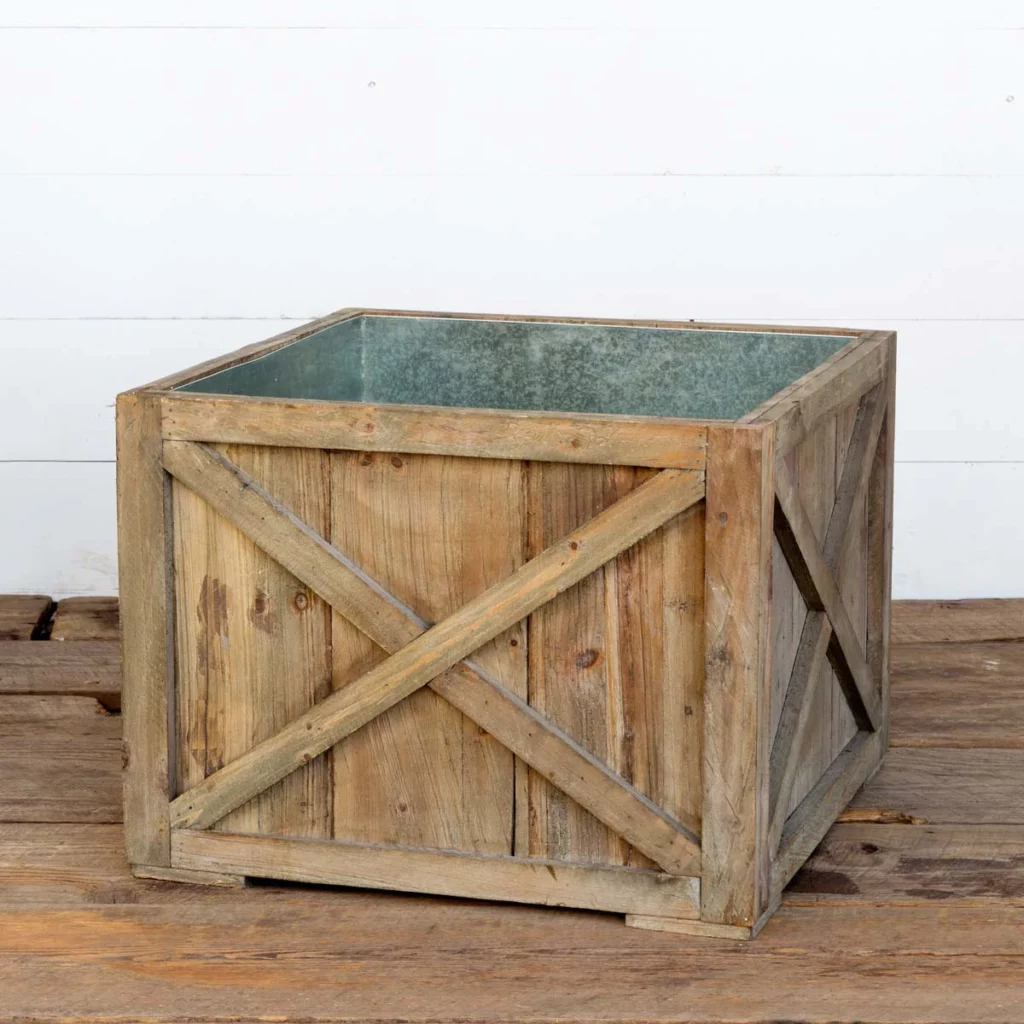 Here is a video that shows how the Christmas tree box stand pictured here is made and how to make it even more festive. It accommodates large pots that hold a Christmas tree. Long pieces of laminate pine are used in the construction.
The video provides a list of pieces needed for making a stand. Give it to an employee at the lumber store, and they will cut the pieces to size for you. All the pieces will fit in your car and are ready for assembly when you get home. You will also need some screws and wood glue.
8. Three-Tiered Wooden Tray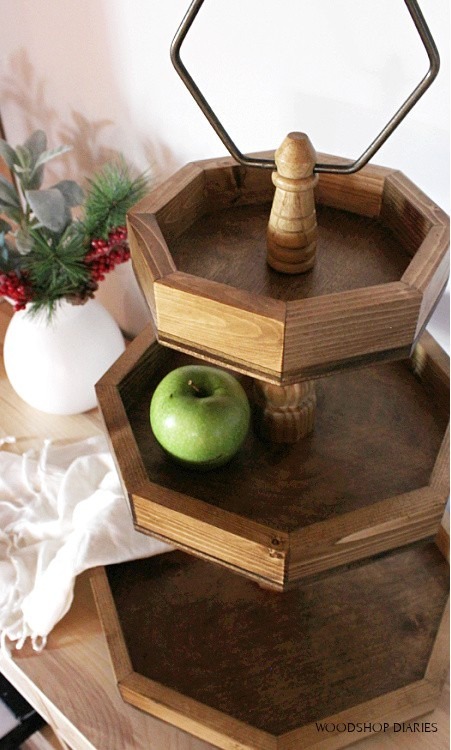 These tiered Christmas trays are excellent wooden Christmas decorations for gifts or sales. They can double as home decor. The tray can be plain for others to decorate. You can embellish them with decorations of your own. Here is a tutorial for making the wood crafts.
There are four steps.
Building the tray edges

Attaching the bottoms

Installing tier posts

Putting the trays together
Stain the trays and spray with a clear coat after assembling. It is suggested to install a ring or other hardware at the top.
9. Winter Checkers Game

Among wood craft projects, the winter checkers game is unique and charming. It is a lovely handmade gift to give or sell. You will have fun making it. There is something magical about it.
It is fun and whimsical, and entirely functional. Instead of black and red checkers, the game pieces are Christmas trees and reindeer. It is like playing checkers in the woods.
The instructions include gluing green felt squares onto a slice of wood. The game pieces are available through Amazon.
10. Vintage Holiday Blocks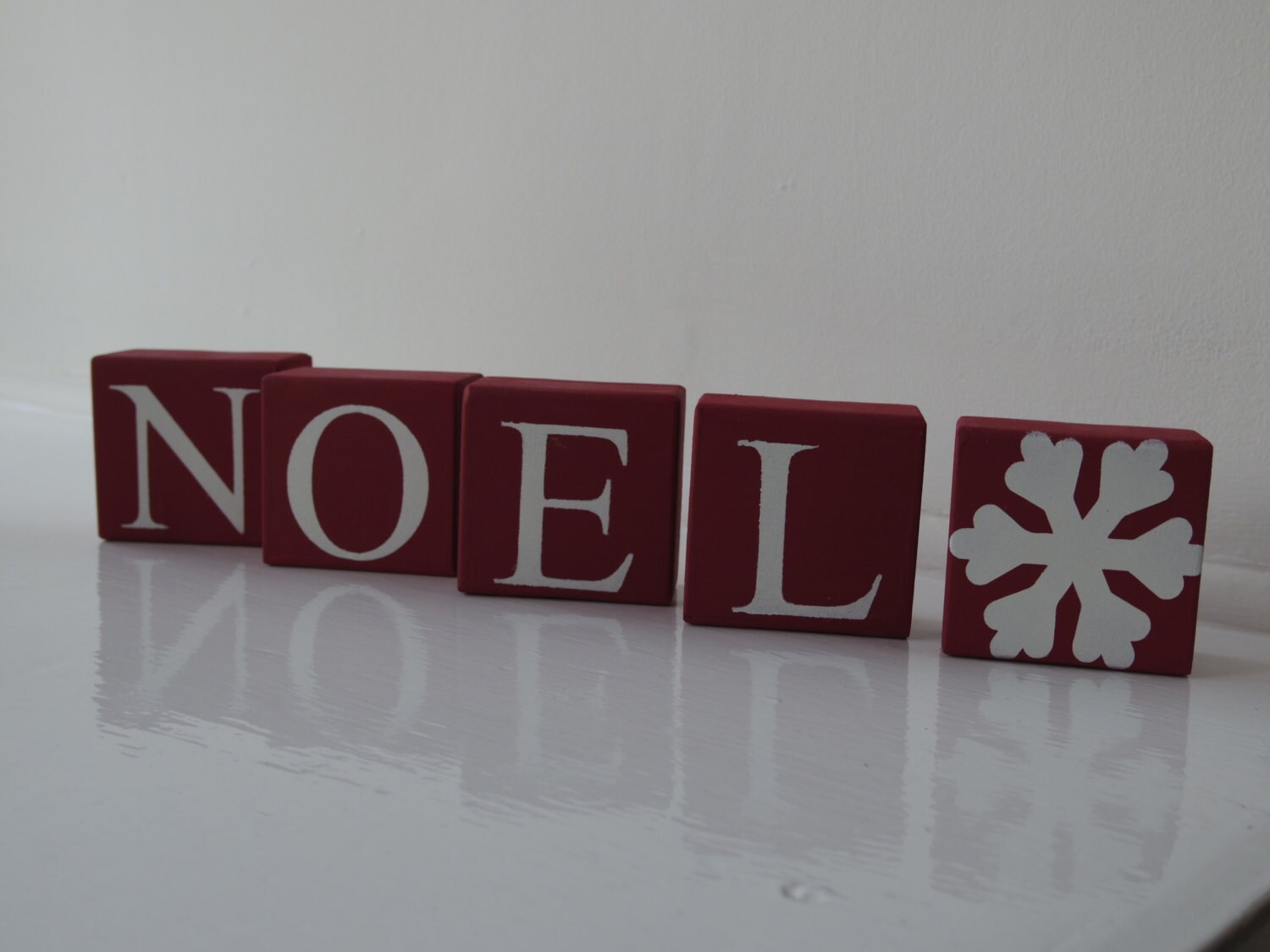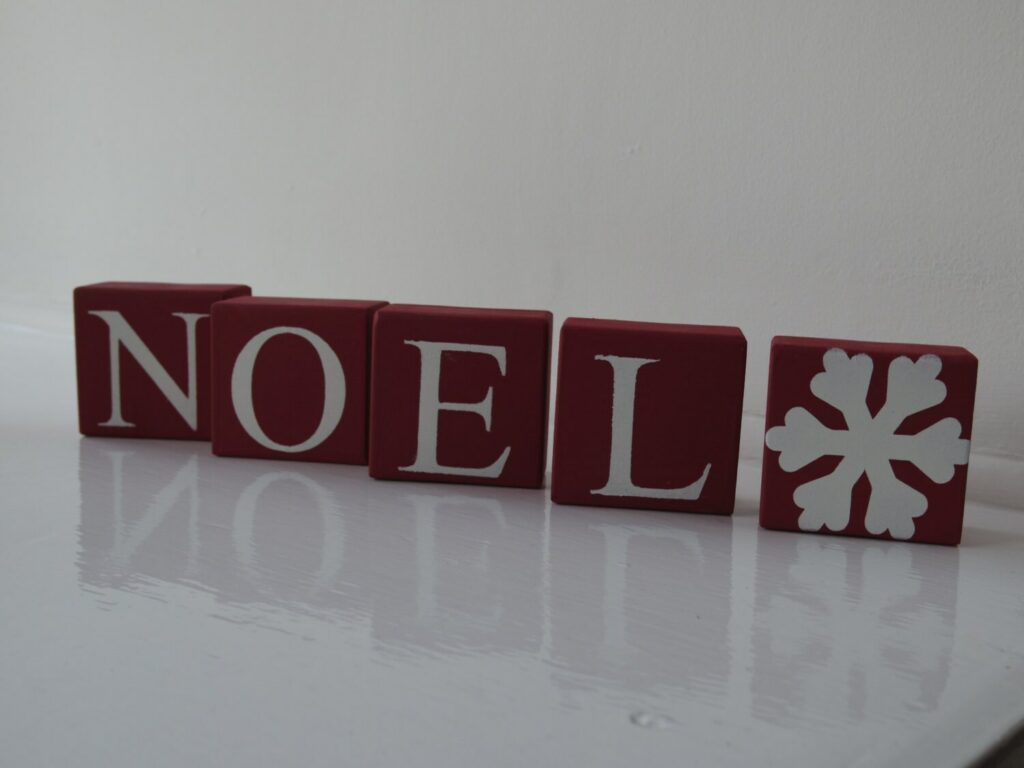 These blocks are not for babies. They are unfinished pine blocks waiting to be made into wood craft projects. There are some techniques to use to give the blocks a vintage look.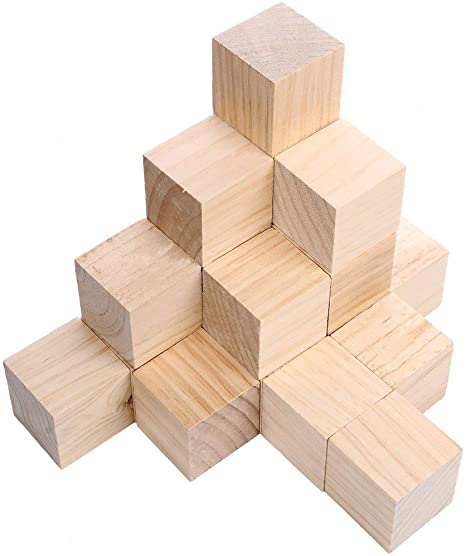 You have to do a lot of sanding of the edges and corners to get a vintage look. Paint the blocks red and use stencils and acrylic ink for the lettering. Softly sponge the corners and edges with the barest tint of ink to complete the vintage look. The blocks and stencils are available from Amazon. This article has some variations of the concept and instructions on how to decorate the blocks.
Inspiration Items
Forest Decor has a selection of wooden Christmas ornaments and nativity sets that may provide some ideas to use as wood craft patterns. Wooden Christmas crafts are an excellent way to showcase woodworking skills and create something to sell.
The beauty of these wood crafts is you do not need large pieces of wood. Nearly any scrap wood is usable. The best time to sell wooden Christmas decorations for gifts is between Thanksgiving and New Year when people are shopping for gifts. Hold a craft fair in your town or sell your products online.